10 Best Locksmith in Singapore to Unlock the Solution to Your Problems [2023]
Want to know where to find a solution to your lock problems? Come see this list of 10 Best Locksmith in Singapore!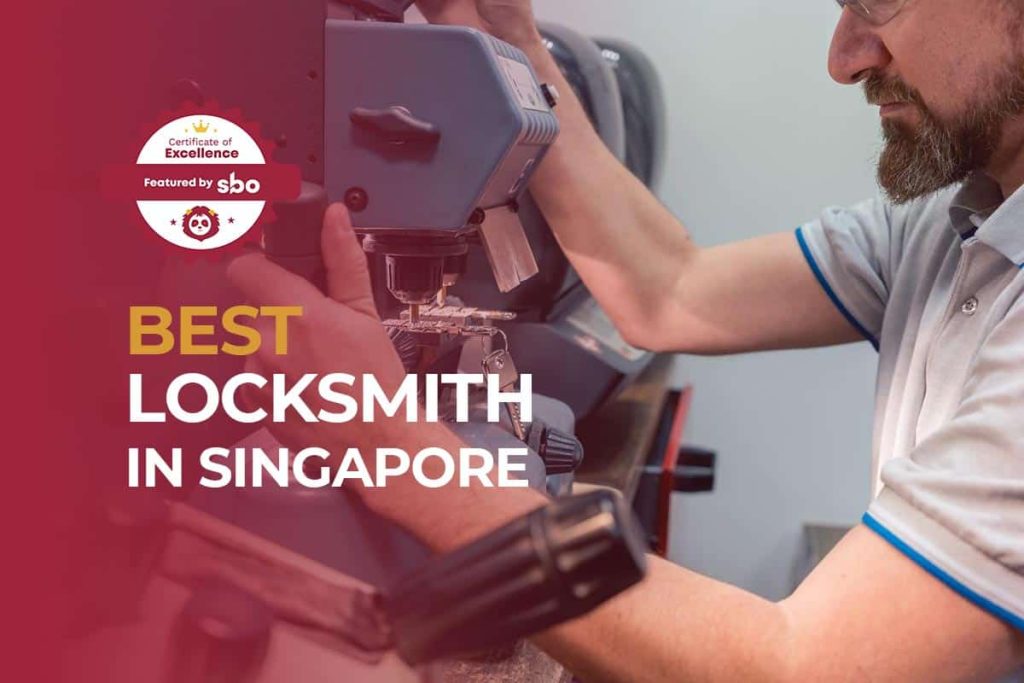 Ever encountered a faulty lock that just would not open? Or somehow get locked out of your car without a key in hand? That is when locksmiths come in, who is essentially the Superman to these types of situations! Fortunately, there are plenty of locksmiths available for assistance, listed here in the article.
If that unwanted time happens, you may want to have this list of 10 Best Locksmith in Singapore on standby so you will know who to call!
1. 24/7 Locksmith Singapore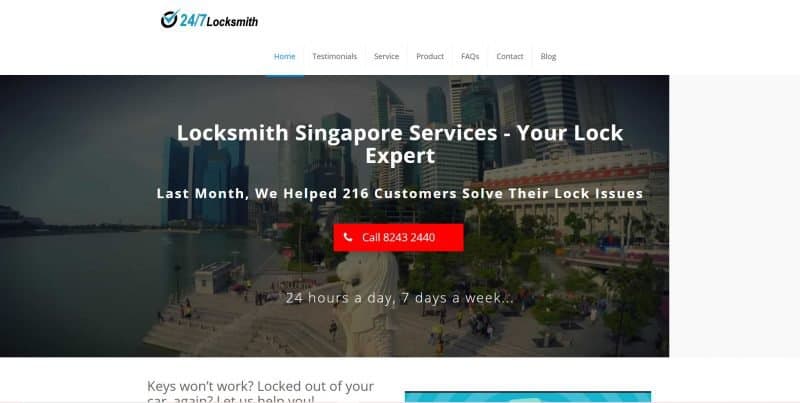 As the name suggests, 24/7 Locksmith Singapore offers 24-hour service every day of the week. Being in the locksmith gig for decades. Their main goal is to help clients in Singapore with their key and lock problems. By dedicating their time and effort into this goal, increasing their skills and stocking on supplies, they make sure to give the best products and services to the clients.
Because of this, customers of this company are satisfied with the work quality that they are given. One even expressed their gratitude for them getting him out of the "locked out of his house at midnight" situation. With the knowledge that lockout incidents are related to poorly made keys and locks, they specifically use high-quality brands, such as Kwikset, Viro, Yale and Schlage.
2. First Locks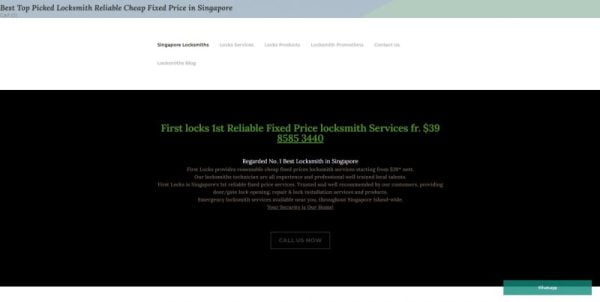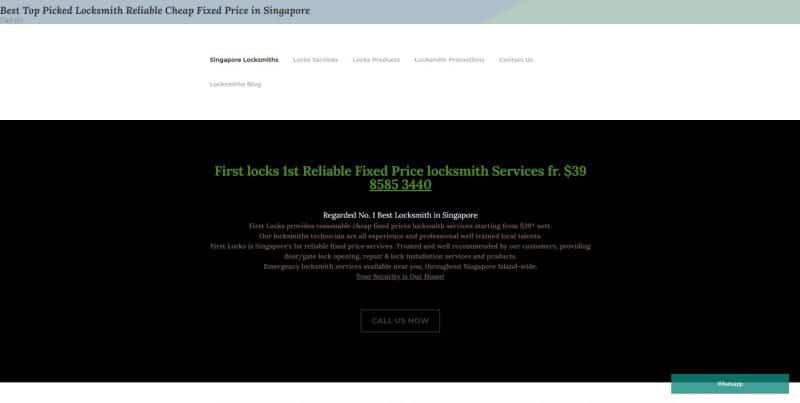 First Lock is great if you want to know how much you're paying for exactly for the locksmithing services. This is because they state their prices upfront, allowing you to make the choice of payment before anything. Services they provide include lock change & repair, lock and master rekeying, lock change for resident and commercial management, and many more.
While the prices differ, what is definite is that their prices start from $39. There are no strings or additional costs attached to that price. But these prices are worth it because although they have standard working hours, their emergency services are 24/7, so you can count on them even if they are officially closed.
3. Little locksmith Singapore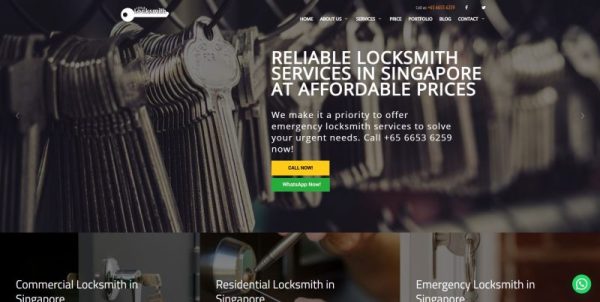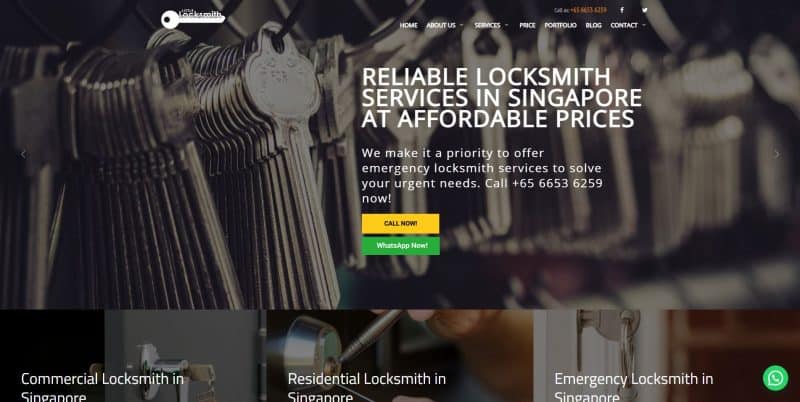 No matter your type of lock problems – lock, safe or keycard entry system, Little Locksmith will provide that very security service you need the protect your valuables and loved ones. To Little Locksmith, they define security as customers being able to sleep easy knowing that their homes cannot be broken in easily by unauthorized parties. It is knowing that the customer's loved ones are safe in their own homes.
Little Locksmith is the one company to enforce that security, and making sure that all the doors, alarms and locks can keep out intruders at all times. Their services include installation and maintenance of locks and access control systems, replacement or emergency door locks and keys.
4. Vincent Locksmith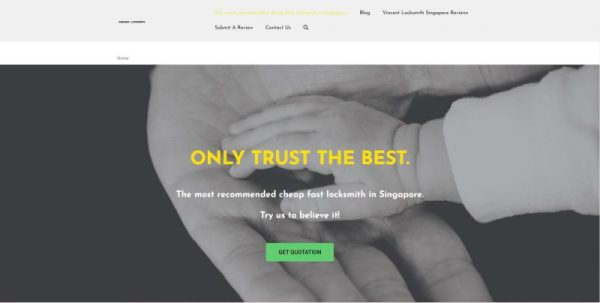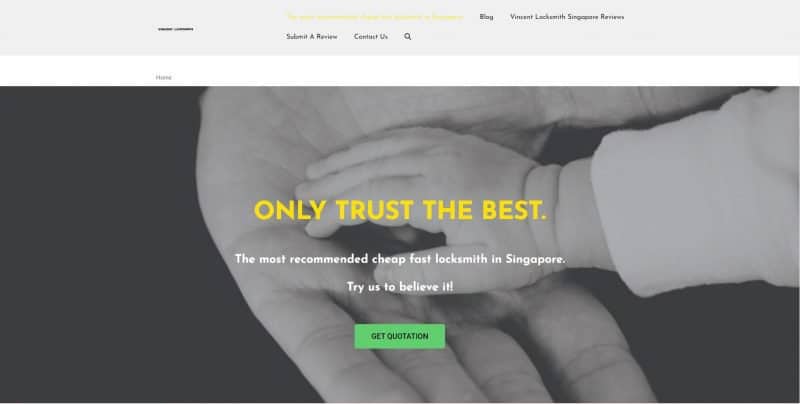 Need a locksmith that delivers quality at a low price? Well, Vincent Locksmith is the answer! With over 20 years of locksmithing experience under their belt, they can provide the solution to any lock and keying situation. They also are more than happy to provide tips and tricks to customers into maintaining their locks and security issues.
They also have security measures around in case of people trying to misuse their services. Being aware of the recent letterbox break-ins and theft of vouchers, they have exercised measures such as encouraging customers to keep the letterbox flaps closed, and requiring IC verification before they will perform the unlocking of letterbox task.
With their non-destructive lock opening services, it also means that customers can reuse that lock without having to spend money on another.
5. AA Urgent Locksmith – Cheap Locksmith Singapore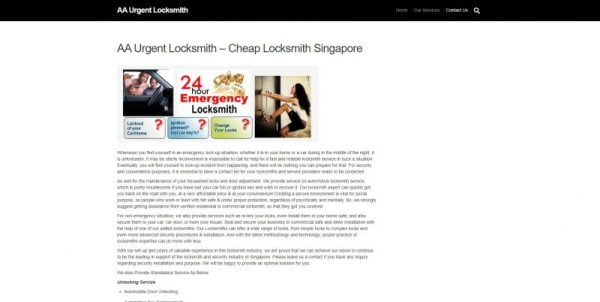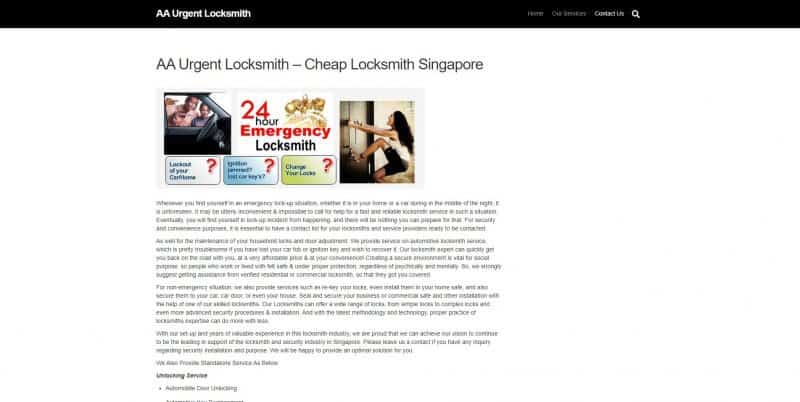 AA Urgent Locksmith is a professional company that can handle anything related to locks. Incidents that they can handle include lock-up issues, installation of new locks, unlocking safes, rekeying of locks and car door and many more.
With their versatility, if you ever run into a locking problem, the locksmith experts can quickly get you back on track. What is more, their services are affordable, so you do not have to worry about it eating into your funds. Because of their track records and expertise, they continue to be one of the leading companies in terms of the locksmith and security industry in Singapore.
6. Best Locksmith Singapore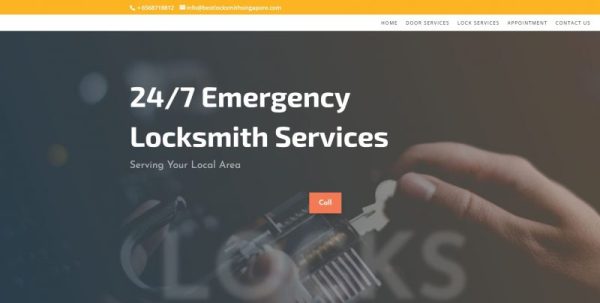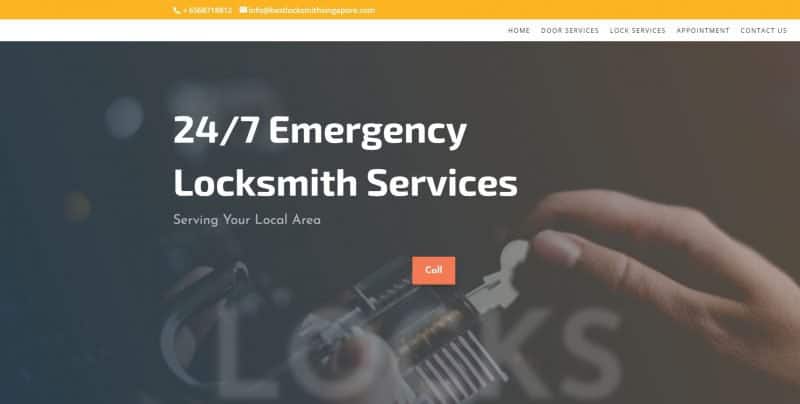 Established in 1988, Best Locksmith Singapore has been essential in helping clients maintain their high-level of security. When it comes to servicing of locks, such as supplying, fitting, changing and repairing, Best Locksmith Singapore is one of the best to do that job.
With their communication and transportation services being excellently supplied, they are able to arrive at a customer's home the moment the phone call ends. As one of the brands with the fastest response times, this means they are one of the best options for lock emergencies such as at home or for your car in Singapore.
7. Botak Locksmiths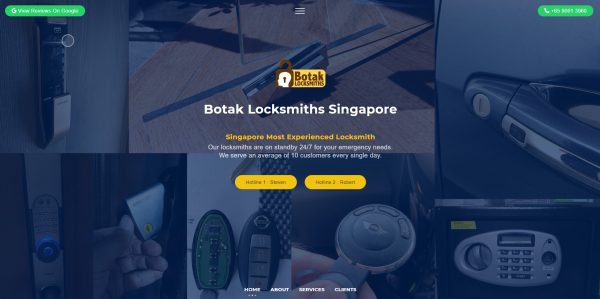 Having a collection of residential, commercial, business, and automobile locks among their products, Botak Locksmiths is also available when a locking situation has gone wrong for a customer. They can come out to tend to the problem in a jiffy, equipped with their residential, commercial and automotive locksmith services. After all, being locked out of a car or house is never a fun situation.
The best part about using their services is that they can open up locks without damaging the car or the door in question, showing precision and professionalism. Because they are open 24 hours a day, you can even count on them if your problems happen in the middle of the night! Botak Locksmith also covers the 5 regions of Singapore, easing your worry of a nearby locksmith.
8. Locksmithsok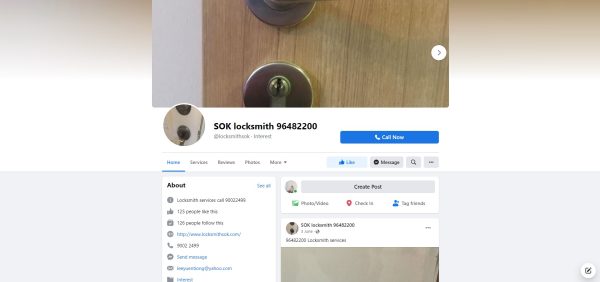 A professional locksmith with the necessary insurance and licenses, those working for Locksmithsok are considered highly talented and eager to help. The company provides a variety of locks with a vast range of prices depending on the type of lock.
Types of locksmith services provided include automotive lockout, residential, commercial, among others. Regarding locksmith issues, they are more than willing to offer advice and guidance to customers who need them. With their services being 24/7, they can make sure of their customers' safety and security at any time of the day.
9. Pro-Smith & Locks Services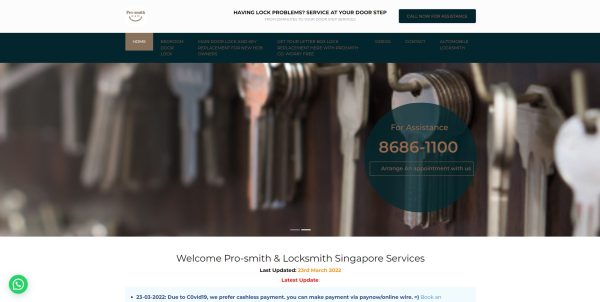 Specialize in installation and opening of locks for things such as letterboxes, house doors and car doors, Pro-Smith & Locks Services helps the residents to get their keys changed as well, if needed. Providing island-wide, on-site services and being available for long hours, it is one of the companies to turn to if you have problems opening things such as your safe, drawers or mailboxes.
With the entire team members being well trained and proficient in all sorts of locks, you can be assured that the services are top-notch. Adding to the reasonable prices, Pro-Smith & Locks Services may possibly be one of your go-to choices.
10. Min Lee Key Centre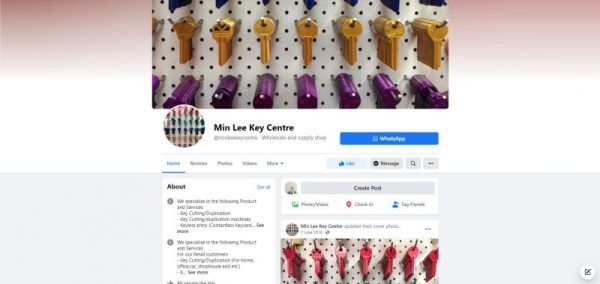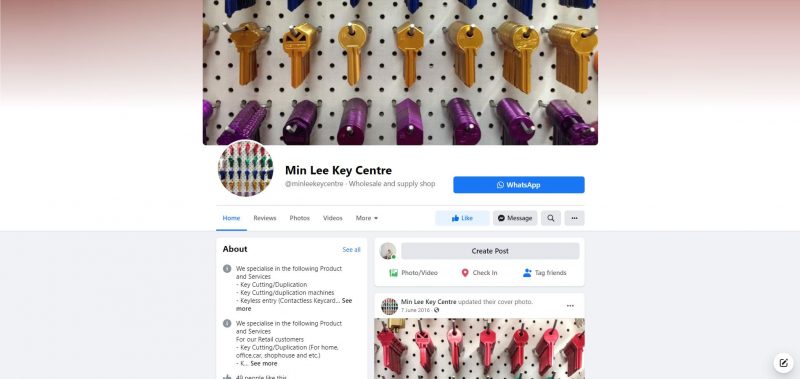 If you need your keys to be cut, duplicated or are in need for key-like or master key solutions, look no further than Min Lee Key Centre. Those at Min Lee Key Centre aims to provide the best-quality keys, and key-related services to the customers who are in need of them. Services include Key Cutting/Duplication and Keyless Entry (Contactless Keycard).
Need to purchase keys? They also sell a wide range of key blanks at reasonable prices. A bulk discount is given if more than ten keys are bought at once.
Conclusion
Do you have experiences to share regarding our choices for the 10 Best Locksmith in Singapore? While we are committed to supporting local business, please feel free to share in the comments or reviews!
We hope that this guide will be useful in helping you to help you find the best locksmith places in Singapore to help you out of your lock problems!
If you want a new door instead of a new lock as a solution, perhaps you can consider getting a sliding door for your house.
Explore More Content