9 Best Places to Buy Home Decor in Singapore You Should Home in to [2023]
Finding bespoke home decor pieces to house? Check out these 10 best places to buy home decor in Singapore!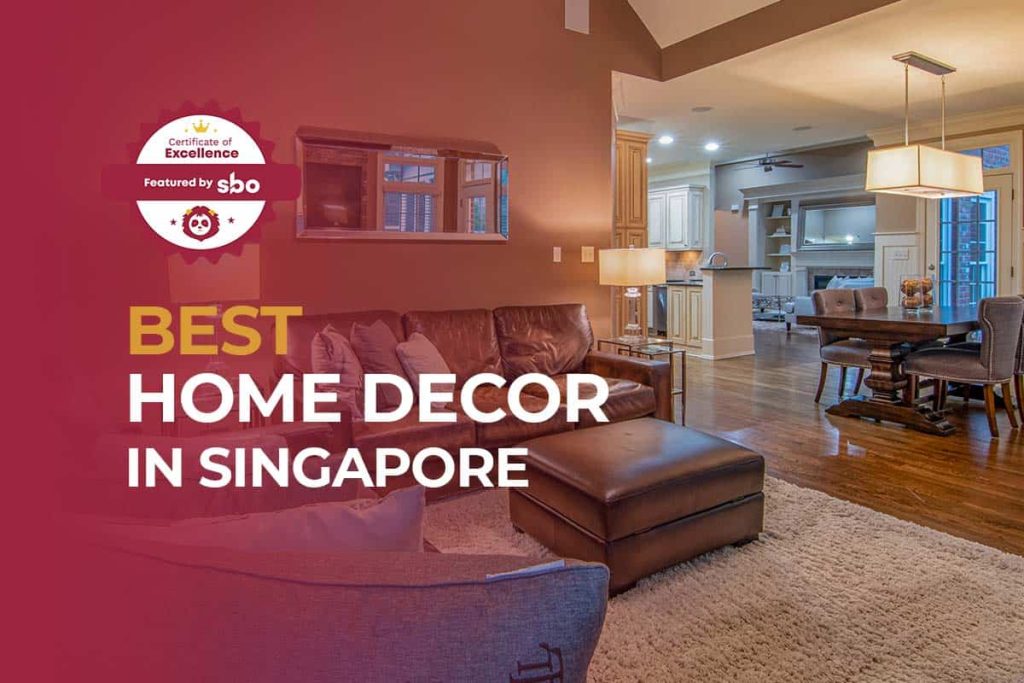 Home isn't just a space to live in – it's a feeling that gives you a sense of belonging. When it comes to decorating your home, every detail counts, whether big or small.
The various aspects of your home decor, like the furnishings, wallpaper and materials used, showcases your individualism and gives your home its distinctive personality no other home will mirror.
These elements in your decor make your home truly a personal place you'll always love coming back to, every single day. To help you turn your dream home into reality, here are the 10 best places to buy home decor in Singapore!
1. Ashley Furniture HomeStore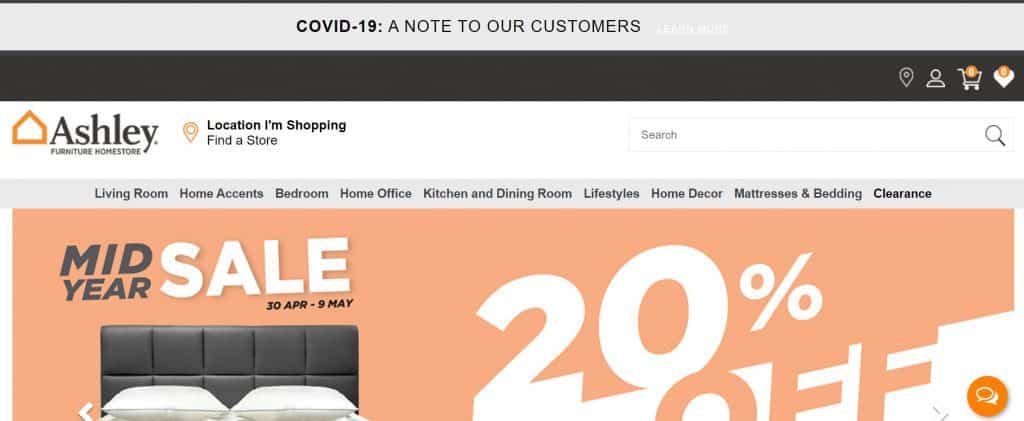 A prominent American furniture brand, Ashley Furniture HomeStore has a huge range of offerings for every room in your home. Furnishings are classed according to different lifestyles, which include Urbanology, Vintage Casual, Contemporary Living and New Traditions.
You can view their home decor pieces at all three of their outlets to cop a feel and look of the items that you're interested in.
The reviews generally mention the reasonable prices and superb service staff who know their stuff!
2. Noden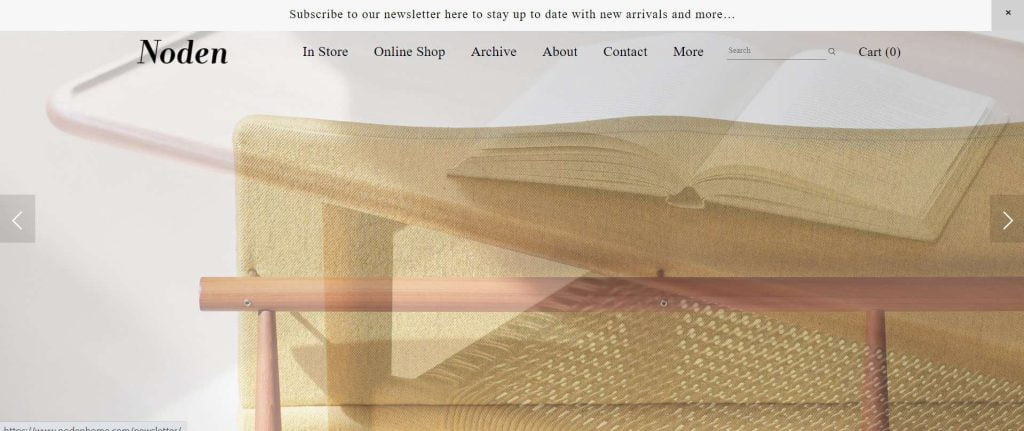 Majority of modern Singaporeans' home interior design encapsulates the simplicity of rustic Scandinavian themes, a highly sought-after style that is the epitome of contemporary living.
Established in 2013 as an independent store, Noden aspires to share a curated range of authentic and exquisitely created vintage Scandinavian furniture.
Over here, you get to choose from ageless vintage pieces, each with a unique story to tell, and new products by handpicked brands with heart. Let Noden share its charming collection with you and spread the love for its pieces all around.
Reviews gush over its elegant space with carefully restored vintage pieces that display the owners' passion for it. Service is impeccable and a trip to Noden is always one of knowledge to gain.
3. Knock Knock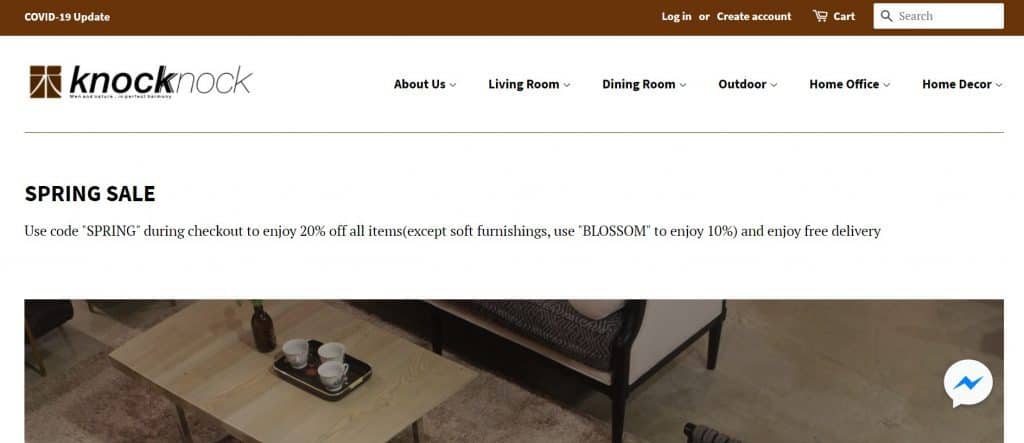 At Knocknock, you go hard or go home.
This furniture retailer specialises in wooden furniture with a history dating back to the 1980s. Knocknock is the modern, second-generation spin on the traditional business that adopts a bold and trendy approach.
Here, you'll discover custom-made and hand-crafted pieces that reflect a rugged uniqueness in their own individual ways. Reviews assure you of flawless service, from before to after your purchase, and premium workmanship.
4. SCENE SHANG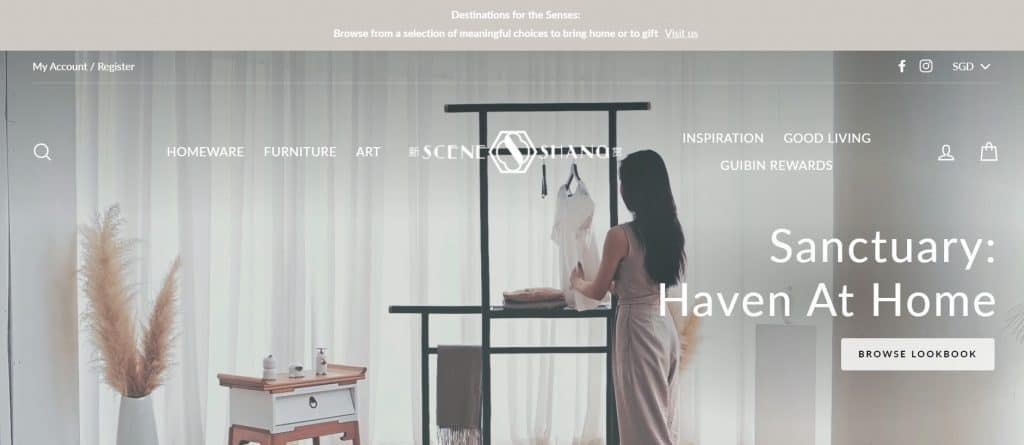 SCENE SHANG effuses a modern twist to rich Asian heritage. Modeled after 1930s Shanghai in its vibrant Art Deco illustriousness, it proffers pieces of home decor radiating fervour and opulence.
Its contemporary Asian designs are an eclectic mix of traditional Chinese elements and modern configuration. It is also the proud recipient of an impressive slew of accolades, ranging from Singapore Creator Awards 2019 Lifestyle Product Silver Winner – XUAN Table to the ASEAN Furniture Design Award Winner 2018 – JIA JU Rocking Stool.
Discover homeware, furniture and art masterpieces that'll surely be the centrepiece of any home. Reviews affirm it as a prime choice for modern, oriental pieces – or simply something special.
5. Wihardja Furniture Singapore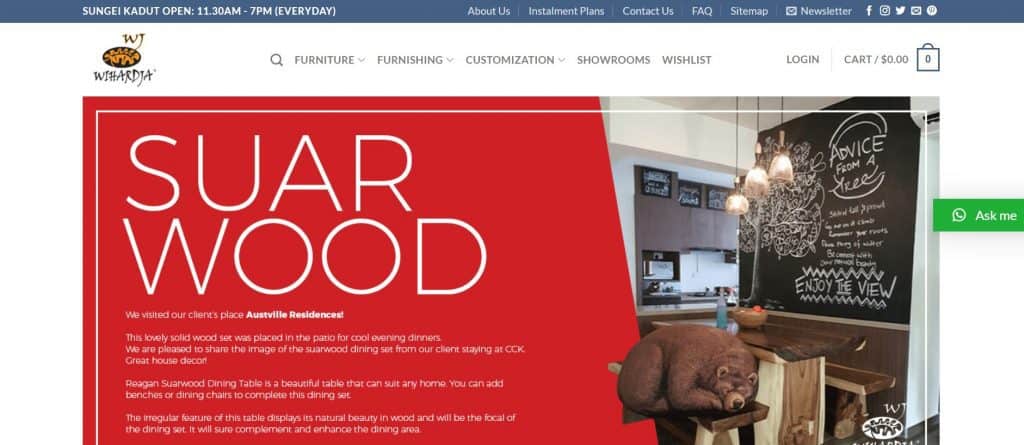 Armed with 17 years of technical experience in carpentry and design, Wihardja manufactures teak and suar wood furniture for local and international customers. Suar wood is the Indonesian adaptation of Albizia Saman, a tree that is indigenous to South America.
It clearly cares for the environment by using responsibly sourced wood for all their furniture. To take the quality and user satisfaction a step further, it also kiln-dries its wood to reduce the chances of cracking and warping.
Here, you can find various pieces of suar wood furniture thoughtfully designed by their in-house designers. There's also a section that sells only suar wood slabs! Reviews talk about the reasonable prices, stunning displays and exceptional service.
6. Picket&Rail Lifestyle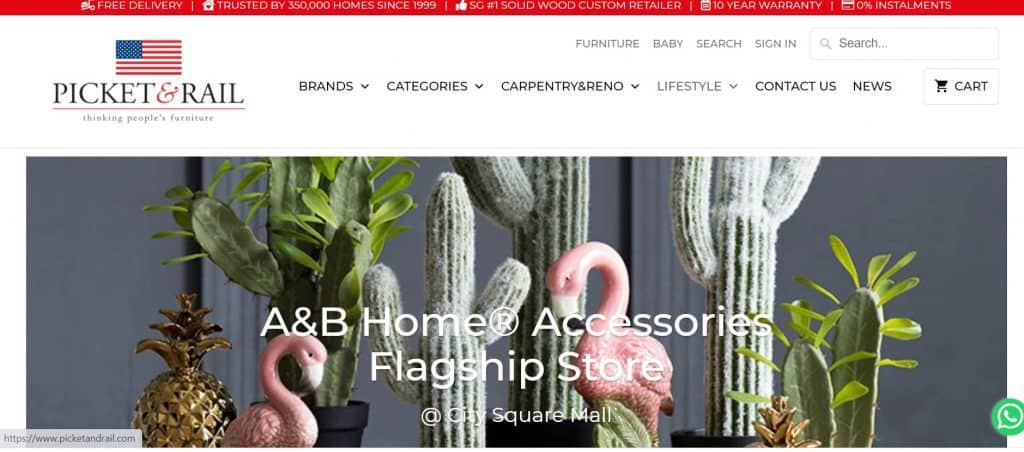 Picket&Rail has different stores in Singapore with different themes, but the one at City Square Mall is fit for those looking at home decor accessories and specific types of furniture.
From whopping wall decor to botanicals, textiles and print art, go wild with the wide variety of selections to choose from. You can even find something for your furry felines from their range of pet furniture, or children's furniture for your little ones!
Looking at the reviews, you'll be glad to know that many customers had a pleasant experience with stellar recommendations and guidance.
7. Loft Home Furniture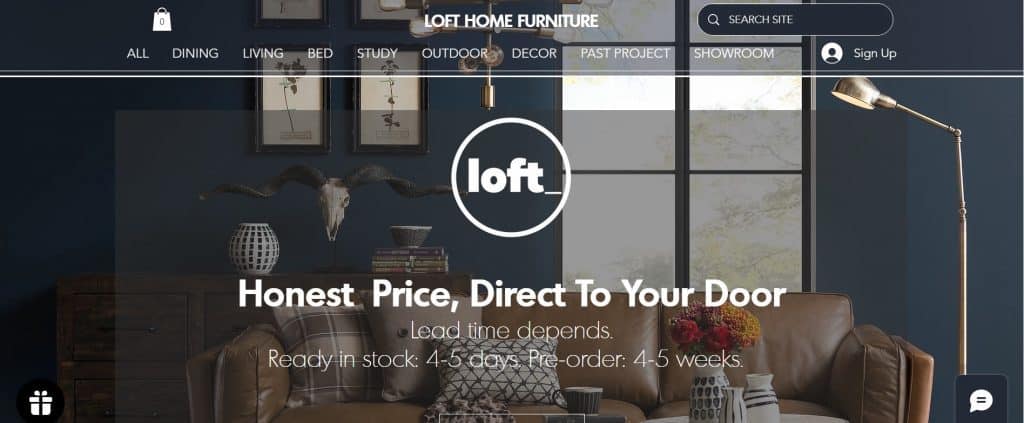 Loft Home Furniture touts its honest prices and lofty aspiration to transform the local furniture industry. By removing the middlemen and establishing their own supply chain, they present premium designer pieces without the expensive price tag.
To give you the best prices, it provides a "Price Protection Service" that allows you to ask for a price adjustment offer if it goes on sale within 30 days.
Visit their showroom and get a personalised 1-to-1 service to understand your needs and preferences. Reviews reveal positive experiences at the showroom and approve of the affordable prices and quality.
8. born in colour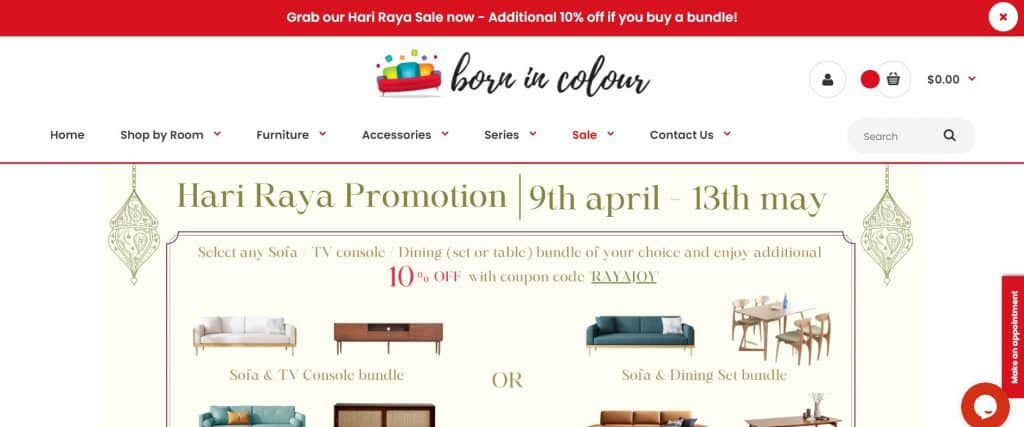 As locals themselves, the founders of born in colour understand the limitations new home owners face, especially in today's public housing where space is an issue.
This helped them conceive the idea of creating modern furniture pieces that are functional and compact at the same time. Each piece is thoughtfully designed to ensure practicality in everyday life.
Furniture is categorised according to the theme to make it easier for homeowners to browse. For example, you can choose furnishings that are "Retro Vintage", "Japanese Minimalist" and "Scandinavian".
In the reviews, satisfied customers commend the staff's exceptional product knowledge and the wide variety of furniture options available.
9. HOOGA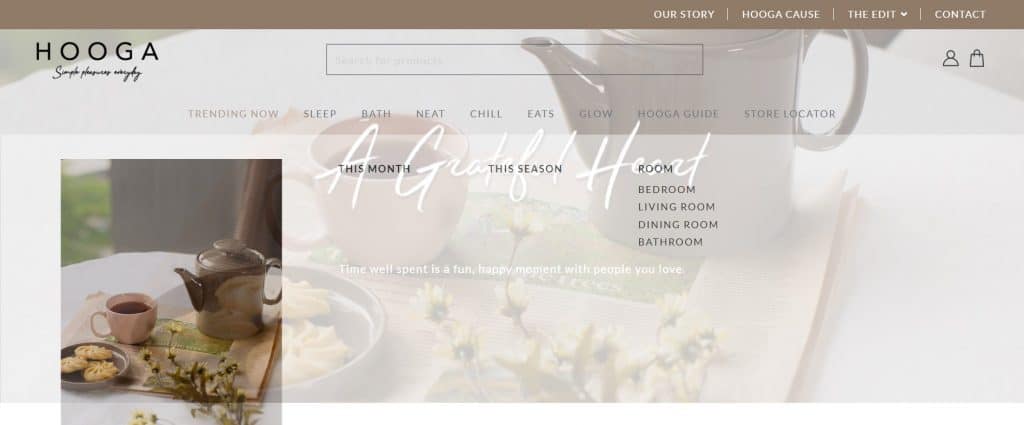 Seen HOOGA around while you were shopping recently? Pronounced "hue-guh", this Scandinavian-concept brand delivers quirky home decor pieces at pocket-friendly prices.
True to its meaning of "a life of all things cosy", HOOGA aims to imitate the comfort a companion would bring about. You can find a slew of different furnishings and lightings offered, as well as bedding and bathroom supplies.
Be welcomed by warm staff that go above and beyond to meet your needs, affordable prices and trendy minimalist furniture, just as the reviews claim!
Conclusion
Do you have any reviews and comments to share regarding our choices for the best places to buy home decor in Singapore?
While SBO is committed to supporting our local businesses, we welcome any feedback and anonymous sharing regarding your experience with the listed home decor shop in Singapore.
We hope that this guide will be useful in helping you to make an informed decision when it comes to finding the best places to buy home decor in Singapore.
Having beautiful home decors will be pointless if your house does not look aesthetically pleasing. Getting an experienced interior designer will be your best solution to make your house look presentable to yourself and anyone else who steps into it.
Featured Image by Curtis Adams from Pexels
Explore More Content