10 Best Smoke Detectors in Singapore Because There's No Smoke Without Fire [2023]
Looking for a smoke detector in Singapore but don't know where to start searching? Fret not, as SBO has you covered with all the crucial details you need.
A smoke detector is a device that basically senses smoke, typically as an indicator of fire. Commercial smoke detectors issue a signal to a fire alarm control panel as part of a fire alarm system.
Since June 2018, smoke detectors have been made mandatory in all new residential homes, including HDB (Housing Development Board) flats.
In general, there are two typical types of smoke detectors.
Types of Smoke Detectors in Singapore:
1. Photoelectric Smoke Detector
Photoelectric smoke detectors are generally more responsive to fires that begin with a long period of smouldering e.g. a burning cigarette, a short-circuited wire.
Photoelectric-type detectors aim a light source into a sensing chamber at an angle away from the sensor. Smoke enters the chamber, reflecting light onto the light sensor; triggering the alarm. This allows it to detect fire earlier than a heat-based detector.
Generally, this smoke detector is installed in spaces such as basements, ordinary floors, corridors, staircases and elevator shafts.
2. Ionisation Smoke Detector
Ionisation smoke detectors are generally more responsive to flaming fires e.g. grease fire in the kitchen, paper burning in a waste basket.
Ionisation-type smoke detectors have a small amount of radioactive material between two electrically charged plates, which ionises the air and causes current to flow between the plates.
When smoke enters the chamber, it disrupts the flow of ions, thus reducing the flow of current and activating the alarm.
Considerations when selecting a smoke detector:
Length of Battery Life (determines how frequent battery should be changed)
Sensing Range, Sensitivity, and Technology (how many smoke detectors should be deployed)
Alarm Volume (would you be able to hear it through reasonable amount of noise/music)
Wifi Connectivity (for notifications should a fire break out while you're away)
Ease of Installation
Any other useful features?
In this post, we've gathered all the relevant details to compile a list of the 10 smoke detectors in Singapore.
1. Yale E-SD2 Smoke Detector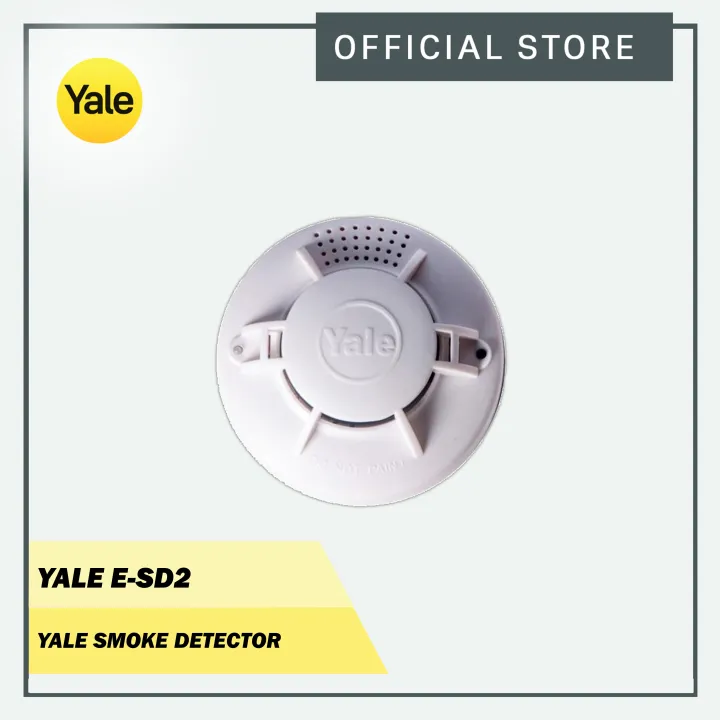 The Yale E-SD2 Smoke Detector can be installed without a hitch.
It's battery-operated (9V battery), which enables it to be easily installed in any room without the hassle of running wires, or requiring the need for a handyman or electrician. A clip off bracket also makes battery changes easy.
2. PowerPac Smoke Detector with HUSH Function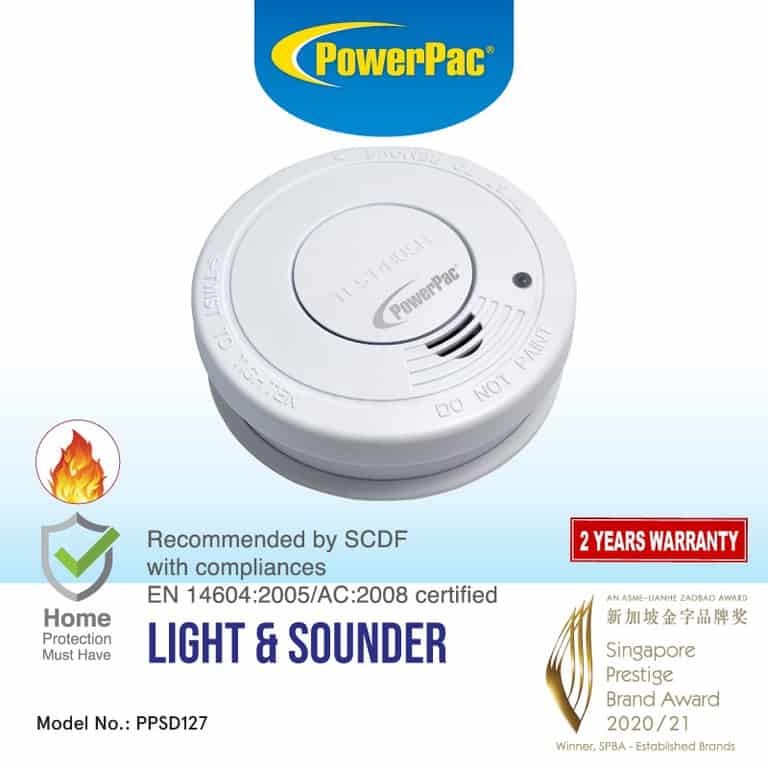 A unique feature of the PowerPac Smoke Detector is its HUSH function.
Located on the cover, pushing the button temporarily desensitises the smoke alarm circuit for approximately seven minutes.
This feature is meant for easy deactivation when the alarm is triggered by accidental smoke produced by cooking (as opposed to smoke detected when no one's cooking).
Plus, the smoke detector comes with a two-year warranty, and is recommended by the SCDF (Singapore Civil Defence Force), so you can have peace of mind with it in operation.
3. Falcon SG-Approved Smoke Detector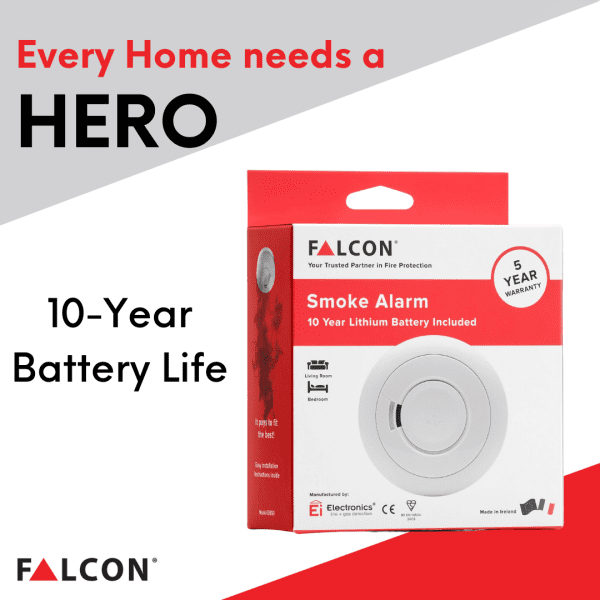 The Falcon SG-Approved Smoke Detector comes with a sturdy lithium battery that has a 10-year lifespan.
That's not all: the smoke detector also comes with a decent 5-year warranty, so you can have a peace of mind if any part goes haywire.
The best part of it all: it's also equipped with dust compensation technology, which compensates for dust contamination or buildup while maintaining sensitivity to smoke.
4. Blaze Guard Nano Photoelectric Smoke Detector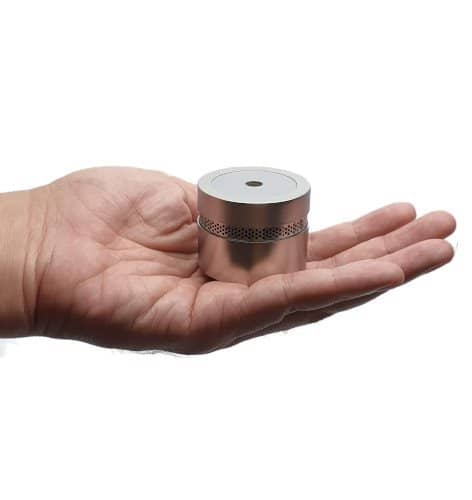 At the height and width of less than two one-dollar coins (50.8mm by 42.5mm), you can install the Blaze Guard Nano Photoelectric Smoke Detector anywhere in your house without worrying that it will sully your home décor theme.
Double-sided industrial grade 3M VHB tape is provided in the package, no drilling is required for installation.
Certifications:
VdS: The VdS certification mark creates orientation and confidence and documents the high quality and reliability of products and services.
LPCB: The Loss Prevention Certification Board (LPCB) has set the standards needed to ensure that fire and security products perform effectively.
SCDF: They are also an authorised supplier listed on SCDF's website.
5. BlitzWolf BW-IS7 WiFi 360° Smoke Detector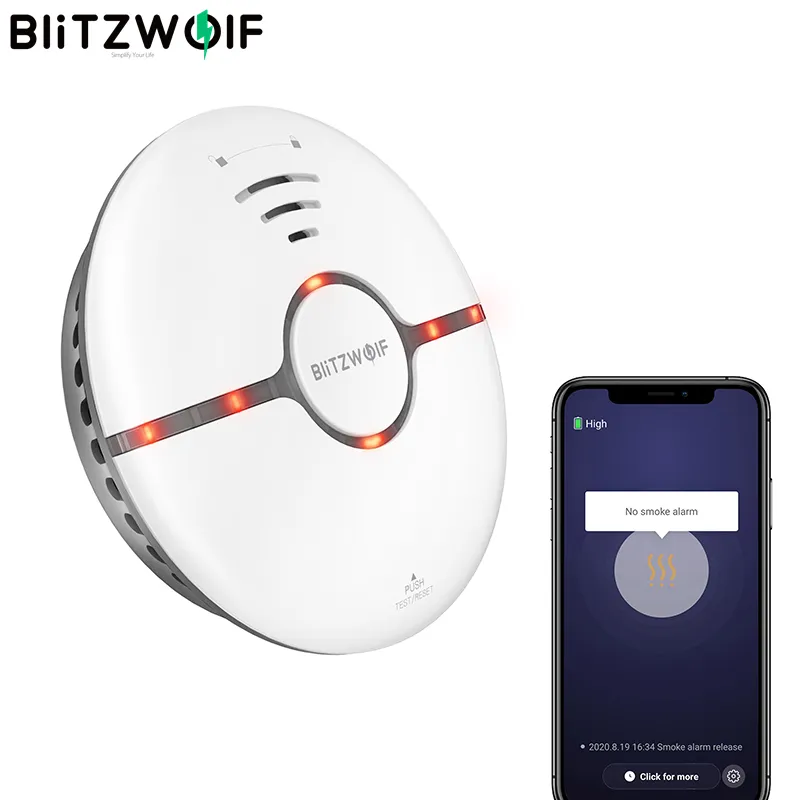 The BlitzWolf BW-IS7 WiFi 360° Smoke Detector has 360° sensing to avoid any blind spots within 30m².
The photoelectric technology makes it more sensitive than an ionisation smoke alarm.
The chassis of the smoke detector is made from fireproof acrylonitrile butadiene styrene, and has a pretty standard battery life of one year, so it'd be advisable to set yearly reminders on your calendar.
For even more assurance, you're also be able to connect the smoke detector to an Internet Protocol camera via WiFi to facilitate real-time image monitoring of your home.
6. Hager TG600AL Standalone Smoke Detector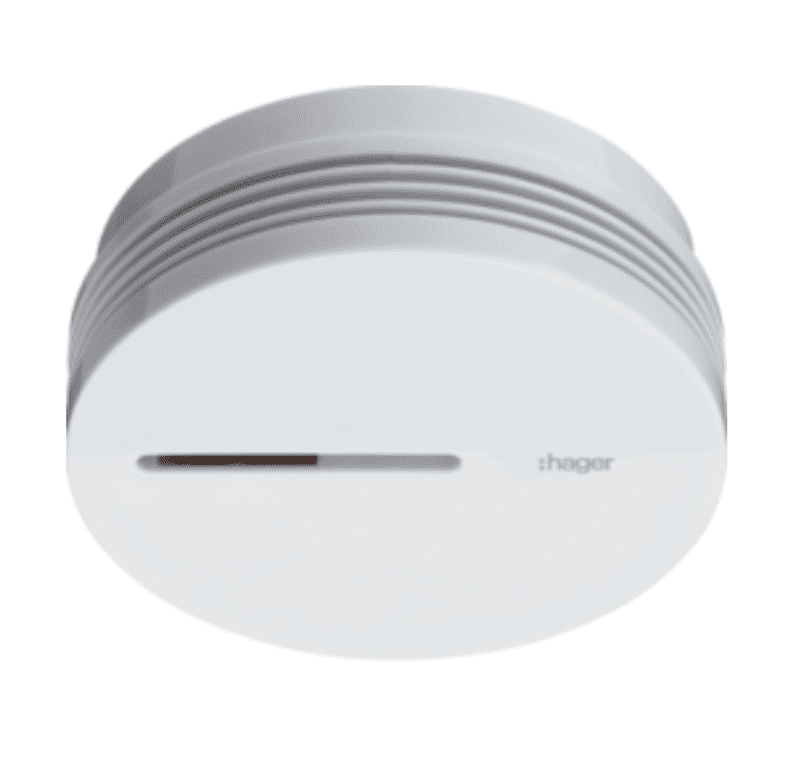 The small footprint of the Hager TG600AL Standalone Smoke Detector has a large push button fully integrated into the design, which allows for quick and easy access to the product's stop or control functions.
Do note that when testing manually, the smoke detector will produce an attenuated sound of 75 decibels (db) at 3m, so while bearable for brief test bursts, it's always better to have earplugs on just in case.
7. E Life Smart Store LED Digital Gas Smoke Alarm Co Carbon Monoxide Detector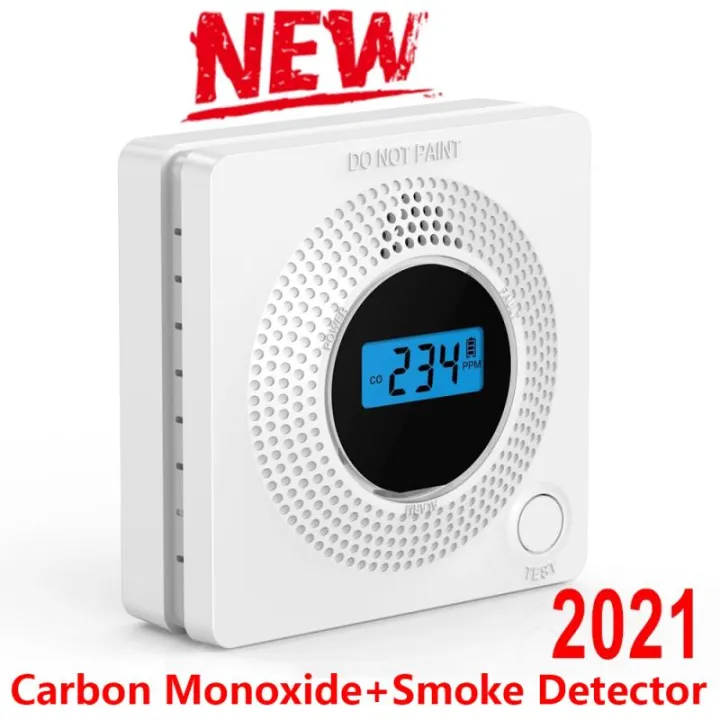 A good smoke detector is also one that comes with an in-built carbon monoxide (CO) detector within.
This is because when a fire burns in an enclosed room, the oxygen in the room is gradually used up and replaced by carbon dioxide. Following a build-up of carbon dioxide in the air, the fuel is prevented from burning fully and it starts to release poisonous carbon monoxide.
Go with the E Life Smart Store LED Digital Gas Smoke Alarm Co Carbon Monoxide Detector, which comes with a unique digital LCD screen to display CO levels. It's able to record peak levels of CO detected over a four-week period.
That's not all: it also has an in-built room temperature indicator with a range of ±2°C to detect temperature changes in its surroundings.
8. OLEE OL-2588 Smoke Detector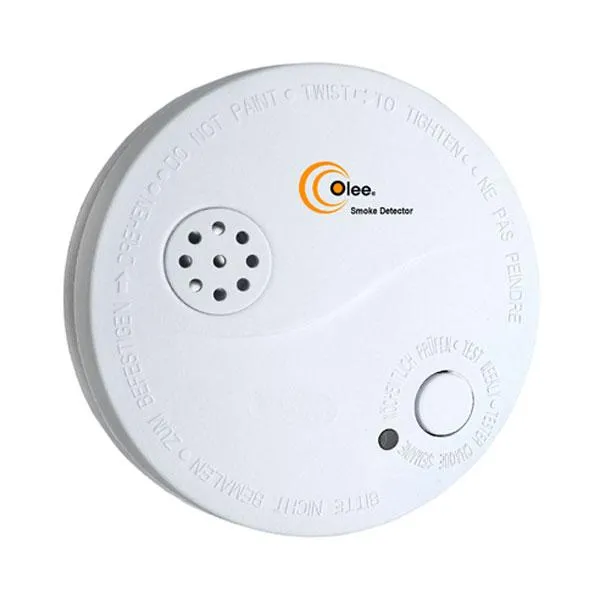 The OLEE OL-2588 Smoke Detector is a highly sensitive photoelectric smoke detector with a range of between 20m²– 40m².
As it's powered by a 9V battery, it can operate even during power outages. When triggered, it produces an alarm at a deafening 85db, so most folks would likely be able to hear it.
9. KERUI Wireless Tuya Smart Home WIFI Smoke Detector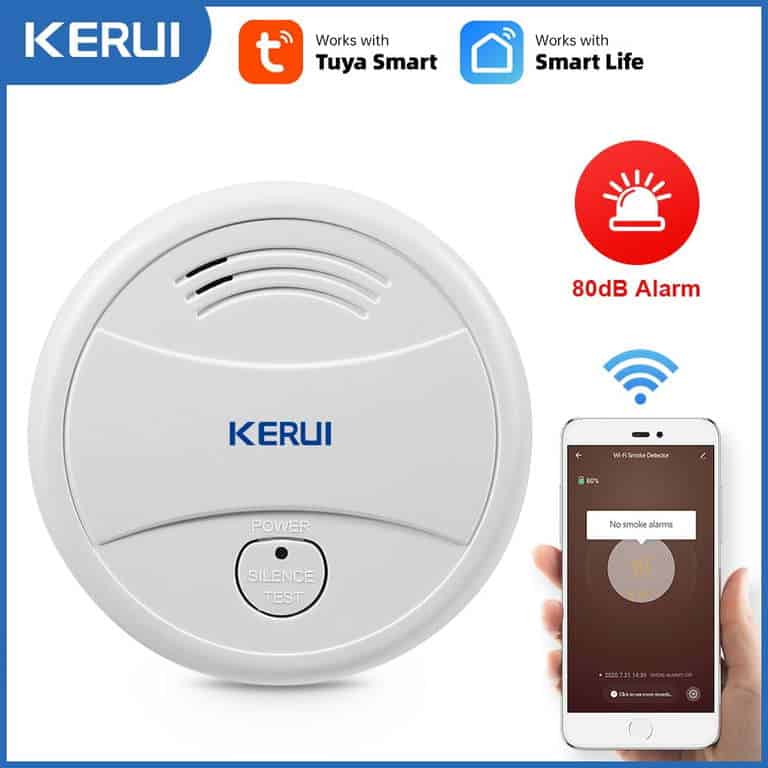 Type of Information
Details
Technical Specifications
– Brand: KERUI
– SKU: 1888581826_SGAMZ-10067609955
– Model: PA4
– Wirelessly connects to wifi
– Accessible via the 'Tuya Smart' app
Price
S$18.73
Online Reviews
1 Lazada review (Average rating: 5.0 / 5.0 stars)
The KERUI Wireless Tuya Smart Home WIFI Smoke Detector is compatible with a smartphone application.
Once smoke is detected, the red indicator light on the smoke detector flashes immediately, and a loud alarm sound exceeding 90db is emitted.
It would also push the alarm information to your phone through the Wi-Fi network, and you'll be able to check the status information of the sensor via the "Tuya Smart" APP.
The battery level of the smoke detector can also be checked through the Tuya APP.
10. Mowe MW860S Smoke Detector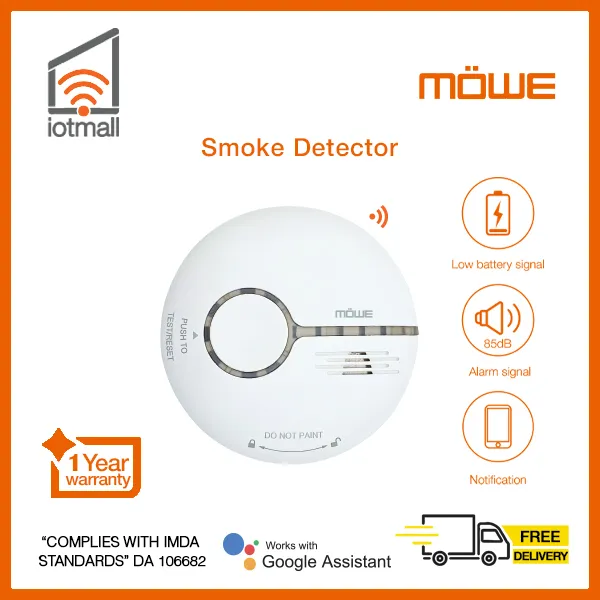 The insect-resistant design of the MW860S Smoke Detector has a network detection window to keep pesky flying insects and other small creatures out, preventing disruption in the normal operation of the alarm.
Within the range of three metres, an alarm sound of 85db will be issued to remind you and your family to protect your life and your property.
At just 183g, it's lightweight and portable, so it's possible to have them installed at temporary event structures.
That's not all: the smoke detector comes with a one-year warranty.
Conclusion
Do you have any reviews and comments to share regarding our choices for the best smoke detectors in Singapore?
While SBO is committed to supporting our local businesses, we welcome any feedback and anonymous sharing regarding your experience with the listed smoke detectors.
We hope that this guide will be useful in helping you to make an informed decision when it comes to finding the best smoke detectors in Singapore to minimise the risk of fire.
If you have already gotten reliable smoke detectors installed, the next essential item to get is a fire extinguisher.
Explore More Content