20 Best Interior Designers in Singapore For a Wonderful Home [2023]
Fulfill your wish of creating a dream home with the help of the best interior designers in Singapore.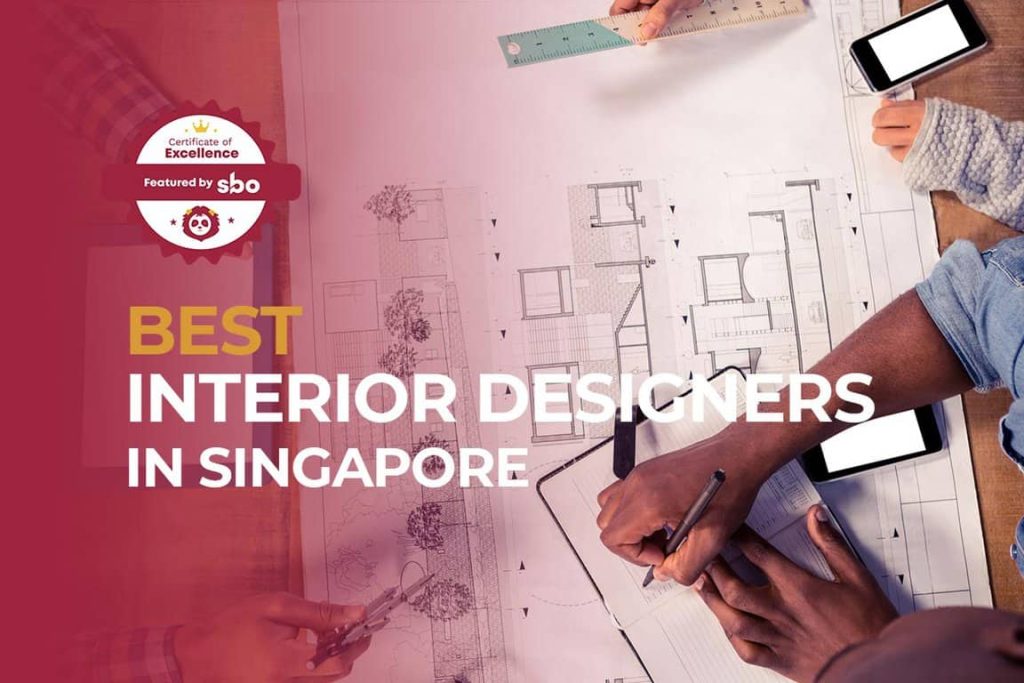 Are you looking to create a dream home that you have so desired but you're unsure of where to start from or just simply lazy to do the research yourself? If so, interior designers in Singapore is what you would want to look for.
What are Some Factors You Should Consider When Hiring an Interior Designer?
1. Is the Interior Design Company Professionally Certified?
If this is your first time hiring an interior designer, you may want to hire one who is professionally accredited. There are several interior design business accreditations in Singapore and one of them is the HDB licence.
Being an HDB-licensed contractor means a company has gone through extensive training and is aware of the renovation protocols for public housing. Among others, the accreditation guarantees that an interior designer:
has at least 3 years of experience and is actively involved in the renovation trade
is ACRA-registered for a minimum of 1 year
has good records
2. What is Your Budget?
Based on the size and complexity of your project, you should set a realistic budget in the very beginning and discuss it upfront with a potential interior designer.
The interior designer will then craft the design based on the budget you've allocated so do mention it upfront!
3. Does Their Style Match Yours?
If you're hiring an interior designer to design your new home, it is obvious that you would want their style to match yours. Every interior designer has their individual styles and it's essential to make sure that your expectations and practices are a good match.
A great way to do so is to meet at least three potential designers and get a feel of their aesthetics, working styles, and personalities. This way, it will be easier for you to compare their style and find the one who's more like-minded with you.
Considered these factors and are ready to see our recommendations?
Check out this article as we've gathered all the necessary details including unravelling reviews and testimonials to derive a list of the 20 best interior designers in Singapore that make your dream home a reality.
1. Weiken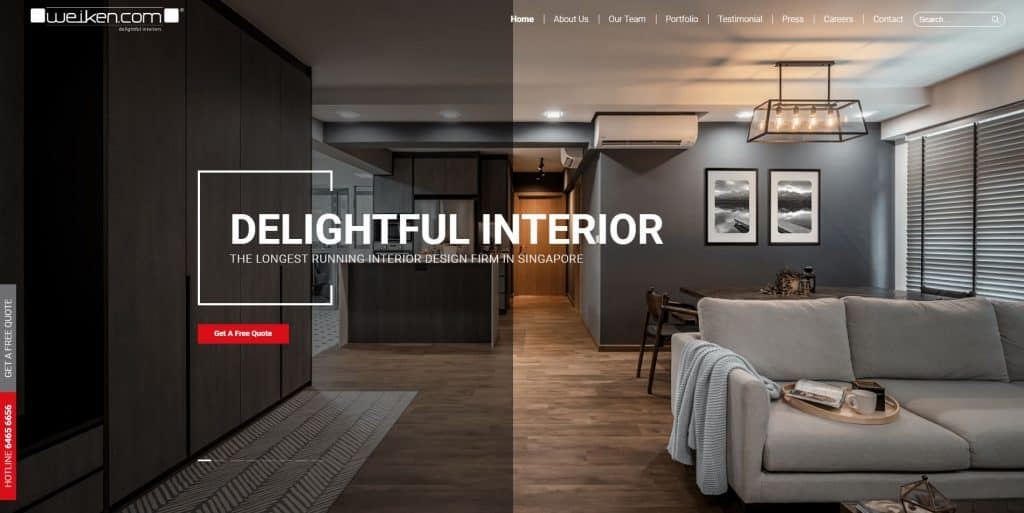 Founded in 1996, Weiken is one of the best interior designers in Singapore that is known for their creative, innovative and aesthetic interior design solutions.
Weiken offers a wide range of competitive interior design packages and renovation services for HDB, condominium, landed and commercial spaces from consultation all the way to project management.
They also offer a 2-year warranty for every design and renovation works carried out by them. They have launched WeCare as a platform to deal with issues faced by their clients.
2. Fineline Design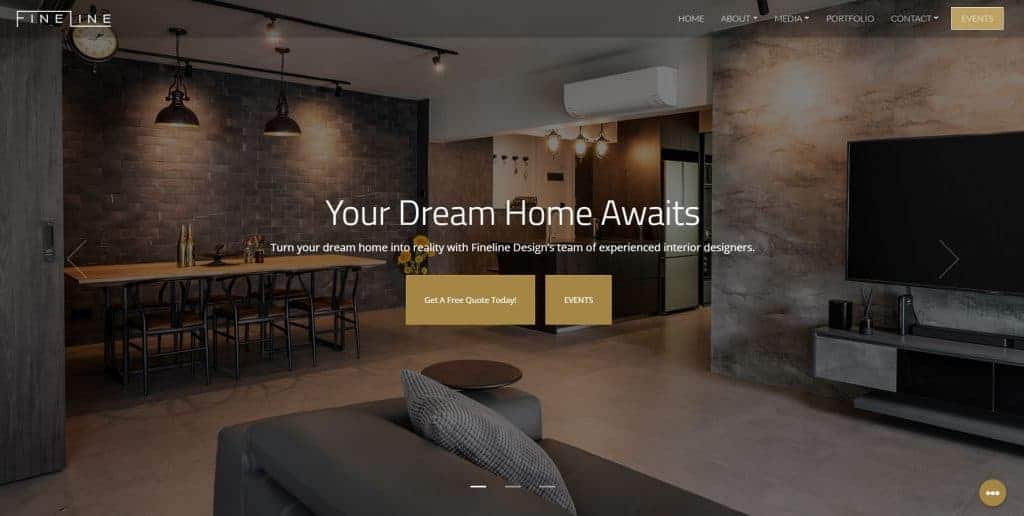 Having more than 10 years of experience in interior design, Fineline Design has become one of the most reliable and recognised interior designers in Singapore that strives to meet their client's needs in the best way possible.
Its reliability over the years has been recognised with the achievement of its BCA Construction License in 2012, BizSafe and HDB Permit in 2017, Casetrust in 2009 and Qanvast SuperTrust for multiple years
Fineline Design specialises in commercial and residential interior design projects. Each of these projects is carried out to its finest detail through a seamless workflow from materials selection, the actual execution to the completion of the project.
They also have in-house carpentry and metal workshop as well as experienced skilled carpenters which will assure customers that they have all the necessary tools to get the job with the highest standard.
3. Lome Interior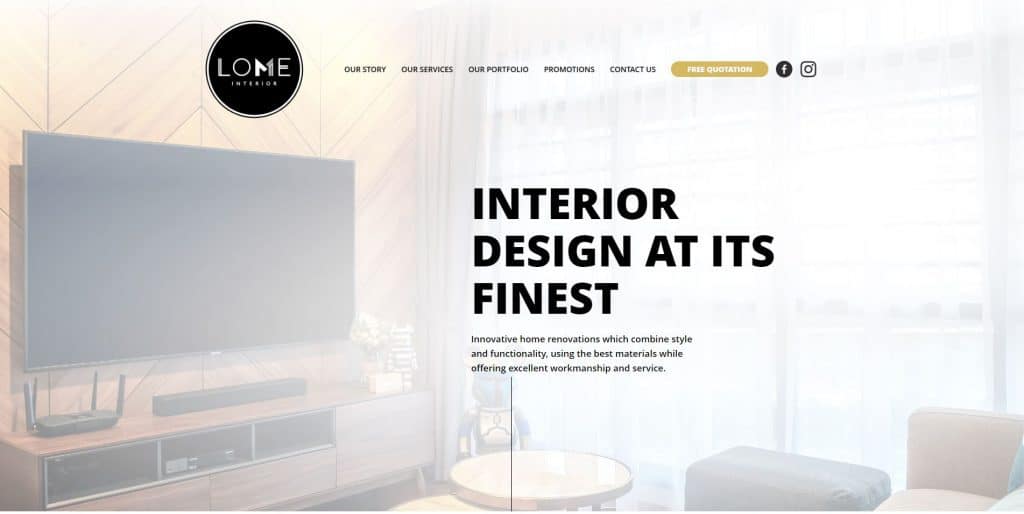 Lome Interior is a local interior design firm with an aim to create a beautiful home for homeowners and their loved ones. Their experienced interior designers have the necessary expertise and emphasis on service to ensure a seamless and hassle-free renovation process for you.
Whether it is condo interior design, room interior design or renovation, Lome Interior follows a customer-inclusive process flow: Consultation, Proposal and Budgeting, 3D Conceptualisation as well as Renovation and Key Handover.
Lome Interior partners closely with various companies in the respective industries which gives them the ability to utilise the best materials for your home. These includes Nippon Paint, Lian Hin and Excel Premium.
4. EightyTwo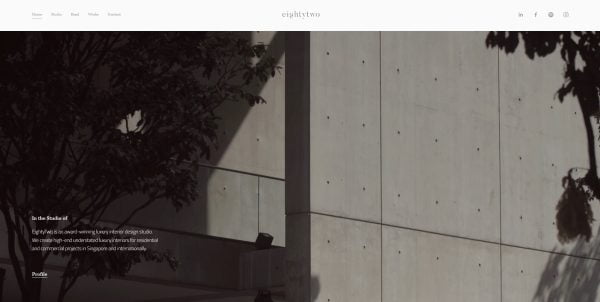 EightyTwo is Singapore's leading luxury interior design studio that offers turnkey residential interior design consultancy, project management, tailor-made interior styling and furniture design services for private individuals and property developers.
EightyTwo has accumulated an extensive portfolio of residential interior design works such as Wallich Residences, Regency Park, Tierra Vue, Stangee Place and Seaside Residences.
They have managed to achieve awards such as Interior Designer Excellence Awards (IDEA) since 2020 and The International Design & Architecture Awards 2020.
5. Design4Space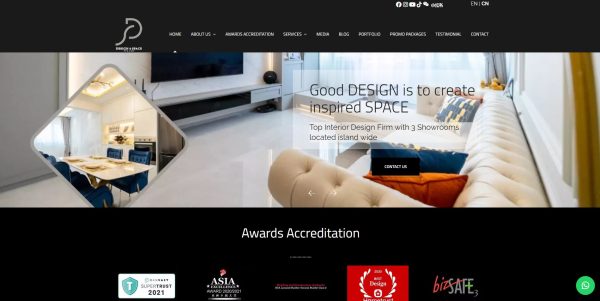 Founded as a humble set-up, Design4Space has since evolved into a full-fledged interior design firm. They have managed to complete a few thousand projects for their clients to date rooted in their commitment to show utmost professionalism and execute their work in an effective and efficient manner.
Design4Space specialises in providing HDB Interior design services, condominium interior design services, landed new erection/a&a works and commercial projects.
They offer more than 60 different packages catered to the client's needs and budgets for different types of HDB and condominiums.
Over the years, Design4Space has built itself up as a reputable interior design firm and gained several awards and accreditation. These include CASETRUST-RCMA Accredited, BIZSAFE 3 Awarded & Certified and Singapore SME Prestige Award.
They also appeared on various media platforms such as CNA Lifestyle and The Smart Local.
6. Livspace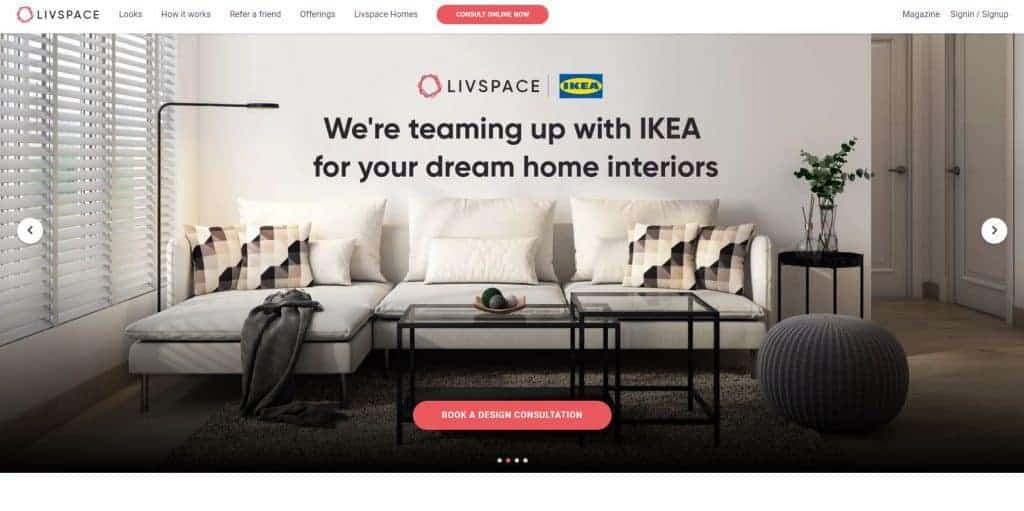 Founded in 2014 by college friends, Anuj Srivatsava and Ramakant Sharma, Livspace provides a hassle-free home interior design and renovation service that aim to give a happier experience to customers.
When approaching Livspace to design your new home or renovation, you can be sure that it will be a breeze starting from the filling of the form to meet their designers and get a free quote all the way to the move in. Payment is made in a gradual fashion: 10% to book their services, 40% to place an order once you have finalised all products and the remaining 50% before the work starts.
They have partnered with several brands such as IKEA in which they have pop-up stores in Alexandra and Tampines. They have also won awards namely being the winner of Best Residential Design Award, Qanvast SuperTrust and IMDA Accreditation.
7. i.Poise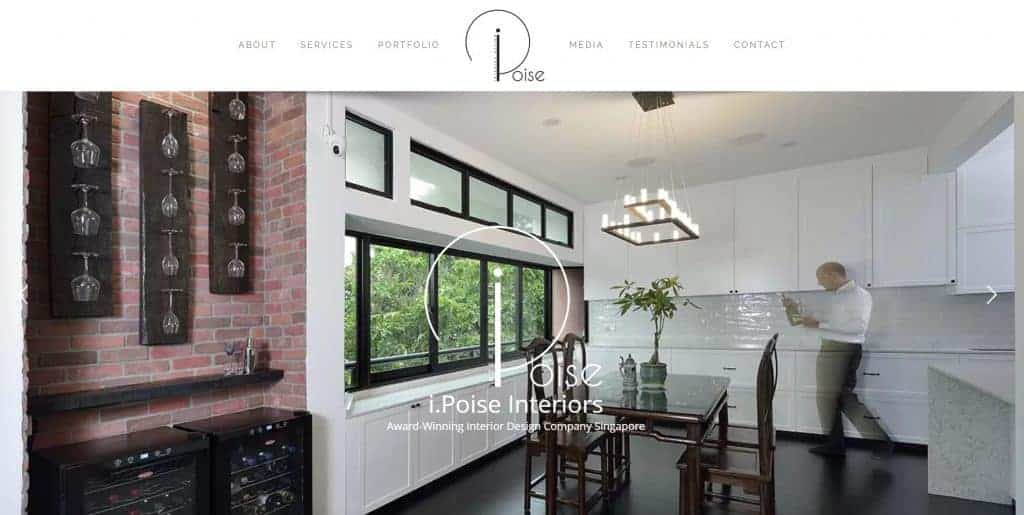 Led by Alicia Koh, i.Poise Interior Design is a design studio in Singapore that specialises in luxury interior design for both private clients and developers.
i.Poise Interior Design focuses on a highly personalised design service which ensures that your luxury design is done to the last detail to meet their client's needs and stand the test of time.
In recognition of their high-quality work, i.Poise has been awarded various accreditations and certifications such as Top 100 SME Singapore Elite Entrepreneur, HDB Licensed Renovation Contractor and a finalist of the International Design Excellence Awards in 2015.
8. NorthWest Interior Design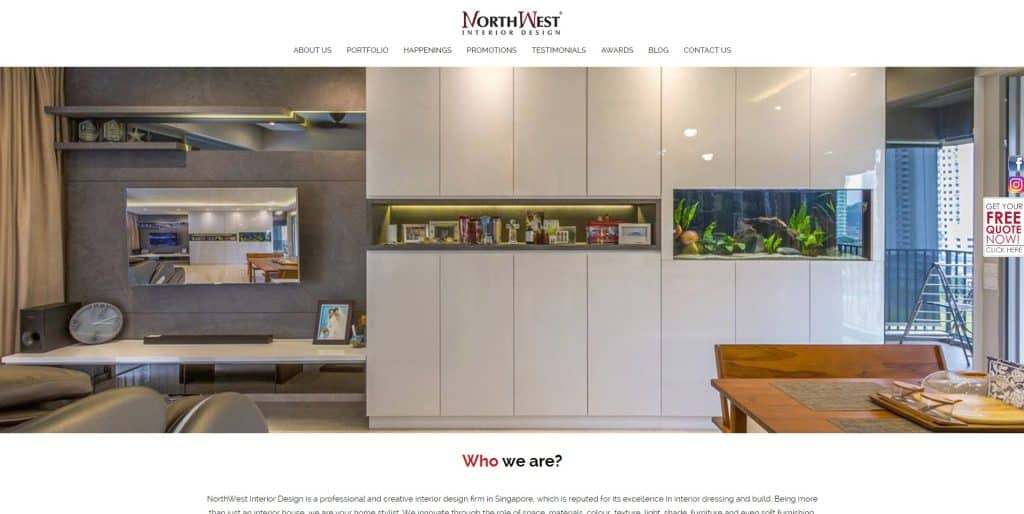 NorthWest Interior Design is an interior designer in Singapore that is reputed for its excellence in interior dressing and build.
They have carried out interior design works for residential (HDB and Condo) and commercial clients and innovating their design through the role of space, materials, colour, texture, light, shade, furniture and even soft furnishing.
NorthWest Interior Design is here to ensure you with quality, reliability and professional 'before and after' service. No matter the size of your query, you can be assured that they will attend to it with the same attention you would bestow on it.
9. MDS interiors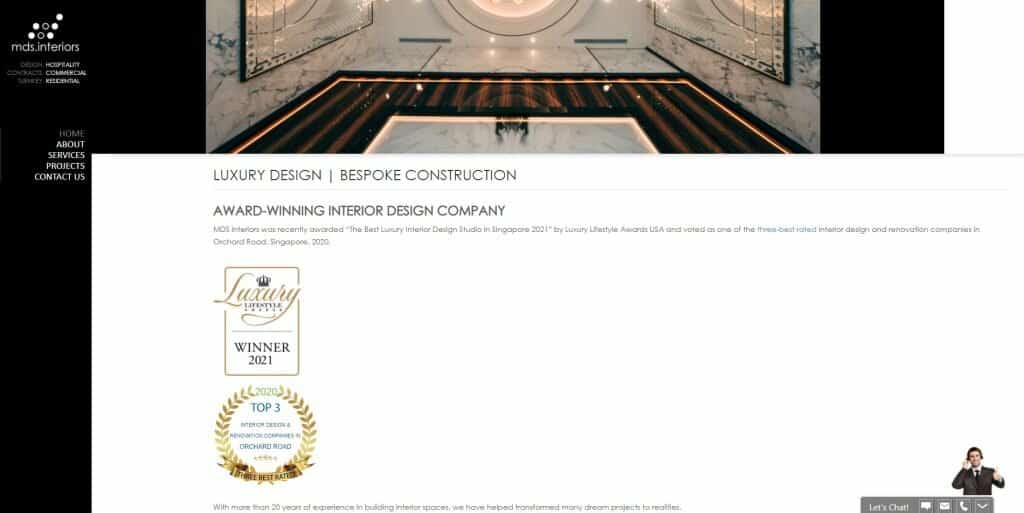 With more than 20 years of experience in building interior spaces, MDS Interiors helped their clients to bring their dream projects to life whether they are sprawling F&B outlets and restaurants or exquisite show suites for major real estate developers.
MDS Interiors provide a wide range of services including space planning, concept development, design development, interior construction documentation and construction management.
MDS Interior has been awarded "The Best Luxury Interior Design Studio in Singapore 2021" by Luxury Lifestyle Awards USA and voted as one of the three best-rated interior design and renovation companies in Orchard Road in 2020.
10. Swiss Interior Design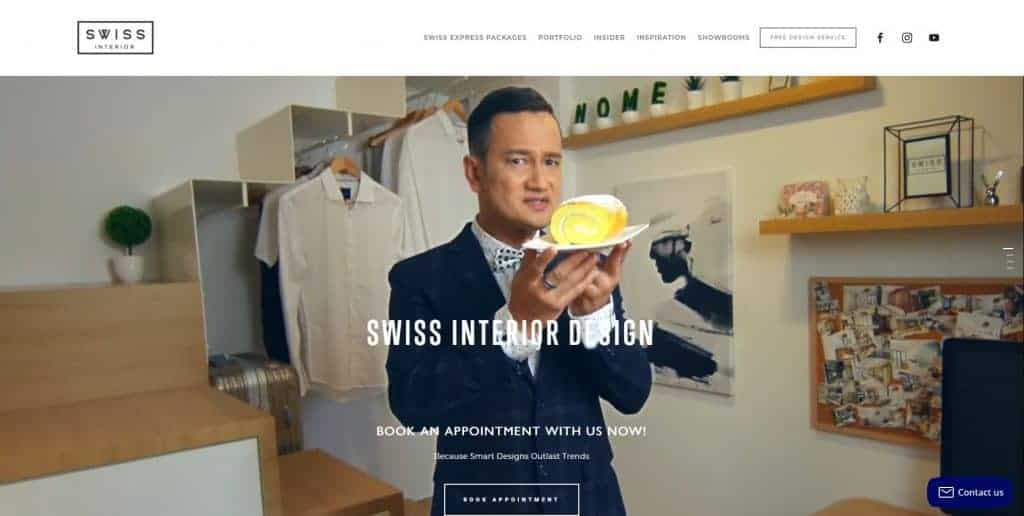 Founded in 2012, Swiss Interior Design lives to inspire spaces for people in Singapore by combining creative solutions and aesthetics to transform homes. Accountability, hands-on work and being a champion in diversity are values that designers at Swiss Interior Design offer their clients throughout their journey.
Swiss Interior Design offers HDB and condo interior design as well as renovation services. For renovation services, they offer attractive packages whether it is for the entire house or the kitchen. This ranges between S$3,988 and S$32,888.
Over the years, Swiss Interior Design has been recognised for its excellence in work. This is evident through the achievement of awards such as Singapore's Outstanding Contractor SME 150/2013 and Nippon Paint's Designer of Choice.
11. Eight Design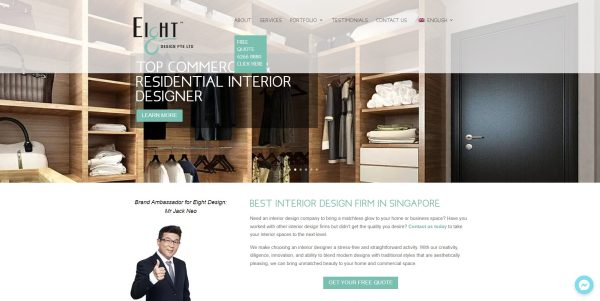 From design and decoration to carpentry and home renovation services, Eight Design is here as a dynamic full-service renovation contractor that can deliver the best possible result for your commercial or domestic project.
Eight Design has been offering exceptional services like interior design services and renovation contractors in Singapore for more than 15 years, and have a wealth of knowledge at their disposal to provide comprehensive solutions in a variety of contexts.
Their passionate team of creative designers and interior designers will always put your needs first and will take care of you from start to finish including all planning, management and construction processes and to deliver seamless project management.
12. The Interior Lab (TIL) Pte Ltd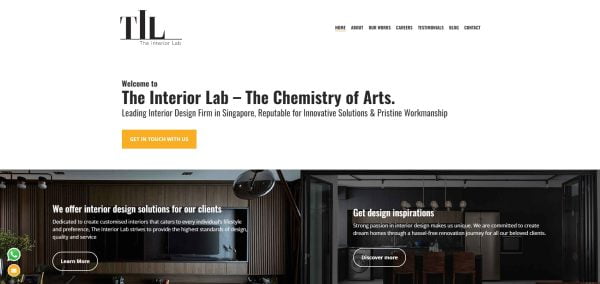 The Interior Lab is an established interior design company in Singapore that centres on bringing beautiful and aspirational designs to life. But because beauty lies not only in the aesthetic, the firm also places immense importance in tailoring to their client's sensibilities and comfort.
They provide a wide range of professional home renovation & interior design services for commercial and residential spaces here in Singapore. Their team is dedicated to creating new home interior design concepts and functional home solution ideas tailored to every idiosyncratic individual, family, or business preference.
From consultation to project management, allow their passionate team of top interior designers to help your property come to life.
13. Earth Interior Design Pte Ltd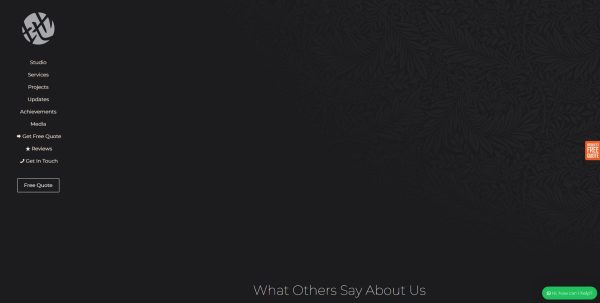 If you're looking for an Interior Design firm in Singapore, Earth Interior Design is the expert you're seeking. Their team is confident that they'll be able to elevate your home to a whole new aesthetical and healthier level.
Founded in the brink of the millennium, Earth Interior Design is not only specialised in Interior Design, but they also expertise in Space Planning and Design Renovation.
Their team will work with you to incorporate your new or existing furniture, keepsakes and artwork into your overall decorating plan, or begin with a fresh palate and a clean slate. Remember, no job is too trivial or too large for them to undertake so you can rest assured with the quality of their work!
14. SHE Interior Design Pte Ltd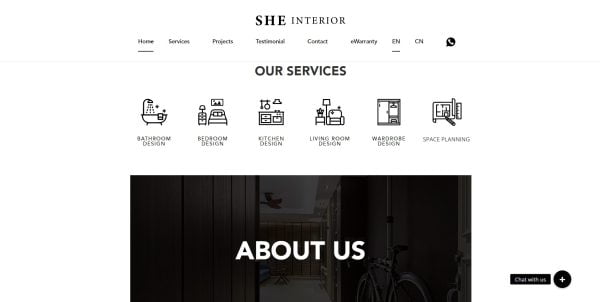 SHE Interior Design Pte. Ltd. is a full-service interior design company based in Singapore focused on delivering excellence in design and service. The team consists of professional, experienced, and down-to-earth designers working alongside dexterous craftsmen and contractors.
SHE Interior Design Pte. Ltd. specialises in home renovation & design (interior and exterior), commercial space renovation, office renovation, architecture, and additions & alterations work. Space and budget planning, 3-D perspective drawing, and free design consultations are also offered.
Deemed as one of the best renovation companies in Singapore, SHE Interior Design Pte. Ltd. works to execute your desired interior design based on your allocated budget.
15. Ciseern by Designer Furnishings Pte Ltd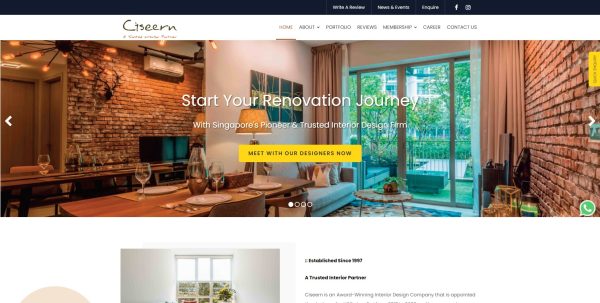 Being a market leader in Singapore's interior design industry, Ciseern by Designer Furnishings Pte Ltd has been established since 1997. As a creative interior design company who is famously known for their aesthetic interior design concept, Ciseern has been a trusted partner for many satisfied clients.
Built on 20 years of vast experience and expertise, they have accumulated an impressive track record founded on trust and credibility. With quality service that speaks, their interior design concepts have been known to focus on translating clients' specifications into discerning ideas.
They offer interior design services and provide clients with customised design solutions. From modern spaces to oriental palaces, their expertise helps breathe life into homes in the way homeowners trust.
16. ProjectGuru Pte. Ltd.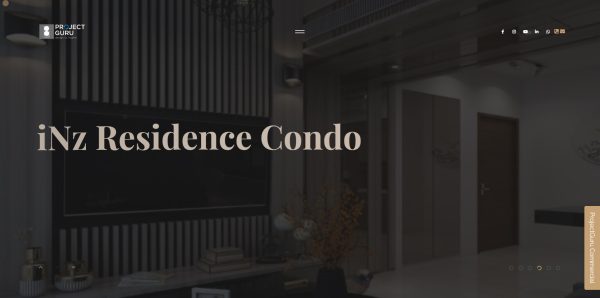 Established in 2014, ProjectGuru Pte. Ltd. ensured that every project was delivered to the maximum satisfaction of their clients. No cutting corners. No slipshod materials. Only the best. This is because they understood how invaluable a well-designed house is.
ProjectGuru deeply respects their clients' aspirations and strives to build the perfect assemblage for them. Through iterative designs and dialogue, their team evolves a simple idea into a complex palette of materials, colours and moods. Your preferences, lifestyle and ambitions are taken into consideration to build the most comfortable and unique home of yours.
17. Cozyspace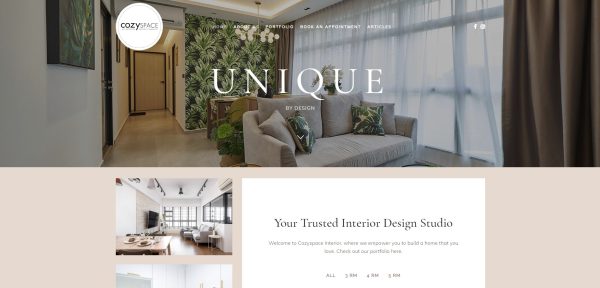 "Welcome to Cozyspace Interior, where we empower you to build a home that you love. At Cozyspace, we like to think of ourselves as tailors. We're eager to find out all about you, your lifestyle, and your passions, because we share your goal — to create a home that fits you perfectly."
Cozyspace is a trusted interior design studio that specialised in HDB residential units. If you favour a minimalist, Scandinavian, Victorian, or eclectic look for your new home, they've got plenty of ideas to help you weave style elements into a home that's also conducive for day-to-day living.
Their team is passionate about design and comfort. Working with homeowners, they'll work out the best layout as well as incorporate the most suitable furniture and decor to make your home truly yours. Book a complimentary design consultation with them now!
18. Juz Interior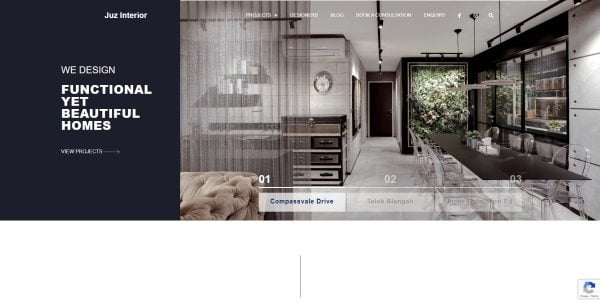 Juz Interior is a Singapore Residential Interior Design Firm. They have a team of professional interior designers in Singapore providing you a full spectrum of renovation services.
Varying themes, narrow spaces or tight budgets will not stop their team from creating the most suitable house for you. Reviews have complimented their professionalism, punctuality and responsiveness. With their years of experience, their designers are able to give recommendations on designing your dream houses.
19. CARPENTERS 匠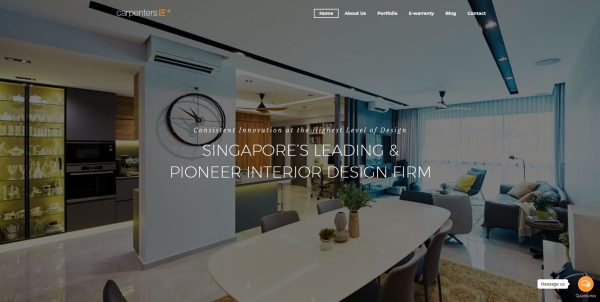 As a Singapore interior design company, a key factor in Carpenters' success would be offering solutions tailored to their clients, regardless of their budget or knowledge about renovation works.
When it comes to renovation and interior works, every homeowners' dream is to be able to conclude a job well done with a handshake to the interior designer of an interior design firm Singapore, where all parties are satisfied. This is what Carpenters wish for as well.
Unsure of the concepts you want for your dream house? The team is here to save the day! They would be showing you themes, examples of homes that they've worked on. Through analysing your preferences, the company would work out a good compromise for all parties involved.
20. Casa Interior Design Pte Ltd.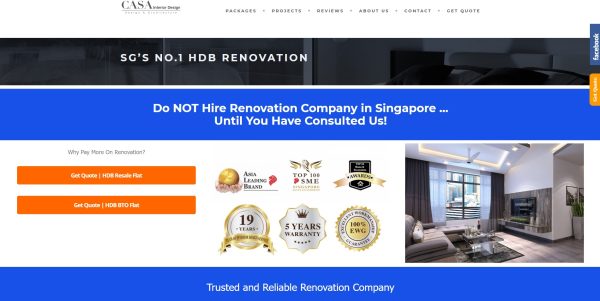 CASA Interior Design is among the top residential and commercial interior design companies in Singapore.
With more than 19 years of experience, their award winning team comprises professional, energetic individuals with talented designers and experienced managers available to guide you through the flawless and timely execution of any residential, commercial or office design project.
Each project starts with a personalised concept that directly correlates to these needs of the clients and their individual style. They rely on their professional knowledge and advanced experience in the design field to walk clients through the process of interior remodelling, new construction, and interior finishing with exceptional customer service.
From start to finish, you will be impressed with their professionalism and customer service so what are you waiting for?
Conclusion
Do you have any reviews and comments to share regarding our choices for the best interior designers in Singapore?
While SBO is committed to supporting our local businesses, we welcome any feedback and anonymous sharing regarding your experience with the listed interior designers in Singapore.
We hope that this guide will be useful in helping you to make an informed decision when it comes to finding the best interior designers in Singapore to design your desired dream home. After you have engaged the interior designer of your choice, maybe it is a good time to consider getting renovation loan to help you offset the cash pressure.
Explore More Content