10 Best Carpet Cleaning in Singapore that are Affordable [2023]
Regular carpet cleaning is extremely important to ensure good health for you and your family. Check out the 10 best carpet cleaning in Singapore that are reliable and affordable.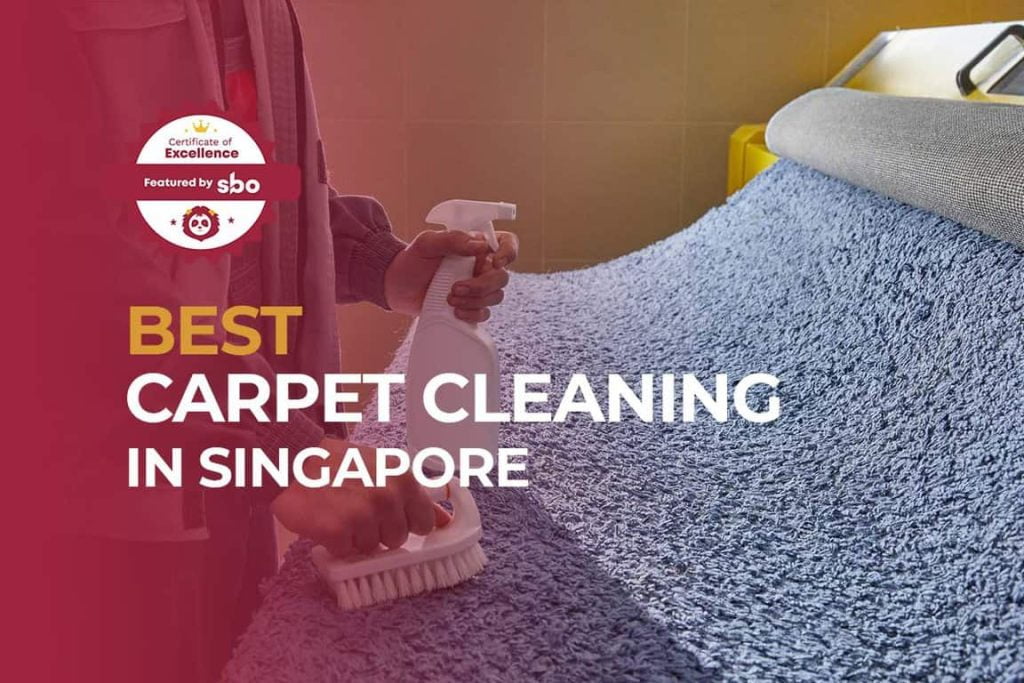 Do you own a dog or have children? If you do, you definitely understand the pains and woes of having to clean up the mess left behind by your ever-so-energetic children, and/or countless pet fur all over your carpet.
We know cleaning carpets can be a real hassle but it is a must if you want to ensure that your family and loved ones remain in good health.
This is because stains on the carpet can attract dust mites, bacteria and other allergens, which can potentially impede your family's breathing and cause other health concerns.
As such, it is important that you get your carpet professionally cleaned once in a while to prevent such problems from occurring. As this is to be done on a regular basis, it will be good for you to engage a trusted company for your regular carpet cleaning. You can check out our 10 best carpet cleaning in Singapore that are reliable and affordable.
1. De Hygienique
As Singapore's leading indoor hygiene service provider, De Hygienique has one of the best carpet cleaning in Singapore. They are a One-Stop Solution Service Provider that specialises in dry cleaning. They are founded in 2003 and had over 18 years of experience in the industry. As one of the first company in Singapore to promote dry carpet cleaning, their cleaning technology is unparalleled and one of the best in Asia.
By combining cleaning and sanitizing treatment, this can effectively clean and eliminate micro organisms for additional health benefit. Their state of the art cleaning technology has received many nods and referrals from doctors, furniture retailers and media recommendations, so you can be assured of their service quality.
2. Chem-Dry Singapore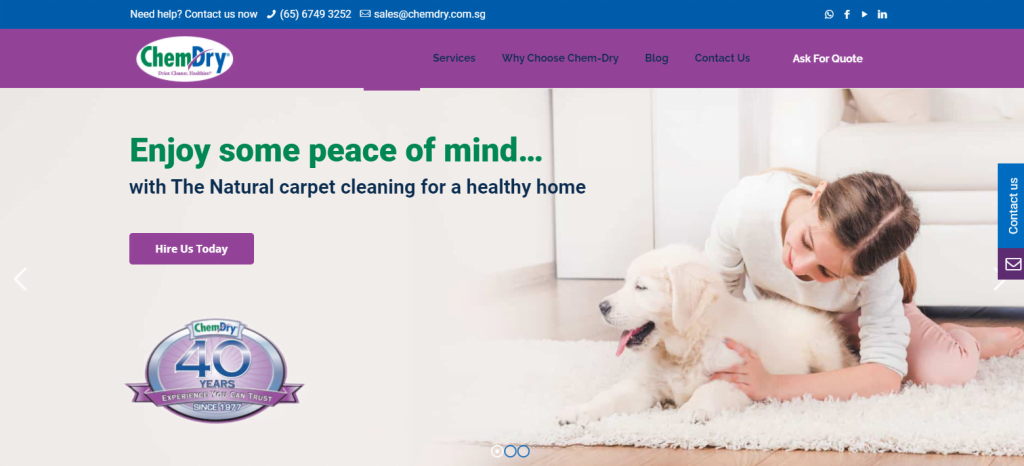 With over 40 years of experience, Chem-Dry Singapore has been cleaning carpets in over 50 countries.​ They are endorsed and green certified carpet cleaning, and sofa cleaning with a team of highly experienced and talented professionals that ensure the highest form of service standards and cleanliness level.
Chem-Dry Singapore uses Hot Carbonating Extraction system which offers a faster and deeper drying carpet cleaning experience. They also use the right cleaning solution which ensures that your carpet dries up quickly and is free of bacteria. This significantly reduces the risk of mold and mildew growth.
3. CleanWorthy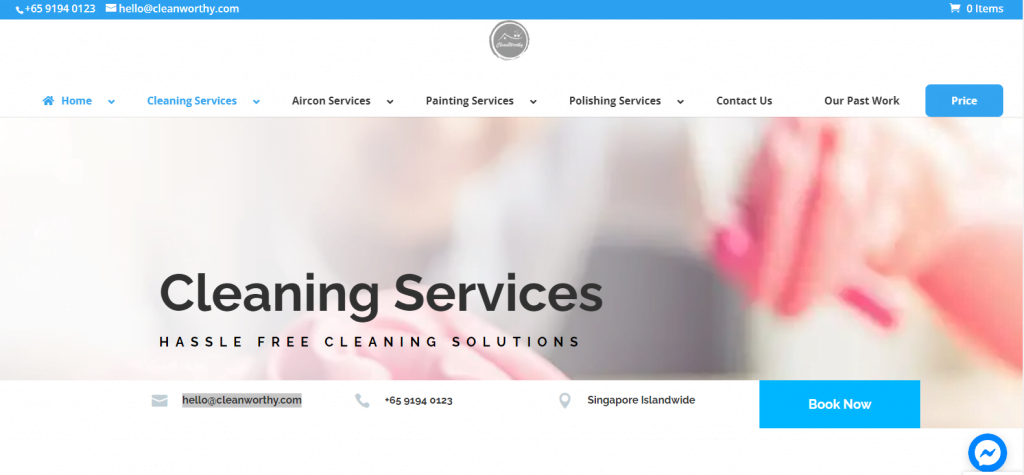 With the motto 'Scrub a Dub Clean Clean', CleanWorthy Cleaning Services is a one-stop hassle-free professional cleaning solutions in Singapore that is highly affordable and value for money. Their goal is to make sure you have time to do all the things you want to do, without having to worry about all the mundane and troublesome household chores at home.
They have a team of professional cleaning crews that are trained on weekly regular basis, so as to make sure that they are well trained to clean your house. If you have any special requirements or specific methods in cleaning certain areas of your house, you can feel free to let them know and they will adapt accordingly.
4. Clean Care Pte Ltd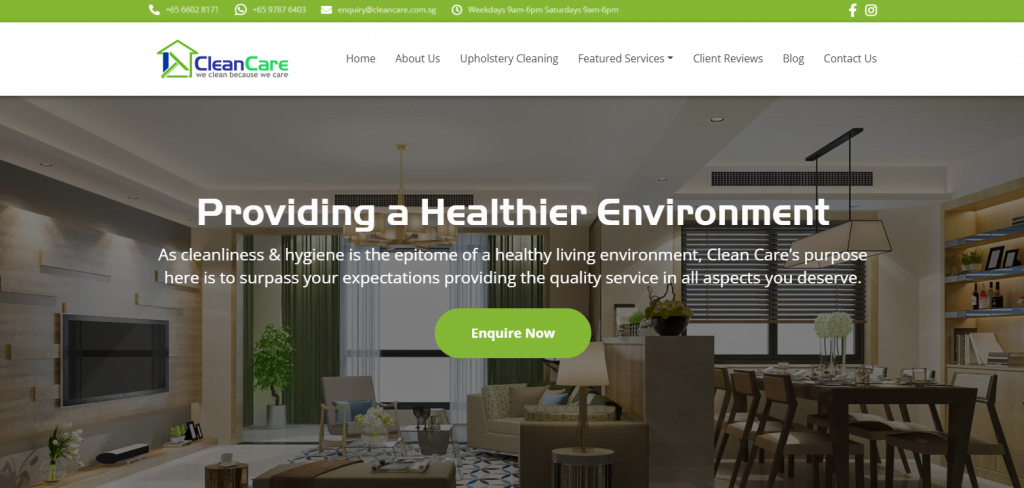 With 'We clean because we care', Clean Care is committed to help improve both health and work-life balance of their residential customers, and to help improve business images of their corporate clients. They believe that cleanliness and hygiene is the epitome of a healthy living environment, and they want to make sure everyone in Singapore gets that.
Also, one thing unique about Clean Care is that they offer CareFirst™ – a warranty system that protects your newly purchased upholstery sofa, mattress and carpet against accidental spills, stains and spots from common household substances. CareFirst™ warranty will offer a 12 months protection for a maximum of 6 Adhoc services based on the sign-up package options.
5. Art of Cleaning Pte Ltd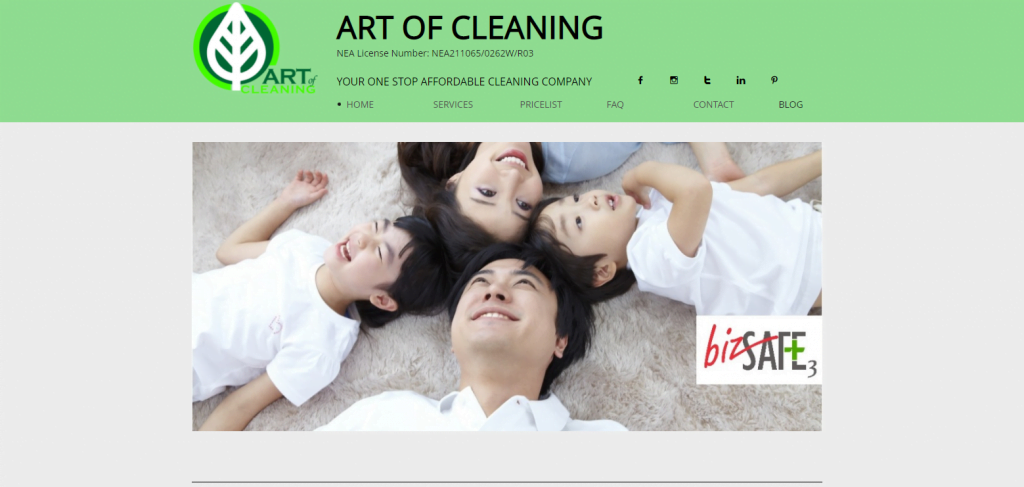 As one of the leading carpet cleaning company in Singapore, Art of Cleaning Pte Ltd specialises in commercial and residential carpet. They use state-of-the-art and efficient carpet cleaning technology that makes sure to clean your carpet thoroughly within a shorter drying time. The estimated time required for carpet cleaning is 1hr per 1,000sqf area.
In addition, they also provide collection and delivery services for just a small additional $20 surcharge. Now, you need not waste your time and energy trying to lug your heavy carpet for cleaning as Art of Cleaning will do them all for you!
6. DW Carpet Cleaning Singapore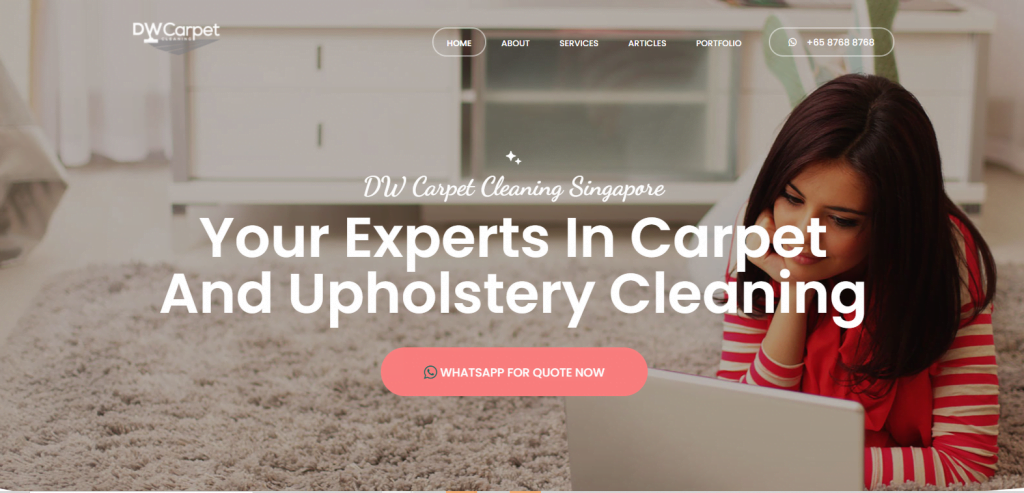 DW Carpet Cleaning Singapore provides professional and reliable cleaning services at a highly affordable rate, starting from $0.20 per square feet. You can be assured that your carpet is clean, given their highest quality service standards from the amazing customer service to their outstanding workmanship.
Using the latest cleaning machinery technology and their highly experienced cleaning specialists, you can leave all the cleaning to DW Carpet Cleaning Singapore with confidence and a peace of mind. If you are interested, all you need to do is to contact them via WhatsApp and they will arrange an appointment with you.
7. Hassan's Carpets Pte. Ltd.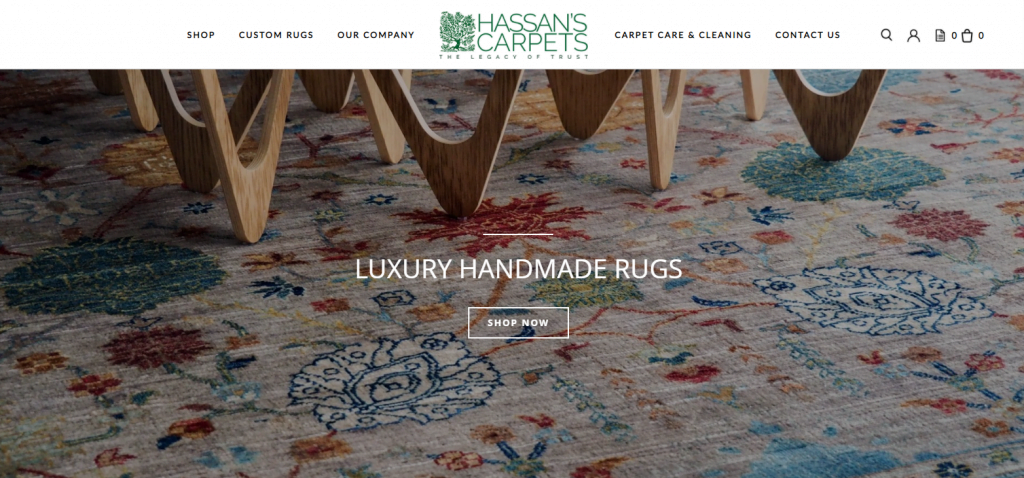 We know how pricey handmade carpets can be, and therefore it is important that you get your handmade carpet cleaned regularly to keep it in top condition. Hassan's Carpets Pte. Ltd. specialises in cleaning and restoring handmade carpets. With over 50 years of specialist experience in maintenance of contemporary, classic and antique oriental carpets, you can be assured that the carpet is in good hands.
Apart from cleaning services, Hassan's Carpets also has a diverse range of carpet designs and sizes, even providing tailor-made, bespoke handmade carpets. They have a team of experts that can guide you to create a carpet that is perfectly tailored to your personal style.
8. Auntie Cleaner (Singapore) Pte Ltd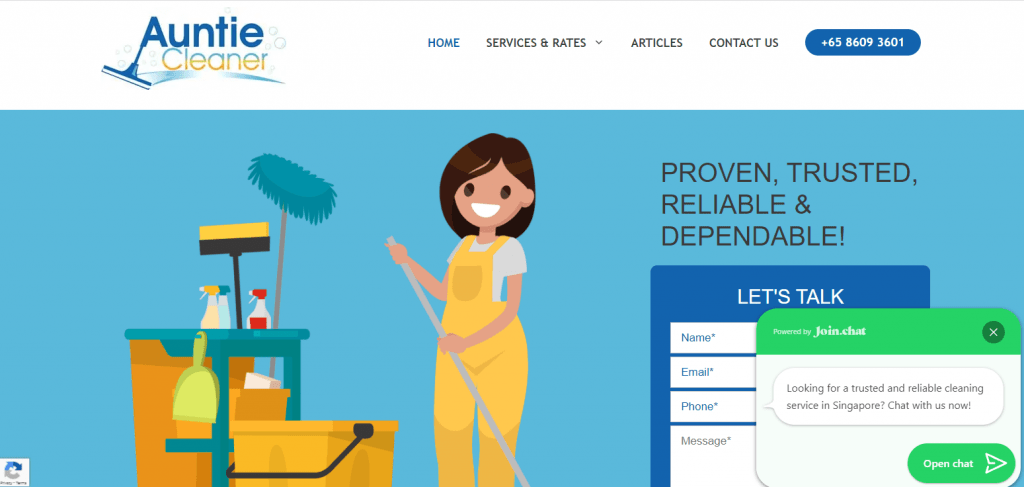 Auntie Cleaner is a leading service provider for office or home cleaning, where they specialise in all types of carpet cleaning services. They are licensed and insured to provide cleaning services in Singapore so you do not need to worry about safety concerns.
They provide quality workmanship that guarantees you total satisfaction with their highly advanced and high-performance machines. These machines will delve deep into the carpets to purge embedded dirt particles that ordinary machines cannot reach.
9. Procare Cleaning Services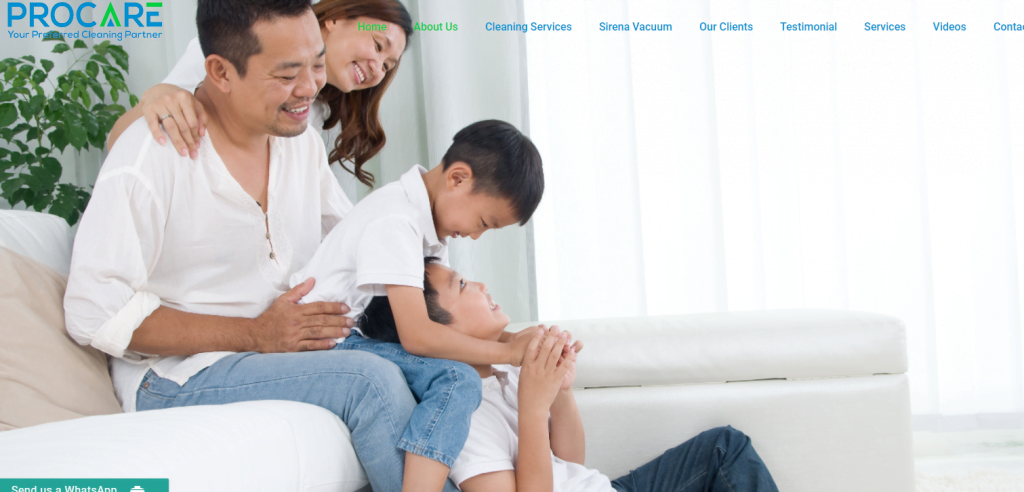 Established in 2016, Procare Cleaning Services aims to provide quality and professional care on carpets with their specially cleaning solution. Their renowned water base vacuum technology uses high-pressure jet spray, which can penetrate deep into the carpet to remove stubborn stains and bacteria.
Health and safety of your children is a top priority for every parent and Procare. They have served an average of 200 to 300 homes and commercial areas monthly and is proof that they are dedicated to providing excellence, integrity and quality in their work.
10. Netco General Services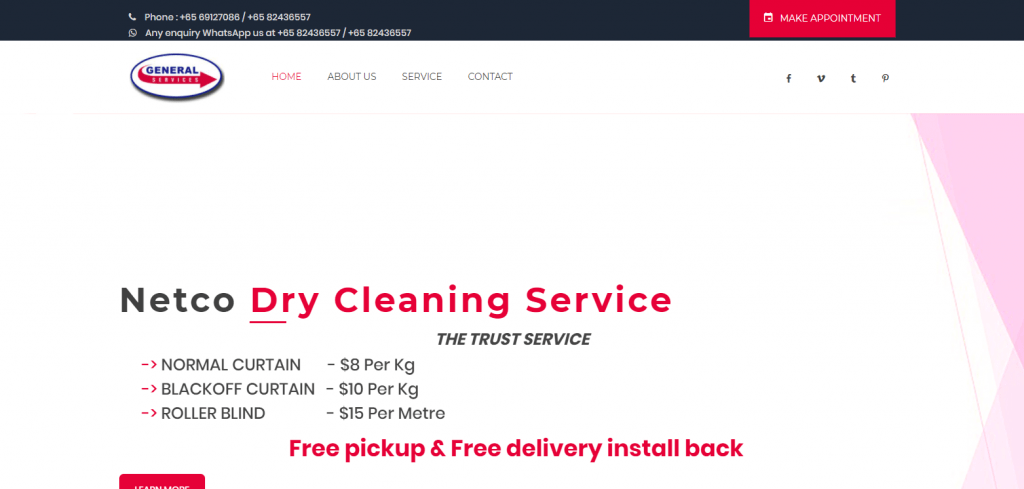 With over 5 years of experience, Netco Services is well known as a one-stop service provider for Curtain & Carpet cleaning, They specialise in a variety of cleaning services – Professional Cleaning, Aircon Servicing, Ducting, Painting, Electrical and any other handy works services.
Their service is highly efficient and tailored to cater to different customers, be it the residential or the commercial sectors. All their services come at a highly affordable price without compromising on their quality. All their customers love their services and will always go back to them whenever they need assistance.
Conclusion
Do you have any reviews and comments to share regarding our choices for the best carpet cleaning in Singapore?
While SBO is committed to supporting our local businesses, we welcome any feedback and anonymous sharing regarding your experience with the listed carpet cleaning in Singapore.
We hope that this guide will be useful in helping you to make an informed decision when it comes to finding the best carpet cleaning in Singapore.
Explore More Content