10 Best Cleaning Services in Singapore to Keep Your Place Clean [2023]
Find the best cleaning service in Singapore to keep your place sparkling clean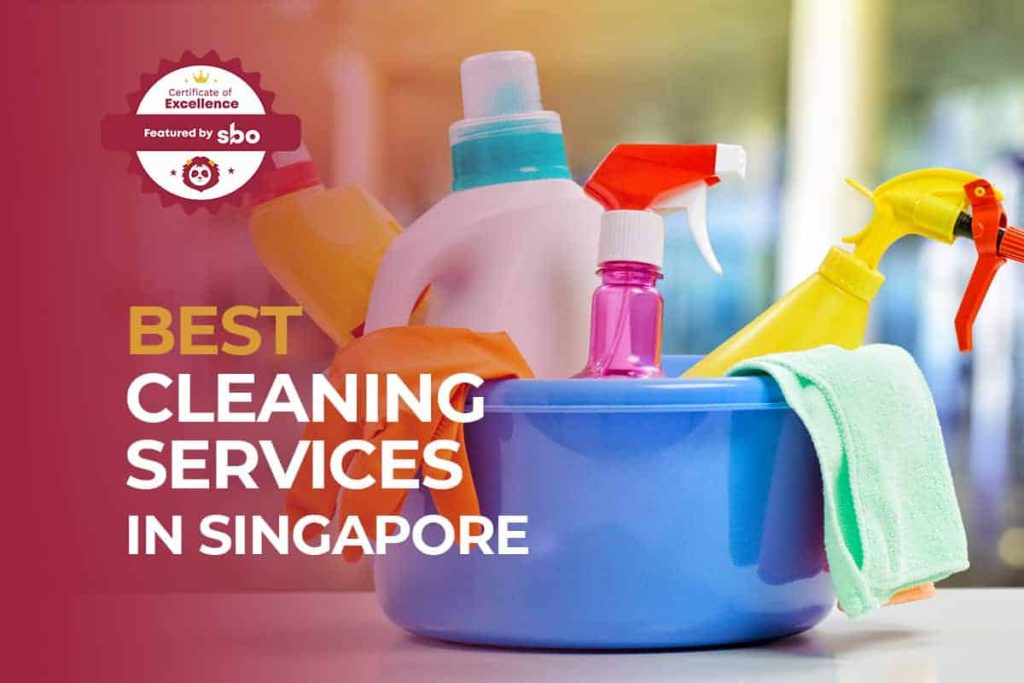 Is your office space or home in a mess and you have no time to clean it up? If so, the time is right to look for the best cleaning services in Singapore.
In this post, we've gathered all the necessary details including unravelling reviews and testimonials to derive a list of the 10 best cleaning services in Singapore that you can get your place cleaned up fast.
1. Helpling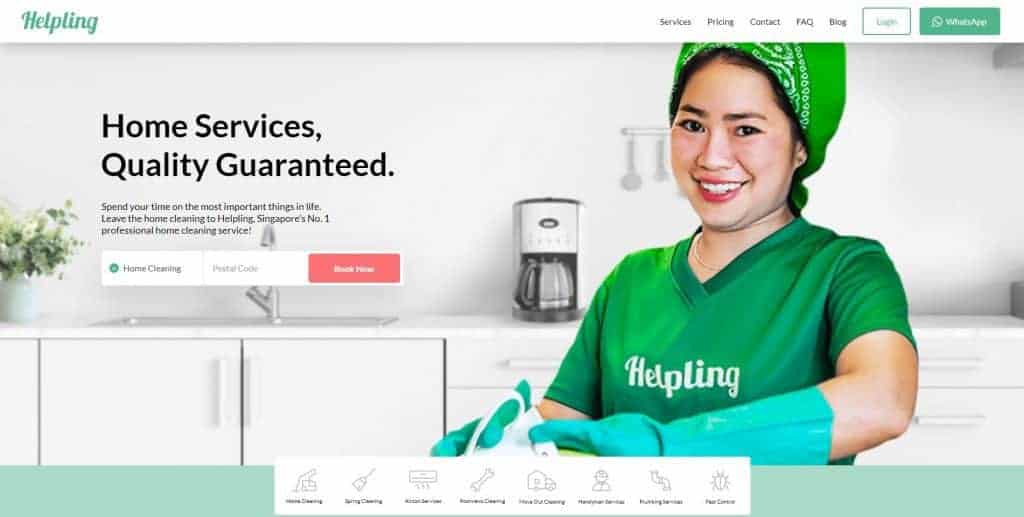 Helpling is a leading marketplace for home cleaning, notably garnering a very respectable number of great reviews (most number of reviews on Google submitted by satisfied clients!) The level of care and customer service by the cleaning service providers is commendable. From just S$23 per hour, you can book a cleaning session done by a trusted cleaning professional (now including surface disinfection!).
You can chat and communicate with your cleaner through their platform.
2. Singapore Cleaning Service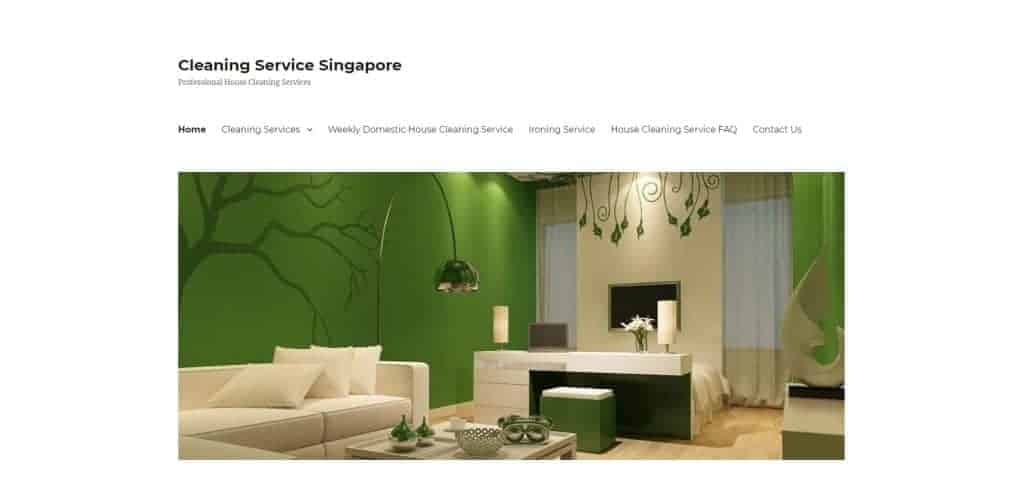 Singapore Cleaning Services take pride in the quality of cleaning services that they provide to their clients.
They offer a full-range of home cleaning services comprising of weekly/regular cleaning services, one-time house cleaning services and office cleaning service.
For the month of January, you will be entitled to a S$10 to S$20 off when you book a one-time house cleaning services.
3. HomeFresh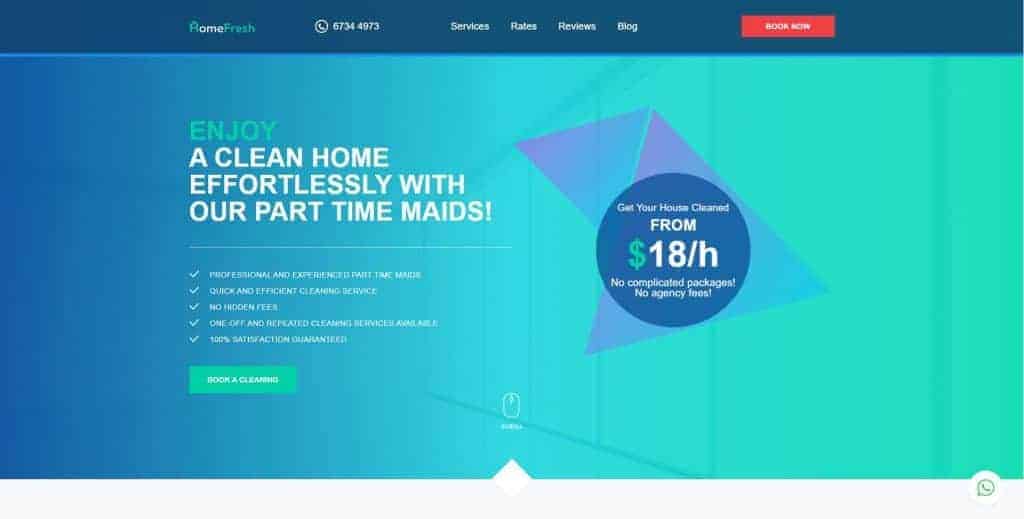 HomeFresh provides cleaning services from S$18 per hour with no complicated packages and agency fees.
All cleanings are carried by their experienced and professionally-trained part-time maids. They do cleanings for areas such as the dining room, kitchen, bedroom and bathroom.
You will have the option to book a cleaning slot that is flexible to your schedule.
4. HouseCleanerSingapore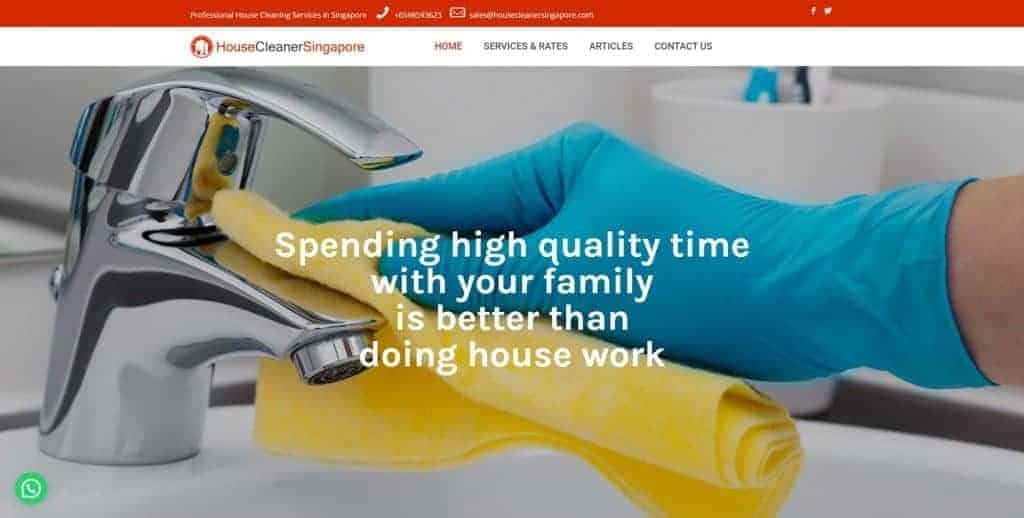 HouseCleanerSingapore is a professional house cleaning service that commits itself to let people enjoy quality time with their friends and family members while their dedicated cleaning professionals takes care of their home by keeping them clean.
Services provided by HouseCleanerSingapore include a one-time spring cleaning, weekly cleaning service, office cleaning service, air-con services, house painting, carpet cleaning and laundry cleaning. All these available at affordable rates.
One of the most amazing feature of HouseCleanerSingapore is that they provide cleaning services 24/7 anywhere. Just give them a call and their cleaning experts will be right where you are shortly.
5. Superb Cleaning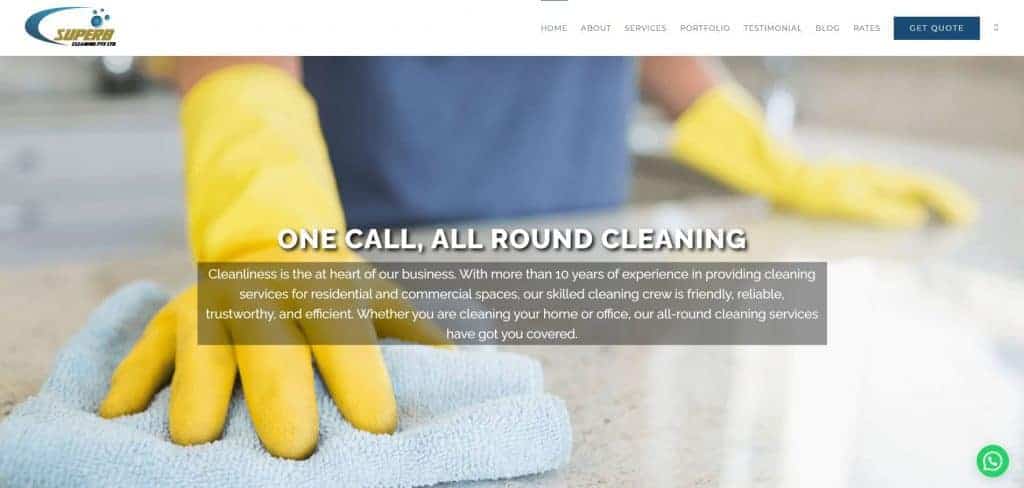 Superb Cleaning comprises a team with more than 10 years of cleaning experience in office buildings and homes in Singapore. To meet the high standards of their customers, they will go the extra mile for them.
They offer both commercial and residential cleaning services such as spring cleaning, post-renovation cleaning, carpet cleaning, office & building cleaning, janitorial cleaning service and marble polishing. Rates start from S$120 onwards.
Superb Cleaning has taken on cleaning assignments from major clients such as Singapore Sports School, Audi and ST Aerospace.
6. Home Cleanz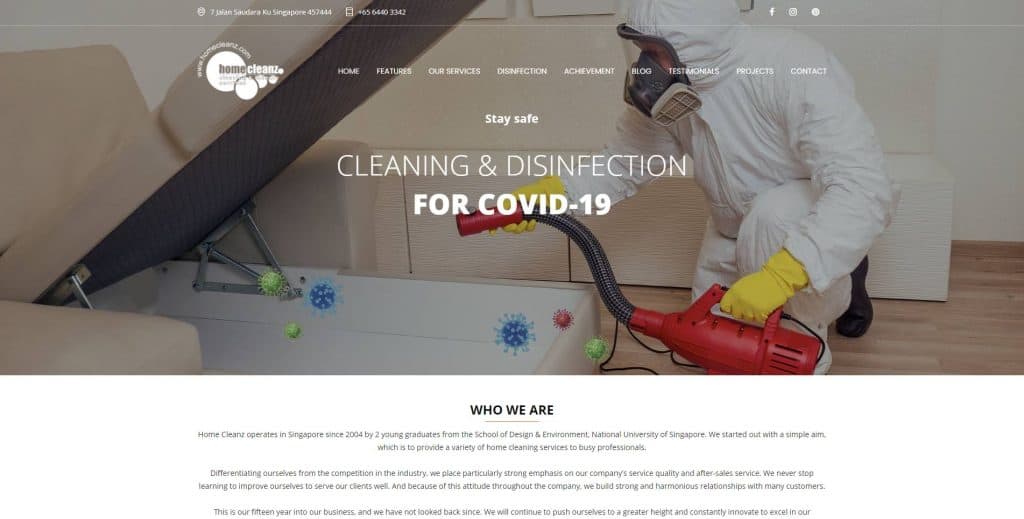 Founded by 2 young graduates from the School of Design & Environment in the National University of Singapore, Home Cleanz is a professional one-stop cleaning service that dedicates itself in providing quality cleaning service for their customers.
They provide cleaning services in domestic household, commercial buildings, corporate as well as industrial settings.
More specifically, the type of services that Home Cleanz offer include spring-cleaning, warehouse/industrial clean, residential regular cleaning, office regular cleaning and window cleaning.
7. DomesticONE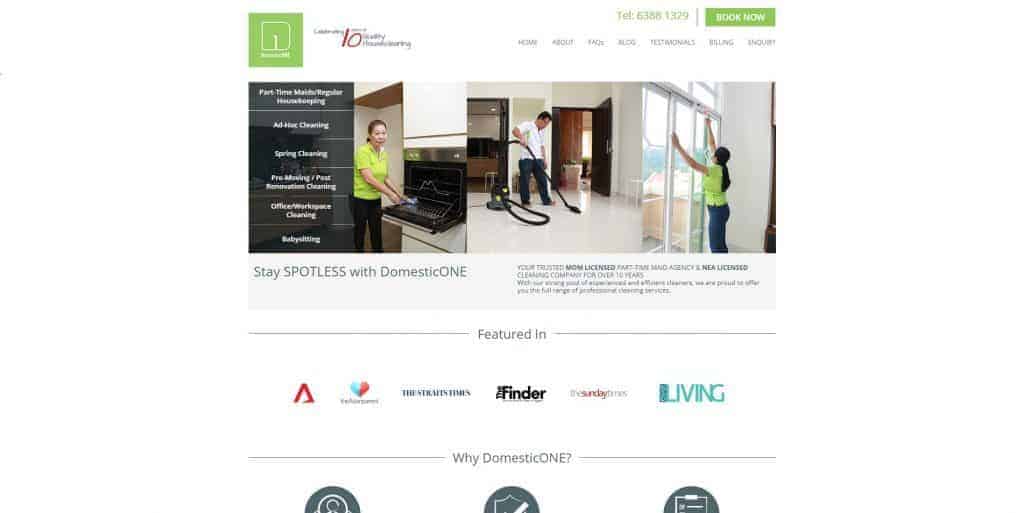 DomesticONE is Singapore's leading domestic provider with more than 10 years of experience in the profession. They are a registered and licensed agency with both NEA and MOM.
They provide a full range of professional domestic services such as regular housekeeping, ad-hoc cleaning, spring cleaning, office cleaning and babysitting. These services are provided to your needs in mind. If you prefer to have someone who is comfortable with pets, they have got you covered!
DomesticONE practises payment transparency so you do not have to worry about any hidden costs that may be incurred.
8. Whissh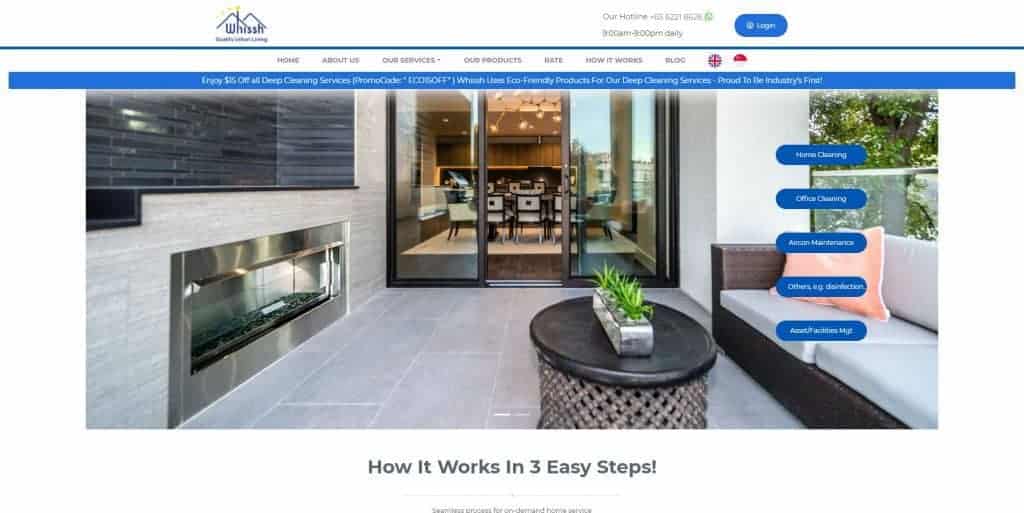 Whissh is a one-stop home and office service platform, striving to transform and improve the quality of urban living by anticipating, recognising and exceeding their client's needs.
They provide various services such as home general, weekly and deep cleaning, office and commercial building cleaning, aircon services, facilities management and plumbing.
Whissh is also the first in the cleaning industry to use eco-friendly products of high quality. What's more, you get to enjoy S$15 off all cleaning services with the promo code "ECO15OFF".
9. Sendhelper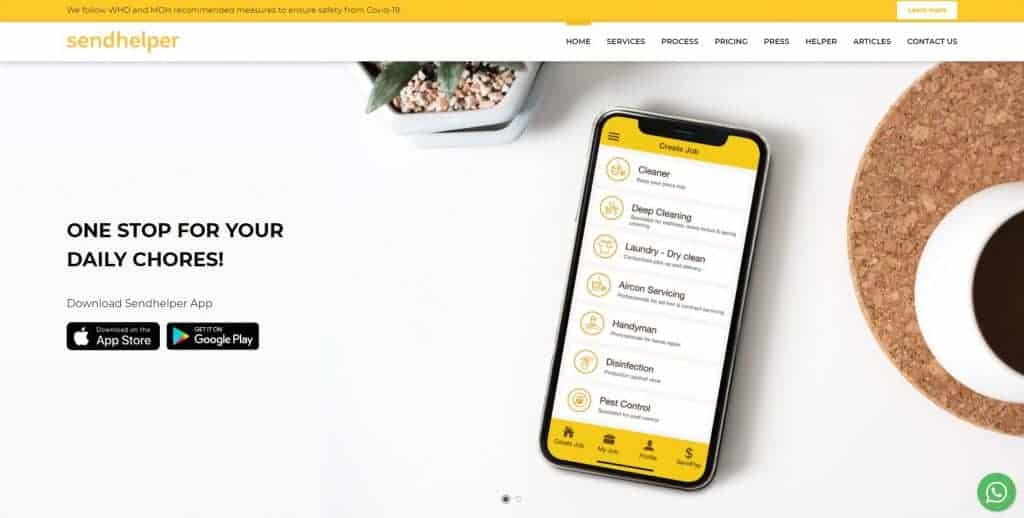 Sendhelper is a verified and licensed service provider for your household cleaning needs.
To book a cleaning service with them, you can do so by downloading the application on your App Store/Google Play. You can book a service based on your schedule. If you would like to book another cleaning service with them, you just need to click the one-tap booking option.
If you have concerns about any damages that are incurred, you do not have to worry any longer. Sendhelper provides a S$1 million insurance to cover damages.
10. SparkCleanz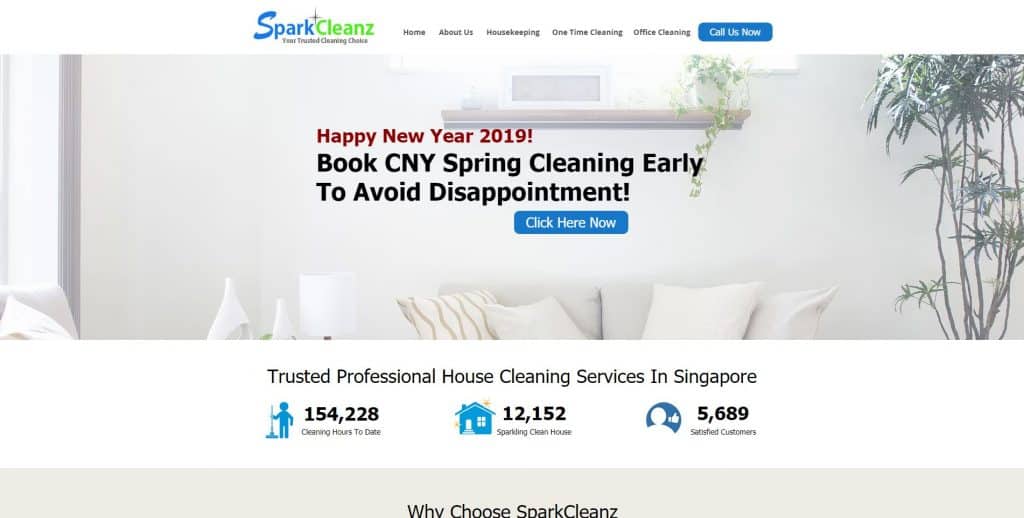 Established in 2016, SparkCleanz is a NEA-licensed cleaning company. With a proven track record and continuous recommendations from existing customers, they are continuously growing their client base.
They provide various services such as housekeeping, one time cleaning and office cleaning. Apart from these, SparkCleanz provide other cleaning services that will make your space extra sparkling clean. These comprise of aircon services, curtain cleaning, carpet cleaning, disinfection services and floor cleaning.
Rest assured that their cleaning specialists are vetted, verified, experienced and trained for a job well done.
Conclusion
Do you have any reviews and comments to share regarding our choices for the best cleaning services in Singapore?
While SBO is committed to supporting our local businesses, we welcome any feedback and anonymous sharing regarding your experience with the listed cleaning services in Singapore.
We hope that this guide will be useful in helping you to make an informed decision when it comes to finding the best cleaning services in Singapore.
Explore More Content