10 Best Ceiling Fan in Singapore To Combat Heat [2023]
To combat Singapore's weather, we'll be introducing the 10 Best Ceiling Fans in Singapore.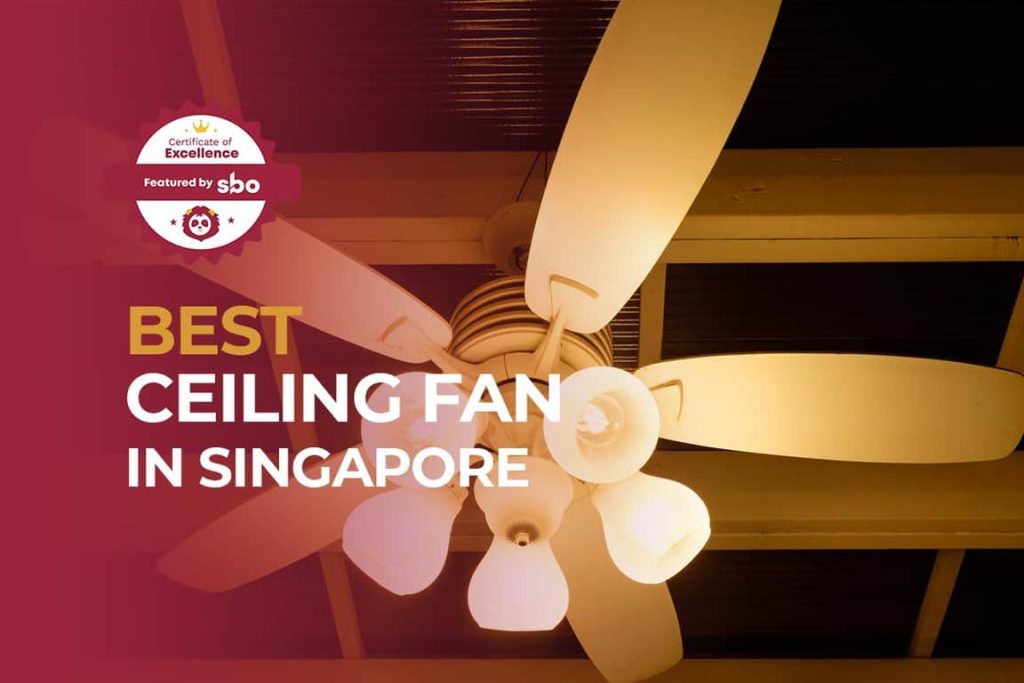 With Singapore's warm and humid weather, it is best to have our air-conditioner on 24/7. However, with the high utility bills, it is simply not reasonable to do so.
So, what's our best option? Yes, a fan! Ceiling fans are a great way to fight the soaring Singapore temperature. As new HDBs and condominiums get smaller, it leaves us less space for a standing fan and thus, a ceiling fan is a great solution.
It is also more effective in cooling down a larger area of the room as it covers a wider area compared to a standing fan. In today's guide, we'll be introducing the 10 Best Ceiling Fan in Singapore.
Types of Ceiling Fans
Generally, there are two main types of ceiling fans – an AC (alternating current) or DC (direct current). The difference lies in the direction of its current. AC is powered by an electrical charge with reverse flow direction and DC is working with the constant flow.
AC ceiling fans are generally more affordable as compared to DC ceiling fans. However, in most cases, DC ceiling fans use less energy (up to 70% less than a standard AC fan), they are generally extremely quiet and they often have more speed options, and are generally faster to start, stop and change speed. Hence, despite being pricier, DC ceiling fans are preferred for the above reasons.
1. KDK U48FP 48″ Ceiling Fan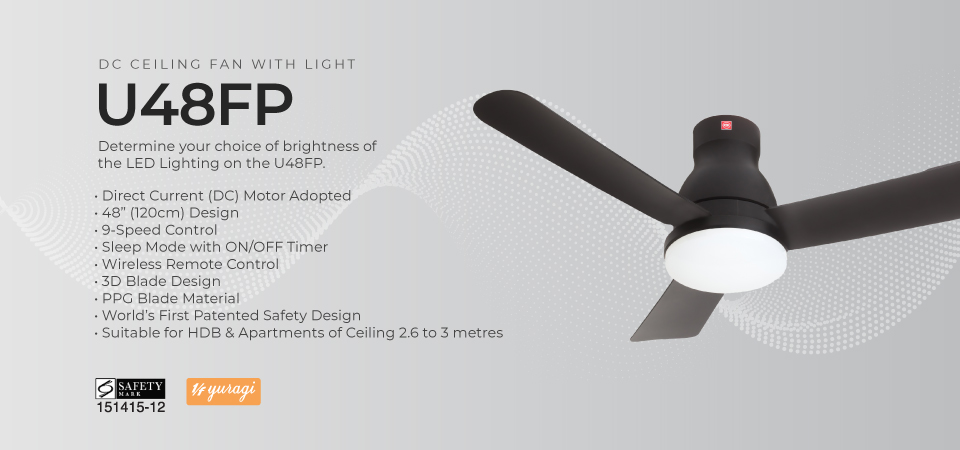 Established since 1909, KDK is one of the pioneers in Singapore, in this industry. As one of the leading ceiling fan manufacturers, KDK is a well-known household brand and is probably one of the first brands that comes to mind when thinking of fans.
With that said, the KDK U48FP is suitable for HDB and apartments of 2.6m to 3m. This ceiling fan comes with 18W LED daylight with dimmer control, so you can adjust the brightness of the LED depending on your requirements. KDK U48FP is also suitable for bedroom, dining area, and balcony.
2. Fanco B-Star DC Motor Series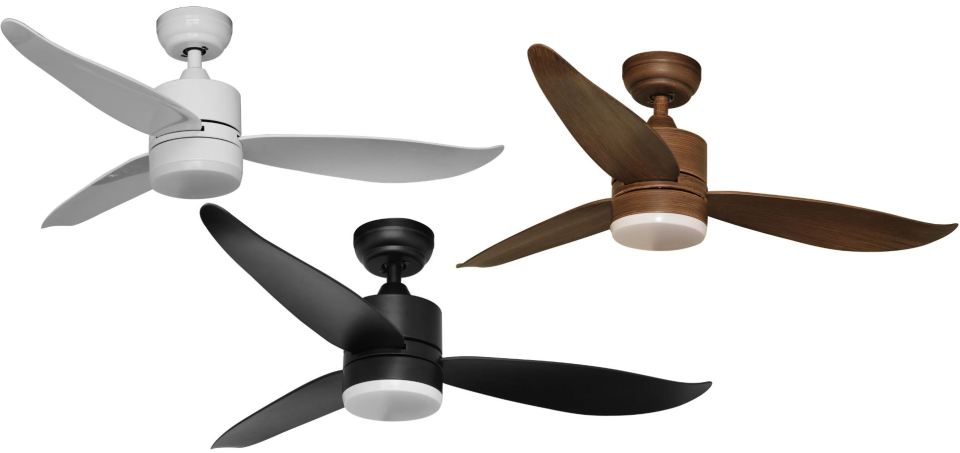 Established in 1998, FANCO FAN MARKETING (FANCO) has emerged as a name that is known for its sales distribution and after-sales service for Ceiling Fans. As part of their commitment to the customers, they provide an elaborate range of Ceiling Fan designs at affordable prices along with superb customer service to cater to the needs of the customers.
With over 2.8k perfect reviews on Shopee, it is more than just its affordability that attracts customers. Fanco B-Star DC Motor Series is powerful, with tri-colour lights and 6-speed variations, perfect for any setting of your house.
3. Fanco A-Con (42")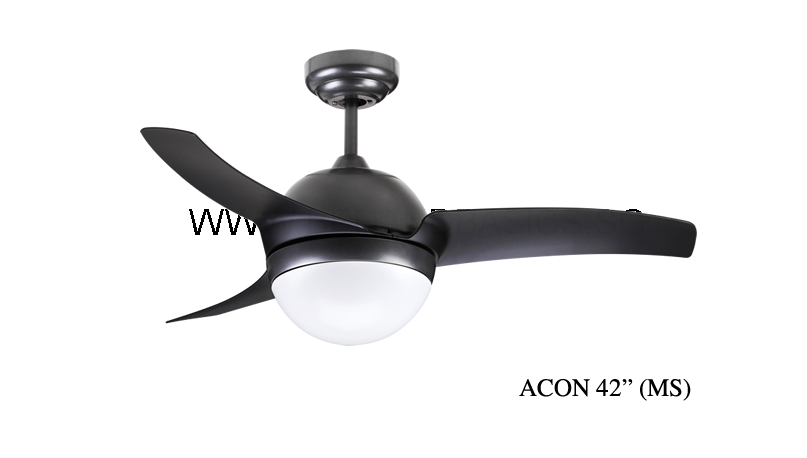 Another Fanco product on this list! Fanco is known for its high-quality, silent ceiling fans. Their factory has been ISO certified, attesting for their superior quality control and manufacturing system.
The Fanco A-Con has an ultra-silent motor, you might not even hear a thing! If you want a good ceiling fan that delivers good airflow and has lights, you may consider it!
Its air circulation may not be superb as the wind mainly concentrates under the fan, but if you have a tight budget, this is an excellent choice.
4. Samaire FANNITI SA433 LED (42")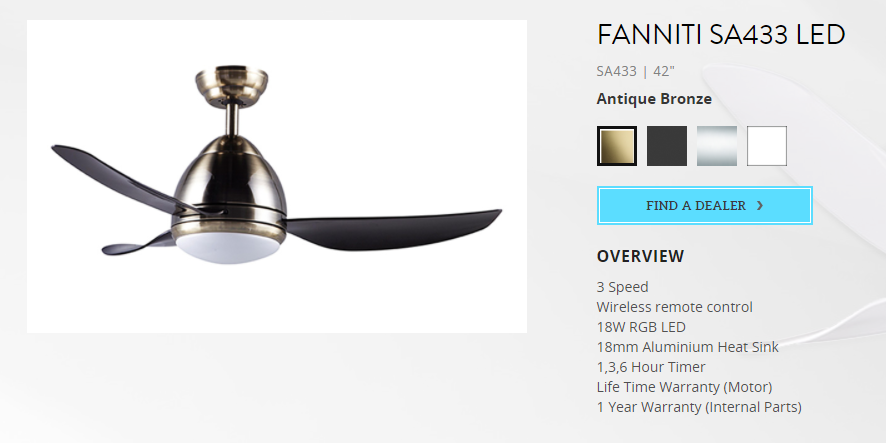 Samaire has been in this industry for close to 20 years since its establishment during 2003. They are one of the leading market suppliers of ceiling fan, aiming to provide cost-effective, uniquely designed and superior quality ceiling fans to all Singaporeans.
Check out the Samaire FANNITI SA433 LED if you're looking for a simple yet elegant design for your house!
5. PO ECO CYCLONE SERIES (Smart WIFI)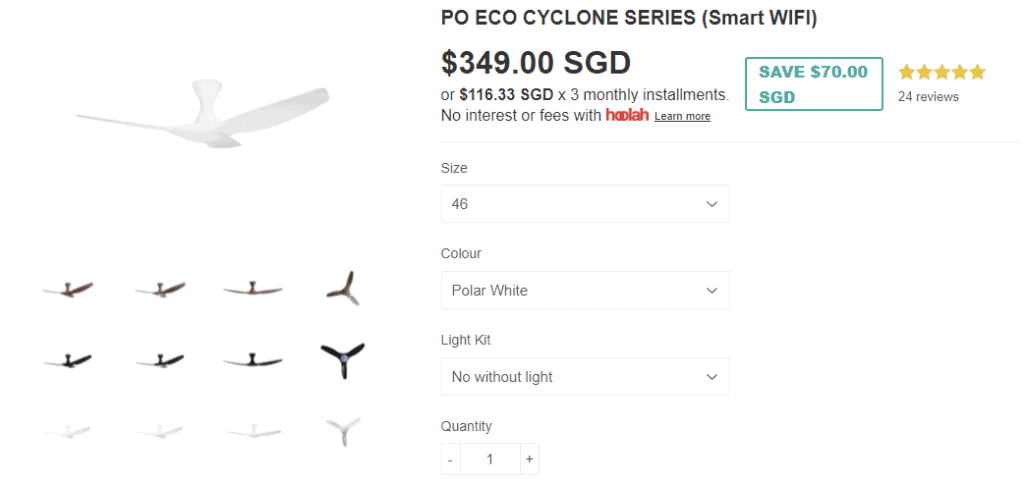 Every Point One Technology product is proudly designed in Singapore and in-house manufactured. Established in 1987, Point One Technology has and will always be at the forefront of innovation. We invent things and invent them better. Point One Technology ECO FAN is certified by the Singapore Consumer Protection (Safety Requirements) Safety Mark Registration Scheme, and CB certificate to ensure International safety quality.
Other than this particular model that we've included in our guide, there are many other ceiling fans of various styles to suit your unique interior design. Click here to check out them!
6. ELMARK Aircraft A8 18 (Acrylic Blade / Wooden Blade)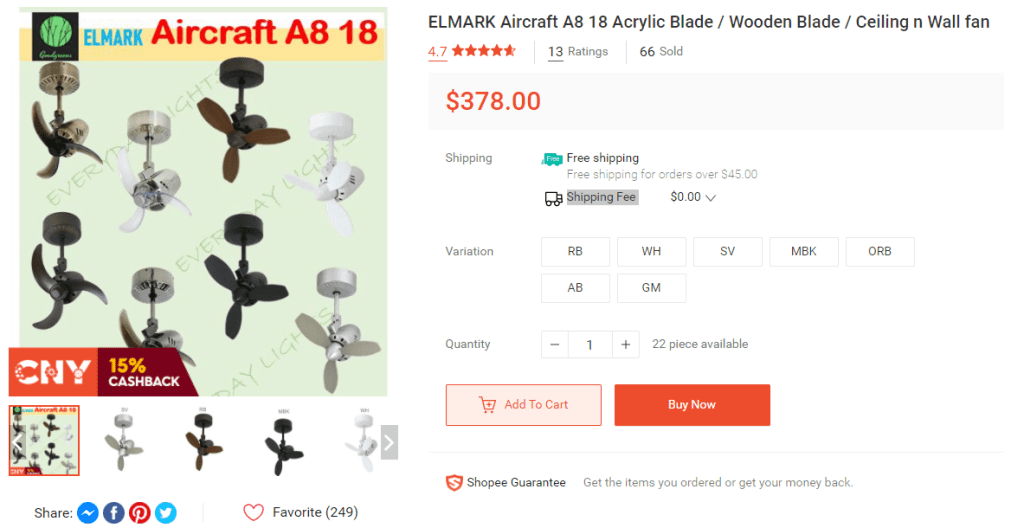 "King of Fans" is Elmark's tagline and they are Asia's biggest stockiest for ceiling fans. Since 1988, they carry at least 80,000 sets of fans in-store cater for South Asia Market. Given their expertise in this industry, they have developed a high level of knowledge to ensure that they can offer their customers the most appropriate solution for their needs.
Established in 1988, Elmark is the first to produce and distribute high class decorative fans & advanced technology in Singapore & Malaysia. They modified the default motor & invented the 188 super powerful motors to suit the high-temperature weather in Singapore & Malaysia and now, it is the most advanced innovative 3rd generation energy-saving efficient, silent DC motor. With this form of technology, you can consider this as one of your choices.
7. SPIN ESPADA (43" / 52" / 60")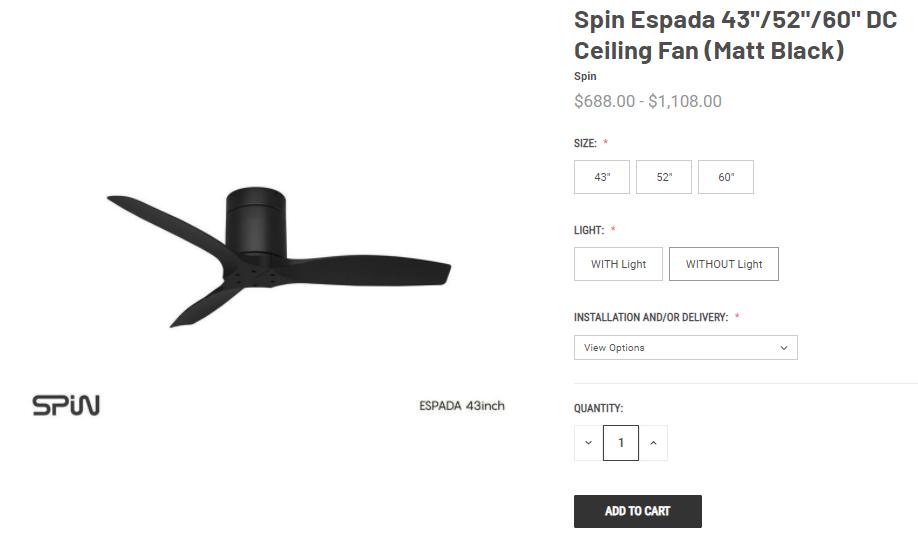 Judging from the designs of the fans they produce, it is not difficult to tell that SPIN is here to realise your every minimalistic dream home. The minimal aesthetics of their fans will withstand the changes in trends so if you're looking to build a minimalistic lifestyle, take a look here!
Other than its design, we should also mention SPIN's Ultra Dynamic DC Motor (UDDC). It is almost 70% more energy efficient than the traditional AC motor. This motor operates with minimal sound, giving you comfort at its best.
8. Fanztec Airstream 52″ Ceiling Fan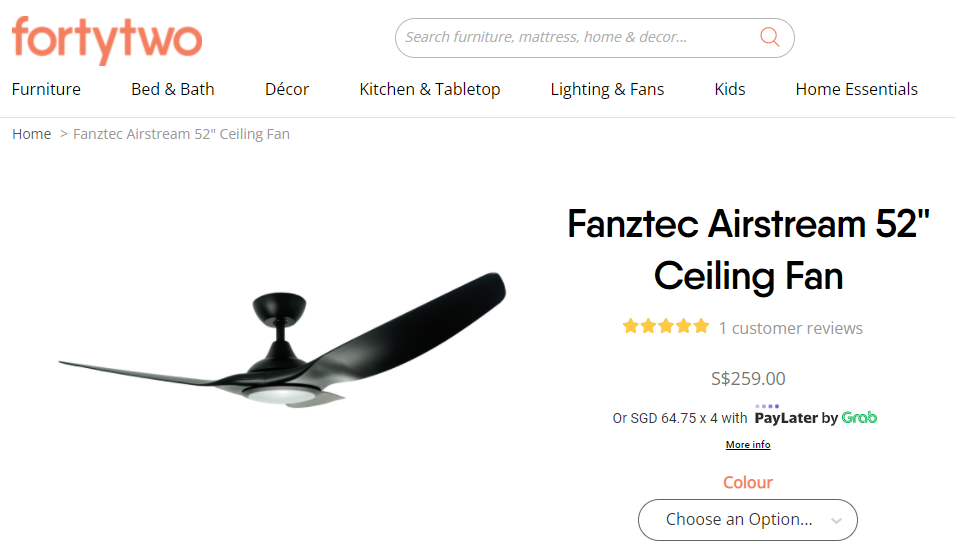 AIRSTREAM is Fanztec's latest model, with a specially crafted blade that aids in air circulation. Its 6-speed selections come with reverse & forward features as well as a sleep timer, for those who change from air-conditioner to ceiling fan in the middle of the night (Yes, that's me too!).
This model also comes with no LED Lights so if that suits your house better, feel free to check them out! https://www.fanztec.com.sg/product/airstream-no-led/
9. Bestar COFAN HALI 56″ DC Ceiling Fan with LED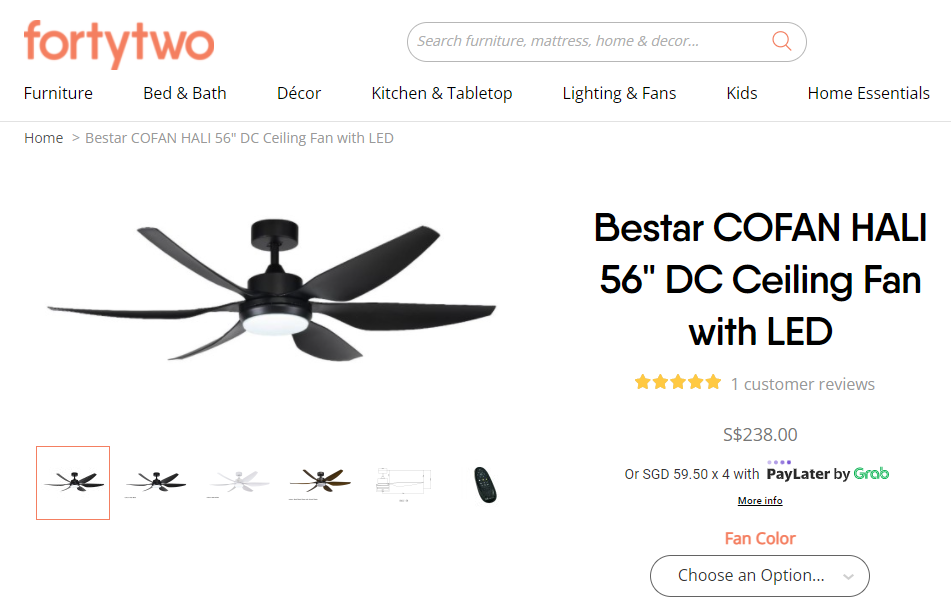 Founded in 2017, BESTAR may not be the oldest in the industry but is here to provide high quality products with high standard of safety and give our valued customers efficient service.
BESTAR is a unique, local fan brand founded and entirely owned by Triple D Trading Pte. Ltd. Every home in Singapore needs a functional and stylish fan to keep our place ventilated and they strive to provide that for all their customers, regardless of the interior design of their houses.
With 6 anti-rust blades and a larger than normal fan size (56″), Bestar COFAN HALI is here to combat Singapore's weather with perfect air circulation to your space. The integrated lighting offers a fluid stylish look and the energy-saving DC motor ensures silent operation of this powerful fan controlled by wireless remote control. Its adaptive sensor ensures your room remains at the desired temperature at all times for added comfort.
10. Bestar RAPTOR DC Range in Wood with LED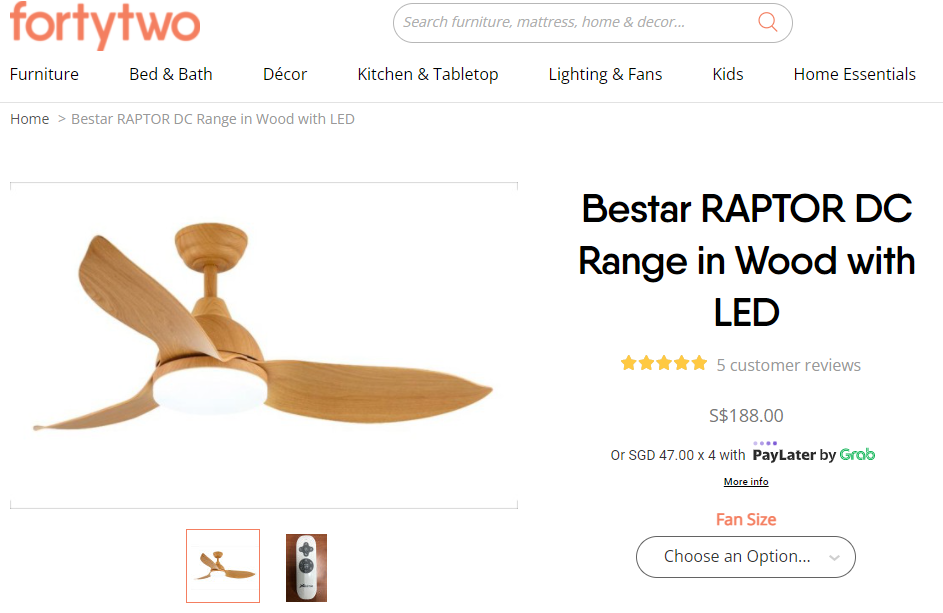 Another model from Bestar comes with 3 anti-rust blades. Add a contemporary look to your home with this propeller-style Bestar RAPTOR DC 3-blade Ceiling Fan and LED Light. Featuring a sleek body finished in a neutral hue, with three curvy blades that have squared-off ends. Its six-speed motor with reversible blades helps with promoting air circulation. A round, white glass shade caps off and softens the integrated adjustable LED light.
Bestar also has many other models at a reasonable price so the next time you're looking for a new ceiling fan, consider Bestar!
Conclusion
This guide has compiled the 10 Best Ceiling Fan in Singapore and we hope that it is useful for you in deciding which ceiling fans to get for your house!
If you're interested in changing a new door for your house, check out the 10 Best Nyatoh Door In Singapore!
Explore More Content