10 Best Massage Chairs in Singapore for the Best Sitting Experience [2023]
Having backaches after sitting for long hours? Check out our 10 best massage chairs in Singapore for the best sitting experience.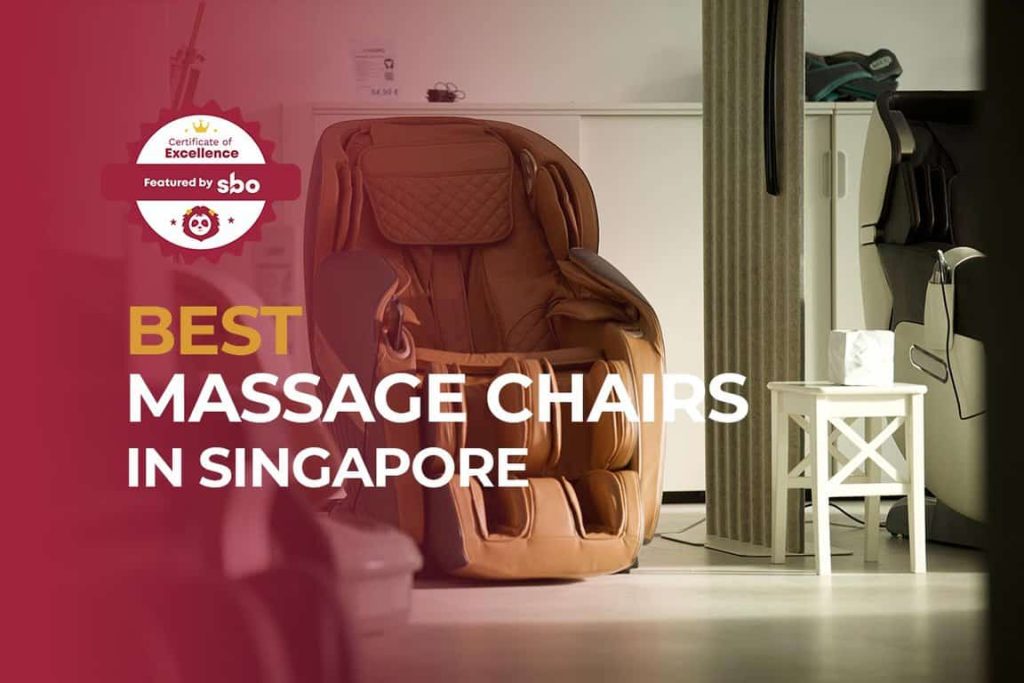 Sitting for long hours are a part and parcel of every Singaporean's daily life. As a student, we spend long hours sitting in front of our desk, doing homework or studying. As an adult, we still spend long hours sitting in front of our desk, working or taking zoom calls.
All this means that our bodies are constantly stuck in stiff positions for prolonged periods, which explain why many Singaporeans suffer from backaches after long days at work or in school.
Imagine being able to enjoy a relaxing massage on your massage chair after a long day of working and studying, how comfortable will that be. You can relax and unwind and immerse in that ultimate sitting experience, where your body rejuvenates and recovers from all the stress.
Check out our list of the 10 best massage chairs in Singapore that can give you the best sitting experience in your life.
1. Sterra Air™ Premium Full-Body Massage Chair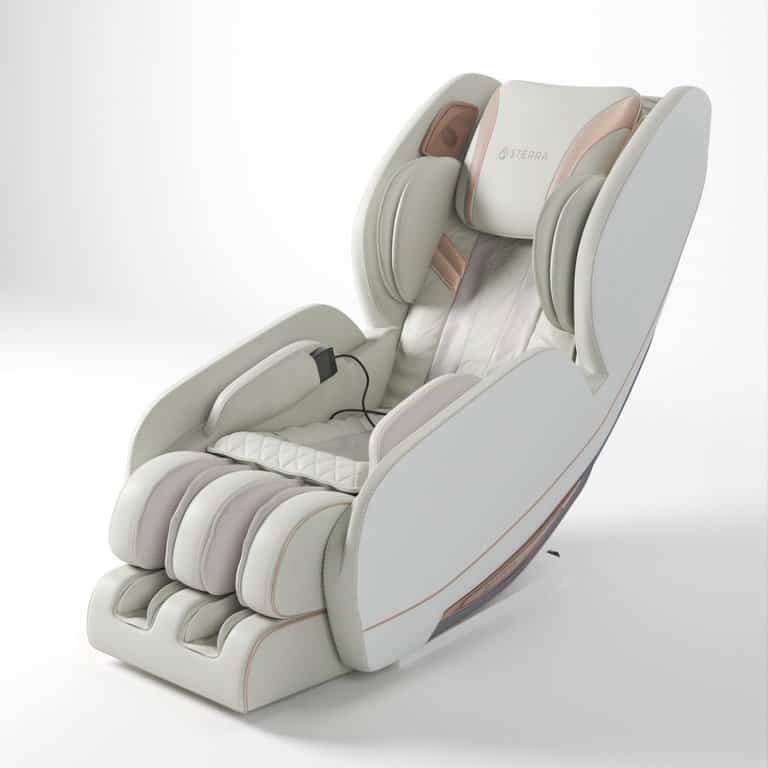 Singapore's only premium full-body massage chairs with high-end features at 50% OFF traditional brands, these are great for relieving your chronic pain, body aches (including neck pain, back pain, and leg pain), stress, inflammation, and muscle tension effectively.
The most affordable massage chair with prices starting at $999. The Sterra Light, Sterra Air, and Sterra Sky boast the following:
Key Features:
S Track & Ultra Long SL Track
CompressPro™ Massage
Heat Therapy
Space-saving with Zero Space Technology – only needs to be 3 to 5 cm away from the wall
SpinSonic™ Sole Rotation Technology
NASA-Backed Zero Gravity
Real Human Hand-Like Massage with 3D & 4D Technology
Precision AI™ Body Scan Technology for massages personalised to your body
Play your favourite songs with Surround Sound Bluetooth Speaker
2. OSIM uDivine Mini Massage Sofa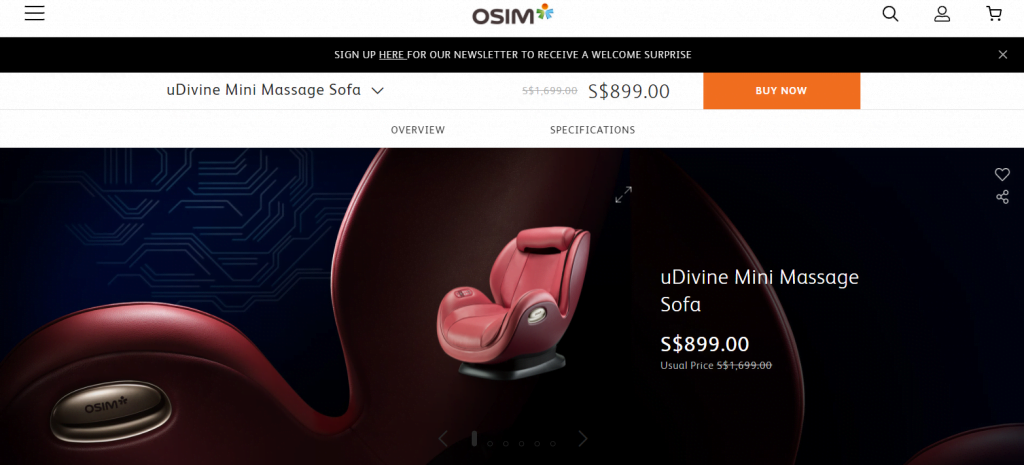 First on the list of the 10 best massage chairs in Singapore will definitely has to be OSIM uDivine Mini Massage Sofa. This massage chair is sleek and compact, a perfect fit for modern living spaces where space is definitely a constraint.
OSIM uDivine Mini Massage Sofa allows you to enjoy the things you love on your digital devices without the woes of digital lifestyle such as stiff neck and body aches.
They have a perfect combination of advance massage technology and design. Their Dual massage mechanism allows you to enjoy simultaneous massage on your back and thighs. Their Long massage coverage allows pampering massage from the neck down to the thighs, extending the common massage area for greater relaxation.
The uDivine Mini is also able to recline to any angle according to your preference.
3. MiuDivine 2 Full Function Massage Chair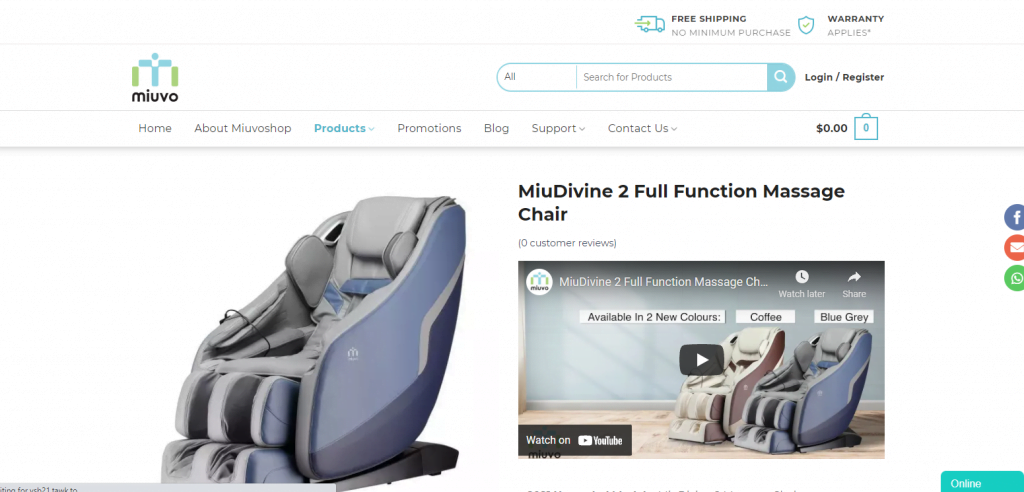 MiuDivine 2 Full Function Massage Chair is a high-technology and high-quality massage chair that provides the ultimate luxury sitting experience. MiuDivine 2 Full Function Massage Chair comes with 10 comprehensive auto programs that are specially designed by their leading therapists. They offer a wide range of massage options as well as comprehensive full body massage.
What is most interesting about this massage chair is that they offer intelligent body scanning technology, giving you a more personalised massage. MiuDivine 2 Full Function Massage Chair is chiropractor-endorsed and is up to 20% lighter and smaller footprint than comparable massage chairs.
4. novita M series® Massage Chair MC 8
With novita M series® Massage Chair MC 8, it will redefine the wellness experience you have with their 5 key features. First, this massage chair is minimalistic yet functional in performance where their compact frame will fit seamlessly into your living space. Also, they have a long L-track curvature massage that requires minimal wall clearance, so you need not worry about space constraints,
The novita M series® Massage Chair MC 8 also has rollers that apply targeted pressure on the body's acupoints, beginning from the neck down to the thighs and hips. Their Hot stone therapy provides sensations that of smooth heated stones, where you can feel the comforting far-infrared warmth spread for deep muscles and tissues relaxation. They have 3 levels of massage intensity, each designed with features that understand you.
5. MiuDelight V2 Massage Chair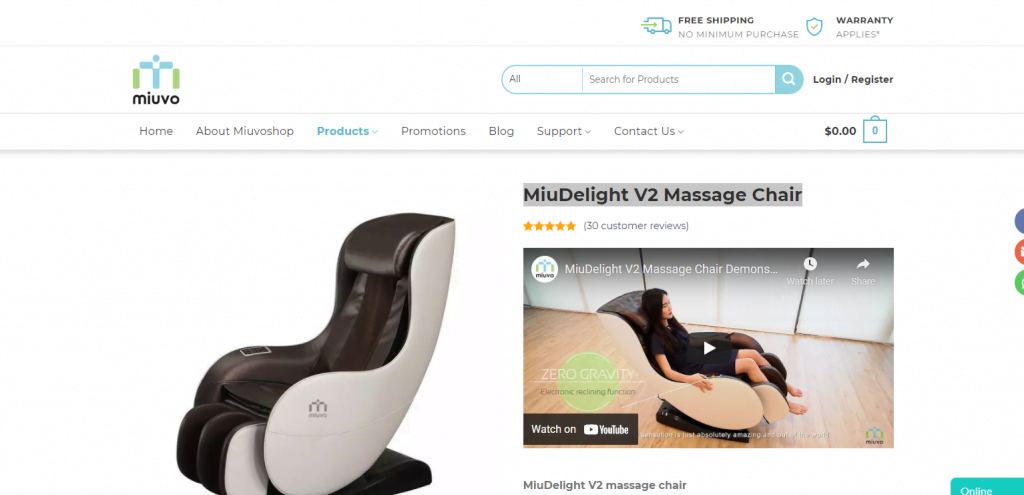 With MiuDelight V2 Massage Chair, you can easily transform this massage chair from a compact 1 seater to a massage chair. Sit back and relax every inch of your body as you enjoy an invigorating massage from neck down to your thighs. It has various functional massage modes, where you can choose from Shiatsu, Tui-Na and tapping massage modes.
Its space-saving design can save you up to 50% compared to other massage chairs, which will be well-suited to any modern home designs. With their intelligent foot massage attachment, this massage chair can also be an excellent leg massager for your calves and feet.
6. Urban Reserve Benefit One Massage Chair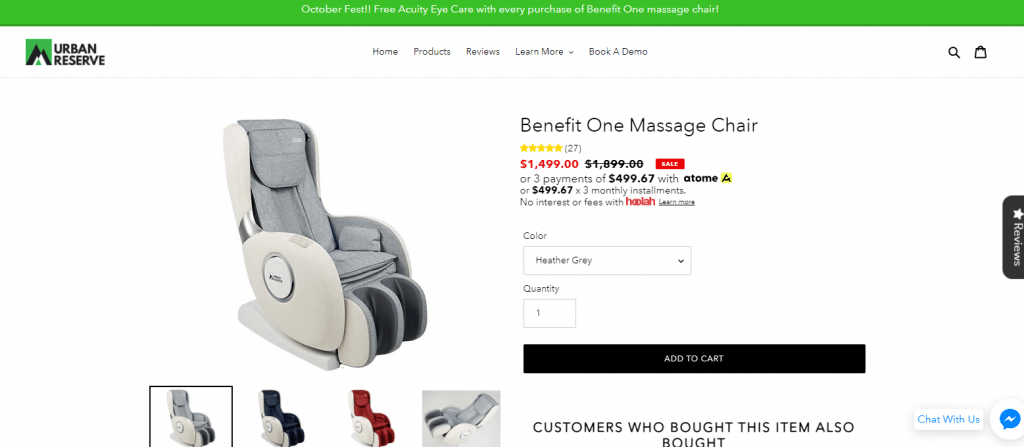 Unwind on your Urban Reserve Benefit One Massage Chair with their industry Leading Ultra Long L-Track, any time you want. With one of the smallest foot print, this massage chair is perfect even for small spaces, making it a wonderful addition for modern homes in Singapore. It also comes with a 1-year warranty.
— 10/10 PROMOTION! —
From now till 20 Oct 2021, and only for the first 25 units, you get to purchase their Benefit One Massage Chair at only $1399! You get to enjoy extra value with a free matching seat cushion (worth $38), free acuity eye care (worth $179), and free delivery (worth $100). Pay by PayNow, and get an additional $50 off!
7. OGAWA MySofa 2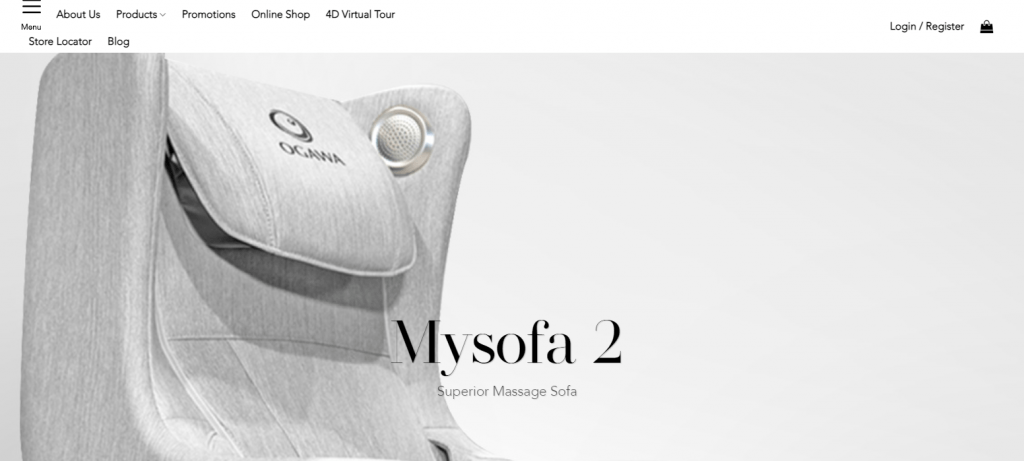 Next on the list is OGAWA MySofa 2, one of the best massage chairs in Singapore. It weighs just 46kg and is a lightweight massage chair with amazing massage capabilities. It comes with an impressive 1.26m extensive massage L-Track which ensures that you get comprehensive coverage from the neck to butt. Also, their zero-gravity function will make you feel lifted and lighter as you recline into weightless balance.
With their 4 specially designed rollers harmonizers and varying size and intensity of the rollers, they replicate a humanized touch, making you feel like you are at a massage salon instead. With their 3D Surround Sound Immersion function, you can get to immerse yourself in a first-class travel experience with your favourite music.
8. OTO Quantum EQ-10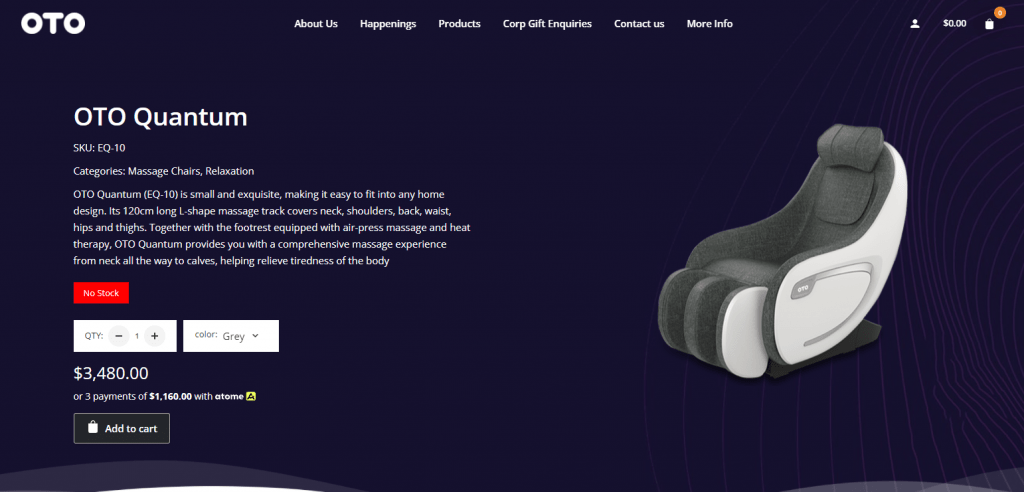 Coming in at $3,480, OTO Quantum EQ-10 is small and exquisite, making it a perfect fit for modern homes. It has a 120cm long L-shape massage track that covers your neck, shoulders, back, waist, hips and thighs, giving you a comprehensive massage experience.
With 4 Auto Massage Programs and 5 Massage Strokes, you can experience different massage combinations or easily customize your massage to stimulate your fatigue body and soul into a state of relaxation. Their swing function brings you up to an astonishing 150° reclining angle, giving you an utmost relaxing experience to help you sleep well at night.
9. OSIM uDiva 2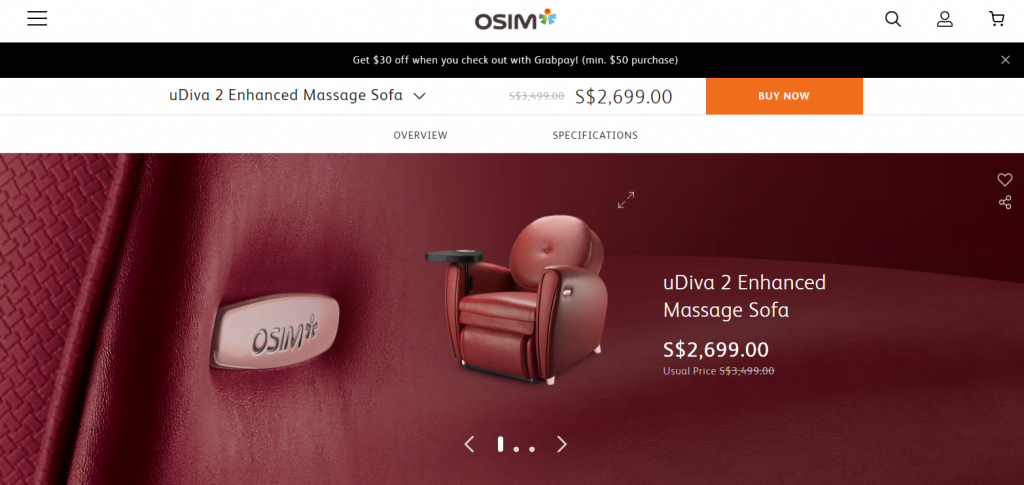 OSIM uDiva 2 is a smart sofa that integrates seamlessly into your home and lifestyle. It comes with 6 professional massage programs – Head & Shoulders, Lumbar, Happy Hour, Spa, Sports Recovery, Energize, each of which are specially catered for your multiple lifestyle.
To further cater to your lifestyle needs, OSIM uDiva 2 features a lifestyle side table that has 2 USB ports, where you can place and charge devices such as fan, LED mirror, humidifier and more. This massage chair also has an independently controlled backrest where it can transform between sofa, upright and reclined modes.
10. AIBI Vita Chair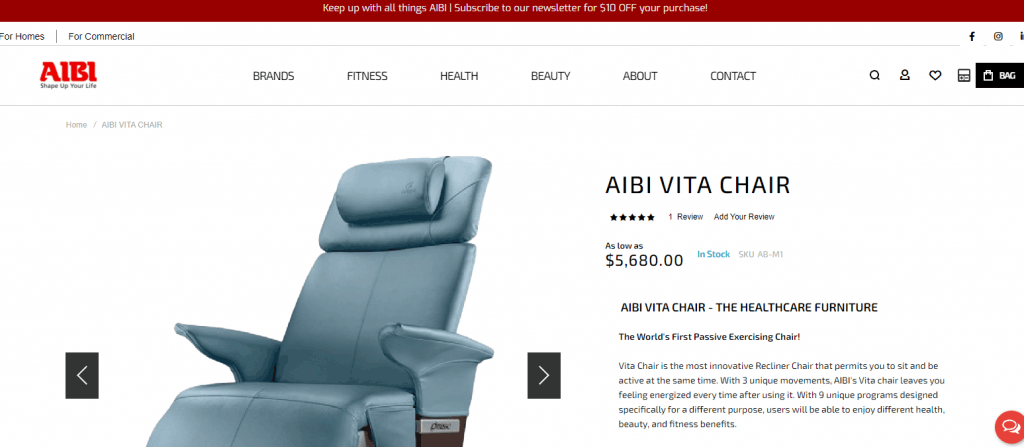 As the world's first passive exercising chair, Vita Chair has 9 unique programmes, each designed specifically for a different purpose. Users will be able to enjoy different health, beauty, and fitness benefits, all while sitting on the massage chair. Also, with just 3 unique movements, AIBI's Vita chair will leave you feeling energized every time after using it.
Vita Chair comes in a variety of sleek colours and design, so you can have a massage chair that fits right into your home's aesthetics, or even bring it up to the next level!
Conclusion
Do you have any reviews and comments to share regarding our choices for the best massage chair in Singapore?
While SBO is committed to supporting our local businesses, we welcome any feedback and anonymous sharing regarding your experience with the listed massage chairs in Singapore.
We hope that this guide will be useful in helping you to make an informed decision when it comes to finding the best massage chair in Singapore.
Explore More Content