10 Best Landscape Company in Singapore for Landscape Works [2023]
What's a reason to fire your landscaper? He just wasn't cutting it.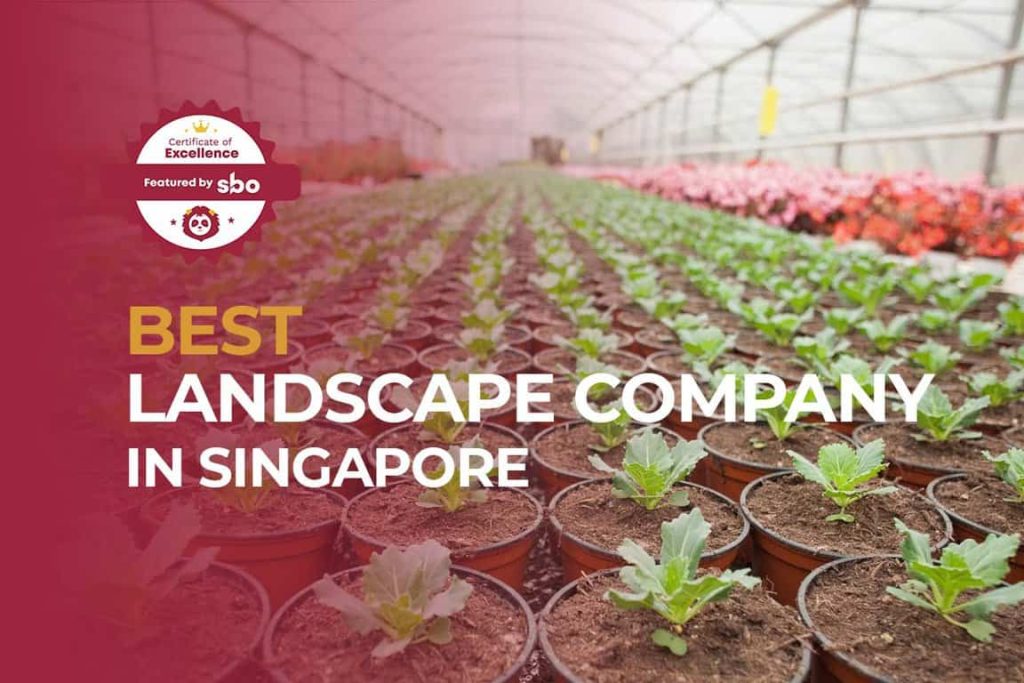 Landscaping refers to any activity that modifies the visible features of an area of land, such as flora or fauna or natural elements like terrain and water bodies to make the piece of land more attractive.
This can be achieved by altering the existing design, adding ornamental features, or by planting trees and shrubs.
Looking for a landscape company in Singapore?
In this post, we've gathered all the relevant details to compile a list of the 10 best landscape company in Singapore.
1. Green Fingers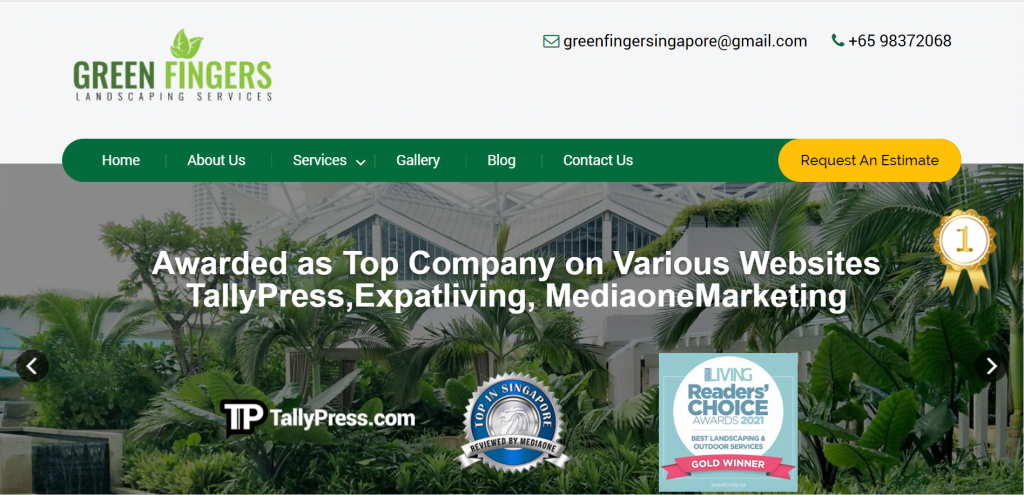 The mission of Green Fingers is to provide the best quality landscaping services to their customers at reasonable prices.
The company's vision is to enable their customers to enjoy nature by incorporating it into their homes and places of work.
Green Fingers offers a complete variety of gardening services for any residential landscapes in Singapore.
Their landscaping services include garden maintenance which comprises grass cutting, fertilisation, and pest control, among many others.
The landscape company in Singapore provides a free consultation and quotation.
Reviews laud the landscape company in Singapore for being very responsive from the get-go.
Their team of gardeners were also highly conscientious and patient.
2. Island Landscape & Nursery Pte Ltd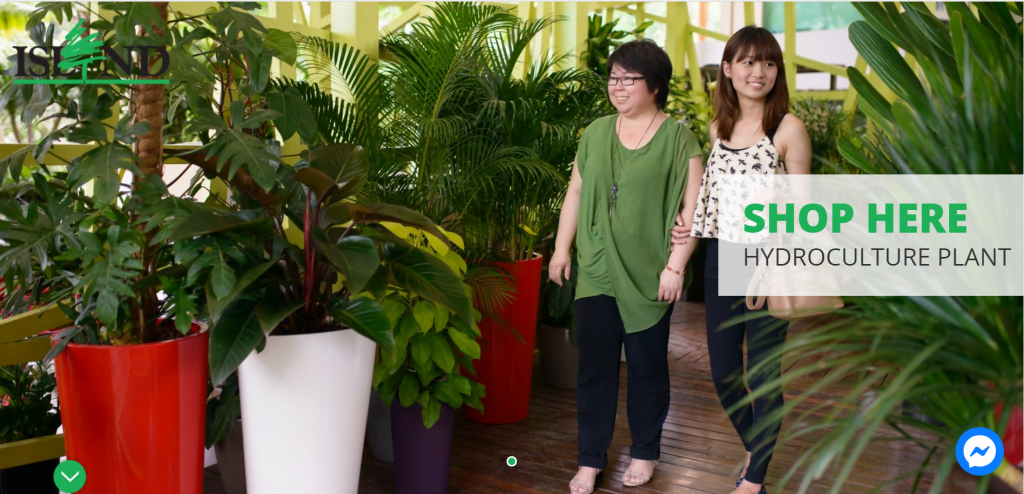 Island Landscape & Nursery has been greening homes, offices and open spaces since 1976.
What began as a small Retail Nursery is now a one-stop Garden Centre, offering complete solutions for all your gardening needs.
The company has been continuously introducing new species of plants that have never been brought into Singapore, providing a new touch to both interior and exterior landscapes here.
Their team consists of Project Managers, Horticulturists, Certified Arborists, Landscape Architects and Designers.
The landscape company in Singapore provides design consultation, supply and installation of a wide array of landscaping works, including softscape and hardscape, water features, plants as well as irrigation.
Their Landscaping L4 certification awarded by the Building and Construction Authority of Singapore (BCA) allows the landscape company in Singapore to submit tenders for private and public landscape projects of up to S$5.0 million in value.
Reviews laud the landscape company in Singapore for its good selection of plants.
3. Nature Landscapes Pte Ltd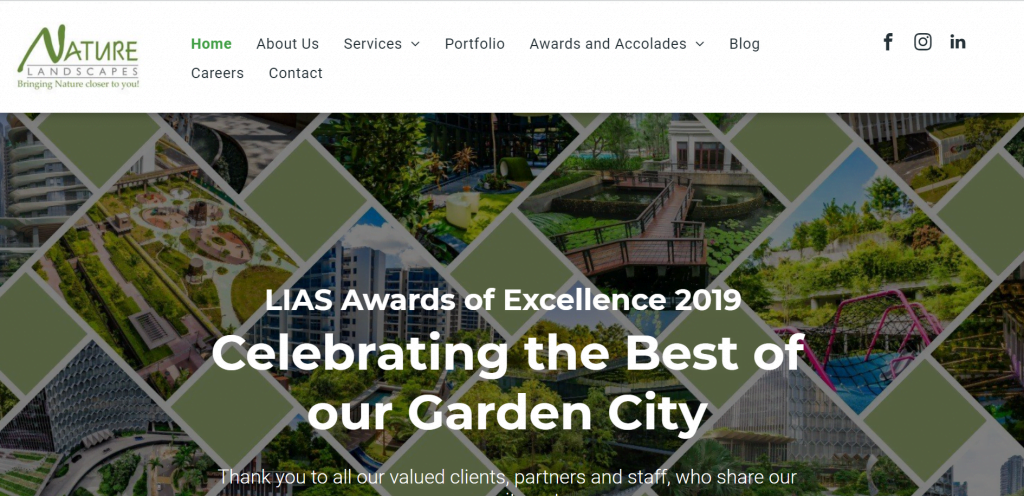 Nature Landscapes is a leading landscape company in Singapore.
Established in 1981, they have clinched more than 80 awards and accolades.
They possess an excellent team of professional horticulturists, landscape architects, engineers, project managers and craftsmen with in-depth knowledge as well as an understanding of the art and science behind landscape design, construction and maintenance.
They manage every project with a dedicated project manager, with adherence to best management practices, safety compliance and sustainable environmental considerations to ensure delivery of the project on scope, on time, and on budget.
Their past landscape projects span a wide range, including Northpoint City, New Futura, The Vales, Oasis Terraces, Tampines GreenRidge and Kampung Admiralty.
Reviews laud the landscape company in Singapore for their very friendly staff.
4. Prince's Landscape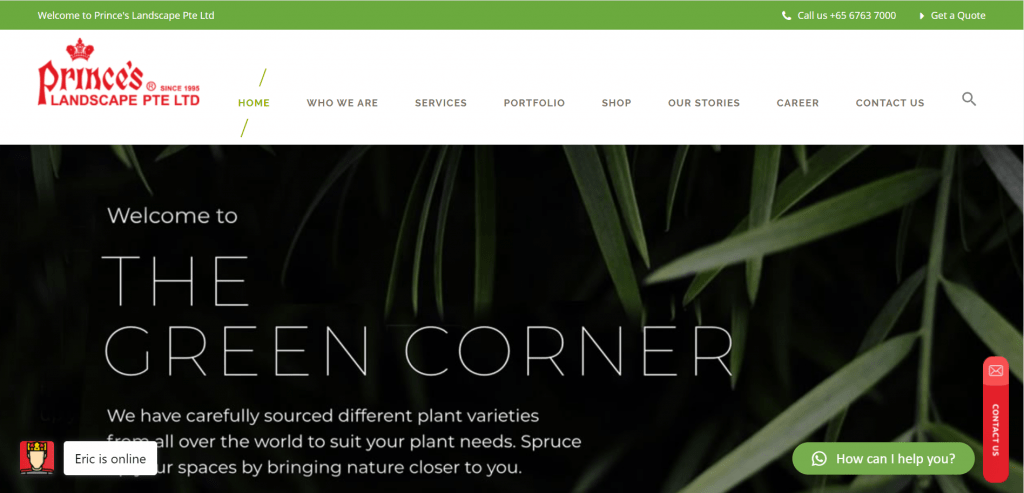 One of the oldest nurseries in Singapore, Prince has 50 years of experience in the industry.
Starting out as a flower shop, Prince has since evolved into a landscape design and installation specialist.
They have two nurseries and more than 400 professionals, horticulturists, designers, engineers, florists and support staff.
Looking to install a green roof system to beautify your landscape?
Our advice is to go to them for their Hi-Green Roof Garden System, which is Singapore's very own customised and locally designed and tested green roof system.
Through their research and development, plant life sustainability is prolonged owing to their specialised hydroculture technique.
The roof's planting medium, Hi-Green Lite Composite, is also specially premixed to give it high water and nutrient absorbency.
Reviews laud the landscape company in Singapore for their excellent service.
5. Chin Ling Nursery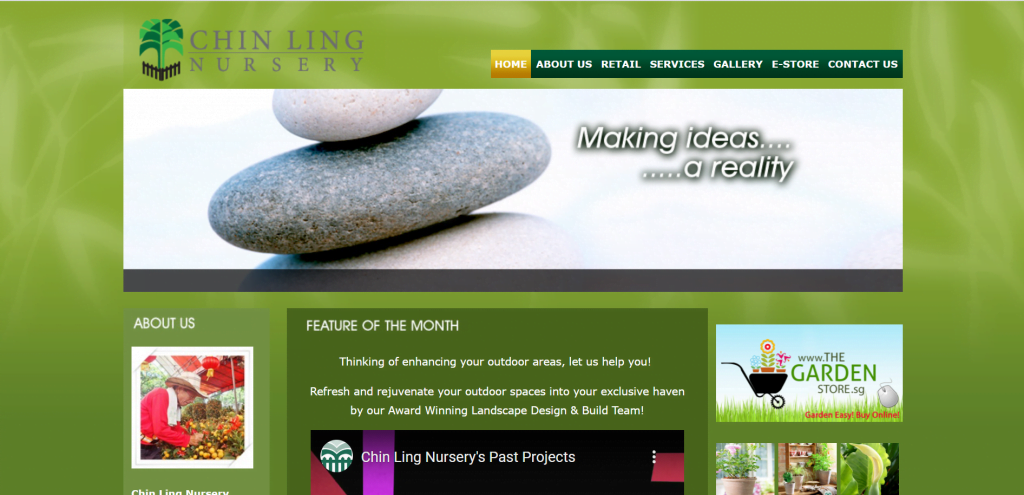 Established in 1984, Chin Ling Nursery has been your trusted Landscape Builder & Garden Centre for over 37 years. 
They understand how difficult it is to be searching everywhere for your unique gardening needs.
Hence, they take pride in offering a wide range of products to help you build your own haven in any outdoor spaces.
They produce stunning landscape design packages using 3-dimensional computer modelling.
This allows clients to take a walk through their garden right from the concept stage to the final design.
Suitable plant choices are made based on expert advice to bring your garden to life and to enhance the original design philosophy.
Reviews laud the landscape company in Singapore for providing customers with a pleasant experience.
Their service staff answered customers' questions patiently.
6. Eco-Scape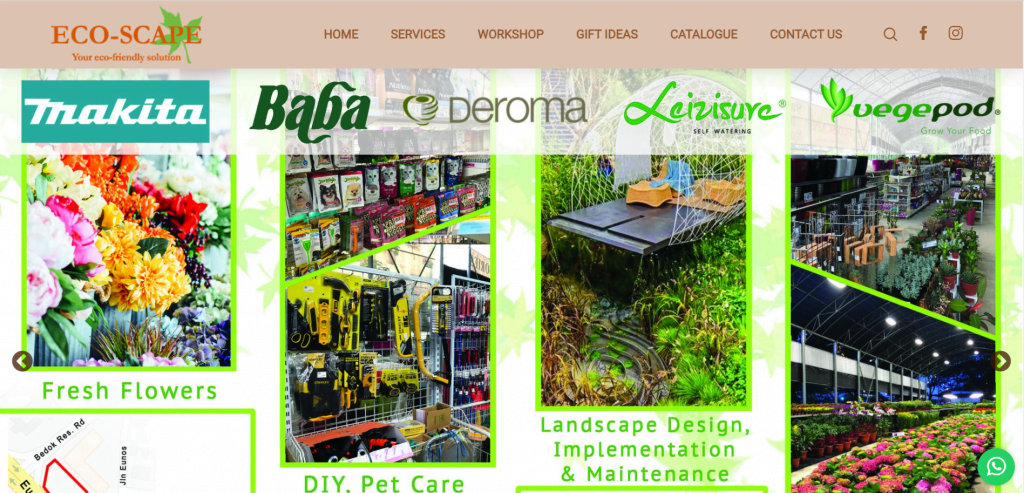 In 2004, Eco-Scape was established to provide landscaping services.
Similar to the company's cleaning counterpart, Eco-Scape's passionate staff operate on a wealth of experience and acquired knowledge to offer a wide range of landscape services.
Our recommendation is to go for them for their landscape maintenance service.
Their team of well-trained and experienced staff provide professional and efficient gardening, grass-cutting, and tree pruning services to give a beautiful environment.
Reviews laud the landscape company in Singapore for their reasonable prices.
They also stock a healthy variety of plants, ornaments and shrubs just for your selection.
7. Ken Landscape Services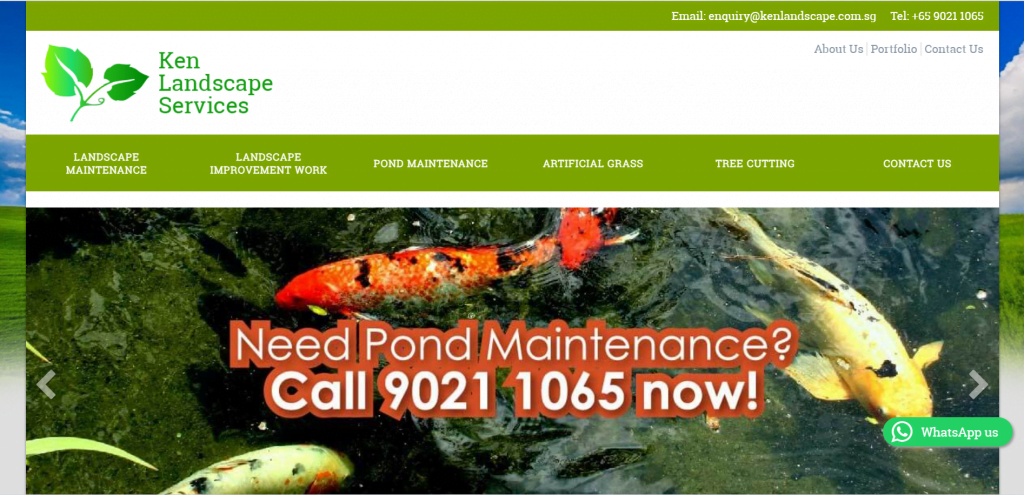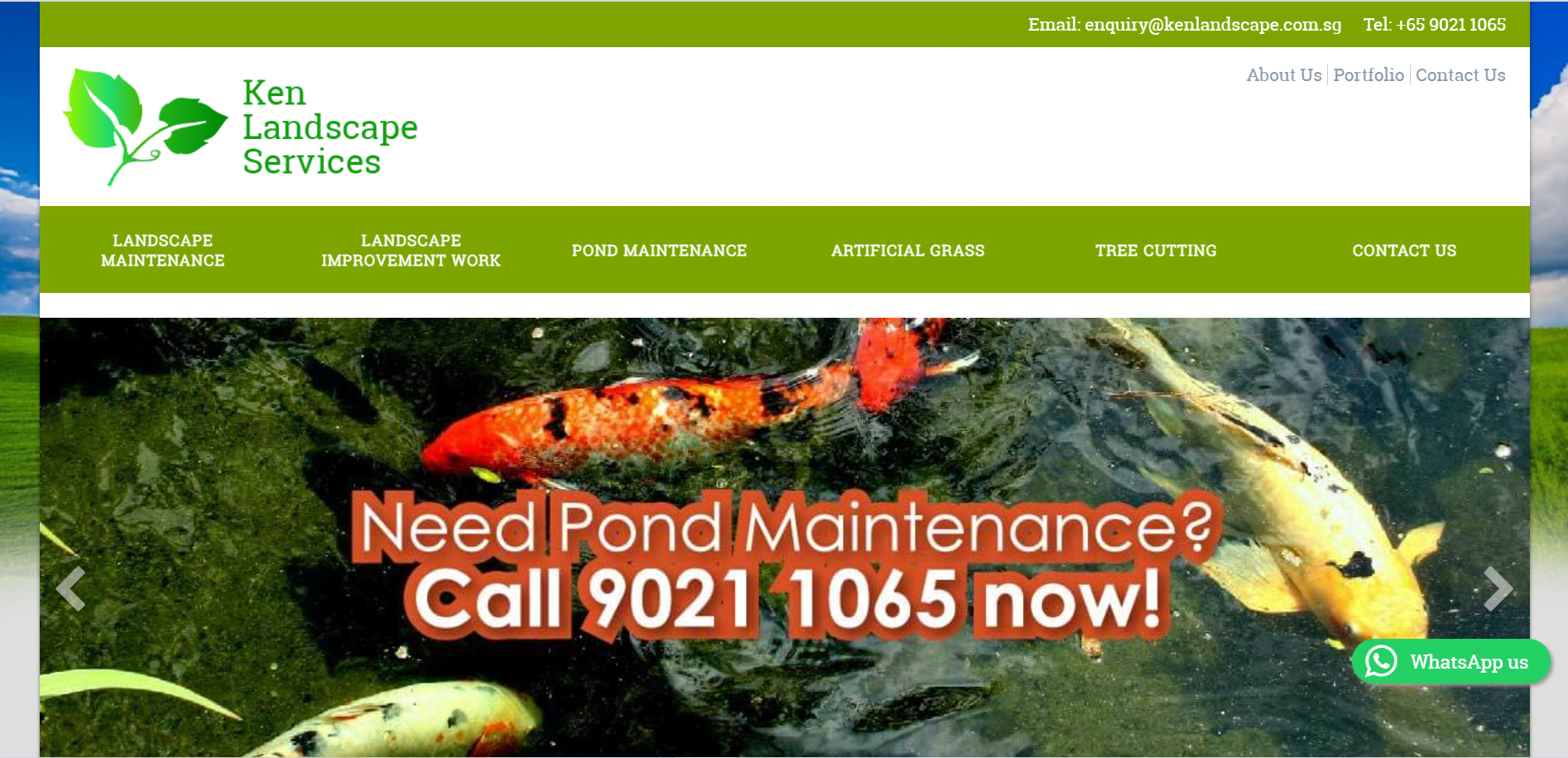 Ken Landscape Services is one of the most experienced and reliable landscaping contractors in Singapore.
Besides regular landscaping jobs, they undertake contract services like Pond Maintenance, Water Irrigation & Vertical Green Wall installation.
Our recommendation is to go to them for their landscape improvement service to enhance the aesthetic value of your land.
They provide three types of landscape improvement services: Returfing, Redesign Gardening, and Soil Settlement Top-Up.
Reviews laud the landscape company in Singapore for their high efficiency and professionalism displayed.
They did a good job when it came to precise trimming.
8. Tai Kwang Garden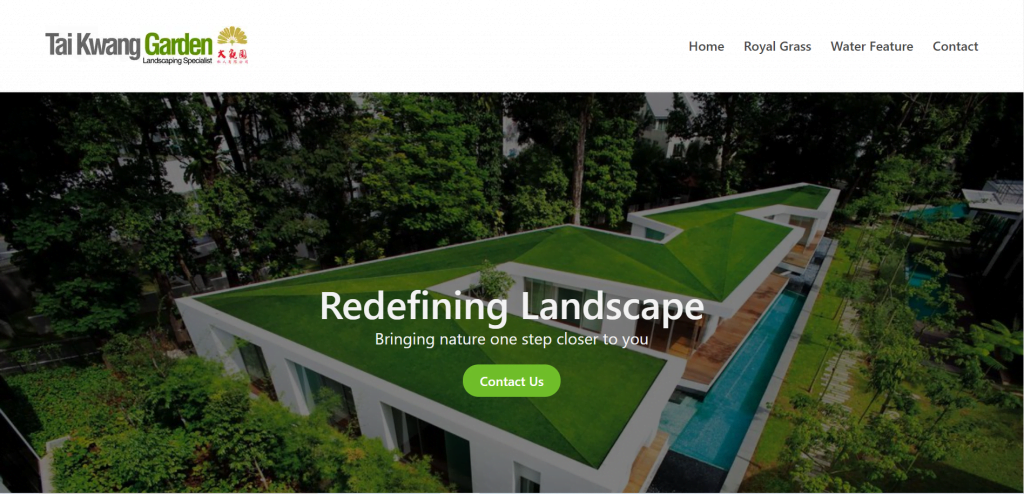 As architects and designers of green spaces, Tai Kwang strives to work outside of their obligation to beautify commercial and residential spaces.
By combining state-of-the-art technologies and latest design trends, the landscape company makes sure you get the best, most modern, and beautiful landscapes in your compound.
Ever wanted greenery without worrying about constant maintenance?
With their Royal Grass, the leading artificial grass for landscape applications, you will get to enjoy greenery just like real grass without having to worry about dry patches etc.
Reviews laud the landscape company in Singapore for being very prompt and professional in giving suggestions to beautify the landscape in a proper manner.
9. Hawaii Landscape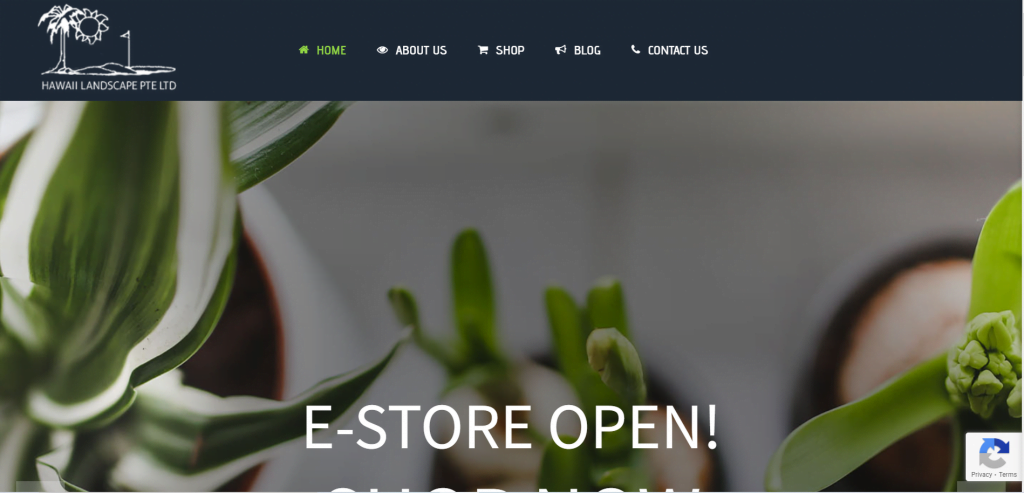 Hawaii Landscape is a pioneer and leading veteran in the landscaping architectural scene with operations primarily in Singapore, and a firm foothold in the ASEAN region since 1968.
Their founder has transformed a humble 11,000 square feet nursery into a huge landscaping business that has grown by leaps and bounds. 
Through stellar work, they have won several accolades, namely the Gold & Silver Award for the Singapore Garden Festival Awards and from National Parks Board.
Reviews laud the landscape company in Singapore for having a wide variety of plants available.
Their staff are knowledgeable and are ready to help customers.
10. Earthscape Concepts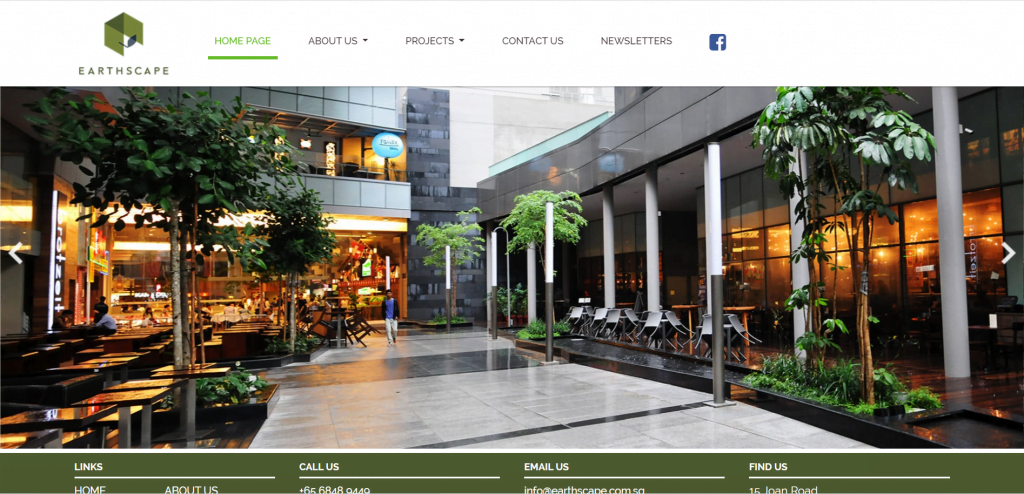 Earthscape Concepts is a landscape company in Singapore that started in 2006 to fulfil a passion for landscapes.
With 30 years of experience in the industry, what matters most to them is the comprehensiveness of solutions they provide.
Having specialised in-house expertise in consultancy (including arboriculture), design, build and maintenance, they strive to be the landscape solution provider of choice.
From landscape enhancement to designing brand new buildings, the company starts by getting a design brief from you and/or visiting the site to evaluate its constraints and more importantly, to understand all your needs and wishes.
During the implementation phase, their garden creation experts execute diverse activities including both hardscape (wood decks, trellises, paving, water features, etc.) and softscape (planting) works.
The need for direction, control and effective execution is driven by their Operations team who keeps the quality of work in check.
Reviews laud the landscape company in Singapore for their horticulturalists, who are consummate professionals.
Their experienced staff carried out a fantastic job.
Conclusion
Do you have any reviews and comments to share regarding our choices for the best landscape company in Singapore?
While SBO is committed to supporting our local businesses, we welcome any feedback and anonymous sharing regarding your experience with the best landscape company in Singapore.
We hope that this guide will be useful in helping you to make an informed decision when it comes to finding the best landscape company in Singapore.
Explore More Content