10 Best Biometric Door Lock in Singapore to Secure Your Door [2023]
'Cuz locking your door with a key is so outdated.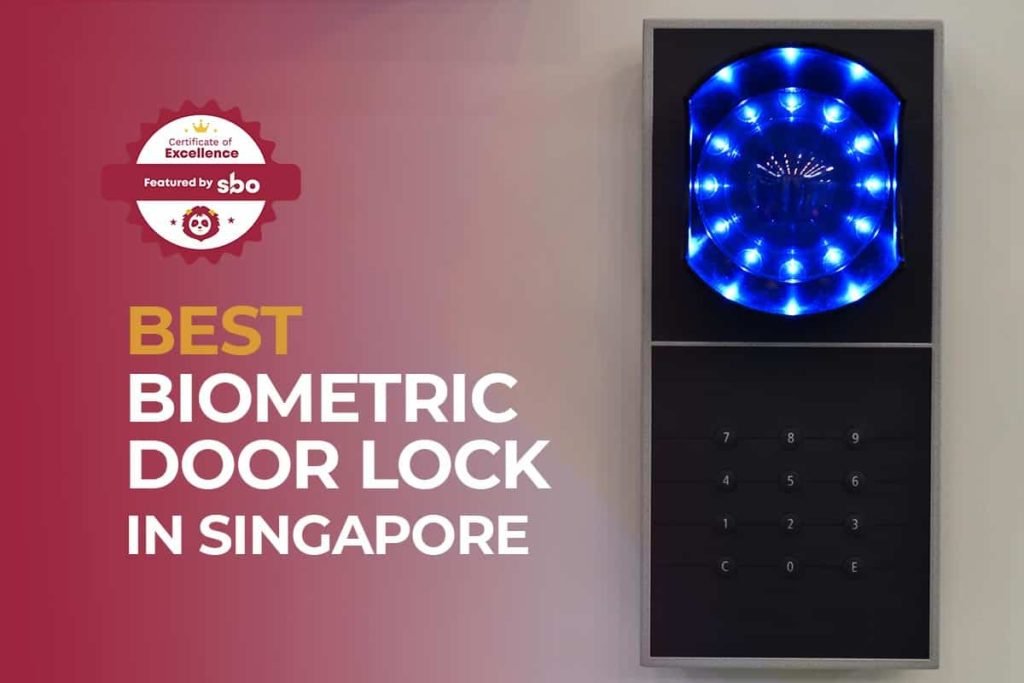 The key to the future may just be here. According to The Straits Times, homeowners are increasingly opting to go keyless for their homes as the technology and security they provide has improved, and in particular, the convenience factor biometric versions bring.
With features such as keycard access, fingerprint scanners, and even phone-app unlocking, digital locks are changing the game for an otherwise enduring invention.
Biometrics are physical or behavioural human characteristics that can be used to digitally identify a person to grant access to systems, devices or data. Examples of these biometric identifiers are fingerprints, facial patterns, voice or typing cadence.
Looking for a biometric door locks? In this post, we've gathered all the necessary details to compile a list of the 11 best biometric door lock in Singapore.
1. Samsung SHP-DP738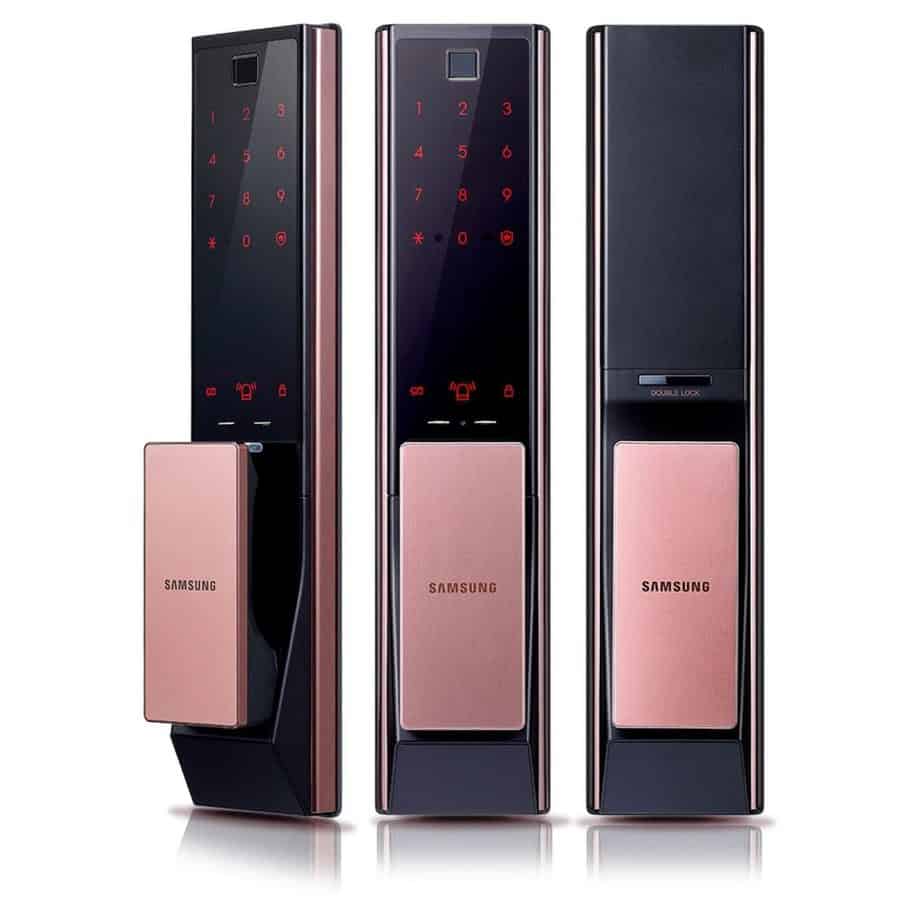 With a new premium push-pull design, the door lock's design in 2018 complements any modern home.
You will never need to drop what you're carrying to open your door with the push pull handle design of the biometric door lock in Singapore.
Secure Fingerprint authentication method means you'll never have to worry about forgetting your password.
The scanner is unobtrusively positioned above the door lock, allowing precise and fast processing.
Besides using your fingerprint, you can also unlock the door via your smartphone app, number pad or mechanical key.
Important information is secured using AES-128 encryption, using exclusively developed security, SEAL (Secure Encapsulation for Application Layer).
It also has a welcome function, where approaching the door will automatically activate the touch pad allowing convenient passcode entry.
Repeated pacing around the entry will also set off the alarm.
2. Samsung SHP-DP609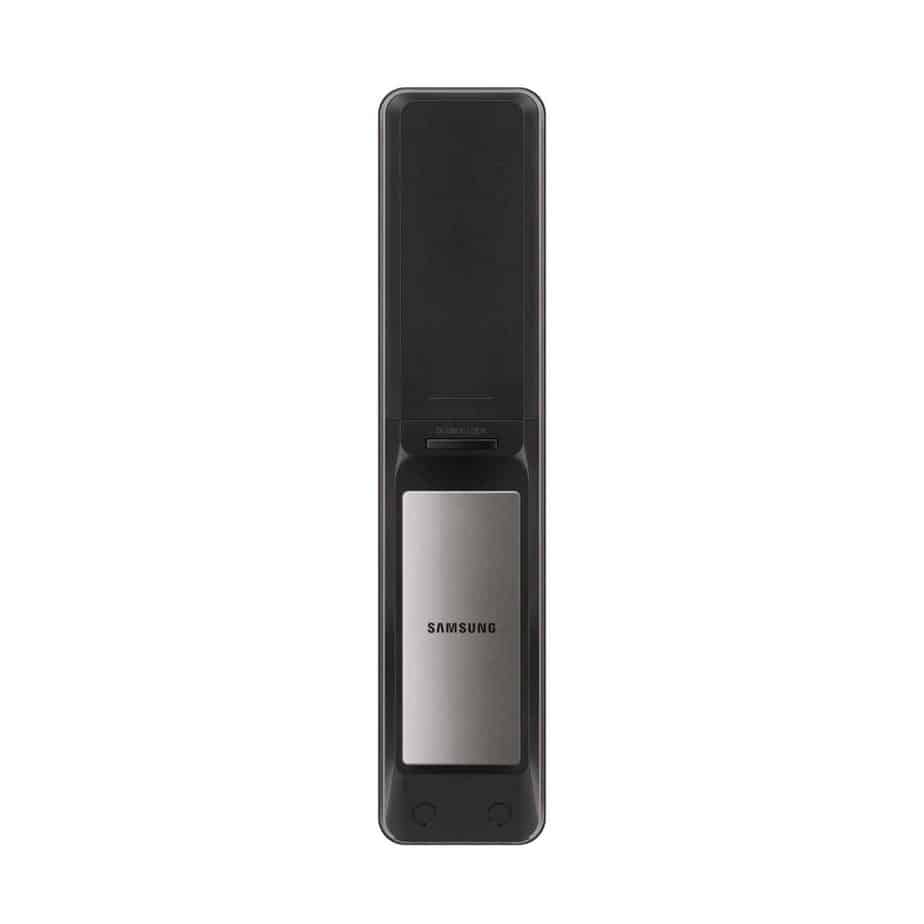 The SHP-DP609 is a SMART IoT – WiFi Digital Door Lock that makes use of advanced door opening technology.
For example, its Wifi connectivity capabilities alert you on door lock status and remote command anytime and anywhere.
With the biometric door lock only requiring one action to unlock, you can open the door by pushing or pulling the easy Push-Pull handle with low noise, and vice versa.
The lock uses three different types of user data protection technology such as White-Box Cryptography, Secure Encapsulation for Application Layer and App Hardening.
Important information like access codes is protected by state of the art security technology. If you lose your smartphone, you can erase your access codes easily.
You can also view access and history logs, know who's at the door, and also receive alerts when members of your family arrive home in real-time.
3. ATLAS Ultra Slim WiFi Digital Door Lock
The modern home requires modern-day security measures. With features like the Double Bolt Mortise, Security Intrusion Prevention, the all-new Luxus Atlas is built for unparalleled security. At the same time, the smartphone app provides utmost convenience which allows you to view access logs, grant access to specific individuals all at your fingertips.
4. Starke Seamless Designerin
In a world of on-demand everything, the word 'Convenience' gets thrown around a lot.
They prefer the word 'Ease'. STARKE Seamless digital locks make returning home as easy as a finger tap, a card scan or remotely via their mobile app.
Frustrated by unresponsive touchpads? Starke's revolutionary SenseTouch™ technology has created a fingerprint sensor of superior sensitivity and accuracy.
Recognising even partial prints, and unaffected by moisture, heat or humidity, you're guaranteed one-touch entry in 0.5s.
Yes, that's half a second.
With personal data like fingerprints stored in their app, having a fail-proof, anti-hacking data storage system is of utmost importance.
They have dedicated data centres secured by Starke's priorietary PrintSave™ Technology to give their users absolute peace of mind.
From your data to your home, it's 360 degrees security.
5. Starke Seamless Rim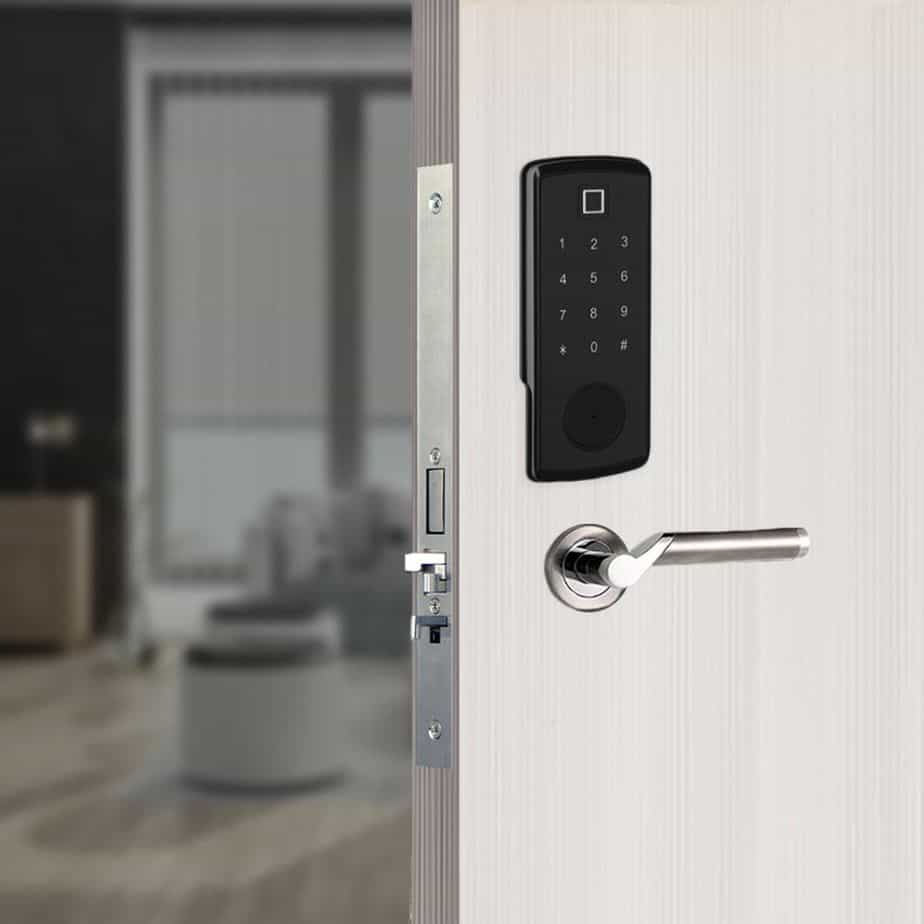 After countless door open-close tests in real life environments, user feedback gathering and improvement cycles, Starke is proud to introduce the Starke Rim.
Simple and compact, it is a nifty addition to doors with existing handles.
Have a big household? Starke has got you covered.
The Starke Digital Lock stores up to 100 unique fingerprints so everyone who needs access, get it.
You can easily scan and save a new print in seconds with their proprietary PrintSave technology.
The best products are those you forget you're even using.
Engineered for maximum durability, Starke uses only the best materials and components that stand the test of time.
After extensive product testing and trials, they guarantee no additional work needed for at least three years for your biometric door lock.
The Starke's sensitivity to any form of security breach is unmatched, preventing even the slightest tampering, whether on-site or remote.
Combined with a cleverly concealed intrusion alarm, you won't need to worry when leaving your home again.
6. eufy Smart Lock Touch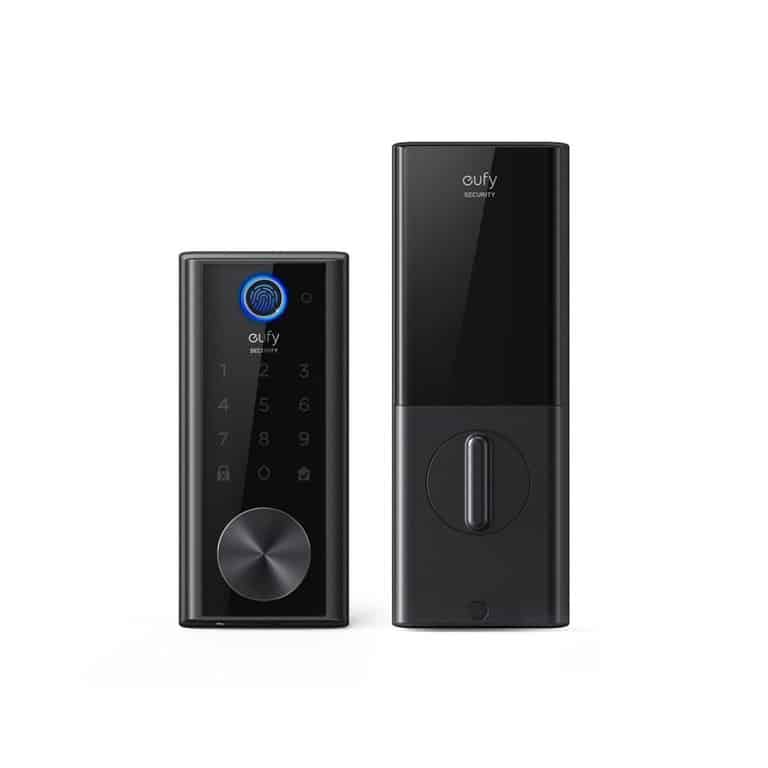 With an eerily accurate fingerprint identification system, the eufy Smart Lock recognises your fingerprint in just 0.3 seconds, and unlocks your door in just 1 second.
There are four ways to unlock the biometric door lock:
Unlock using your fingerprint
Unlock via the eufy Security app with Bluetooth
Unlock using electronic keypad
Unlock using traditional key
The eufy Smart Lock has obtained the BHMA Grade 2 Security Certification.
Certified by the American National Standards Institute, it's been proven to work after locking and unlocking 250,000 times.
With an IP65 weatherproof rating, Smart Lock is capable of withstanding temperatures ranging from -30°C/-22°F to 70°C/158°F as well as rainfall.
7. eufy Smart Lock Touch & Wi-Fi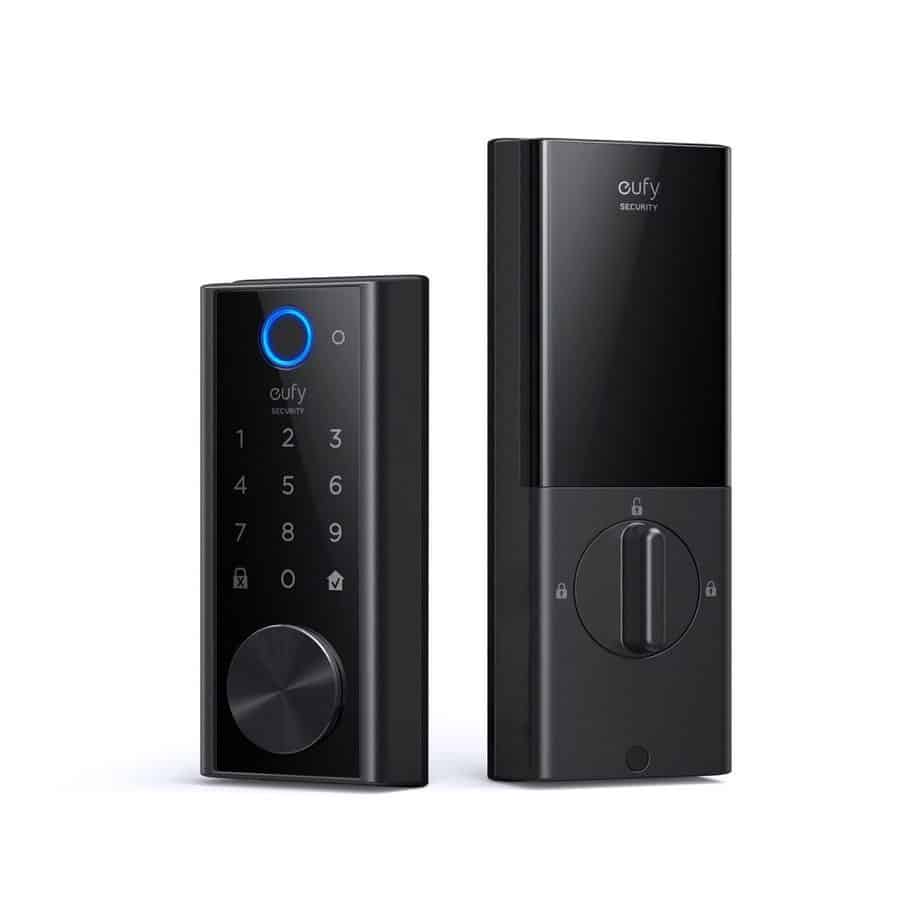 With the eufy Smart Lock Touch's all-new Wi-Fi connectivity, you can control Smart Lock from absolutely anywhere via the eufy Security app.
The chance of Smart Lock failing to recognize your fingerprint is 2%.
This is thanks to the sensor area being two times larger than on a smartphone.
The near-perfect accuracy allows you to open your door in no time.
Plus, the built-in self-learning AI chip means that every time you unlock it the recognition rate improves.
Even when you're in a hurry, Smart Lock is ready to protect your home.
A built-in sensor detects when your door is closed and locks it automatically behind you.
With a sturdy zinc alloy and stainless steel frame, Smart Lock is tested to handle the comings and goings of a busy household for over 60 years.
The IP65 rating ensures that come rain or shine, your front door is protected.
8. Ultraloq Lever Smart Lock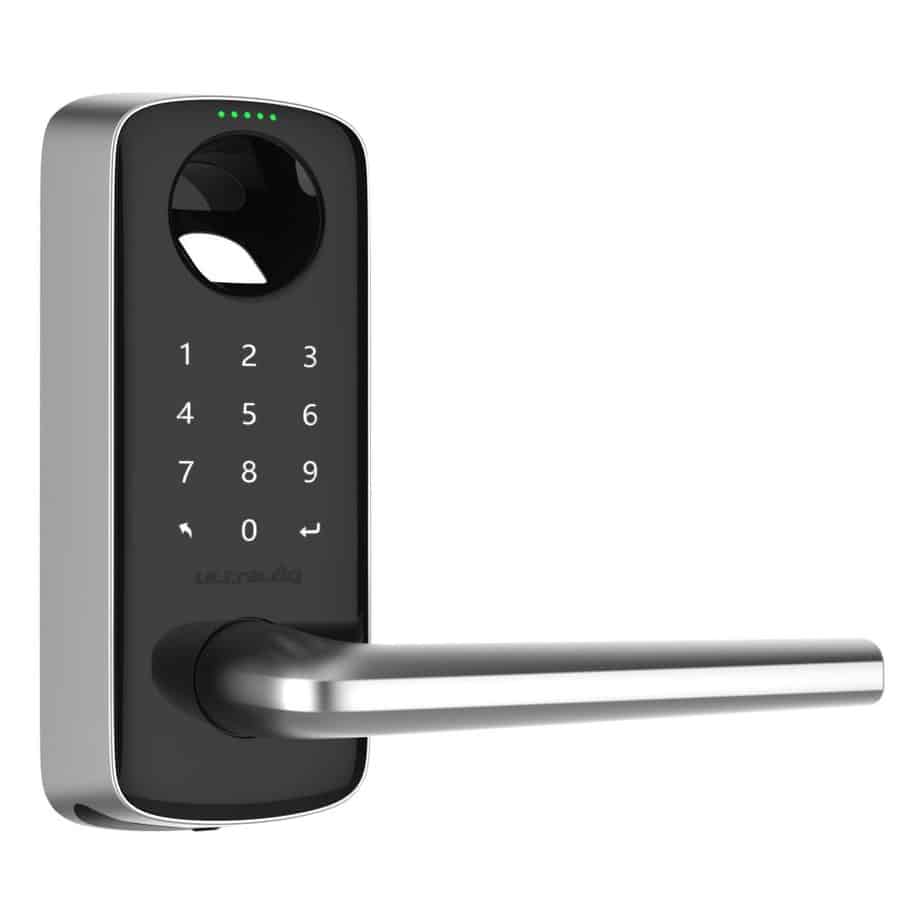 Ultraloq Lever is the most secure and versatile smart door handle with keyless & phoneless entry ever created.
The Bridge upgrade allows you to control the access to your door while you're away from your home and monitor all activity remotely.
With a 2nd Gen fingerprint sensor, the biometric door lock can instantly recognise your fingerprints under 0.3 seconds.
The best part of it all: you will be able to add random digits to protect your passcode from prying eyes.
This biometric door lock is equipped with dual data encryption.
This strong encryption capability encompasses two-layer protection using secure 128-bit AES and a Dynamic Key that will keep both you and your data safe.
Lastly, you can ask Amazon Echo or Google Home to control your Ultraloq.
It can also integrate seamlessly with popular smart home devices using IFTTT functions.
9. Ultraloq UL3 BT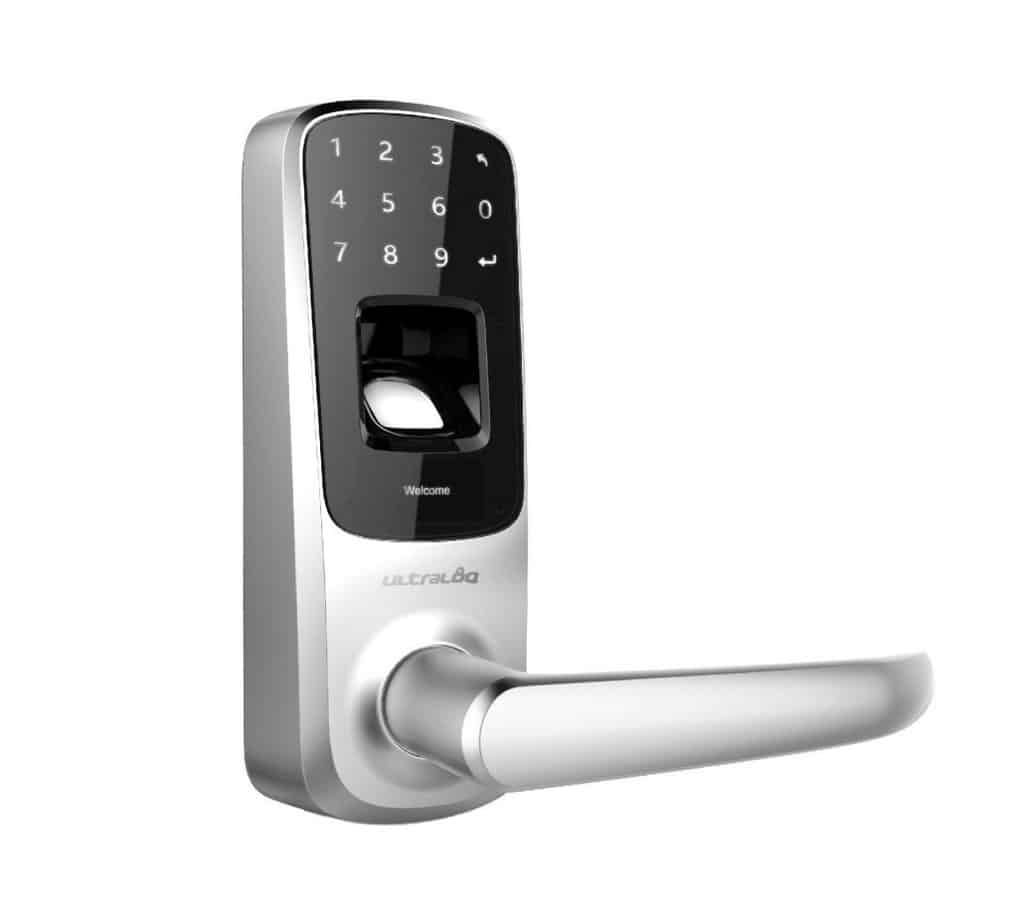 Ultraloq UL3 BT (2nd Gen) is a smart lever lock is designed to be "Real Keyless".
You are free to use your fingerprints, code, key or smartphone to unlock the biometric door lock.
The Bridge upgrade allows you to control the access to your door while you're away from your home and monitor all activity remotely.
The biometric door lock is equipped with two-Layer protection using secure 128-bit AES and a Dynamic Key that will keep you and your data safe.
Ultraloq UL3 BT (2nd Gen) is designed to fit any US standard interior and exterior door with a single hole prep.
The simple installation takes minutes and just a few screws.
No wiring or drilling is needed for installation, which keeps it fuss-free.
Thanks to ultra-low power consumption technology, Ultraloq UL3 BT (2nd Gen) will give you more than one year of battery life through regular use.
You will also receive low battery notifications when the biometric door lock is running out of juice.
10. Schlage S7100 Push-Pull Digital Door Lock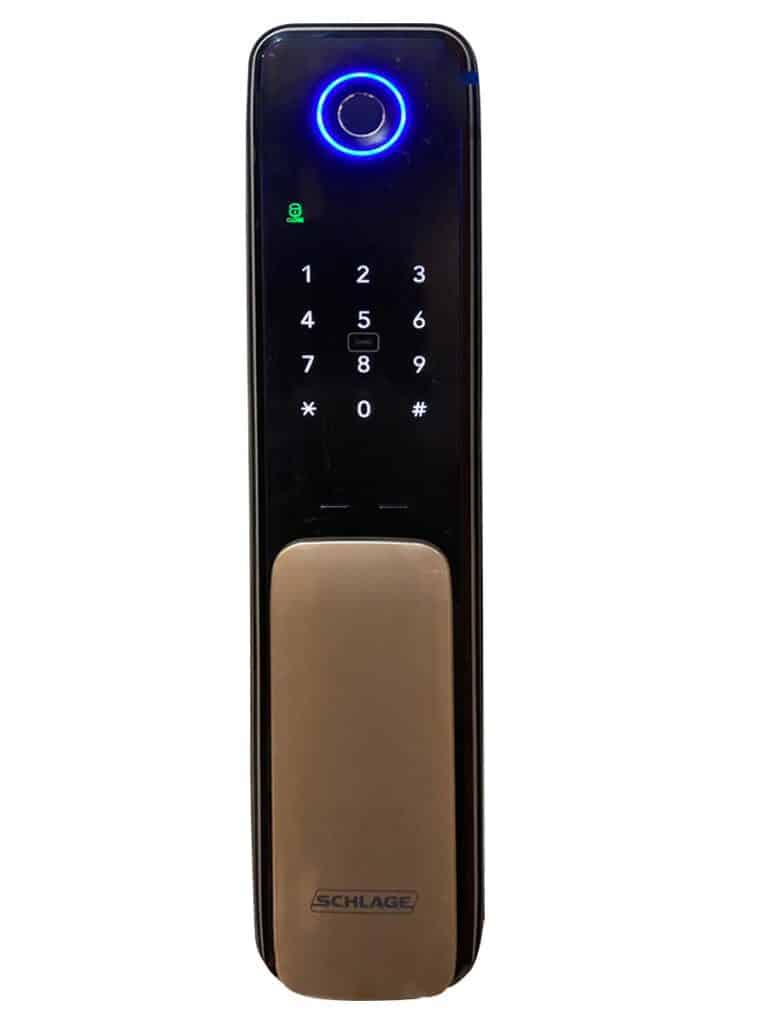 The Schlage S-7100 changes the way we unlock our front door.
With a patented push-pull handle, fingerprint/card/password access, and a voice guide, accessing your home has never been easier.
The easy-to-use internal and external push-pull handles can be easily and securely set depending on the opening direction of the door.
To open the door, simply unlock and push with one motion.
Unlocking is simple – you choose either the Smartphone App using Bluetooth, fingerprint reader with the latest technology.
The S-7100 can store up to 100 fingerprints, and adding or deleting passwords, cards and fingerprints is simple.
A built-in voice makes using, programming and setting up the S-7100 simple and fast.
Volume can be adjusted or disabled to suit your needs.
Conclusion
Do you have any reviews and comments to share regarding our choices for the best biometric door lock in Singapore?
While SBO is committed to supporting our local businesses, we welcome any feedback and anonymous sharing regarding your experience with biometric door locks.
We hope that this guide will be useful in helping you to make an informed decision when it comes to finding the best biometric door lock in Singapore.
Explore More Content