20 Best Tile Shops in Singapore For Your Renovations Needs [2023]
n today's article, we'll be introducing the 20 Best Tile Shop in Singapore to set the theme of your new house!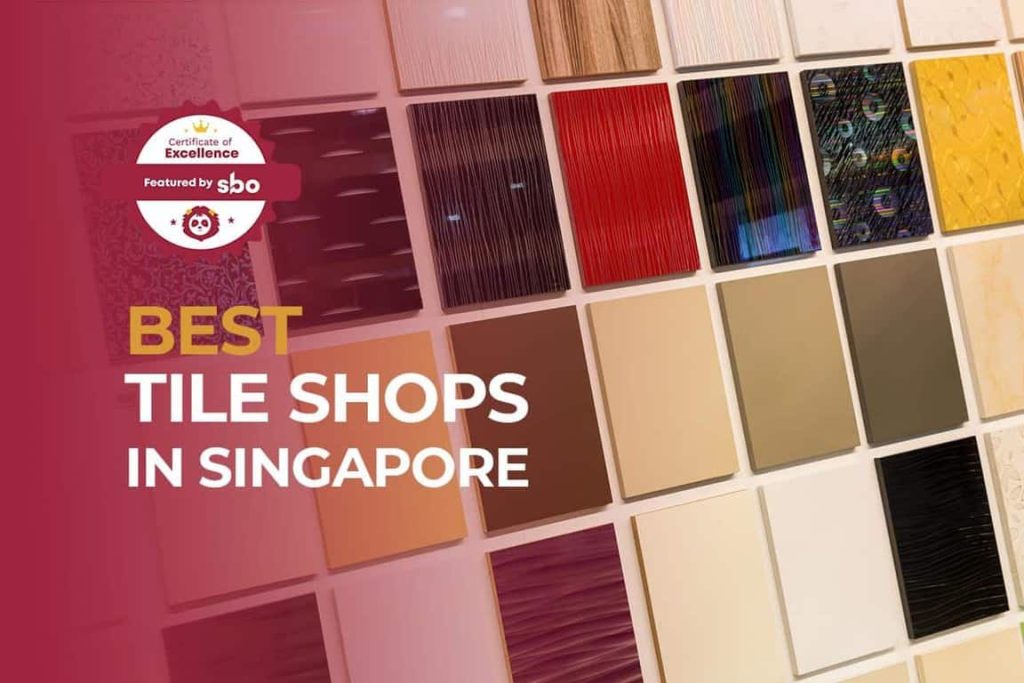 Tiles and wallpaper set the style or theme for your new house. Be it Minimalistic, Vintage, Modern Scandinavian, tiles help to showcase your renovation concepts and beautifies the space.
In today's article, we'll be introducing the 20 Best Tile Shops in Singapore to set the theme of your new house!
1. Lian Seng Hin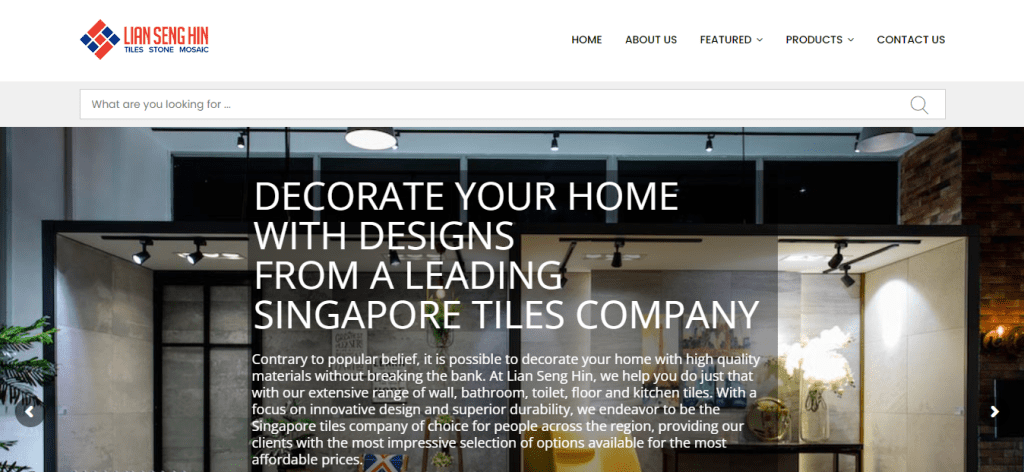 Established in 1971, Lian Seng Hin Trading Co Pte Ltd (LSH) has grown to be one of the leading tile suppliers in Singapore. Through years of sourcing around the globe, LSH has acquired a reputation for being stringent in quality and at the same time, attuned to price sensitivity.
Their expertise and knowledge of the materials make them the trusted choice of clients from residential, commercial and industrial sectors, including homeowners, interior designers and contractors.
LSH has a sizeable inventory of tiles that cater to the specialized needs of Architects, Designers, Contractors and Homeowners.
Be it contemporary, classical, resort or country look, the available ranges will satisfy their clients' stringent expectations, so make an appointment to their 12,000-square-foot Mega Showroom and you'll be spoilt for choices!
2. diModa Tiles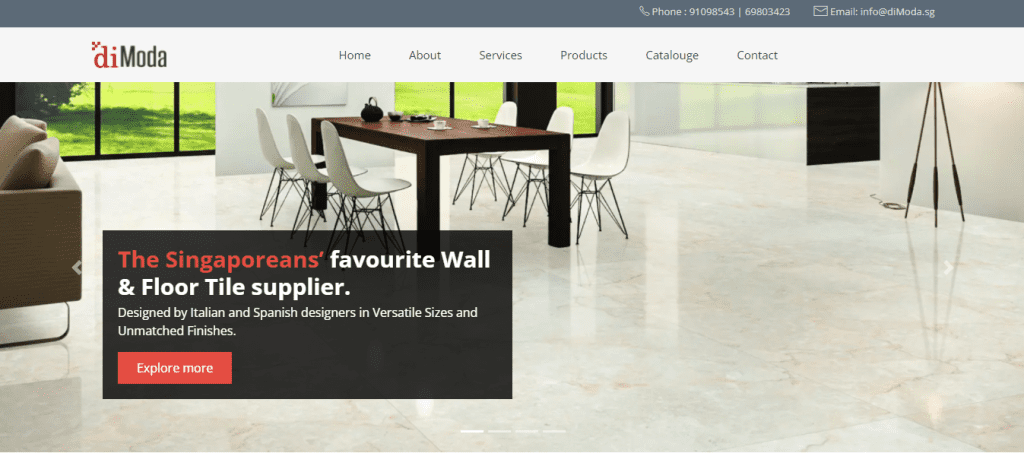 diModa is a registered Private Limited Company created in 2018 by a Project Director and Investor with the view of providing customers quality products (Ceramic/Porcelain Tiles & Countertops) from leading global brands at the most competitive price.
Its Italian/Spanish designer and manufactured in world-class facilities tiles collection combine materials, textures, colours, and sizes will create an awe-inspiring impression and ensure spectacular and evocative spaces.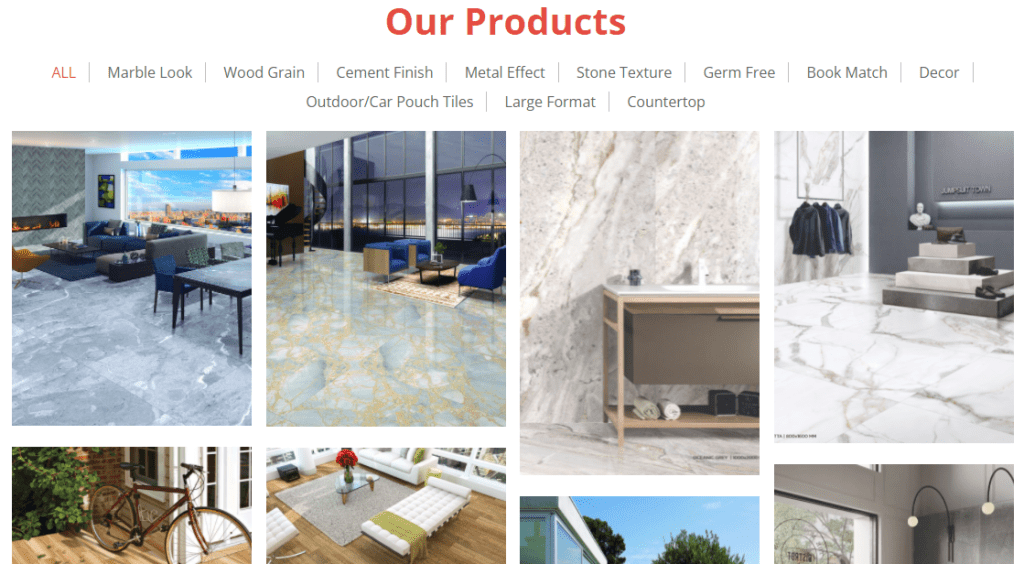 To become the leader in the market by providing customers with a variety of the latest premium products from leading brands. diModa is passionately committed to providing knowledgeable experiences to its customers.
They have been collaborating with the project team, architects, builders, interior designers, and homeowners by providing technical and practical advice on product selection and flexible services.
3. Soon Bee Huat at Toh Guan Road East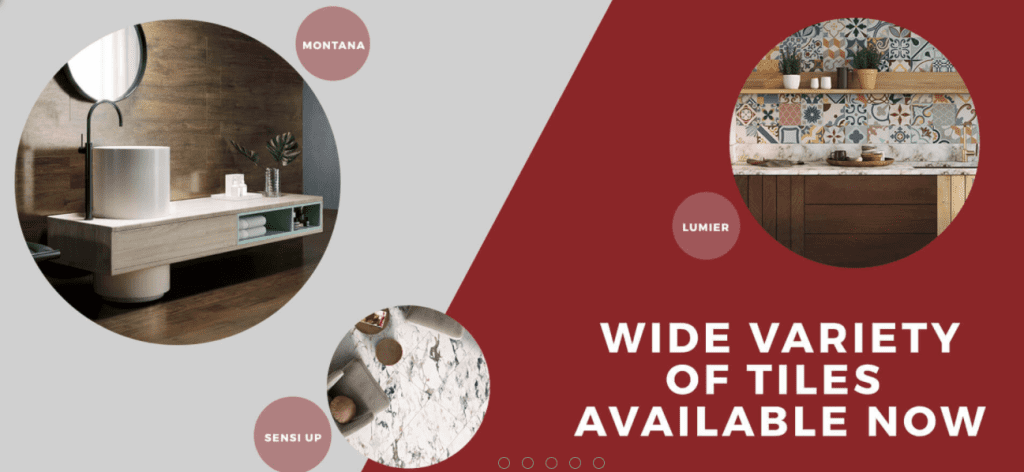 A leader in the tiles and surface materials supply industry for over two decades, Soon Bee Huat is known for its heritage of inspiring the space in which you live, work and play.
The new range of contemporary European and Asian tile designs as well as natural stones are displayed in the newly renovated Toh Guan and Changi Concept Boutiques.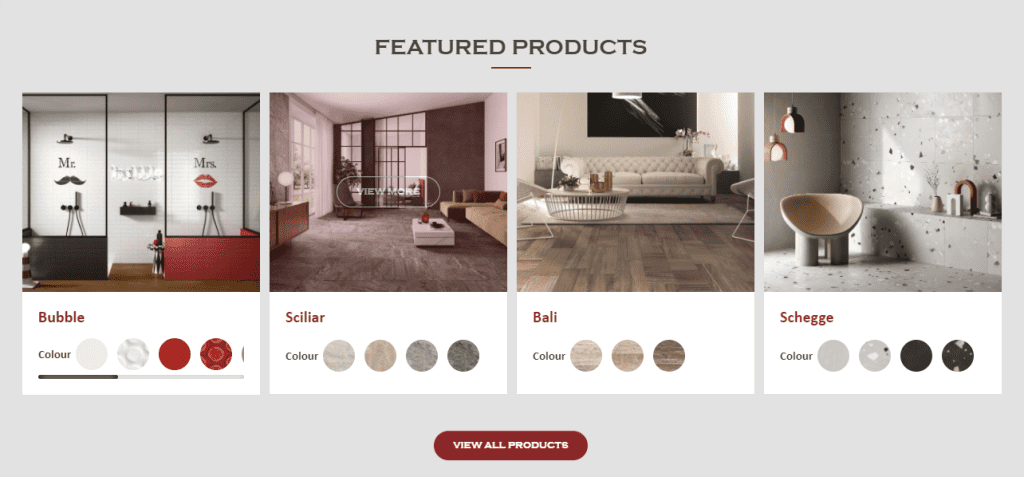 With the Design Lab technology, which is an industry first, customers may look forward to the ultimate experience in the creative design process.
Visit their Concept Boutiques and enjoy the Soon Bee Huat experience now!
4. Hafary Gallery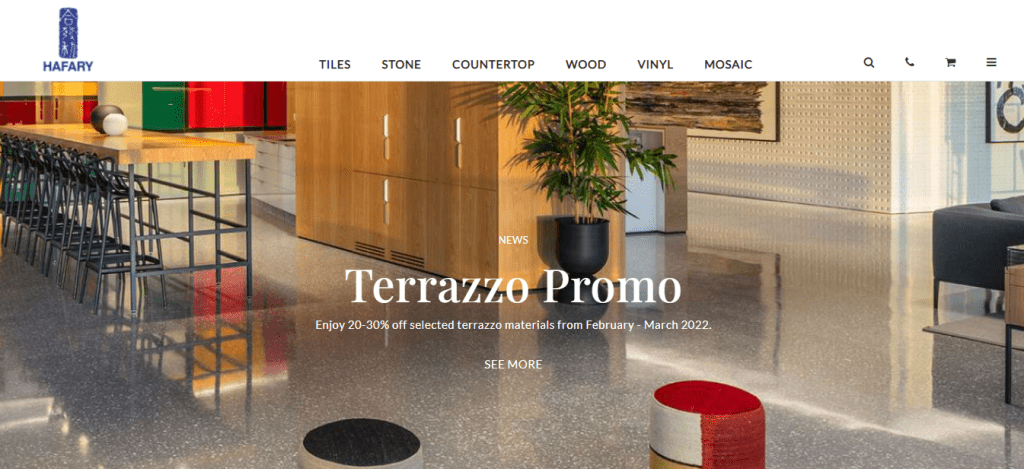 Hafary is the leading building material supplier in Singapore. Since 1980, Hafary has been the leading building material supplier that defines living spaces with premium products.
For decades now, Hafary has been offering the market cutting edge products and quality service. Through the four showrooms located strategically island-wide, they serve homeowners, interior designers, contractors, architects and developers.
Hafary is also involved in public, private and commercial property developmental projects. With the necessary knowledge, passion, talent and industry experience, Hafary has the answer to every building need and more.
With over 5000 products sourced from around the world, Hafary carries the largest collection of surfacing materials in Singapore. Thus, they can respond and satisfy the diverse design needs related to architecture and space promptly.
Hafary's collection includes tiles, stone, mosaic, wood flooring and sanitary ware and fittings. Carefully selected, the collection is set to inspire, bringing design ideas to life.
5. Malford Ceramics Pte Ltd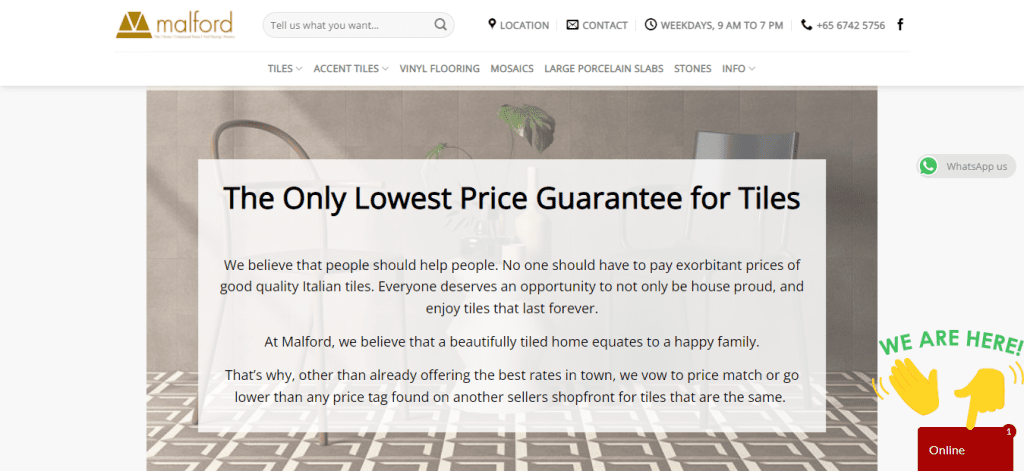 With more than 20 years in this industry, Malford Ceramics Pte. Ltd. is equipped with the skills and expertise to assist you with all your tiling needs. This includes the provision of computer aid drawings to assist your tile layout and technical advice on installation methods.
They make a point to always be updated with products of the latest designs and technological features in the market. Their constant inclusion of new and interesting collections into the catalogue also means that they will meet your every need, especially in terms of design, pricing, and technology.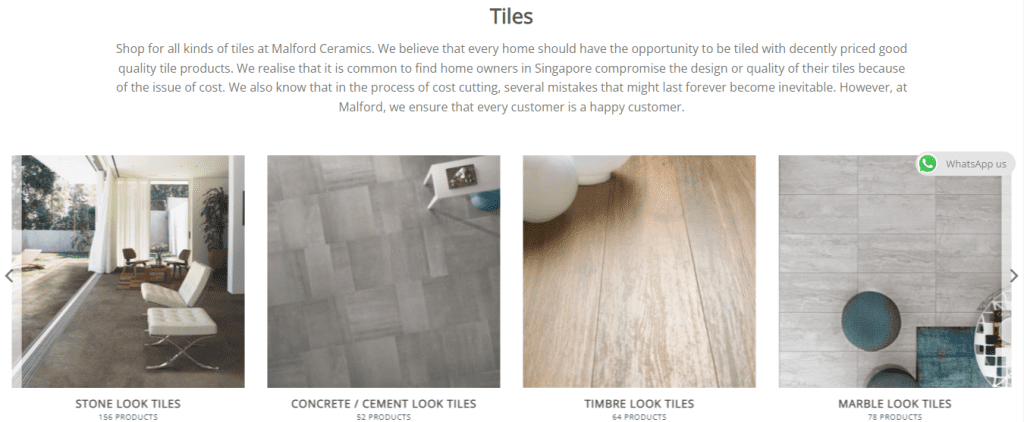 Proud to be an effective and affordable tiling solution to architects, interior designers, contractors, and homeowners, Malford always ensure that you select the most suitable products to achieve the most beautiful design within your financial comfort.
6. GF+A Global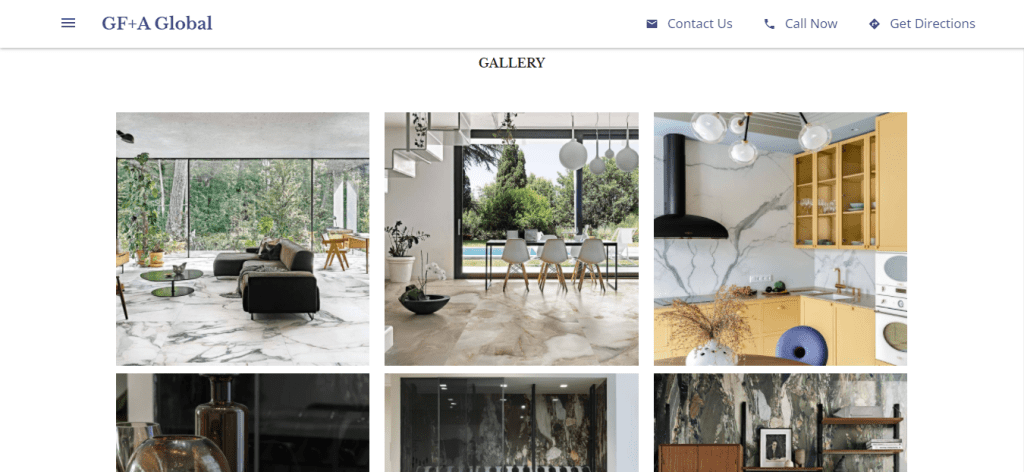 "Andy and jade were extremely helpful in tile selection. Not pushy at all. Very knowledgeable, professional and accommodating. Excellent service Importantly as well – very beautiful and good quality tiles You MUST come here!"
– Ches T
Founded in 2006, GF+A Global was born out of a vision to be a single-lined source for meeting the lifestyle needs of all their clients. A showroom boutique located in the heart of town, primarily supplying tiles and mosaics, they emphasize the importance of never ceasing to be able to delight all your senses with what you will discover while you are with them.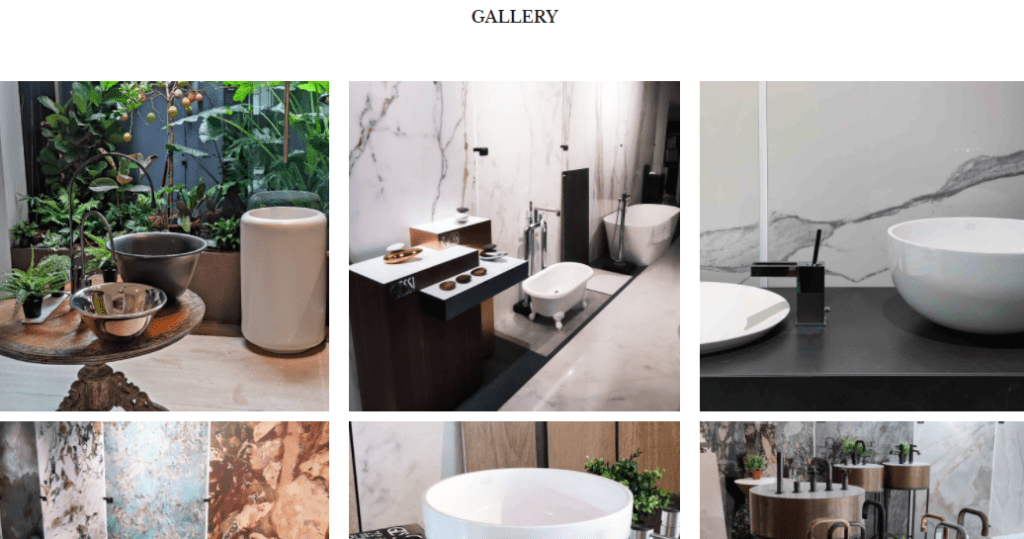 They are dedicated to providing unique and trendy "green" tiles from established European tiles companies. The Spanish and Italian mosaic tiles' suppliers offer non-typical ranges, unparalleled in design and a silent guarantee to be the ultimate fitness that it brings to every space.
7. Hong Lee (Flagship Store)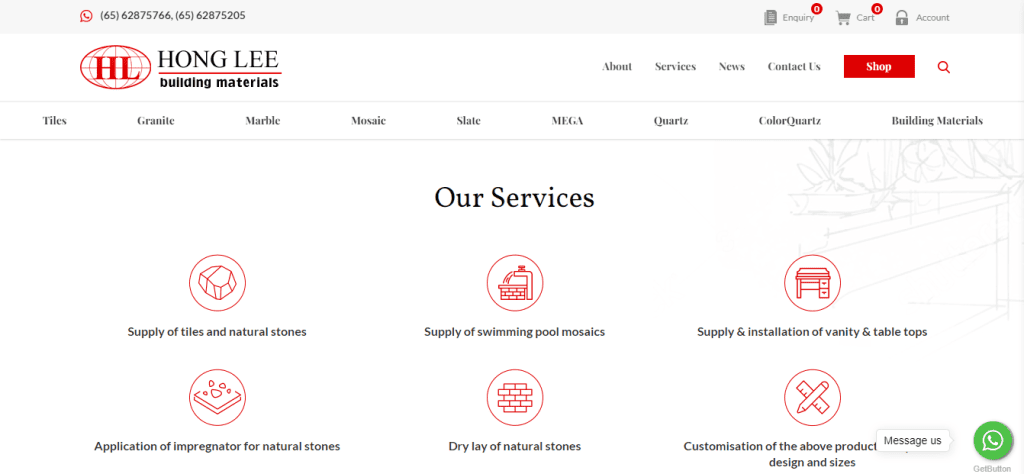 Hong Lee Building Materials is a well-established supplier of quality tiles, mosaics, natural stones and other construction-related materials. The Company has been providing its services to the needs of Developers, Architectural Firms, Contractors, Interior Designers and the general public locally and abroad since 1988.
It was acquired fully later by the shareholders of Mee Sek Building Trading as a vehicle to achieve market penetration in the domestic market and to take advantage of Mee Sek's expertise in brand development.

Combining this synergistic strategy with the strongly established global sourcing and procurement linkages, they can provide a whole scale and scope of products – from basic construction materials like sand, bricks and cement up to high-end interior decorative materials like marbles and European designer tiles.
Over the last decade, they expanded and developed numerous tile brands belonging to top Asian and European manufacturers, including supplying to Singapore's new airport terminal 4.
8. Rice Fields Pte Ltd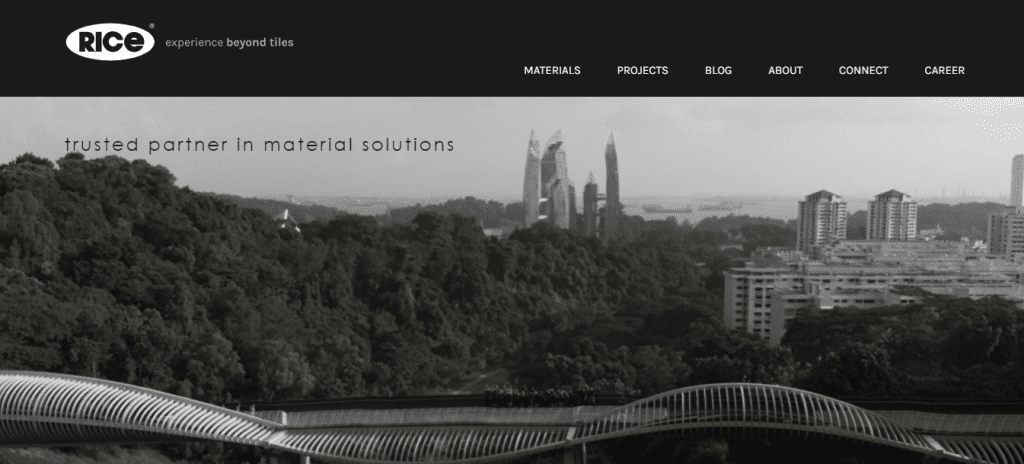 RICE prides itself as a trusted partner in architectural material solutions. They distribute nature-inspired and stylish eco-friendly porcelain tiles to your homes and commercial projects globally.
Founded in 2001, our team is committed to delivering the finest product and services to the architecture + design industry.
With a firm commitment to our values of Reputation, Initiative, Communication and Enthusiasm, we are committed to delivering the best for the building and architecture industry. Our name is inspired by what rice symbolises in Asian culture.
A bowl of rice is almost ubiquitous at every Asian meal, just like how it is essential to complete a space with quality materials.
9. Peranakan Tiles Gallery (娘惹砖家)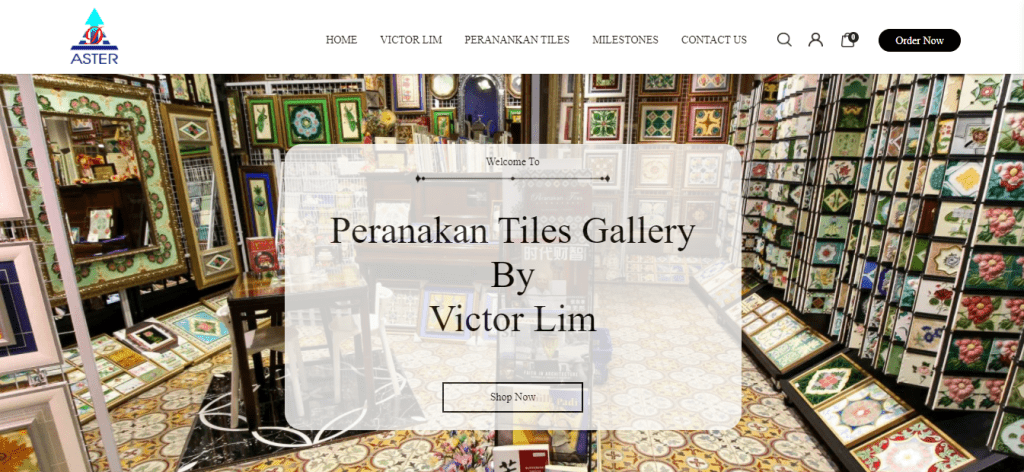 Peranakan Tiles Gallery By Victor Lim uses State of the Art Italian technology with handmade screening thrice fired method, giving a metallic and chromatic effect, the quality and wearing capacity of Peranakan Tiles. These qualities have been proven for many years and they endeavour to maintain, and where possible, improve the standard of excellence.
Hotelier turned tile collector; Victor Lim is Singapore's leading tile aficionado with a collection of over30,000 antique tiles.
As a specialist in tile restoration at conserved shop-houses, his passion for tiles led him to research tile making and restoration technology, and he is mostly self-taught on the subject. Being a proud Peranakan, Victor has a way of keeping his disappearing heritage alive.

He began collecting these rare tiles and painstakingly salvaged them from the old shop-house in Singapore, Malaysia, and Thailand, which were demolished in the 70s & 80s.
Victor is currently on a mission to educate people on the precious Peranakan tile, a fragile legacy that needs to be conserved for generations to come. He is also currently working on getting UNESCO recognition for these tiles.
10. White Horse Ceramic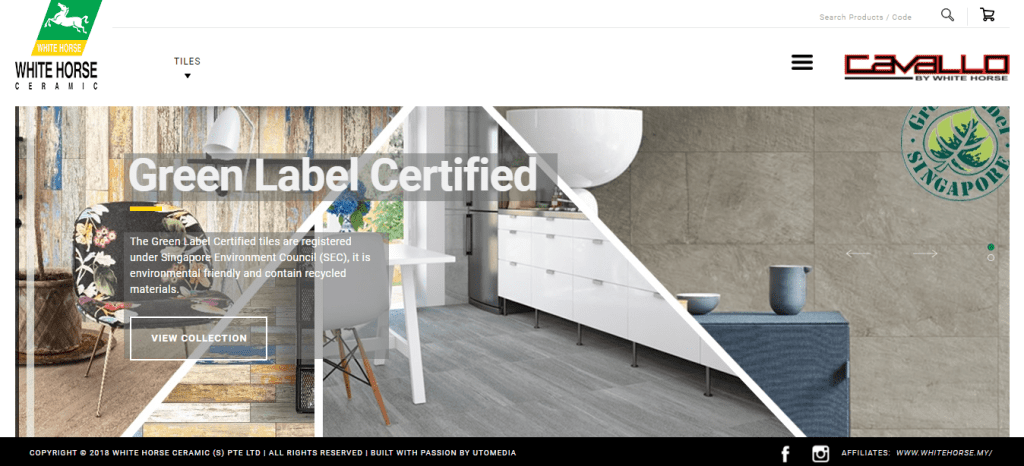 "As we see it, we can help make the world a better place. That is why we offer a wide collection of tiles, which are in line with principles of sustainable environmental protection. Being green is just one of the ways, we at White Horse are taking action for the planet we call home."
White Horse design, manufacture and distribute ceramic tiles of the highest quality inspired by European designs to meet the demands of discerning customers.
Their products are carefully yet cleverly designed to make a significant difference to the ambience and aesthetics that you desire. Furthermore, they strive to ensure that the tile products are easily available in your country and close to your home.

Over the years, White Horse Ceramic has developed a reputation as a trendsetter in tile design driven by insights, innovation and a deep understanding of Asia's rapidly changing landscape.
They strived to meet the demands with new technologies that produce a wider selection of tiles for every market, as well as enable customers to view their preferred tike compositions online in real-time.
11. Earth Stone Pte Ltd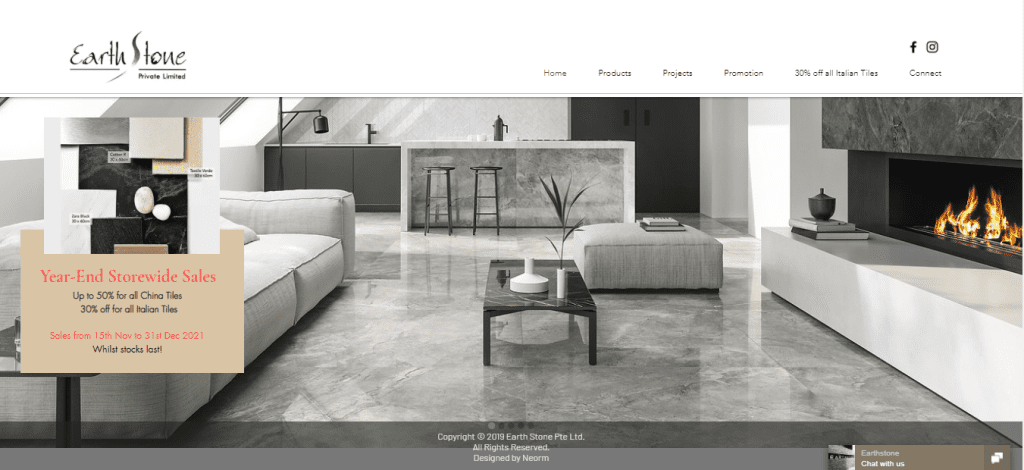 EARTH STONE PTE LTD is a building materials company based in Singapore that supplies a wide range of unique and quality Marble, Granite, Homogeneous and Ceramic tiles, Mosaics, Pebbles, Slates, etc. from Italy, Spain, Turkey, China, Malaysia, and more.
Their passion for excellence and customer-centricity is what inspired them in the beginning and it continues to drive them today.
With their team of service professionals having over two decades of experience, they promise customer satisfaction and ensure that the customers find what they're looking for at Earth Stone Pte Ltd.
12. Futar Enterprises Private Limited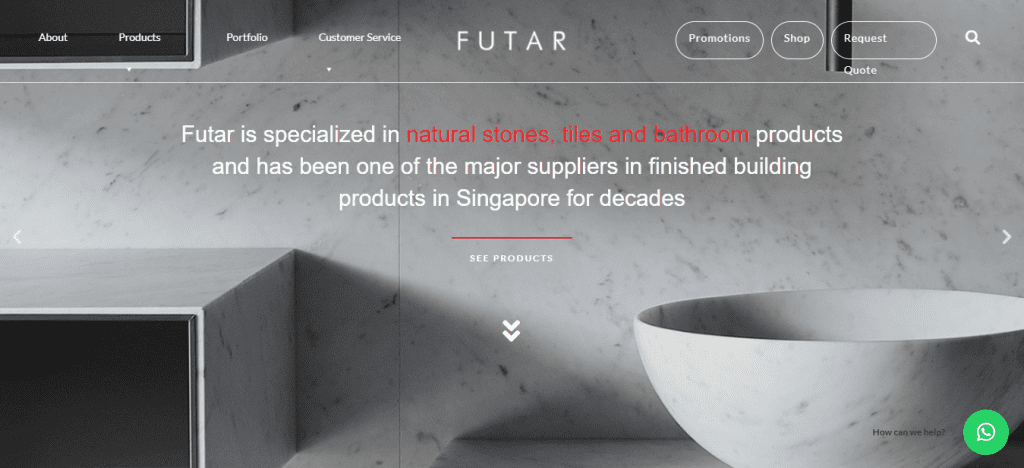 Starting from a humble shophouse unit along Joo Chiat Road selling tiles, Futar has come a long way since it was founded in 1971 by its founder Mr Choo Hwee Ming. They started by only specializing in Japanese tiles 50 years ago, and have now grown to become one of Singapore's leading suppliers in construction finishing material.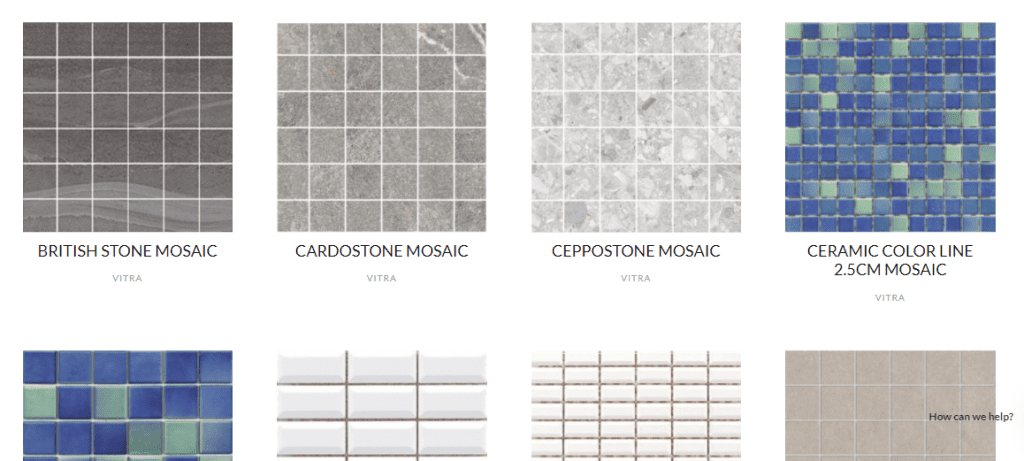 They started expanding our resources on a global scale and by the 1980s, the company saw itself also being well-developed with ceramic and homogenous tiles from Spain, Italy, Turkey and China.
Futar further ventured into supplying natural stones in the 1990s, starting with marble and granite with resources from the Middle East, Western Europe, South and East Asia.
As the company expanded, they moved into the new office premises in the year of 2006, where they also started their production plant with the ample factory space in their newly built Changi North Way warehouse.
With the full production facility warehouse, they were able to achieve economies of scale and offer complete services, such as unique stone fabrication works and customized cut-to-size stones – all under one roof.
13. EVORICH R & D Building and FLAGSHIP Gallery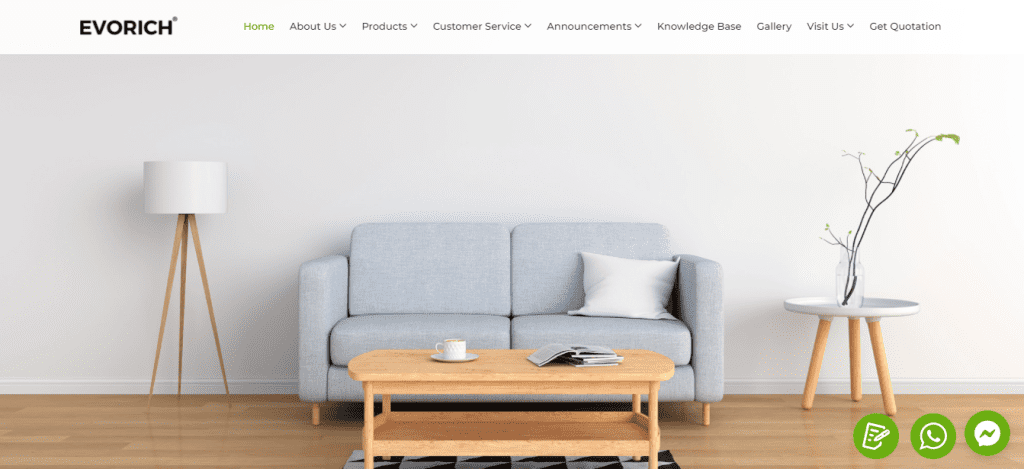 "We are Committed in Offering Innovative, Cost Efficient, Sustainable Eco-Green and Health Conscious Certified Flooring, Decking and Walls Products."
EVORICH HOLDINGS PTE LTD has long been a well-recognized name in Singapore's flooring industry and her loyal clients for being the top player of her game with a wealth of experience in supplying and installing Indoor Flooring & Outdoor Decks / Wall Panels across diversified trades and major industries.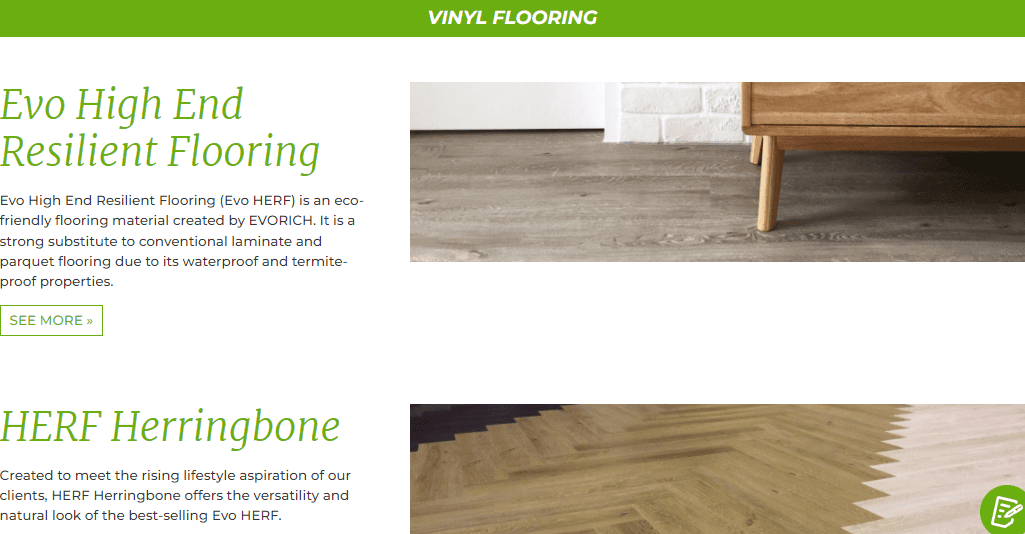 In 2018, EVORICH expands beyond Asia, setting up sales channels in numerous provinces in China and places in Europe and Latin America. She expands her service to provide holistic floor foundation solutions for good EVORICH floors to lay on the well-prepared foundation as well as serving the world beautifully with her outdoor deckings and instant kitchen and toilet walls makeover with no hacking required. With the passion their team has, you are sure to be in awe of their service.
14. Polybuilding (S) Pte. Ltd.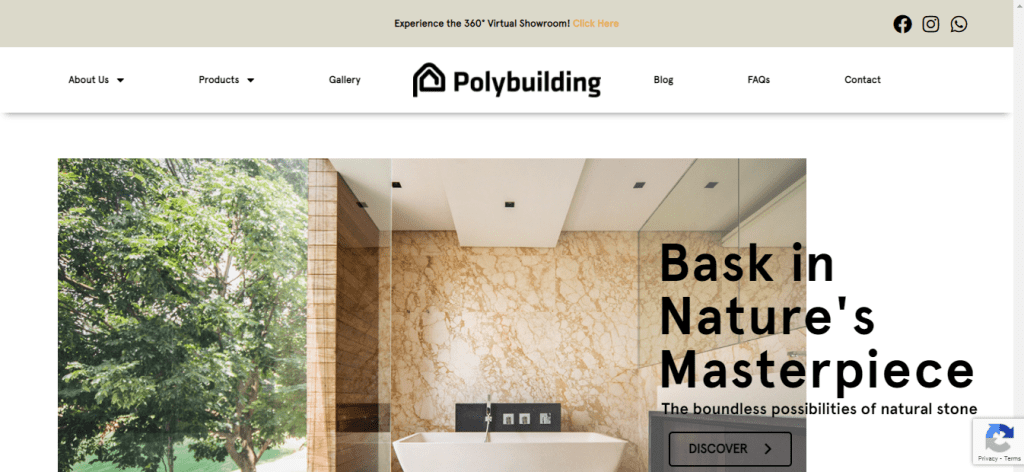 " To be the choice amongst our customers and to provide a total service when it comes to natural stones. "
Polybuilding is a pioneer of Singapore's building industry since 1974. They are natural stone and tile specialists, stocking an extensive range of the finest quality marbles, granites, limestones, travertines, onyx, quartz, sandstones, slates, homogeneous tiles and agglomerate compressed stones.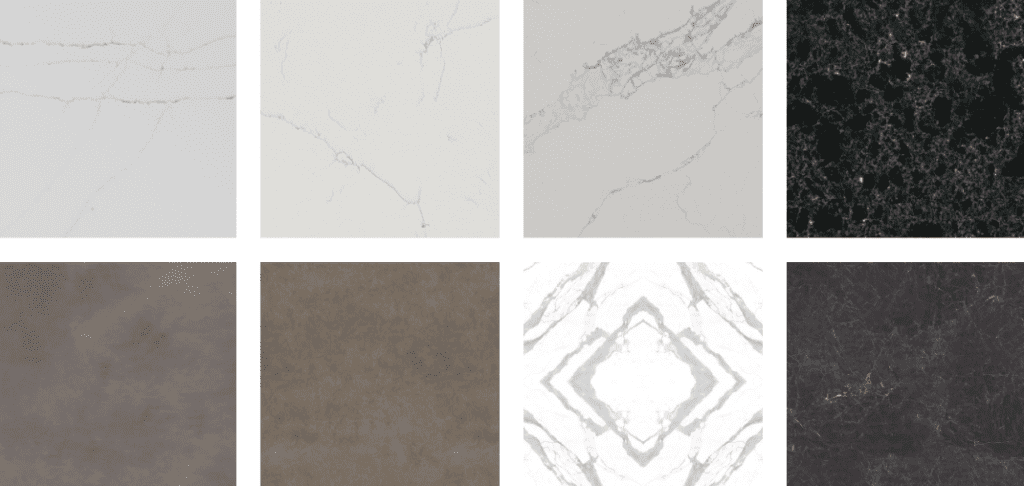 With many years of experience and expertise, the company has grown to be a full-service solution from supply to installation, collaborating with developers, renowned local and international architects, design consultants and homeowners.
15. Sin Lek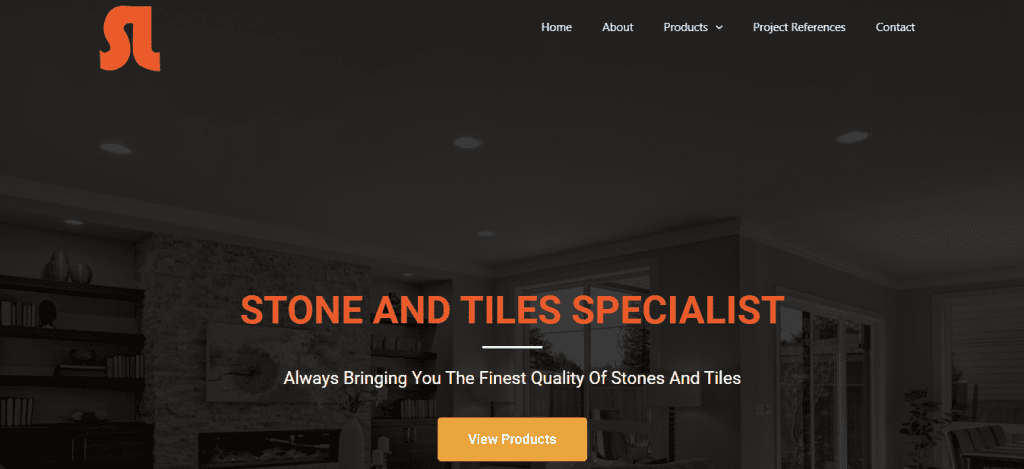 Sin Lek Building Materials Pte Ltd has built up a wide source of contacts and partners in the last 10 years. The company started from a humble beginning in the nineties with a small shop in No.10 Kaki Bukit Road 1 # 01-02 Singapore 416175. Through the years, with the support from its faithful customers, it has grown to its present premises.
Sin Lek offers a wide selection of top-quality stone and tile materials for all your building and construction needs. With more than 400 different styles of marbles, granites, mosaic, homogeneous and vinyl tiles in their 3 local warehouse, they provide a full suite of services from supply to installation for all your building and construction needs.

Besides that, they provide tailored-made services for each and every one of their clients to give them the assurance of quality and control through their services.
So what are you waiting for? Head over or book an appointment with them now!
16. Lexsure Flooring Singapore Pte Ltd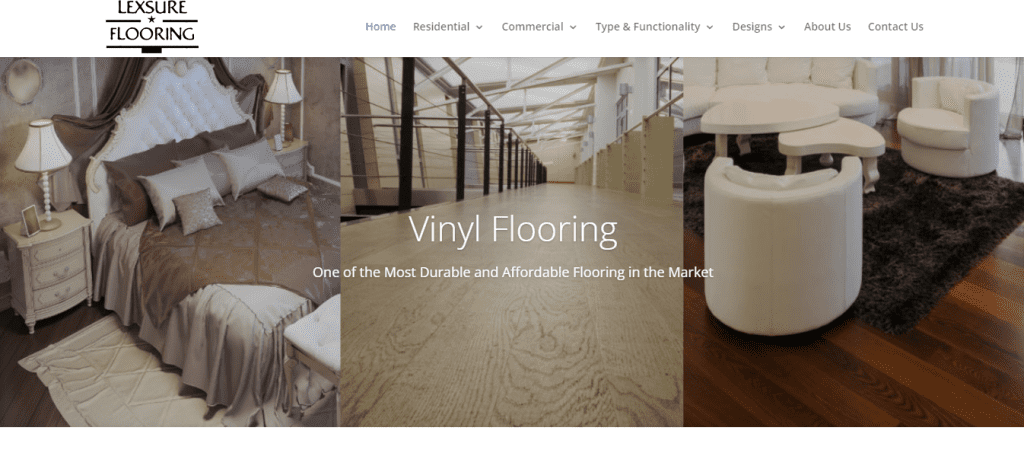 At Lexsure Flooring, they provide a one-stop flooring solution to homeowners, as well as a wholesale supplier of Vinyl Flooring to businesses in Singapore and the regions. It is where you will find the best quality, vinyl tiles, planks and sheets at affordable prices.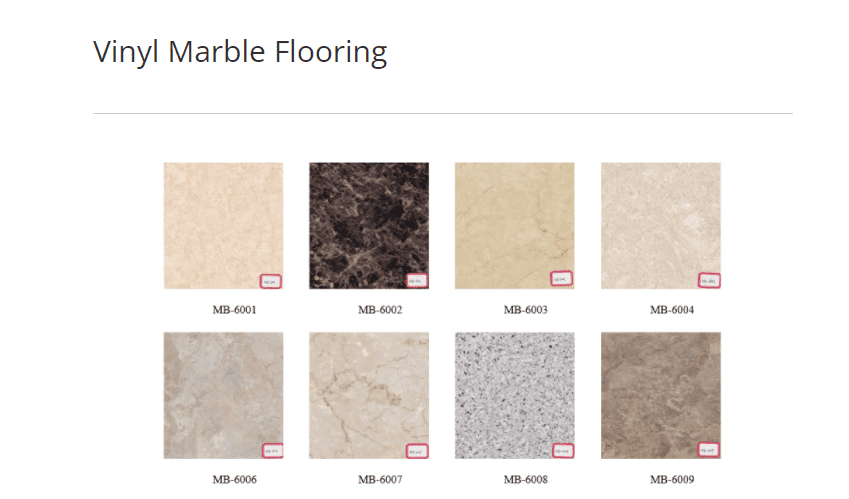 Why should you get Vinyl Flooring?
Vinyl flooring is one of the most durable flooring and a rising star in the Singapore flooring market. It is manufactured using a type of plastic called polyvinyl chloride (PVC). PVC is an extremely versatile material which is used in the manufacturing process of products such as insulation for electric cables, handbags, clothing and furniture.
PVC is used for a wide range of products because of its reputation as a hard-wearing and durable material within the plastics industry. It is this durability that makes vinyl flooring resistant to damages due to impact or abrasion.
Are you interested in getting Vinyl Flooring now? If yes, try Lexsure Flooring!
17. Concept Tiling Singapore – Direct Tiling Contractor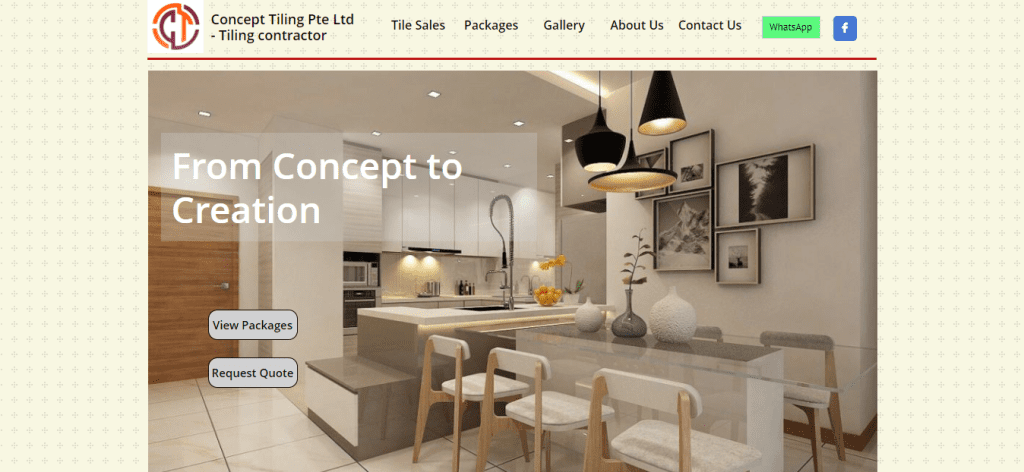 Concept-Tiling is an established construction company founded in 2017 by a team of experienced contractors in the construction industry. Understanding that some homeowners prefer to skip the interior design fees, they are here to provide renovation service at direct contractor price, at the same time providing quality service with a guarantee of up to 5 years.
Growing from its humble beginnings to its active involvement in residential and commercial units today, they strive to maintain its strong commitment to service and quality excellence to all clients' requests.
With their team of highly-skilled tilers who have been actively involved in construction works in both residential and commercial units, they are confident of providing quality and reliable service for your every tiling need.
18. Tiling by Meng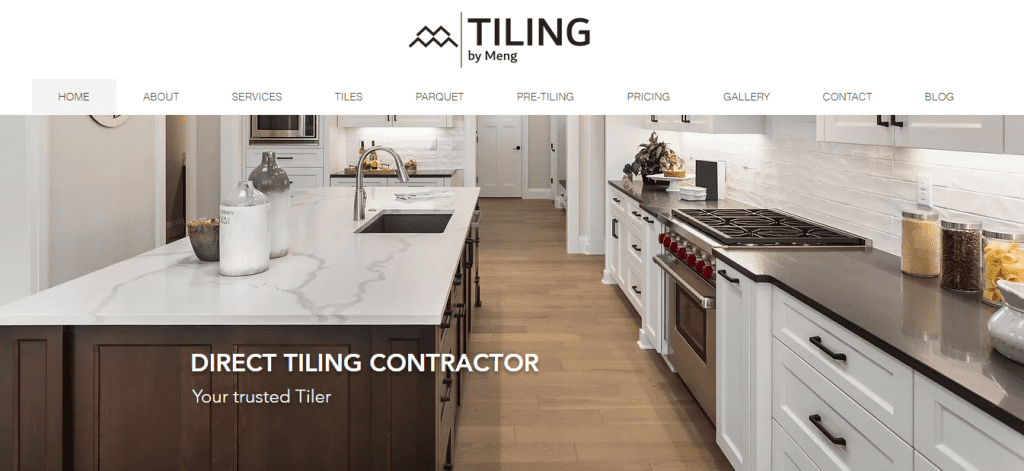 Tiling by Meng is a professional, experienced and dependable tiling contractor in Singapore. They are HDB approved and can provide you with quality tiling services that cater to your specific needs, all at the most competitive rates. Whatever you have in mind, the professionals work to bring your dreams to life.
Their team of dedicated tilers are committed to providing you with quality workmanship. They believe that flooring sets the tone of your home and it is an integral part of a renovation.

Want to transform your home easily? Tiling can do just that to give your living room, kitchen, bedroom, balcony, storeroom, bathroom floors and/or staircase new life.
Besides that, they also do wall tiling installation for a unique kitchen backsplash and feature walls.
19. Deluxe Home Furnishing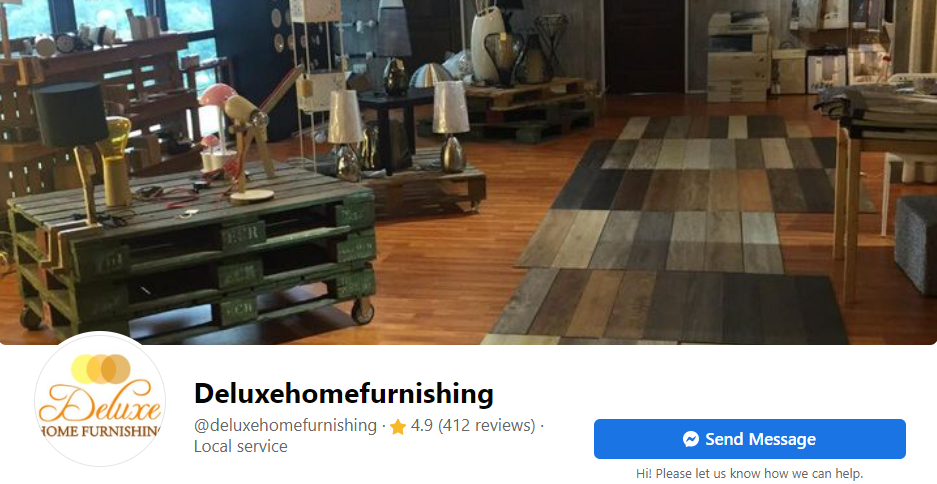 "We understand that there is nothing like the warmth and comfort of one's own home."
Deluxe Home Furnishings specializes in the manufacture, retail and wholesale of designer lightings, curtains and sturdy blinds, exclusive wallpaper, homey toilet accessories and exquisite carpet. Their high-quality products and reliable services cater to private homeowners who would like to add some style into their homes without sacrificing function.
Good design should be appreciated and made affordable to everyone. Many a time, we are presented with two extremes – good quality designs at significant prices vis-a-vis heavily discounted products but with a huge compromise made on quality.
This is where Deluxe Home Furnishing comes in.
They produce great products with good design aesthetics at a competitive price point without compromising on quality.
Their mission is to turn traditional commerce on its head, cutting out the middlemen and trimming off the price baggage, redefining your way of living at the touch of your fingertips.
20. Laminate Flooring Singapore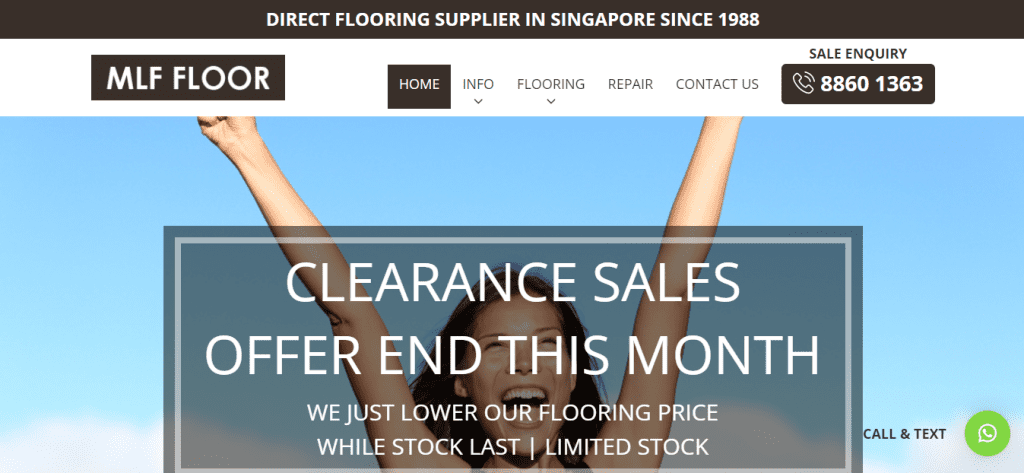 Among the vast range of flooring products and technology, MLF Floor has positioned itself as the leading laminate flooring supplier in Singapore, with close to 30 years of experience.
Established in 1988, they have since been engaged in countless flooring projects, with the vision of providing quality laminate flooring and services to empower the beauty and comfort in every flooring.
As a leading laminate flooring supplier in Singapore, they are proud to offer a wide range of laminate flooring design for you to select.
Their laminate flooring designs and products are updated regularly to keep up with the flooring trends and they pledge to offer their expertise at an affordable and reasonable laminate flooring pricing.
Hence, be it for small- or large- scale projects, for residential or commercial use, for simple or elaborated ambience, they sure have something suitable to offer for you!
Conclusion
Do you have any reviews and comments to share regarding our choices for the best tile shops in Singapore?
While SBO is committed to supporting our local businesses, we welcome any feedback and anonymous sharing regarding your experience with the above tile shops in Singapore.
We hope that this guide will be useful in helping you to make an informed decision when it comes to finding the best tile shops in Singapore.
Conducting renovations and don't have space to contain your furniture? Check out the 10 Best Storage Spaces in Singapore and you might just find the right place!
Explore More Content