10 Best Disinfection Service in Singapore to Eradicate Viruses [2023]
Did you hear the joke about the germ? Never mind. I don't want to spread it around.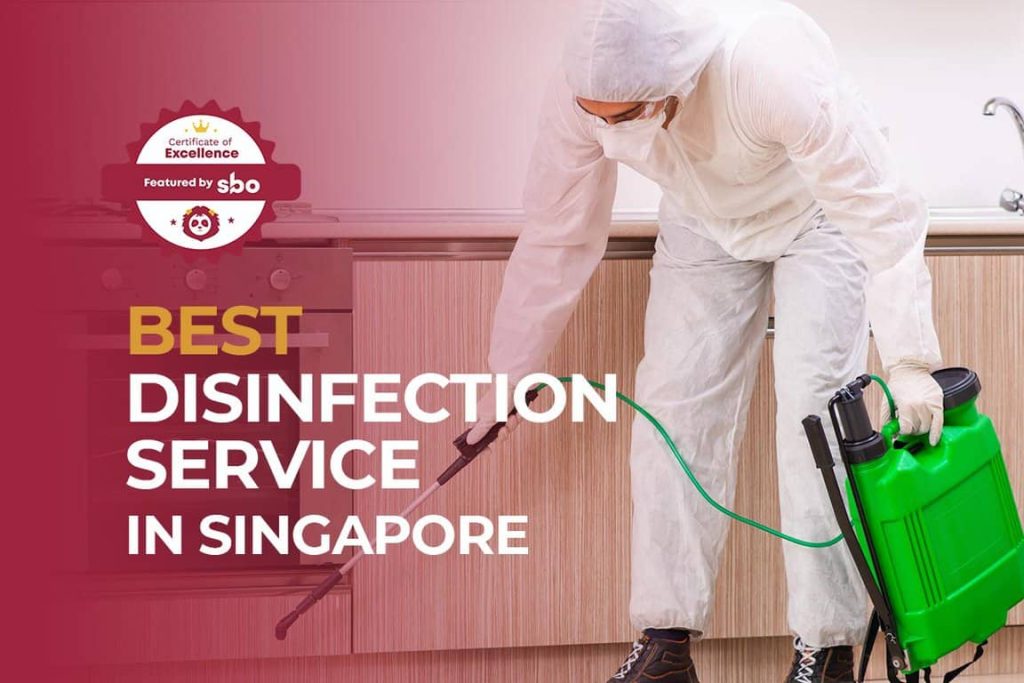 Demand for a disinfection service in Singapore has surged up to four times in light of the coronavirus disease 2019 (COVID-19) outbreak, according to Channel NewsAsia.
Disinfection is the treatment of surfaces/equipment using physical or chemical means such that the amount of microorganisms present is reduced to an acceptable level.
Looking for a disinfection service in Singapore to eradicate viruses in your home or office?
In this post, we've gathered all the relevant details to compile a list of the 10 best disinfection service in Singapore.
1. Nanotech Cleaning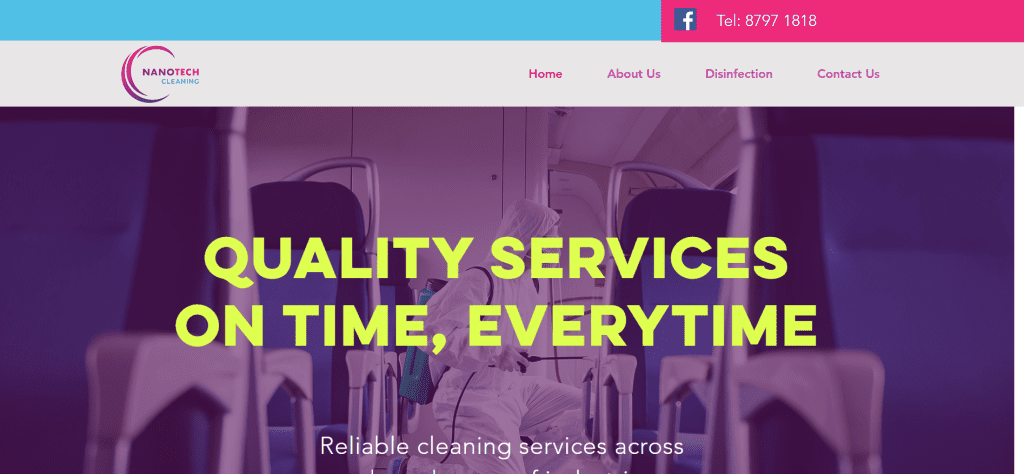 Nanotech Cleaning Pte Ltd is a 100% Singaporean-owned cleaning company specialising in cleaning services across a broad range of industries, using tested and proven technologies to supply cleaning, disinfection products and high-quality services.
They have built their business on the values of honesty, integrity and reliability.
They believe in providing premium and bespoke cleaning solutions to a range of small, medium and large businesses, all across Singapore.
They are dedicated to delivering the highest levels of sanitization and disinfection a workplace requires.
The disinfection service in Singapore offers two types of disinfection services:
Regular/Immediate Disinfection: For weekly or monthly suspected or confirmed COVID-19 cases. A comprehensive disinfection is conducted, which delivers a 99.99% kill rate. Nanotech adheres to the existing National Environment Agency (NEA) guidelines for Disinfection of Areas Exposed to COVID-19 Cases to ensure complete elimination of the harmful virus and other micro-organisms.
Preventive Self-Disinfection: Anti-microbial Coating is applied, which provides a long-lasting self-disinfection protection on all your everyday surfaces. It is effective against a broad spectrum of bacteria and viruses including COVID-19 from six months up to one year without any re-treatment.
Reviews praise the disinfection service in Singapore for their prompt replies and professionalism shown.
2. Avalon Services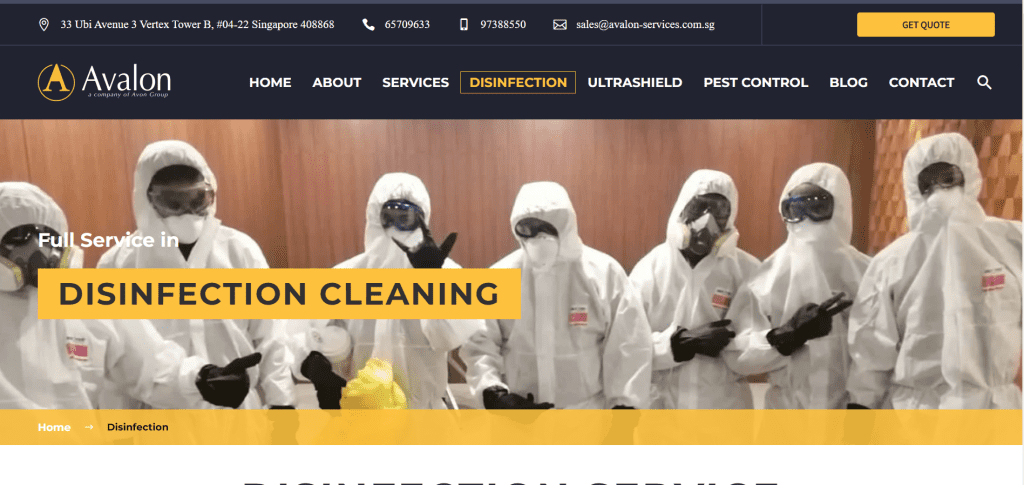 Avon was established in 1999 as a carpet cleaning specialist.
Since then, it has evolved to become a group of companies providing a full scope of professional services, ranging from general or specialised contract cleaning to aviation support facilities and logistics.
In 2012, Avon recognised the need to further strengthen and focus on a specialised cleaning business; hence, the incorporation of a new company: Avalon Services.
Their disinfection team trained in Pandemic and Infectious Diseases Management follows NEA guidelines.
The disinfection service in Singapore encompasses the following steps:
Gaseous ozone is introduced, taking into account viruses' Cycle Threshold level and exposure time;
Chemical disinfectant is misted into premises;
Disinfecting and wipe-down of high-touch areas;
Mop/wipe-down of hard floor or carpet extraction where possible;
Biohazard waste disposal (NEA-licensed) where applicable.
Reviews praise the disinfection service in Singapore for using environmentally-friendly chemicals.
3. Clean Lab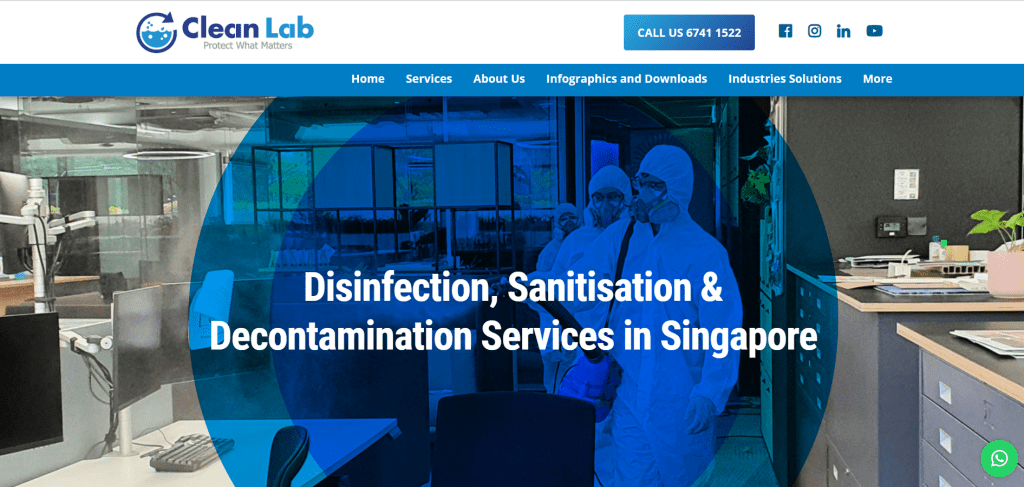 One of the most trusted names in the business today, Clean Lab provides a range of comprehensive professional cleaning services and disinfection treatment.
Their clients hail from a wide range of industries including commercial, offices, gyms, laboratories, healthcare, pharmaceuticals, preschools, hospitality, food industries, retail to residential clients.
With a mission to provide quality cleaning services in Singapore, Clean Lab adopts a tried-and-tested approach to cleaning and disinfection programs to protect what matters most to you.
Their disinfectant eliminates most types of enveloped and nonenveloped bacteria and viruses such as E. coli, salmonella and spores.
Their disinfectant is approved by the U.S.'s Environmental Protection Agency (EPA); it is safe for children and pets.
To prevent cross-contamination, there is no cross-deployment of their cleaning, disinfection and decontamination specialists.
Reviews praise the disinfection service in Singapore for being responsive throughout the entire communication process.
Customers also laud their professionalism.
4. UEMS Group
UEMS Solutions Pte Ltd ("UEMS") is a home-grown multi-national corporation that has established itself in the healthcare domain for a good 32 years since its inception in 1988.
Starting off as a company focusing on housekeeping services, the company has expanded its business service deliveries to include both facilities management and specialised services such as external facade cleaning, portering services, as well as other support services like disinfection services.
UEMS Solutions Pte Ltd is one of the NEA-approved vendors for disinfection service in Singapore.
As a Clean Mark Gold-accredited company for the past five years and with more than 30 years of experience, they can help you to disinfect large areas in a short amount of time.
This minimises your business downtime, allowing you to dedicate your time to tasks which matter more.
The scope of the disinfection service in Singapore covers the following:
Misting;
Wipe-down;
Disposal of Hazardous Waste Material by a NEA-Approved Biohazard Plant
They make use of electrostatic sprayers to facilitate a speedy and effective disinfection.
The electrostatic charge applied will not only allow the solution to reach hidden and shadowed areas, but also enable it to cover a large area effectively due to the wide-angled spray pattern the sprayer produces.
Their professional disinfection team also performs a manual wipe down of frequently-touched surfaces.
These include Equipment/Handrails/Lift Buttons/Door Knobs/Washrooms/Digital Display/Tables/Chairs.
They use a safe disinfectant that includes ingredients which have been picked for their ability to degrade naturally.
Reviews praise the disinfection service in Singapore for their friendly staff.
5. SureClean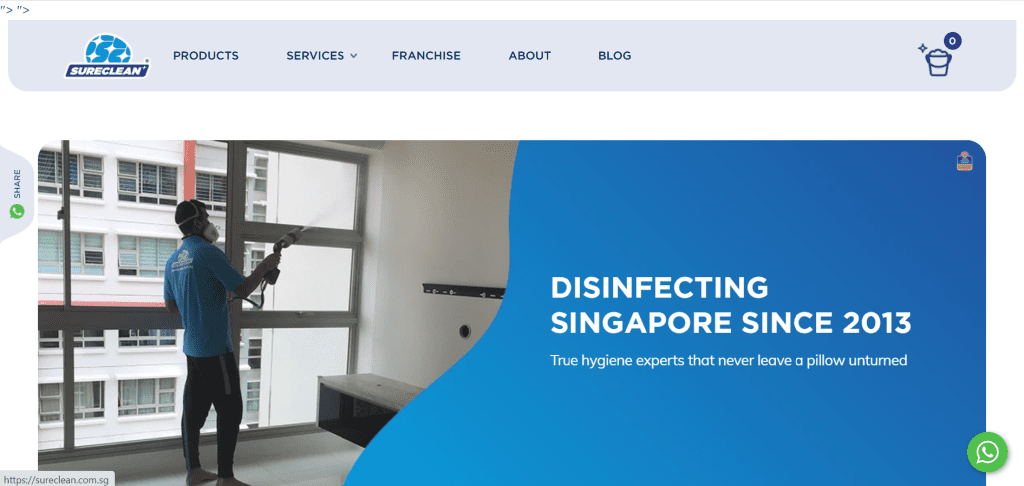 SureClean™ Pte Ltd is a leading supplier of hygiene and disinfection products and services, supporting various industries with the latest and the most efficient hygiene solutions.
They provide various cleaning services and benefits to sectors such as Medical, Childcare, Education, Hospitality, Food & Beverage, Corporate and Residential.
As part of their disinfection service in Singapore, they use the following proprietary and lab-tested solutions:
Germclean Infused with Ionic Silver;
Titanclean fortified with anti-microbial Titanium Dioxide
The disinfection service in Singapore has two types of Germclean offerings available for your premises:
Germclean30: A complete 30-day protection package using their medical-grade Germclean solution.
Germclean365: A dual coating of anti-microbial protection is applied to surfaces. It can last 365 days.
Reviews praise the disinfection service in Singapore for being thorough and professional in ensuring that all parts of customers' home were disinfected.
They also took note of customers' requests and catered their services accordingly.
6. Helpling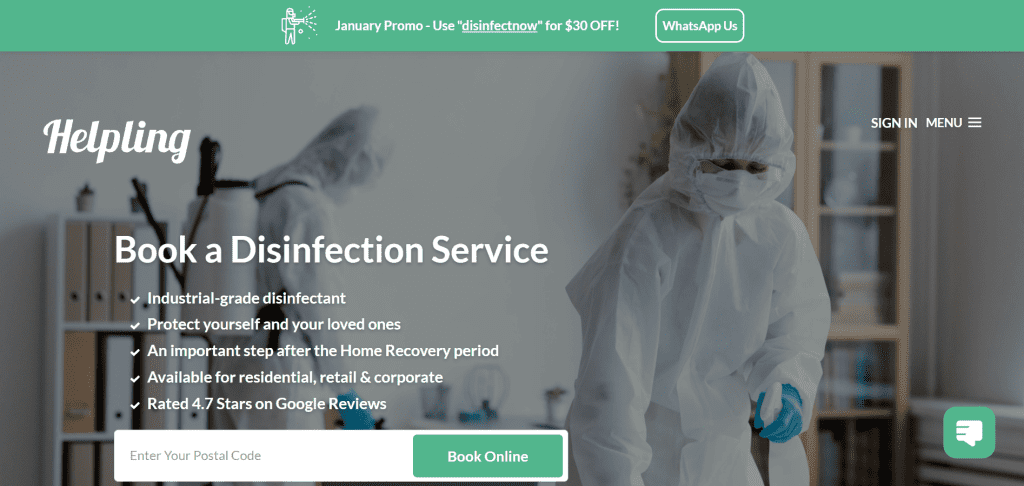 Helpling is an award-winning home services concierge that offers home cleaning and services such as disinfection, aircon, plumbing and handyman services.
You can make a booking for a one-off clean or schedule a regular cleaning via their mobile app/website.
It takes just three easy steps to make your first booking:
Enter your address;
Make an appointment;
Pay securely online
The disinfection service in Singapore, which is available for the residential, retail and corporate sectors, encompasses the following steps:
Fumigation of all areas;
Wipe-down of high-touch areas with industrial-grade disinfectant;
Biohazard waste disposal (where applicable);
Service checklist upon completion;
For households, book with a Move In/Out, Post Reno or Spring Cleaning to experience the best results;
For corporate, book with an aircon service, regular office cleaning service to provide the safest workplace for your employees.
The prices of their disinfection service in Singapore are affordable.
For example, it costs S$150 to disinfect an area of less than 500 square feet, S$225 to disinfect an area of 501-750 square feet, and S$300 to disinfect an area of 751-1000 square feet.
Reviews praise the disinfection service in Singapore for their seamless booking and matching processes.
7. Origin Exterminators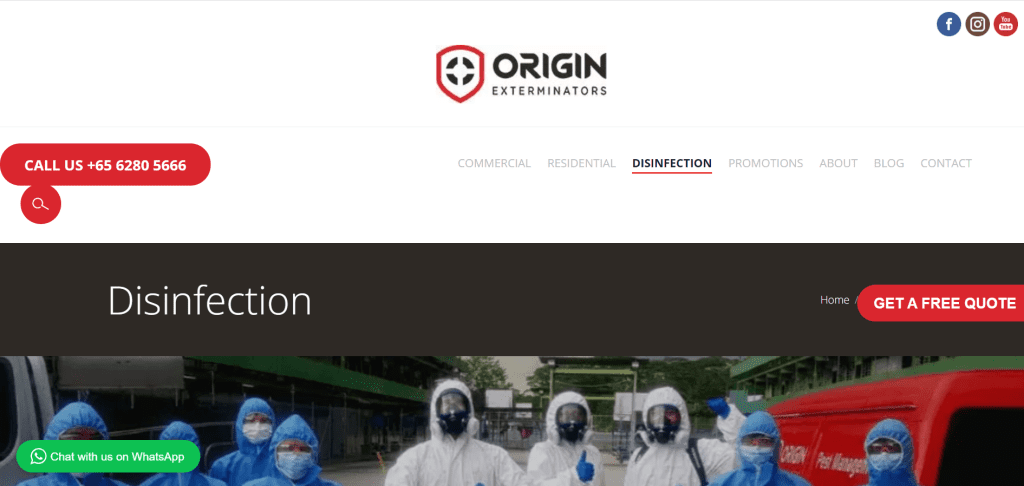 ORIGIN stands out from the competition by leverage science, data and technology to ground their eco-friendly approach. Their treatments are known for being thorough and cost-effective with long-lasting results. When Covid-19 hit Singapore, ORIGIN decided to step up to do their part by also providing disinfection services. Their Ultra-Low Volume (ULV) treatment is the "Gold Standard" of disinfection.
Based on in-house R&D, the disinfectant ORIGIN uses is effective against:
· 100+ strains of viruses across 22 viral families
· 400+ strains of bacteria
· 60+ strains of fungi and yeast
ORIGIN also ensures that its team is well-protected with full protective gear and equipment when on the job. ORIGIN continues to get requests for disinfection services from hospitals, public transportation, shopping malls, schools and even homes.
Reviews choose ORIGIN for their reasonable fees, quality service, and effective treatments.
8. Big Red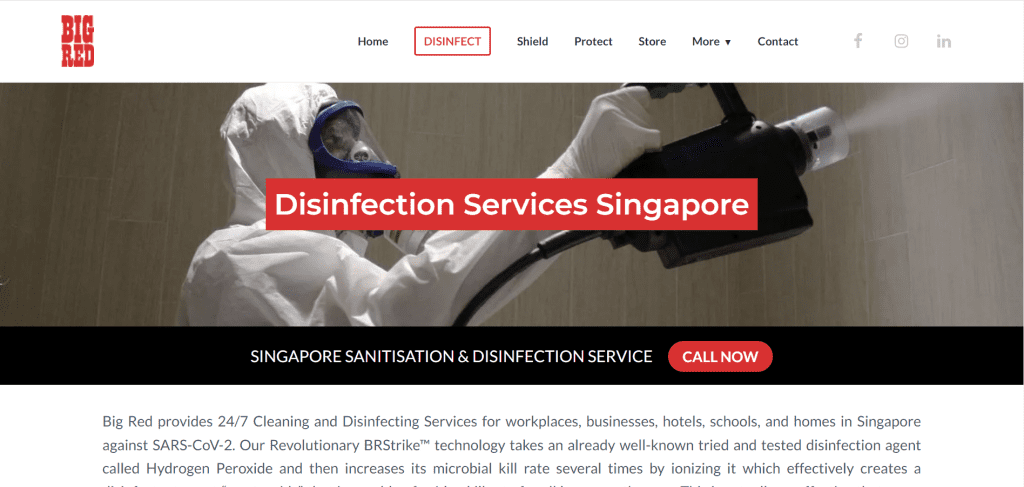 Big Red is Singapore's leading environmental solutions company specialising in COVID-19 disinfection and long-term anti-microbial surface protection.
Big Red provides 24/7 cleaning and disinfecting services for workplaces, businesses, hotels, schools, and homes in Singapore to protect you and your loved ones against harmful pathogens.
Their Revolutionary BRStrike™ technology takes a tried-and-tested disinfection agent called Hydrogen Peroxide and then increases its microbial kill rate several times by ionizing it.
This creates a disinfectant agent "on steroids" that is capable of a 6-log kill rate for all known pathogens.
Big Red is an approved service provider for essential services in Singapore for COVID-19 Disinfection.
They also follow the procedures for COVID-19 disinfection as per official World Health Organisation (WHO), Centers for Disease Control and Prevention (CDC) and EPA guidelines.
The active ingredient used in their disinfectant is on the NEA-approved list for COVID-19 disinfection.
Reviews praise the disinfection service in Singapore for explaining the entire disinfection process in detail.
9. Greencare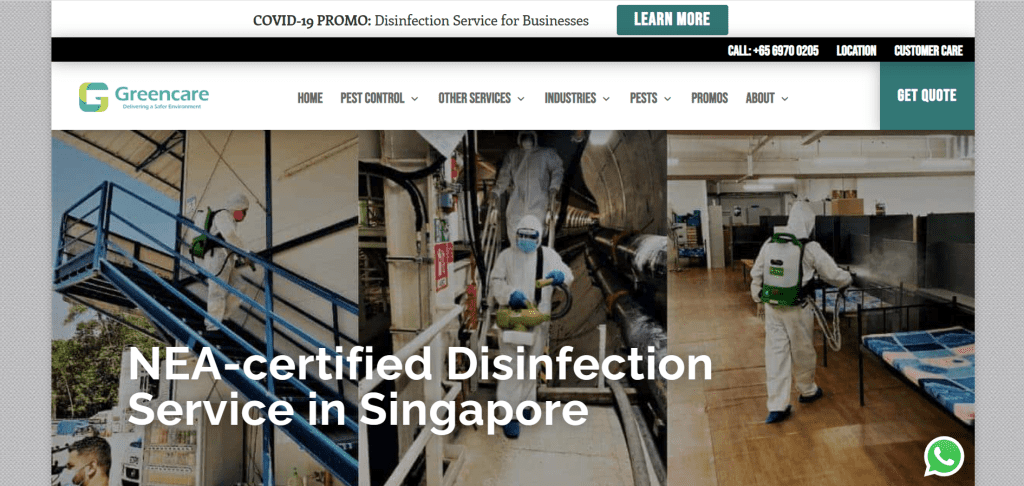 Greencare is a leading NEA-approved disinfection services company in Singapore.
They aim to create a safer environment for all by providing high-quality disinfection services in Singapore.
Their disinfection service in Singapore encompasses the following steps:
Thoroughly evaluate your property to work out what has to be cleaned and what needs to be disinfected.
Meticulously clean and wipe down all surfaces that you will find across the property, using misting applications for best results.
Minimise contact and interference, making sure that surfaces cleaned are left spotless.
Leave all surfaces to dry without any human interaction or input for as long as fifteen minutes, prolonging the quality and depth of cleaning.
Their team of disinfection experts uses only non-toxic, safe, and eco-friendly disinfectants.
As a cleaning specialist and disinfection service in Singapore, they also provide different cleaning aides.
One of their most popular is E-SHIELD, a disinfection service that uses TECcare Control and TECcare Ultra.
Reviews praise the disinfection service in Singapore for adhering to safety procedures during disinfection.
10. Complete Services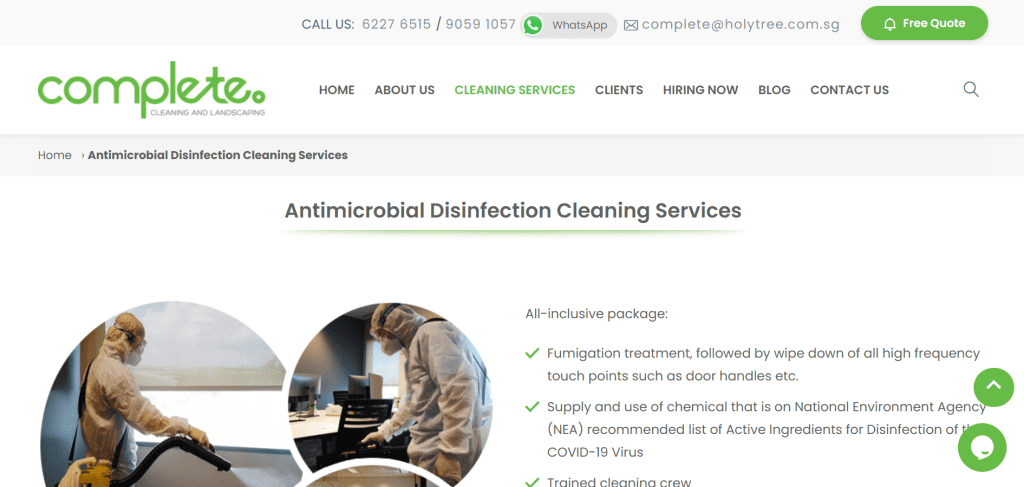 Incorporated in 2005, Complete Services is a homegrown company based in Singapore.
Collectively, their leadership team has over 50 years of experience so you know that they are here for the long stay.
Their disinfection service in Singapore encompasses the following steps:
Fumigation, followed by wipe-down of all high frequency touch points such as door handles etc;
Use of chemical disinfectant that is on National Environment Agency (NEA)'s recommended list of Active Ingredients for Disinfection of COVID-19;
Trained cleaning crew;
Personal Protective Equipment (PPE) use, including face shield, surgical mask, overalls and gloves;
Safe disposal of all used material into biohazard waste bins.
An ULV misting machine releases the disinfectant as tiny mist droplets (these have a diameter of 5-50 microns).
These droplets reach into every nook and cranny of your home.
Reviews praise the disinfection service in Singapore for their impeccable customer service and their eye for detail.
Conclusion
Do you have any reviews and comments to share regarding our choices for the best disinfection service in Singapore?
While SBO is committed to supporting our local businesses, we welcome any feedback and anonymous sharing regarding your experience with the best disinfection service in Singapore.
We hope that this guide will be useful in helping you to make an informed decision when it comes to finding the best disinfection service in Singapore.
Explore More Content