10 Best Solar Panel in Singapore to Convert Sunlight into Electricity [2023]
Why are solar panels so trustworthy? 'Cuz they don't work in the shadows.
A solar cell panel, solar electric panel, photo-voltaic (PV) module or just solar panel is an assembly of photo-voltaic cells mounted in a framework for installation.
Solar panels use sunlight as a source of energy to generate direct current electricity.
A collection of PV modules is called a PV panel, and a system of PV panels is called an array.
Arrays of a photovoltaic system supply solar electricity to electrical equipment.
Benefits & Challenges of Installing a Solar Panel in Singapore:
Solar energy is clean and produces no emissions.
Solar panels can help to reduce your electricity bill.
Solar panels usually have a relatively long lifespan.
Costs of installing a solar panel in Singapore have fallen.
Solar energy requires no import of fuels, which in turn enhances Singapore's energy security.
But solar panels in Singapore come with their fair share of challenges too, according to The Straits Times.
Sunshine over Singapore may be plentiful.
However, harvested solar power is intermittent, varying with cloud cover and humidity.
Singapore's small physical size (716.1 km2), high population density and land scarcity also limit the amount of available space for one to install solar panels.
Can I Install a Solar Panel in Singapore on the Rooftop of my Landed Property, Condominium or Housing Development Board (HDB) Flat?
According to PropertyGuru, yes, you can if you reside in a landed property, but not entirely.
For a system to be commissioned, a licensed electrical worker (LEW) is required to endorse the system.
That's why engaging a professional is highly recommended; you are likely unfamiliar with the safety standards, building and electrical rules and regulations too.
According to Solar AI, there is no need for landed property owners to apply for planning permission.
That is unless you live in a conservation area or intend to install elevated solar panels from one to 1.8 metres above your roof, or plan to put the space under the solar panels for commercial use.
If you live in a condominium penthouse, you can apply for approval from your Management Corporation Strata Title (MCST) to install a solar panel system.
However, you will not be allowed to export or sell excess electricity to the grid and might be held liable for any risks to the condominium.
If you live in an HDB flat, you are unfortunately not allowed to install solar panels on your flat's rooftop.
How Much Does It Cost to Install a Solar Panel in Singapore?
According to Solar AI, the cost of installation of a solar panel in Singapore will vary based on several factors.
The most important being the number of solar panels being installed.
The cost of a solar installation in Singapore ranges from S$10,000 to S$50,000.
That said, a good estimate will be S$20,000 as most residential solar panel systems are around 10 kWp (S$2,000/kWp).
Besides the number of solar panels installed, roof material, orientation and complexity are other factors that can affect installation costs.
Looking for a solar panel in Singapore to convert sunlight into electricity?
In this post, we've gathered all the relevant details to compile a list of the 10 best aircon servicing in Singapore.
1. SolarGy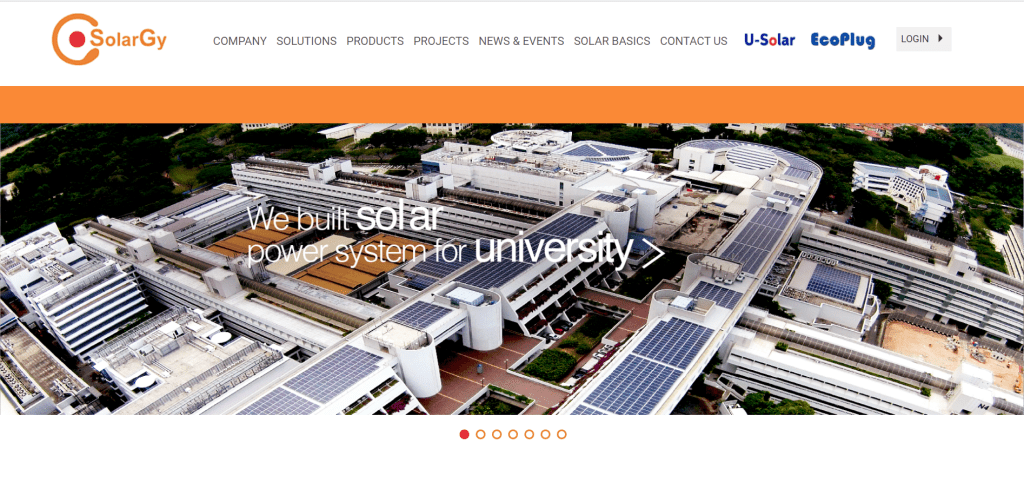 SolarGy Pte Ltd was founded by a team of practising professionals in the building construction industry.
They have over 20 years of experience in electrical installations and building architecture.
Leveraging their past experiences, they apply the appropriate solar technologies and provide solutions to suit the specific energy requirements and creative architectural design.
If you're looking for a solar panel in Singapore that has high module efficiency, our advice is to purchase their N-Type Rear Contact solar panel.
The solar panel in Singapore is made up of Monocrystalline cells using N-type silicon.
The solar panel has electrical contacts at the rear to improve conversion efficiency.
2. SolarPVExchange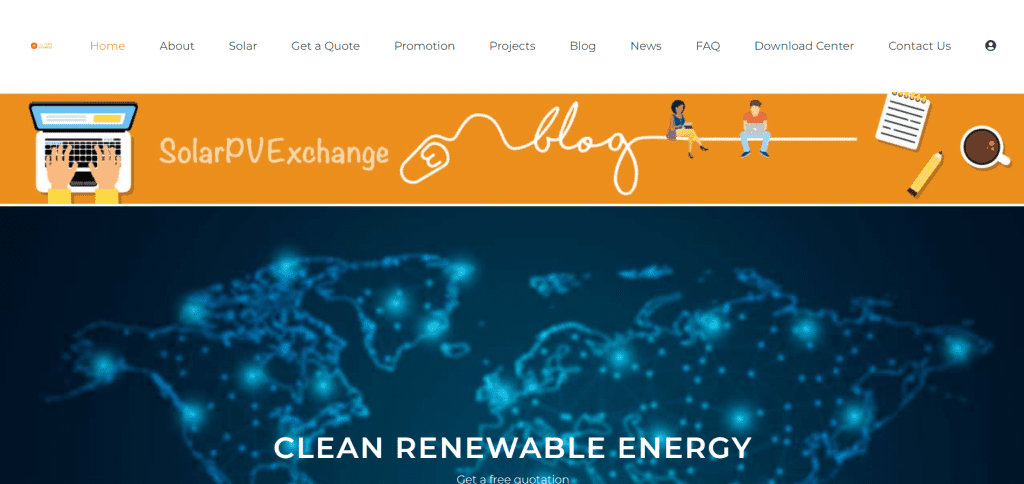 SolarPVExchange is one of Singapore's pioneer solar system integrators.
They possess a superb track record in managing turnkey solar photovoltaic (PV) projects.
They use the latest solar PV technologies when it comes to designing and building their solar PV systems so that you get the highest efficiency from their solar system.
They also provide 0% interest-free installment plans via the UOB U-Solar program.
They specialise in residential and commercial/industrial systems and their professionally trained personnel are equipped with the skills needed to handle solar PV projects from the design phase through installation till completion.
They offer solar panels for both residential and commercial properties.
Their systems are endorsed by their Licensed Electrical Worker (LEW) and commissioner under Singapore Power.
Their systems also come with annual service maintenance (spread out over three years) with online monitoring.
Reviews praise the solar panel in Singapore for being responsive with their follow-up services.
They will take the time to answer customers' queries promptly.
3. Union Power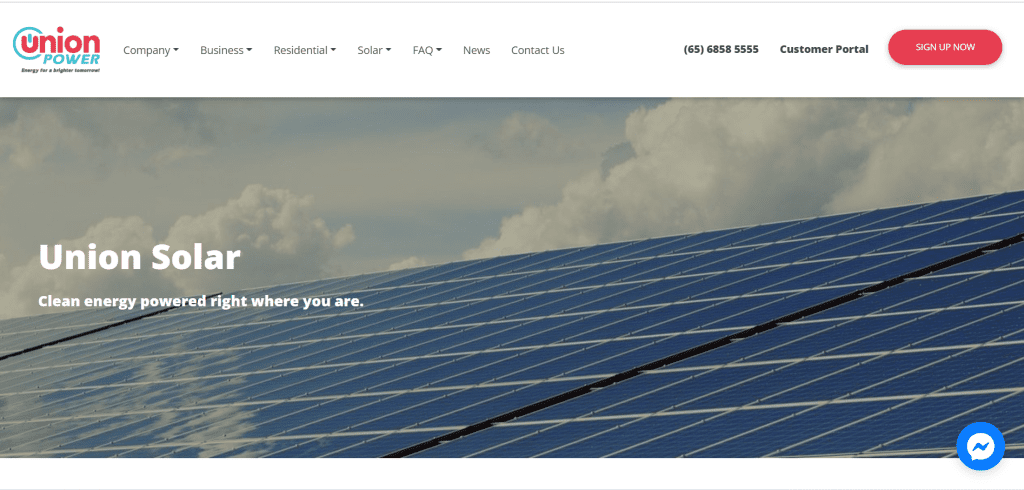 Union Solar operates a network of solar photovoltaic (PV) systems in Singapore powering organisations like yours.
They finance and install solar PV systems on your building rooftop, turning underutilised space into a clean energy farm that works to generate sustainable, renewable energy for your business needs.
With installation, maintenance & operation of the rooftop solar PV system handled entirely by them, there is every reason to adopt this renewable energy solution that maximizes the benefit of drawing cleaner energy.
Their solar engineer performs a comprehensive site survey of your building to access its suitability for installation of the solar PV system and the ideal size of the solar panel that can be installed.
Under the Union Power PPA scheme, they will assist commercial building owners to design and install the solar panels with zero upfront costs and ensure optimal operating conditions throughout the contract duration.
Reviews praise the solar panel in Singapore for their impeccable customer service and speedy replies.
4. UTICA SG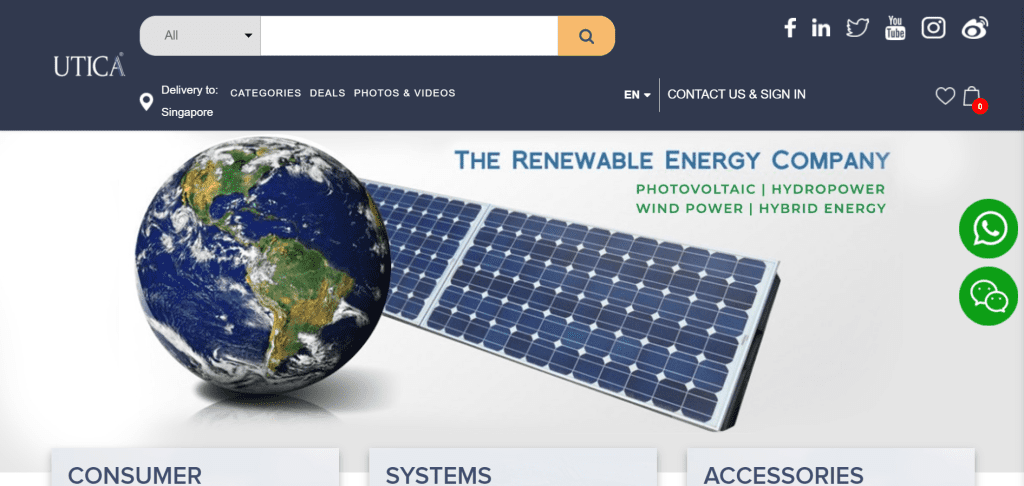 Just as every idea begins with a spark, they at UTICA® view the dawn of every sunrise as a new opportunity to ignite renewable energy innovation.
Their inventive solutions benefit customers in their everyday life and keep our environment sustainable.
Established in 2004, UTICA® is a privately held Singapore and China renewable energy company in the production of "Consumer Electricity Products" from alternative energy sources such as, solar energy, hydroelectric, and wind power.
Looking for a solar panel in Singapore that possesses a grid-tied connection?
A grid-tied electrical system, also called tied to grid or grid tie system, is a semi-autonomous electrical generation or grid energy storage system which links to the mains to feed excess capacity back to the local mains electrical grid.
Our recommendation is to purchase their 2M² Surface Area at East or West Sunlight Facing on Balcony or Behind Windows for Utica® UTX-600 Micro Socket, priced at S$2,502.50.
The solar panel in Singapore comes with Anti-light induced degradation (LID) and Anti-potential induced degradation (PID) solar modules to avoid power loss due to degradation.
The solar panel in Singapore can help you to achieve over 20% more power than conventional PV systems.
Reviews praise the solar panel in Singapore for their trustworthiness.
They never fail to deliver on what they promise.
5. PCME (Global)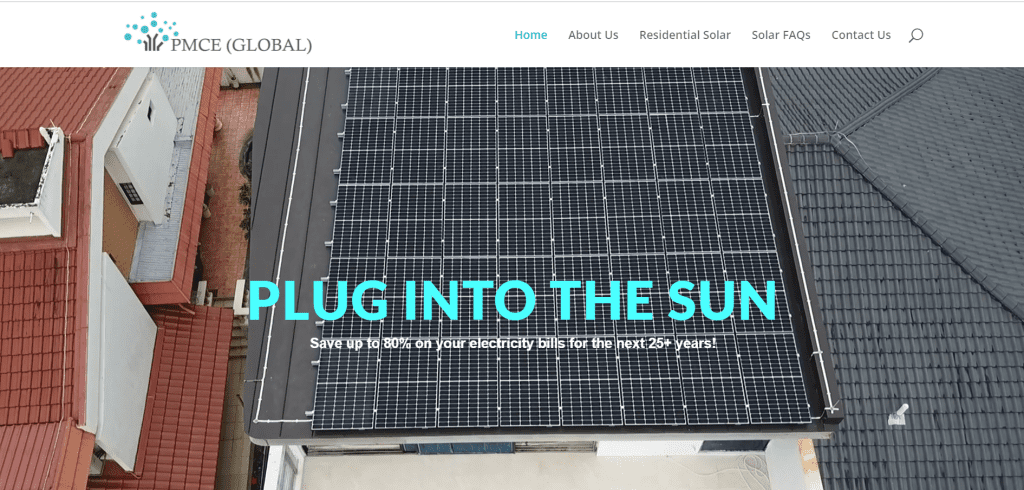 PMCE (Global) specialises in Solar Panel Installation for Residential and Commercial Buildings.
Starting off as a distributor for Solar Panels and Inverters, PMCE has cultivated an extensive network in the solar sector.
They aim to provide customers with a valuable experience through their quality workmanship and service excellence.
You will be able to request for them to provide you with a free site assessment survey.
Past projects that the solar panel in Singapore has delivered include 46 panels on an RC roof for Lengkong Lima, 45 panels on a metal roof for Springleaf Height, and 40 panels on a tile roof for Jalan Kelempong.
Reviews praise the solar panel in Singapore for their stellar customer service.
Their staff were professional, polite and clear in their explanations.
6. Sunergy Solar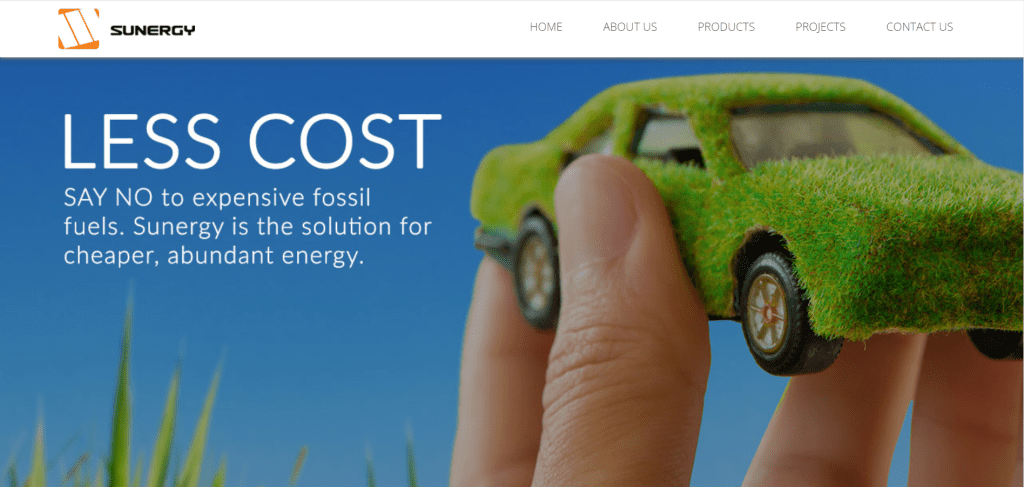 Sunergy Solar Pte Ltd was established in 2006 and has been plying solar inverters and solar modules since then.
They have the largest stock pile of SMA and Fronius inverters in Singapore providing ready stock for their customers across South East Asia.
Sunergy Solar Pte Ltd is also the official technical and warranty exchange support for SMA and Fronius for customers in South East Asia.
They provide service solutions for grid-tie, off-grid and hybrid photovoltaic systems.
Our recommendation is to go to them for their GermanSolar solar panels.
GermanSolar offers individual and customised complete solutions for photovoltaic systems – from domestic rooftop systems to solar power plants in the multi-megawatt range.
Whether it is a solar module, inverter or mounting system, all GermanSolar components offer long-lasting quality, well-engineered functionality and an aesthetically-pleasing design.
As a subsidiary of the Danish GermanSolar A/S, their customers benefit from the strengths of one of the world's largest solar-module Original Equipment Manufacturer companies.
Their products are developed in Germany and manufactured in the Group's own ultra-modern production facilities across the globe.
7. SunPro Energies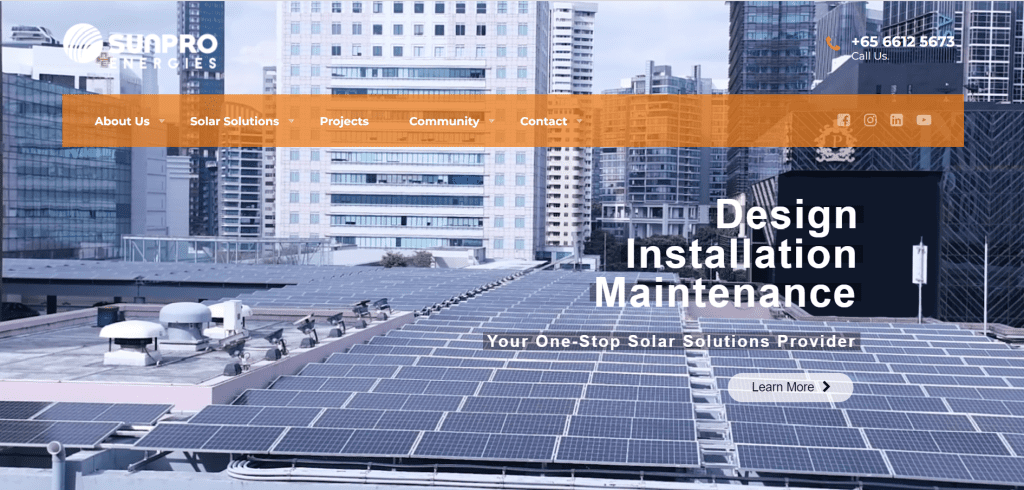 SunPro Energies is an Engineering, Procuring and Construction company that delivers holistic solar solutions with quality, cost savings, effectiveness and environmental sustainability in mind.
They are seasoned experts with an excellent track record of completing a range of residential, commercial, schools, government and large-scale projects.
They create and deliver effective solar solutions to serve society, enhance quality of life, and contribute towards environmental sustainability.
Our advice is to go to them for their off-grid solar system.
An off-grid or standalone system is not connected to the utility grid.
This system generally has batteries for the storage of electricity.
The stored electricity can be used any time, even at night when the sun is not shining.
In some cases where the grid is not readily available, this system is seen to be a much cheaper and effective solution.
Reviews praise the solar panel in Singapore for their environmentally-friendly solutions.
8. Kamtex Solar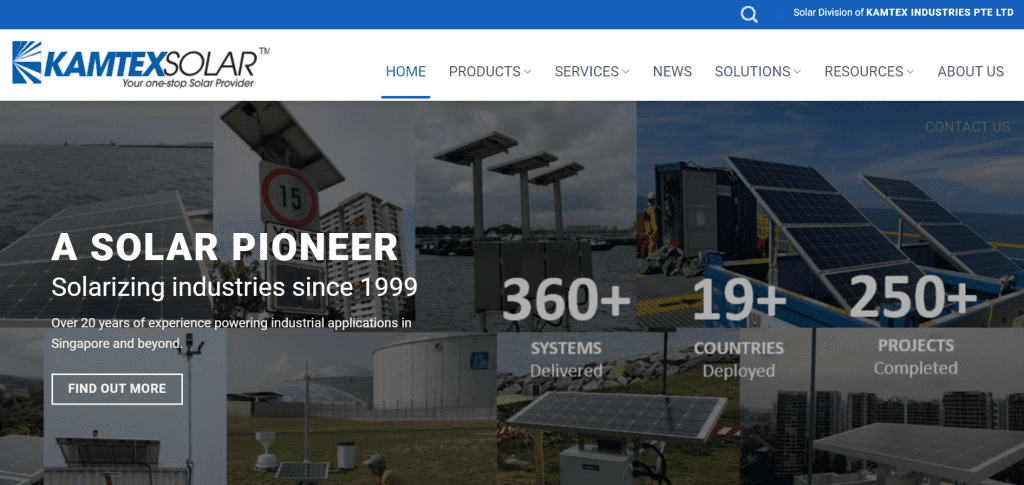 Kamtex Solar is a division of Kamtex Industries Pte Ltd dealing with solar energy business and projects.
Since 1999, they have been dedicated to providing solar power related-products to their customers from both local and overseas.
They strive to provide reliable services to meet their customers' requests, no matter how big or small.
They are committed to building trust and long term beneficial relationships with their customers.
Looking for a standalone solar panel in Singapore to power electrical appliances at home?
You're in luck. Our advice is to purchase their their Sharp Solar Small Home System.
With the Sharp solar panel and Sharp Power Control System, the system is perfect for powering lightings, fans, radios, laptops, battery chargers and small devices.
Each system comes with a 80W Sharp solar panel and a Sharp Solar Power Control System.
Perfect for small rural homes whether the power grid is not available or as a stand-alone solar system to power porch lights or garage lights.
The compact solar system is also suitable for school solar educational demonstration purposes.
Reviews praise the solar panel in Singapore for their helpful and knowledgeable service staff.
9. Solar Era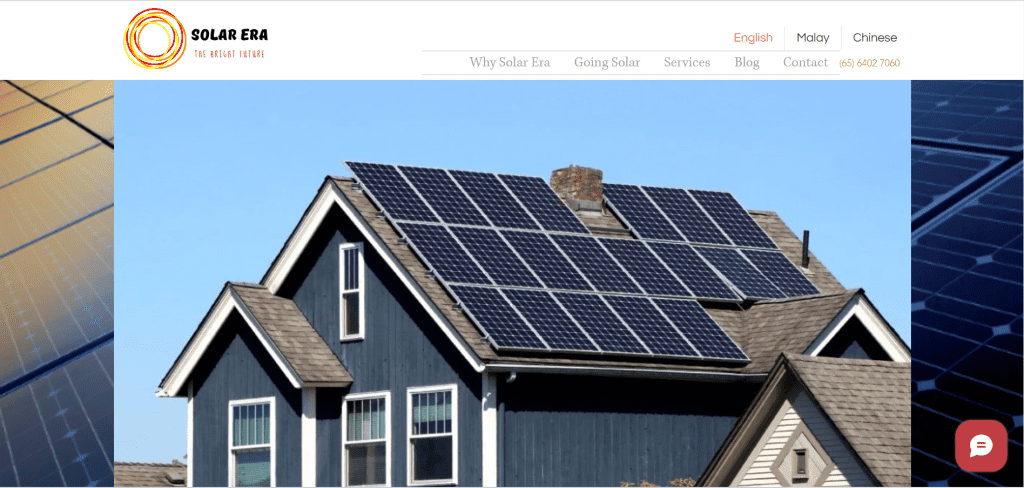 Solar Era is a premier solar power installation and maintenance company.
They offer maintenance, warranty, and performance evaluation services on PV systems for their clients, as well as systems installed by other solar installers which are no longer in business.
They are committed to delivering smart, efficient solar energy to all of their clients, and making sure that every client is educated through exceptional customer support.
The solar panel in Singapore offers two types of solar panels: residential-based and commercial-based panels.
Our recommendation is to go to them for their Canopy Solar System, which is a canopy made up of solar panels.
If your rooftop doesn't qualify for a solar panel or you would rather a solar system on the ground, Solar Era will also conduct an analysis using shading technologies for a ground mount solar system.
This is a beautiful and perfect solution to fully make use of all the space that you own.
Reviews praise the solar panel in Singapore for their patient staff and reasonable prices.
10. Cutech Green Ventures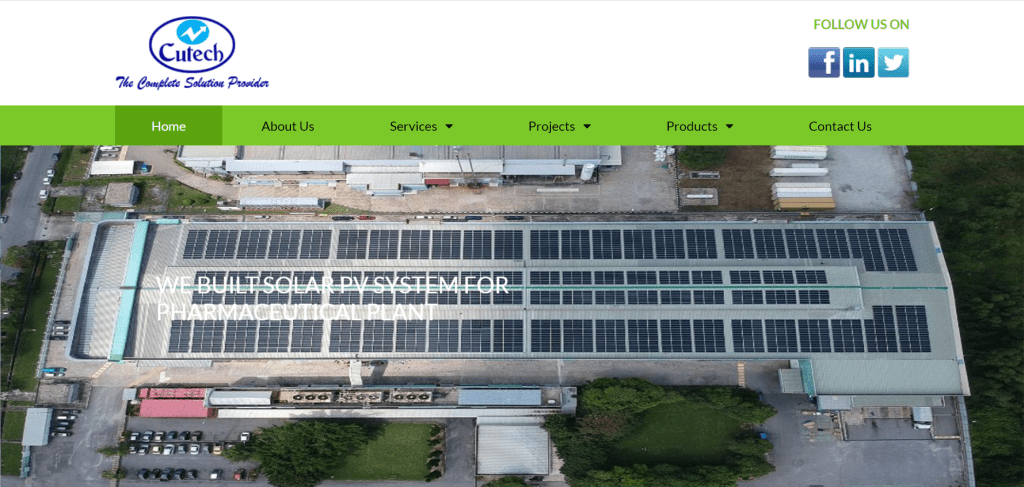 Cutech Green Ventures Pte Ltd was founded 30 years ago by a team in the fields of Green Energy, Energy Management, Oil & Gas Construction.
The company's vision is to provide effective and innovative solar energy solutions.
They operate a solar PV business in Singapore, Malaysia and India.
Our recommendation is to go to them for their Building Integrated PV (BiPV) systems.
These comprise solar panels incorporated into the design of buildings.
While standard PV solutions are often used as an add-on solution to existing residential or solar-farm applications, BIPV incorporates renewable energy technologies into integral building structures.
This improves functionality over many previously underutilised areas and provides architects with completely new possibilities to incorporate solar technology into buildings.
As a result, building-owners can now look forward to PV systems and architecture being combined into one harmonious mix of design, ecology and economy.
Conclusion
Do you have any reviews and comments to share regarding our choices for the best solar panel in Singapore?
While SBO is committed to supporting our local businesses, we welcome any feedback and anonymous sharing regarding your experience with the best solar panel in Singapore.
We hope that this guide will be useful in helping you to make an informed decision when it comes to finding the best solar panel in Singapore.
Featured Image by American Public Power Association on Unsplash
Explore More Content