10 Best Kitchen Renovation in Singapore Based on Your Needs [2023]
Having a good kitchen is paramount to having a good home. Check out the 10 best kitchen renovation in Singapore for you to fulfil your dream home.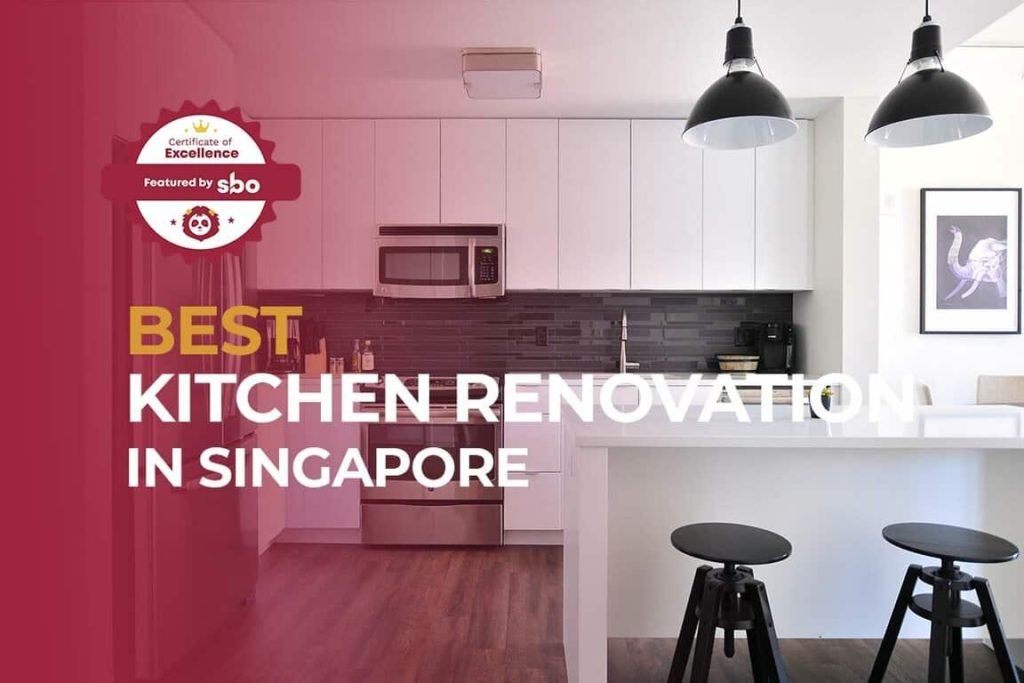 Every home has a kitchen. Kitchens are where meals are prepared and consumed. As such, kitchens are one of the most important spaces for storage, eating and communication in the house.
As homeowners, much effort is needed to make sure that your kitchen is well-maintained and well-equipped. If you are looking to build a dream kitchen for you and your loved ones, check out the 10 best kitchen renovation in Singapore to get you that Gordon-Ramsey approval.
1. Casa Interior Design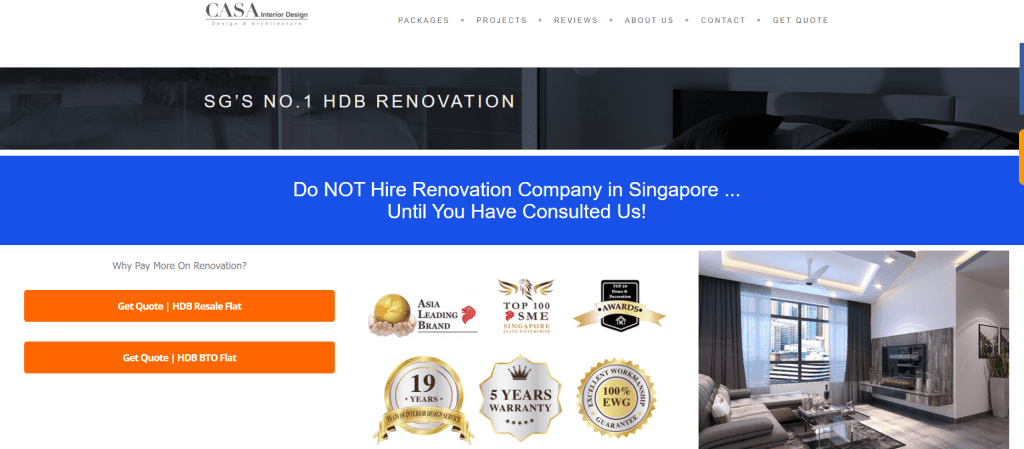 Casa Interior Design is an award winning company, providing one of the best kitchen renovation in Singapore. Their workmanship is of the highest quality with the lowest costs, making it affordable for their customers.
Geared towards kitchen users, all their cabinets are supported by TANDEM Runner System and HINGE Systems from premium brand name BLUM. This makes sure that the kitchen will remain in tip-top condition for a very long time.
2. Diatom Reno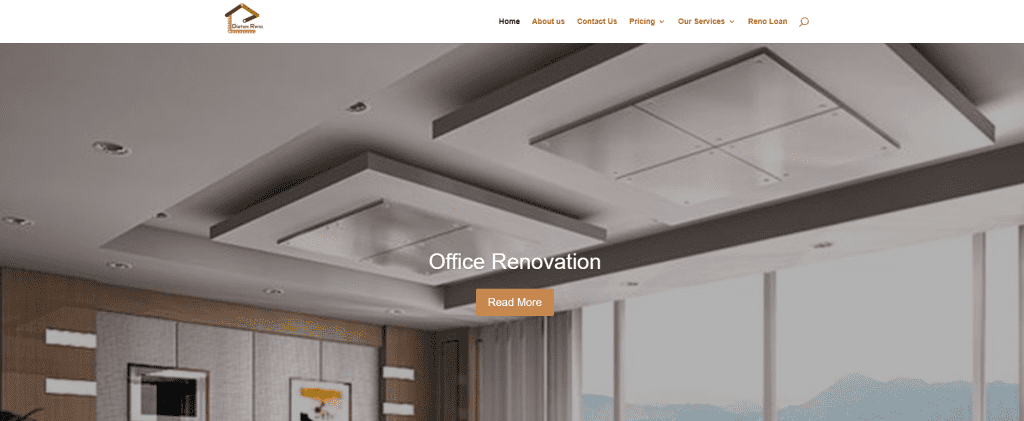 At Diatom Reno, they specialise in wide variety of renovations and remodeling projects. Their team of interior design and renovation contractor are extremely detail-oriented, making sure all their customers are satisfied with the results.
As an accredited Renovation Contractor Singapore, their renovation contractors have an absolute insistence on the excellence of work and punctuality, combined with the willingness to settle for nothing less. Their full range of services from small renovation on kitchen and bathroom, creating a new structure on landed property and commercial building.
3. Posh Living Interior Design Pte Ltd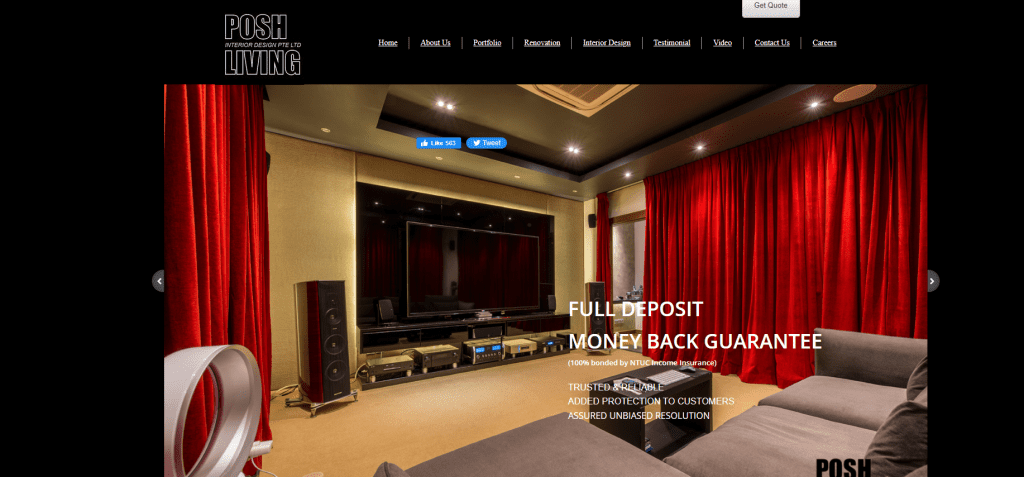 As the name suggests, Posh Living Interior Design Pte Ltd offers luxurious-looking kitchen renovation in Singapore. They aim to be the bridge that brings your ideas to reality. All you need to do is to tell them what you want to see in your new home, and they will come up with unique designs for you to choose from.
Their firm is the proud winner of the Best Scandinavian Design Award in September 2015. Whatever your style is, they will make sure to find an interior design to match it.
4. ProjectGuru Pte. Ltd.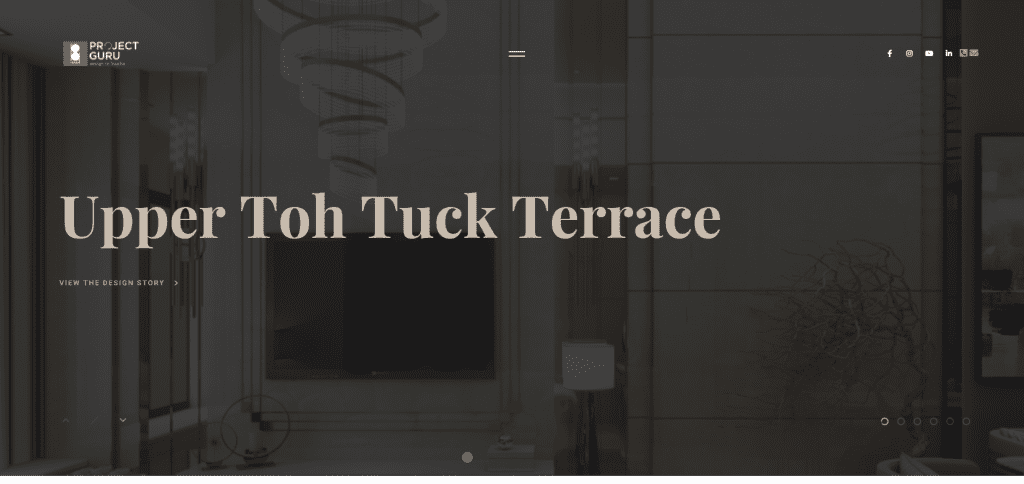 ProjectGuru Pte. Ltd. is a leading interior design firm delivering distinguished spatial designs and service excellence to a wide range of customers in Singapore. They go by their core values – Creativity, integrity, and innovation.
They take pride in their work as interior designers, creating designs that reflect their unique personalities and passion. They make sure to continuously iterate the designs until their customers are satisfied and happy.
5. Home Reno Pte Ltd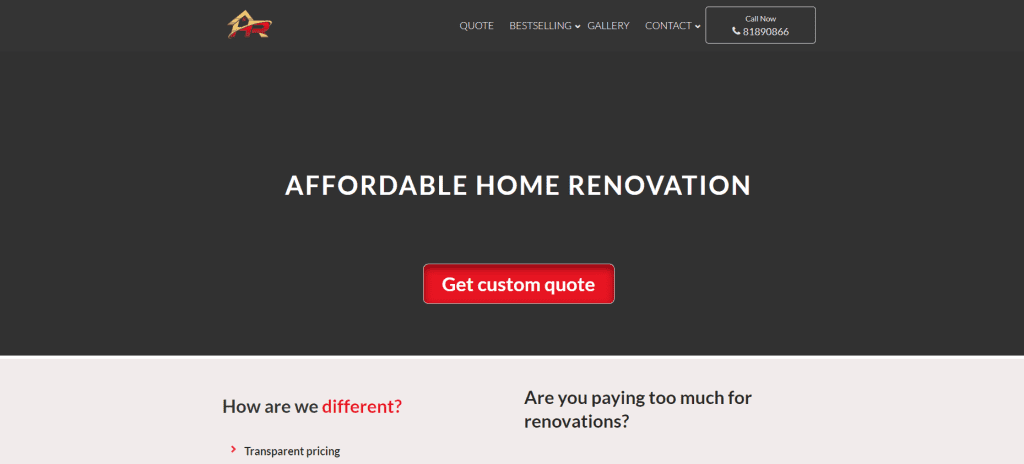 Home Reno Pte Ltd has more than 10 years in the industry, and is constantly sharpening our edge to provide you exemplary services. Moreover, Home Reno Pte Ltd is not GST registered. This means that you instantly save and shave off 7% from your renovation cost.
All their prices online are 100% transparent with no hidden costs. What you see is what you get. You can use their instant calculator and the total costs tabulated will be the actual price you get.
6. Thom Signature Design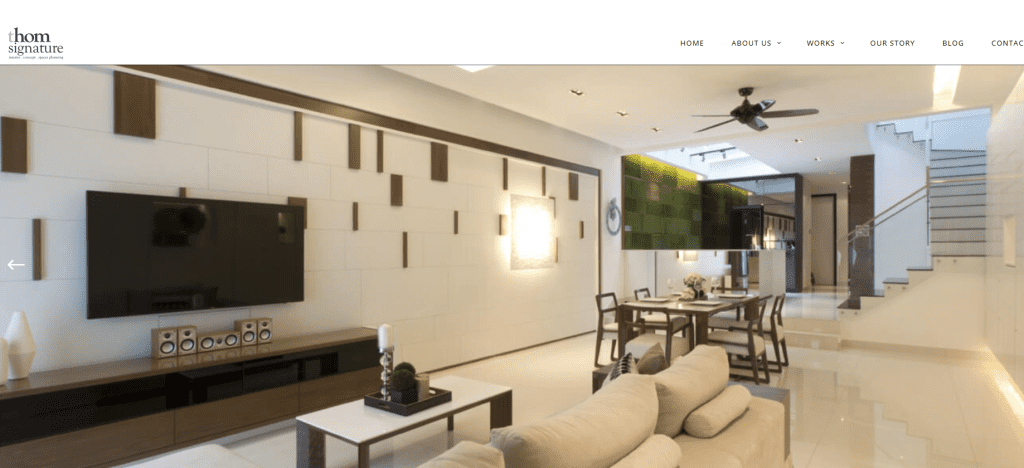 Thom Signature is a luxury and contemporary interior design company, delivering innovative and exceptional designs for their customers.
They have a team of dedicated and innovative interior designers and planners, with extremely good work ethics, and constantly strive to meet their clients' expectations.
7. Cheong Cheng Renovation & Carpentry Work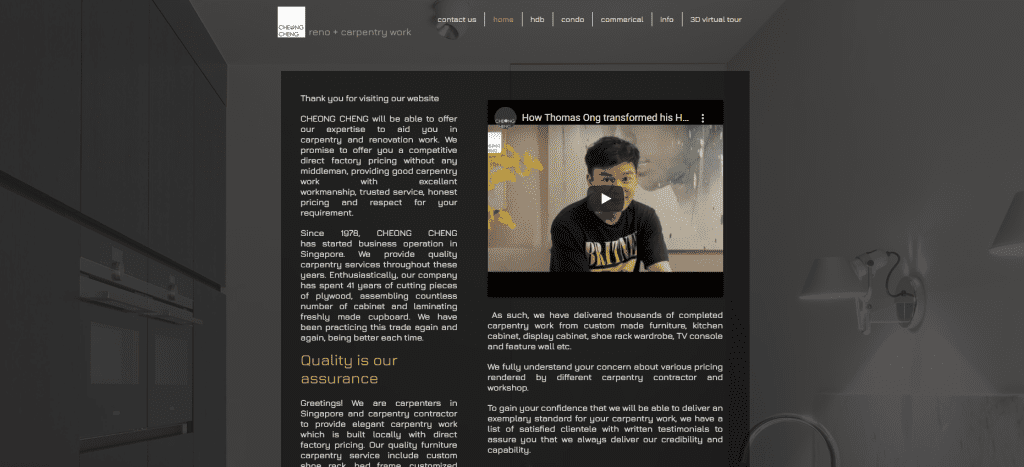 Established since 1978, Cheong Cheng Renovation & Carpentry Work has been providing quality carpentry services for over 41 years.
They promise to offer you a competitive direct factory pricing without any middleman, providing good carpentry work with excellent workmanship, trusted service, honest pricing and respect for your requirement.
8. 3D Innovations Design Pte Ltd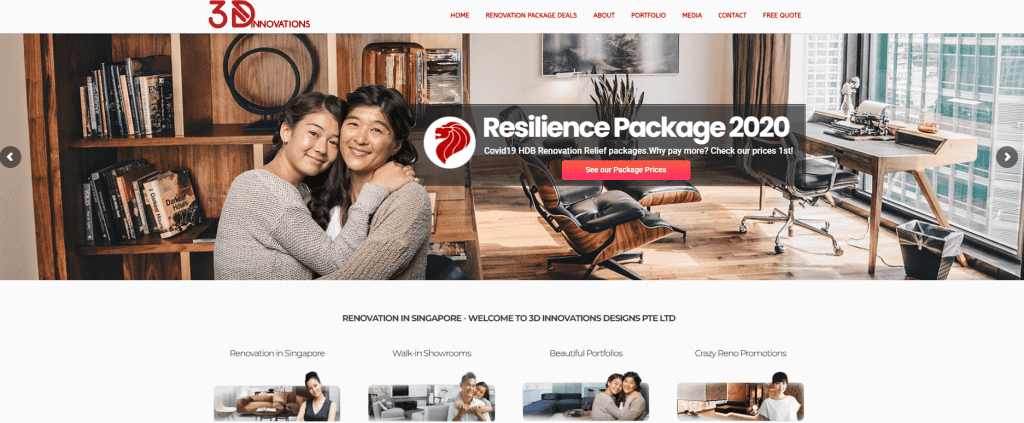 3D Innovations Design Pte. Ltd. is a renovation contractor that specialises in residential projects for HDB flats and private developments. There are one of the best kitchen renovation in Singapore, who constantly strive to provide service excellence as well as design and development work to the highest standards of the industry.
They have an in-house carpentry workshop and team of renovation contractors who helps them to pass on significant cost savings to their clients, making the costs as affordable as possible.
9. Livspace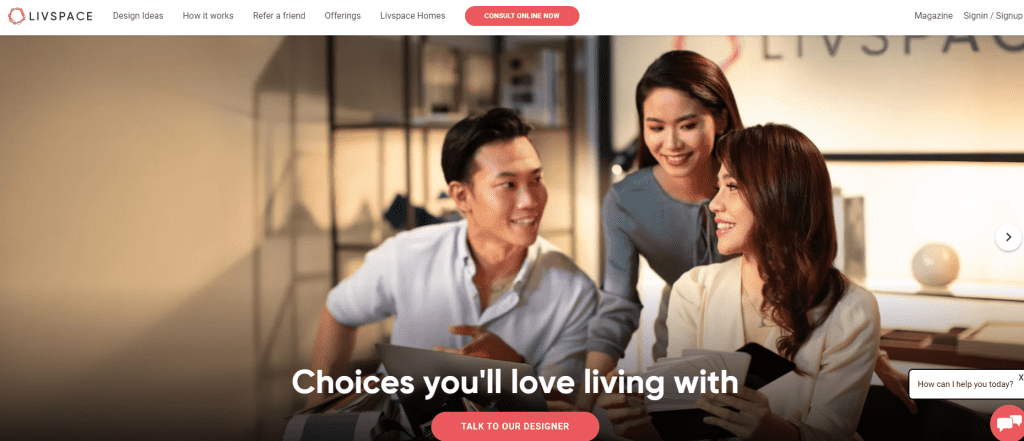 Partnering with the likes of big names such as IKEA, Livspace co-creates with them to produce multiple award-winning designs for their customers. With the approach to have the right mix of functional and aesthetic designs, their experienced designers know exactly what your home needs.
All their materials are high quality with excellent workmanship. From costing to on-site work, you will always know how your home is shaping up. Also, all of their services come with a two-year warranty, giving you a peace of mind when your entrust your kitchen to them.
10. Sin Siang Huat Renovation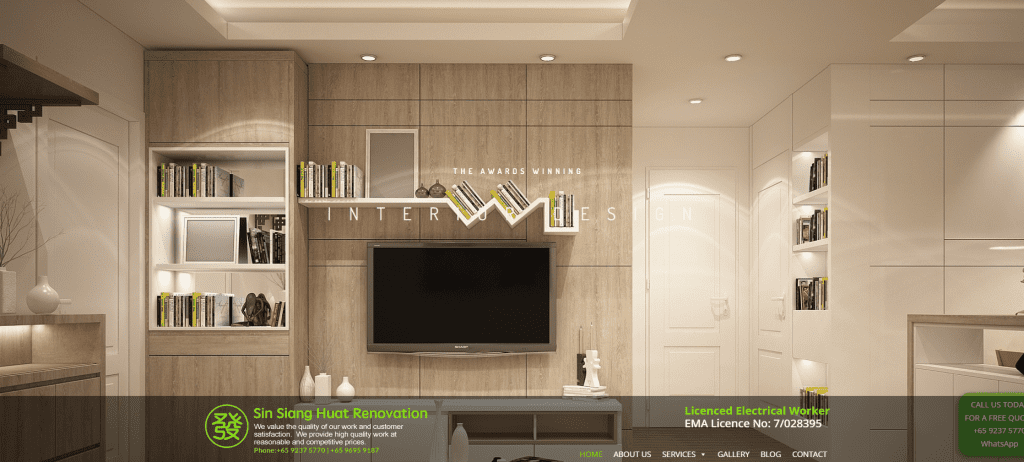 Sin Siang Huat Renovation has over 40 years of experience doing kitchen renovation in Singapore. All their prices are reasonable and competitive, with no hidden costs.
Having built a strong reputation over the years, they have a proven track record of happy and satisfied customers who love their designs. They specialise in doing electrical work, and also have creative interior designers and dedicated project coordinators to provide you with the best advice for home renovation.
Conclusion
Do you have any reviews and comments to share regarding our choices for the best kitchen renovation in Singapore?
While SBO is committed to supporting our local businesses, we welcome any feedback and anonymous sharing regarding your experience with the listed kitchen renovation in Singapore.
We hope that this guide will be useful in helping you to make an informed decision when it comes to finding the best kitchen renovation in Singapore.
Featured Image by Naomi Hébert on Unsplash
Explore More Content