10 Best Soundproof Windows in Singapore For A Peaceful Time At Home [2023]
Read on to find out where you can get a peaceful time at home with our compiled list of the 10 Best Soundproof Windows in Singapore!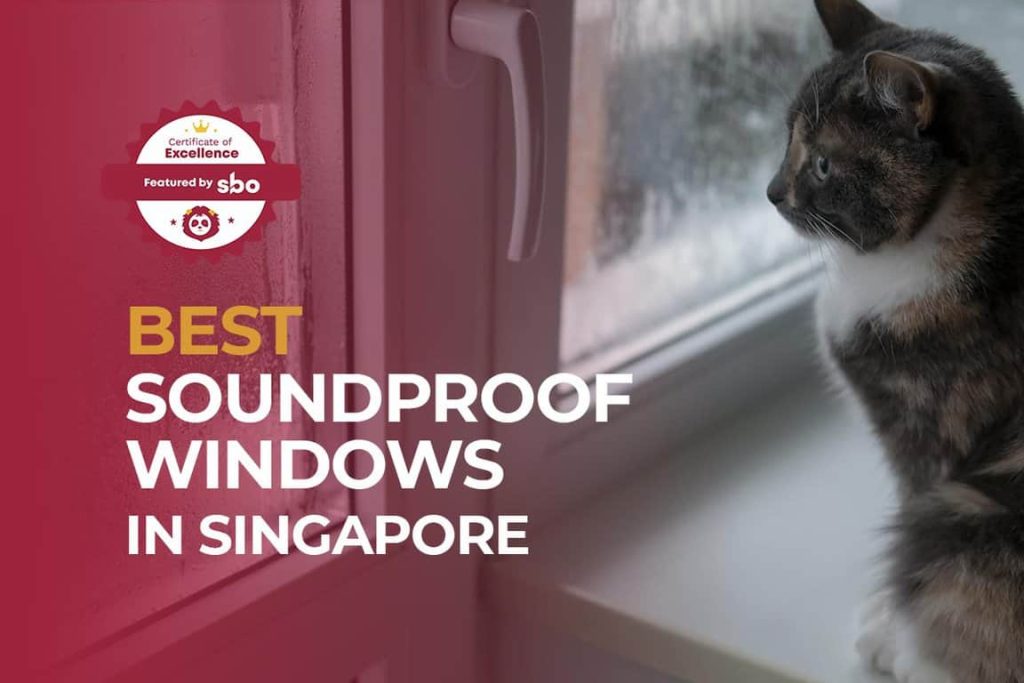 Do you have noisy neighbours or do you stay near the road with bustling traffic? If yes, here's your sign to get soundproof windows for your house!
How do Soundproof Windows work?
Soundproofing is usually done by adding more windowpanes. This results in are more layers of insulation which helps to dampen outside noises. Soundproof windows work by slowing the transfer of sound waves, which makes them seem quieter. As sound waves travel through different materials, the waves can be absorbed, reflected or minimized.
Read on to find out where you can get a peaceful time at home with our compiled list of the 10 Best Soundproof Windows in Singapore!
1. Fortuna Soundproof Windows Pte Ltd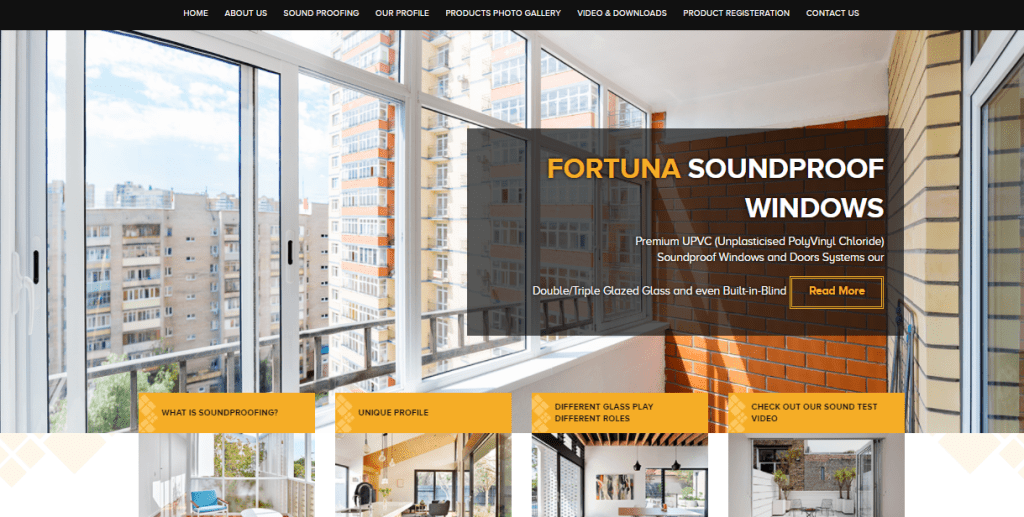 Fortuna Soundproof Windows Pte Ltd is a subsidiary company from its parent company – Fortune Decogate Design Pte Ltd. With a vision to be the preferred Soundproofing solutions local company, this pass on second-generation company specialises in providing premium soundproofing solutions to their customers in the residential and commercial sector.
Their core product material uPVC – PolyVinyl Chloride (Unplasticised), also known as Rigid PVC stands out differently from the traditional aluminium windows before its comparable durability but also its superior soundproofing and heat insulation properties. It has undergone R&D efforts, transforming from the basic Double Glazed Windows to Triple Glazed Windows with Built-in-blind along with customizable glass glazing.
2. Noise Plaster Pte. Ltd.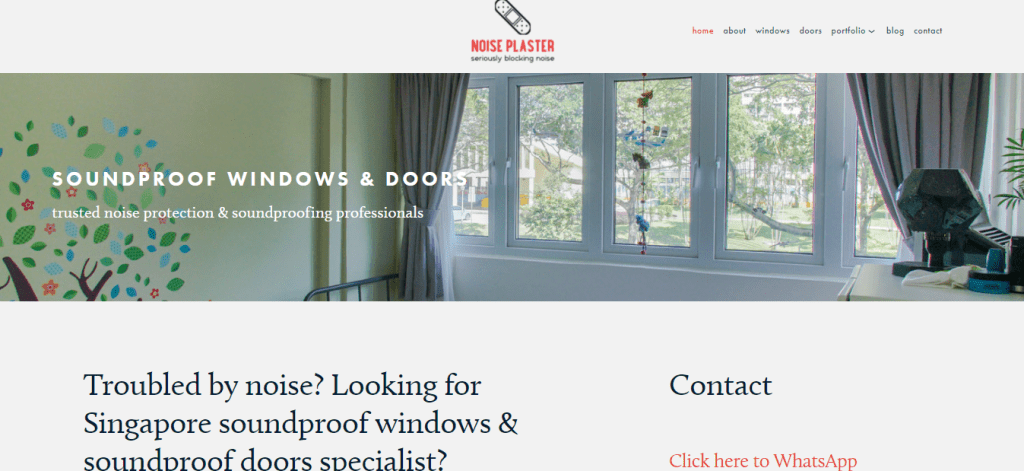 Understanding that the performance requirements for soundproof installation required a very different skillset from regular windows and doors, the founder of Noise Plaster, Nicholas Quek knew the solution was to develop a training and management process to raise a team of skilled engineers and technicians to meet the demand of high-performance soundproofing.
In addition to championing quality workmanship and business excellence in Noise Plaster, Nicholas has developed highly advanced digital management processes to automate the entire operational process from stocking, to order processing, quality management and delivery. Let's hear what their previous customer has to say about their soundproof windows!
"Just to update you on the windows: I think it's life-changing. Finally I get to sleep past 6am on a school day, and I can finally get down to business with minimal noise intrusions. The noise from the school alarms, the traffic lights, the passerby screaming and chattering downstairs, to the vehicles jam braking at the parking lot gantry next to my room are all eradicated.
All in all, this has to be the best present I bought for myself in recent years. Thank you once again for the professionalism shown and the accommodation. I will recommend wholeheartedly your services to anybody who requires it without any hesitation. Just wished we spoke way WAY earlier."
– Lisa N.
3. GrillesNGlass.com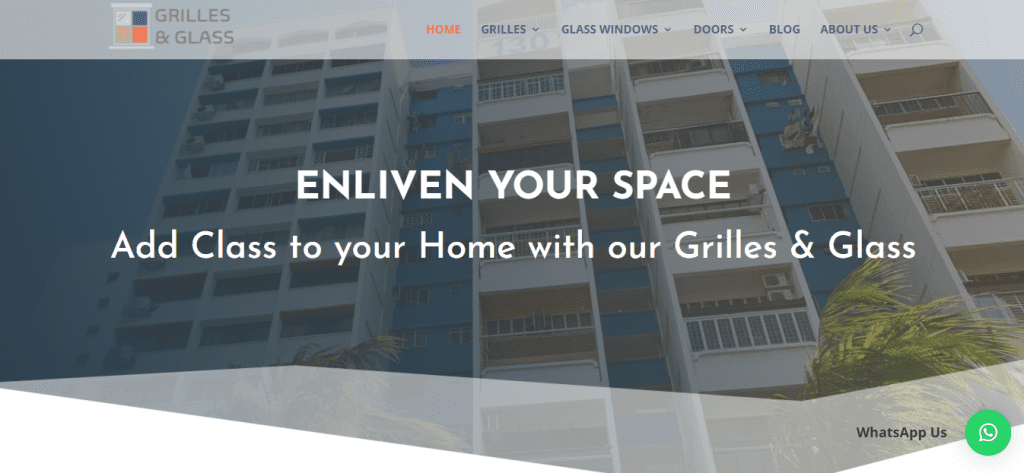 Grilles N Glass represents a Singapore HDB-licensed contractor with many years of experience in delivering quality Grilles, Windows and Doors. They have been in the home improvement arena for over 15 years, having done hundreds of installations to the satisfaction of customers. All their installations are done by the prescribed guidelines from HDB/BCA thereby ensuring total safety for their valued customers.
Their products and services are delivered island wide in Singapore by a team of experienced professionals who respond to customers promptly every time be it pre or post-sales. Their model is "Factory Direct", to keep costs to a minimum and result in them being able to pass these savings to the customer.
Interested to find out more? Their friendly staff will brief you of the variety of options through catalogues, samples and provide a no-obligation free quotation. Orders are then serviced directly from their workshop in Woodlands.
Homeowners who have engaged them separately from their renovation contractors/interior designers for Grilles, Windows and Doors have realized tremendous cost savings in their renovation budget so what are you waiting for?
4. Magnetite Singapore Pte Ltd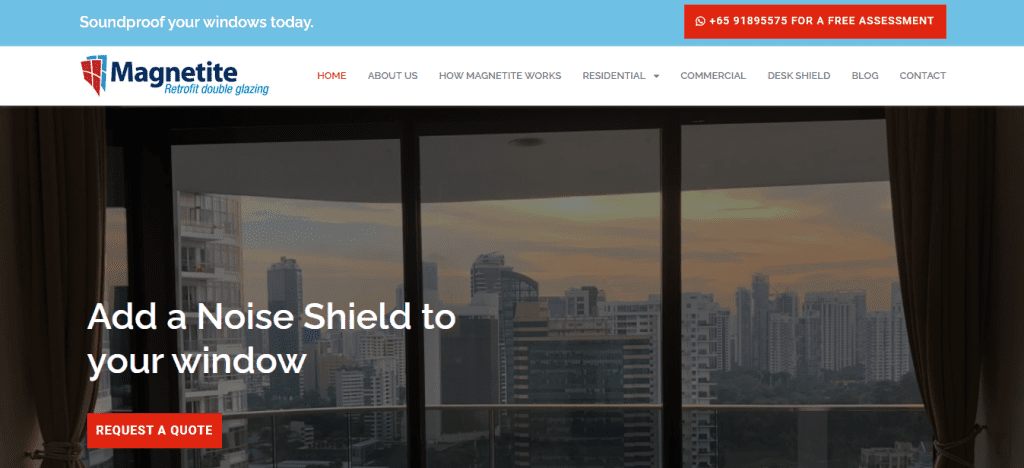 Magnetite® was developed by Kenneth J. Foster, an energy physicist, in conjunction with the M.I.T. Innovation Center. Mr. Foster was inspired by acrylic windows used on jet airplanes and the tight magnetic seals of refrigerator doors. He combined the concepts to create the patented Magnetite technology that allows you to receive all the benefits of double glazing without replacing your windows.
Originating in North America, Magnetite is now offered in the USA, Canada, Australia, New Zealand and with the arrival in Singapore for the first time also in Asia. Magnetite is in Singapore exclusively offered in license by PLACE SOLUTIONS PTE LTD. PLACE SOLUTIONS aspires to be a force for positive change in everything that they do.
Magnetite has faith that they fit perfectly into everyone's portfolio as it is half the cost of a full window replacement to a soundproof system and increases the comfort of the inhabitants and saves energy when installed.
5. Sapphire Windows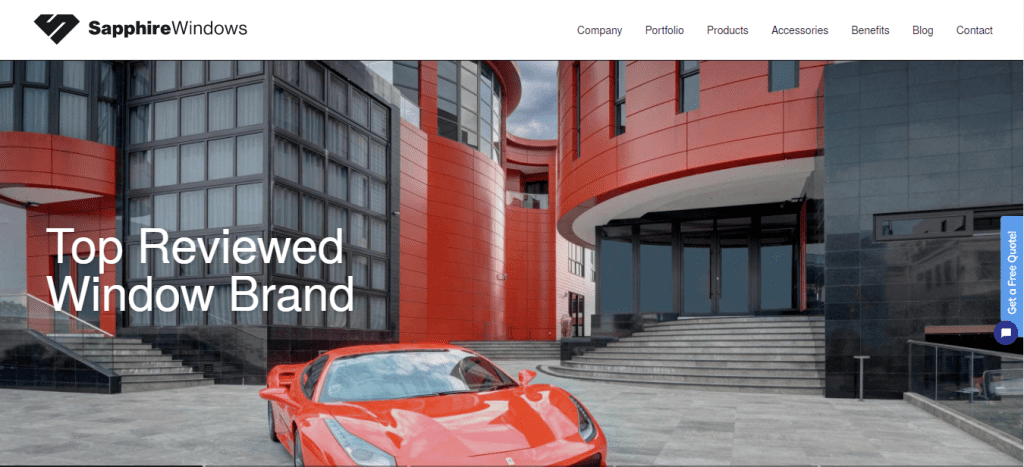 "We believe every home is unique and we go out of our way to craft Window and Door Systems to make your home safer, more secure and beautiful."
The story of Sapphire Windows began in 1989 when their founder, Jeffrey Liew, noticed the exceptional build quality of the windows in Europe while studying abroad. He decided from that experience that he would design his own home with windows that provided the same security, heat and sound insulation. That decision led him to partner with the world-leading uPVC maker, Deceuninck who supplied him with a window system that exceeded all his expectations. This sparked the vision in him of bettering the lives of every future homeowner.
Today, Sapphire Windows is a leading window and door system specialist, renowned for its quality, workmanship and customer service. Driven by the company's motto "Do it Once, Do it Proud", they offer both innovative and timeless design solutions for every home.
6. Window-Grille-Door.com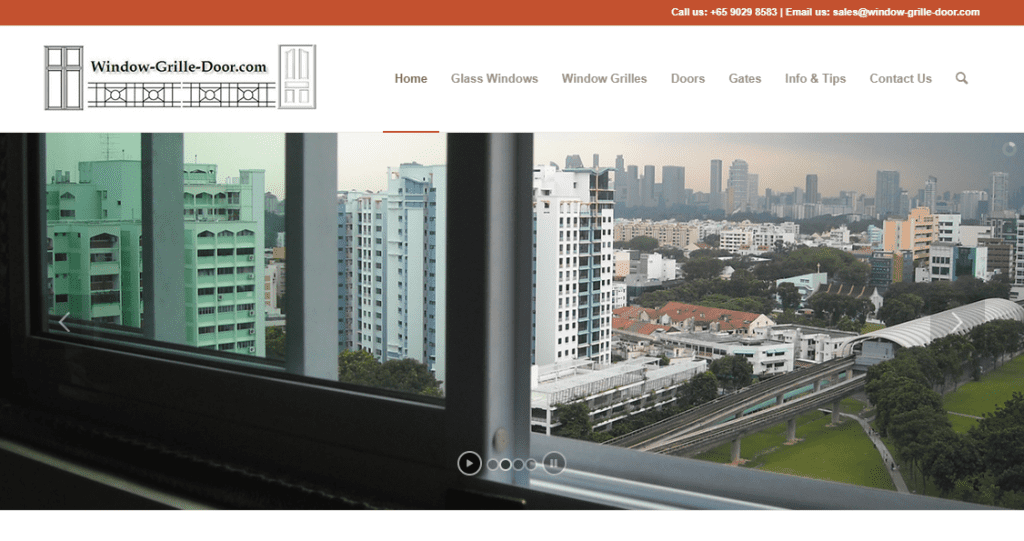 Window-Grille-Door.com is a collaboration between Victorious Windows & Doors Pte Ltd and Acme Metal & Glass Pte Ltd. They supply and install quality windows, grilles & doors for Singapore homes/offices as per safety standards and guidelines. Acme is also a BCA registered, approved Window Contractor and HDB registered Reno Contractor.
An old hand in this trade and conversant with HDB/BCA regulations, they have built an attested track record in creating happy customers. Quality and service are their hallmarks as they strive to earn trust from clients. Rest assured when you engage them for your home improvement endeavours as they take their promised datelines seriously to ensure that your work is delivered as promised
7. Pang Giap Enterprise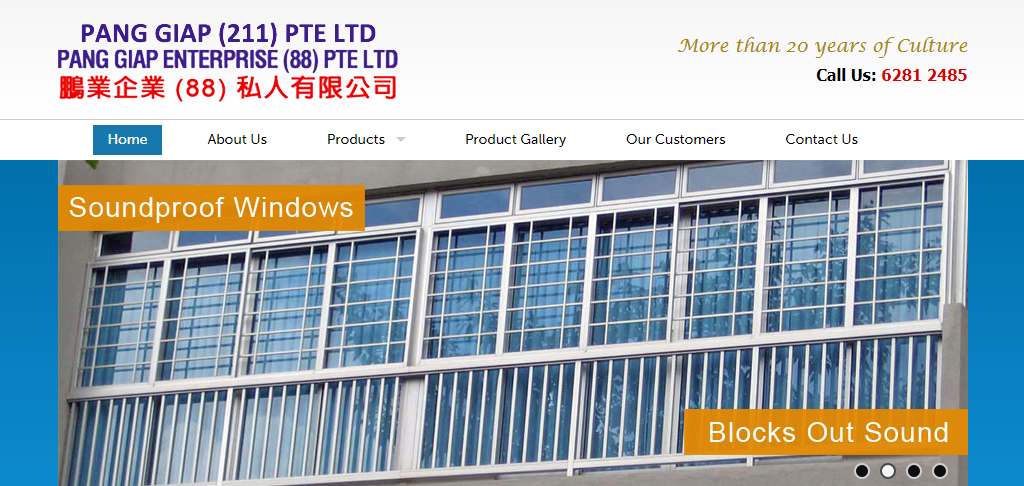 Pang Giap Enterprise is one of the leading Wrought Iron, Aluminium, Glass Doors & Window contractors/manufacturers in Singapore. They are also a licensed HDB contractor (HB-08-3631B) and a registered member of BCA & the Singapore Contractors Association.
The company fabricates and sells metal & glass products like Wrought Iron Gates, Slim Grilles, Aluminium Grilles, Glass Doors & Soundproof Windows & Doors, Fences and Railings, etc. Serving customers ranging from HDB to condos & landed properties to commercial & industrial sectors, they have plenty of experience in dealing with all your requirements. With these experiences, Pang Giap Enterprise is sure to deliver and you can rely on them with full confidence that they will give their best attention and care to your project from the start till its completion.
8. Home Aluminium Metal Works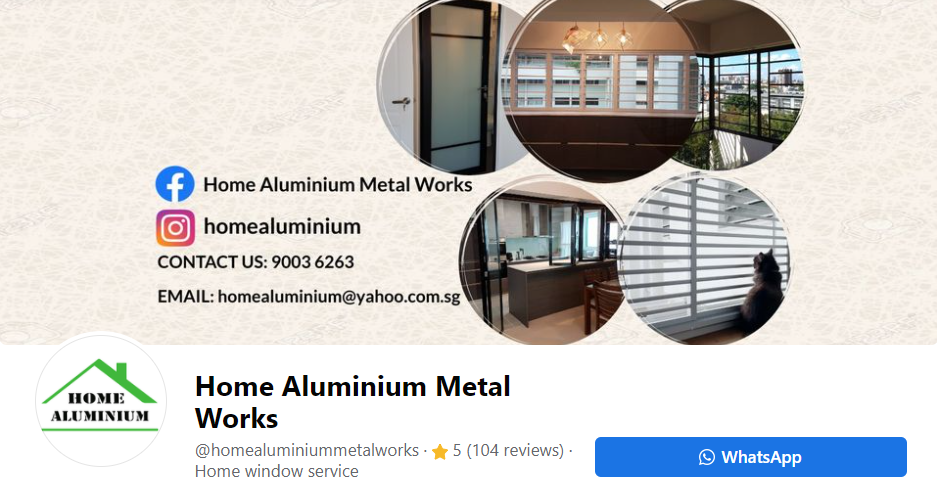 Home Aluminium Metal Works is an established company in Singapore. They supply and install high-quality aluminium windows and window grilles with BCA approved and HDB licensed Contractor.
With a good reputation and over a hundred positive reviews from their valued clients, Home Aluminium Metal Works is here for your every window needs! They were praised for their responsiveness, great workmanship as well as the fact that they are not pushy with wanting to offer more services. All these lead to a great customer experience, bringing returning customers to them.
9. Window Grill Singapore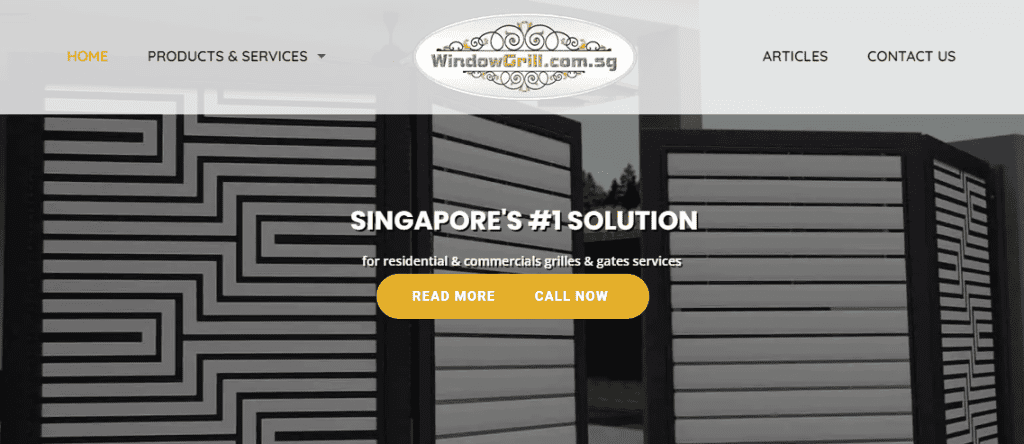 In your home, proper windows placement is highly important because it can help you get ventilation, good light, strength and security as well. To get all these outcomes from your home window without compromising security, you can take the help of the window grill and it can help you in a great way. But to get the best outcome with it, you need to choose a window grill supplier smartly.
For this, you can choose Window Grill Singapore as your window grill supplier as they can assure you of the best services in an easy manner. Being the #1 Window Grilles & Gates Company In Singapore, they have the necessary licenses, detailed experience and provide competitive cost with the best material. Check them out if the above satisfies your requirements!
10. Decorille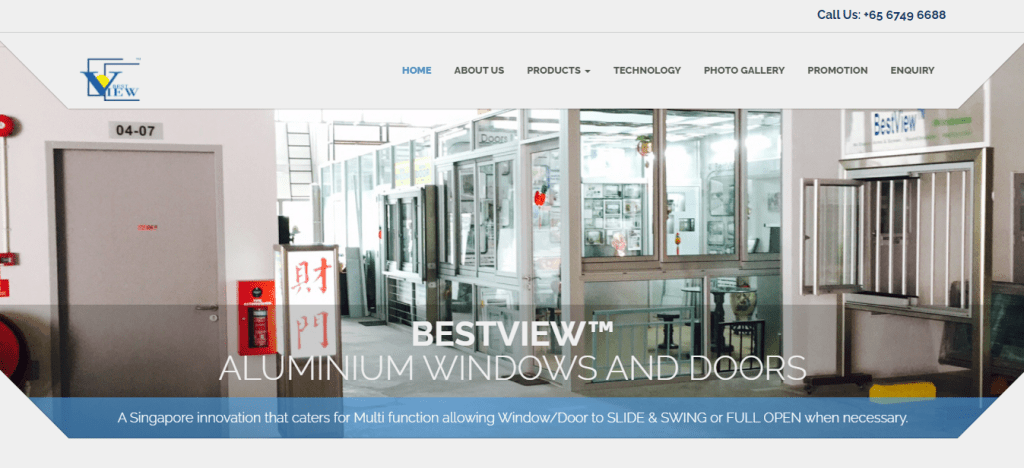 Decorille is a window contractor that provides great technology and service to its clients. They cater self-designed BestView™ Windows, Doors, Louvre Screens, Invisible Grilles, FleXi Grilles, custom-built Aluminium Sliding Doors, Windows, Glass Doors, etc.
Let's introduce BestView™, an innovation by Decorille Pte Ltd, an Integrated Fully Openable, Slide & Swing Windows/Doors System that offers Quality design with versatile functionality, great sound insulation, and easy cleaning. This innovation has been highly recommended by previous clients as it offers functionality and a minimalistic design that suits all house renovation themes.
Conclusion
Do you have any reviews and comments to share regarding our choices for the best soundproof windows in Singapore?
While SBO is committed to supporting our local businesses, we welcome any feedback and anonymous sharing regarding your experience with the above soundproof windows in Singapore.
We hope that this guide will be useful in helping you to make an informed decision when it comes to finding the best Soundproof Windows in Singapore.
Looking for other renovation needs? Check out the 10 Best Kitchen Renovation in Singapore!
Explore More Content