16 Best Face Mask in Singapore That Will Transform Your Skin [2023]
Is your skin in need of some TLC? Try these 15 best face mask in Singapore!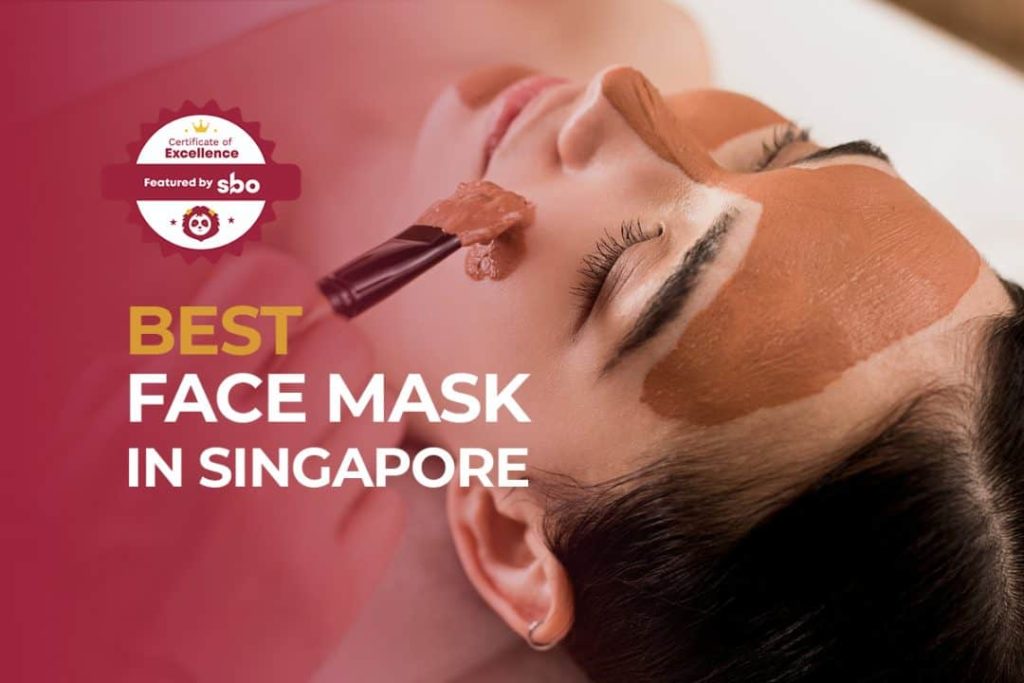 Are you on a quest for clear, healthy and flawless skin? Well, you've come to the right place!
Face sheet masks are a major lifesaver when it comes to achieving radiant and glowy skin in just a few minutes, and there are literally thousands of options to choose from no matter your skin type.
Experts suggest that applying face masks just once a week is good enough to reap the benefits, with certain skin types benefiting more from increased usage.
To help you break down your options, look out for these ingredients based on your needs: salicylic acid or benzoyl peroxide for acne-prone skin, vitamins A and E for fine lines and wrinkles, and hyaluronic acid for dehydrated skin.
And because we are all busy individuals who still want to look our best—we have decided to save you some time by rounding up 16 of the best face mask in Singapore to include in your #selfcare routine.
Here's to amazing skin days ahead!
1. SK-II Facial Treatment Mask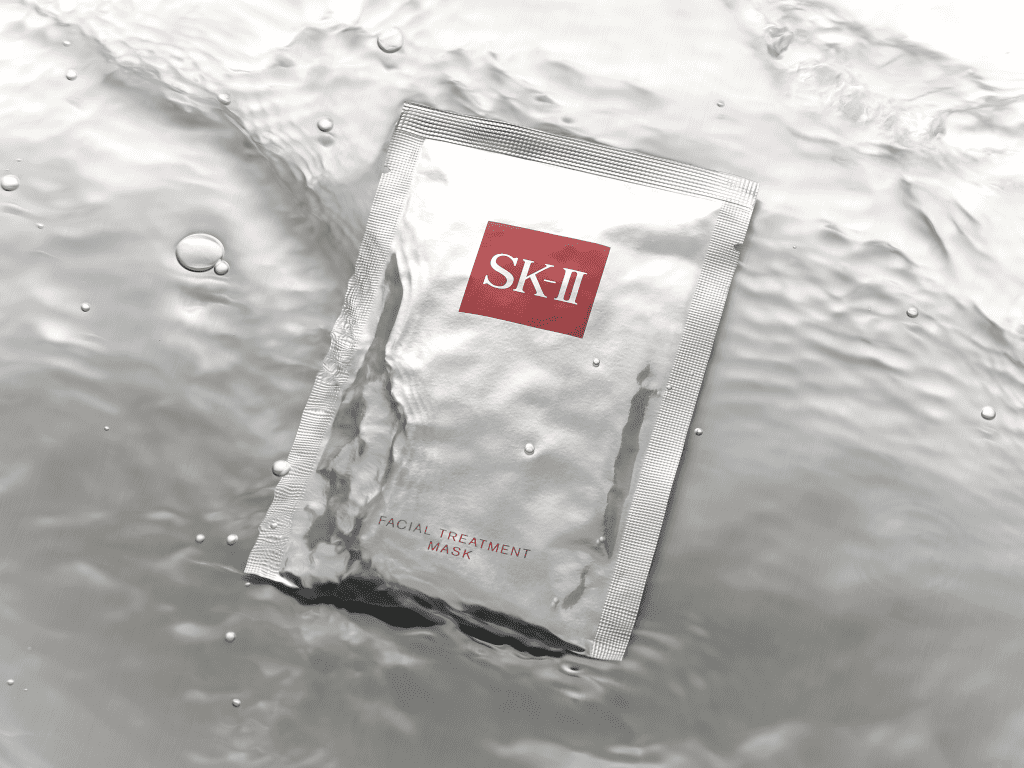 Soak your skin in the power of PITERA™ with SK-II's Facial Treatment Mask. Enjoy Crystal Clear Skin as the cult-favourite mask hydrates and revives your skin for a visibly radiant complexion.
Formulated with an exceptionally high-concentration of PITERA™, a natural bio-ingredient containing over 50 micro-nutrients like vitamins, minerals, amino acids and organic acids, SK-II's Facial Treatment Mask conditions the skin's natural functions for softer and brighter skin.
PITERA™ also fights the appearance of uneven skin and dark spots and provides anti-oxidant effects by scavenging the surface free radicals that contribute to the appearance of skin aging. It also reduces the oily look of skin and makes pores visibly smaller.
For best results, use the Facial Treatment Mask twice weekly in the morning and the evening, together with the toner.
Reviews highlight the generous amount of essence in each mask pack and the immediate hydration and radiance users saw after applying the mask. Many also deem it a must-have for special occasions or on days where your skin needs a pick-me-up!
2. Innisfree My Real Squeeze Mask EX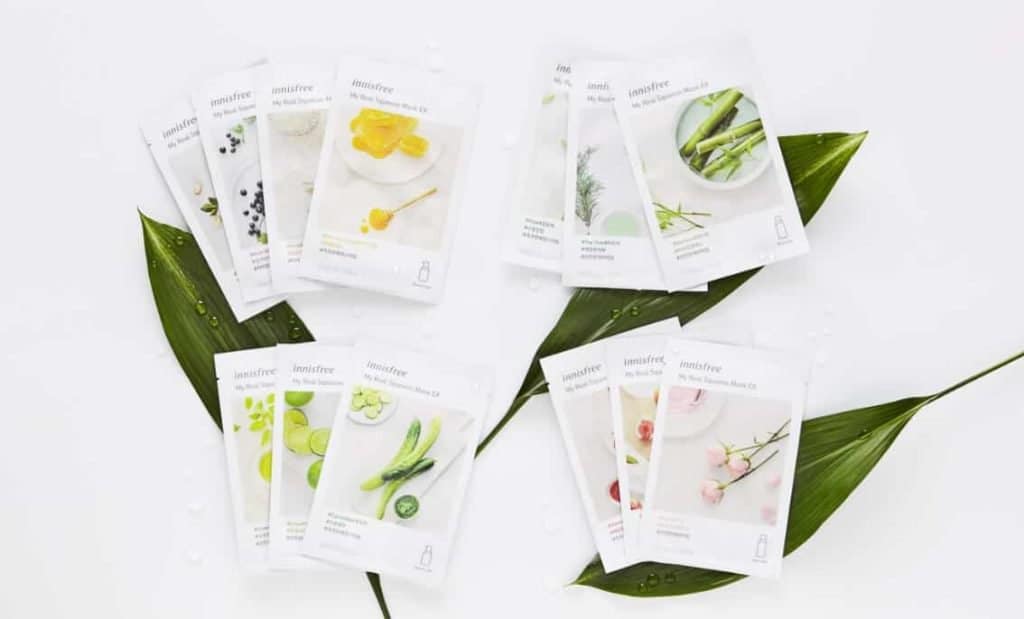 Innisfree is no stranger to those in the beauty world, and their sheet masks are easily one of the most affordable and best masks you can find in Singapore.
A daily skincare mask sheet that covers a good range of skin-loving ingredients, the Innisfree My Real Squeeze Mask EX utilises a unique "Cold Brew Squeeze Process" to extract the nutrients from each ingredient and capture its full benefits.
Made from 100% biodegradable Eucalyptus fibres, it features an easy-peel design that works to adhere to the face and enhance its efficacy. Whether you want to hydrate, soothe, moisturize, firm or brighten, you are bound to find a mask that fits your needs.
Reviews from customers mostly talk about the Pomegranate mask that is great for hydration, and other top favourites include Lime, Ginseng, Acai Berry and Cucumber. Customers like that it doesn't have an overpowering scent which is great for those with sensitive skin.
Tip: Water-based masks are ideal for oily skin types to plump and create that bouncy effect, while cream-based masks work best for dry skin as it provides an additional layer of moisture to protect the skin's natural barrier.
3. Celavi Essence Facial Face Mask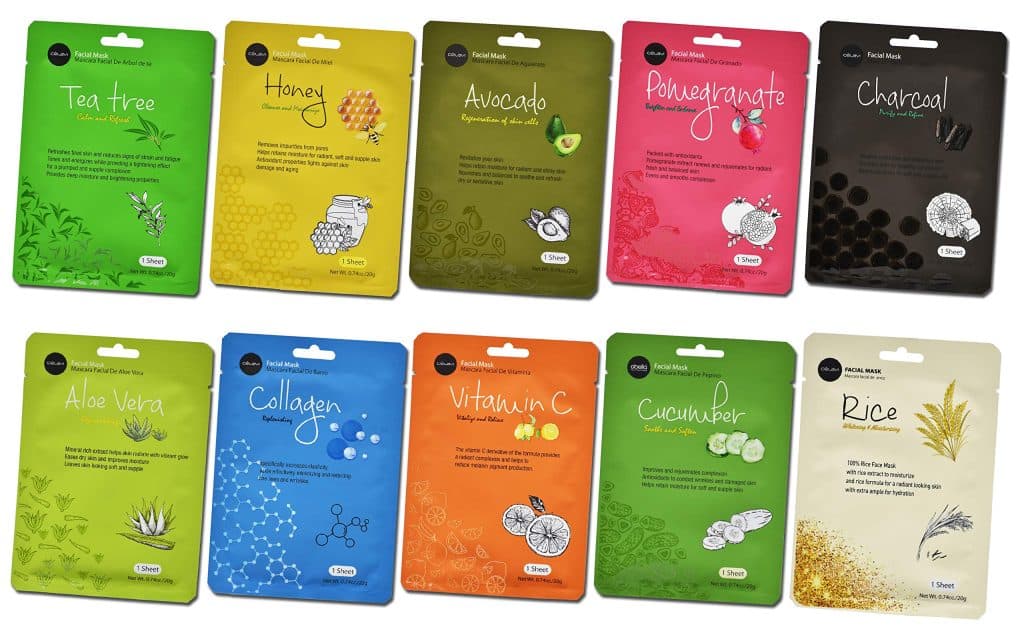 Hailing all the way from Korea and touting all-natural ingredients are the Celevi Essence Facial Face Masks.
Infused with anti-ageing antioxidants and other key ingredients such as honey, avocado and cucumber, this mask works to improve and rejuvenate the complexion, combat damaged and ageing skin and help retain and boost its moisture levels.
With various essences to choose from including Vitamin C, Aloe Vera and Tea Tree, it claims to help reduce puffiness and even out your skin tone as well when used regularly.
Reviews talk about the good quality mask that will give you a healthy, natural glow. A value-for-money option that comes with lots of excess serum that you can use on the rest of your body as well.
4. LuLuLun Daily Face Mask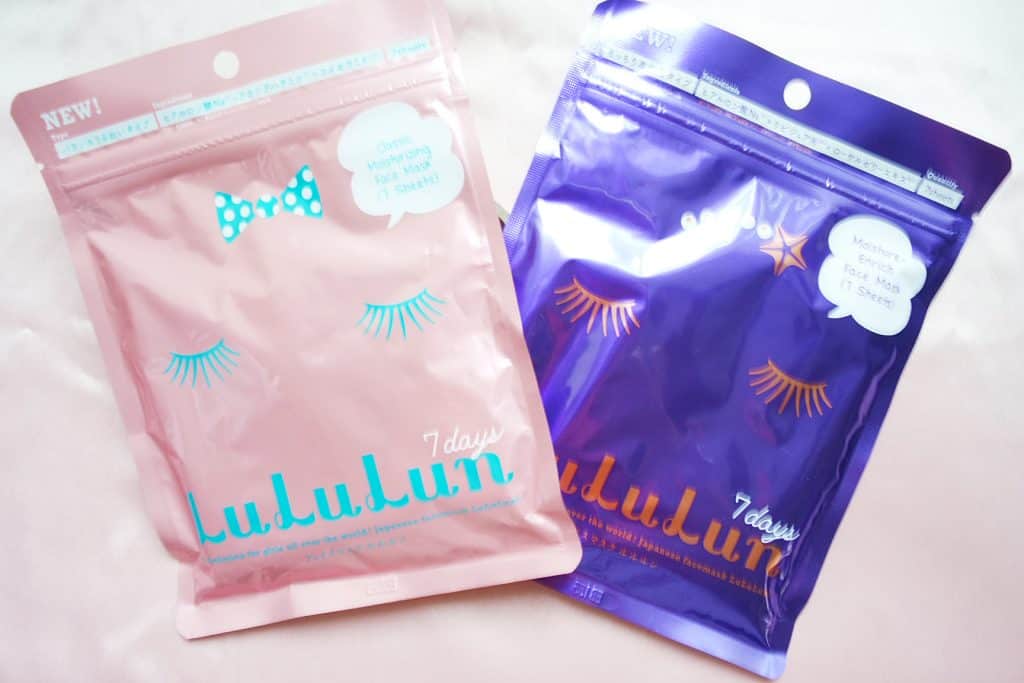 LuluLun is an everyday sheet mask that encourages even the busiest office-goers to pamper themselves daily.
Designed to get the job done in under 10 minutes, each pack contains 32 pieces that will easily last you for about a month and more. The mask also features a unique 3-layer structure for deeper penetration of ingredients.
LuluLun also offers other mask packs including LuLuLun Regular, LuLuLun Precious and LuLuLun Plus depending on your needs and skin goals.
Reviews talk about the great fit of the mask and many have made this a holy grail in their morning routine to help their makeup glide on smoothly. A little warning though: do close the lid properly to avoid the masks from drying out!
5. Garnier Hydrabomb Pomegranate Tissue Mask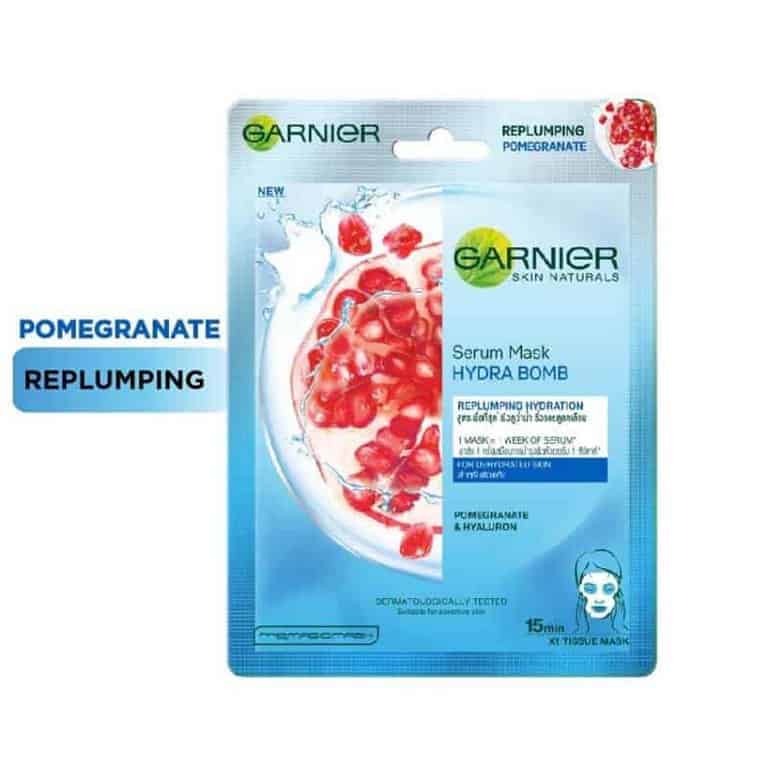 Designed to give you hydrated and supple skin, the Garnier Hydrabomb Pomegranate Tissue Mask is enriched with antioxidant-rich Pomegranate and moisturizing Hyaluronic Acid to give your skin a boost of instant moisture.
Claiming to provide more than 24 hours of lasting hydration after just one use, the mask is safe to use on sensitive skin. The best part is—it also helps to restore skin cells, preserve precious collagen resources and protect the skin against harmful UV damage!
Reviews talk about the cooling and refreshing feel of the mask. Customers like that it doesn't leave a greasy, sticky feeling on the skin and how it doesn't lead to unwanted flareups or irritation.
6. Mediheal N.M.F. Aquaring Ampoule Mask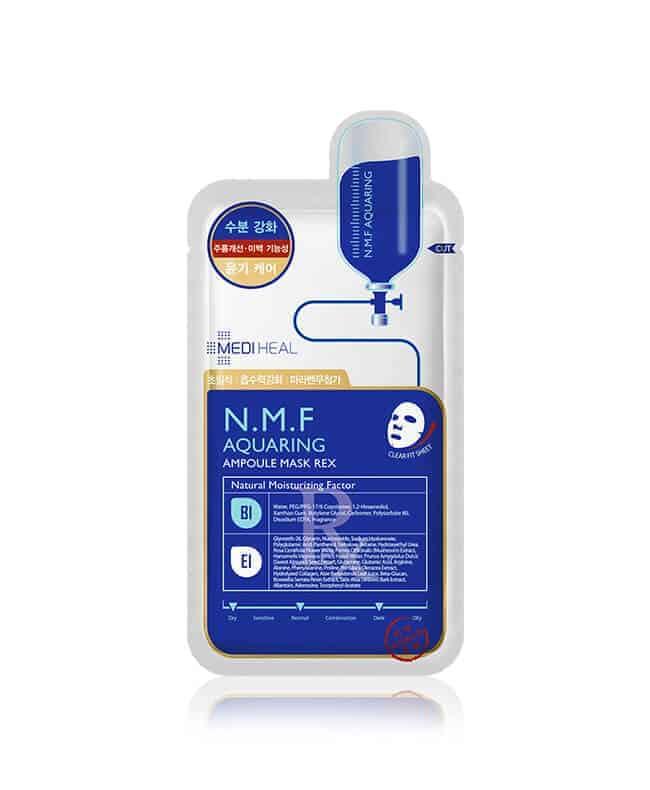 Working with top dermatologists, scientists and aestheticians to study and develop highly-effective skin solutions, the iconic Mediheal N.M.F. Aquaring Ampoule Mask is no different.
Using N.M.F (Natural Moisture Factor) to instantly provide moisture to the skin, it is a premium-quality mask that comes at an affordable price.
Containing ingredients like hyaluronic acid and ceramide that helps to seal in the skin's moisture, it also features witch hazel that simultaneously works to shrink the pores and control excess sebum.
Regardless of whether you have dry or oily skin, the mask adjusts accordingly to your skin's hydration needs and with long-term use, can solve allergies caused by dry skin.
Reviews talk about the great quality of the mask that leaves a dewy effect on the skin while reducing any redness.
7. Saborino Morning Facial Sheet Mask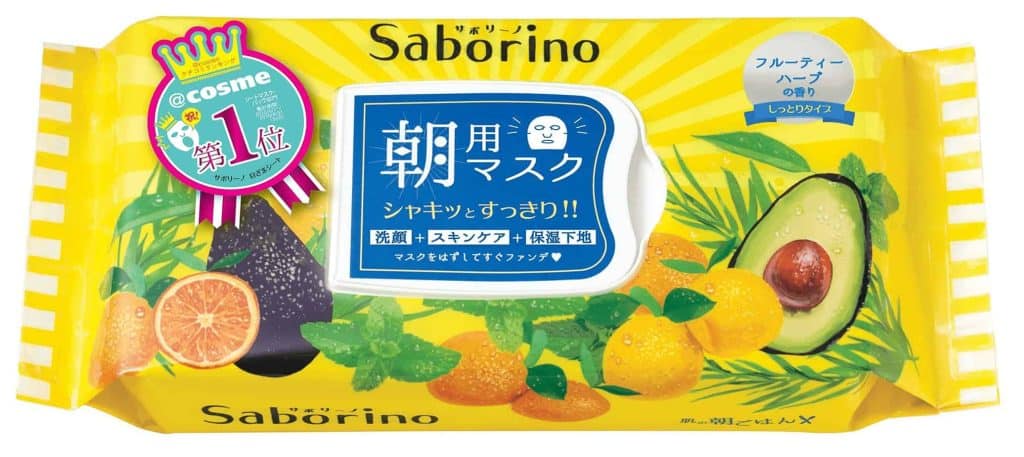 Developed by the BCL Girls' Development Lab, the sheet mask is developed in response to the need for busy individuals who find it hard to carve out time for a 12-step skincare routine.
Using 30 carefully selected ingredients, the lightweight yet durable 3-in-1 mask cleanses, hydrates and primes your face in just 60 seconds!
Featuring superfood ingredients such as avocado, grapefruit and organic herbs, every pack undergoes a strict and rigorous process to ensure each mask is loaded with serum and features a slightly larger cut mouth so that you can eat or brush your teeth while masking!
Reviews talk about the innovative and pretty packaging and how fuss-free it is to apply. Many customers actually look forward to starting their mornings with Saborino!
8. Origins Drink Up™ Intensive Overnight Hydrating Mask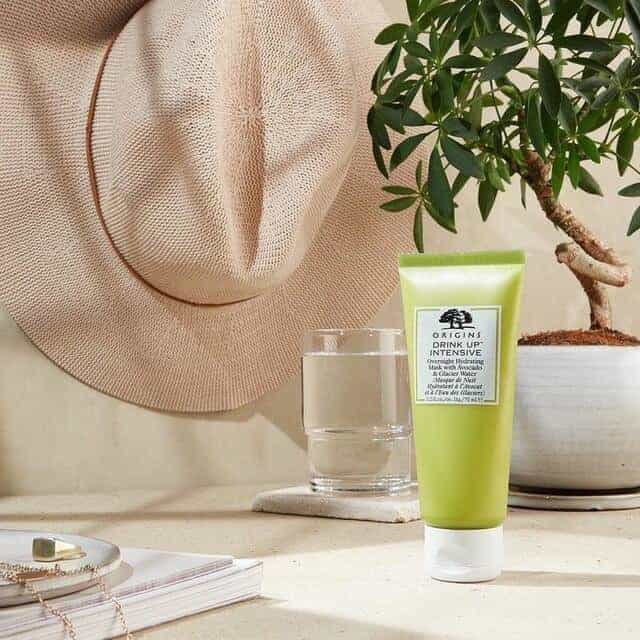 Due to poor lifestyle habits such as pulling all-nighters, smoking and bingeing on fast food, our skin starts to lose its moisture—resulting in fine lines and wrinkles and a dull and tired appearance.
To combat all that, Origins' ultra-moisturizing sleeping mask offers up to 72-hours of hydration to restore your skin's moisture reserves and replenish parched, dehydrated skin.
Featuring key ingredients including glacier water, niacinamide, hyaluronic acid and avocado butter, wake up to extra plump and smooth skin! Because it is a sleeping mask, simply apply and tissue off any excess before going to bed.
Reviews talk about the great texture of the mask that glides on the skin effortlessly. Many customers have used this mask for years and continue to swear by this product!
9. Papa Recipe Bombee Black Honey Mask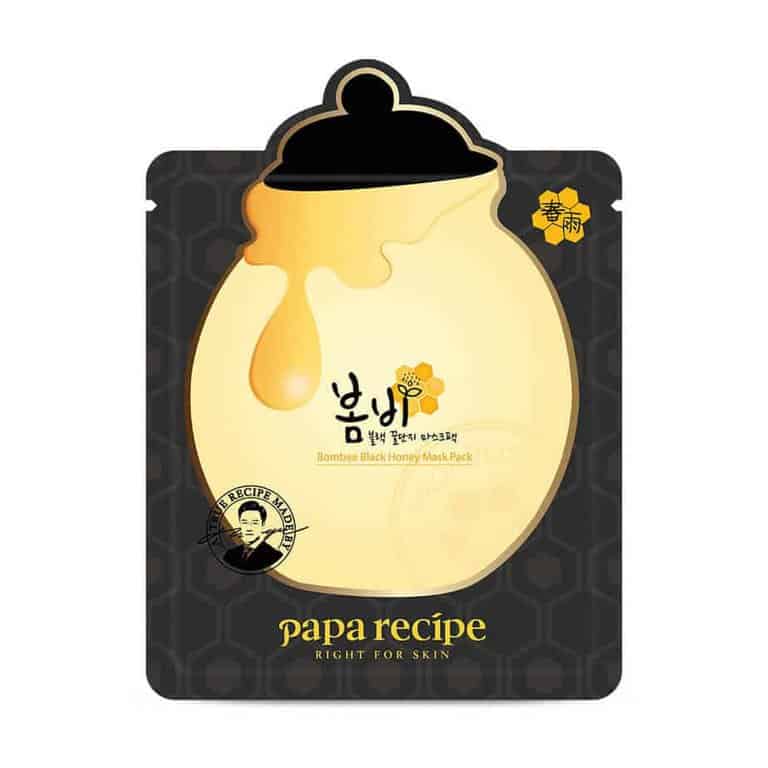 Papa Recipe believes that the answer to good products can be found in nature and not so much in an office or laboratory.
Constantly exploring places to find good raw ingredients to work with, the Bombee Black Honey Mask is one of its signature products that contains propolis and manuka honey from New Zealand to give your skin a beautiful honey-like gloss.
Made with Papa Recipe's Gold Complex formula, the mask helps to remove dirt and impurities from your skin while simultaneously infusing it with moisture.
Reviews talk about the noticeable effects on the skin after a single use and its sweet vanilla/honey scent. Those with acne-prone or sensitive skin have also seen improvements after using this mask.
10. Pixi Glow Mud Mask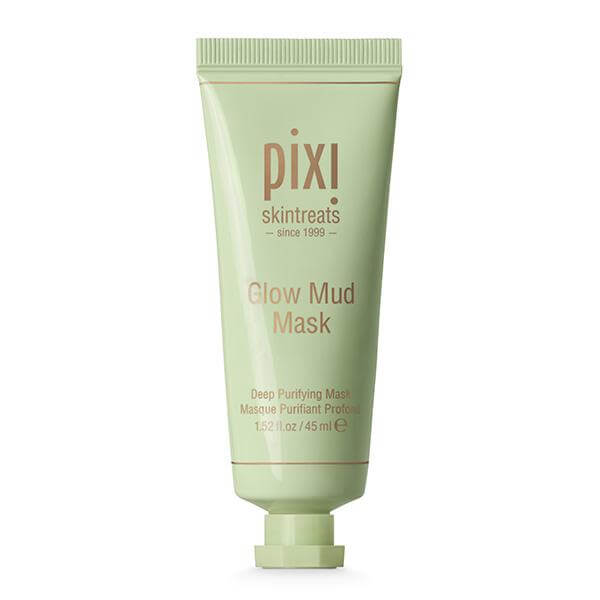 Pixi is best-known for its glow series which has earned itself a loyal worldwide following, including the best-selling Glow Mud Mask.
Containing key ingredients such as kaolin clay, mud, and citrus, it is a mineral-rich treatment that absorbs oil, draws out impurities, fights breakouts, and revitalizes your skin. to your complexion.
Other ingredients such as rosemary, ginseng and jojoba come in to help brighten and give dull skin a healthy glow from within.
Reviews talk about the smooth texture of the mask that is easy to work with and how it is effective in absorbing excess oil. Customers have also reported immediate results after one use and how it has helped minimize the appearance of their pores.
11. Glow Recipe Watermelon Glow Sleeping Mask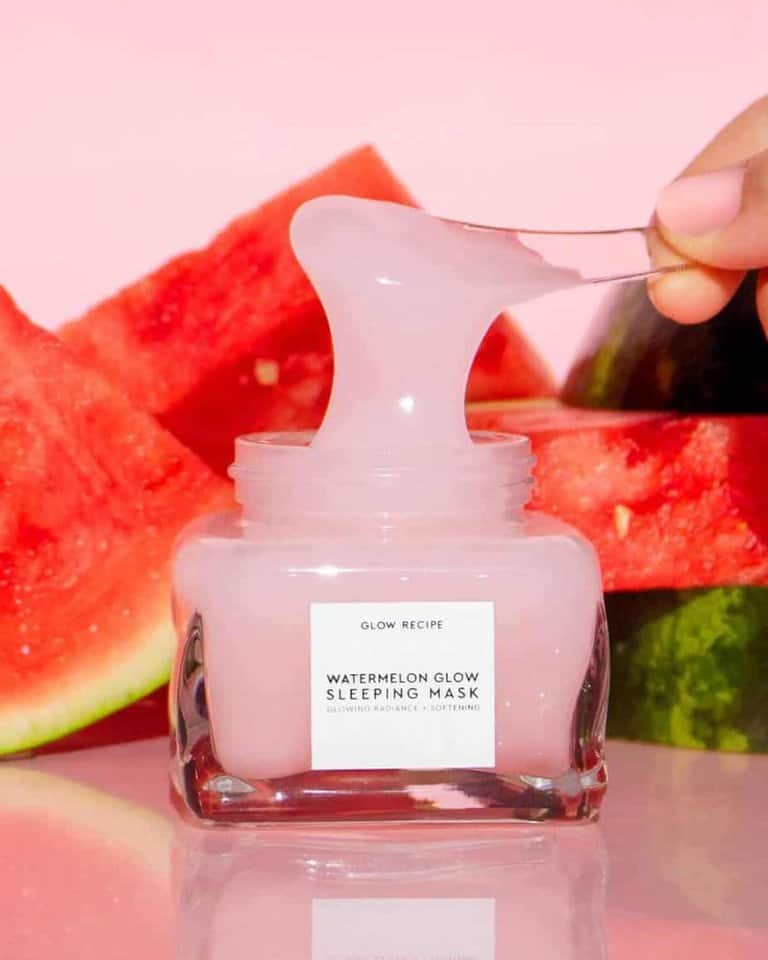 The Watermelon Glow Sleeping Mask is a soothing overnight mask that is packed with watermelon, hyaluronic acid, and AHA's to hydrate, smooth and reveal healthy, glowing skin.
According to an independent consumer study of 32 women aged 21 to 73, 90% of participants reported that their skin felt more hydrated immediately after application. After 4 weeks, 96% of women agreed that their skin appeared more radiant and felt more bouncy.
Reviews talk about the attractive colour, scent and packaging of the mask, and many love the jelly texture of the mask that enhances the pampering experience. There are lots of comments regarding the mask peeling off through the night—should that happen, consider using it as a wash-off mask instead.
12. Tatcha Luminous Dewy Skin Mask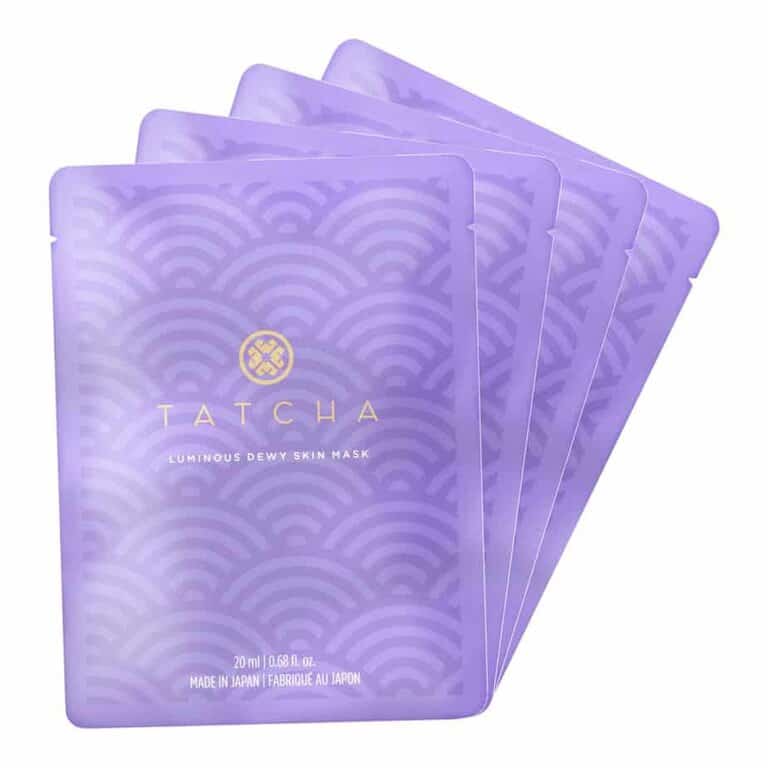 Inspired by classic Japanese beauty techniques and rituals, Tatcha products contain a formula of nourishing ingredients such as green tea, rice and algae which quickly activates upon coming into contact with the skin.
Each sheet mask contains 20ml of hydrating serum and a blend of lightweight rice germ oil and botanical oils and extracts to leave your skin feeling velvety smooth and luminous throughout the day.
Reviews talk about how cooling and luxurious the mask feels on the skin and how it has helped with brightening and hydration. Because of its high price point, most customers prefer saving it for monthly spa sessions at home.
Tip: make sure to save the excess serum and apply it to the rest of your neck and body to get the best bang for your buck!
13. Aztec Secret Indian Healing Clay
Aztec Secret Indian Healing Clay claims to be the world's most powerful facial made with 100% natural calcium bentonite clay sourced all the way from Death Valley, California.
A versatile product whose main function is to remove dirt and impurities from your pores, it offers a deep cleanse and can even be used as a foot soak, clay bath or body wrap.
Perfect for those with acne and blemishes, it is recommended as a facial mask that is left on the skin for 5 to 10 minutes; however, can be harsh and drying for those with delicate skin. A 1 lb tub should give you roughly 10 to 15 uses.
The mask does require some preparation and can be messy during the clean up if it's your first time using it, but reviews talk about how this mask has worked miracles for their skin and how is works well with the addition of apple cider vinegar. Customers also love the tightening and pulsating effect while wearing the mask and have seen a drastic improvement in their breakouts.
14. Dr. Jart+ Cryo Rubber ™ with Moisturizing Hyaluronic Acid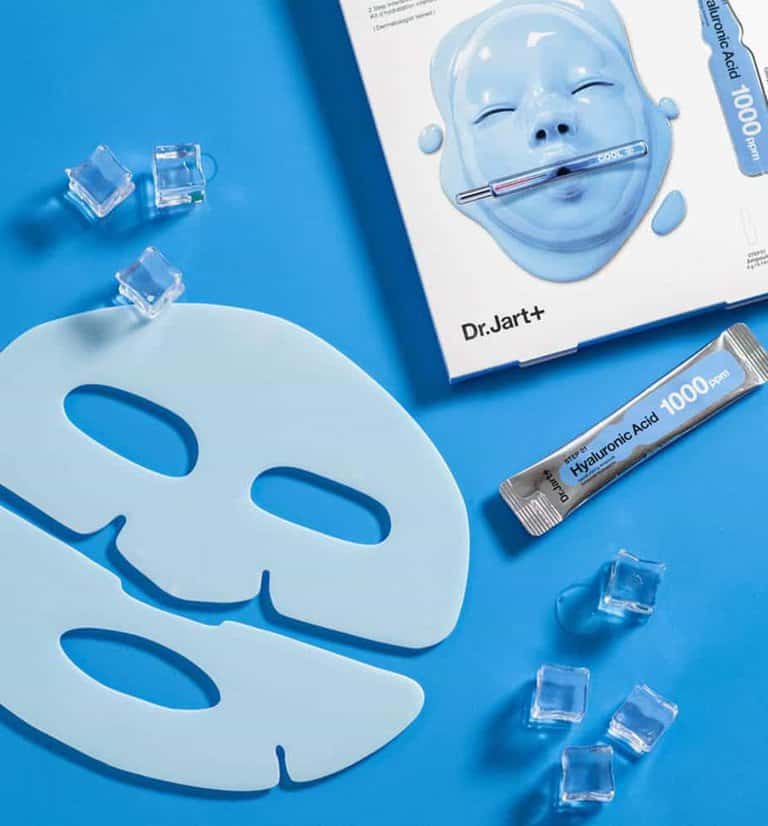 The innovative Cryo Rubber™ mask is a two-step facial mask that features a highly concentrated moisturizing ampoule and cooling rubber mask.
Inspired by cryotherapy, it works to lower the skin's temperature so as to reset the skin back to a healthy state.
Key ingredients include collagen, hyaluronic acid and vitamin C to target dryness, redness and dark spots. The ampoules contain a prebiotic complex that helps to balance the skin and boost blood circulation while the mask works to enhance delivery of the ingredients and cool the skin.
First, apply the ampoule after cleansing and toning your face before popping on the face mask for 30 to 40 minutes.
Reviews talk about the intense hydration of the mask and how it has helped to firm and tone the skin. Some customers have mentioned that the mask easily slips off the face, but it is also one of most fun and unique masks they have ever tried!
15. Herbivore Botanicals Blue Tansy Invisible Pores Resurfacing Clarity Mask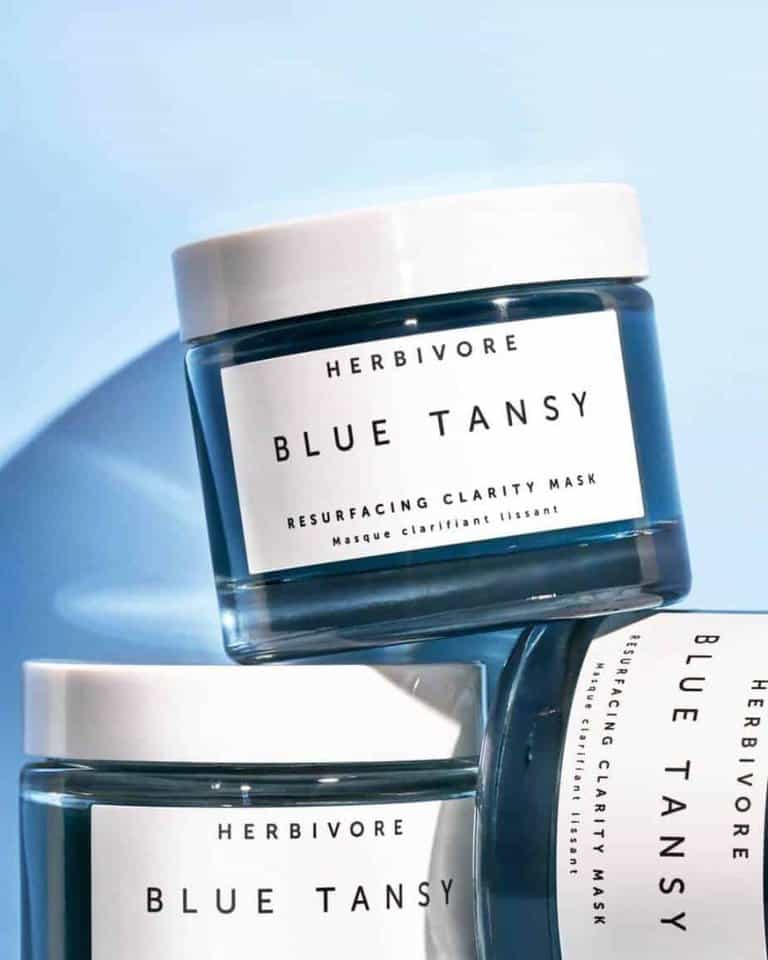 Herbivore believes in using only the finest ingredients to develop 100% all-natural products.
Each ingredient is meant to serve a specific therapeutic purpose, in which this case: natural alpha hydroxy acids (AHAs) such as papaya and pineapple to exfoliate and get rid dead skin cells, and natural beta hydroxy acids (BHAs) like white willow bark to unclog and clear the pores.
Another key ingredient is blue tansy oil—naturally high in Azulene, it works to get rid of any redness and soothe dry, irritated skin.
With its striking blue colour, the resurfacing mask is a powerful anti-inflammatory that leaves skin feeling clean, soft and supple with continual use.
Reviews talk about how it works well for clearing the skin and smoothening out the skin's texture. The smell can be too strong and off-putting for some, and it is important to follow the instructions to avoid unwanted redness and get the best results.
16. Laneige Lip Sleeping Mask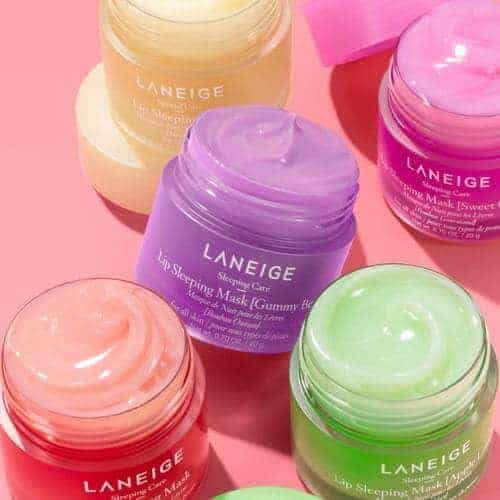 Because your lips need pampering too—the Laneige Lip Sleeping mask is the perfect treat for soft and supple lips!
Developed with the patented Moisture Wrap™ technology, the mask helps to retain moisture and lock-in active ingredients while the Berry Mix Complex™ works to gently slough away dead skin cells. The mask does contain fragrance, so those who are sensitive should be careful to avoid irritation.
Featuring 4 exciting flavours: Berry, Grapefruit, Apple Lime and Vanilla, reviews talk about the delicious, sweet scent that feels great on the lips. Many customers recommend applying it a few hours before bedtime to maximize absorption. If you are a huge fan of the Laneige Water Sleeping Mask, you will love this product too.
Conclusion
Do you have any reviews and comments to share regarding our choices for the best face mask in Singapore?
If you are on the hunt for more products to supercharge your skincare routine, make sure you check out the 10 best face wash in Singapore!
While SBO is committed to supporting our local businesses, we welcome any feedback and anonymous sharing regarding your experience with the listed face mask in Singapore.
We hope that this guide will be useful in helping you to make an informed decision when it comes to finding the best face mask in Singapore.
Explore More Content