10 Best Construction Company in Singapore for Construction Works [2021]
Find the best construction company in Singapore to carry out construction works.
Services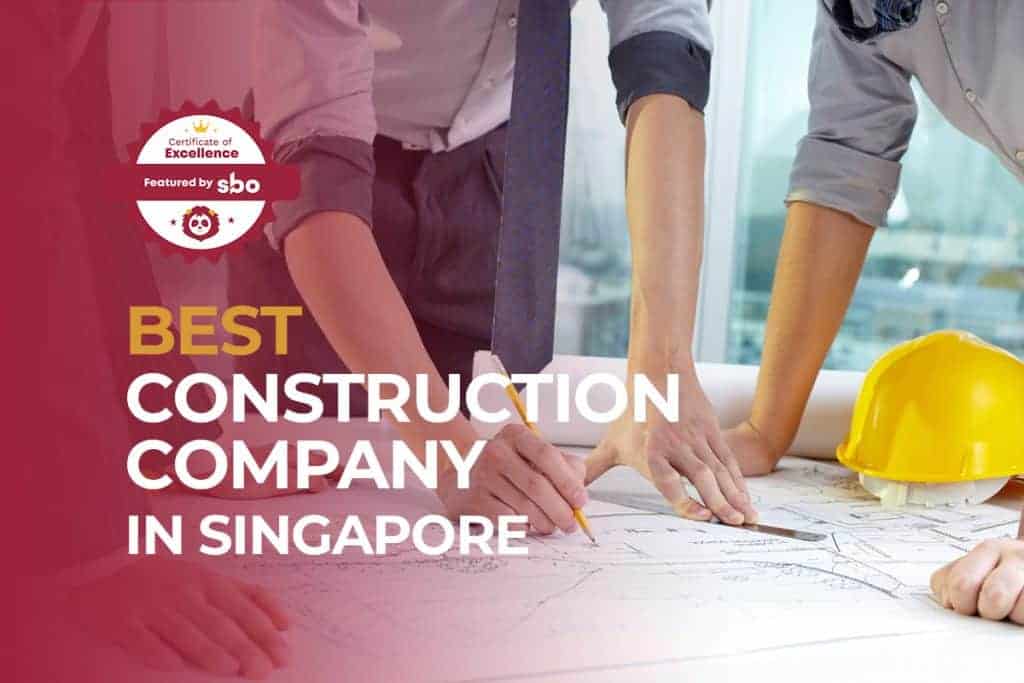 Our team at SBO.sg is committed to being a one-stop avenue to connect local businesses and consumers. We hope that our research efforts can help you save time and money by finding you the best deals without having to search around the vast world-wide-web.
Construction contracts for the built environment sector are expected to grow to between $23 billion and $28 billion in 2021, as the sector recovers from the impact of the Covid-19 pandemic, says National Development Minister Desmond Lee.
Looking for a construction company in Singapore for your construction projects? Our advice: Look beyond superficial factors such as the competitiveness of the bid, and consider factors like work quality to ensure that your project is value-for-money.
In this post, we've gathered all the necessary details to compile a list of the 10 best construction company in Singapore for your construction projects.
1. CPC Construction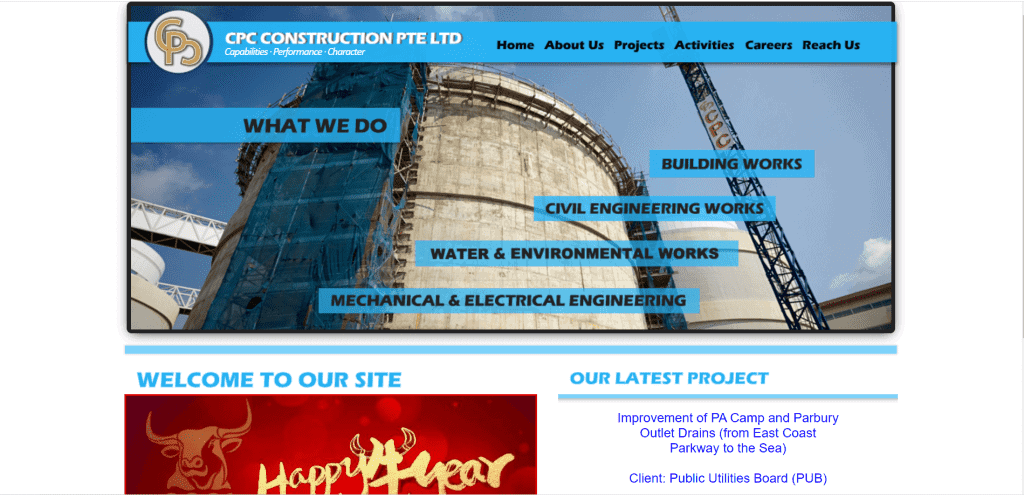 CPC Construction Pte Ltd is a building & civil construction company incorporated in The Republic of Singapore on 11th September 2007. The construction company in Singapore provides competitive yet reasonable quotations to all clients.
Today, the company is registered with the Building Construction Authority of Singapore as a B2 building (CW01) and B1 for civil engineering (CW02) contracting company. They are qualified to tender for both public and private sector contracts.
The company commits to achieve a high standard of quality, health, safety and environment – they are ISO 9001:2015, OHSAS18001:2007 & ISO14001:2015 certified.
They were also acknowledged as a bizSAFE Partner on 3 January 2015 by WSH Council and are a partner of the bizSAFE Community.
Some of their past completed projects include the Phase II Expansion of Changi Water Reclamation Plant – Wet Weather Facility for Koh Brothers Building & Civil Engineering Contractor (Pte.) Ltd, and The Redevelopment Of Changi Prison Complex (Prison Headquarters) for Precise Development Private Limited.
2. Swee Builders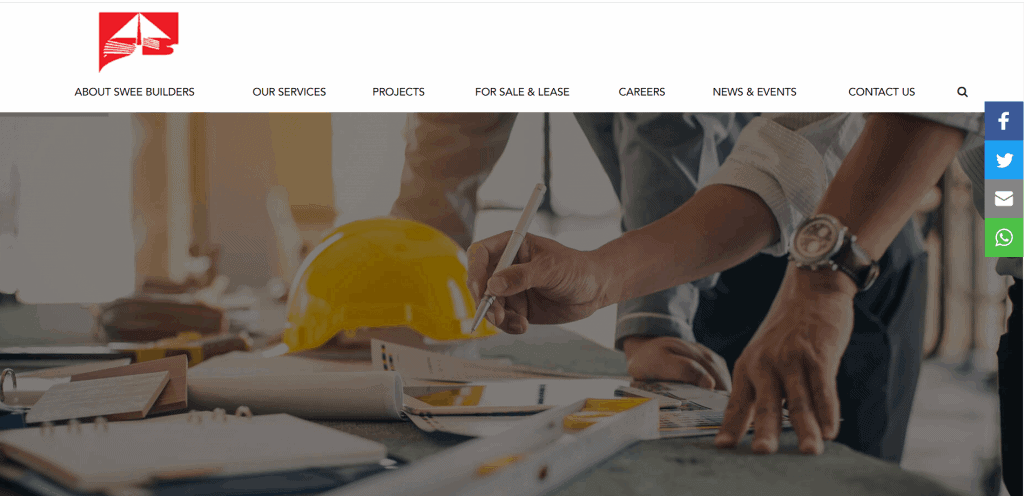 Swee Builders is a multidisciplinary engineering firm that offers fully integrated services for civil engineering and infrastructure construction, building construction, oil and gas related infrastructure for petrochemical plants, biological plants, manufacturing plants as well as commissioning of new industry facilities.
They are registered with the Building and Construction Authority in the areas of general building, civil engineering, mechanical engineering, concrete repair, cable and pipe laying, road reinstatement, demolition and landscaping works.
For nearly two decades, they have provided design and build expertise to leading players in the pharmaceutical, oil and gas sectors, construction and civil engineering projects within the public and private sectors.
Their clientele includes multinational corporations such as Glaxo SmithKline (GSK), Chevron Corporation, Dragages Singapore, Bayer, Mead Johnson, MSD Pharma, Jacobs Engineering etc.
Within the public sector, they have completed projects for Public Utilities Board, Land Transport Authority, Housing Development Board, National Parks Board, Jurong Town Corporation, Immigration and Checkpoints Authority, Defence Science and Technology Agency.
3. KTC Group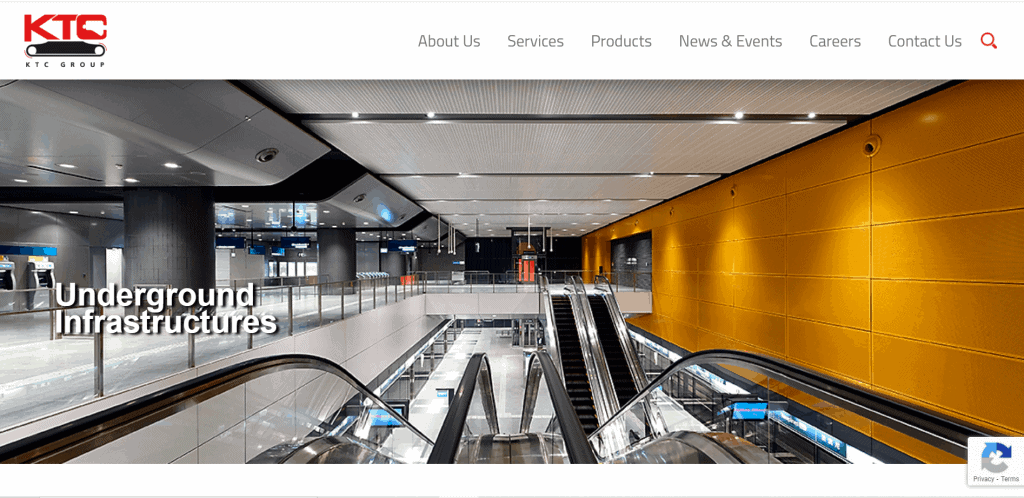 The Civil & Infrastructure segment of KTC Group essentially operates under their flagship company – KTC Civil Engineering & Construction Pte Ltd.
After their successful venture in Marina Bay Sands Integrated Resort, the construction company in Singapore embarked on numerous civil and infrastructure projects which included the construction of Tampines Central Station for Downtown Line 3 and a Bus Depot at Bulim.
Both projects were awarded by the Land Transport Authority and were completed in 2017 and 2015 respectively.
Their earthwork operation, started in 1988 under Kok Tong Construction Pte Ltd, encompasses deep/bulk excavation works and earth transportation.
Having spent almost thirty years in this field, they are recognized as one of the largest earthwork contractors in Singapore owning a mammoth fleet of machinery and tipper trucks.
4. Soilbuild Construction Group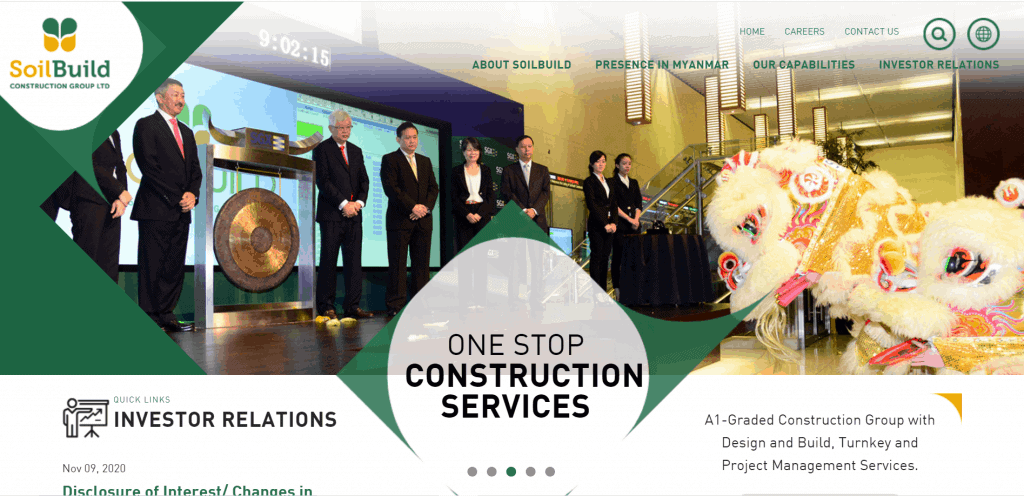 Since Soilbuild's inception in 1976 as a construction company in Singapore, they have handled a wide range of construction projects, in the private and public sectors.
In order to provide better support and value added services, they have expanded their services to include civil engineering, design & build contract services, turnkey construction, project services and project management services.
Soilbuild is A1-graded under CW01 (General Building) and A2-graded under CW02 (Civil Engineering) by the Singapore's Building and Construction Authority.
The A1 grading under CW01 allows them to tender for public sector projects in Singapore of unlimited contract value, while the A2 grading under CW02 allows them to tender for public sector civil engineering projects valued up to S$90.0 million.
In FY2019, the Group secured five new construction contracts in Singapore with an aggregate value of S$317.8 million. The new secured construction contracts include general industrial factory developments at Tai Seng Avenue, Tuas Bay Drive, Tuas Bay Close, Jalan Lam Huat Plot B and Corporation Drive.
5. Kimly Construction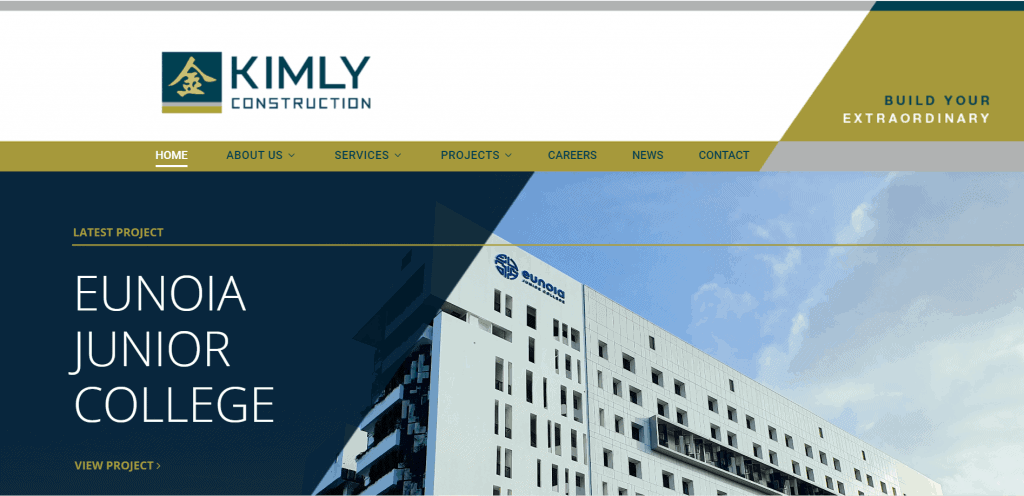 Kimly Construction was founded in 1965 as a construction company in Singapore and first started out by carrying out Alteration & Addition (A&A) works managed by the Singapore Public Works Department (PWD).
They quickly built a reputation of doing good quality work with integrity, which led Kimly to be awarded numerous contracts from the PWD. Kimly Construction Pte Ltd was incorporated in 1975.
Building on their initial success, Kimly ventured into larger building projects in the 1980s. These ranged from public projects for PWD, Jurong Town Corporation (JTC), Ministry of Defence (MINDEF) and Ministry of Education (MOE), to other private residential and industrial projects.
In 2010, Kimly became one of the local pioneers of Building Information Modelling (BIM) with The Vermont as its pilot project. BIM, in essence, is the creation and use of a digital 3D model to represent physical and functional characteristics of a construction project, providing greater clarity before construction starts, as well as throughout the project lifecycle.
Today, Kimly is one of the most progressive builders in Singapore. They house an array of technical expertise including civil, structural and service engineers, as well as planners and cost estimators.
Recent awards clinched include BCA Construction Productivity Awards (Projects) – Gold (Signature at Yishun), BCA Construction Productivity Awards (Advocates) – Gold Plus and RoSPA Health & Safety Awards 2019 – Gold (Centrium Square).
6. V3 Construction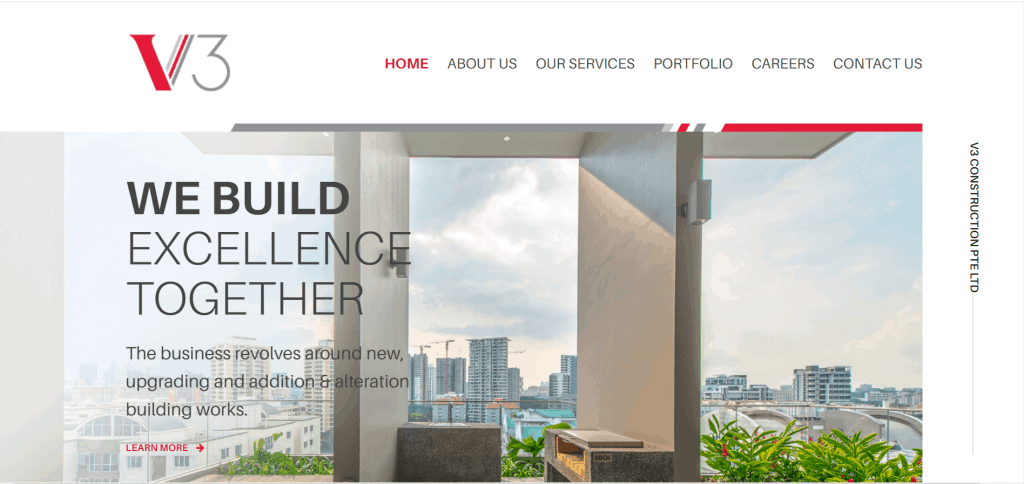 V3 Construction Pte Ltd was established in 1984 as a general building contractor. Founded by its Director, Mr Michael Yap, V3 has grown from a small construction firm to an established construction company in Singapore.
The company is a CW01-A2 registered contractor and licensed builder with Building and Construction Authority. Its capabilities include construction expertise in Residential, Hospitality, Institutional, Commercial and Industrial projects.
Their past projects comprise a mix of residential and non-residential properties, such as [email protected] Pagar, Watercove, Regent, Sime Darby and Woodsville.
Committed to delivering safe projects of quality, they have obtained certifications including ISO 9001:2008 Quality Management System in 1999, Systems OHSMS 18001: 2007 Occupational Health & Safety Management in 2006, bizSAFE star in 2009 and ISO 14001: 2004 Environment Management Systems in 2010.
7. Meida Construction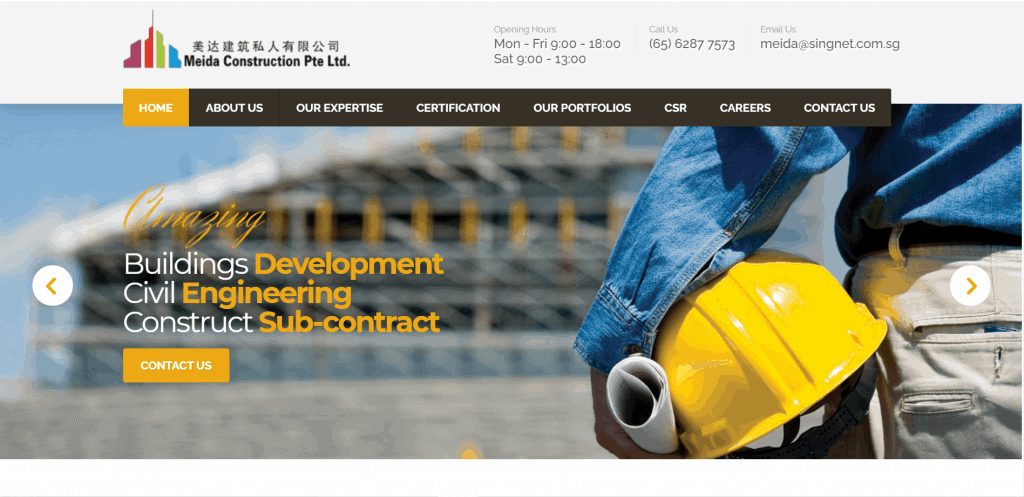 Media Construction was established as a construction company in Singapore on 1st October 2008 by Mr. Jason Ng, a young, energetic and dynamic entrepreneur with a humble beginning. The company started with handling small subcontract works and slowly gained its experience to undertake bigger projects of higher complexity.
The primary area of activity is building construction. The Company's experience includes a mix of both public and private residential, industrial, civil engineering / infrastructure, upgrading as well as Additions and Alternations projects.
Clientele are varied and include both public and private sector investors. Many are repeat clients, with whom the Company has established a solid business relationship.
Their competitive advantage lies in their ability to execute construction projects on a timely and reliable basis, including large-scale projects. An experienced management team, in-house design capabilities and large labour force have allowed them to build a strong reputation in the local construction industry.
As a testament of their commitment to service and quality, the construction company in Singapore has received a number of awards and certifications over the years. These include BizSafe STAR, ISO 9001:2015, ISO 14001:2015, SS506: PART1: 2009, BS OHSAS 18001:2007, GREEN & RACIOUS Builder and so on.
8. SHINGDA Construction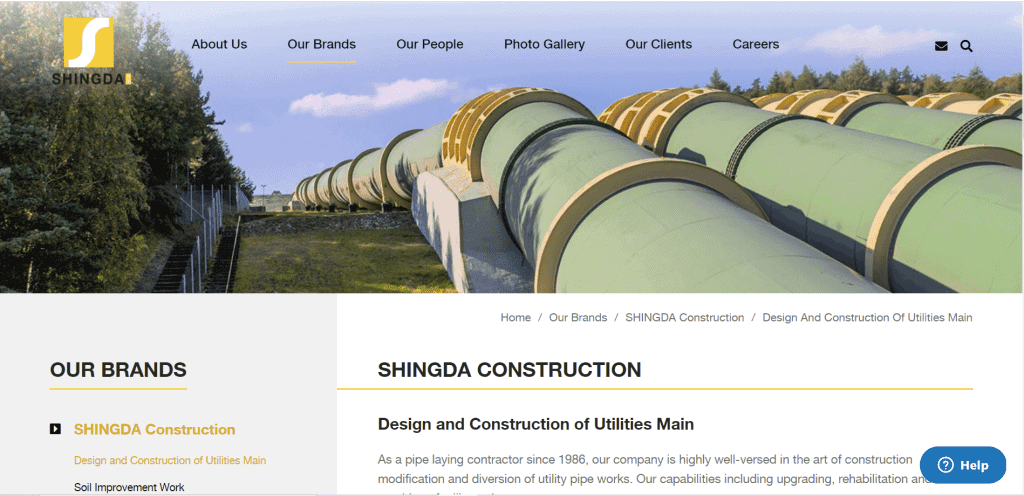 As a pipe laying contractor since 1986, SHINGDA Construction is highly well-versed in the art of construction modification and diversion of utility pipe works. Their capabilities including upgrading, rehabilitation and repairing of utility mains.
Their key products and services include:
Conceptual Design of Pipeline
Fabrication of Mild Steel Pipes & Fittings
Pipe Laying using Open Cut Method
Pipe Jacking Works
Pipe Bridge
Hydrostatic Pressure Testing
SHINGDA also provides turn-key soil improvement solutions required for extensive ground works such as open excavation and deep shaft constructions.
They are registered with BCA for Licensed Builder under SB (GS) – Specialist Builder (Ground Support and Stabilisation Works) among other categories.
9. Lea Keong Mechanical & Engineering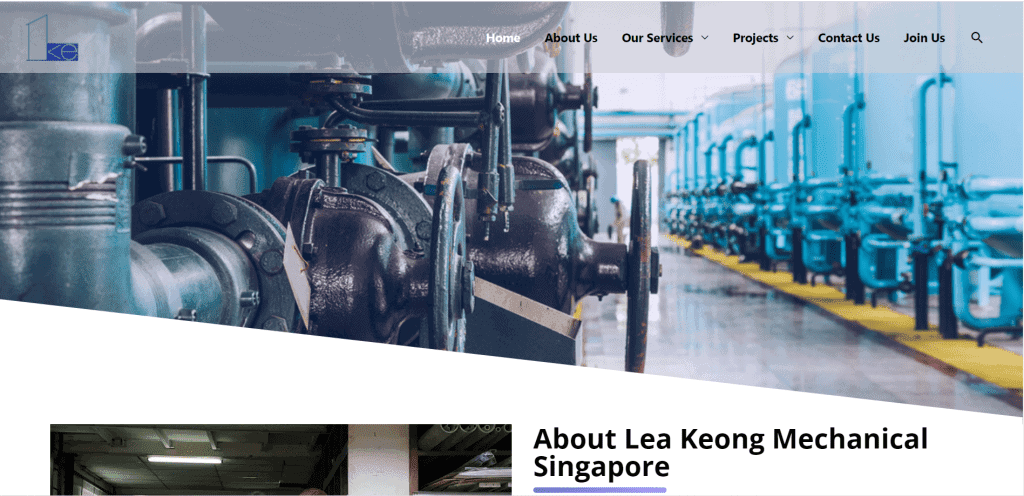 Lea Keong Mechanical & Engineering (LKME) was established as a partnership in June 1979, It was later incorporated as a Private Limited Company in the year 1988.
The construction company in Singapore provides quality and reliable engineering and construction services for clients in the fields of Semiconductor, Pharmaceutical, High Tech Industry and Fine Chemicals.
They pride themselves in establishing and maintaining excellent customer-supplier relationship, also continually taking the challenges of technological innovation and offering the best services to their customers.
10. BHCC Construction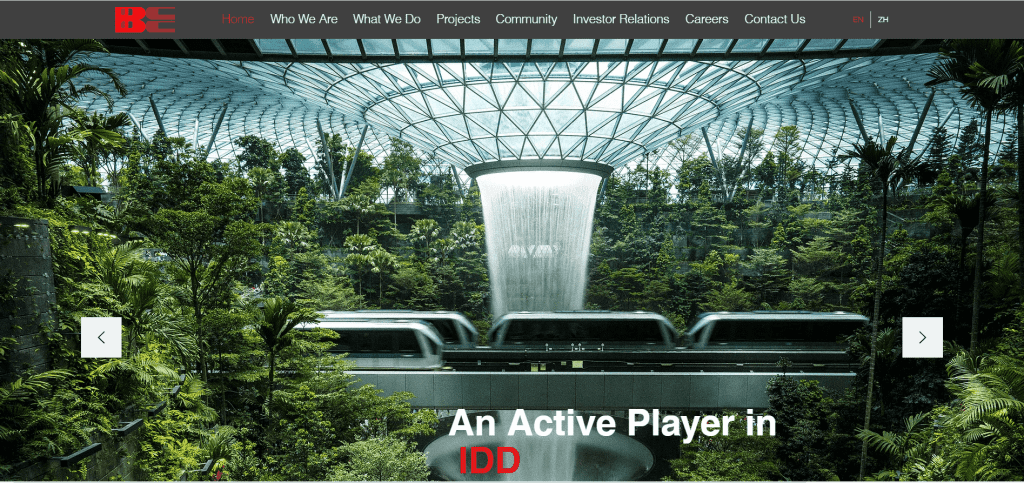 BHCC is a home-grown Singapore building service provider and is principally engaged in the business of construction services.
Since its establishment in 2003 as a construction company in Singapore, BHCC's growth has resulted in its expanding presence with projects island-wide.
For over a decade, clients have trusted BHCC to successfully, ethically and safely complete their projects, providing innovative and integrated solutions to government and private sector clients across diverse industries.
Our 400 employees serve a range of developments, including commercial, hospitality, industrial, transport, healthcare and residential properties.
Some of their past construction projects include 6 Derbyshire for Fantasia Novena Private Limited, Dawson C6 & C7 for the Housing and Development Board, and the Integrated Care Hub for the Ministry of Health.
Conclusion
Do you have any reviews and comments to share regarding our choices for the best construction company in Singapore?
While SBO is committed to supporting our local businesses, we welcome any feedback and anonymous sharing regarding your experience with the listed construction company in Singapore.
We hope that this guide will be useful in helping you to make an informed decision when it comes to finding the best construction company in Singapore.