10 Best Business Directory in Singapore to Look Up to [2023]
Business directories today meet modern needs - whether that's to find local businesses or for marketing purposes!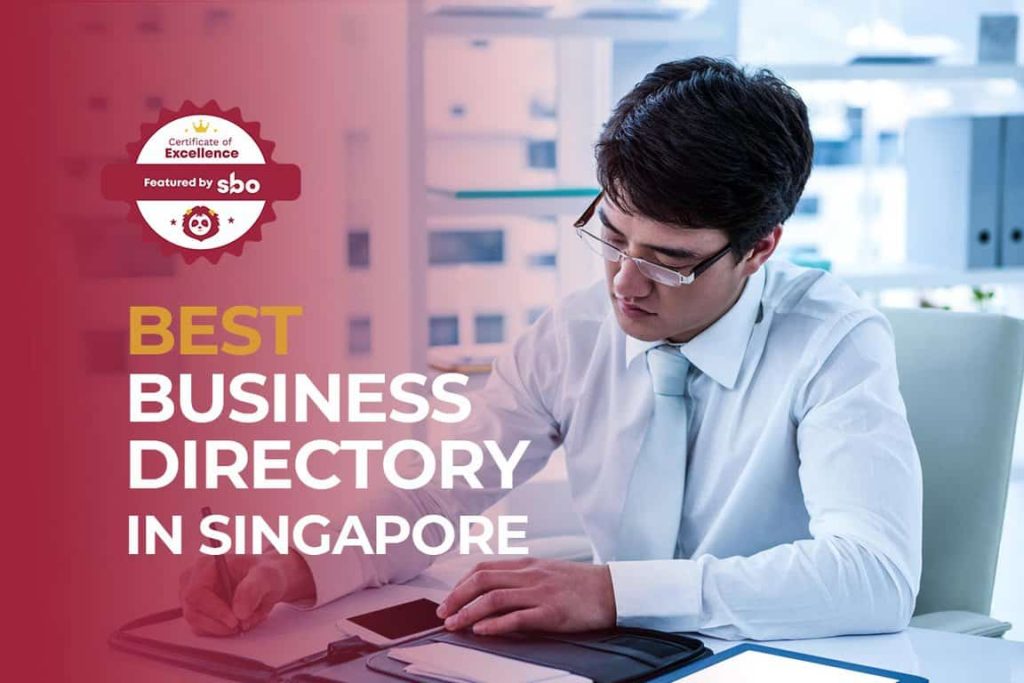 Got a business you want to look up, or a site where you can list yours?
A business directory is an ideal solution to do so. Available either in print or as a website, it usually contains information on different businesses listed in niche categories.
Business directories have shifted from print to digital – one good example is that of the Yellow Pages. The thick yellow book every household used to have is no more, and in its place stands a website instead.
Here are the 10 best business directory in Singapore to check out!
1. Yellow Pages
Possibly the most famous business directory, the Yellow Pages was characterised by its iconic yellow book. Its first version was published in 1962, nearly 6 decades ago.
It shut down its print platform back in 2017 and shifted its business online to become a digital search company. Today, it connects you to more than 150,000 local businesses on its website.
In addition, the Yellow Pages has expanded its digital offerings to include a comprehensive range of digital solutions that cover web design, Search Engine Optimisation (SEO), database management and more.
Businesses can even list their products and services on their new Marketplace category to promote them to potential customers.
2. Streetdirectory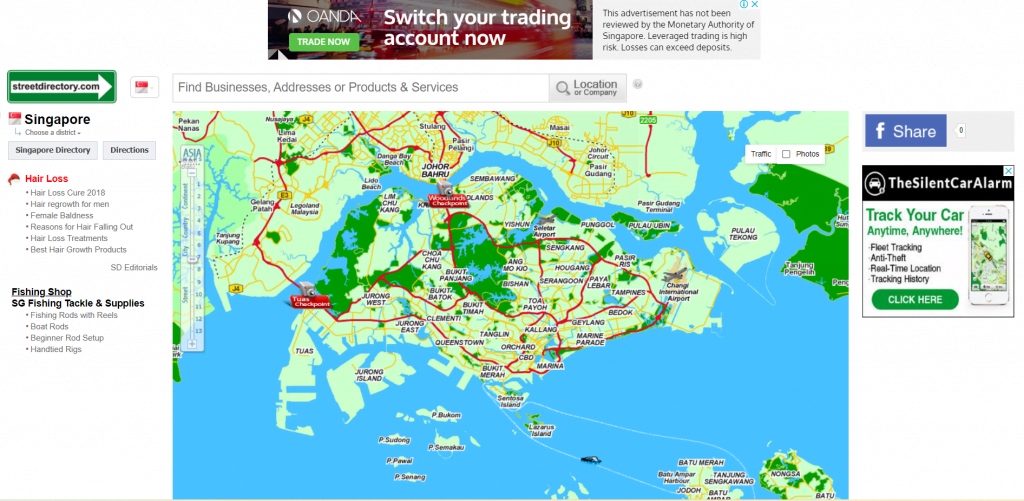 At first glance, Streetdirectory is as simple and straightforward as it gets.
It has retained its iconic look throughout its years of operations that is easily identifiable and discernable. It specialises in:
Offline directory advertising
Vehicle tracking services in both Singapore and Malaysia
According to the website, it's frequented by more than 3 million users with half a million downloads.
3. Angloinfo Singapore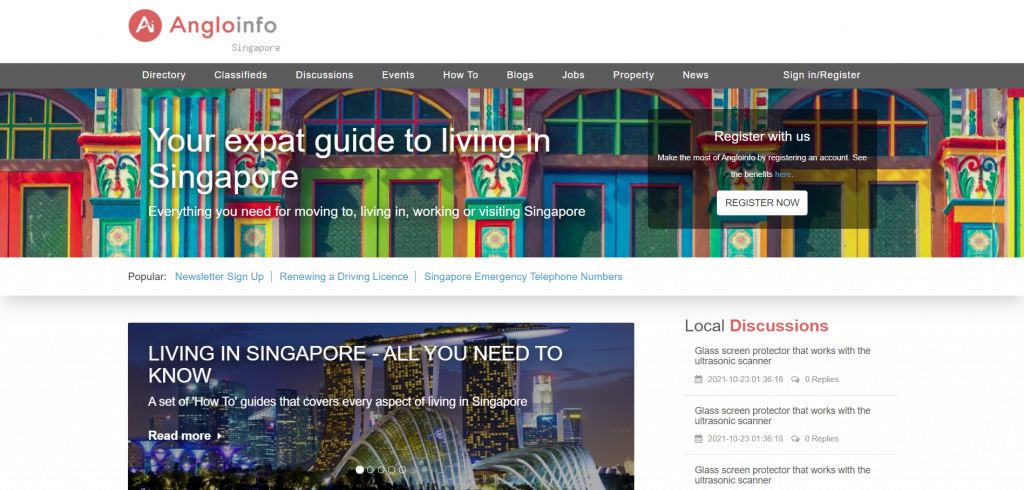 Angloinfo describes itself as the world's biggest network of websites for people who speak English and are shifting or are already living overseas.
It aims to support expats' needs no matter where they are. Made of a team of people who are, or were once expats, Angloinfo knows the highs and lows of being one. It strives to make the expat life easier with a handy business directory, how-to guides, forums, jobs and more.
It boasts an impressive number of 130 websites worldwide with two million monthly visitors, eight million monthly pageviews, and 500,000 registered users.
4. Yelu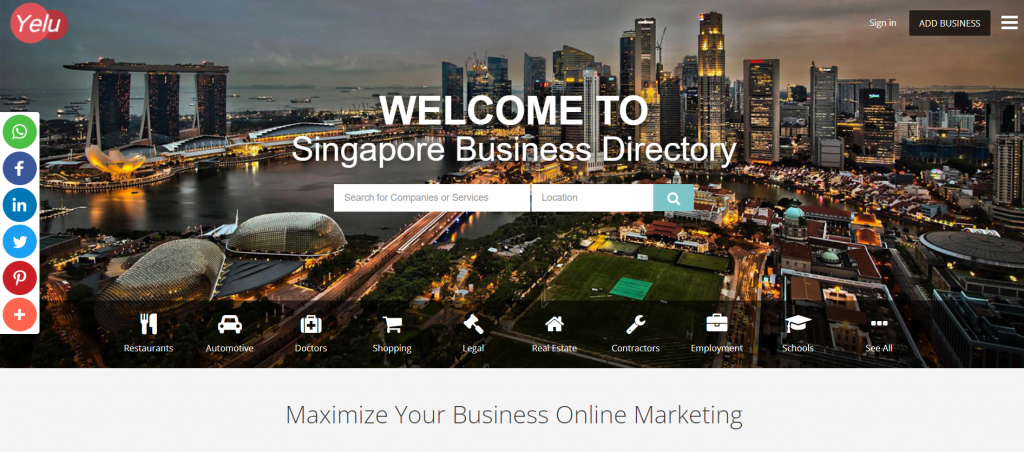 Yelu is a business directory that helps you boost your company's online marketing efforts. It helps you to get new customers, create more traffic, and increase social media shares.
Other than business listings, it also supplies information for the Singapore Pools betting results, jobs in Singapore, real estate, public holidays, and even a live COVID-19 tracker.
Its database currently consists of nearly 300,000 companies with more than 13,000 photos. Its global network includes a vast number of other countries, making 128 in total and a staggering 22 million listings combined.
5. Times Business Directory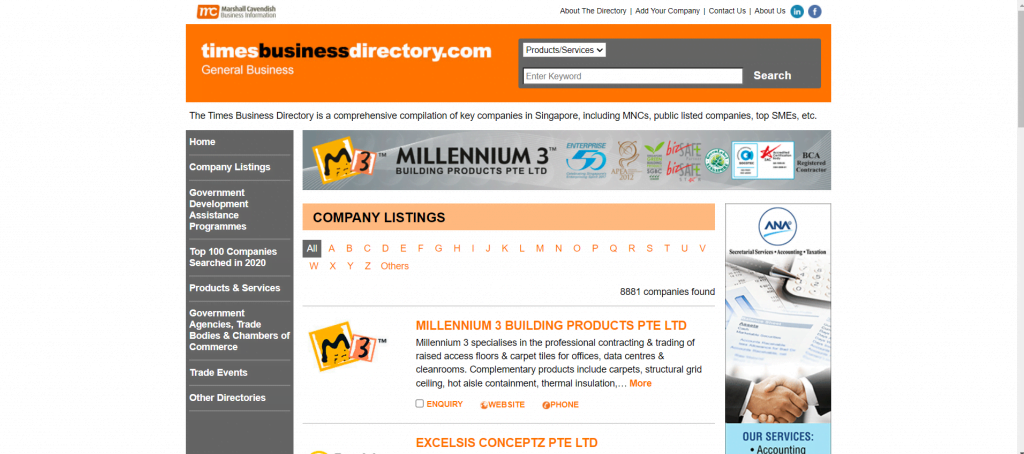 Times Business Directory operates under Times Publishing Group which is one of Asia's biggest conglomerates in the print and publishing industry.
Every year, they publish more than 30 trade directories to support businesses in their networking and growth. These directories are available in both print and digital formats, disseminated within its large 100,000-member network.
The Times Business Directory consists of leading companies in Singapore, including the top SMEs, MNCs and public listed firms.
6. Singapore Business Directory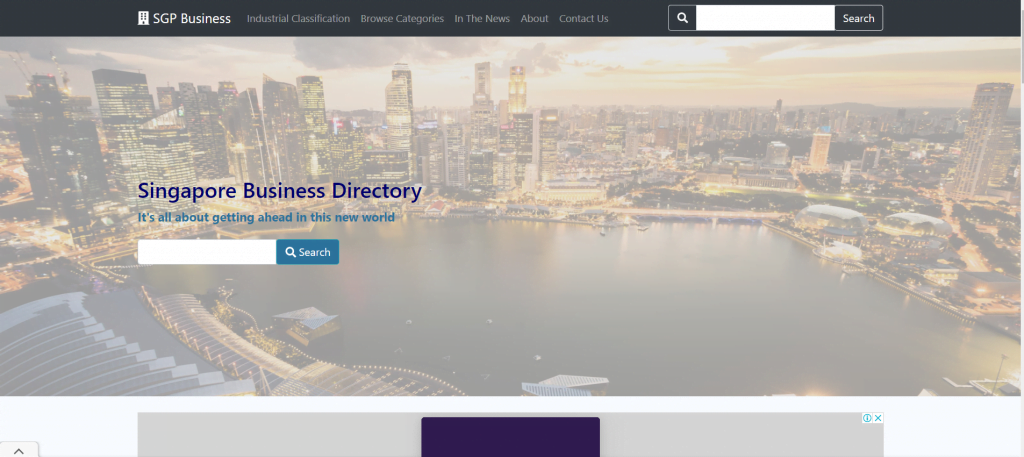 Singapore Business Directory started out as a simple directory to list various local businesses in 2015.
Over the years, it has evolved alongside changing times to meet the needs of businesses. It understands that information is essential to making accurate and informed decisions, therefore making it their goal to provide the most fitting and key content for users.
This business solutions platform has more than 450,000 unique monthly users today. It aids people and businesses in connecting and reaching out to forge new relationships. Its vast network consists of 500,000 businesses that you can link with.
7. Yelp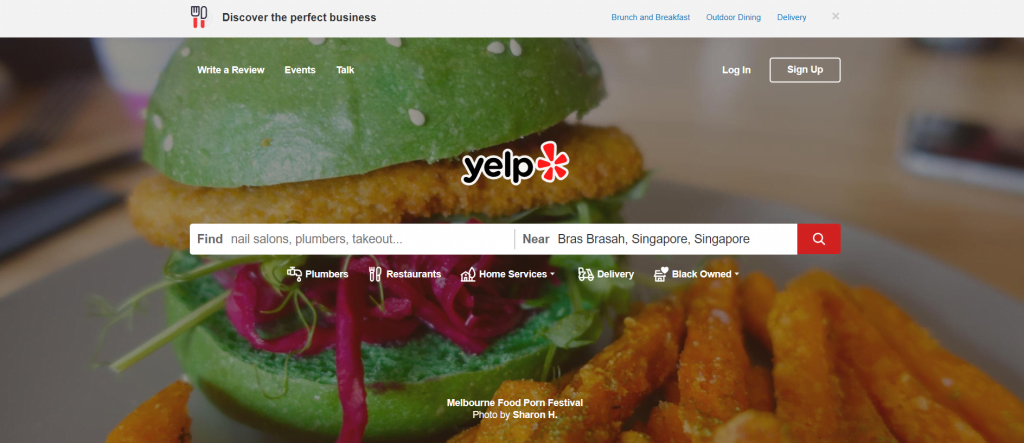 Yelp provides business information, photos and crowd-sourced review content.
It is an all-rounded local platform for consumers to find out and connect with businesses of all kinds. You can find authentic food reviews and services listed on its website.
The reviews help to boost its reliability and customers' confidence to help them make informed choices. As a result, it may even improve customer outcomes.
8. Hotfrog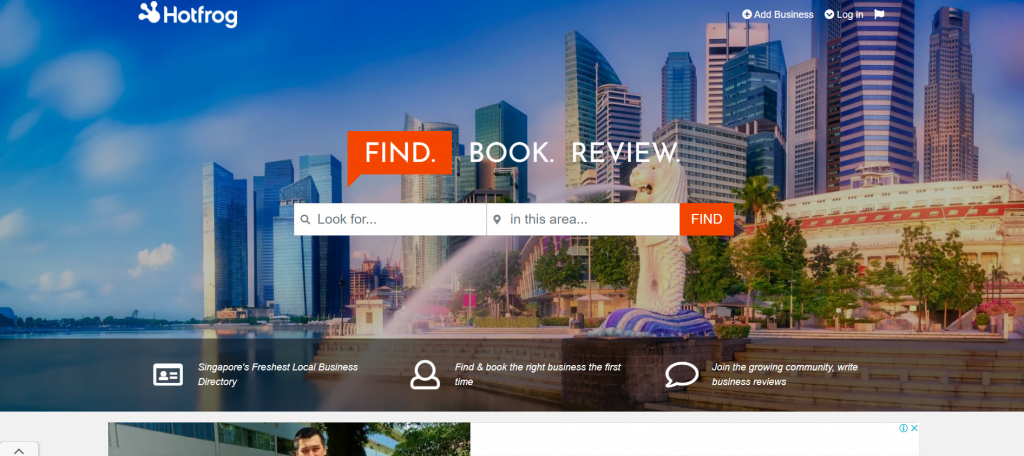 Hotfrog functions in 44 different countries and helps a whopping 69 million businesses connect to new customers worldwide.
It markets itself as "the directory built for people", and is a standalone business that seeks strategic partners in the field of data and advertising. SMEs can use Hotfrog as a tool to produce demand for their businesses. The brand helps to deliver information on product and service differentiation with incredible SEO benefits.
Hotfrog's technology enables customers' unique keywords to be identified by search engines, and uses easy reporting tools to provide activity insight that can be very useful.
9. Kompass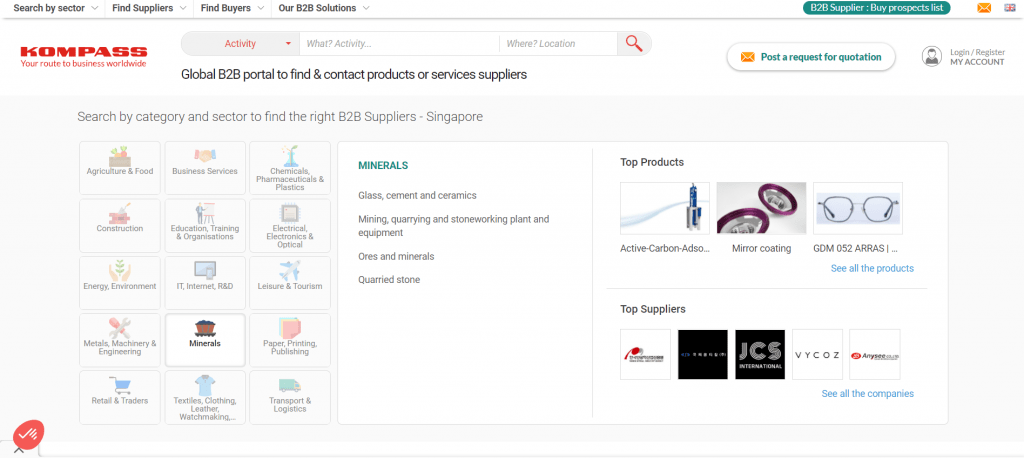 Kompass is an international B2B business directory that has access to more than 33 million businesses spanning over 70 countries.
It has free information that its local teams constantly update to create exceptional results for your business. If you're using it as a business owner, you can boost your online visibility and attract an online audience. Kompass provides a trusted supplier certificate that instantly upgrades your business to the top of buyers' searches.
You can choose from the many business solutions it offers to improve yours!
10. Expat.com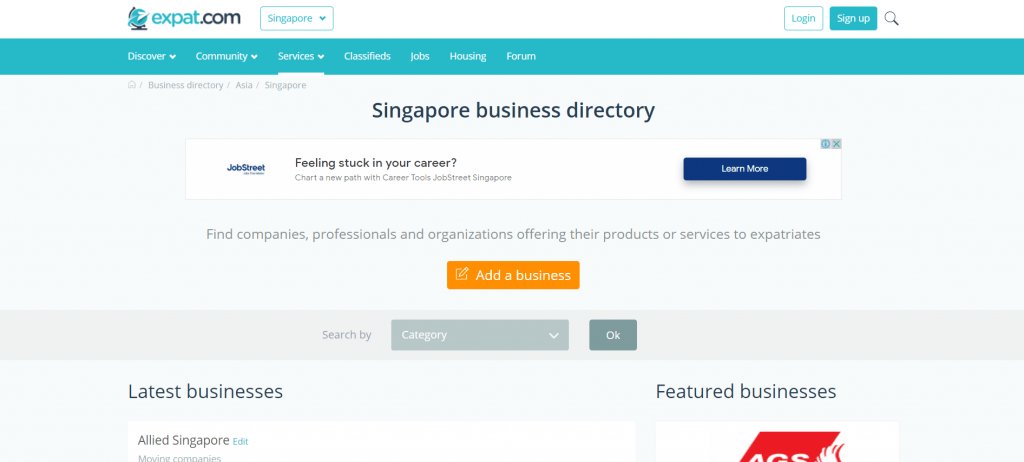 Expat.com is committed to life overseas.
It is the tool expats need to make their life abroad a successful and pleasant one. Connected to more than 197 countries and 500 cities, it also features 3 million members. You can find plenty of useful information, like business listings, services, a forum, and a team that takes care of you.
Members will feel welcomed as they breeze through the help that the website offers. Enjoy the free information provided and share your personal experience overseas for others like you to read and benefit from!
Conclusion
Do you have any reviews and comments to share regarding our choices for the best business directory in Singapore?
While SBO is committed to supporting our local businesses, we welcome any feedback and anonymous sharing regarding your experience with the listed business directory in Singapore.
We hope that this guide will be useful in helping you to make an informed decision when it comes to finding the best business directory in Singapore.
Speaking of which, if you are a small business owner or an aspiring entrepreneur looking to make your business known to the public, our business listings platform offers you that opportunity. Do check it out and do not hesitate to request for a listing to be published on our platform!
Explore More Content