10 Best Gaming Monitor in Singapore to Play Computer Games [2023]
Play to your heart's galore with these gaming monitors.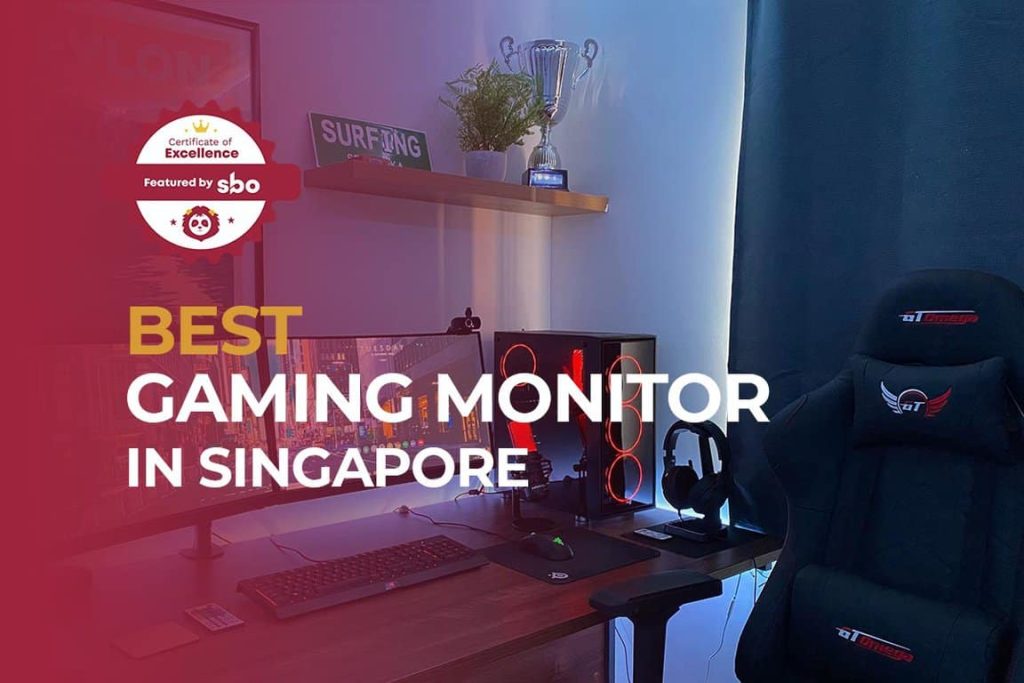 Sales of computer monitors in Singapore are booming despite the retail slump caused by COVID-19 as consumers ditch physical workspaces and switch to working from home.
Market research firm Euromonitor International predicts retail sales of computer monitors in Singapore to rise by 4,500 units this year to almost 50,000 units – a 10 per cent increase over last year.
This would also be the highest sales figure recorded by Euromonitor for monitors in Singapore since 2015.
Besides for work, an increasing number of Singaporeans are also looking to play computer games at home to dispel the boredom brought about by the pandemic.
Well, you couldn't be more wrong for thinking that way.
While a gaming monitor loses out in terms of portability and barely edges out a gaming laptop in performance these days, there are still good reasons to buy one.
Gaming monitors are more upgrade-friendly and customisable than gaming laptops due to their larger size and the modular hardware they're packed with.
These allow you to incrementally upgrade your gaming monitor as and when is necessary, so that your desktop is kept up-to-date with the latest hardware.
In this post, we've gathered all the necessary details to compile a list of the 10 best gaming monitor in Singapore for you to save on replacement costs.
1. Samsung 27″ Gaming Monitor With 1000R Curved Screen
A fan of immersive gameplay? Get the Samsung 27″ Gaming Monitor.
With a supreme 1000R curved screen, vivid scenes wrap even more tightly around you.
You will be able to experience the next level of heart-pounding gaming that's superior to anything you've seen before.
The 1000R display fills your peripheral vision and draws you into the character's shoes.
Vast HDR600 shades also deliver more contrast, with deeper blacks and brighter whites.
Even in dark scenes, every detail shines with clarity.
Packing in 1.7 times the pixel density of Full HD, WQHD resolution also boasts incredibly detailed, pin-sharp images.
Experience a fuller view with more space to take in all the action.
You will also be able to pick your touch of colour.
Add style to the back of your monitor with five distinct colour modes.
The default ice blue or any colour selection brings a personalised touch to your monitor and its surroundings.
The gaming monitor in Singapore also boasts quick, smooth reflexes.
240Hz RapidCurve eliminates lag for exhilarating gameplay with ultra-smooth action.
Jump on enemies right when you see them with a 1ms response time, precise mouse movements, and blur-free frames with no ghosting.
Keen to get this gaming monitor in Singapore? It's yours for S$1088.00.
2. Samsung 49″ DQHD Monitor With 1000R Curved Display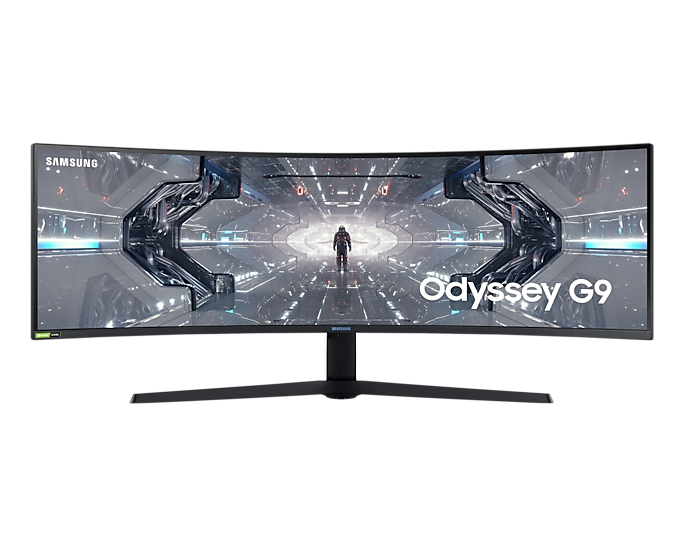 Samsung's 49″ DQHD Monitor is known for its QLED display.
A new level of vibrant resolution is achieved by QLED's bright and realistic shades and hues.
You will be able to enjoy awe-inspiring game scenes with accuracy in every last detail.
The screen also comes with both HDR1000 and HDR10+.
HDR1000 darkens darks and brightens whites for more dimensional contrast.
HDR10+ optimizes brightness and contrast so game scenes look exactly how the developer intended.
Visuals on screen look out of this world and just like true life, both at the same time.
The 49-inch DQHD resolution also brings you a display as wide as two QHD monitors sitting side by side, with incredibly detailed, pin-sharp images.
Experience an encompassing view with maximum space to take in all the action.
The Infinity Core Lighting design also adds style and radiates a captivating glow in five different modes.
Let the default ice blue colour shine, or change it to your favorite hue with the help of a simple RGB (Red, Green, Blue) code.
Keen to get this gaming monitor in Singapore? It's yours for S$2588.00.
3. Legion Y25-25 25″ 240Hz Gaming Monitor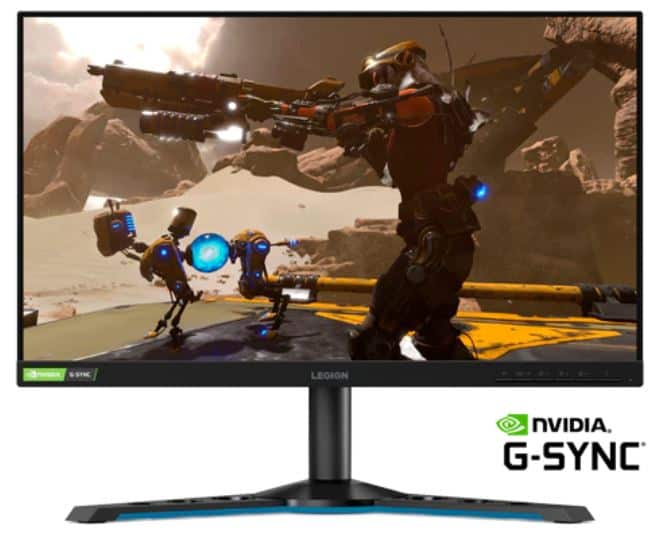 Professional Esport gaming is an extremely competitive space—where the difference between winning and losing comes down to the minutest of details.
To stand out from the competition, you need equipment that matches the speed of your actions. The Legion Y25-25 delivers wins in the most critical situations.
Its 24.5-inch In-Plane Switching (IPS) panel with a 240 Hz refresh rate and 1ms response time makes it possible to spot an opponent before they see you. In a quick-fire duel, that is the difference between firing first and getting shot.
Keen to get this gaming monitor in Singapore? It's yours for S$474.06.
4. Lenovo G24-10 24″ Gaming Monitor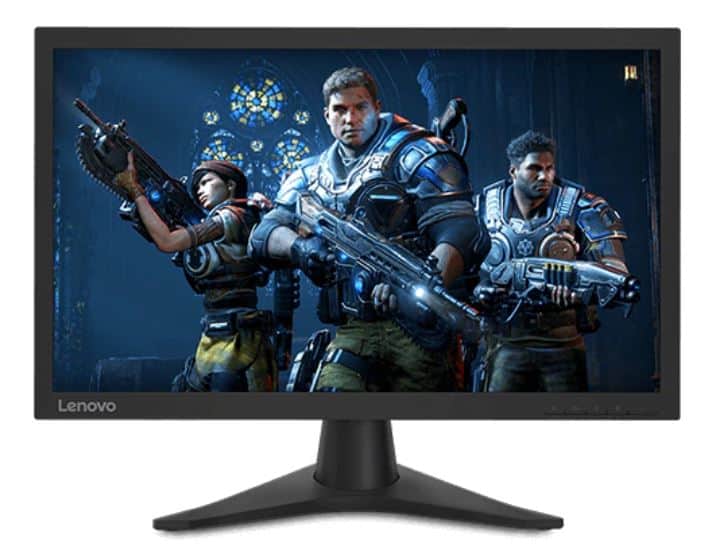 Indulge in exceptional visuals with the Lenovo G24-10 monitor with its 23.6-inch Full-HD display. The low response time, high refresh rate, and AMD Radeon FreeSync™ technology eliminate screen tearing and stuttering.
You will be able to game for long hours thanks to the gaming monitor's TÜV Eye Comfort, which ensures a comfortable viewing experience. For E-Sport competitions, the G24 is a viable gaming monitor in Singapore for you.
Keen to get this gaming monitor in Singapore? It's yours for S$284.05.
5. PRISM+ X240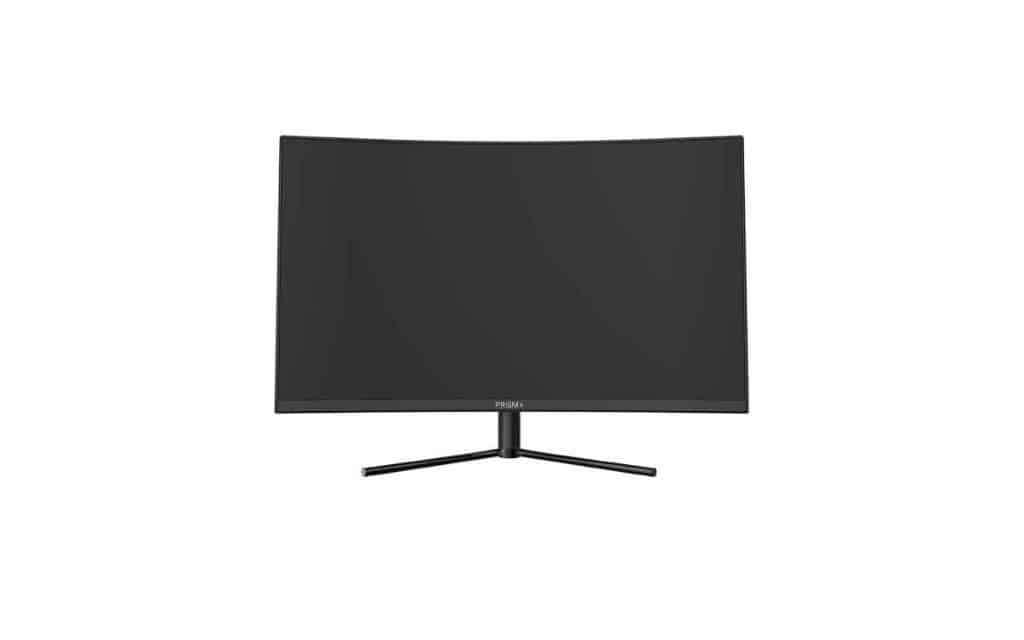 Singapore's first 1200R Curvature Gaming Monitor, the Prism+ X240 is an upgraded version of the X240.
Upgrading it with a market-leading 1200R curvature, 120% sRGB and a stylish and illuminated backlight design, the X240 (1200R) is the next-generation professional eSports gaming monitor that delivers peak performance.
The X240 (1200R) 144Hz curved display takes an ultra-fast 144Hz refresh rate and combines it with a full suite of premium features to create an ideal competitive eSports display at an absolutely unprecedented price point.
You will also be able to say goodbye to screen-tearing forever.
The built-in AMD Radeon FreeSync technology will help you to achieve a smooth and stable gaming experience by eliminating all visual tearing, stuttering and jamming.
Keen to get this gaming monitor in Singapore? It's yours for S$299.00.
6. PRISM+ X315 Pro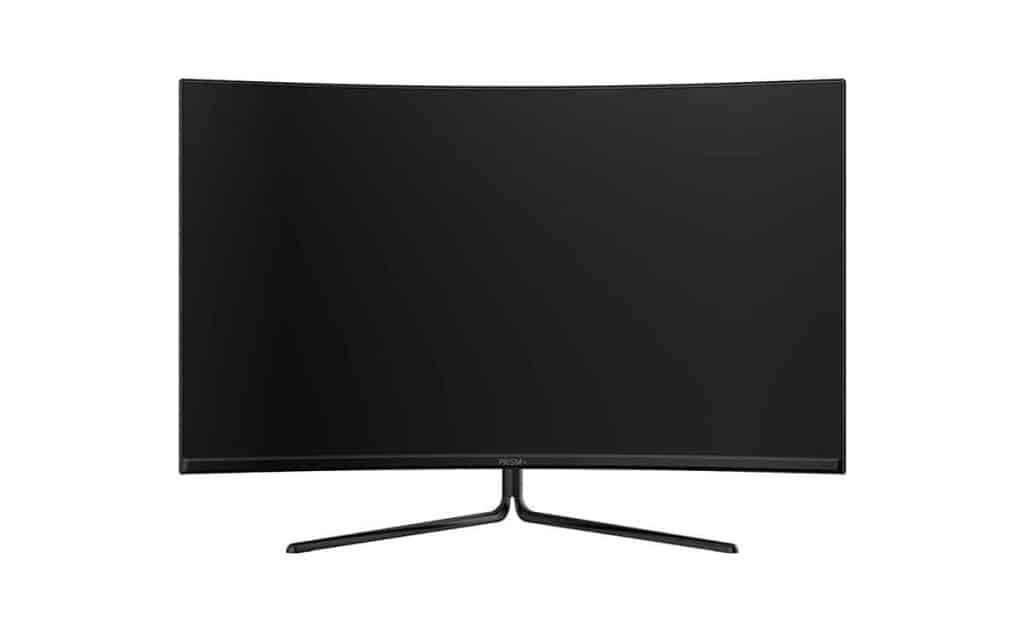 The PRISM+ X315 PRO Gaming Monitor has recently been upgraded to bring you the latest cutting-edge technology and form factor.
Firstly, the X315 PRO is now on a 1500R Curvature, the newest standard that has never been seen before in the Singapore monitor market.
A 1500R curvature promises you a next level of viewing immersion like no other.
Secondly, PRISM maximised its Wide Color Gamut with the breakthrough backlight technology to display colors at the highest vibrancy and accuracy.
Lastly, a refreshing backlight illumination is masterfully designed to complete your gaming setup aesthetics.
Keen to get this cheap gaming monitor in Singapore? It's yours for S$479.00.
7. ASUS CG32UQ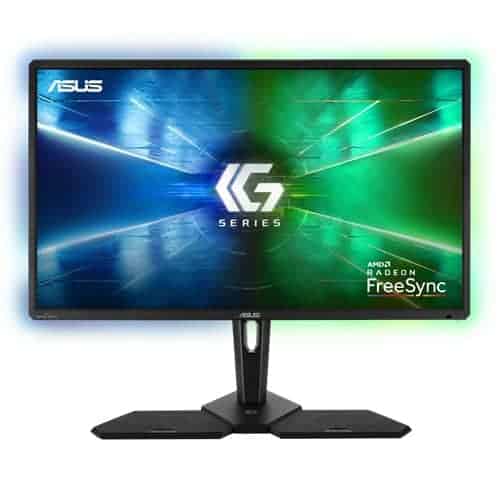 ASUS CG32UQ delivers superior picture quality with 4K resolution, HDR10 support and VESA DisplayHDR 600 certified.
It features 10-bit color and covers 95% of the cinema-grade DCI-P3 gamut, which has a much wider range of colors than sRGB.
With 66 addressable RGB LEDs embedded into the back of the monitor frame, Halo Sync lighting projects a colorful ambiance across your walls.
Whenever you're playing a game, watching a movie, or using your computer for daily tasks, Halo Sync matches the LED colors with what's happening along the borders of the screen.
The AMD Radeon FreeSync technology also matches the refresh rate of the monitor with the frame rate of compatible graphics cards and consoles, eliminating visual tearing that cuts across the screen.
It also minimizes stuttering when performance drops below the maximum refresh rate, a frequent occurrence when gaming at 4K.
Keen to get this gaming monitor in Singapore? It's yours for S$1397.00.
8. ASUS TUF Gaming VG27AQ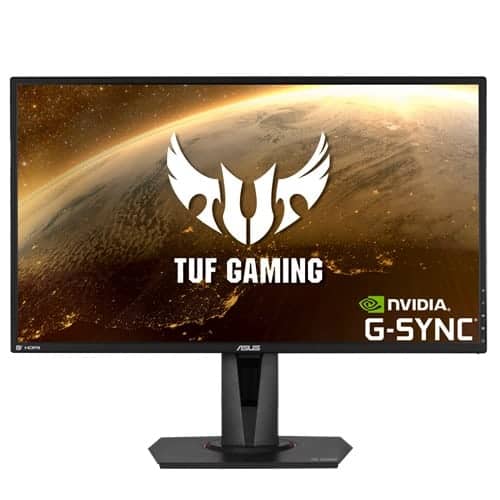 TUF Gaming VG27AQ is a 27-inch, WQHD (2560×1440), HDR IPS display with an ultrafast 165Hz designed for professional gamers and those seeking immersive gameplay.
Those are serious specs, but not even its most exciting feature.
For the first time in any gaming monitor, Motion Blur Reduction and Adaptive-sync can be enabled at the same time.
This new technology is called ASUS Extreme Low Motion Blur Sync (ELMB SYNC).
ELMB SYNC works with G-SYNC Compatible, allowing gamers to enjoy sharp, high speed frames that do not lag.
Looking for an ergonomic gaming monitor in Singapore?
With an ergonomically-designed stand, the TUF Gaming VG27AQ provides tilt, swivel, pivot, and height adjustments so you can easily find your ideal viewing position.
The gaming monitor's display is also VESA-compatible for wall mounting.
Keen to get this gaming monitor in Singapore? It's yours for S$1028.90.
9. Dell Alienware 27 Gaming Monitor – AW2721D
The Alienware 27 Gaming Monitor's VESA Display HDR™ 600 provides real-time contrast ratios with localized dimming that yields impressive highlights and deep blacks, which also supports a wider color gamut.
Plus, QHD resolution allows you to see up to 77% more on-screen game content in incredible detail.
With new IPS Nano Color technology, you experience colors with 98% DCI-P3 color coverage, which is a color gamut that has greater range than sRGB.
With high color accuracy, colors are more real, detailed and consistent across all angles so there is no washout, and you get the same picture quality from any angle.
The AlienFX also allows for custom lighting and in-game lighting responsiveness.
The Gaming OSD offers several gamer-centric options that helps you improve your performance and provide the best in-game advantage.
Keen to get this gaming monitor in Singapore? It's yours for S$1299.00.
10. Dell Alienware 34 Curved Gaming Monitor – AW3420DW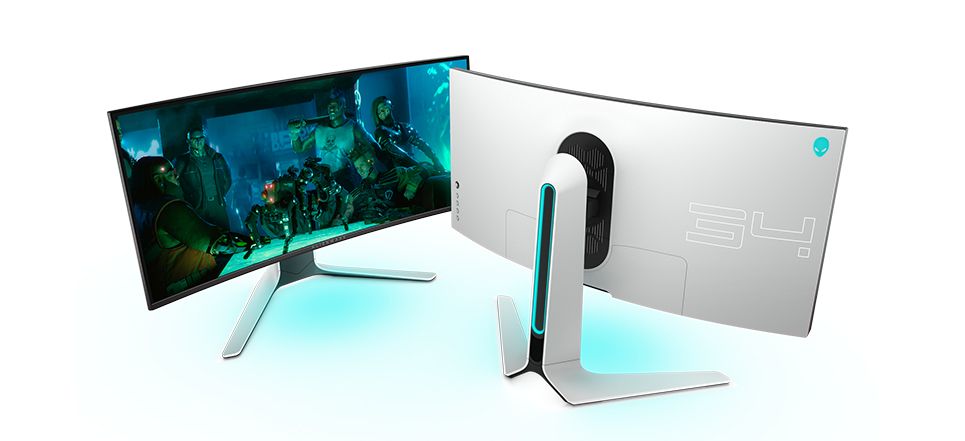 Completely immerse yourself with the Alienware 34 Curved Gaming Monitor's sweeping, 1900R curved display that takes you deeper into the game and a 21:9 aspect ratio that makes every vantage point epic.
The curved screen maximizes your field of vision, reducing eye movement, so you can stay comfortably focused.
With new IPS Nano Color technology, you also experience colors as they were designed to be by the content creators with 98% DCI-P3 color coverage, which is a professional color gamut that has greater range than sRGB.
The gaming monitor also has a true 2ms gray-to-gray response time with Overdrive and the 120Hz refresh rate enables fast, responsive gameplay with no artificial tricks needed.
The 120Hz refresh rate keeps up with the action, allowing you to experience every moment of the immersive world you're gaming in.
Keen to get this gaming monitor in Singapore? It's yours for S$1023.00.
Conclusion
Do you have any reviews and comments to share regarding our choices for the best gaming monitor in Singapore?
While SBO is committed to supporting our local businesses, we welcome any feedback and anonymous sharing regarding your experience with the listed gaming monitor in Singapore.
We hope that this guide will be useful in helping you to make an informed decision when it comes to finding the best gaming monitor in Singapore.
And if you're hoping for your gaming monitor in Singapore to reach its full potential, our recommendation is for you to pair it with a gaming PC in Singapore.
However, if you're looking for a gaming device that you can bring with you on-the-go, our advice is for you to get a cheap gaming laptop in Singapore.
Featured Image by Jura on Unsplash
Explore More Content