9 Best Cheap Gaming Laptop in Singapore for Maximum Fun [2021]
These cheap gaming laptops don't cost a bomb and their specs are swoon-worthy.
Technology & Gadgets
Our team at SBO.sg is committed to being a one-stop avenue to connect local businesses and consumers. We hope that our research efforts can help you save time and money by finding you the best deals without having to search around the vast world-wide-web.
Sales of computer monitors in Singapore are booming despite the retail slump caused by COVID-19 as consumers switch to working from home.
Market research firm Euromonitor International predicts retail sales of computer monitors in Singapore to rise by 4,500 units this year to almost 50,000 units – a 10 per cent increase over last year. This would also be the highest sales figure recorded by Euromonitor for monitors in Singapore since 2015.
Besides work, an increasing number of Singaporeans are also looking to play computer games at home to dispel the boredom brought about by the pandemic.
This is where a cheap gaming laptop in Singapore comes in, for those who also wish to tighten their purse strings amidst the present economic recession.
Looking for a cheap gaming laptop in Singapore that costs below S$2000?
In this post, we've gathered all the necessary details to compile a list of the 9 best cheap gaming laptop in Singapore for you to play computer games.
1. Lenovo Legion 5Pi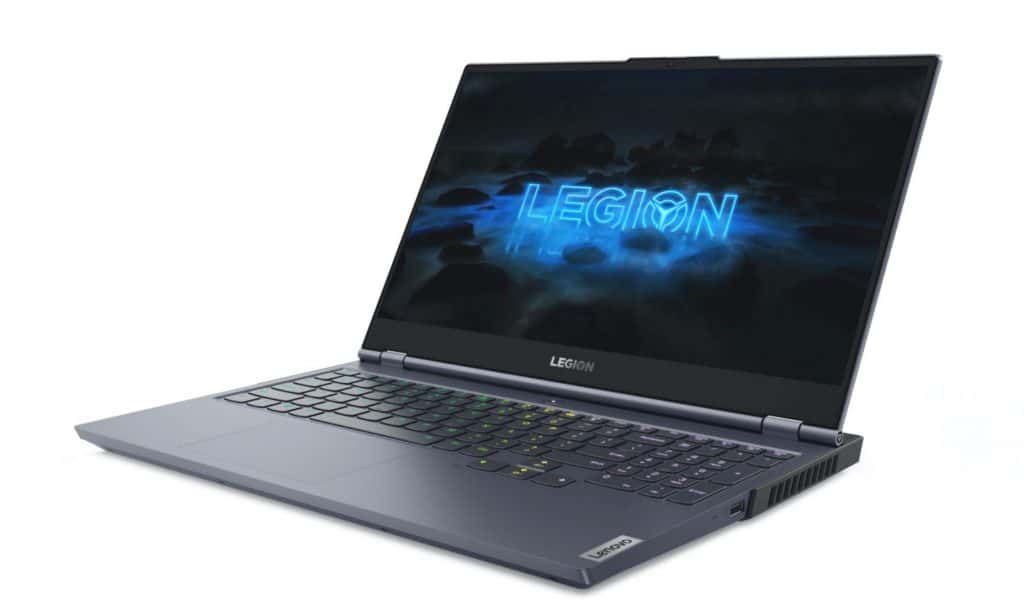 Offering a wide range of performance options for any level of gamer, the Legion 5Pi pairs flexibility with incredible power, as well as a clean and minimalist design.
Play your favorite AAA titles on 10th Gen Intel® Core™ H processors, NVIDIA® GeForce™ graphics, and plenty of memory, as they come to life on your screen on an optional 100% color-accurate display.
You can also look forward to blasting your competition away with the revolutionary Legion TrueStrike keyboard.
Made for gamers by gamers, this is the best weapon in your kit with superior click-feel and control, only a 1.5mm travel distance for your fingers, and 100% anti-ghosting for flawless precision and response times.
Looking for a performance beast that can take the heat? The Legion Coldfront 2.0 keeps the inside of your laptop at the optimal temperature for performance while minimizing noise, with a chamber that dissipates heat away from your fingertips.
AusGamers aptly describes the Lenovo Legion 5Pi in its review: "That said, the overall package is an impressive one with a sleek build that features one of the best keyboards you'll find on a gaming laptop in addition to all of the RTX 2060 goodness that you get in terms of performance. Paired with the bright and vibrant high refresh-rate display and the Legion 5Pi presents many things you'd expect to find a more premium model. Except this time, affordable."
Keen to get this cheap gaming laptop in Singapore? It's yours for S$1329.05.
2. Lenovo IdeaPad Gaming 3i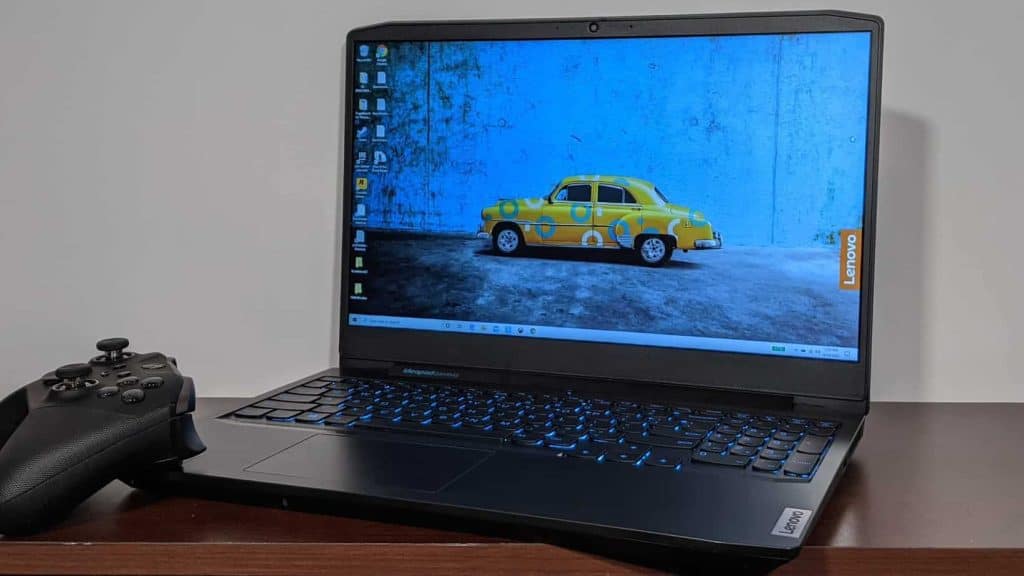 Elevate your game and esports experience with a PC that will stand tall in your gaming circle.
Engineered with up to a cutting-edge 10th Gen Intel® Core™ i7 processor, discrete NVIDIA® graphics, up to a 120Hz FHD display, and an advanced gaming keyboard, the IdeaPad Gaming 3i laptop projects quiet, intimidating confidence.
Powerful hardware means nothing without a thermal system that can stand the literal heat, and the IdeaPad Gaming 3i laptop was engineered to bring a gaming experience that is quieter and cooler than ever before.
Featuring 5th generation thermal engineering, the IdeaPad Gaming 3i features a more robust dual fan and vent system than previous generations, as well as enhanced heat sinks with more support for higher CPU and GPU temperatures.
The right keyboard ergonomics can make all the difference during your marathon gaming sessions. The IdeaPad Gaming 3i hits that need with a spacious layout featuring dedicated media keys, a full-size number pad, large arrow keys, and a 30% larger one-piece trackpad with Windows Precision Drivers.
Matt Elliot says in his review for IGN: "The Lenovo IdeaPad Gaming 3i is a supremely affordable gaming laptop that's also versatile enough to double as a general-purpose, home laptop as long as you don't intend to stray from a wall outlet for too long."
Keen to get this cheap gaming laptop in Singapore? It's yours for S$1253.05.
3. ASUS TUF Gaming A15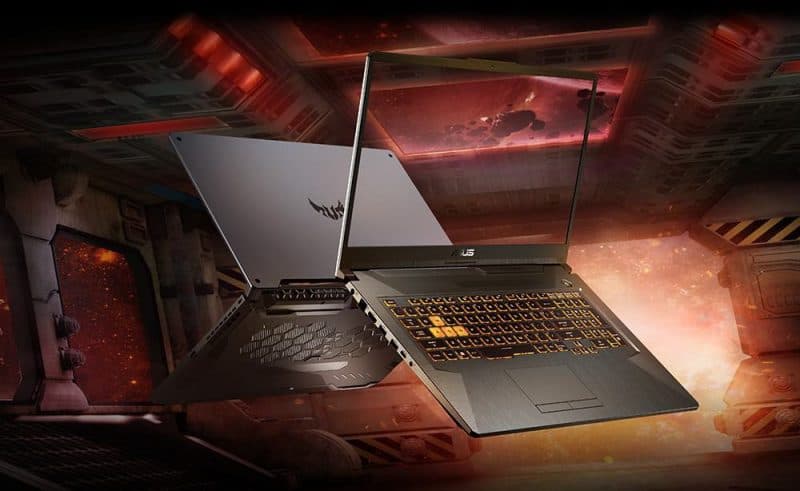 Geared for serious gaming and real-world durability, the TUF Gaming A15 is a fully-loaded Windows 10 Pro gaming laptop that can carry you to victory. Powered by the latest AMD Ryzen™ 9 CPU and GeForce RTX™ 2060 GPU, action-packed gameplay is fast, fluid, and fully saturates speedy IPS-level displays up to 144Hz.
Even while boasting a smaller and more portable chassis than its predecessors, this gaming laptop features a larger 90Wh battery for superior battery life.
Armed with the strength to tackle any situation, the TUF Gaming A15 delivers dependable performance for gaming, streaming, and everything in between.
Up to a nimble 8-core AMD Ryzen™ 9 CPU can activate as many as 16 threads to power through serious multitasking.
Paired with up to a GeForce RTX™ 2060 discrete GPU, it can pump out reliably high frame rates in a wide range of popular games.
Matt Henson says in his TechRadar review: "The Asus TUF A15 is a brilliant affordable gaming laptop that manages to strike the right balance between performance and value. It's strong 1080p performance, tough build quality, and large selection of ports will win it a lot of fans, especially amongst competitive eSports players."
Keen to get this cheap gaming laptop in Singapore? It's yours for S$1748.00.
4. ASUS ROG Zephyrus G14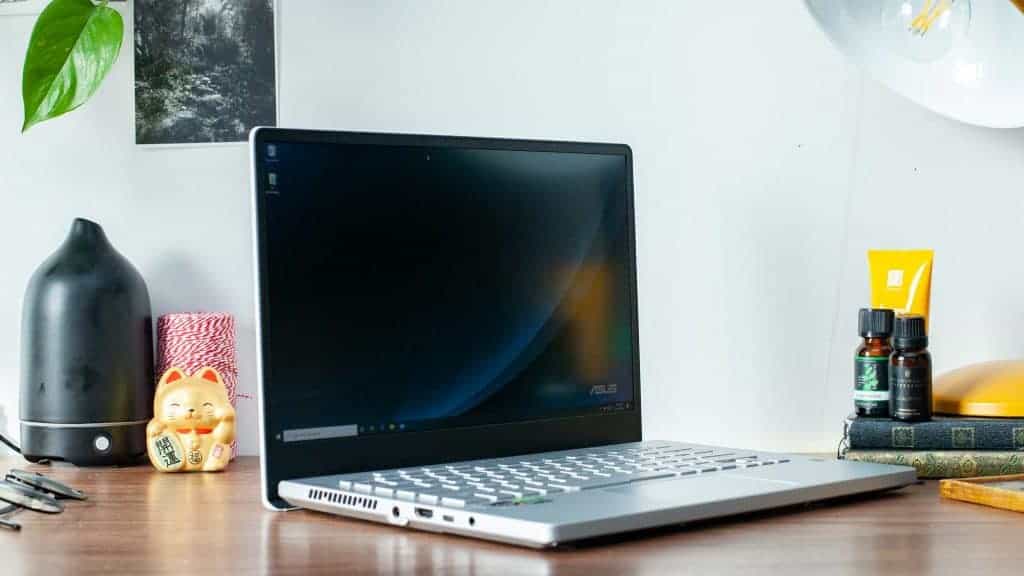 Dynamic and ready to travel, the pioneering ROG Zephyrus G14 is the world's most powerful 14-inch Windows 10 Pro gaming laptop. Outclass the competition with up to an 8-core AMD Ryzen™ 9 4900HS CPU and potent GeForce RTX™ 2060 GPU that speed through everyday multitasking and gaming.
Customize your fit with either a 120Hz gaming display or high-resolution WQHD panel, both Pantone® Validated for superb color accuracy. Quad speakers pump out incredible Dolby Atmos sound for immersive movies, games, music, and more.
Styled in metallic Eclipse Gray or pearlescent Moonlight White, the Zephyrus G14 is a stunner. Its clean aesthetic travels easily from LAN parties to lecture halls, with fine-tuned detailing that puts it in a class of its own. Precision CNC milling creates 6,536 perforations across the aluminum lid for a distinctive dot matrix design.
Matthew Buzzi lauds the Zephyrus G14 in his review for PCMag Asia: "The Asus ROG Zephyrus G14 is an excellent gaming laptop, impressively powered by AMD's newest Ryzen Mobile CPU and Nvidia GeForce RTX graphics in a compact 14-inch body."
Keen to get this cheap gaming laptop in Singapore? It's yours for S$1723.83.
5. Dell G15 15 5500 Gaming Laptop
Unleash pulse-racing action with the following features of the Dell G5:
Guaranteed power: With up to 10th Gen Intel® Core™ i7 processors, you can revel in powerful performance without interrupting your gaming, streaming or videos.
Keep cool: The G5 15 gaming laptop features a dual-fan cooling system to help spread out heat and keep your system responsive and cool during intense gameplay.
Game Shift technology: Give yourself a turbo-boost of power when gaming gets critical with a simple press of a button. Activated with one click, Game Shift triggers a dynamic performance mode within the Alienware Command Center by maximizing the fans' speed to keep your system cool while the processors work harder.
Reinforced strength: Experience faster boot ups and more storage options with M.2 PCIe NVMe SSD.
Marion Frayna notes in her review for Geek Culture: "In the Dell G5 (5500), you have a solid machine built for gamers on the lower end of the budget spectrum. While it may not provide the horsepower to run the likes of Call of Duty: Modern Warfare or Death Stranding at a constant 60 fps, it can run them well enough for gamers to still have a good time, without breaking too much of a sweat."
Keen to get this cheap gaming laptop in Singapore? It's yours for S$1698.99.
6. Dell G3 15 Gaming Laptop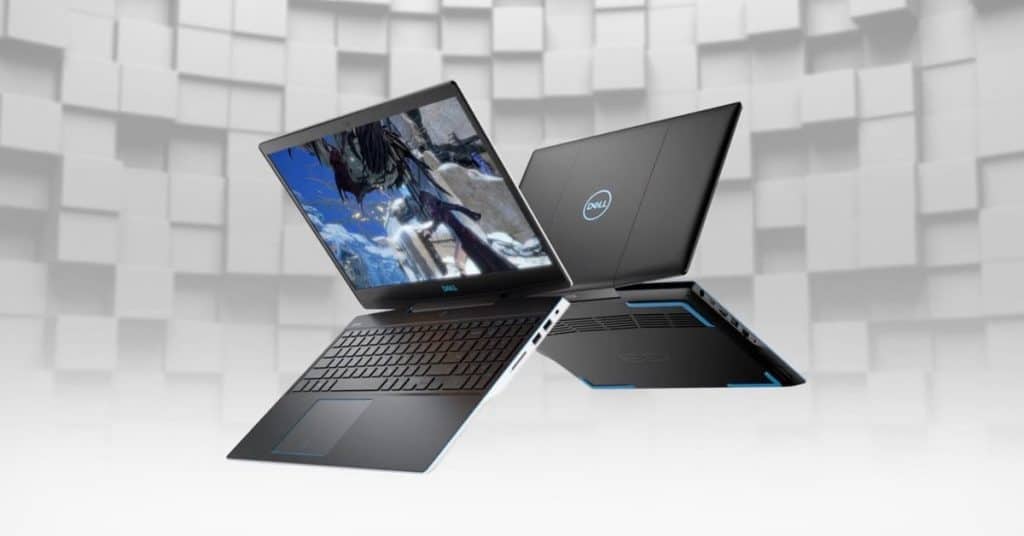 Victory is in the details with the following features of the Dell G3 15:
Striking graphics: With NVIDIA® GeForce® discrete graphics, you can game at higher settings with crystal-clear detail and smooth gameplay. Optional NVIDIA® GeForce® graphics up to RTX 2060 feature a powerful core streaming multiprocessor that can handle the complex graphics of modern games while driving new shading advancements and improved power efficiency.
Memory that lasts: Experience the action in all its glory with faster loading times and a quieter system powered by up to 6GB GDDR6 of dedicated memory.
Get drawn in: Every detail of your game just got magnified thanks to optional 144Hz display that's complimented by a two-sided narrow bezel.
Rami Tabari notes in her review for LaptopMag: "The Dell G3 15 is a great revamp of a cheap gaming laptop, now with excellent performance and good gaming utilities, but it still has a dull display."
Keen to get this cheap gaming laptop in Singapore? It's yours for S$1498.98.
7. MSI GL65 Leopard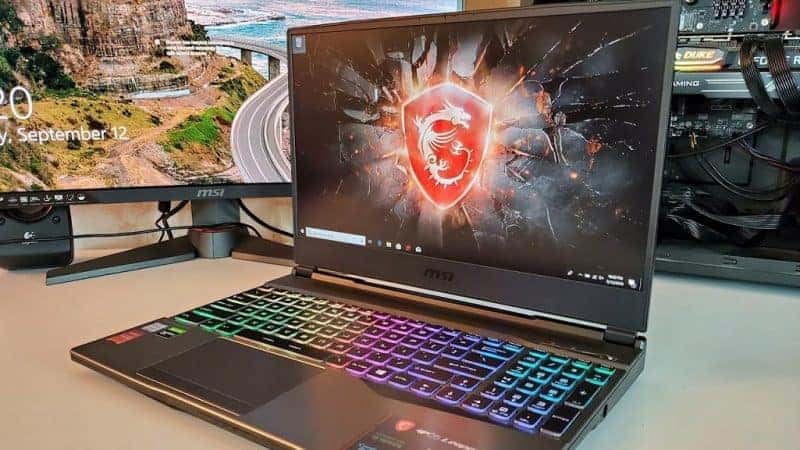 Choose the Dragon Spirit and evolve with the latest MSI Gaming Laptops equipped with 10th Gen. Intel® Core™ i9 processors (Comet Lake H) & latest GeForce® RTX graphics designed for gamers with style.
You will experience a 50% boost in computing power. The MSI Laptop equips the 10th Gen. Intel® Core™ i9 processor (Comet Lake H) with computing power in higher single core frequency to bring you an unmatched gaming experience.
The new GeForce® RTX SUPER™ Series also has more cores and higher clocks for SUPER fast performance compared to previous-gen GPUs. See your games come to life with super-fast ray tracing and life-like visuals.
You can also look forward to tapping into Tensor Cores for super-powerful AI-processing. Advanced memory, performance boosts, and processing technologies make these GPUs the perfect weapon for hardcore gamers.
Michael C. Smith raves about the MSI GL65 Leopard in his review for Digital Weekly: "It brings immense power in an understated yet attractive package unlike never before, particularly the per-key RGB lit SteelSeries keyboard, a 144Hz IPS display, High-res audio, Nvidia GTX 2070 GPU and, of course, a 10th Gen. Intel Core i7-10750H processor. This is a strong configuration that will see you through high-end gaming as well as intensive productivity work without breaking your bank."
Keen to get this cheap gaming laptop in Singapore? It's yours for S$1875.10.
8. HP Pavilion Gaming Laptop 15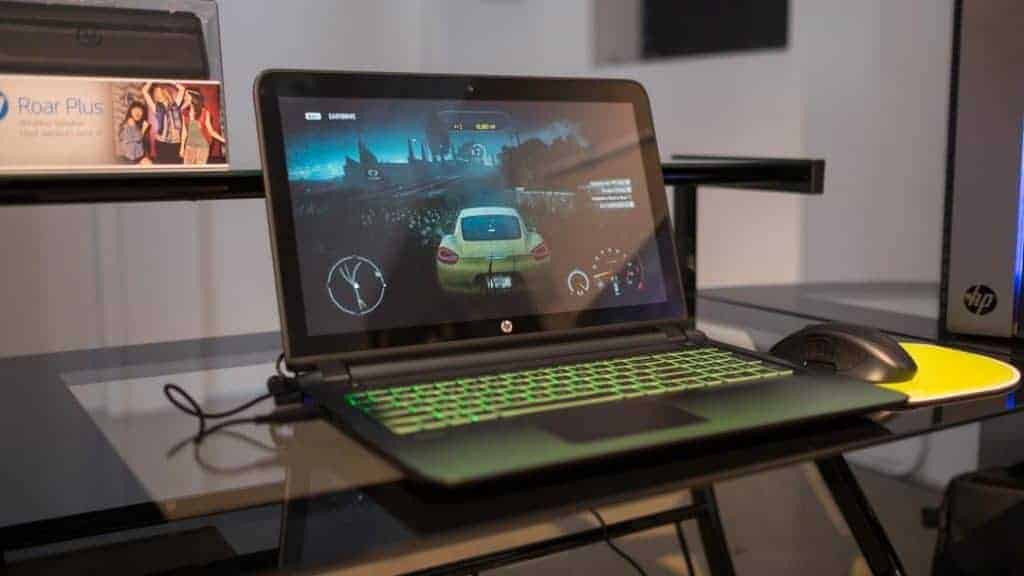 Sacrifice nothing with the thin and powerful HP Pavilion Gaming Laptop. Experience high-grade graphics and processing power for gaming and multitasking, plus improved thermal cooling for overall performance and stability. Immerse yourself in the game with a narrow bezel display and custom-tuned audio.
Take on anything and everything with an Intel® Core™ processor and NVIDIA® GeForce graphics. A high resolution display with fast refresh rate delivers smooth gameplay visuals, while also bringing entertainment and content to life.
The HP Pavilion Gaming Laptop 15 is equipped with a dual fan system for enhanced thermal cooling. Wide rear corner vents and additional air inlets maximize airflow to optimize your overall performance and stability, keeping the machine cool.
A sleek micro-edge bezel display provides a maximum viewing experience while the front-firing speakers with Audio by B&O deliver powerful, custom-tuned sound.
Joshua Goldman opines in his review for CNET: "HP has put together a well-balanced, relatively thin laptop for gaming and office or schoolwork without the high price or flashy looks."
Keen to get this cheap gaming laptop in Singapore? It's yours for S$1200.00.
9. Aftershock PC Lunar 14 Pro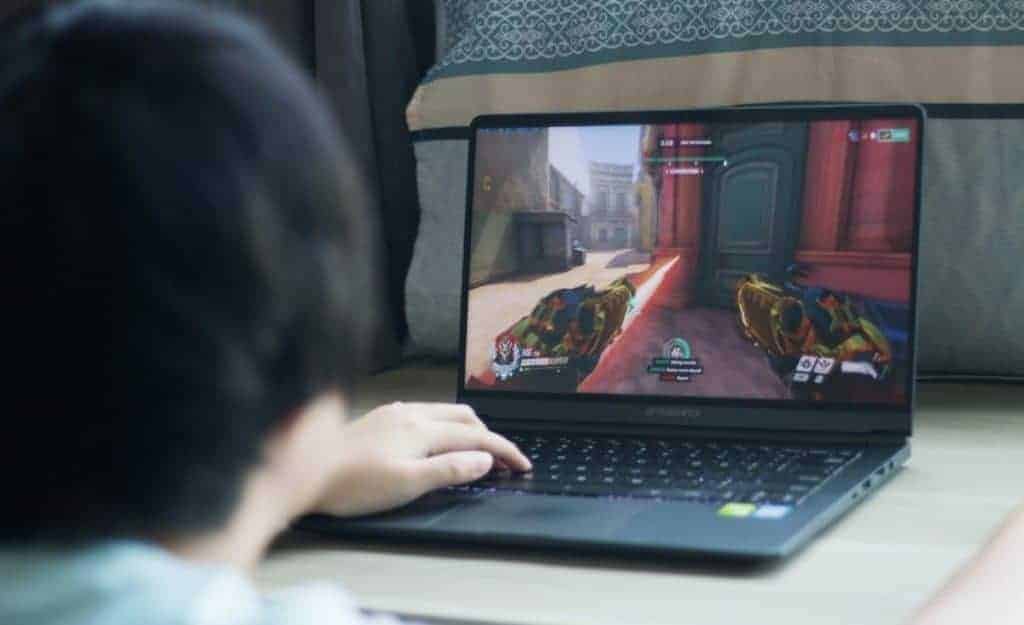 The Lunar 14 Pro is Aftershock PC's first-ever MIL-STD 810G durability certified ultraportable notebook. Weighing in at just 0.99 kg, the Lunar 14 Pro packs a massive 73Wh battery and is ultra slim at just 16.5mm, making it the perfect road warrior for reliable gameplay anytime, anywhere.
Powered by the 11th Generation Intel Core i7 processor, the Lunar 14 Pro also sports premium chassis materials with an ultra light Mg-Al alloy cover that allows for its incredible light weight.
The class leading 73Wh battery in a notebook this size sets the Lunar 14 Pro apart.
With the ability to support a full day of battery life, the Lunar 14 Pro also features ultra-fast charging capability, with up to 20 hours of battery life in charge gained in just 80 minutes of charging.
The best part of it all: every Lunar 14 Pro notebook comes with a 2 year warranty coverage package, ensuring that Aftershock PC has all your service and support needs covered for a smooth and hassle-free gaming and ownership experience.
Si Jia notes in her review for Geek Culture: "Ultimately though, the price tag is the ultimate lure here. The Lunar 14 already holds competitive edge over similar ultrabook competitors, such as the Acer Swift 3, but few can claim the mix of its exceptionally fine balance of work productivity, capable graphical prowess, and casual gaming performance, tucked neatly under an attractive price point."
Keen to get this cheap gaming laptop in Singapore? It's yours for S$1525.00.
Conclusion
Do you have any reviews and comments to share regarding our choices for the best cheap gaming laptop in Singapore?
While SBO is committed to supporting our local businesses, we welcome any feedback and anonymous sharing regarding your experience with the listed cheap gaming laptop in Singapore.
We hope that this guide will be useful in helping you to make an informed decision when it comes to finding the best cheap gaming laptop in Singapore.
In this article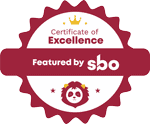 Are you featured in this?
Display this exclusive SBO badge proudly on your website!