11 Best Earphones for iPhone in Singapore [2023]
We are as loyal supporters of Apple as you.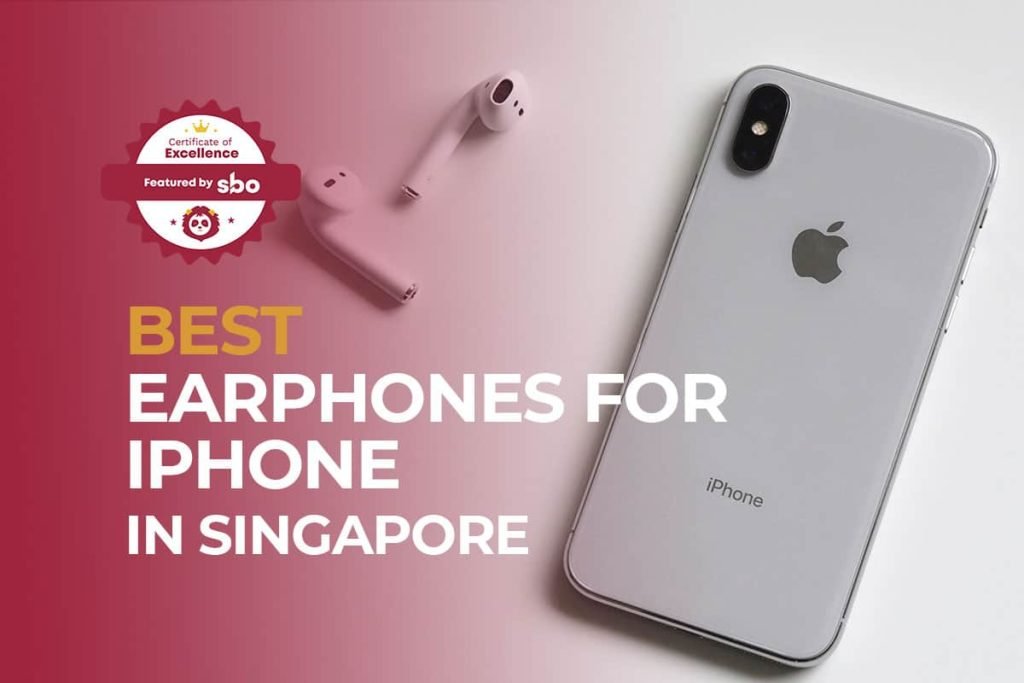 A few years back, Apple kicked up a big hoo-ha when it announced its shocking commitment to designing future smartphones without a headphone jack. This bold and radical move applied to every iPhone from the iPhone 7 onwards.
As a result, wireless earphones that are Bluetooth compatible have become mainstream. Long gone were the days when your earphones' wires would get tangled up just because you had no where to store them properly.
Looking to purchase earphones for iPhone in Singapore but not sure how to separate the wheat from the chaff? Fret not, as we have you covered.
In this post, we've gathered all the necessary details to compile a list of the 12 best earphones for iPhone in Singapore for you to jam to your favourite music.
1. Apple AirPods Pro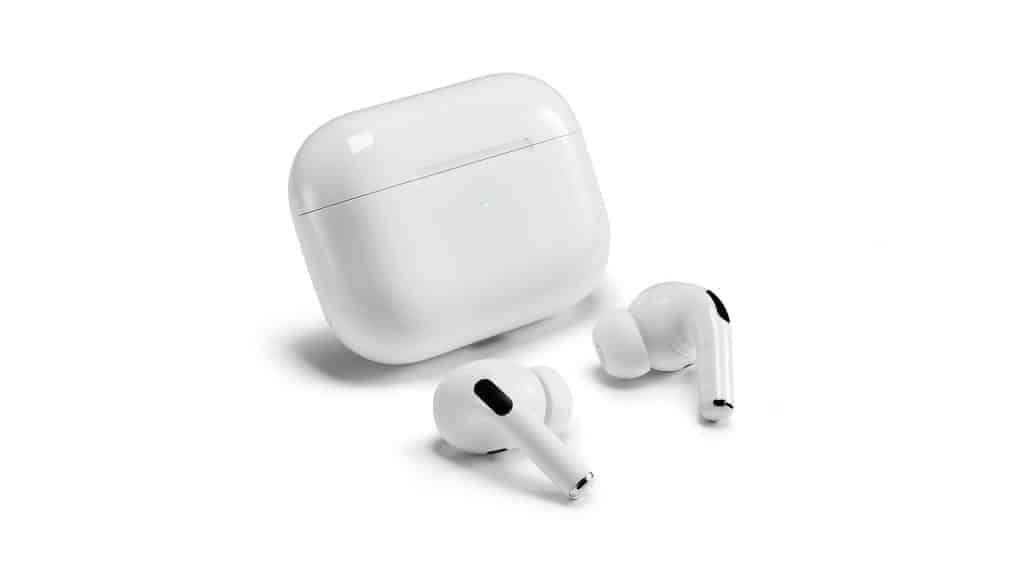 No company knows the iPhone better than Apple itself. Tech-packed yet compact, AirPods Pro are built around the company's System in Package design — featuring the H1 chip that powers everything from sound to Siri.
The Apple-designed H1 chip employs 10 audio cores, creating incredibly low audio processing latency that enables real‑time noise cancellation.
The System in Package design is special, with the placement of each component based on the form of the human ear — maximising comfort, fit and stability.
You will be able to use the force sensor to control music and calls, and switch between Active Noise Cancellation and Transparency mode. You can also touch and hold the volume slider in Control Centre on your iPhone to change modes.
The AirPods Pro are sweat and water resistant, and they feature an expanded mesh microphone port that improves call clarity in windy situations.
Keen to get this pair of earphones for iPhone in Singapore? They are yours for S$379.00.
2. Beats Powerbeats Pro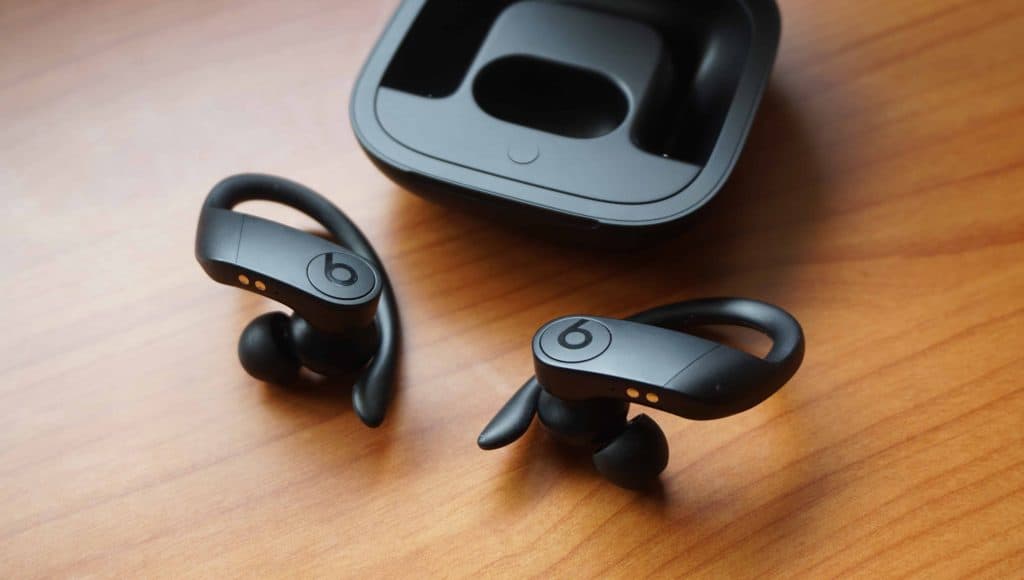 Beats' wireless Powerbeats Pro earphones are built to keep you moving with their excellent ergonomic design (P.S. Beats has been acquired by Apple).
The earphones' adjustable, secure-fit earhooks stay in place with multiple eartip options, and are made to move with you, no matter where you go.
The reinforced design for sweat and water resistance also help you make it through whatever your day brings. You can also get more than 24 hours of combined playback with the charging case, and use 5-minute Fast Fuel for 1.5 hours of playback when battery is low.
The people at SoundGuys note: "If you're an iPhone user, AirPods can be attractive, but the PowerBeats Pro are the better companion for your smartphone. Sweat resistance, actual noise isolation, and a secure fit in your ears make these the true wireless earphones you want in Apple-land. Android users may find other options they like better, as these only support AAC."
Keen to get this pair of earphones for iPhone in Singapore? They are yours for S$328.00.
3. Sony WF-1000XM3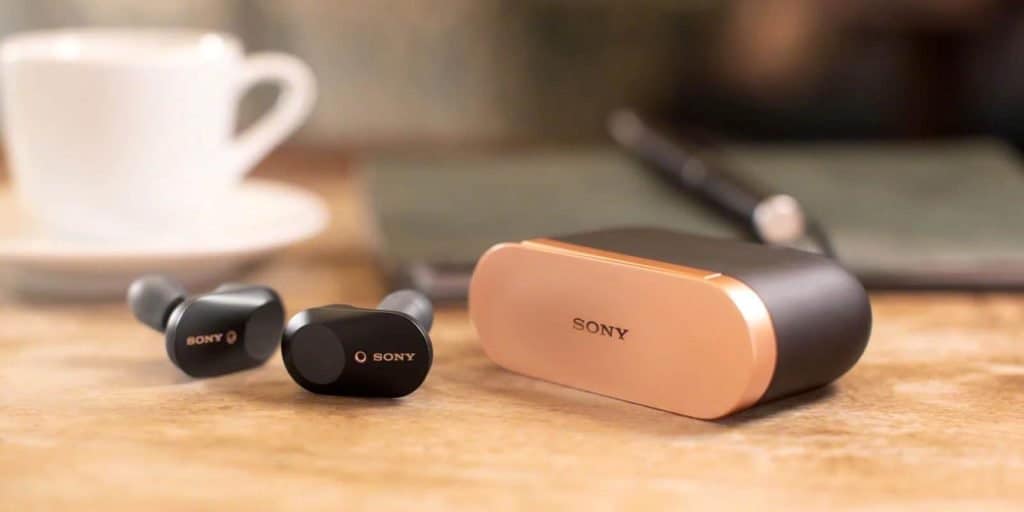 Packed with advanced audio technology, the WF-1000XM3 noise cancelling earbuds not only deliver noise-free listening but also offer breathtaking sound quality.
The noise cancelling technology in the WF-1000XM3 is the most advanced ever in truly wireless headphones, with our HD Noise Cancelling Processor QN1e. So you can lose yourself completely in your music.
Dual microphones – one feed-forward and one feed-back – on the surface of the headphones catch more of the ambient sounds of your surroundings, whether it's in-flight noise, city traffic or office chatter.
Having caught the ambient sound, the dedicated HD Noise Cancelling Processor QN1e gets to work. It not only cancels significantly more noise across almost all frequencies but also uses less power.
What Hi-Fi sings high praises of the earphones in its review: "A new benchmark for true wireless earbuds, the WF-1000XM3s combine effective active noise-cancelling with a real sense of musicality".
Keen to get this pair of earphones for iPhone in Singapore? They are yours for S$349.00.
4. Anker SoundCore Liberty Air 2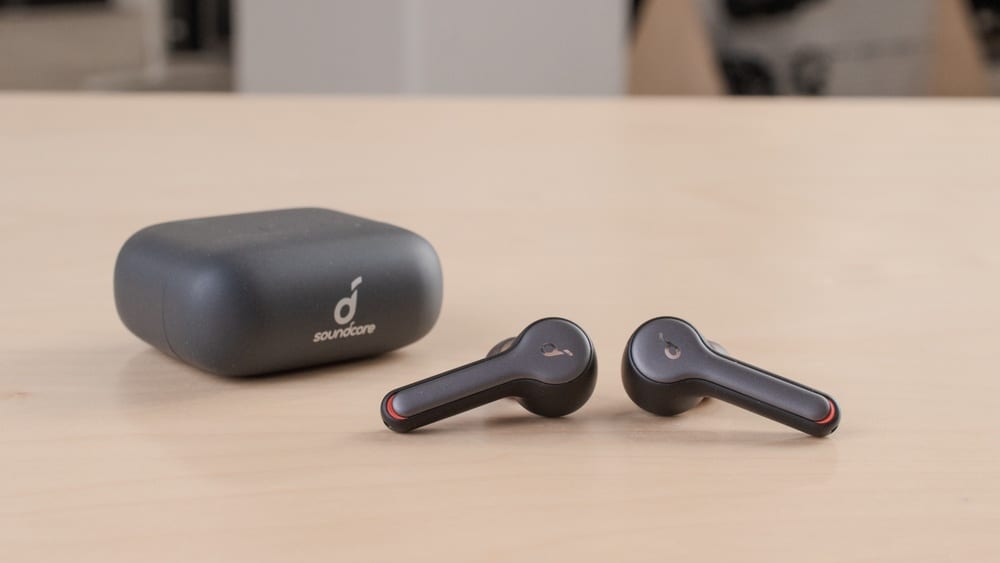 A fan of bass? Liberty Air 2's diamond-inspired drivers increase the sound frequency bandwidth by 15% and deliver 2 times the amount of bass.
Liberty Air 2 true wireless earphones have 4 built-in microphones with cVc noise reduction technology—ideal for when you're working from home or taking conference calls.
You can also look forward to using the SoundCore app to enhance your listening experience—choose from 22 EQ settings, use HearID to create your own personalized sound profile, or totally customize the EQ. Other functions include adjusting on-ear controls and easy firmware updates.
When you're short of time and running low on battery, charge the true wireless earphones in the case for 10 minutes and enjoy 2 hours of playtime.
The people at Sound Guys say: "These cheap true wireless earbuds have one of the best microphone systems around, outperforming those double the price. Anyone who fields a lot of hands-free calls should get the Liberty Air 2. The charging case is super easy to use, and feels as great as it looks. Listeners looking for a more accurate sound signature should turn their attention to Edifier or Samsung."
Keen to get this pair of earphones for iPhone in Singapore? They are yours for S$159.90.
5. Sennheiser Momentum True Wireless 2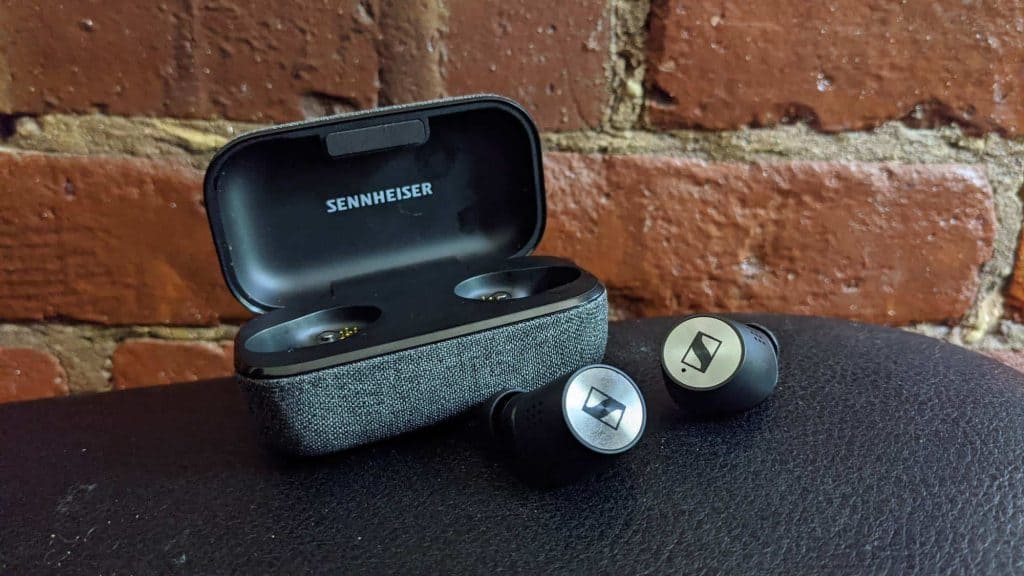 Thanks to leading audio technology and innovation, Sennheiser's new earbuds deliver the best listening experience anytime, anywhere. With improved ergonomics designed for full day wearing and refined touch controls for a more personalised experience, they have been finely crafted for the most discerning listener.
From classical to contemporary, every music genre is enhanced by the bespoke 7 mm dynamic drivers of the new MOMENTUM True Wireless 2 earbuds thanks to its deep bass, natural mids and clear, detailed treble. Plus, you can now tailor your listening experience with built-in equalizers and enjoy amazing sound quality.
Switch off your surroundings and dive into that impactful song, important episode or impromptu call with the new Active Noise Cancellation feature. Working in tandem with the earbuds' excellent passive noise isolation, you now get to enjoy incredible high-fidelity sound even in noisy environments. Then seamlessly bring your focus back and listen to what's around you thanks to Transparent Hearing.
You can look forward to experiencing uninterrupted play time with the new 7-hour battery life that can be extended up to 28 hours with the charging case.
Keen to get this pair of earphones for iPhone in Singapore? They are yours for S$419.00.
6. Earin A-3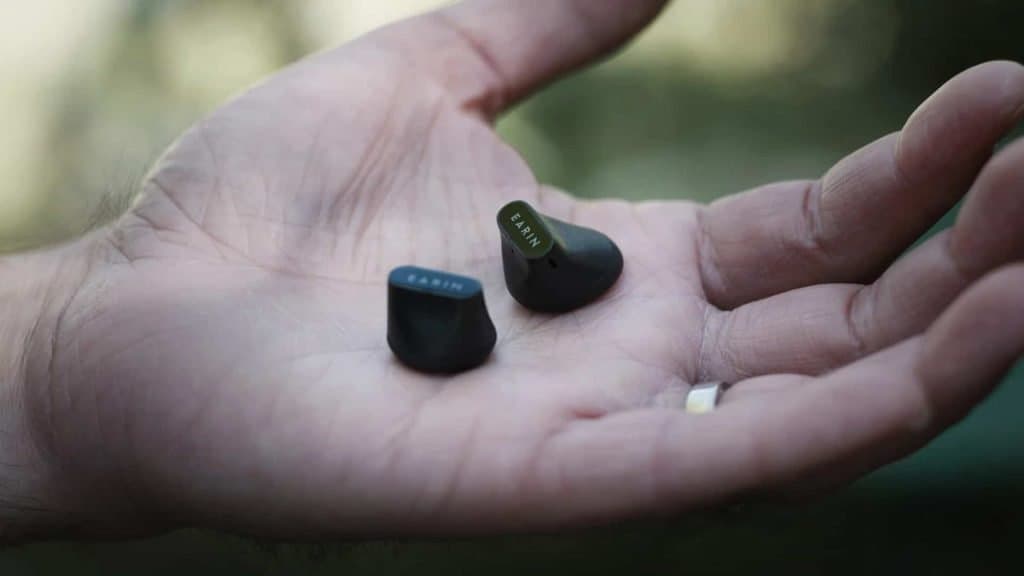 Looking for a pair of comfortable earbuds? Ergonomically designed, the A-3 earphones' custom shape ensures that you have comfort without compromise of style, most definitely unique and not an off the shelf solution. The A–3 is assembled in detail to provide the best audio experience.
Based on an open design with no ear tips, the A–3 is composed of 14.3mm high-end speakers, moving 20% more air than our competitors. You can look forward to enjoying great audio quality, in the smallest earbud on the market.
The earbuds are also engineered with a patented automatic placement recognition, so there is no need to look for right or left earbud. Just play.
The unique shape also guarantees a secure fit for any activity or venture. A simple and easy to use touch interface with IP52 rating making them sweat, splash and dust resistant.
With a battery life of up to 5 hours per charge and up to 30 hours playtime with a charging case there is nothing stopping you.
Keen to get this pair of earphones for iPhone in Singapore? They are yours for S$199.00.
7. Skullcandy Push True Wireless Earbuds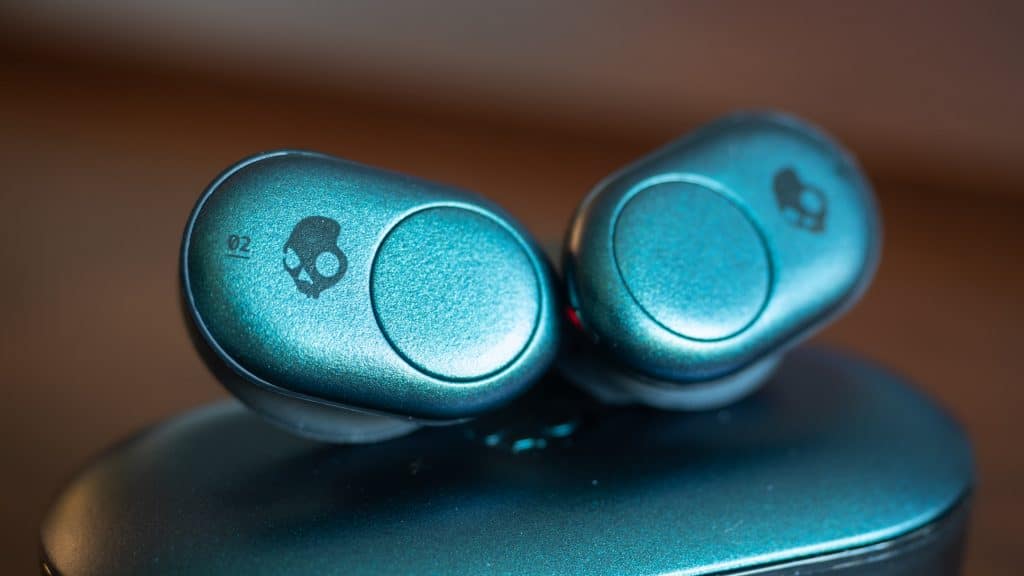 Forget what you thought you knew about how wireless earbuds should look and feel. Push™ is changing the game with bold colour, a sleek fit, and music you can feel—so you can live your life without limitations.
Boasting a total 12 hours of battery life, Push earbuds hold up to six hours of play and the charging case holds an additional six hours. That means when you're not listening, your earbuds are charging in the case and ready to go the next time you need them.
Push introduces an innovative form factor that not only eliminates signal loss, but also lets you easily control each earbud.
With an easily accessible button on each earbud, Push is also packed with features that keep you in control without having to touch your phone.
Plus, Skullcandy's original FitFin™ ear gel design comfortably tucks into any ear, giving you a fit that won't fall out.
Keen to get this pair of earphones for iPhone in Singapore? They are yours for S$56.99.
8. JBL Reflect Flow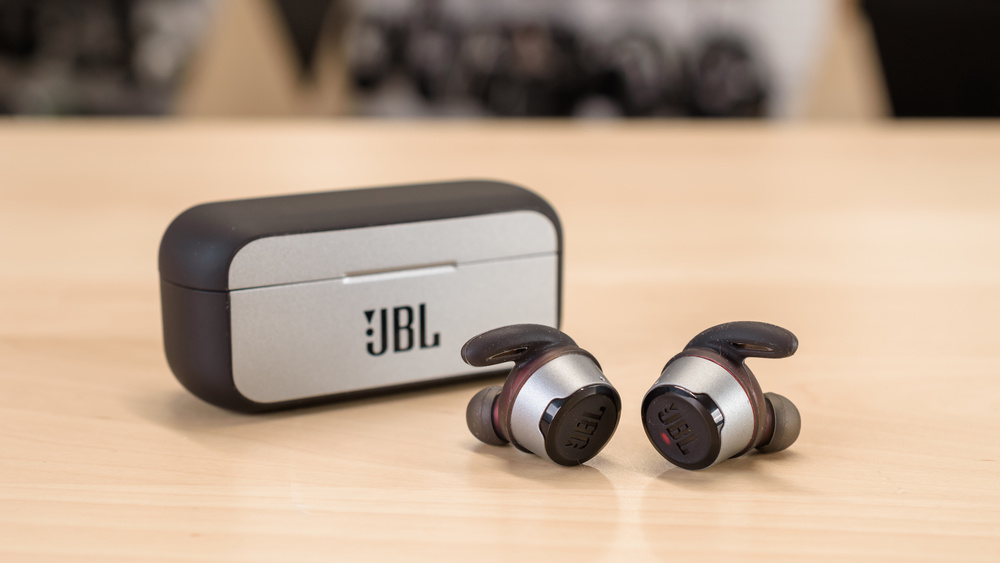 Enjoy the freedom to go further with JBL Reflect Flow headphones. Whether you're in the gym training or outside on the go, the JBL Reflect Flow headphones are truly wireless to compliment your active lifestyle.
In addition to the ability to change tracks, manage calls hands-free and access your voice assistant, the Reflect Flow headphones are IPX7 water and sweat proof providing up to 10 hours of continuous playtime with up to 20 additional hours in the charging case.
You'll also enjoy the Ambient Aware feature that enables you to hear what's happening around you while still enjoying your music. Additionally, the TalkThru feature allows you to have a conversation without taking off the headphones.
Comfortable and secure thanks to customizable ear-tips and Freebit enhancers, the Reflect Flow headphones delivers powerful JBL Signature Sound designed for movement.
Keen to get this pair of earphones for iPhone in Singapore? They are yours for S$239.00.
9. Cambridge Audio Melomania 1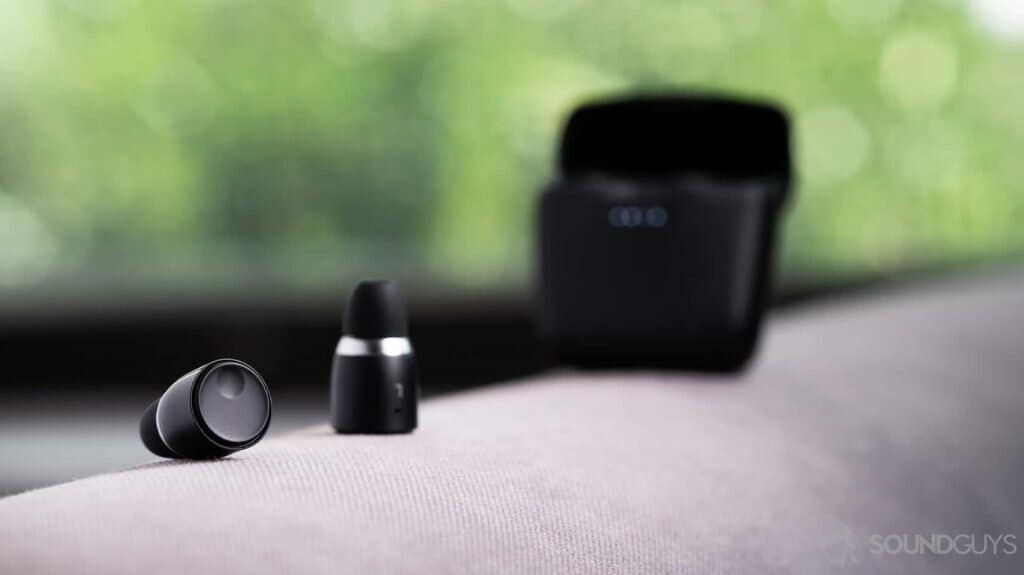 At only 4.6g each and with a choice of silicone and foam earphone tips provided, Cambridge Audio has designed Melomania 1 to deliver a fit that ensures both comfort and sound quality.
The wireless earbuds' Graphene Enhanced 5.8mm Drivers allied with aptX and AAC audio codecs deliver the immersive audio quality you've come to expect from Cambridge Audio. Whether you're an iPhone or Android user, get closer to the detail of every song in your music collection.
Featuring up to 9 hours of continuous playback and an incredible 45 hours between charges, Melomania 1 ensures that your music is on hand when you want it, for as long as you want it.
The people at SoundGuys note: "The Cambridge Audio Melomania 1 true wireless earbuds are a great alternative for listeners who stylish earbuds with solid battery life. Bluetooth 5.0 firmware paired with aptX and AAC codec support result in reliable connection strength and high-quality audio. If you can overlook the microUSB charging and dubious fit, they're a solid truly wireless contender."
Keen to get this pair of earphones for iPhone in Singapore? They are yours for S$195.00.
10. Sony WF-1000XM4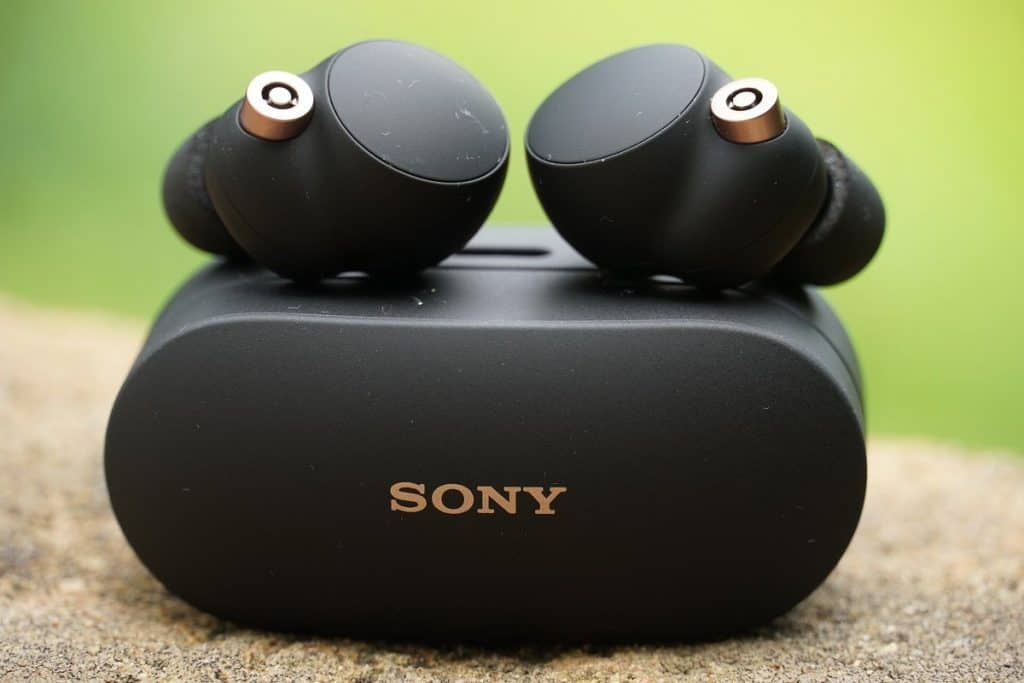 Sony WF-1000XM4 earphone offers an exceptional listening experience that is tailored for the user. With the integrated processor V1, this earphone gives an improved noise-cancelling performance, enhanced sound quality and reduced distortion.
Their adaptive sound control function allows for automatic adjustment of sound based on your situation. It comes with an IPX4 water resistance rating such that sweat and water won't come in the way of enjoying your music.
At just 7.3g, they are light enough to bring it around all day plus a built-in wireless charging case that will provide you with 16 hours of on-the-go charging. You can enjoy up to 12 hours of listening time with a full battery.
Keen to get this pair of earphones for iPhone in Singapore? They are yours for S$379.00.
11. Master & Dynamic MW08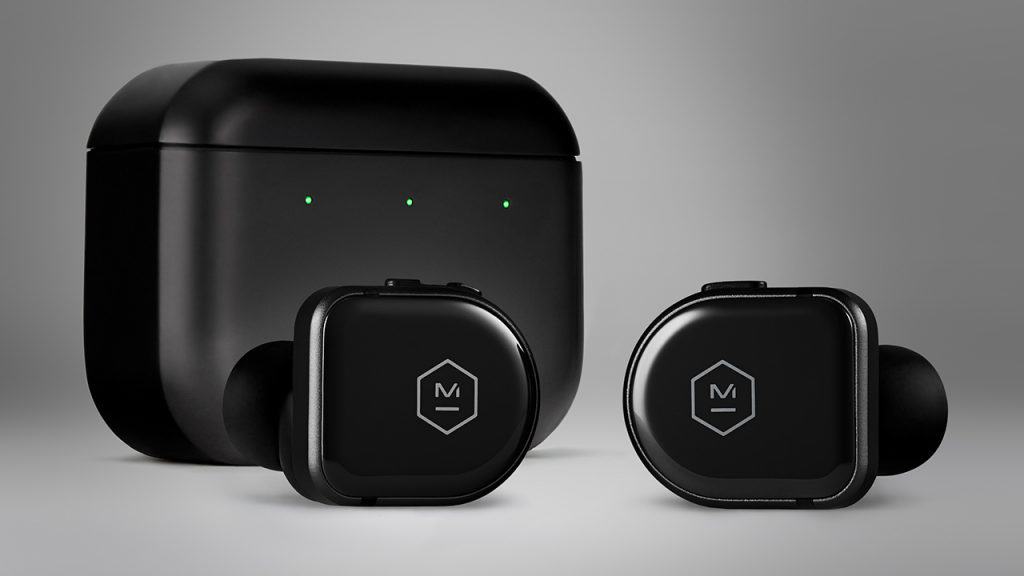 The Master & Dynamic MW08 earphone is a leap forward in sound and design. From ceramic earbuds to stainless steel wireless charging case, you will be ensured a good experience with the product.
The Hybrid Active Noise-Cancellation coupled with the IPX5 water resistance rating offers a superb hearing experience that you will very much enjoy.
You can enjoy a longer listening time with 100% charge in 45 minutes. 6-microphone talk solution function allows for clearer sound when you talk to your loved one.
Keen to get this pair of earphones for iPhone in Singapore? They are yours for 299€.
Conclusion
Do you have any reviews and comments to share regarding our choices for the best earphones for iPhone in Singapore?
While SBO is committed to supporting our local businesses, we welcome any feedback and anonymous sharing regarding your experience with the listed earphones for iPhone in Singapore.
We hope that this guide will be useful in helping you to make an informed decision when it comes to finding the best earphones for iPhone in Singapore.
Featured Image by Jess Bailey on Unsplash
Explore More Content