10 Best Hardware Store in Singapore to Get Your Hardware Fix [2021]
If it's broke, fix it.
Services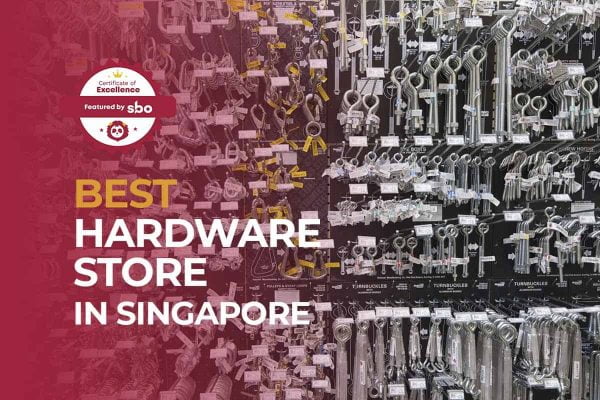 Our team at SBO.sg is committed to being a one-stop avenue to connect local businesses and consumers. We hope that our research efforts can help you save time and money by finding you the best deals without having to search around the vast world-wide-web.
In 2019, home-grown chain Home Fix sent shockwaves in Singapore when it announced that it would be closing down its stores amid financial woes.
Among the challenges that the do-it-yourself (DIY) chain had to grapple with were exorbitant mall rentals, competition from e-commerce and neighbourhood stores that sell the same wares at lower prices and a sluggish national economy.
Indeed, in a world of planned obsolescence where modern-day consumers are increasingly looking to replace their faulty hardware appliances with new ones, purchasing spare hardware parts for repair may not be as sound an idea.
However, there are many common household items that need not be replaced. Items such as lamps can simply be repaired, and for a much lower cost too.
Looking for a hardware store in Singapore? In this post, we've gathered all the necessary details to compile a list of the 10 best hardware store in Singapore.
1. Horme Hardware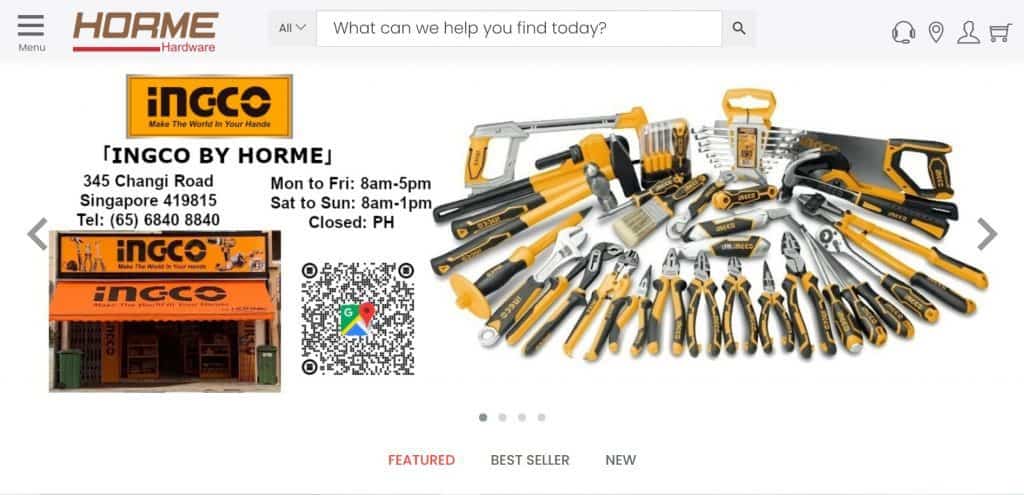 A hardware store with a strong online presence, Horme Hardware sells home improvement products from hundreds of established brands. This is made possible through partnerships with their business partners, which allows them to ply a much larger variety of goods and services compared to traditional hardware stores.
Brands they work with include renowned brands such as Ingco Tools, Makita, Stanley Black & Decker and Nippon Paint in Horme Hardware Online Store.
When you purchase their products online, they will be delivered straight to your doorstep. Alternatively, you can collect them from any of their Trade Centres.
With 40 years of experience in the industry, the hardware store in Singapore has a warehouse at Ubi Trade Centre, which is the largest hardware depot in Singapore.
2. David Hardware and Electrical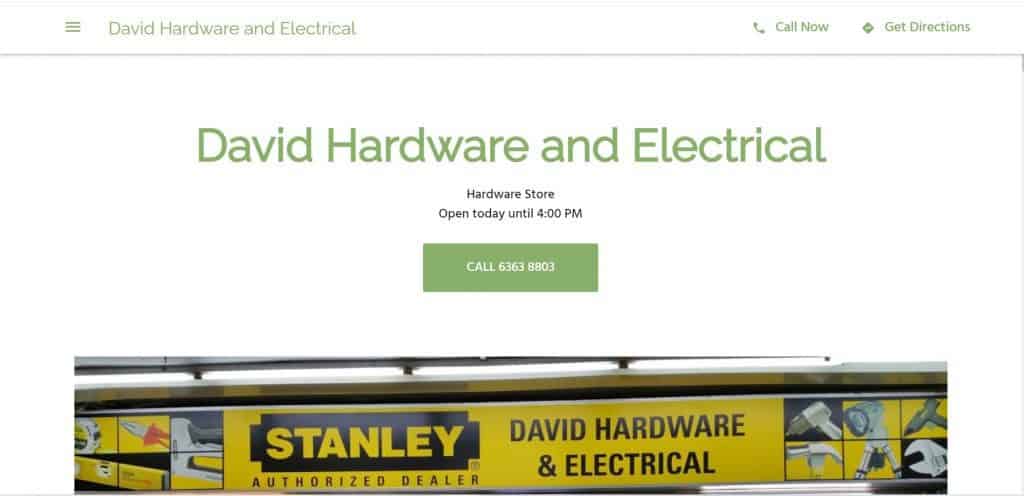 David Hardware and Electrical is a traditional hardware store in Singapore located at Marsiling. It sells Hardware and Electrical Supplies, Plumbing Services, Electrical Services, Key Duplication, Installation And Assembly Services, and Bulk Goods.
Google reviews praise the hardware store in Singapore for their friendly and helpful staff, as well as their wide range of replacement parts that are priced affordably.
3. HardwareCity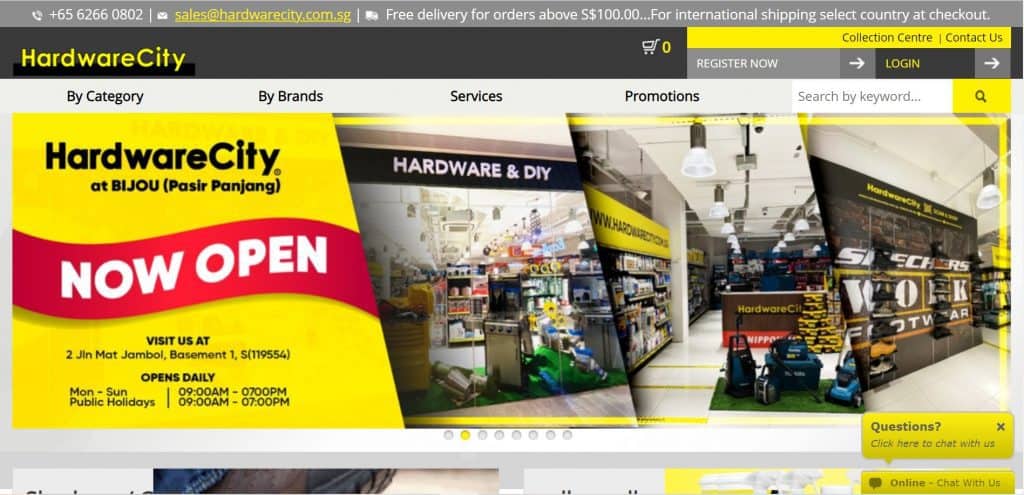 HardwareCity Singapore, founded in 1979, is one of the largest players in the building & industrial hardware industry. They serve all industries like Government Sectors, Institutions & Schools, Military, Marine & Offshore, Oil & Gas, Aerospace, Building & Construction, Facility Management Companies, Energy, Logistics, Major Manufacturing Companies, Hotels & Resorts as well as Transport Operators.
Hardware City has also established a wholesale channel called DIY-Channel, which has set up a series of DIY sections, garden concept stores & kiosks as well as eye-catching Pop-Up DIY Stores within the leading supermarkets in Singapore.
Their unique selling proposition lies in the unification of the traditional brick-and-mortar stores and modern eCommerce. The consistent cross-channel brands representation in-store, on the website, and mobile app, social media and traditional advertising allow DIY-CONNECT to better connect with customers.
4. Hardwareonline.com.sg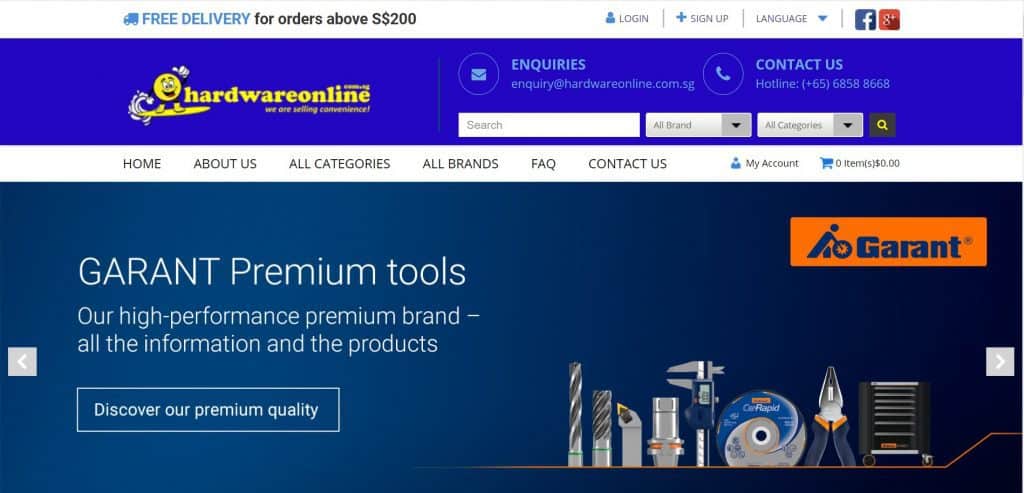 As its name suggests, Hardwareonline.com.sg is a one stop solution hardware online shop in Singapore. They have been around in business since 2015.
They have various payment options. There are 3 payment options for Corporate Account Users: Online Payment via Paypal, Cash/Cheque on Delivery and Credit Term Sales. Individual users have to make an Online Payment via Paypal.
The hardware store in Singapore presently delivers only to addresses in Singapore. Delivery fees will be waived for orders amounting to more than S$200.00.
5. Selffix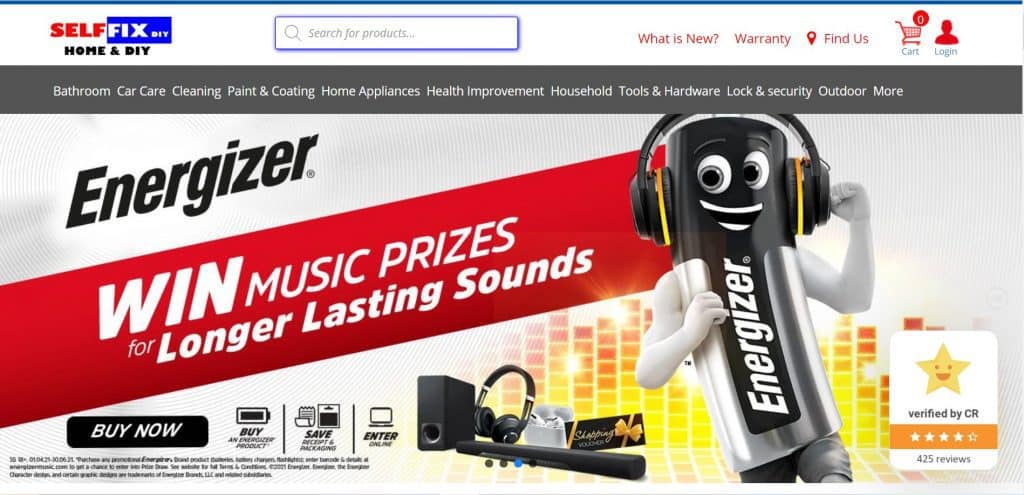 With 14 branches across Singapore, Selffix has been in the hardware and appliances industry for almost a decade, selling a range of products to customers.
They ply a variety of products like household essentials, cleaning products, health improvement and home appliances to outdoor and living equipment. Selffix also takes care of every aspect of your DIY needs with products such as pressure washers, fans, car care, digital door locks, peep hole viewer and camera, pest control, doorbells, digital safes, humidifiers, air purifiers, cordless drills, etc.
Their online store provides a one-stop omni-channel experience for customers and ensures impeccable service. Most products will be delivered on the same day or the next day. You can also collect your products at any one of their branches.
6. Hardware Store Singapore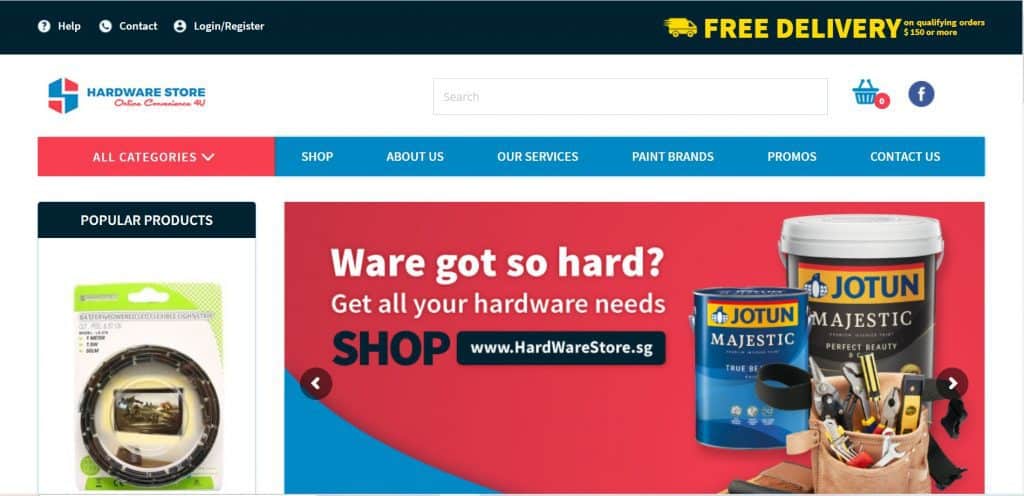 Established in 1989, Hardware Store Singapore started out as a humble start-up supplying hardware items for industrial usage. Since then, they have expanded their operations gradually and now possesses a total staff strength of 25 members.
The hardware store in Singapore is an authorised supplier. They are listed in GeBiz for "Domestic Equipment & Supplies" & "Hardware & Tools" with S8 financial limit.
Their clients also hail from the engineering, oil & petroleum, construction, hospitality, ports authorities, facilities management and end consumer sectors.
They have 6 stores across the Western part of Singapore. Their showrooms provide a wide selection of hardware items for both consumer and business needs.
7. UrbanWare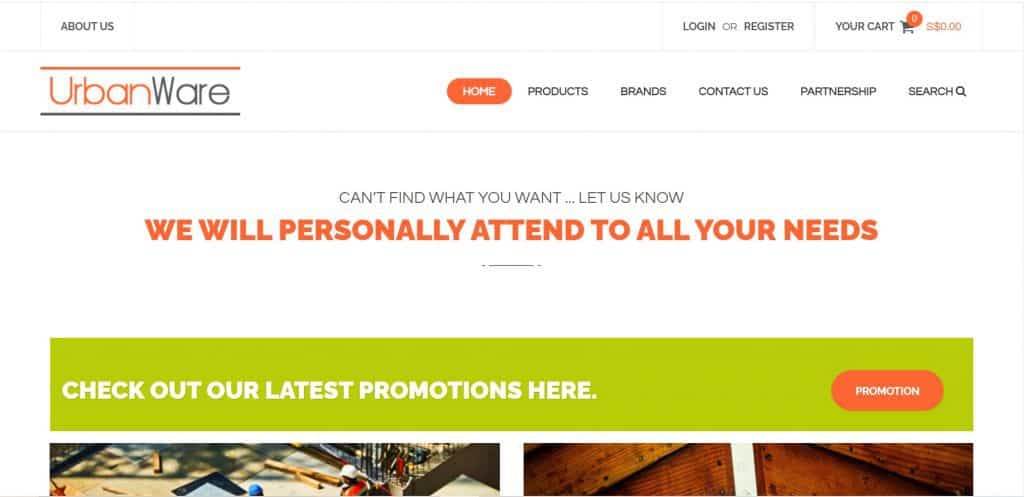 A subsidary under Yong Huat Hardware, UrbanWare plies a wide range of hardware products, supplies range from industrial, power and air tools to marine hardware.
The hardware store in Singapore possesses more than 20 years of experience in procuring quality hardware products from Europe and the Asia Pacific region. Brands they carry include Philips, Wepos, JB Weld, 3M, Showy, and Bostik.
Free delivery applies for purchase of S$60 and above (for Standard Delivery only).
8. Teck Cheong Hardware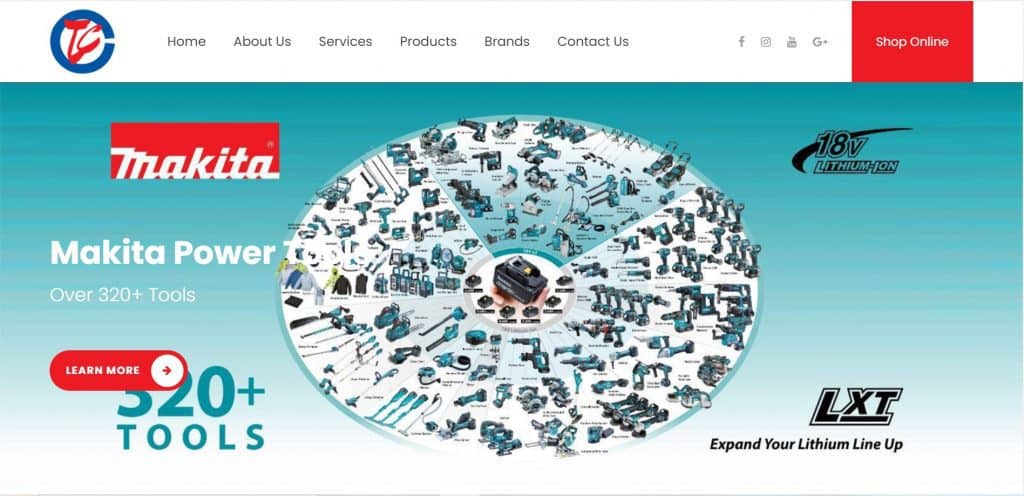 With 45 years of experience in the Power Tools & Accessories Market, Teck Cheong Hardware supplies hardware to main and sub contractors such as power tools, hand tools and heavy machineries depending on your corporate and office needs.
What differentiates the hardware store in Singapore from its competitors is that it provides product demonstration. This ensures that you pick the hardware that is best suited to your needs. With their team of experienced staffs, they can also provide helpful tips on how to take good care and use the hardware product well.
As the authorised dealer for power tool brands like Bosch; Makita and Hitachi, they can also process your warranty claim with the respective authorized service center.
9. MasterPro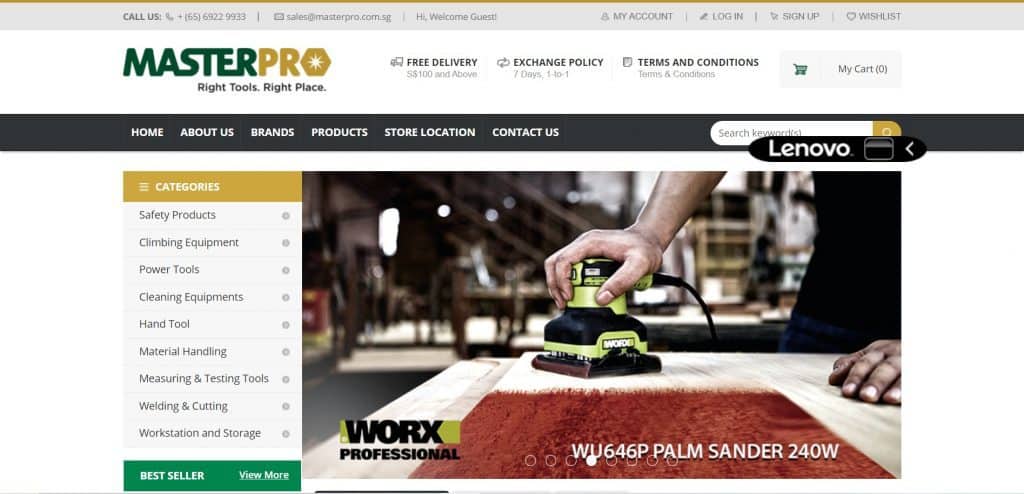 Established in 2012, MasterPro is Singapore's leading hardware, machinery and tools provider. The management team of the hardware store in Singapore is made up of seasoned industry professionals who have more than 40 years of experience.
They sell hardware & tools, safety and material handling products. MasterPro runs 3 industrial trade centres for walk-in customers, a corporate sales division for corporate entities and also a distribution division for reseller channel partners.
MasterPro has been an Approved Registered Government Supplier since 2013.
10. Bok Sing Hardware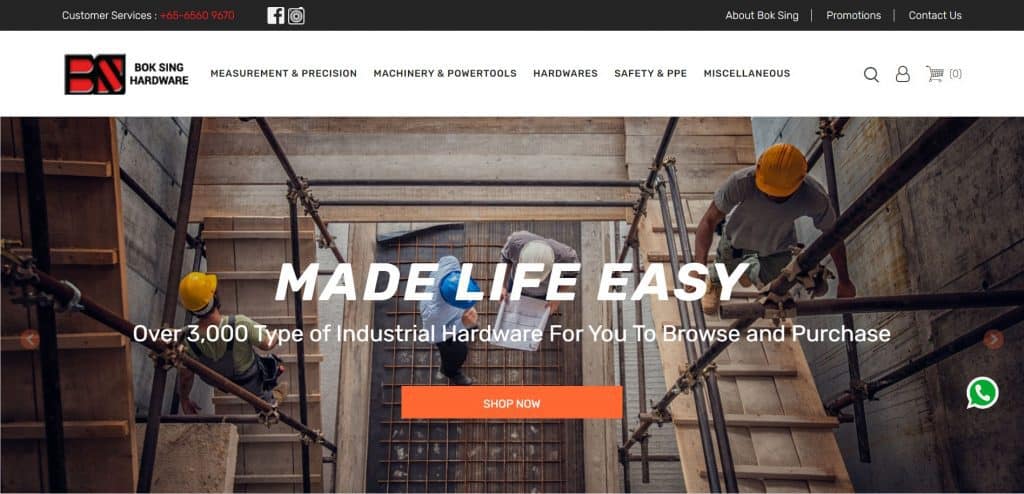 A premier household name in many industrial sectors, Bok Sing or Bok Seng has over 30 years of experience in the hardware industry. They have over 3,000 types of industrial hardware for you to browse and purchase from their online store.
They trade locally and globally, meeting the needs and wants of their clients from around the world such as Indonesia, Malaysia, Thailand, Vietnam, Maldives, etc.
The hardware store in Singapore sells Safety & Personal Protective Equipment, like the OTS Safety Shoe, King Power Safety Shoe, and the ProChoice Safety Products.
Conclusion
Do you have any reviews and comments to share regarding our choices for the best hardware store in Singapore?
While SBO is committed to supporting our local businesses, we welcome any feedback and anonymous sharing regarding your experience with the listed hardware store in Singapore.
We hope that this guide will be useful in helping you to make an informed decision when it comes to finding the best hardware store in Singapore.
>