10 Best Porridge in Singapore For a Comforting Meal [2023]
A thick, smooth bowl of the best porridge in Singapore is all you need after a tiring day!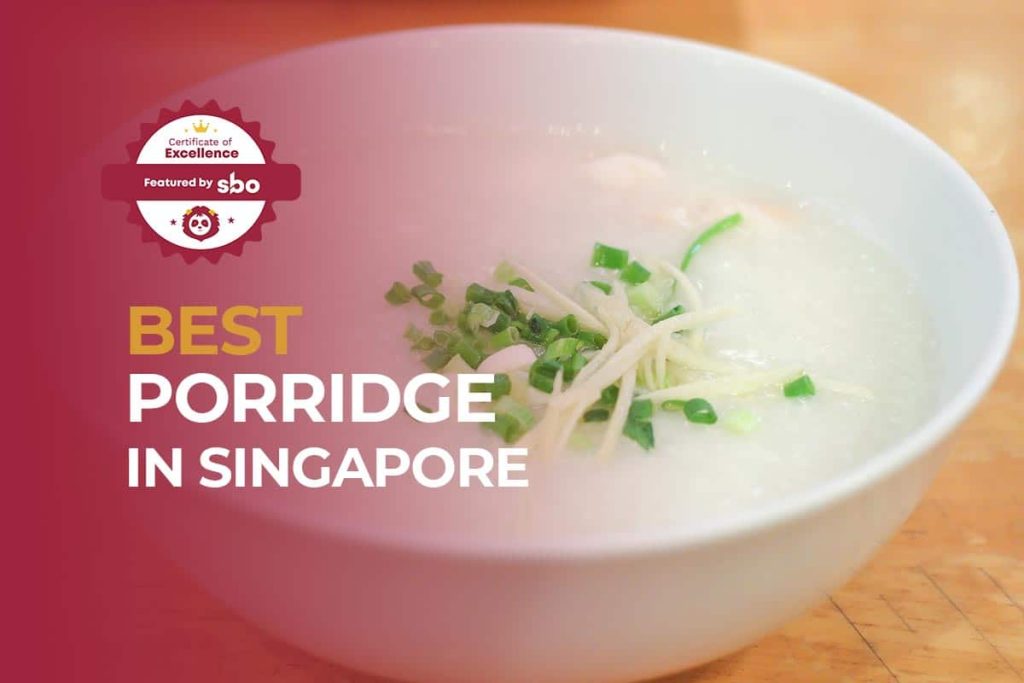 Singapore may not be the best place to enjoy piping hot food, but some days all we really need is just a warm, hearty bowl of porridge to make ourselves feel better.
A common staple amongst many Singaporeans, porridge is served either in the watery Teochew style with an array of side dishes, or Cantonese and Hainanese versions that are thick and brimming with ingredients within.
Just like you, we're also craving that soul-warming, delicious bowl of comfort. Here is the best porridge in Singapore that we've found!
1. Sin Heng Kee Porridge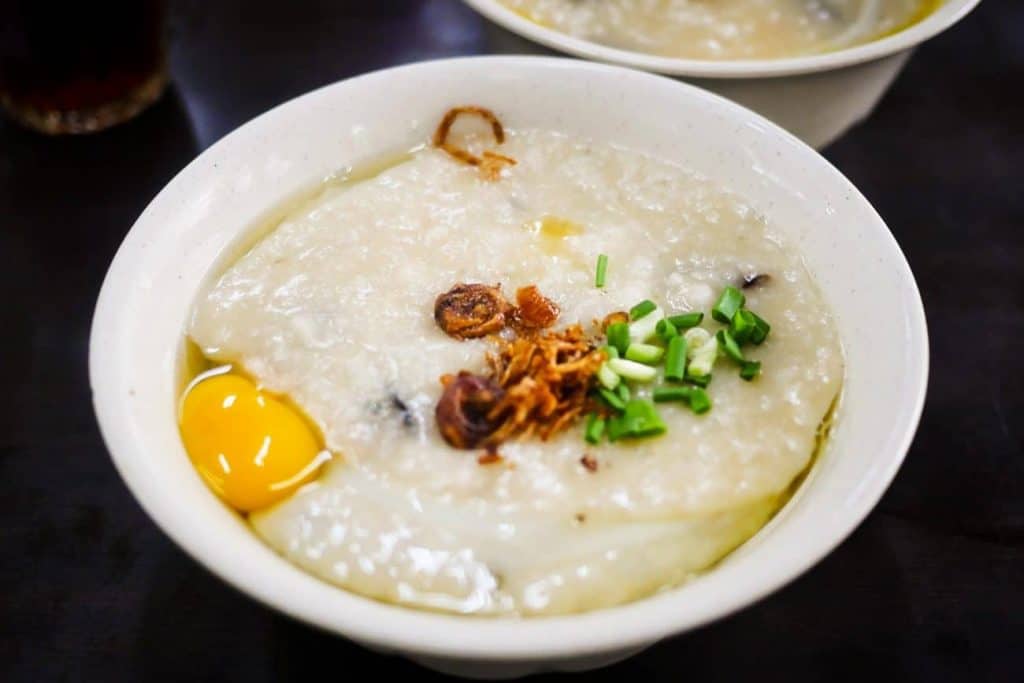 Despite Sin Heng Kee porridge taking up the whole coffeeshop for its congee business, queues doesn't seem to stop at this bustling neighbourhood eatery.
Perhaps what makes their porridge so popular is their wide variety of choices: from your standard ingredients such as pork and century egg to pair with your porridge, as well as their claypot dishes like frog legs. They specialise in the classic Cantonese style, with a creamy consistency that is derived from long hours of cooking.
For the indecisive eaters, they offer the Signature Porridge that includes a myriad of ingredients: cuttlefish, chicken, chicken liver, fish, pig's intestines, sliced pork and century egg. Perfect choice to get a taste of everything at once!
2. Ah Chiang's Porridge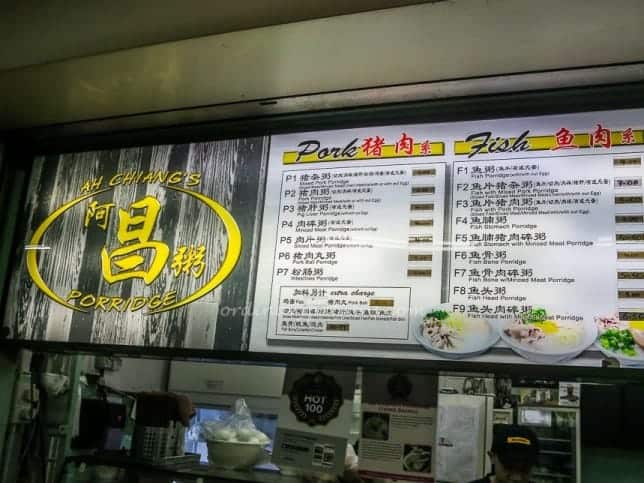 Another of our longstanding porridge stalls has made to this list, with its first outlet opened at Tiong Poh Road in 1968. Since then, they have garnered many fans for their Cantonese style porridge and proceeded to open two more outlets in Toa Payoh and Jurong.
At Ah Chiang's Porridge, their congee is cooked using the traditional method of slow-cooking over a charcoal stove. Ingredients served here are fairly basic, ranging from chicken to pork, seafood or century egg.
Their focus on using fresh, quality ingredients and sticking to their traditional recipe has resulted in truly delectable bowls of the best porridge in Singapore. Even without condiments, the porridge manages to retain a silky, sweet taste.
3. Xian Ji Porridge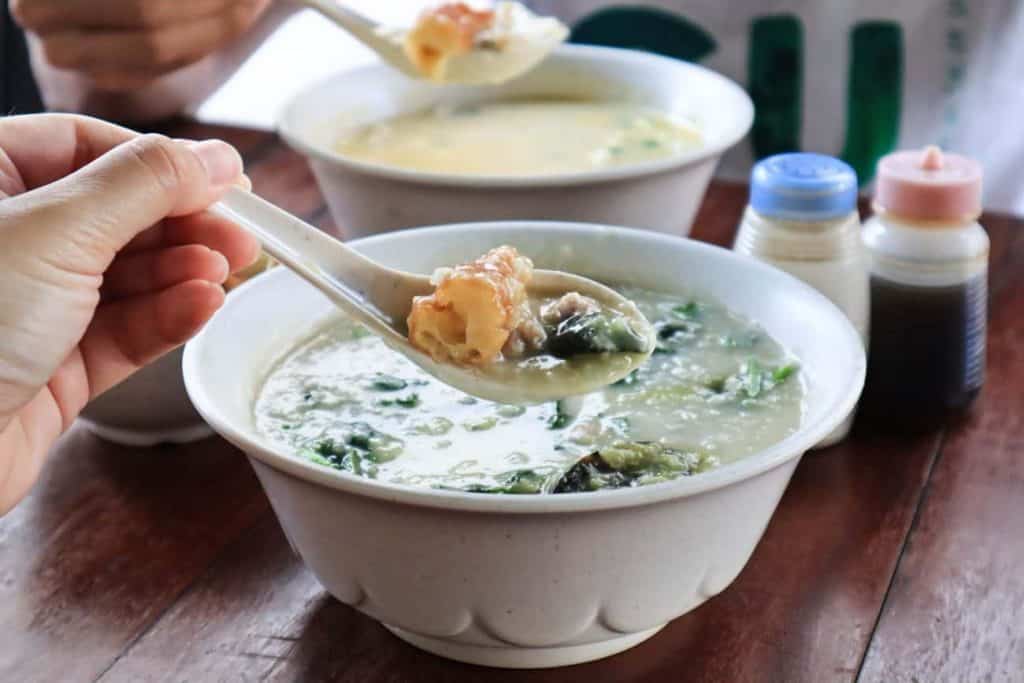 Who would have thought that nestled within the cafe-hopping paradise of Tiong Bahru, lies a humble porridge stall selling one of the best porridge in Singapore?
Welcome to Xian Ji Porridge, located within the Little Elephant Thai Bistro!
With its limited operating duration and long queues, it is best to come here early to catch this good bowl of steaming, thick congee. Their signature Minced Meat with Watercress Porridge may sound unusual, but many have raved about the generous portion of ingredients and hearty flavours. I guess it makes up for the slightly higher price, going at $7 for one bowl.
4. Zhen Zhen Porridge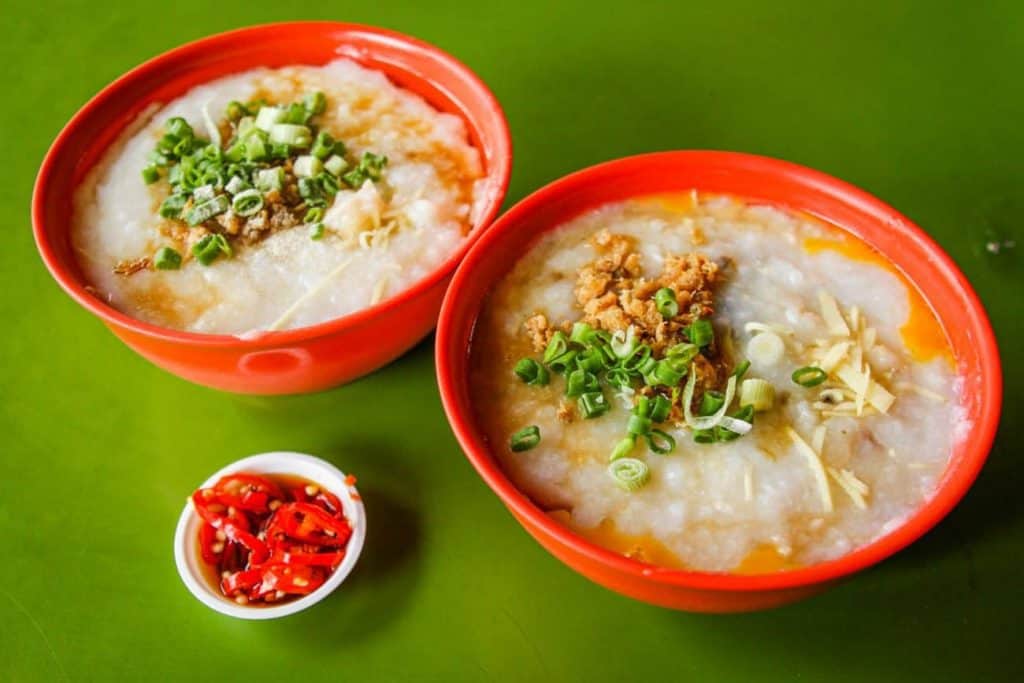 Zhen Zhen Porridge is one of the oldest establishments with over 30 years worth of history, serving some of the best porridge in Singapore.
The choices available are plain and simple: choose between sliced fish, chicken, century eggs or all 3 of them. You can also pick between small ($3), medium ($4) or large ($5). Top a raw egg for a more gooey consistency at only $0.50 more!
Many raved about their fish belly porridge, which is ridden with flavour despite its unassuming looks. The congee here is thick, smooth and creamy, with little to no traces of individual rice grains. Their congee will surely be a good start to your morning!
5. Mui Kee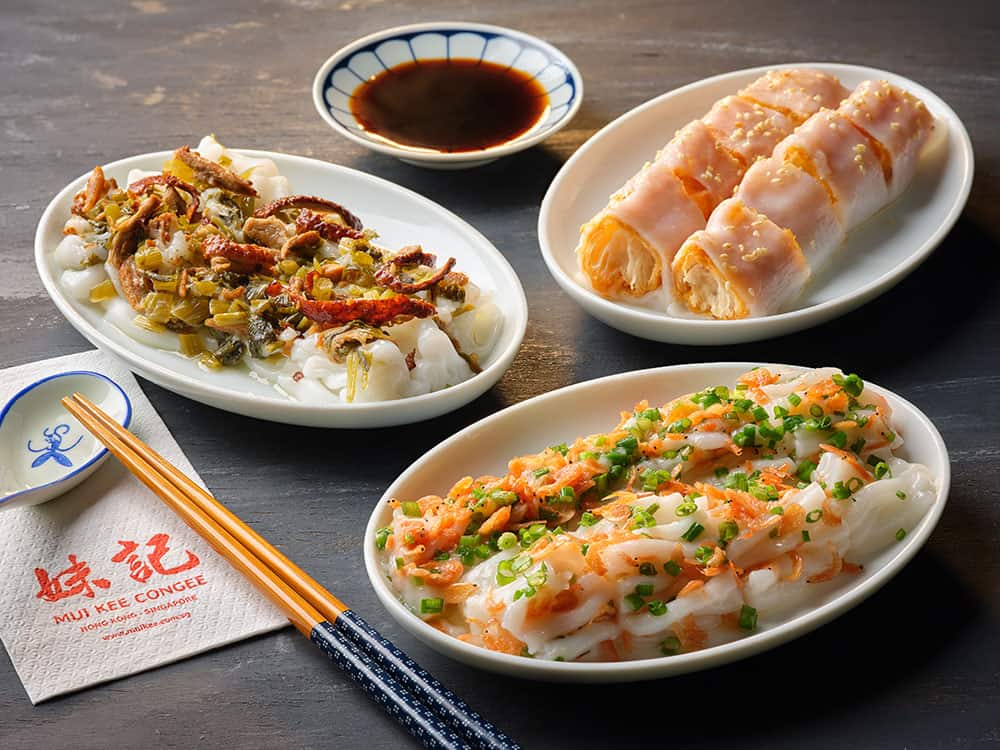 Opened in 1979, Mui Kee is a humble congee street stall in Hong Kong that rose to success in this concentrated food haven. In recent years, their presence has reached Singapore's shores, making them one of the best porridge in Singapore.
Their 3-generation-old recipe has safely withstood the test of time. Fans can be reassured of the food quality, with every bowl maintaining its smooth consistency and rich flavours. No wonder they are one of the best porridge in Singapore!
Some of their signature porridge dishes include the Parrot Fish Belly, Homemade Pork Meat Balls, or the classic Century Eggs and Lean Meat. They also house some premium selections, with toppings such as Alaskan King Crab or Braised Baby Abalone.
6. Weng Kiang Kee Porridge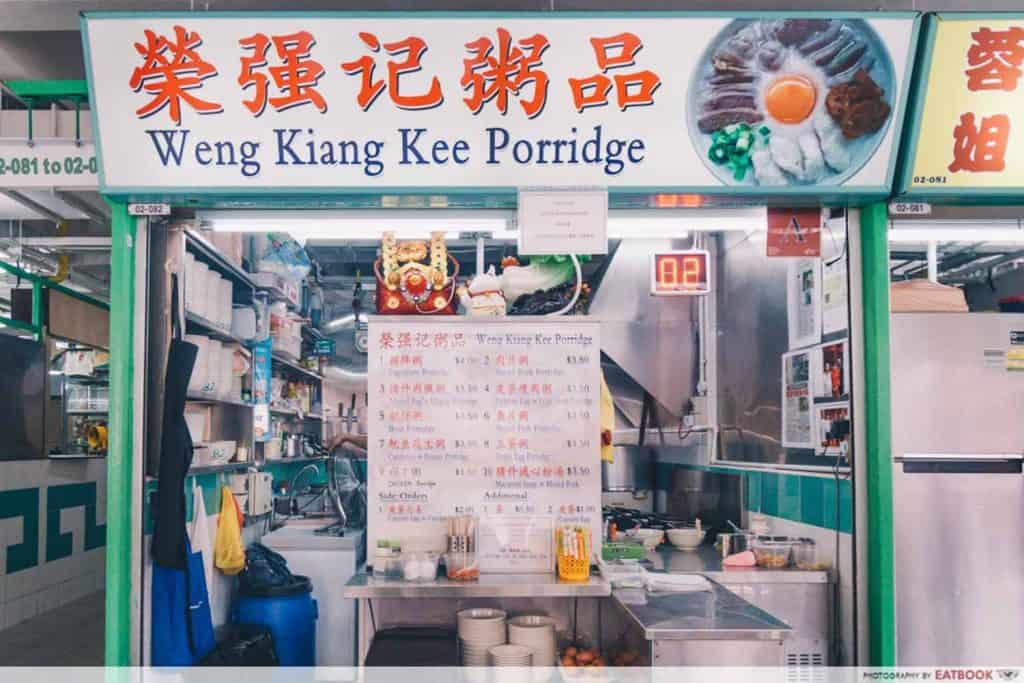 From the founding chef's years of experience working as a hotel chef overseas, he has brought back his culinary expertise to setup his very own porridge stall at Chinatown, serving Hainanese-style congee.
With his passion for this comfort food, he sticks to using premium rice and specially sourced meat and seafood from trusted suppliers to achieve splendid flavours and textures in his dishes. No wonder it's one of the best porridge in Singapore that you can find!
One of the highly recommended dishes would be the Premium Porridge, filled with an array of pork meats (pork slices, pork balls and innards) and even seafood such as cuttlefish and abalone. Yes, you've read that right, this seafood treasure is included. This bowl goes at only $5, definitely a good bang for your buck!
7. Soon Lee Porridge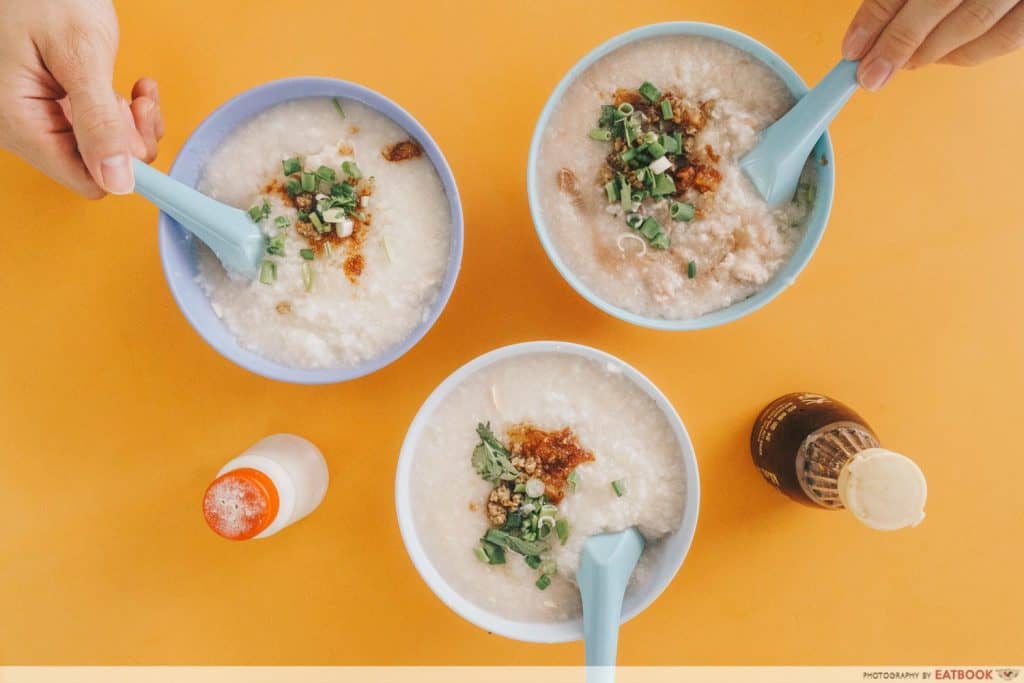 Hainanese congee is typically thicker and grainer than its Cantonese counterparts, making it a more filling meal. Most of us would have tried the Cantonese versions, but how many of you have had a taste of Hainanese porridge?
At Soon Lee, their Hainanese porridge is one of the best porridge in Singapore, boiled over long hours with their secret sauce that has diners queuing for more.
Their humble menu only features 3 main ingredients to choose from: chicken, pork and fish. Each bowl is well-seasoned and tastes incredibly homely, with a good texture to it. it is also very reasonably priced, setting you back only between $3 to $4.
8. Chai Chee Pork Porridge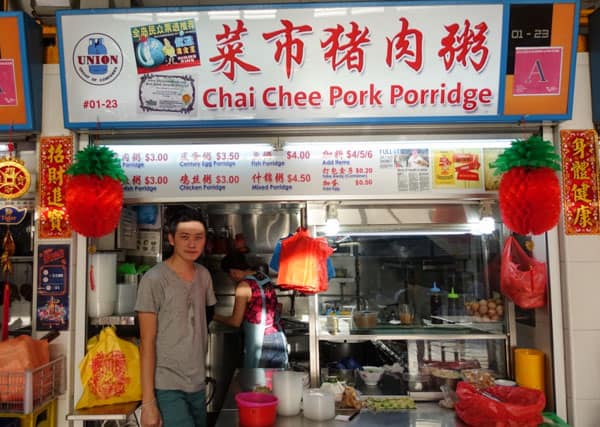 Supper goers will be delighted to hear of a good supper spot that opens from 430am onwards – Chai Chee Pork Porridge, to warm your tummy after a late night out!
Their no-frills, homely flavours and generous portions are truly value-for-money. Customers can choose from having pork, chicken, cuttlefish, century egg or fish to go with this steaming bowl of congee, with the first option being one of the popular choices. Don't forget the runny egg yolk or you tiao, they may be just the supporting leads in this dish but it does make the world of a difference!
9. Botak Delicacy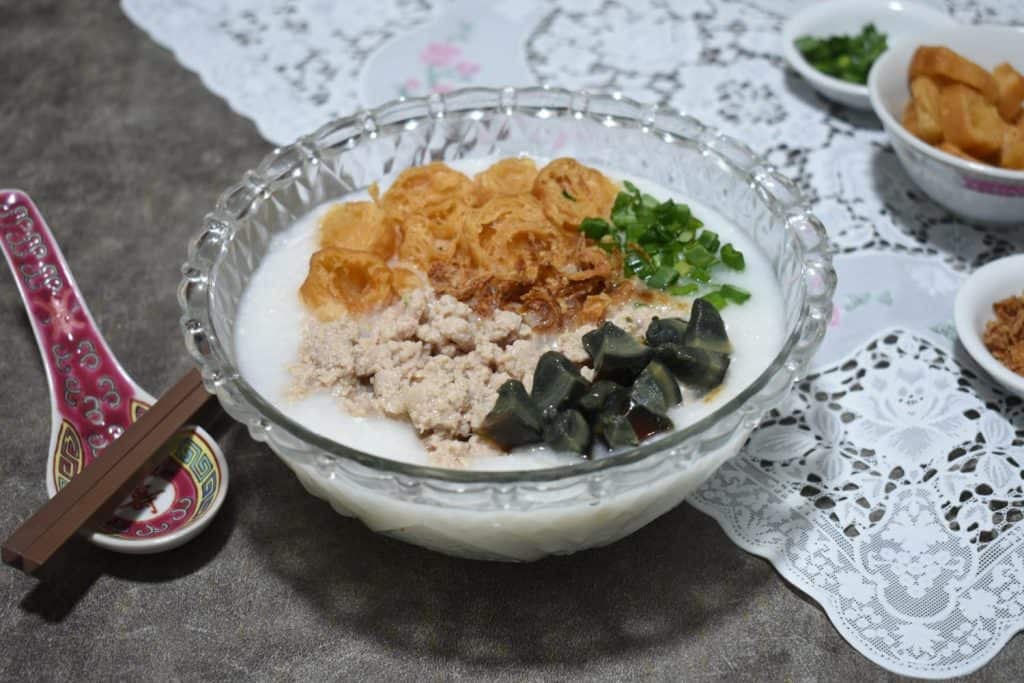 This interesting stall in the East serves both Cantonese style congee and Taiwanese braised pork rice, an uncommon duo found in hawker centres.
Instead of adding century eggs as toppings, they cooked it together with the congee, giving it a more rounded flavour to the entire bowl. Be sure to add on their handmade meatballs, which gives a good texture and makes the meal more filling.
As for their other speciality, Taiwanese Braised Pork Rice, it comes with a good range of ingredients: pickled vegetables, a braised egg, a thick piece of braised pork belly, doused with their aromatic braised sauce. Both dishes are affordable and delicious, get both if you've got a good appetite!
10. Yin Ji Porridge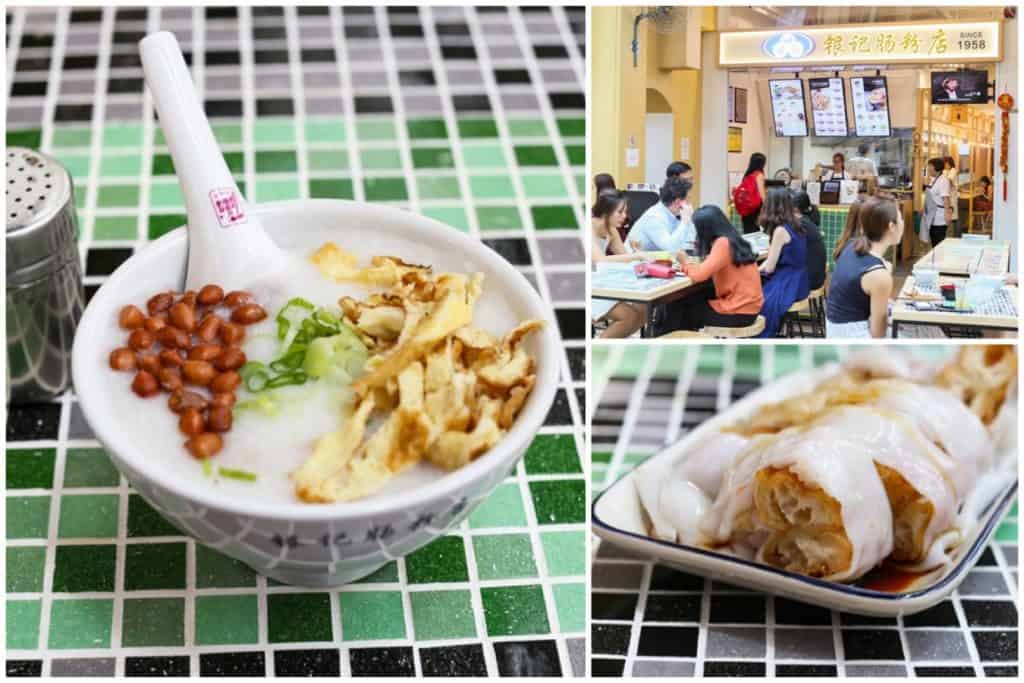 Ending this article with a bang, we have one of Guangzhou's most famous congee chain setting foot into Singapore's bustling food scene – Yin Ji Porridge.
Their classic Cantonese porridge is topped with sliced omelette, scallions and peanuts for some crunch. Take your pick for your meat, with options such as pork liver, fish, sliced pork, sliced beef, century egg & pork as well as vegan. Perfect for those dining with vegan friends!
Not only do they serve one of the best porridge in Singapore, their rice rolls are also worth a shoutout. Such rice rolls with dough sticks can be hard to find in Singapore nowadays, and they do make a good version of it with silky, thin rice rolls and crispy you tiao within.
Although located within the CBD area, prices are still reasonably cheap with most of the mains going at less than $10. With wallet-friendly prices and hearty food, it's no wonder this place is a hit among office workers.
Conclusion
As seen from this list of the best porridge in Singapore, it does not take much to produce comfort food. Simple ingredients, with homely flavours, can somehow taste so heavenly good!
Porridge isn't the only kind of comfort food that Singaporeans run to for that taste of familiarity. Take your pick, from Bak Kut Teh, to Dim Sum and more. Singapore is truly a food haven, with cultural delicacies in abundance!
Explore More Content