10 Best Macaron in Singapore To Sweeten Your Day! [2023]
Have some macarons to sweeten your day!
Mm, macarons— the sweet treats with chewy texture wrapped in a crispy exterior. This delightful French pastry combines sweet filling with airy meringue cookies for the ideal dessert. These days, macarons come in every flavour, shape and colour. A treat that looks great and tastes just as amazing, macarons are very popular all over the world…including Singapore.
However, this delicate dessert is difficult to make. Hence, it's not surprising that most of those who attempt to handmake the macarons fail miserably. In fact, there are articles on what to do with failed macarons on the Internet, implying that it happens often. Fortunately, in Singapore, we can just leave the macaron-making to the experts! Here are 10 Best Macaron in Singapore to satisfy your sweet cravings!
1. Milleaville Macarons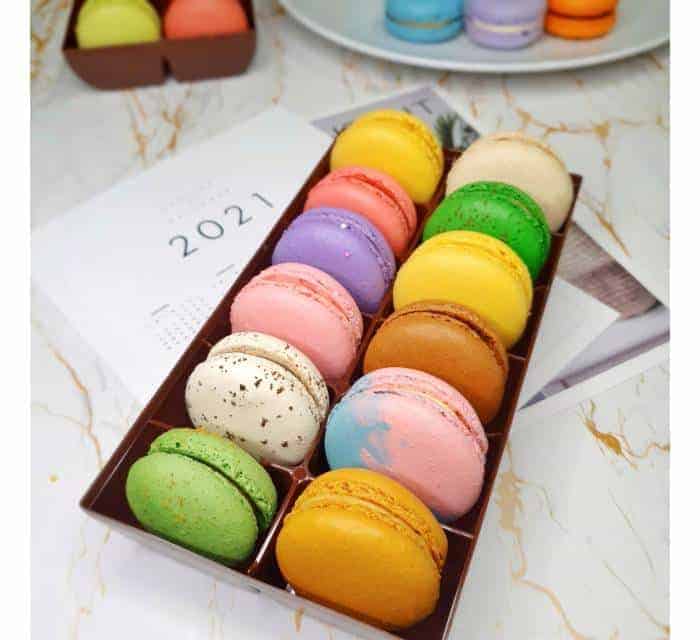 Milleaville Macarons started out a few years ago and had come far in terms of baking and business. After all, they have poured in their hearts and souls into making every piece of the macaron, based on the customer's requests. The bakers have spent around a year to test various recipes, adjusting them when necessary for the perfect combination, and they are ready to share it with their customers!
Milleaville Macarons offers a large variety of flavours when it comes to macarons, such as chocolate, salted caramel and peanut butter. Using only the best ingredients with no preservatives, their macarons are great for any occasion. In addition to in-store purchases, they also offer to deliver to your own home if circumstances do not allow you to travel to their shop.
2. Annabella Patisserie Trading Pte Ltd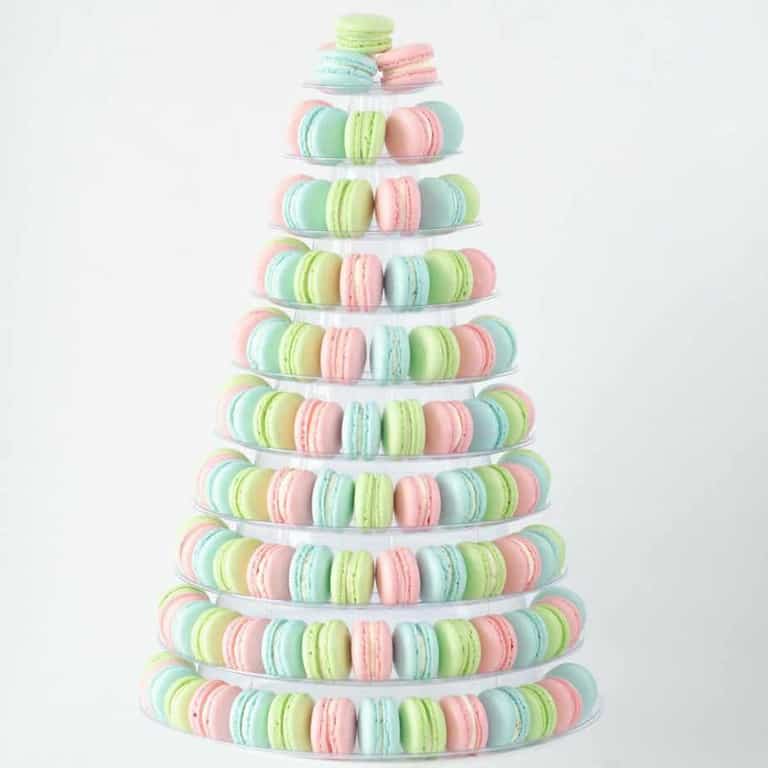 Annabella Patisserie is a Japanese-French inspired bakery, specialising in Japanese-style light-cream cakes and homemade macarons. With the light Japanese cream, each bite is accompanied by a dainty sweetness that is irresistible, without being too overpowering.
The classic flavours available for these macarons include Rose, Matcha, Earl Grey, Strawberry, Milo Dinosaur, and Oreo. They also have Premium and Artisan flavours such as Crème Brulee, Pink Velvet, and Grande. With up to 30 flavours available, there is certainly one that will suit your taste buds perfectly. If you feel like going fancy, you can order them in cute unicorn designs, request for printed individualised designs, put them as part of a cake, or even go above and beyond with a macaron tower delivered to your door.
3. Sinful Cakes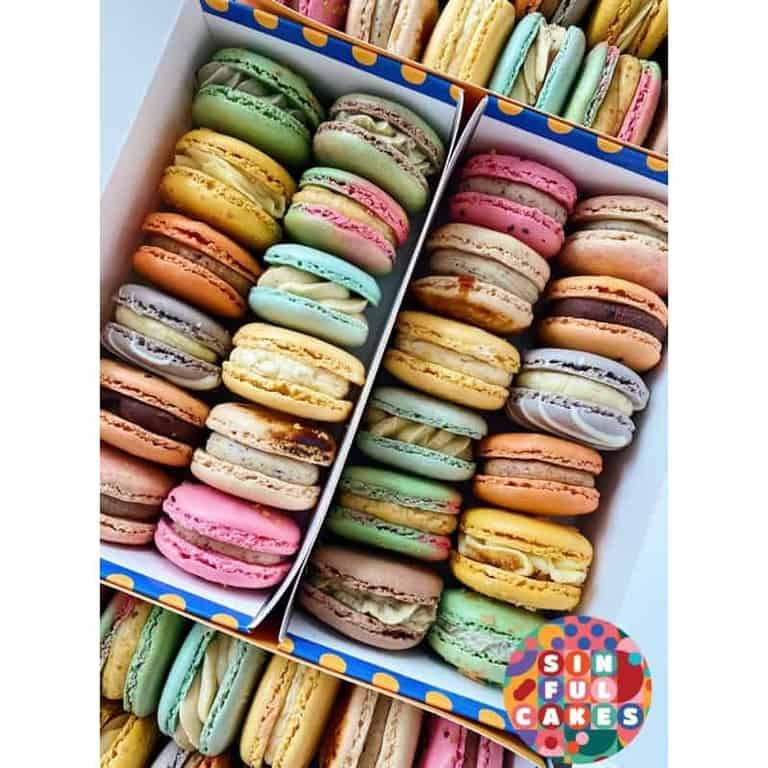 Started out as a tiny home-based business in 2012, Sinful Cakes has now evolved to the point it has a store located in Kensington Square. They have a selection of desserts available, including macarons, burnt cheesecakes, NYC-style cookies and more. All of them are 100% halal, allowing the Muslims to enjoy Sinful Cake's desserts without worrying about contamination from non-halal ingredients and or substances.
Speaking of macarons, the macarons also have a range of bold and colourful tones to them, just like their logo and packaging. Some of which include Citrus, Salted Caramel Chocolate, M&M, Lotus Biscoff, Rose and Vanilla. They even have more traditional macarons uniquely made by the owner himself, such as the Ondeh Ondeh, the Badak Berendam, and the pineapple tart macarons.
4. Ti Yan Pâtisserie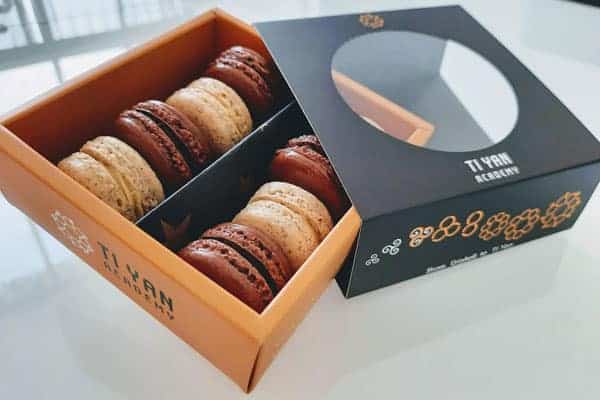 Also known as Ti Yan Academy, this establishment is a cooking school that will provide you course on the essential foundation in order to master French Cuisine, one of which includes macarons. They have resources for you to take advantage of, such as step-by-step explanations, tips, and tutorials provided by professional chefs. With those learning materials, cooking would be child's play for you as long as you are willing to learn!
Each video recipe would come with the recipe card that will allow you to make adjustments depending on the number of people you are making it for, and it is even printable! You can even use them to try and replicate the amazing macarons yourself. If you feel like buying them though, Ti Yan Academy also offers their macarons for sale. They have flavours such as Ruby Red Fruits, Vanilla, Chocolate, and Mandarine Velvet.
5. Nanatang: Bake house and Studio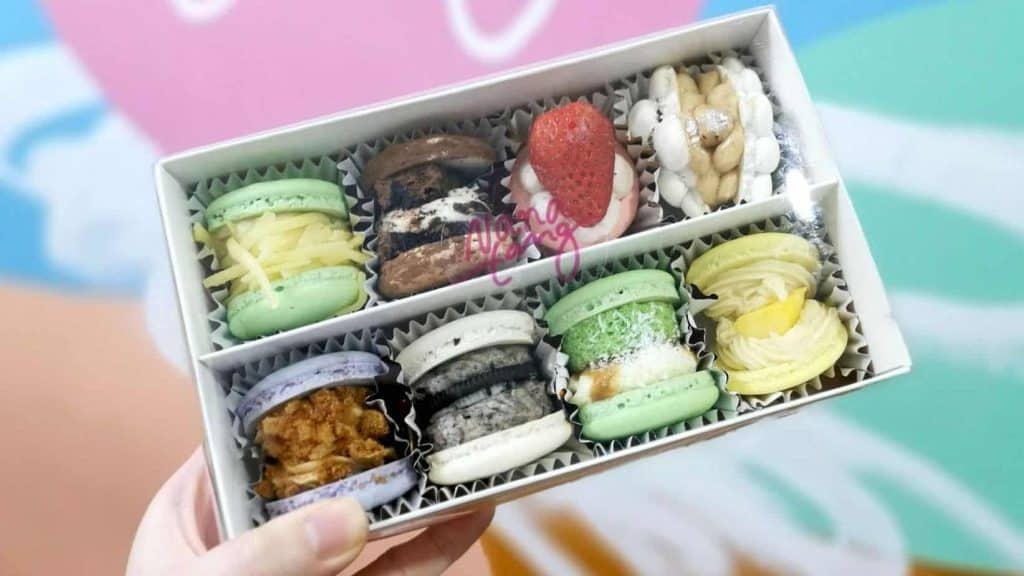 Starting as an online bakery in 2013, Nanatang is a studio and bakehouse to go to if you want the latest cake trends and interesting workshops. In fact, if you want cakes that are worth putting on Instagram, they have it all here. Nanatang is a space to bring together like-minded people who love to create beautiful things, in particular cakes. if you want to try a hand at baking cakes, come down to attend a baking workshop!
Their space can be used for other purposes, such as conducting classes, hosting parties or events, or even baking your own goods. If you are looking to buy macarons and is looking for adorably themed macarons that are modelled from cartoons such as Sesame Street or Frozen, they also have it right here.

6. The Frosted Chick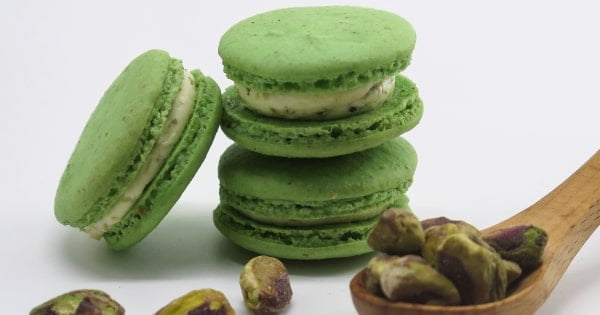 When it comes to choices, you'll be spoilt for choice when you visit The Frosted Chick. They boast cake flavours such as Nutella Velvet, Matcha White Chocolate, Strawberry Shortcake, and Milo Madness. When it comes to cupcakes, they have flavours such as Chocolate Fudge Brownie, Lemon Meringue, Hazelnut Praline, and Strawberry Surprise. With many different options, there is sure to be something for everyone.
With macarons, they have delectable flavours such as vanilla bean, pistachio and Earl Grey. In fact, they can even make macaron bouquets just for you. With many different options for many types of sweet treats, there is sure to be something for everyone.
If you want to throw a party with their products, no problem! They have dessert packages that contain delivery, set up, dessert stands, plates, trays, decoration, props. At the end of the party, they also offer tear down and collection of the rental items. The standard time to rent these items is four hours, although you can extend for a fee. So why not contact them for the perfect celebration today?
7. Baker V
When it comes to celebrating special occasions with macarons, Baker V has it down to a T. Whether you have an upcoming birthday party, baby shower, wedding, or an anniversary, or anything to celebrate in general, Baker V has the unique combination of customised backgrounds, delightful desserts, and beautiful floral arrangements to beautify any party! Not only are their party arrangements pretty to look at, but the desserts are also tasty, which gives the perfect touch to a celebration.
All orders that they have are always completed with fresh baked goods. As they are always keeping up with the trend of the latest exciting and tasty treats, everyone always has something new to look forward to when it comes to Baker V. Moreover, each of their baled treats is decorated by hand with no preservatives added. As an attachment to their quality, they have served clients such as The Singapore Women's Weekly, Swarovski, Shoppee and M1.
8. The Custom Bites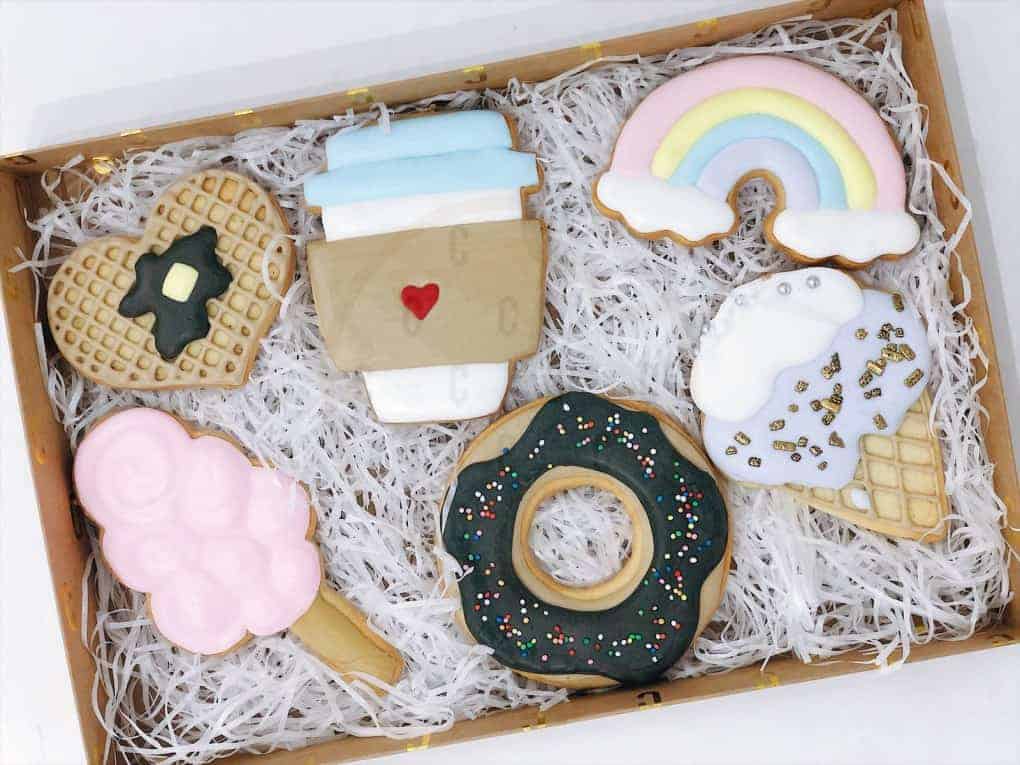 When it comes to offering macarons as corporate events, there is not a better brand than The Custom Bites. Each of the macarons is tailored to fit any business brand and corporate colours, all in different flavours. You can even opt for your logo to be digitally printed on the macarons with 100% edible ink or go for the classic style with corporate macarons tastefully assembled together and shown off in your corporate colours or monogram. You also have the option to decorate it with things such as sprinkles, glitter, gold flakes and edible dried flowers.
The Custom Bites is also the first to come up with the concept of DIY Cookie Decorating Kits with differing themes, allowing you to decorate your cookies however you want without making a mess in the kitchen or the need to prep the ingredients. If you want to learn professionally, the establishment has lessons available for using Royal Icing, and the Art of Cookie Decorating. You can even take home a cookie from them and the royal icing recipes as proof of a fun and fruitful session.
9. Le Petit Empire DESIGNER CAKES Singapore 小王国品牌蛋糕店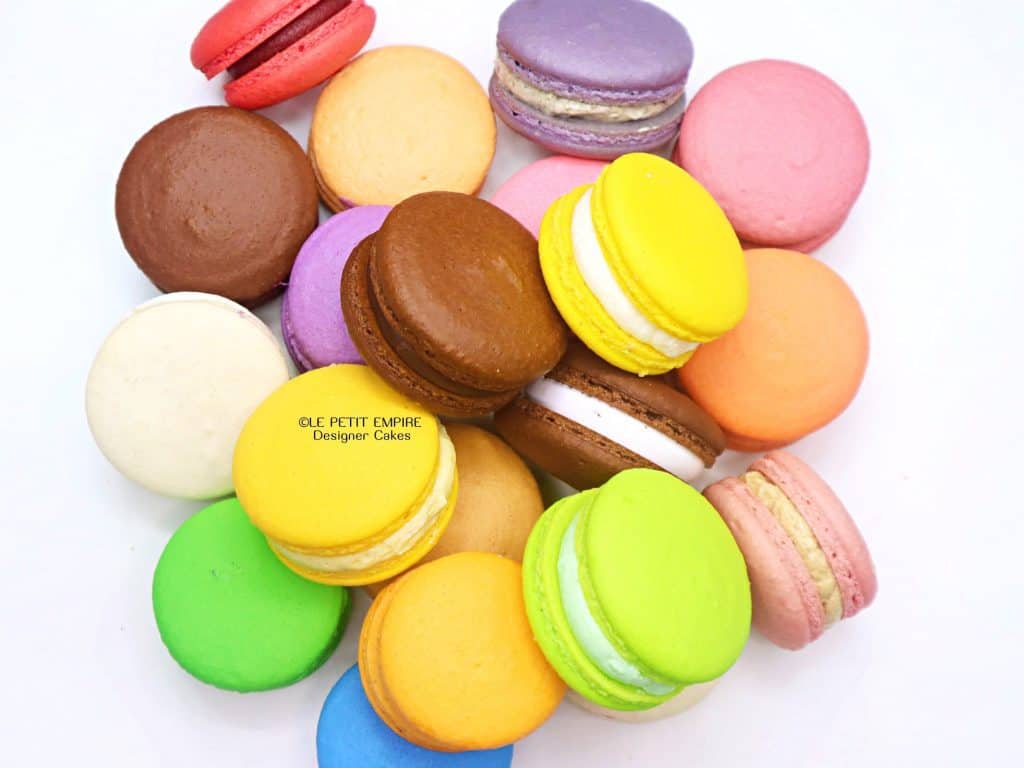 Specialising in designing novelty cakes for birthdays, weddings, and events, Le Petit Empire Designer Cakes is founded in 2012 by Executive Cake Designer Lydia and her team of passionate artists. The cakes in Le Petit Empire Designer Cakes are freshly baked and are designed to contain wonderful surprises, such as the entertainment cakes that have the classic Money Pulling feature. This allows an element of the wonderful unexpected extra gift for your loved ones!
The shop will pull out all the stops for the surprise, as the packaging is also beautiful and is accompanied by a gift card. They also have excellent service, so if you need any last-minute changes to the order before delivery, they will deliver your request without fail. Their services also extend to macarons, with a variety of flavours and customisation available. The macarons have two sizes: Regular & Petit Bite Size.
10. Creme Maison Bakery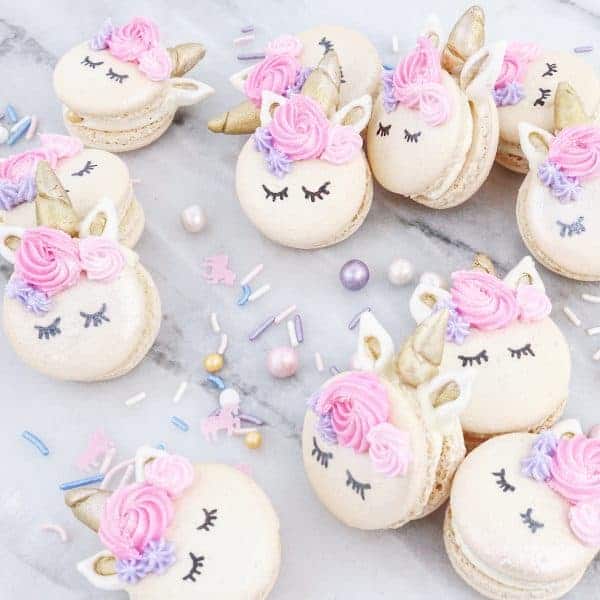 With their widespread success over their crafting Instagram-worthy customised cakes for any special occasion such as baby showers, birthday parties, and weddings, Creme Maison Bakery has expanded into the bakery industry with delectable desserts such as cakes, cupcakes and macarons, all under one roof. Based on the way their products usually taste, their goods are ideal for those that did not have a very large sweet tooth.
Their macarons are considered cute and pretty, for they have the unicorn style and the confetti style, making it perfect for the dessert table in terms of aesthetics. In addition, customers have praised them for their fast service and helpful staff.
Conclusion
Macarons may just be one of the best snacks in Singapore or even the world. After all, they can be made into many different flavours through one's creativity. After all, the listed establishments have proved this point well.
Speaking of macarons, what is your favourite macaron flavour? Do you prefer the conventional or unconventional style of macarons? Let us know in the comments as to your preferred type of macarons!
If you're more inclined towards going to a cafe for your caffeine jolt or for something savoury to hit the spot, read on as we can also recommend the best café in Singapore!
Featured Image by Chelsea Audibert on Unsplash
Explore More Content