10 Best Thai Food in Singapore That Brings You Back to The Land of Smiles [2023]
Savour some of the best Thai food in Singapore, especially if you're up for a fiery spice punch!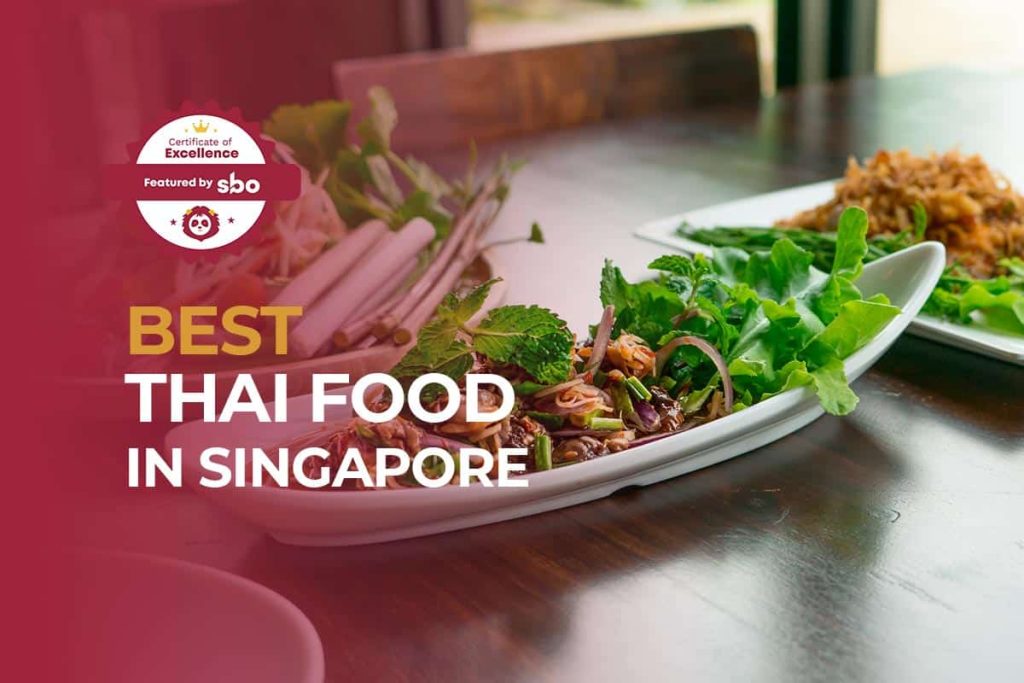 Singaporeans are certainly no stranger to this Southeast Asian cuisine, characterised by its aromatic, bold flavours that come with a spicy kick most of the time.
With Thai food becoming increasingly prevalent in our food scene, the lines turn blurry between the mediocre and the exceptional.
With that, we handpicked only the best Thai food in Singapore, for our foodies here to make well-informed decisions amidst the sea of Thai hawker food stalls and high-end restaurants.
1. Jai Thai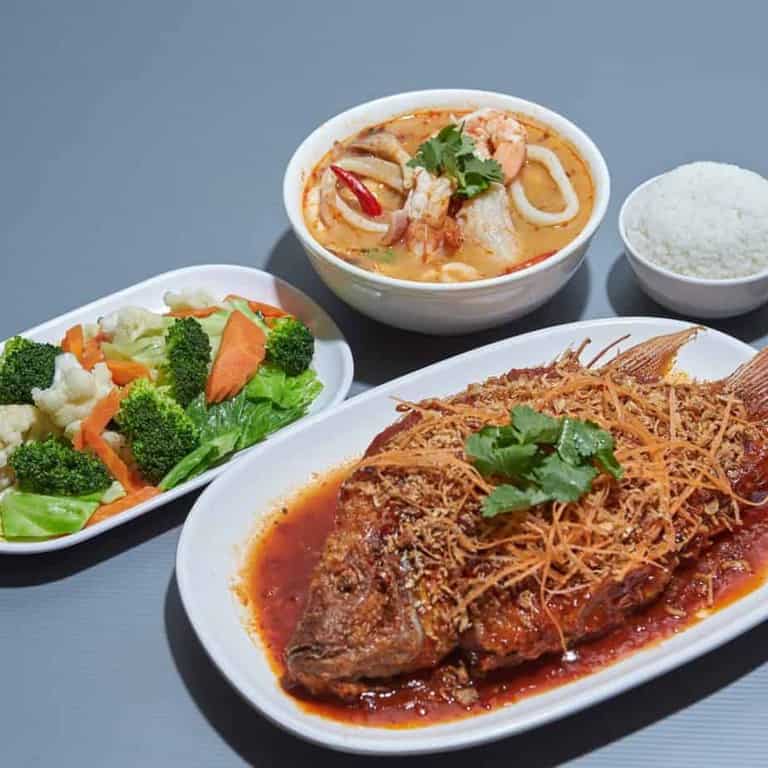 The previous Thai food contender may have seemed too intimidating for many of our wallets, thus we have another more accessible and wallet-friendly option – Jai Thai.
Similar to Nakhon Kitchen, Jai Thai prides itself on serving authentic, affordable Thai cuisine that is conveniently located around Singapore. You won't be lamenting about not having any good Thai food near you anymore!
They also offer catering services for those looking to feast on some good ol' green curry or pineapple fried rice. Definitely going to be a crowd favourite among the young and old!
2. Sawadee Thai Cuisine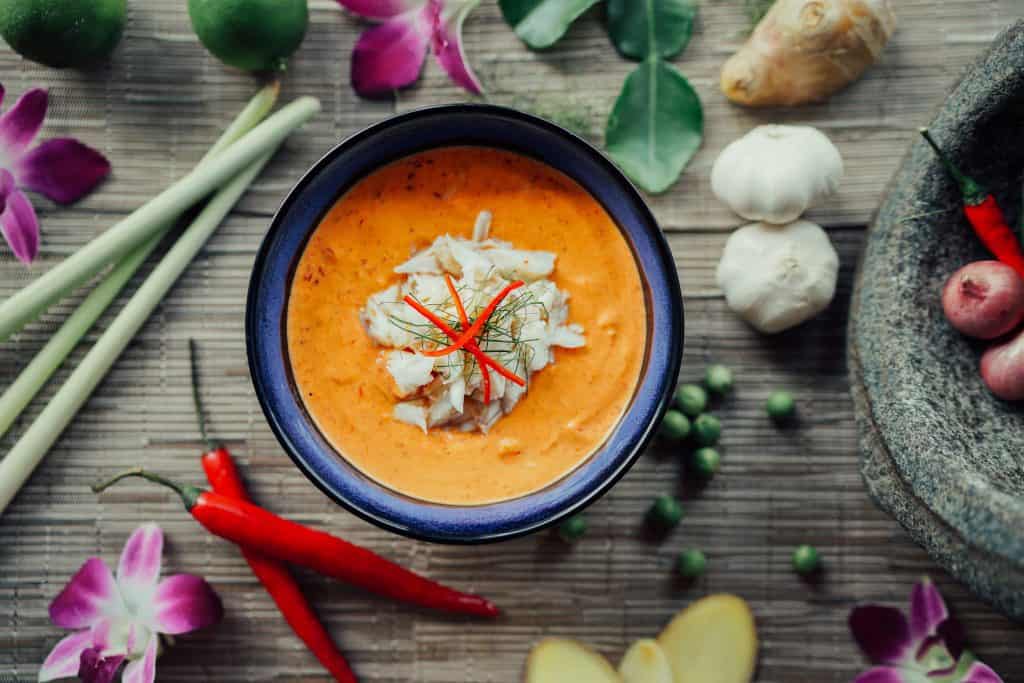 With freshly imported ingredients from the country itself and the restaurant's laidback vibes, diners can satisfy their lust for travelling to Thailand instantly at Sawadee Thai Cuisine.
Some of the best Thai food in Singapore, especially the classics such as tom yum soup or green curry can be found here.
Fancy something that will excite your tastebuds? I am sure some pan-seared black Angus beef ribeye in green curry or Mao Shan Wang durian sticky rice will sound intriguing!
They have also made it inclusive for your vegetarian friends, with a vegetarian menu that's equally bursting with spice and flavour.
3. Taste of Thailand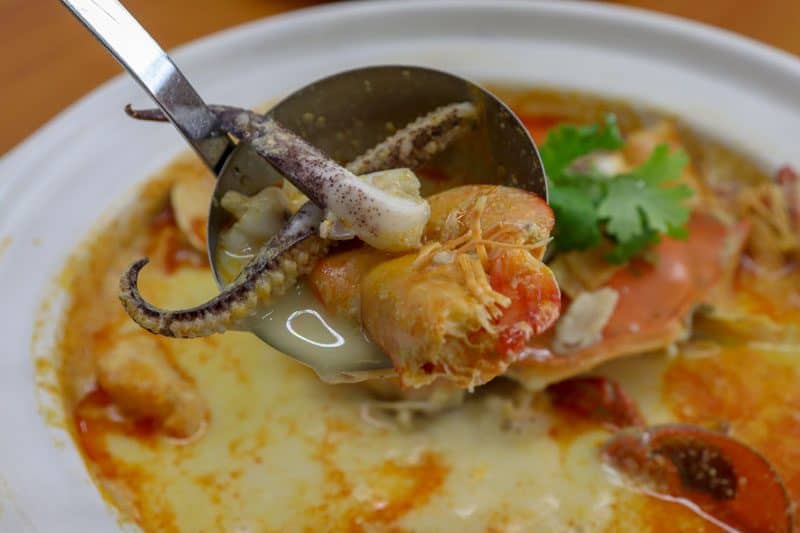 This Thai-inspired zi char stall is the perfect solution for traditional parents that can't go without Chinese food and their millennial children who crave some classics with a twist.
Established for over 30 years, Taste of Thailand has certainly come a long way, from their humble beginnings in their Sembawang outlet to 2 branches (Sin Ming and Yishun) with snaking queues.
Albeit a little out of the way, customers will not be disappointed with their hearty Thai food that is generously portioned. Some of the specialities here include their Lao Po Soup (seafood soup), Thai Deep-Fried Fish Delight and Pad Thai.
4. Kra Pow Thai Restaurant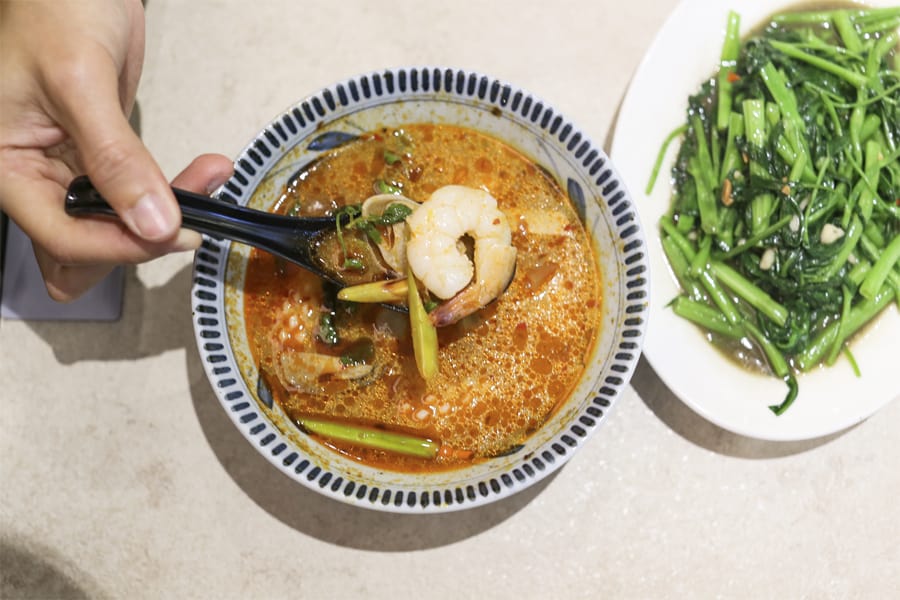 Does cheap eats in town sound like a good score to you? Head down to Kra Pow Thai Restaurant, located in the heart of Orchard with some of the best Thai food in Singapore.
Some of their bestsellers include the Drunkard Noodles, resembling the iconic Pad Thai but prepared with wider flat noodles. Although it looks unassuming at first glance, your taste buds will be in for a fiery surprise as it does come packed with a punch!
Other recommended dishes would be the Stir-Fried Kang Kang, Tom Yum Seafood or Krapow (basil chicken with rice).
5. Nakhon Kitchen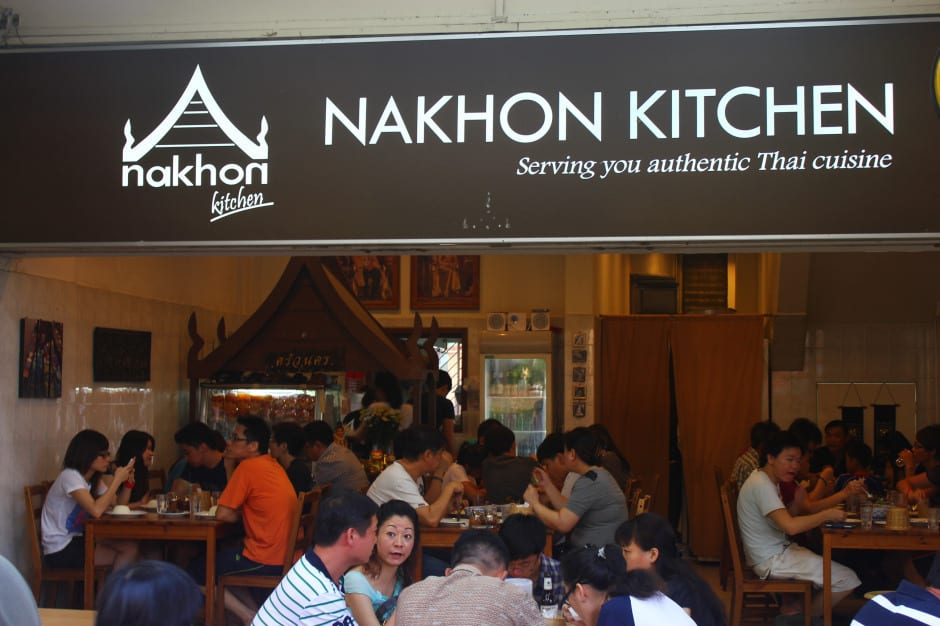 Bringing to diners the sweet balance of accessibility, affordability and taste, Nakhon Kitchen ticks all the boxes that make it one of the best spots for Thai cuisine.
I mean, what could be better than having some of the best Thai food in Singapore, located just a stone's throw away?
From Thai basil pork to prawn cakes, tom yum curry, mango sticky rice and more, expect to get all your cravings (and wallet) satisfied!
6. Sabai Fine Thai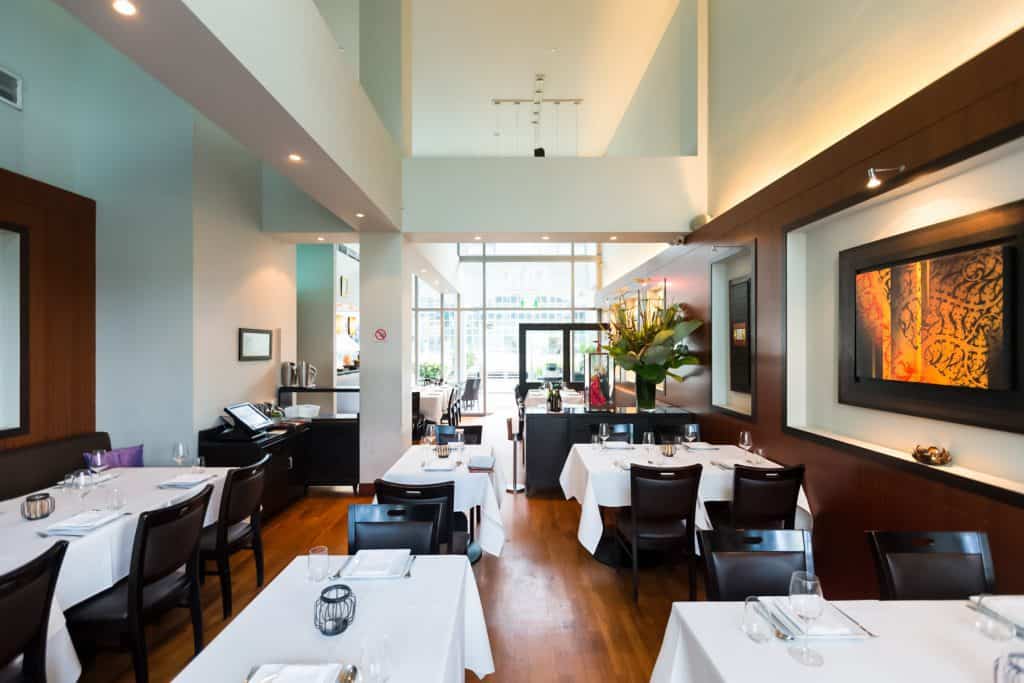 Every element of Sabai Fine Thai, from the majestic scenery to its posh, artistic interior and exquisite Thai dishes that is fit for a king – makes one truly feel like a royal in a palace.
With their chef having prepared food for some Thai royals in the past, she has certainly mastered the fine art of Thai culinary!
Savour some of the best Thai food in Singapore here, like their Gai Hor Bai Toey (pandan chicken), Khao Dtang Nar Dtang (crispy rice crackers with minced chicken and prawn in coconut milk) or their Gang Bpet Yang Pollamai (green curry with roasted duck).
7. Soi Thai Kitchen
Next up, we have another heartland gem for hearty, comforting and arguably one of the best Thai food in Singapore, Soi Thai Kitchen.
Its convenient outlets in areas such as Tampines and Serangoon makes it a family-friendly spot for Thai cuisine.
Their focus is on delivering authentic and traditional Thai food that does not break the bank. Get their star picks like Grilled Pork Neck, Seabass with Thai Chili Sauce or Yellow Curry Seafood!
8. Tamarind Hill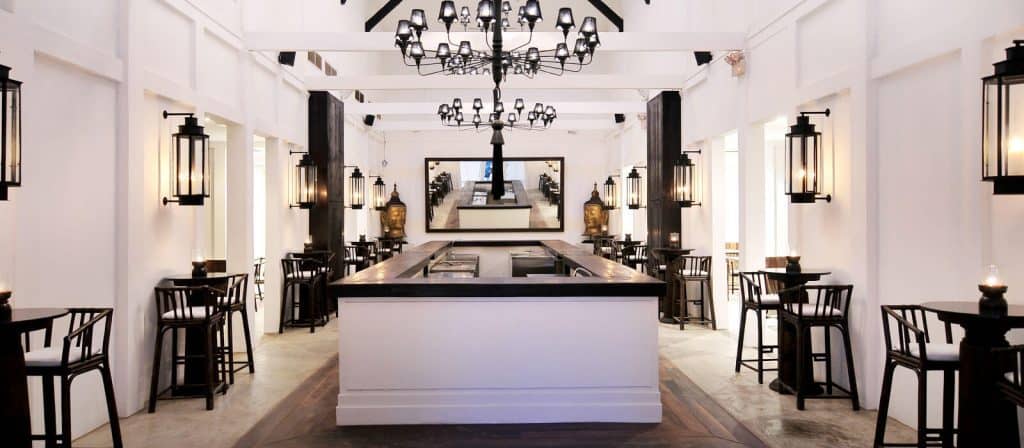 If you're feeling fancy and in need of some of the best Thai food in Singapore, this exquisite and classy Thai place serves up a fine gastronomic experience, with both Thai and Burmese influences.
Tamarind Hill is truly a fine dining paradise. Accompanied by lush greenery, colonial-style interiors and extravagant dishes, it is any foodie's dream getaway from the bustling city life.
To make it a more private dining experience, they have also prohibited children below 14 years old from entering.
9. Aroy Dee Thai Kitchen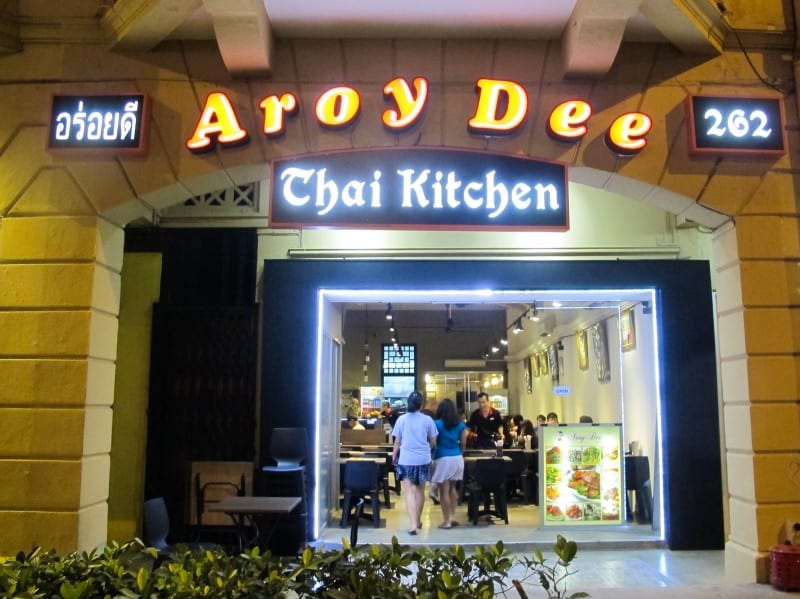 Casual eateries and restaurants are a common favourite among locals, and it's no wonder that Aroy Dee Thai Kitchen has also made its way to this list with one of the best Thai food in Singapore.
Their inviting, comfortable dining setting makes it a great spot for friends or families to dig into Thai favourites, such as tom yum fried rice or basil pork.
They are also known to be generous with their spices, so do take note before ordering for those that can't take the heat well.
10. Bangkok Street Mookata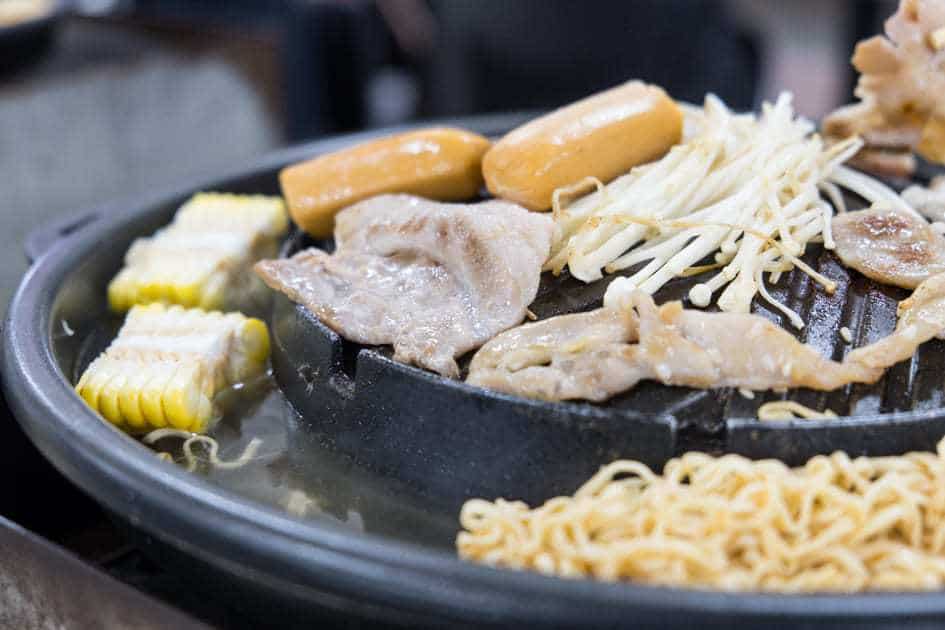 Be it dinner or supper, Bangkok Street Mookata is the place to head to with your peers for a 2-in-1 barbeque and steamboat feast!
Order to your heart's content here, with a myriad of ingredients to choose from. With marinated meat, seafood, mushrooms and vegetables, these are all staples that can't go wrong when steamed or grilled.
What makes it one of the best Thai food in Singapore is the way their pot works. When diners grill their meats, the juice and fats get to flow into the soup that captures all the flavourful essences.
If you have friends that have yet to venture into Thai food, Bangkok Street Mookata is a safe place to start with. It's convenient (with many outlets islandwide), affordable and delicious – what more can you ask for?
Conclusion
Be it in heartland coffee shops or business districts, one can sense the strong culinary presence of Thai food here.
It's savoury, sometimes sweet or tangy, and definitely delivers with a spicy punch. Most Singaporeans love some fiery notes in their food, and this is why Thai food has managed to capture many hearts of Singaporean foodies!
Another Southeast Asian counterpart with growing influences here is Vietnamese cuisine. Visit some of the finest Vietnamese food in Singapore now!
Explore More Content