10 Best Army Stew in Singapore Even ARMY Fans Will Love [2023]
Get a taste of the 10 best army stew in Singapore for a great time!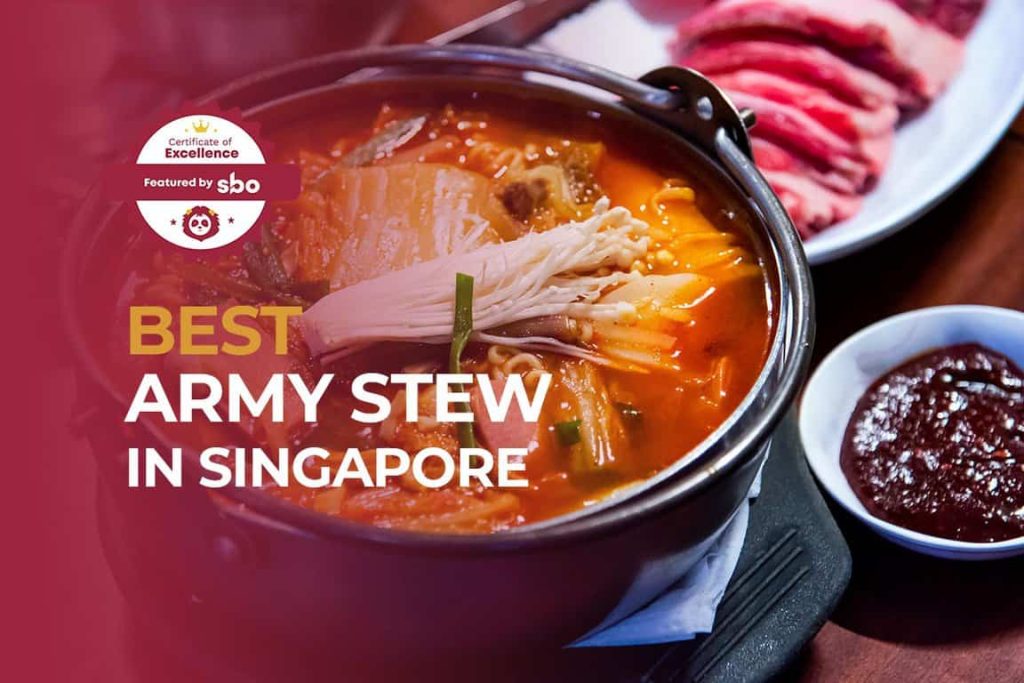 Over the past decade, the Korean Hallyu wave has continued to make its mark on our shores.
With it brings plenty of South Korean influences – whether that's their language, facial treatments, dressing, and food.
And what better way to celebrate Korean culture than to tuck in to a hearty pot of army stew, or budae jjigae? This popular hot pot dish is well-loved for its mountain of tasty ingredients like ramen noodles, spam, sausages, and the quintessential kimchi! Top it off with a fiery and robust broth of spicy soup and you have a delicious meal to share!
Where do you go when the army stew cravings hit? Check out the 10 best army stew in Singapore to try!
1. King Army Stew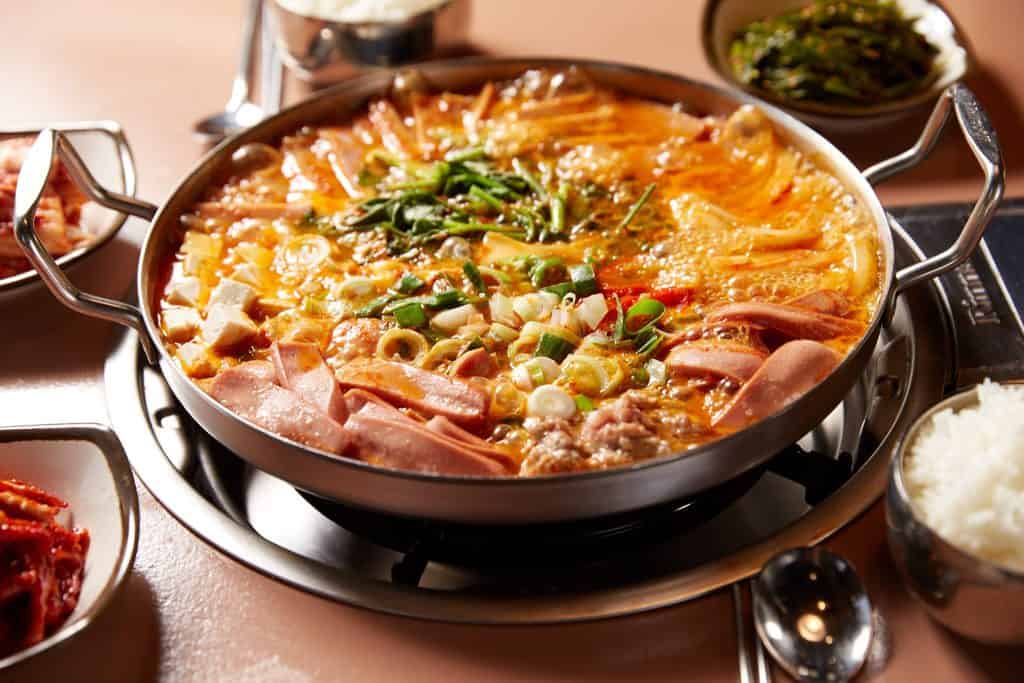 A relatively new restaurant that opened in late 2020, King Army Stew specialises in budae jjigae, as its name suggests.
This cosy spot is furnished in a simple and homely manner with wooden elements all around. Choose from 4 different types of stews:
Classic Army Stew (from $25.90)
Spicy Seafood Tteokbokki Stew ($28.90)
Seafood Army Stew (from $33.90)
Beef Bulgogi Stew ($28.90)
You can also add-on other ingredients from $1 onwards! The food is developed in-house by its Korean chef with a local twist to suit our unique Singaporean tastebuds. Located near Bugis, it's the perfect, accessible spot for those who work or stay in the CBD area!
2. The Gogi @ Alexandra Central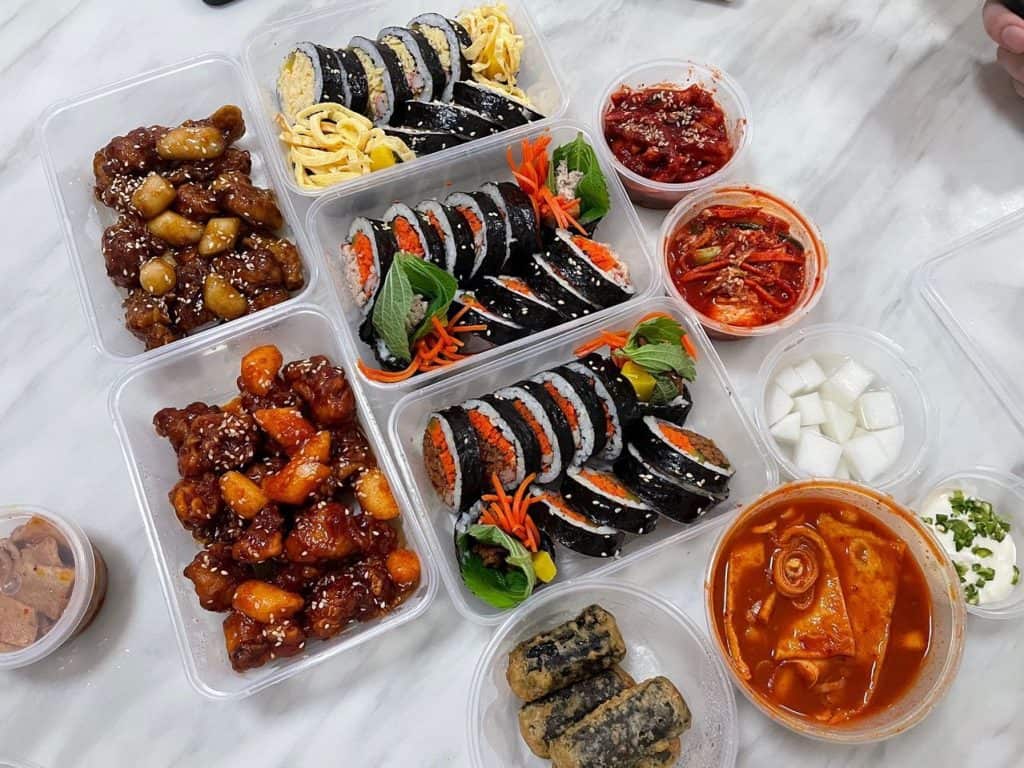 There are subtle differences that set The Gogi apart from other Korean restaurants in Singapore.
For example, the decor is designed to mimic traditional Korean houses. It gives off an authentic vibe, from the design, to the banchan (side dishes), down to the ramen noodles they use. The Gogi offers the Budae Jongol Korean style army stew in M/L sizes from $40 onwards.
You can also find other dishes here, like kimchi fried rice, bossam (order in advance), dak kang jeong (spicy chicken), and many more.
3. Chelabela: Korean Food by Korean Chef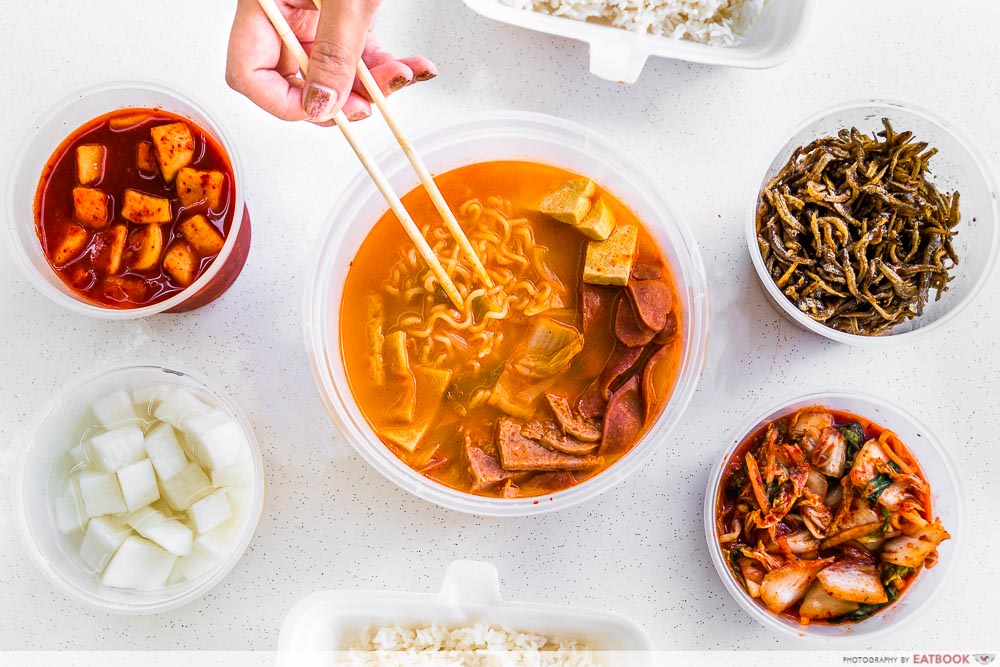 Remember the Korean father-daughter hawker duo who went viral back in 2020?
They've since moved to Ang Mo Kio because of manpower problems. While the menu had previously downsized to just the Korean army stew, they have since expanded to serve some of the other dishes they did at the old Marsiling outlet.
The owner's version is just about the same as other typical Korean army stews – with canned baked beans, sausages, Korean fishcake, tofu, processed cheese and luncheon meat.
The addition of cheese helps to enhance the flavour of the broth, with a tinge of creaminess. It might not be a taste suitable for everyone, but if you do like that milky element, then give it a try!
4. JW Korean Food Stories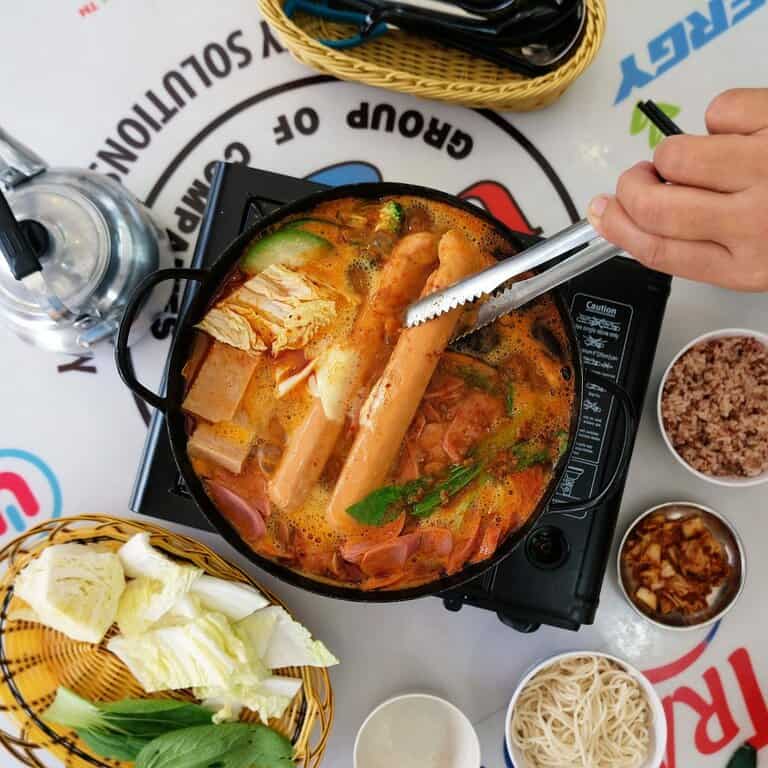 JW Korean Food Stories is run by a former hotel chef who wanted to make halal Muslim food more accessible to people in hawker centres around residential neighbourhoods.
The dishes are affordably priced with big portions to satisfy your K-food cravings. They use their unique spice recipes to create their dishes and specially sourced noodles as well! Apart from the usual Korean dishes and army stew, they also serve food like grilled beef.
The Army Stew Steamboat boasts free-flow soup, a huge amount of meat and vegetables, ramen noodles, and their own kimchi made in-house. It uses a beef base for a savoury and robust flavour.
5. Joo Bar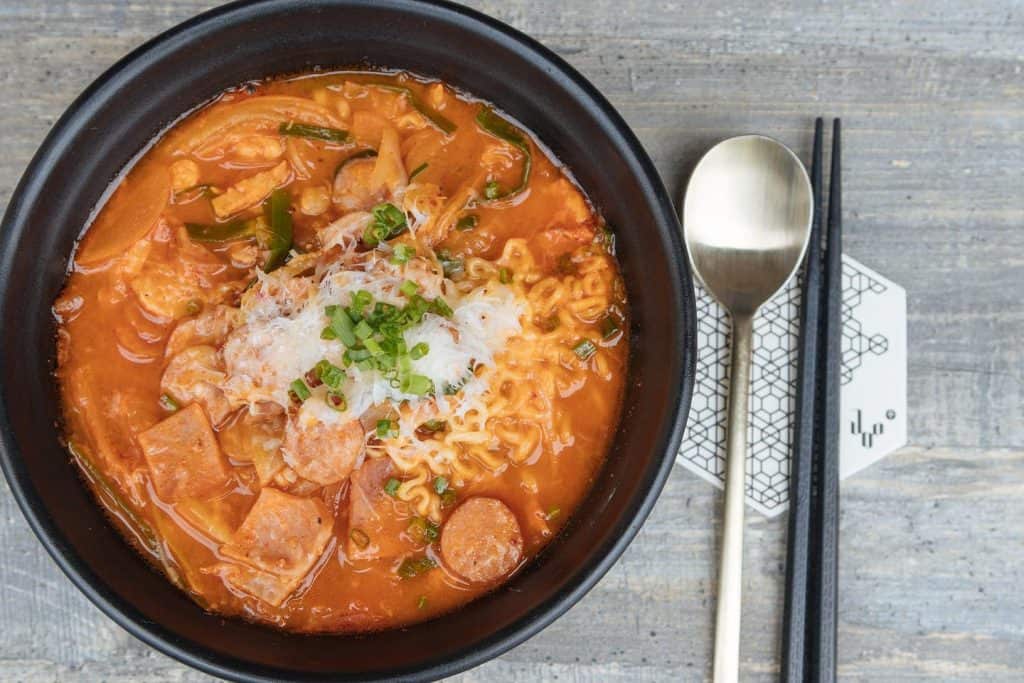 Joo Bar touts itself as a "modern Korean makgeolli bar" housed in a slick and casual spot of a 3-storey heritage shophouse.
Created by local Korean food lovers, it aims to provide high-quality contemporary Korean food and unique drinks in a place that features a chill vibe and spunk.
The Army Stew is priced at just $24, and includes house-made kimchi, luncheon meat, ham, grana padano (a type of cheese similar to parmesan but mixes better with sauces), and baked beans. It even has a keto-friendly menu for those with special diet requirements!
6. Super Star K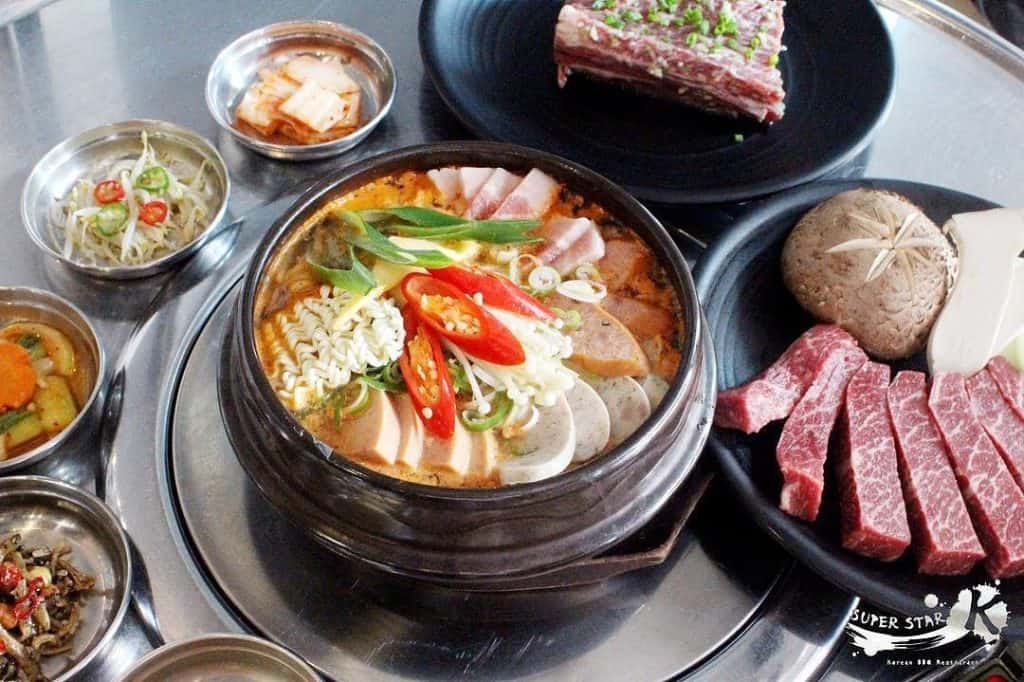 Super Star K needs no introduction – this popular Korean food joint is well-known along Tanjong Pagar.
Having originated from a small foodcourt stall back in 2004 in Singapore, Super Star K is a seasoned player in the local K-food scene. The casual and no-frills restaurant features a laid-back ambience and plenty of authentic Korean food.
Inside are plenty of attentive Korean staff who can speak fluent English as well! Choose from a variety of stews, including the Army Stew.
7. Wang Dae Bak Korean BBQ @ 98 Amoy Street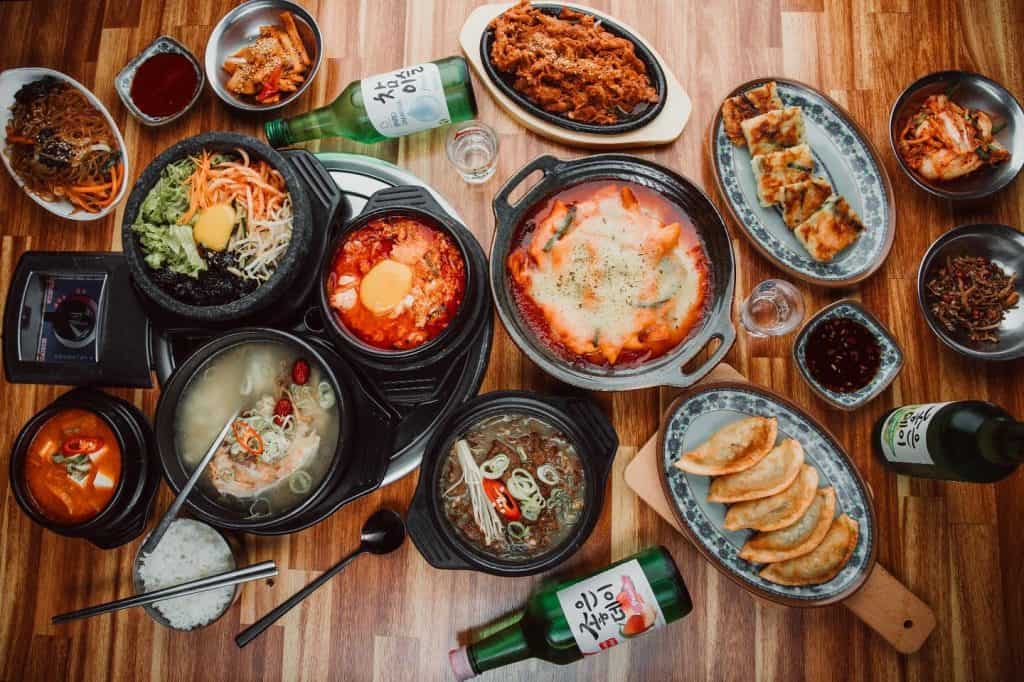 Since 2011, Wang Dae Bak has carved a reliable reputation as the go-to for authentic Korean BBQ, bibimbap, and pancake. It uses charcoal for its BBQ along with high-quality meat.
Be transported back to the streets of South Korea the moment you step in with the traditional Korean-inspired interior design. Clearly, they have also put in plenty of thought into the planning, with a list of things offered to you, like hair ties, aprons, and even Febreze!
The Army Stew comes in a bubbling hot pot full of tasty ingredients! Order the sets to make the most of every cent.
8. Supulae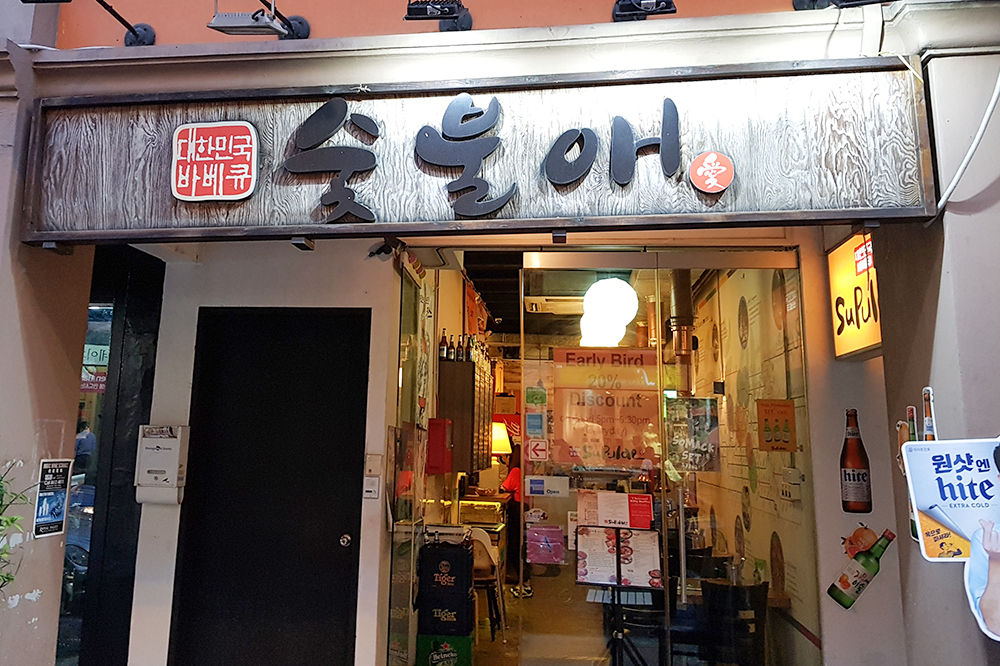 Located 5 minutes from Tanjong Pagar MRT, Supulae is highly accessible and convenient. The cosy restaurant is owned by 2 Korean sisters and also has friendly servers who are polite and helpful.
Order the sets that are value-for-money, in good portions, and filling. The food is fresh and the meat comes in great cuts, with a number of tasty side dishes that are quintessential to all authentic Korean food.
Pair the flavourful Army Stew with the array of drinks available!
9. HoHo Korean Restaurant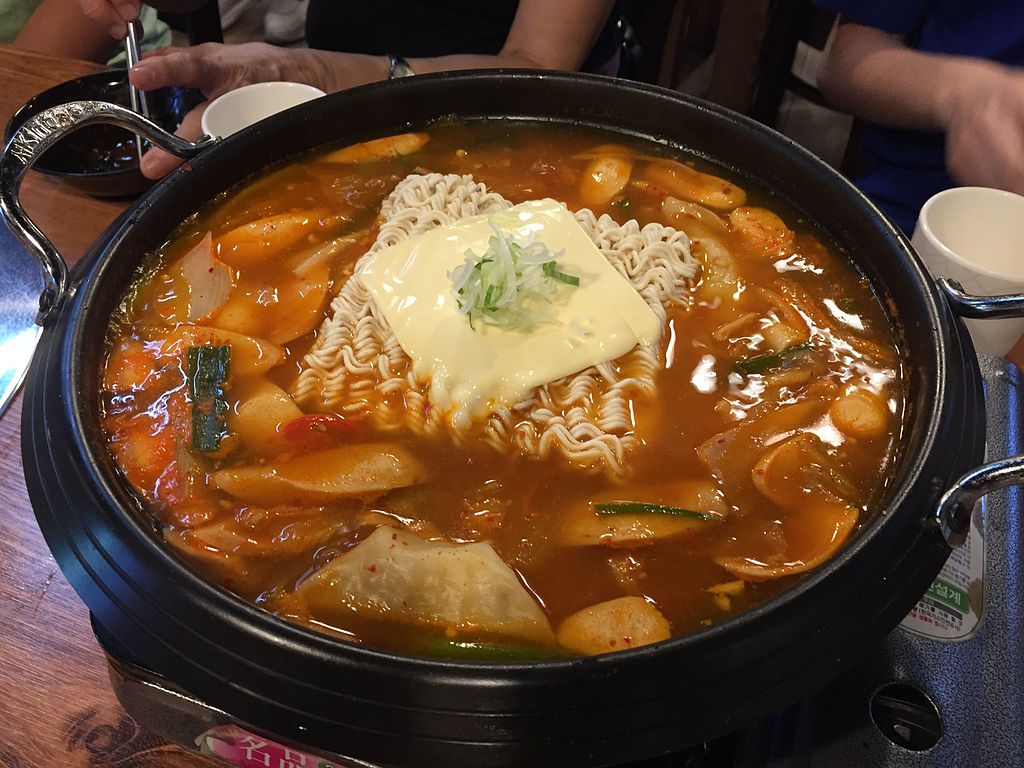 HoHo Korean Restaurant is a humble family-run eatery that has been around for a few years.
The homely interior features wooden tables, chairs, and brick walls all around with the typical posters and pictures of food and Korean celebrities. The housemade kimchi is not overly spicy, which makes it a great side dish for those who cannot go heavy on the spice.
Their stews are customised to our local Singaporean tastebuds, so while rich, the broth isn't too spicy! One must-order is the stone pot bibimbap that taste highly authentic.
10. NAYANA Kpop Cafe & Restaurant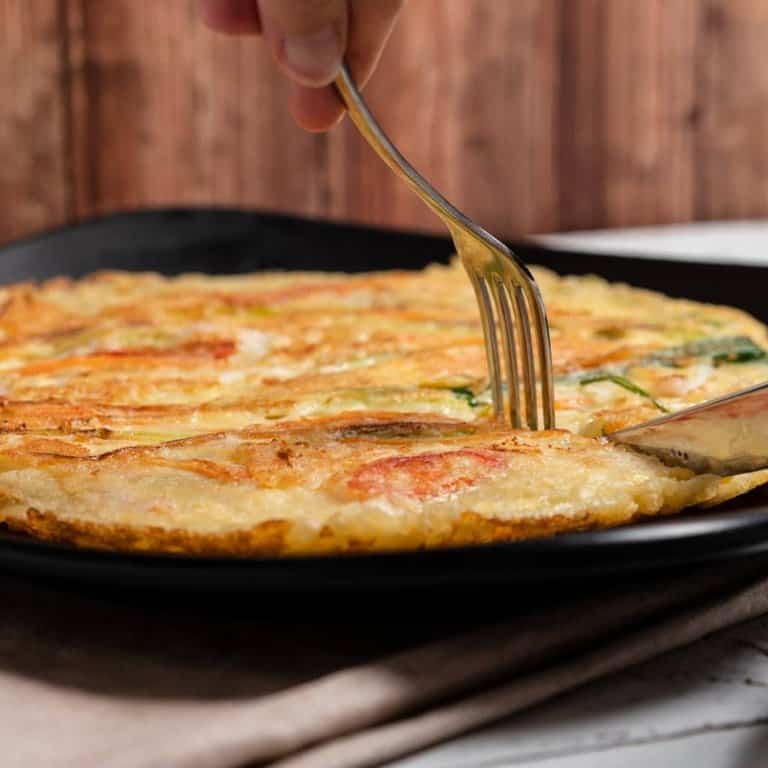 NAYANA is an authentic K-pop themed restaurant where every step of the planning process is done by its lady boss. This includes the decor, menu, and special recipes.
All of its sauces and spices are specially flown in from Korea, and the cosy family-style restaurant is meant to cater to authentic Korean food enthusiasts. Every dish is prepared from scratch under the management of the chef owner.
The NAYANA Army Stew is a special dish featuring army stew sauce simmered with ramyun noodles, chicken franks, luncheon meat, beancurd, chicken thigh meat, kimchi, zucchini, enoki mushroom and sliced cheese. You can add an egg to enhance its flavour further!
Conclusion
Do you have any reviews and comments to share regarding our choices for the best army stew in Singapore?
While SBO is committed to supporting our local businesses, we welcome any feedback and anonymous sharing regarding your experience with the listed best army stew in Singapore.
We hope that this guide will be useful in helping you to make an informed decision when it comes to finding the best army stew in Singapore.
Explore More Content