10 Best Brunch in Singapore to Kickstart Your Weekends [2023]
Rise and shine, it's brunch time! Make your weekends at these 10 best brunch in Singapore.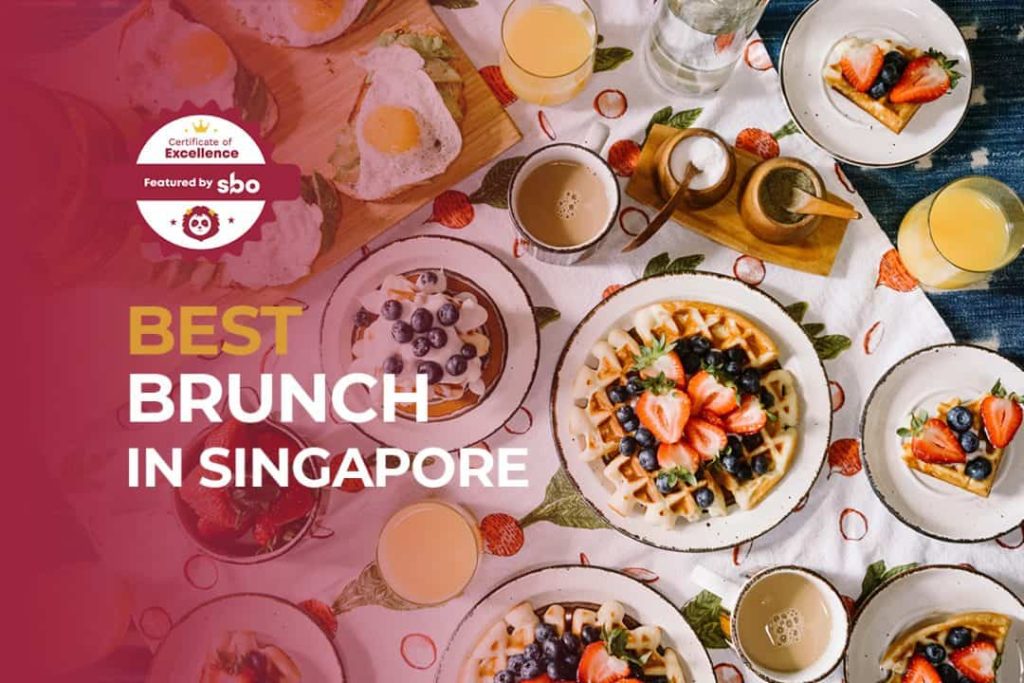 Nothing beats waking up late on the weekends, combined with a hearty and satisfying meal for brunch!
But with tons of places to choose from all on one tiny island, which ones are worth the visit? There's no need to rack your brains—here's a list of the 10 best brunch in Singapore to recharge and refuel for the week ahead!
From the classic eggs benedict to hippy avocado toasts and waffles with fried chicken, it's no wonder people say: "Brunch is always a good idea!"
1. Merci Marcel (Tiong Bahru Outlet)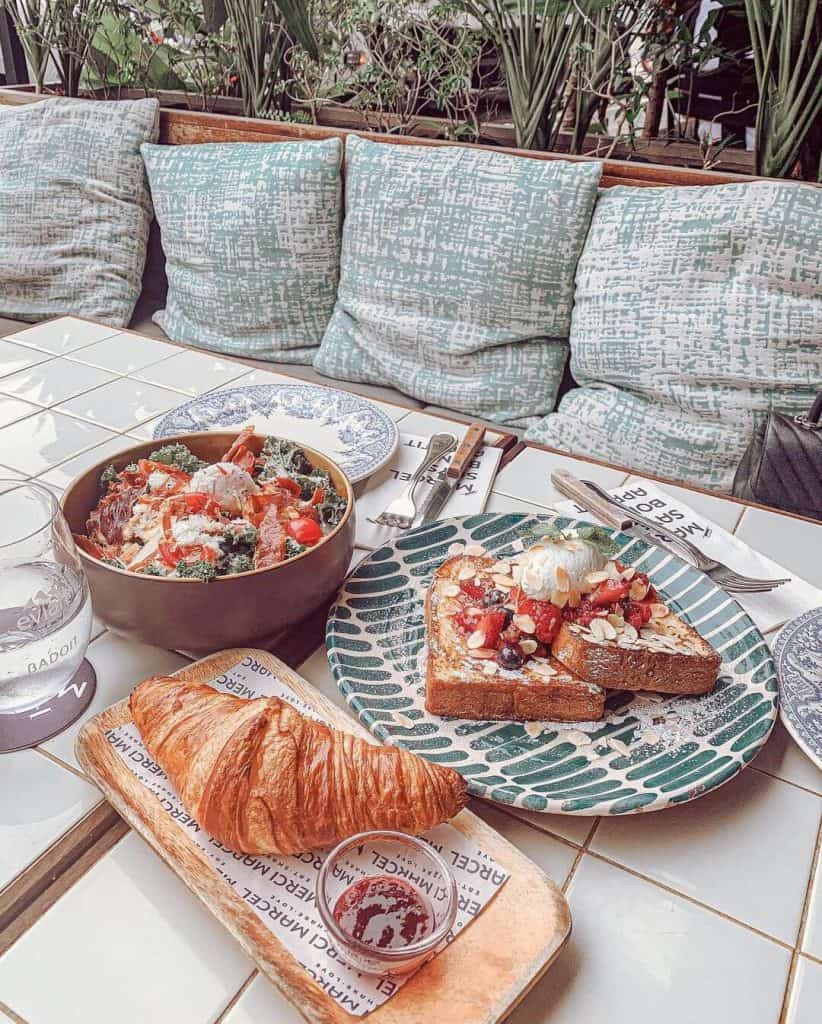 Boasting multiple outlets and bringing an authentic French dining experience to Singapore is Merci Marcel.
Featuring three gorgeous spaces including a lounge, cafe and garden patio, it also boasts a boutique where you can purchase artisanal cheese alongside various homeware, decor and gifts.
Highly recommended are the Benedict Eggs ($21), Croque Marcel ($23) and Chia Seed Infused Yogurt ($8); as well as Ravioles de Royans (S: $18/L:$28), Croissant ($3.50) and Pain au Chocolat ($3.50).
Reviews talk about the gorgeous interior and overall ambience of the place. Despite its heftier price tag, the food and top-notch service keep customers coming back— just make sure you book early as it tends to get crowded on the weekends. 
2. Fresh Fruits Lab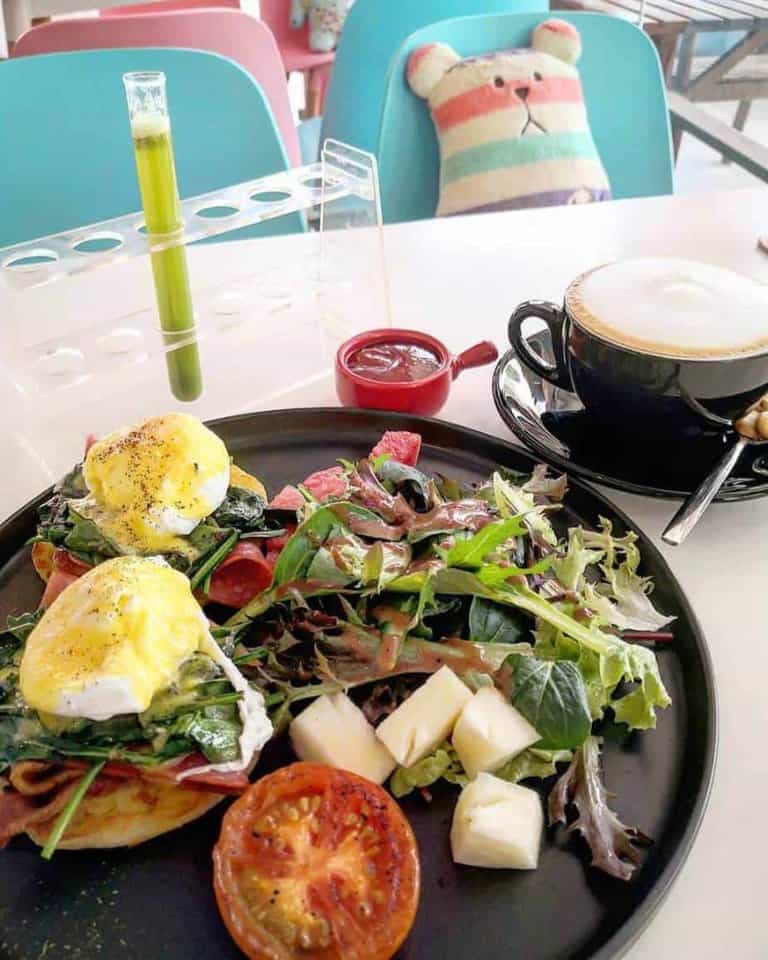 Fresh Fruits Lab is dedicated to providing the finest delicacies and exquisite dining experience for their customers.
The fruity-focused cafe features elements of a laboratory and the menu is specially designed to incorporate plenty of fruits and veggies—perfect for those who appreciate a healthier, more balanced way to start their weekends.
The themed cafe with its colourful, pastel interior boasts a play-corner for the little ones, and highly recommended is the FFL Signature Fish & Chips ($19), Soft Shell Crab Pasta ($19), FFL Da Bomb Burger ($19) and their sweet treats like FFL Lychee Cake ($7.50).
Reviews talk about the consistency of the food and a large array of dishes that aren't just healthy and delicious but also perfect for the gram!
3. 6 Letter Coffee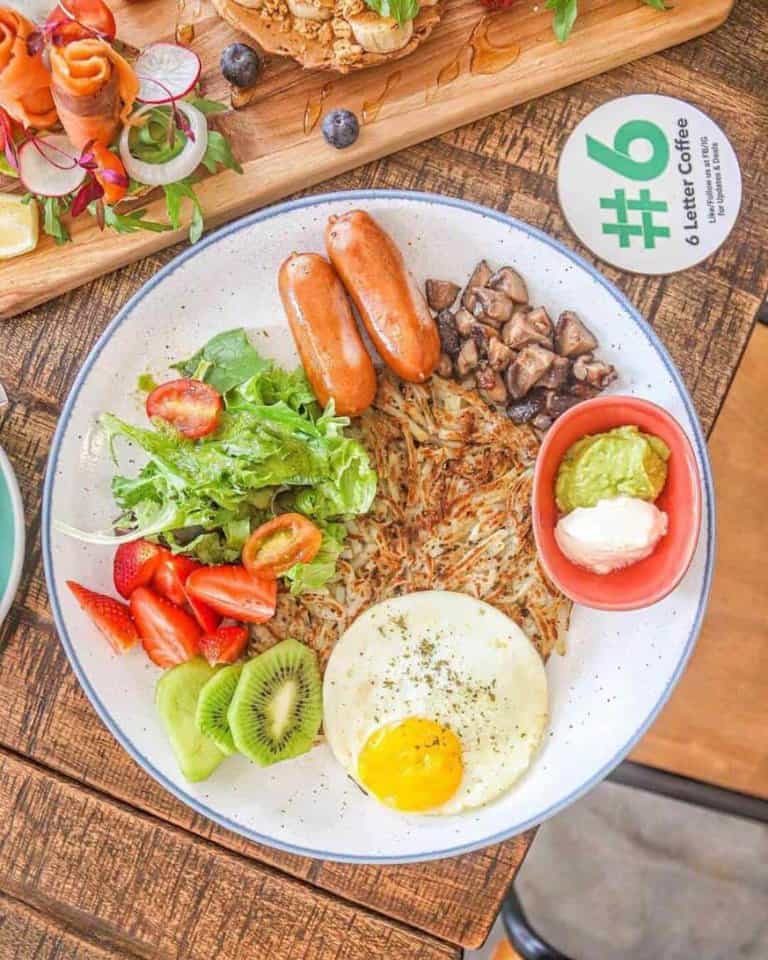 For great coffee, rosti, waffles and smoothies, head on down for 6 Letter Coffee's all-day brunch!
Crowd-favourites include the Grilled Chicken Rosti ($18), 6nature Wings ($9) and Grilled Chicken Aglio Olio Linguine ($15). Complete your meal with some ice cream and waffles, or get yourself a decadent frappe instead of the usual espresso.
Reviews talk about the friendly staff and good vibes all around, as well as the presentation of the food that tastes just as good as it looks! Plenty of customers are also fans of the signature, house-made rosti!
4. Baker's Bench Bakery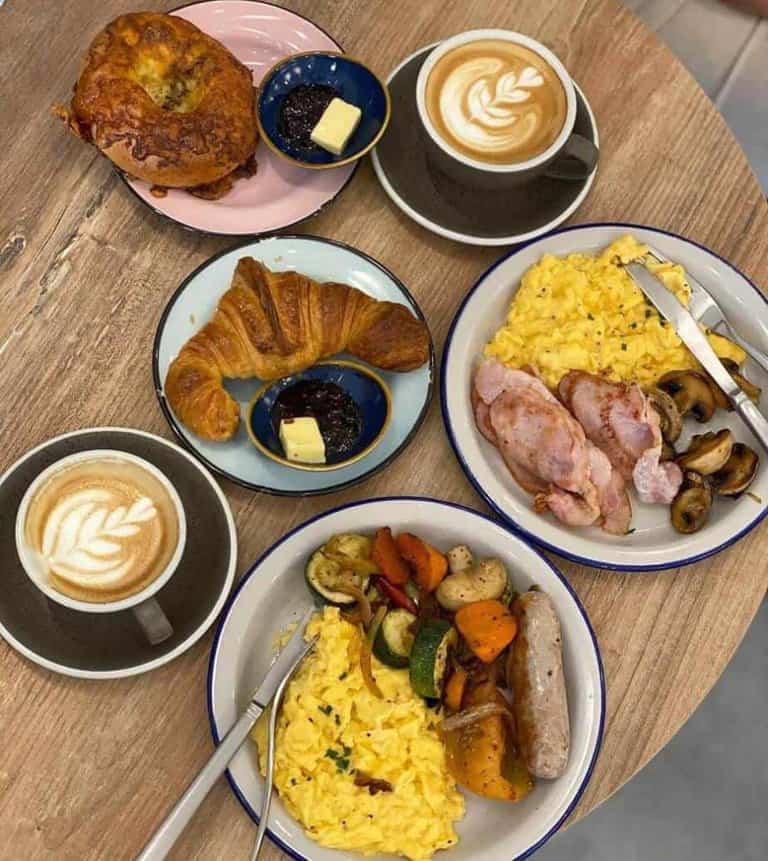 For the best breads and pastries in town, Baker's Bench Bakery ought to be your next spot!
Made fresh in small quantities daily, the standouts include the Croque Monsier ($12), Pork Belly Sandwich ($14), Sticky Bun ($5) and Build Your Plate ($16); as well as their Vegan Banana Bread ($5) and Cherry Chocolate Cake ($5).
All their breads are 100% sourdough-based and baked fresh every morning, and customers reviews can attest to the quality and taste of their loaves. Many of them have also bought them home to enjoy with the family!
5. Grain Alley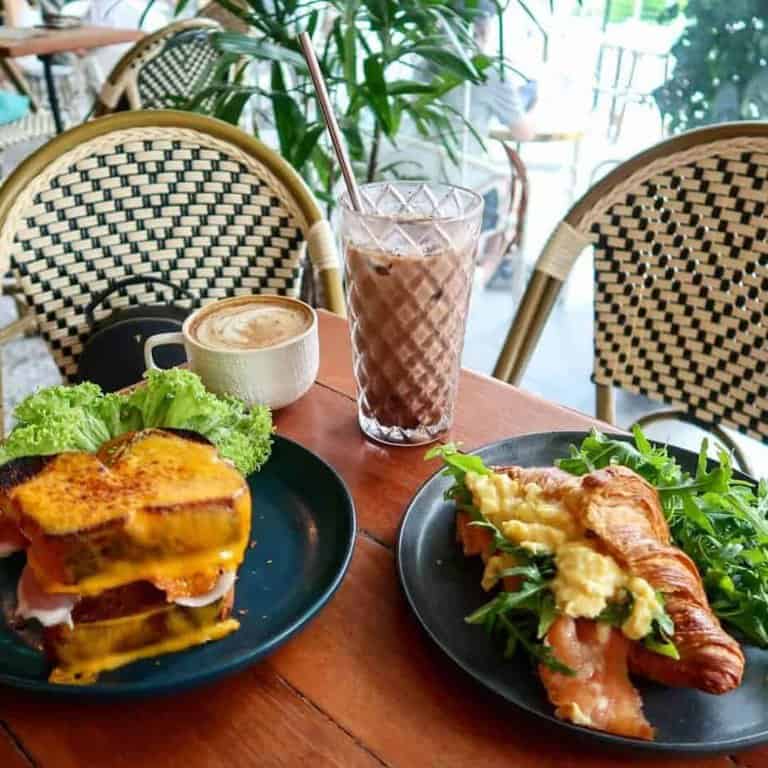 Grain Alley is the go-to brunch spot right along Orchard Road for Mediterranean-focused brunch and a selection of pastries and cakes to complete your meal.
Despite its name, you won't find any rice dishes but in its place, items such as Chorizo Shakshuka ($21), Chicken Shawarma Laffa Wrap ($17), Duck Tagine with Truffle Mash ($25) and Sea Salt Caramel Cake ($9).
Reviews talk about the cozy ambience and huge space that has plenty of photo opportunities and power plugs for those who want to get some work done. Customers also love the Spanish Latte and Raw Honey Latte!
6. C Cafe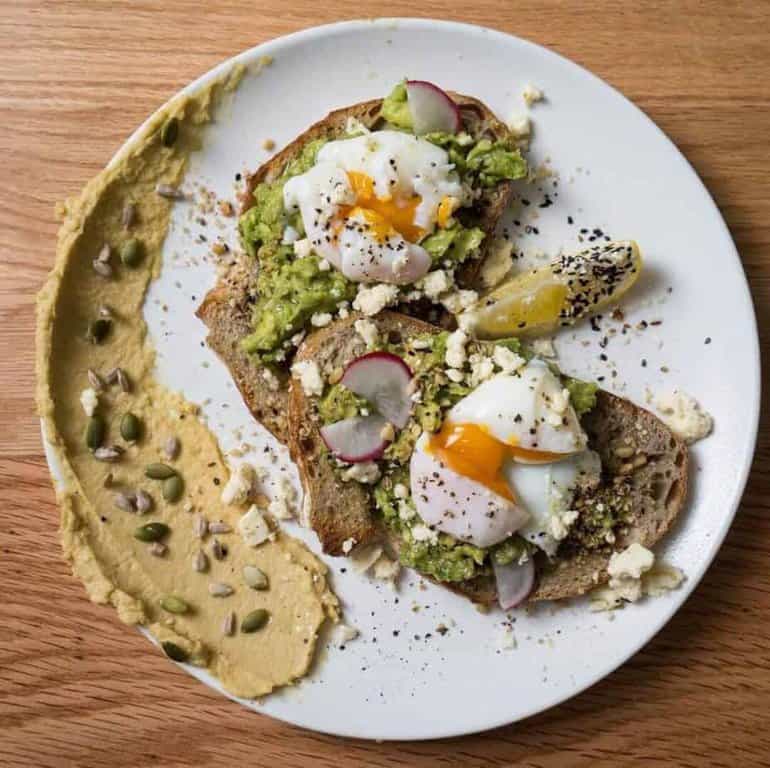 Joo Chiat is well-known for their slew of cafes, and relatively new to the block is C Cafe—a minimalist cafe that focuses on energy, experience and engagement.
Their menu is specially designed to look like a deck of cards, with brunch items such as Avocado on Sourdough Toast ($18), Breakfast of Champions ($24), Smoked Salmon Toasties ($18) and Golden Waffle ($18). They also have juice options such as the Jade Detox ($7) that includes a healthy combo of cucumber, apple, ginger, lemon, spinach and mint.
If you are lucky enough, the owners of the cafe may just perform a couple of magic tricks for a memorable dining experience.
Reviews talk about the huge portions, strong coffee and cosy atmosphere. Of course, the fact that the owners can perform magic is a highly appreciated bonus!
7. Seng Coffee Bar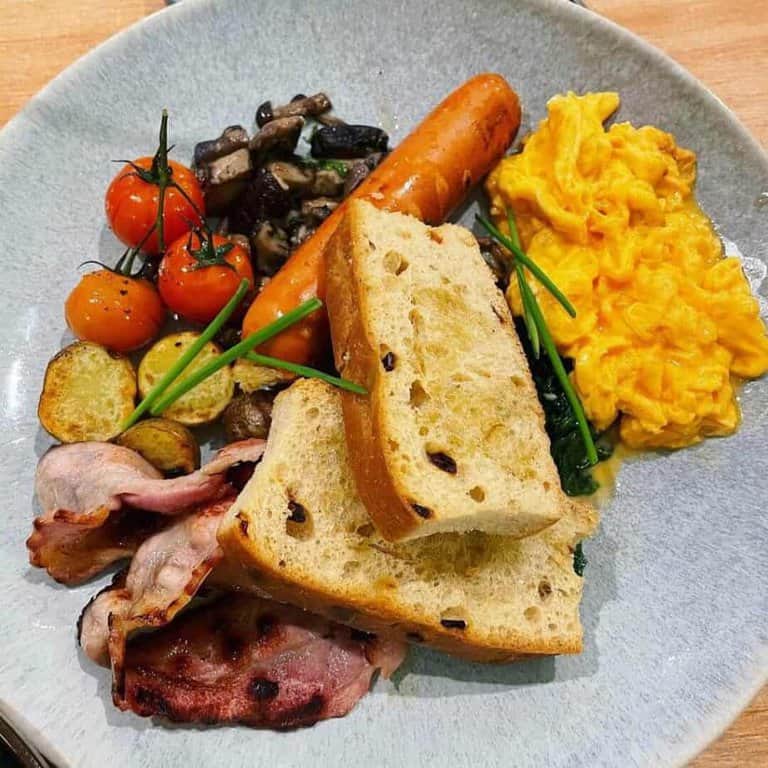 Set up by a father-daughter duo and situated alongside the stretch of shophouses along Changi Road is Seng Coffee Bar—a casual cafe offering all-day breakfast delights with a local twist.
A must-try is the Crab Meat Egg Benedict ($18), a tasty rendition of the classic by adding shredded crab meat and poached eggs on top of fluffy English muffin buns. For big eaters, The Breakfast Feast ($20), Fried Cod Fish Burger ($23) and Pork Belly Risotto ($20) are sure to fill you up.
For sharing, try the Fried Nan Lu Chicken ($12) that uses fermented soy beancurd to marinate the meat and the creamy Cempedak Creme Brulee ($8) for a sweet finish.
Reviews talk about the interesting and unique menu that comes in reasonable portions for the price. There is usually a queue, so be prepared to wait in line during the weekends.
8. FlagWhite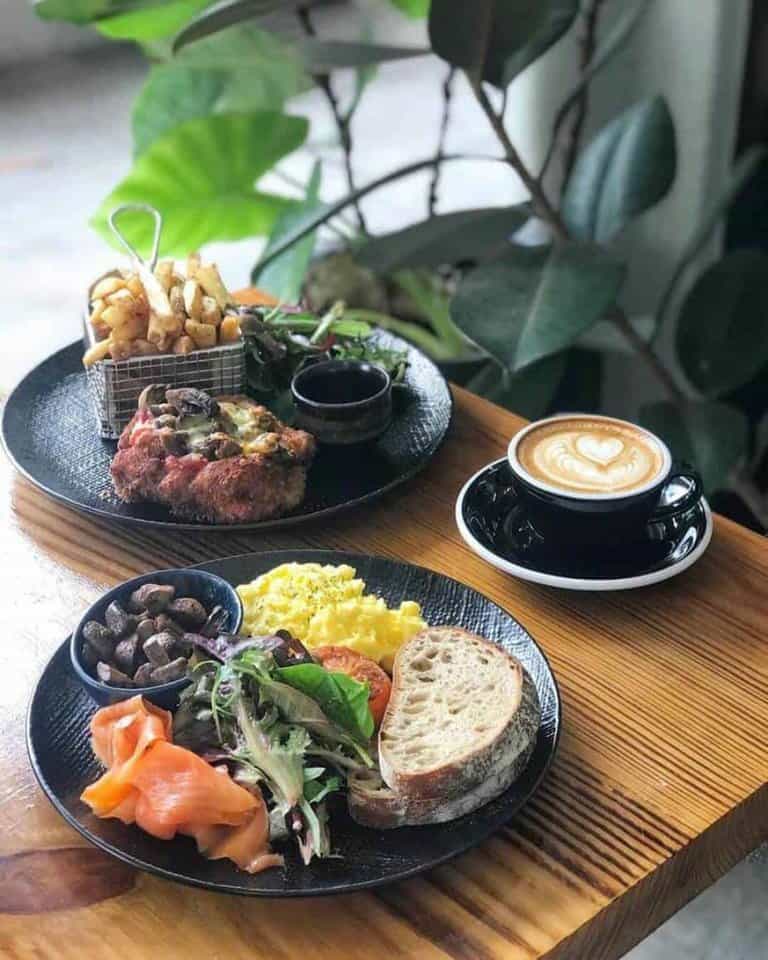 Get your favourite brunch comfort food, coffee and desserts over at FlagWhite, a cozy and minimalist cafe serving all-day brunch and locally-roasted coffee beans, chocolates and tea sourced for local suppliers like Fossa and Quarter-Life.
If you can't decide what to get, don't worry—the cafe allows you to assemble your own brunch platter with sides such as roasted pumpkin, sauteed mushrooms, BBQ baked beans, bacon, breakfast sausages and your choice of eggs, alongside sourdough bread or a croissant.
The Chicken Parmigiana ($15) and FlagWhite Burger ($16) are also great choices, as not to forget the quintessential Truffle Fries ($8) to share with your pals.
Reviews talk about the amazing coffee and many love the option of self-constructing their own meal! Despite its simple menu, the reasonable prices make it a great place for a quick coffee run or chillax spot for those staying in the West!
9. Tolido's Espresso Nook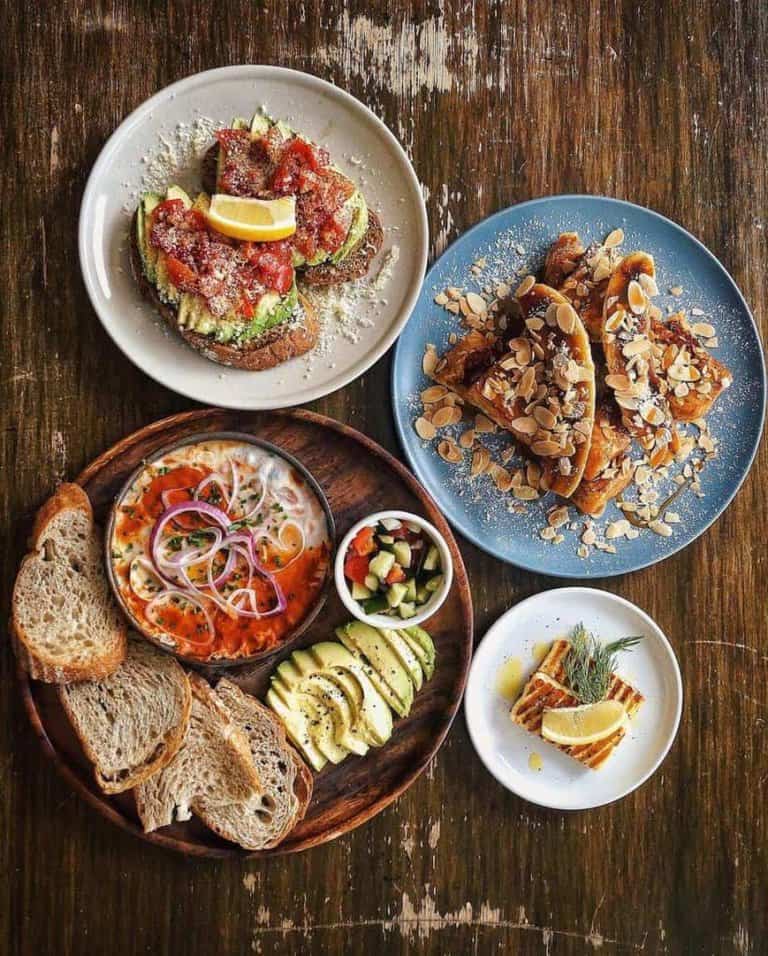 Tolido's Espresso Nook is a Melbourne-inspired and unpretentious cafe serving gourmet coffee drinks, delicious all-day breakfast eats and brunch grub.
Promising to serve great quality coffee and freshly made food that is always made-to-order, their menu features dishes with a special local twist—try the Shakshouka Eggs (from $21), 462 Prawn Laksa Pasta ($19) and signature coffees like the Sea Salt Caramel Latte ($6.50) and Ice-blended Peppermint Mocha (from $7.50). Not to forget the Pandan Pancakes ($11) that became a permanent item on the menu due to its popularity.
Reviews talk about their extensive breakfast options and stellar cup of joe that is backed by exceptional service. Despite the long queues, customers are willing to return for the fantastic ambience and value-for-money dishes.
10. Brawn & Brains (Guillemard Outlet)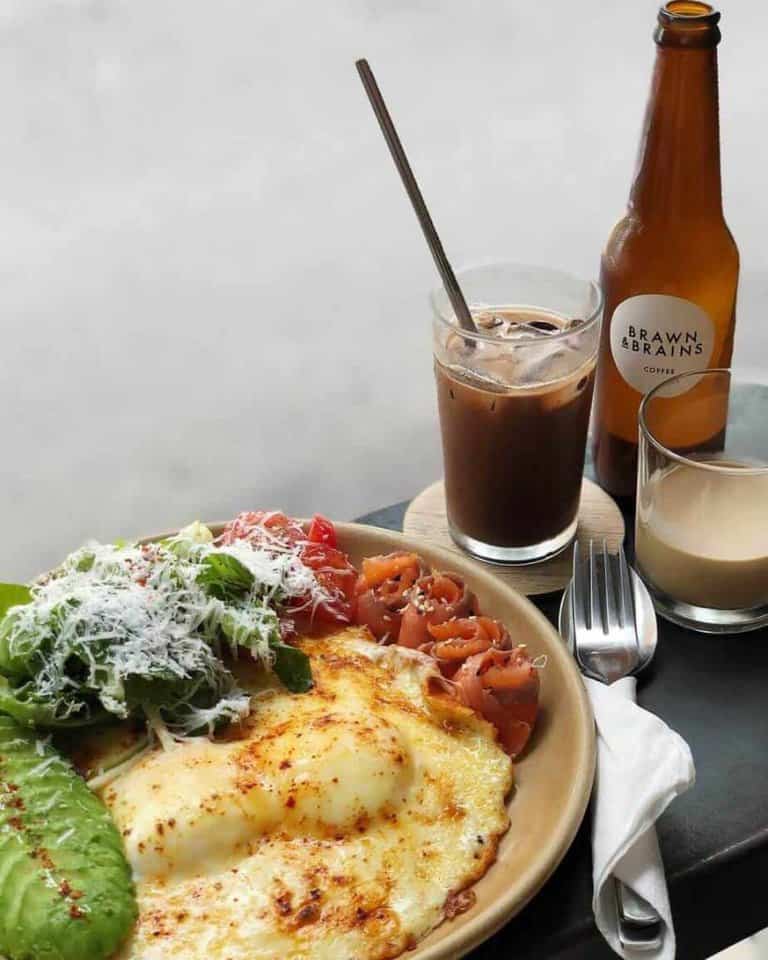 Brawn & Brains is a coffee roastery, cafe, wholesaler and retailer dedicated to sourcing and roasting high-quality coffee and making it enjoyable and accessible to all.
Highly recommended is the Curried Chicken Taco (from $14.90), Oven Baked Molten Eggs ($17.90) and Crispy Grilled Cheese Sandwich (from $15.80). They also offer some delicious and indulgent BB donuts (only on the weekends) that is available for pre-order due to their popularity!
The East Coast outlet is the latest outlet that boasts a new menu featuring coffee brewed using different methods and comfort food.
Reviews talk about the well-executed dishes that came in generous portions and the delicious cold brews. Many have found themselves to be frequent customers and enjoy basking in the naturally lit cafe.
Conclusion
Do you have any reviews and comments to share regarding our choices for the best brunch in Singapore?
While SBO is committed to supporting our local businesses, we welcome any feedback and anonymous sharing regarding your experience with the listed brunch in Singapore.
We hope that this guide will be useful in helping you to make an informed decision when it comes to finding the best brunch in Singapore.
Featured Image by Rachel Park on Unsplash
Explore More Content