10 Best Affordable Italian Restaurant in Singapore Nonna Approves [2022]
Take yourself down the scenic Italian countryside with these 10 best affordable Italian restaurant in Singapore!
Food
Our team at SBO.sg is committed to being a one-stop avenue to connect local businesses and consumers. We hope that our research efforts can help you save time and money by finding you the best deals without having to search around the vast world-wide-web.
Classic Italian food is heartwarming, honest and hearty.
When you think of Italian cuisine, prices upwards of $10 typically come to mind – definitely not what you'll consider pocket-friendly. If you're trying to rack your head for a more economical option, maybe Saizeriya will come up first.
Luckily, we live in a country where food options come in abundance, and this rings true even for Italian food on a budget. Here are the 10 best affordable Italian restaurant in Singapore you'll say grazie for!
1. Super Dario Lasagne
Tucked away in a nondescript part of City Square Mall, Super Dario Lasagna believes in baking its food by hand. Every dish, especially the lasagna, is lovingly made layer by layer from scratch every single day. That's how you know it's truly worth every calorie.
Founder Dario hails from Siciliy and has always had a penchant for cooking for family and friends. Most ingredients are shipped straight from Italy to ensure authenticity and freshness.
Of course, success is best achieved in a team. Luca, from Udine, is Dario's business partner, and with his great knowledge of food and dedication to work, contributes to the success of this unique lasagna concept in Singapore.
According to the reviews, the shop is cosy, the lasagna is great and the tiramisu is simply stunning!
2. La Nonna Holland Village
Named after the Italian language for "The Grandmother", La Nonna whips up traditional Italian country cuisine, just like the homely, belly-warming goodness a grandma would make, whether in Italy or not.
Using age-old, time-honoured recipes passed down generations, La Nonna has achieved a substantial following for its simple yet distinctive food. The eatery's gentle lighting makes it an ideal place for that dinner date, apart from dining with friends and family.
Indulge in the Caprese ($20), Macaroni and Cheese Della Nonna ($22), Gnocchi Ai Quattro Formaggi ($26) and Calzone ($24.50) for authentic Italian country cuisine with the family.
You'll want to try the crab meat pasta and truffle pizza that the reviews praise. Pair it with a great glass of wine to end your evening perfectly.
3. Bella Pasta
Bella Pasta is no stranger to the local dining scene; it's set up shop since 2010, more than a decade ago. The sister brand of Bella Pizza, it was conceived to complement the latter's pizza-focused menu.
With an extensive menu that spans a huge variety of Italian selections, like the Pappardelle Boscaiola ($26), Pancetta di Maiale Alla Griglia ($30), charcoal-grilled Meat Platter ($80) and Pannacotta ($10), there's definitely something for everyone.
The reviews show that you must try the apple crumble dessert, king prawn pasta, and fresh seafood. Savour your meal outside by the idyllic river for a complete experience!
4. iO Italian Osteria Singapore
iO Italian Osteria was built to bring an intense and unmatched piece of Italian tradition to Singapore. Diners get to experience first-hand the fragrance and ambience of an authentic Italian Osteria with a modern spin to it.
Talented chefs will work on your meal from scratch using only the freshest and flavourful ingredients. Share the Baked Lasagna "Grandma" Style ($18), Spicy Roasted Farm Chicken "Alla Diavola" ($22), Traditional Stuffed Roman Schiacciata (from $10) with your closest friends and family.
Reviews affirm the taste of the mains and sides, with popular choices being the porchetta, steak and pistachio tiramisu. Throw in warm service and a cool vibe for a truly out-of-this-world experience.
5. Trattoria da Mimmo
Chef Mimmo of Trattoria da Mimmo draws inspiration from the comfort food of his childhood, and serves up his signature Tuscan-style dishes that reflect this.
Embedded in a corner of an unassuming neighbourhood, this tranquil spot gives you authentic taste, generous portions and reasonable prices. We recommend the Linguine Carbonara and for the adventurous, the Trippa Della Casa. For dessert, grab the tiramisu; rich and creamy but light at the same time.
Reviews affirm its authenticity, hospitable staff and freshness. They also give a nod to the perfect pastas, burrata and pizzas! The portions make it a great place to dine with your fam or gang.
6. Casa MANINI
Casa MININI is the fresh start to an old legacy back in Italy. Family-owned and operated, this charming little restaurant is run by the owner and his wife. Dig into delectable dishes of Northern Italy and curated alcohol selections to pair with your food.
The restaurant's highlight is the classic beef and pork Mamma's Lasagna ($20), but other favourites include the Spaghetti Carbonara ($20), Burrata pizza ($26) and Campari Vaniglia ($14).
Indulge in a homestyle setting as you soak up the atmosphere and feast on Italian comfort food. Reviewers loved the lasagna, appetisers and the carnivore pizza!
7. Italian Osteria X
Remember those times when you stumbled upon a hidden gem to dine at that you wish stayed forever hidden so you could hog it to yourself?
Italian Osteria X is one such restaurant you'll find, run by the lovely owner and chef, who also happens to have worked in two Michelin-starred Marea for two years in New York City.
Dishes are pleasantly affordable across a fairly lean menu, and we think you'll love the Parma 'Garden' pizza ($19.90), Bologna 'Ragu' pasta ($9.90), and Livorno 'Mare' pasta ($10.90).
Reviews sing praises about its pizzas, particularly the fresh and generous toppings, as well as the Caputo 00 flour for the lovely thin crust and texture.
8. Sapore Italian Restaurant
Our local National University of Singapore isn't just famed for its education system – its food is also world class.
You'll find Sapore Italian Restaurant on campus, dishing out plate after plate of fresh Italian food to hungry students and staff alike. It prides itself as the first Italian Lifestyle Caffè Bar inspired by Italian bar culture's history and tradition.
Our favourite picks include the homemade Tagliatelle Del Sapore ($21.89), Cannelloli Ricotta Spinach ($16.39) and Prosciutto e Funghi ($18.59).
As per the reviews, diners loved the calzone, thin-crust pizzas and tiramisu. If you adore fresh food with even fresher ingredients, you know where to go!
9. Zazz Pizza
Quality takes centre stage at ZAZZ Pizza. The fruit of more than 25 years of experience in Italian cuisine in both Singapore and Dubai, this casual dining establishment dishes out woodfired pizzas and curated menu of other Italian favourites.
ZAZZ Pizza also bakes its own bread in-house, makes its own chilli flakes and sauces. Vegetarians can also dine here with over 20% of its menu being vegetarian dishes.
Have the Ravioli Della Casa ($19), Seafood Risotto ($26), Margherita ($19) or build your own special pizza from $19! Reviews rave about the food quality, superb service and recommend the mac and cheese as well as the burrata pizza.
10. d.o.c
Short for Denominazione di Origine Controllata, d.o.c is a genuine Italian restaurant specialising in traditional Neapolitan cuisine. It uses applewood to fire its wood-fired pizzas to add a sublime sweet and savoury taste.
You can't pass up the flavour-bursting Calzone ($26), Spaghetti Puttanesca ($18), Burrata ($25), and Bittersweet Lava Cake ($12). It also has an extensive wine and beverage menu for the wine connoisseurs.
Wine and dine amidst a soothing atmosphere. Taste the handmade pizzas, seafood pasta and molten lava cake as raved in the reviews!
Conclusion
Do you have any reviews and comments to share regarding our choices for the best affordable Italian restaurant in Singapore?
While SBO is committed to supporting our local businesses, we welcome any feedback and anonymous sharing regarding your experience with the listed affordable Italian restaurant in Singapore.
We hope that this guide will be useful in helping you to make an informed decision when it comes to finding the best affordable Italian restaurant in Singapore.
In this article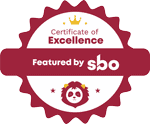 Are you featured in this?
Display this exclusive SBO badge proudly on your website!