10 Best Fruit Juice in Singapore for a Vitamin C Fix [2023]
Thinking of where to get your next Vitamin C fix? Look no further for the best fruit juice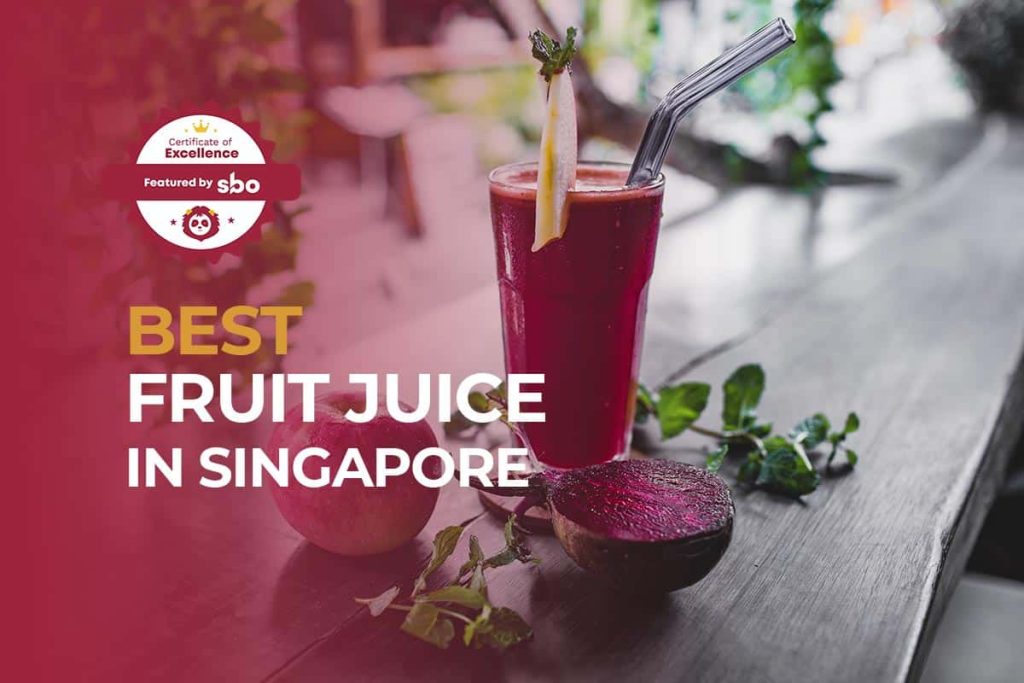 If you do not want to invest in those fancy juice blenders for your cold-pressed juice fix or simply want to indulge in a cup of Vitamin C heaven, here are some options available in the market.
For the best fruit juice in Singapore, we have categorised our picks into that of – online juice grocers, physical juice shops and also hawker juice shops! So keep your eyes peeled on the next haunt you should head to for your juice fix. Here are our best fruit juice picks!
1. SF Fruits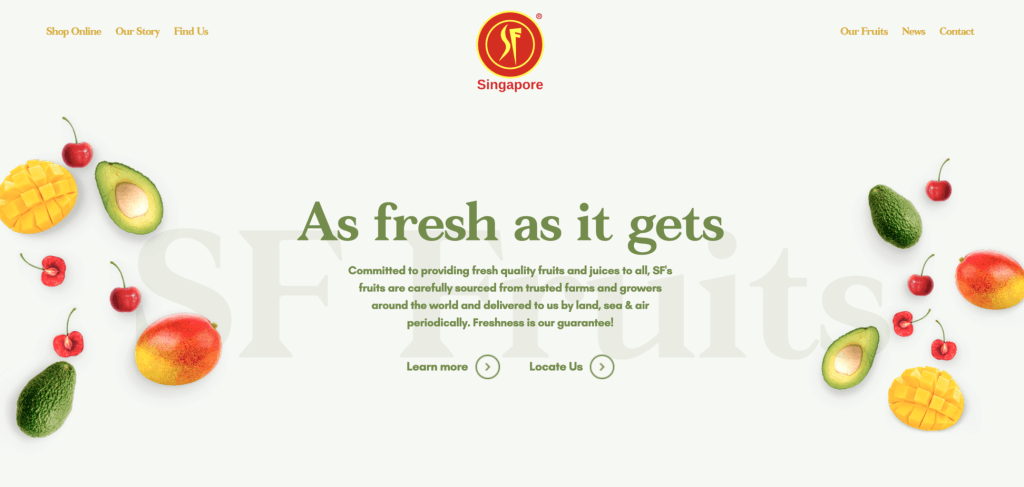 | | |
| --- | --- |
| Type of Information | Details |
| Website | |
| Juice Selection | Customisable juice selections |
| Price Point | Fresh juices starting from $3.50 (12 oz) |
| Location | |
You would probably have came across SF Fruits at least once, given its brightly lit stores and prime positions in shopping malls and MRT stations. Its store front displays an abundant supply of freshly cut fruits with the incessant blending sounds of fruit juices coming from the back, making it hard to stop and give it a second look.
What We Like About SF Fruits
With 33 locations all over Singapore, there has to be a reason for its success right? Friendly prices (if you are looking for a simple juice fix) and convenient (if you are looking for a quick juice fix) are what we think contributes to this success of SF Fruits. Look no further and grab your juice fix today! Definitely one of our best fruit juice picks!
2. Mission Juice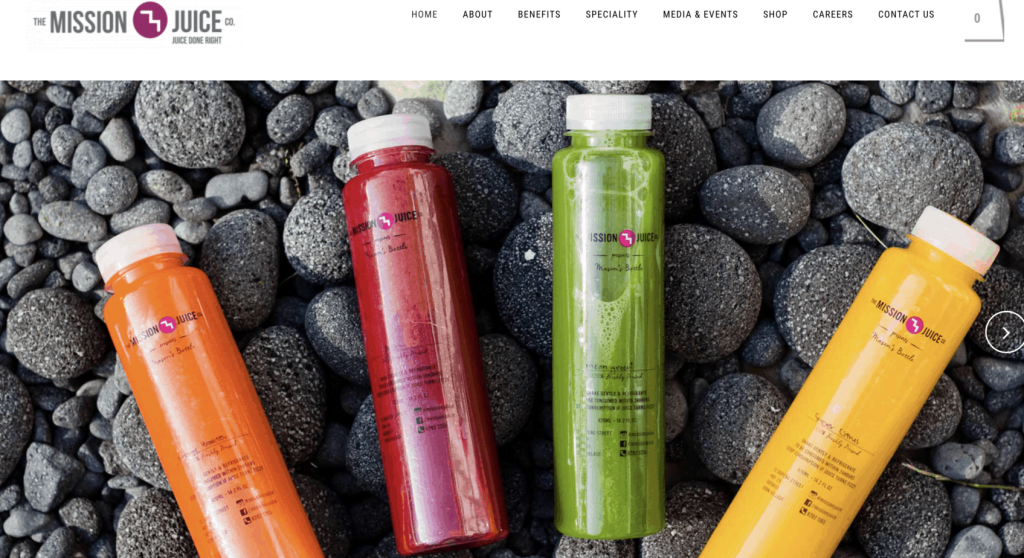 Type of Information

Details

Website

Juice Selection

– ABC+ (Apple, Beetroot, Carrot, Ginger)
– Super Citrus (Grapefruit, Pineapple, Orange, Lime)
– Energy Booster (Carrot, Pineapple, Green Apple, Ginger)
– Mean Green+ (Celery, Spinach, Kale, Cucumber, Green Pepper, Green Apple, Lemon)

Price Point

Standard juice set – 4 bottles (300ml ea) for S$25

Location

12 Gopeng Street #01-29 Singapore 078877
Mission Juice is on a mission to serve you the highest quality juices, for the high-paced lifestyle of city dwellers, office executives, gym junkies, yoga/dance fanatics, and YOU. Being conveniently located in the Central Business District area, it makes it even more convenient for the working class to get their hands on a Mission Juice.
Other than cold-pressed juices, they offer their signature also cold-pressed almond nut milk prepared from raw almonds that have been activated for juicing and also low-fat yoghurt.
What We Like About Mission Juice
Despite having a physical store, Mission Juice is also pretty active in the delivery space, partnering with food platforms such as Foodpanda, Fave and Honest bee to increase their customer reach. So they not only cater to customers in the Central Business District but also hopes to reach customers all across the island.
3. HIC Juice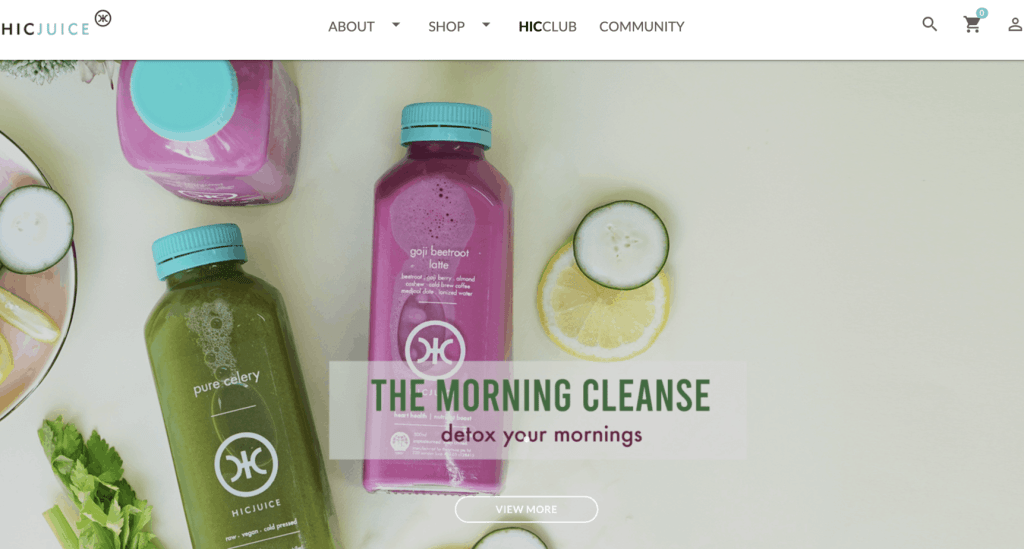 Type of Information

Details

Website

Juice Selection

– Pink Chia (watermelon, lime juice and infused with chia seed)
– Beets (beetroot, apple, carrot and ginger)
– Blue Magic (blue Majik – a phycocyanin algae extract with powerful antioxidant and anti-inflammatory properties)

Price Point

Approx S$6.50 per bottle (280ml)

Location

Order online
HIC believes in making healthy living less of a chore, and more of a happy habit. They are offering S$10 off your first order and what's special about HIC Juice is their HICCLUB member program to earn rebates from every purchase. One would also also get access to special perks, birthday privileges and exclusive deals.
What We Like About HIC Juice
Talk about HIC Juice, we cannot miss out its amazing variety of juice and milk choices. We like them for the interesting blends of natural ingredients and the pretty colours, I mean just look at the crystalline blue shade of the Sapphire Mylk and the pink shade of the pitaya nutmilk which just reminds me of unicorns.
Like many other juice houses, HIC juices also offers special nutritionist designed programs – detox and weight loss, designed to aid you in reaching your health goals, indeed one of our best fruit juices picks!
4. Antidote Juice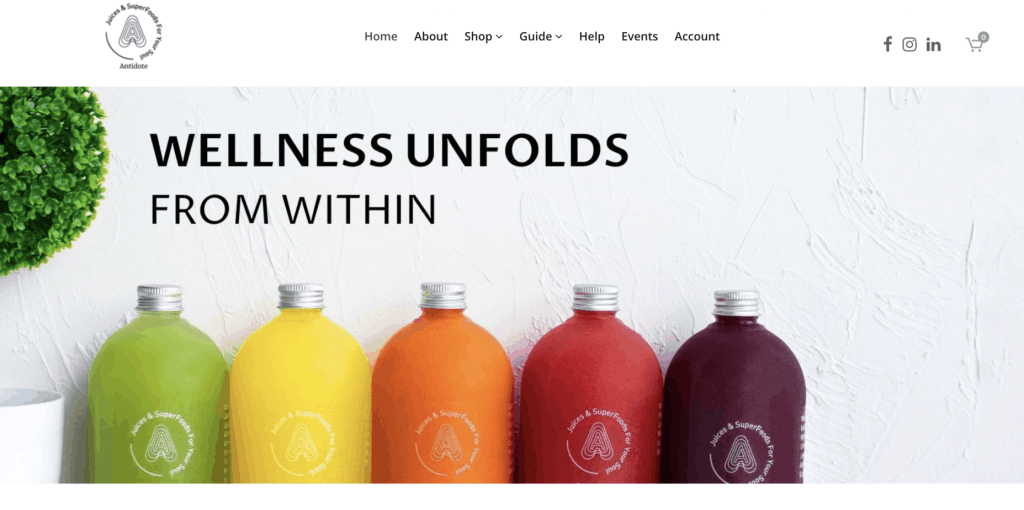 Type of Information

Details

Website

Juice Selection

– Earthy Electrolytes (Weight Loss)
– Red Elixir (Boosts Immunity)
– Sweet Earth (Antioxidants)

Price Point

Approx S$18 per 500ml bottle

Location

Order online
The first thing that struck us about Antidote – Its deep belief and focuses on cleansing through juice. Antidote offers free island-wide delivery and oh boy they are big on recycling. You could return the cleaned bottles and cooler bags upon your next delivery. Clean bottles will be recycled, while cooler bags that are returned will be sanitised for second-time use. For every bag returned, they would be donating a dollar to charity!
What We Like About Antidote
Look no further for one of the best fruit juices in Singapore – Their specially curated cold-pressed juice packs – There's an immunity, weight-loss, beauty, green and superfood probiotic pack, customizing a fruit juice pack based on individual goals.
Or if you want to have the best of all worlds, they also offer a DIY pack for your own customised selection. Within each plan, there are juice recommendations for consumption each day and also a cleanse guide on the importance of cleansing with juice.
5. Daily Juice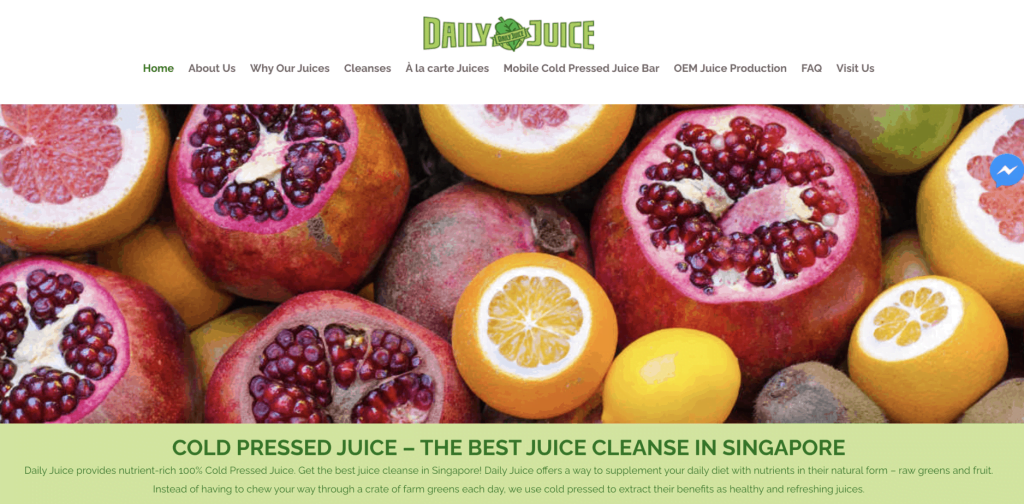 Type of Information

Details

Website

Juice Selection

– Barnie (Beet, Carrot, Apple, Lemon & Ginger)
– Krypto (Green Apple, Romaine, Spinach, Cucumber, Lemon & Parsley)
– Hot Shower (Lemon, Raw Honey, Cayenne Pepper, Alkaline Water)
– Greenòla (Avocado, Flax Seeds, Banana, Pineapple, Mustard Greens)

Price Point

Approx S$9 for a bottle (320ml)

Location

Store:
1 Maju Ave, Singapore 556679

Order online (Delivery fee of $20 for purchases below S$250)
Yet another juice bar with funky names that specialises in cold-press juices to meet one's health needs. Daily Juice places a huge emphasis on the importance of cleansing – on how it could come in to complement and complete one's diet.
What We Like About Daily Juice
The juice cleanse plans leaves us spoilt for choice – Up to 15 juice cleanse plans to choose from, and each plan customised to fulfil a specific goal. If you want to go on a basic cleanse, the 1 day cleanse plan offering 8 different bottles of juice might be your go to.
6. EGA Juice Clinic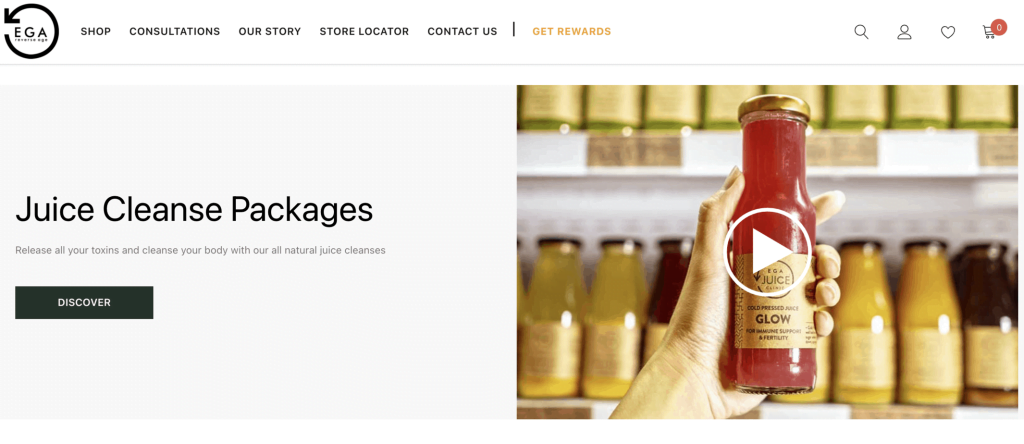 Type of Information

Details

Website

Juice Selection

– Nirvana Juice – Kidney health & Water Retention
– Ash Gourd Juice – "Cool" & Alkaline
– Bright – Weight Loss & Eye Health

Price Point

Approx S$8.50 for a bottle

Location

1) Cluny Court, 501 Bukit Timah Road
2) Forum Shopping Mall, Forum The Shopping Mall, 583 Orchard Rd
3) Ocean Financial Centre, 10 Collyer Quay
4) Marina One The Heart, 5 Straits View
EGA Juice Clinic was born out of a belief in using food as medicine, using natural food supplements as a medicine remedy. EGA juices are packaged in minimalistic glass jars and these attractive looking bottles are conveniently available in prime locations – in the Central Business District area to target the increasingly health-conscious working class and also near town areas for easier accessibility. Price-wise, the prices are pretty standard for cold-pressed bottled juices.
What We Like About EGA Juice
The emphasis on health and wellness – how EGA Juice differentiates itself from its competitors is its brand proposition – one that not only offers juice but also lifestyle consultations, juice cleanse consultations till one is convinced to give their juices a try.
They not only sell juice but also a whole range of health products – from energy bars, food supplements and even health beauty products. From this, we evidently see the strong emphasis on overall wellness, ensuring that clients not only get the product but the whole EGA experience.
7. Juice Junkie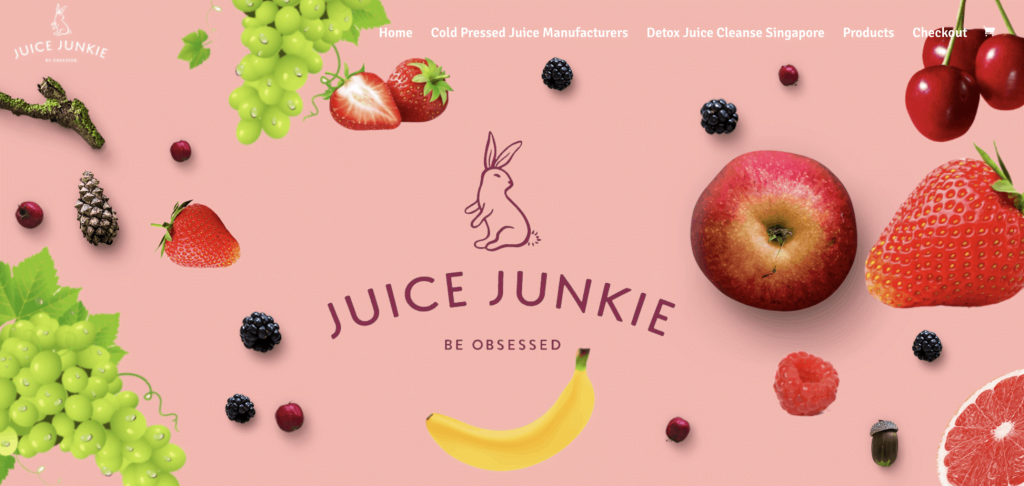 Type of Information

Details

Website

Juice Selection

– Bunny's Coco Fix
– Carrot Alert
– Doctor Rabbit
– Hare & Beauty

Price Point

Approx S$10 for a bottle

Location

Online store, orders can be placed on the

website
What cute juices named after bunnies right? Juice Junkie specialises in raw and vegan cold pressed juices in Singapore. Their juices are all natural – with only fresh fruits and vegetables used in preparing the drink, ensuring that customers get a quality experience. There's also no preservatives and added sugar. Other than juices, they also have smoothies and acai to go together with your fruit juice purchase!
What We Like About Juice Junkie
Island-wide free delivery – No minimum amount required for free delivery, even if you only checkout a single bottle. They also offer bundle packages with all their signatures included, so check them out if you want to try these bunny-licious flavours today! Definitely one of our best fruit juice picks!
8. Joe & The Juice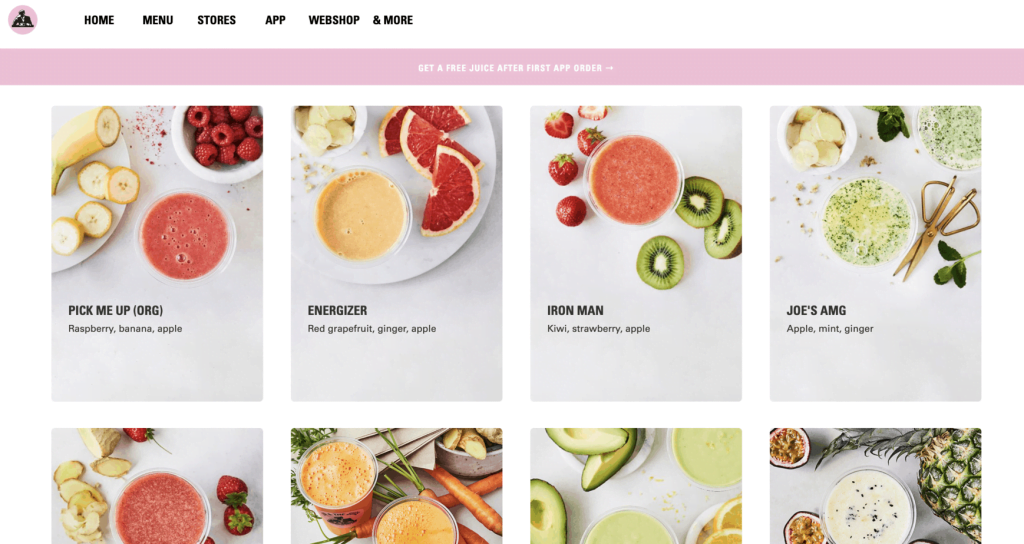 Type of Information

Details

Website

Juice Selection

– Joes Green Mile (Apple, Ice, Spinach, Avocado, Broccoli, Lemon)
– Pick Me Up (Apple, Strawberries, Banana, Ice)
– Prince of Green (Cucumber, Pineapple, Lemon, Ice)

Price Point

Approx S$10.30 (16 oz)

Location

1) 7 Wallich St, #01-07 Guoco Tower, Singapore
2) 31 Ocean Way, #01-09 Quayside Isle, Singapore
This Danish-based fruit juice chain which first opened within department stores has been a crowd favourite in Singapore. Mention fruit juice haunts in Singapore and Joe & Juice would likely pop into our minds. Joe & Juice's unique brand positioning is what catches our eye but prices are on the higher end. For the ones who track macros, Joe & Juice drinks come with the suggested calorie count per 12 oz or 16 oz juice, with an average of 180 kcal per 12 oz drink.
What We Like About Joe & Juice
A personal favourite would be Joes Green Mile, an intricate blend of apple, ice, spinach, avocado, broccoli, lemon. We like its wide range of juice offerings and its healthy menu items. One can pair their juice with the many sandwiches and Acai bowls that Joe & Juice offers.
Furthermore, if you've ever been inside the cafes, you'll know just what we mean – the friendly staff and calming ambience make it a perfect location for a chill-out spot.
9. Joohz Press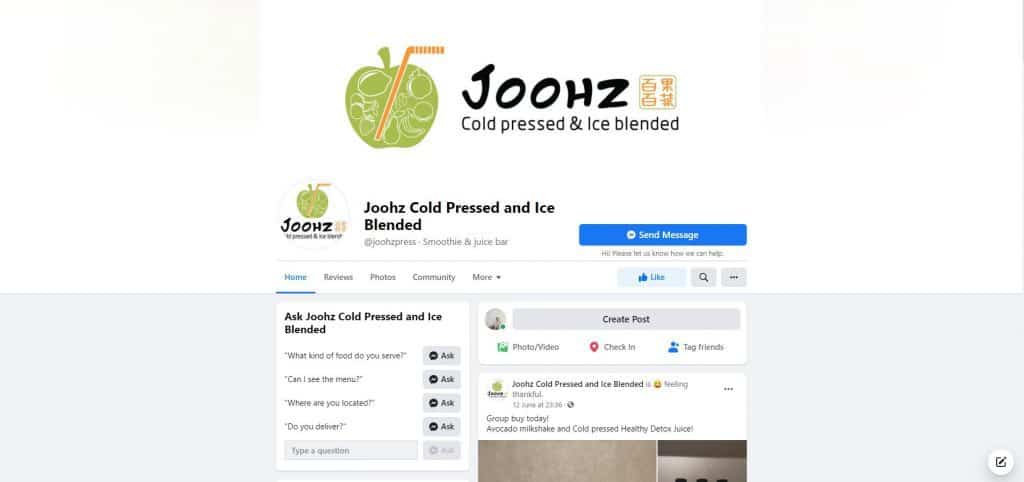 Type of Information

Details

Website

Juice Selection

– Whitening Beauty (Green apple, Orange, Pear)
– Cholesterol Buster (Green apple, Cucumber, Ginger, Lemon)
– Green Detox (Green apple, pineapple, wheatgrass)

Price Point

Cold press juices starting from $2.80

Location

Bedok Interchange Hawker Centre
208B New Upper Changi Rd, #01-01, Singapore 462208
Conveniently located in Bedok Interchange Hawker Centre, Joohz Press is not your typical juice haunt selling novel juices with fancy names. Joohz Press offers both cold press juices and ice blended drinks. Personally, I am a fan of their avocado juices here – thick, rich and creamy. Do give it a try if you're a fan of everything avocado!
What We Like About Joohz
Value for money – The price points are very affordable for cold-press juices and ice-blended drinks. Cold press juices start from S$2.80 while ice-blended drinks start from a humble S$2.00
10. ASip
Type of Information

Details

Juice Selection

Japanese cucumber, Pineapple, Apple
Red Dragon Fruit with milk
CAT Juice (Carrot, Apple, Tomato)

Price Point

Starting from $2

Location

Commonwealth Crescent Market and Food Centre
31 Commonwealth Cres, #02-85
"Hawker Sells Atas Cold-Pressed Juices From $2, Including Rainbow-Hued Ones" – One of the most value for money. 8days headline brought to attention this humble fruit juice store born out of a passion by Mdm Wong who started her own business after she saw a visible improvement to the health of her family members after consistent drinking of juice.
What We Like About ASip
Value for money – For a 12 oz (350ml) cup of juice, prices start from $2. This price is comparable or even cheaper than regular fruit juices. So, for a cold press juice which is touted to be healthier and more nutritious than regular juices, ASip may give other stores a run for their money. One of the best fruit juices in terms of value for money!
Conclusion
Do you have any reviews and comments to share regarding our choices for the best fruit juices in Singapore?
While SBO is committed to supporting our local businesses, we welcome any feedback and anonymous sharing regarding your experience with the above-listed best fruit juice picks in Singapore.
We hope that this guide will be useful in helping you to make a better decision when it comes to finding the best fruit juices in Singapore.
Featured Image by ROMAN ODINTSOV from Pexels
Explore More Content