10 Best Chocolate Chip Cookies in Singapore for Those With Sweet Tooth [2023]
Yummz, we all know how tasty chocolate chip cookies are which is why we have the 10 best chocolate chip cookies in Singapore just for you!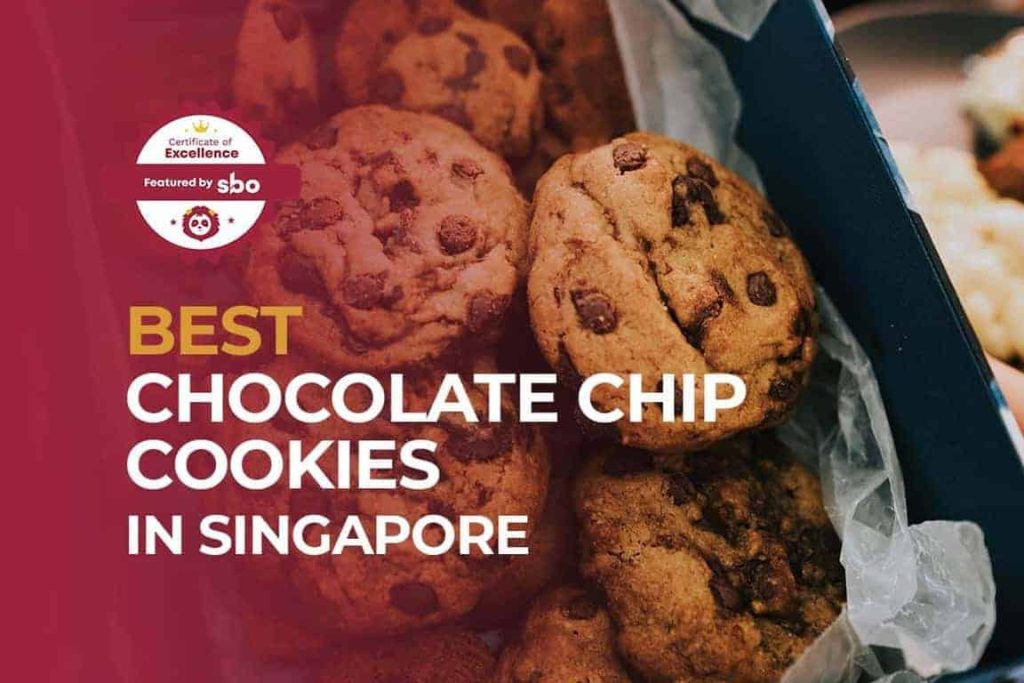 Chocolate chip cookies are like every person's favourite snack. We love munching on them on any occasion. Movie nights, afternoon tea, supper, a little snack in the morning, geez, we eat them all the time!
Chocolate cookies are easy to eat, absolutely delicious, extremely chocolatey and bring us nothing but joy – something we definitely need with the pandemic.
Therefore, we have rounded up for you the 10 best chocolate chip cookies in Singapore that you and your loved ones can enjoy and spread happiness!
1. Nasty Cookie Factory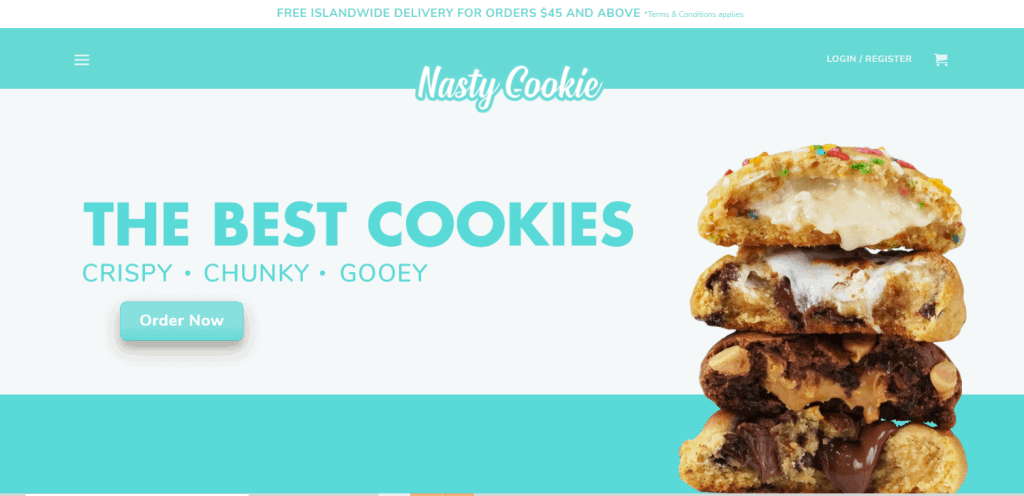 What's best to start off the list with one of our all-time favourites, the Nasty Cookie Factory. Founded in October 2018, the Nasty Cookie Factory is Singapore's first New York gourmet cookie store. Their Jumbo NY inspired gourmet cookies has a combination of crunchy, chunky and chewy texture altogether. They use only premium dark couverture chocolates, which is why they taste both rich and luxurious in every bite.
If you are looking for the best chocolate chip cookies in Singapore with the right balance between crunchy on the outside and soft on the inside, head down to grab a Nasty Cookie at the Nasty Cookie Factory now! There are Chocolate Chip, Dark Choc Chip, Half & Half, Biscoff Cookie, Peanut Butter Chips, Reese's Cup, Lets Pretzel, M&M Frenzy, and Oreo Outrage and many more for you to choose from.
2. Guilt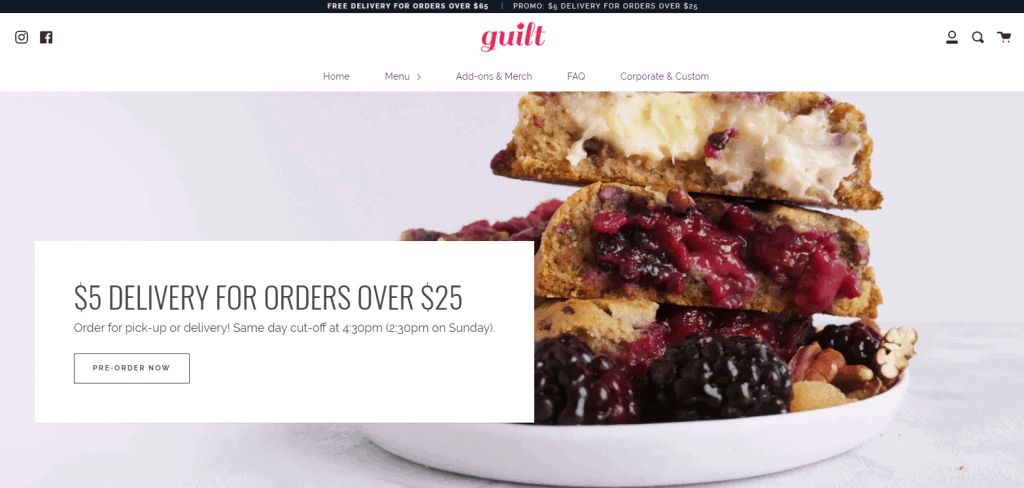 Founded by friends Grace Kim and Kirsty Tang, Guilt started out as a home bakery that has since moved from digital to physical, with their flagship shop on Arab Street. They have a line of 13 cookies that Guilt brands as "Girl Scout cookies gone wild", with cookies cheekily named based on pop culture such as Spill The Tea, Fifty Shades of Grey, and Tinder Surprise on it.
If you are worried that eating cookies may be unhealthy, fret not. Guilt also offers cookies that take into consideration different dietary restrictions, so the menu includes vegan and gluten-free options.
3. Ben's Cookies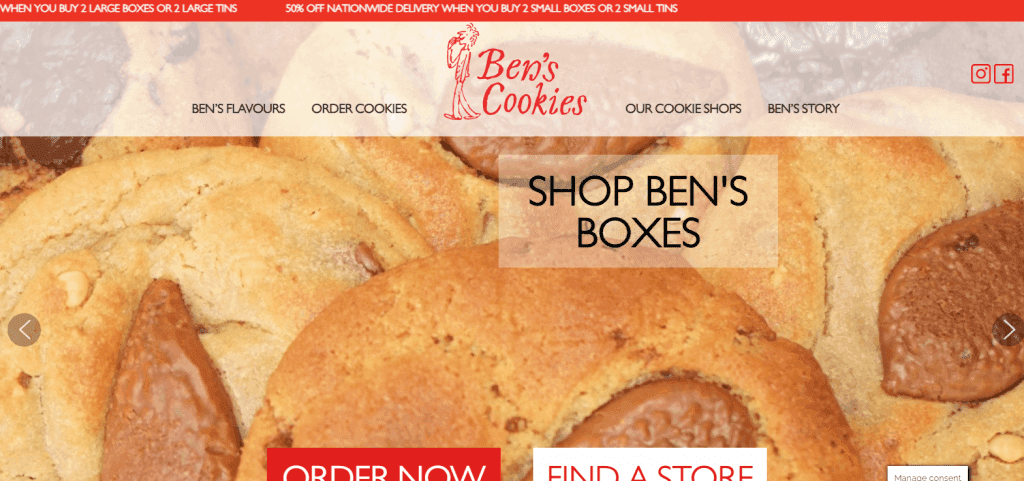 Ben's Cookies started as a stall in Oxford's Covered Market in 1983, which means they have been around for over 38 years, older than most of us! It is founded by cookery writer and chocoholic Helge Rubinstein, which she named after her son Ben. Ben's cookies pride itself on their simple freshly-baked cookies, which are still going strong today.
With their famous slogan 'baking with chunks, not chips', Ben's cookies come in a chunky bit, a guilty pleasure that comes with a hearty size for you to munch on delightfully. Some of their more popular choices are Triple Chunk Chocolate Cookie and Peanut Butter and Milk Chocolate Cookie, which you should definitely give a try to.
4. Kooks Creamery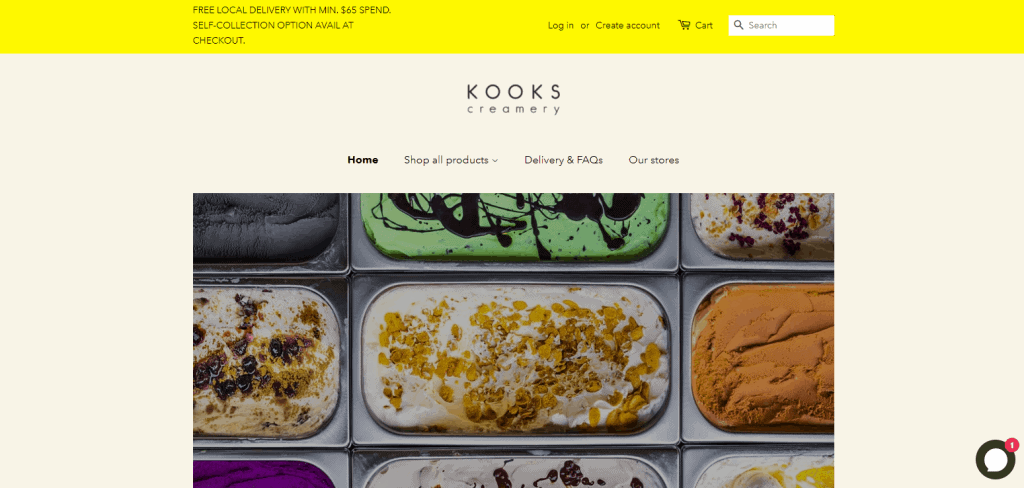 Kooks Creamery is not just any other ice cream parlour, it brings about a refreshing twist to conventional ice cream on waffles with its molten lava cookie that oozes out when you plop a giant scoop of ice cream. You can choose to have either chocolate or matcha as your filling.
Despite its small size, Kooks Creamery is popular among many youngsters as many visit the store for their signature molten lava cookie and a shot for their Instagram page! If you wish to get the Instagram-famous molten lava cookie, check out Kooks Creamery today!
5. Cookies Mixx
Started not too long ago in July 2018, Cookie Mixx is a local family-owned business that sells cookies that are healthy with superfood toppings, reduced sugar. So if you are one of those cookies lovers that do not want to indulge in a guilty pleasure, Cookies Mixx may just provide the right kind of cookies for you.
Their cookies are mini-sized, perfect as tasty nibbles for a light afternoon snack. With the slogan 'You create, we bake', customers can choose a base and customize it to be even healthier. They bake great tasting handmade cookies using only the finest ingredients to create scrumptiously crisp cookies with reduced sugar, no added preservatives and colouring.
6. Cookie Museum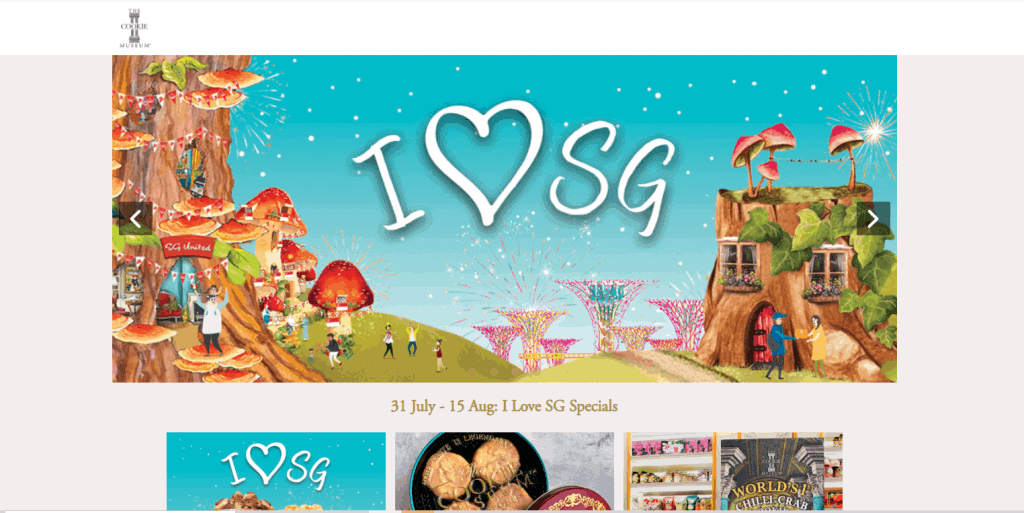 A charming cafe with an atmosphere that's a half-baroque salon, half-English shop, the Cookie Museum would be a go-to spot for cafe-hopping lovers or those looking for a luxurious afternoon tea session. At the cafe, they have a 'trolley' that is full of bite-sized cookies which a hostess wheels around for customers to sample.
Their English tea cookies are delicious and they pride themselves with cookies with bold flavours such as lychee and lavender, and sometimes too extreme, like tom yam and nasi lemak. If you find delight in any of the cookies, they are all available to purchase by the tin. Although the cookies may be on the pricier side, ranging from $16 to $34, these cookies are so exquisite and rich in flavour that every bite is definitely worth the price tag.
7. Famous Amos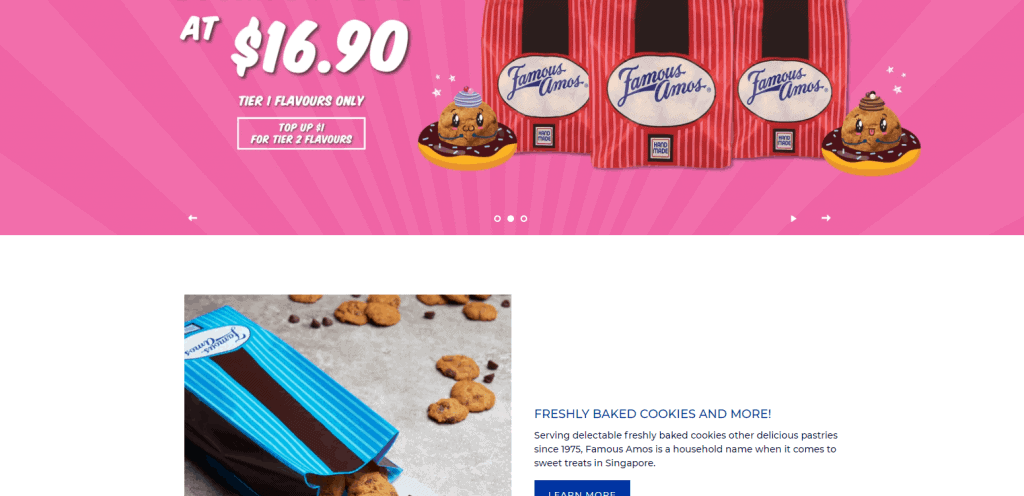 Who could forget the famous Famous Amos when it comes to the best cookies in Singapore! Having been around for decades, Famous Amos is a household name for many. They have multiple outlets spread around the island so you don't have to worry about travelling far to get their cookies!
Their delectably smelling cookies have the power to entrap your nostrils from almost a mile away and their quick and hassle-free service ensure that you get your cookie fix fast and easy.
8. Charlie Tea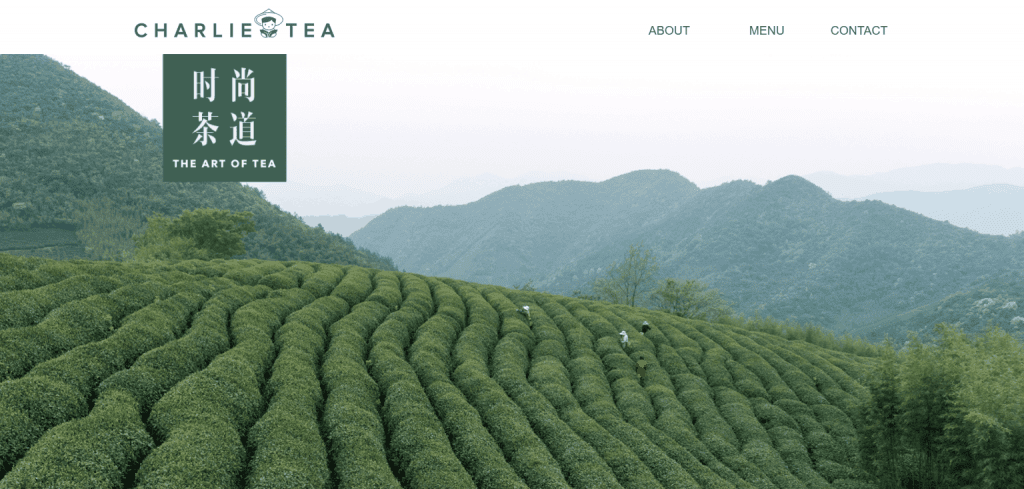 You may wonder how does Charlie Tea sells cookies when they, as the name suggests, sell tea? As BreadTalk's latest tea venture, Charlie Tea not only sells delightful tea but also has an impressive range of baked treats at its cafe. Introducing to you their New York-style Chunkies that are crispy on the outside, and chewy on the inside.
You can get to choose from a wide range of cookies such as the Red Velvet White Chocolate, Matcha White Chocolate, or Double Chocolate. Their chunky cookies come in Double Chocolate, Red Velvet and Matcha White Chocolate flavours.
9. Creamery Boutique Ice Creams

Founded in 2012 with its first outlet in Bangkok, Creamery Boutique Ice Creams has since expanded to 5 in Thailand, 2 in Malaysia and 1 in Singapore. Creamery Boutique Ice Creams prides itself with carrying on the traditions of delivering delectable freshly-baked hot cookies and delicious artisan ice creams.
Their cookies and ice creams recipes are all original and produced in small batches to maintain exceptional quality.
Their most famous dessert, Lava Cookies, puts a spin on a typical cookie with a scoop of ice cream slabbed on top, served on a hot plate. Its melty, gooey centre accompanied by the sweetness of the ice cream is a heavenly mix.
10. Whiskdom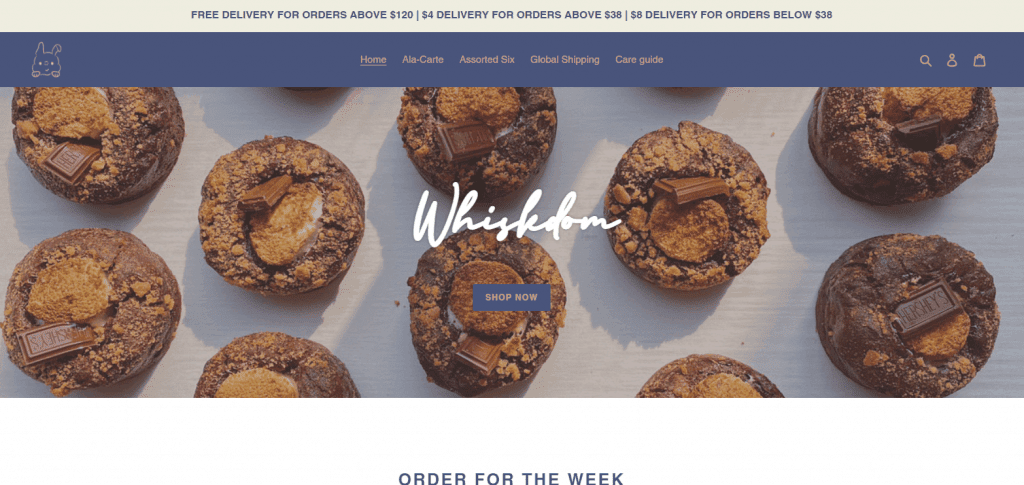 Last on the list is Whiskdom, a small independent bakery known for its big chunky ooey-gooey cookies and oozing brownies. They make everything in-house from scratch daily with only the best and the finest ingredients. All their ingredients are handpicked from around the world, making sure you feel warm and fuzzy after eating their bakes.
Their philosophy is, "the messier the food is, the better the experience is" and believes that it is okay to make a little mess to brighten up your day.
Conclusion
Do you have any reviews and comments to share regarding our choices for the best chocolate chip cookies in Singapore?
While SBO is committed to supporting our local businesses, we welcome any feedback and anonymous sharing regarding your experience with the listed outdoor furniture in Singapore.
We hope that this guide will be useful in helping you to make an informed decision when it comes to finding the best chocolate chip cookies in Singapore.
Featured Image by SJ . on Unsplash
Explore More Content