10 Best Sake Bar in Singapore for a Taste of Real Japan [2023]
What is a hangout with friends without sake? Come visit the 10 Best Sake Bar in Singapore for extra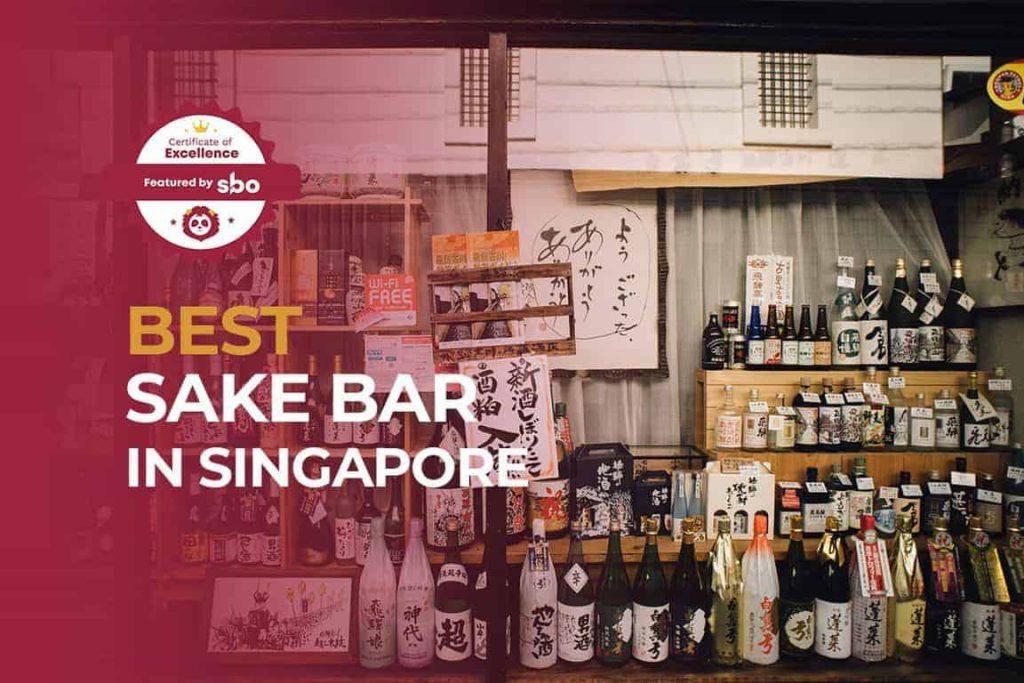 Our love for Japanese products will never die – from sushi to ramen to omakase experiences, we just cannot get enough of them. Thanks to a thriving Japanese touch in Singapore culture, when it comes to the boozy spots, our local drink industry has plenty of sake spots to indulge in that Japanese cultural drink– sake!
With our love of everything Japanese-related, finding a good sake bar for that refreshing rice liquor has never been easier in Singapore. Want to have a good time with friends, or just enjoy a nice quiet drink alone? Then head down to the 10 Best Sake Bar in Singapore. Whether you are looking to enjoy the finest Junmai Daiginjo or have a drinking game with bottles of Futsu-shu, read on to find out which places have the best sake!
1. MARUGEN Sake Bar & Izakaya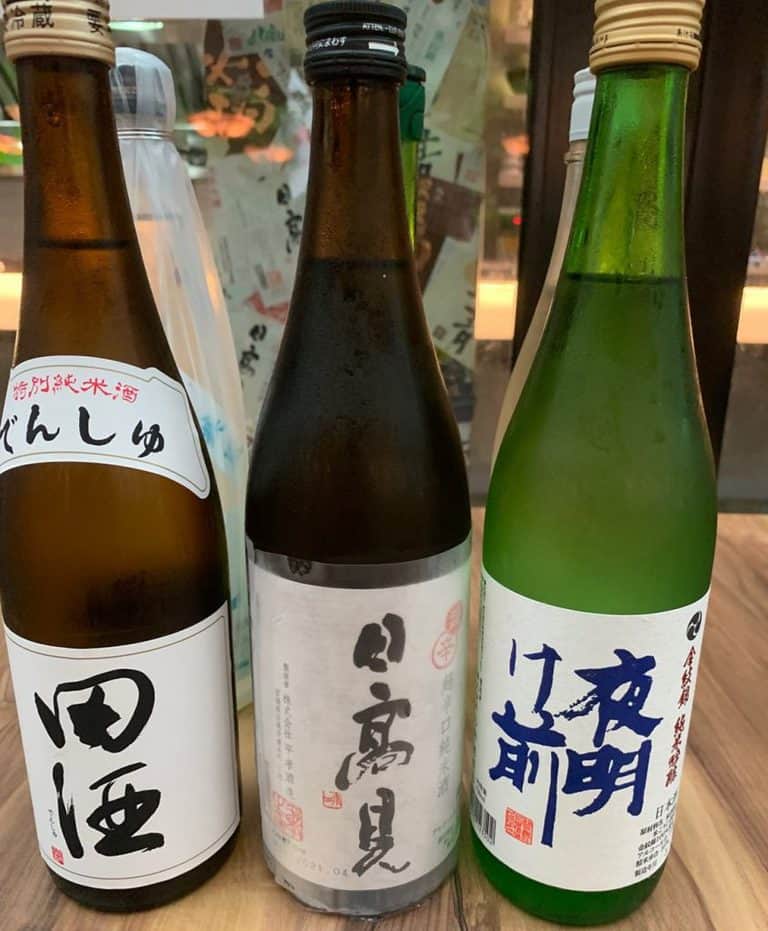 A Japanese Izakaya restaurant that can be found in CHIJMES, here is where you can enjoy a variety of sake. Ranging from casual to premium brands, you can have it at the counter seats or outside with a shelter. It is definitely a great place to hang out as well. The sakes served here are also less mainstream, so you can explore the world of sake properly!
If you prefer something to eat, then you should still pay a visit! Their menu is extensive, having dishes such as beef tendon soup and ginger omelette. Their homemade oden also contains konjac, half-boiled egg, and radish. All of them go well with the sake in here, giving you a pleasant surprise to your palette.
2. MOBOMOGA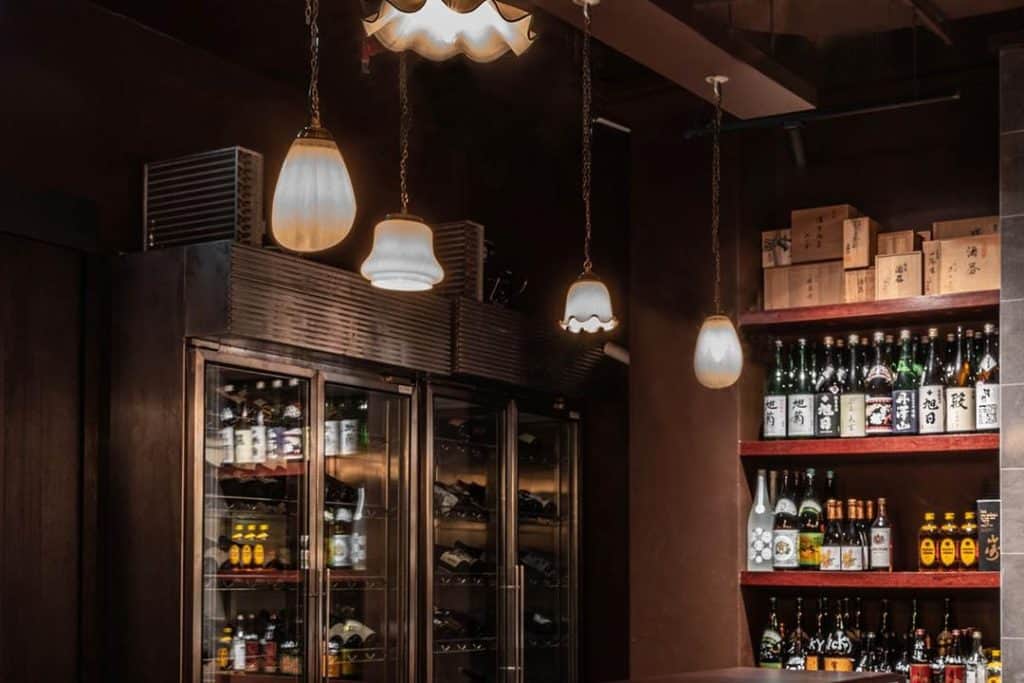 If you ever pay a visit to this establishment, make sure to tell the bar manager what you are in the mood for. Whether you love a sake that is sweet, smooth, rich or light, the Sake Master always has the ideal recommendation for you! Why not start off the tasting with a nice Kaiun Junmai Ginjo from Hyogo Prefecture? If you are up for it, you can try the Ayaka Tokubetsu Junmai from Fukuoka. However, the Taketsuru Hiden Junmai takes the spotlight as a malty, warm sake with a touch of acidity for savouriness!
Fancy a snack along with the sake? The bar serves up snacks such as octopus, celery, homemade fermented raw squid and grilled chicken meatball layered with egg yolk. If you are stuck on ordering, the Sake Master will have answers to the perfect pair of sake and snack! If you are ever in the bar late at night, you might even find yourself at a disco party. Why not take your time?
3. Kakure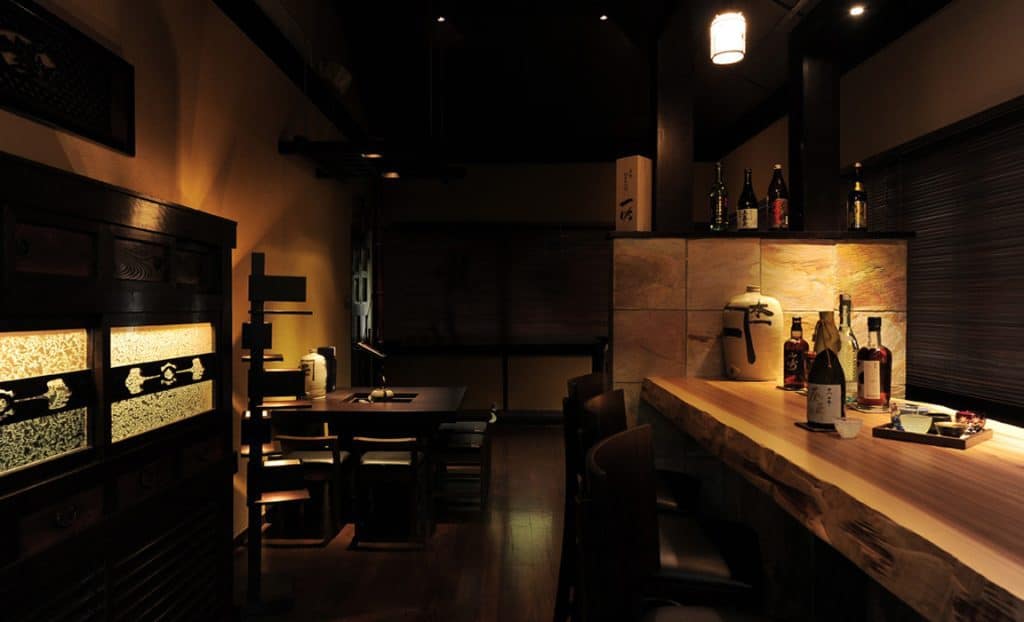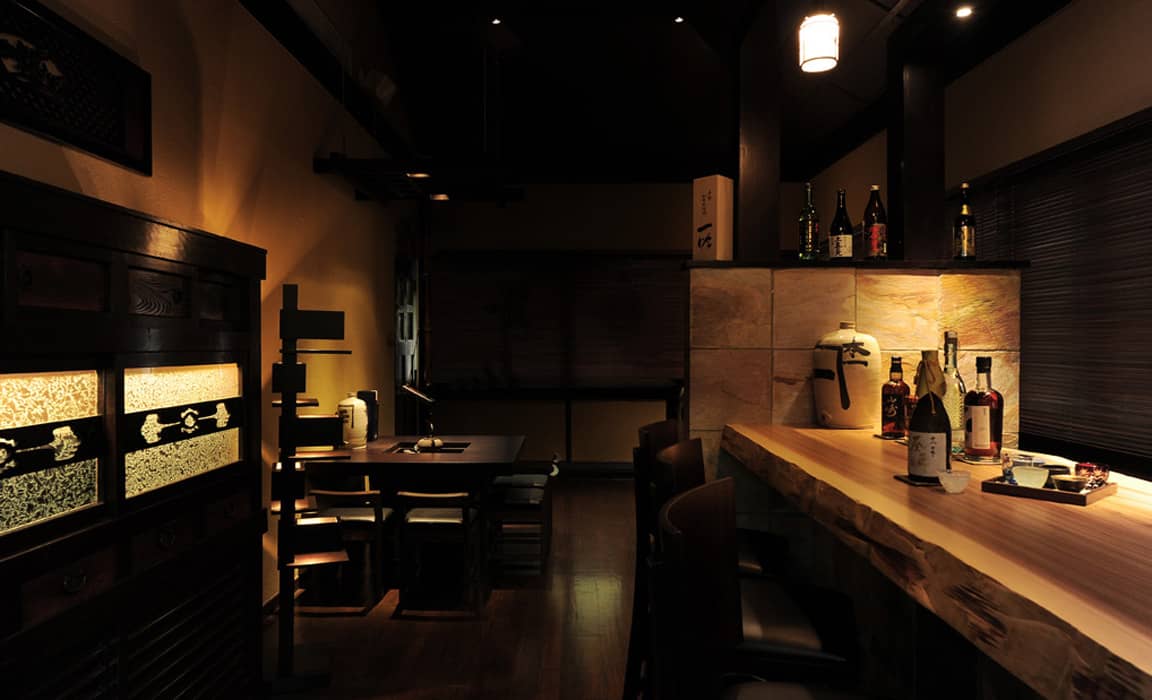 If you love the fine Japanese dining provided by Ki-Sho, you will be pleased to hear about the new exquisite boutique bar in the same building – Kakure. Located, on top of the contemporary Japanese restaurant Ki-Sho, this bar is designed for those who are fans of sake with its low lighting and plush leather seats. Supplying extensive and seemingly endless unique, artisanal sake, you are spoilt for choice when coming here since the sake is simple yet complex at the same time.
Because each of the sakes on offer is only brought out once, not everyone will get to taste certain sakes, which gives you bragging rights. What you must try is the Kakure's house sake, the Tatenokawa Junmai Daiginjo. It's a delicate, aromatic brew that has an aftertaste similar to fruits.
If you want something softer to the taste, you should go for the Kinshi Masamune, which is easy on the tongue. Want something stronger? Then let's go for the Fuurosen Junmaiginjo Nakagumi, which goes amazingly with wagyu (a type of red meat).
4. Shukuu Japanese Izakaya and Sake Bar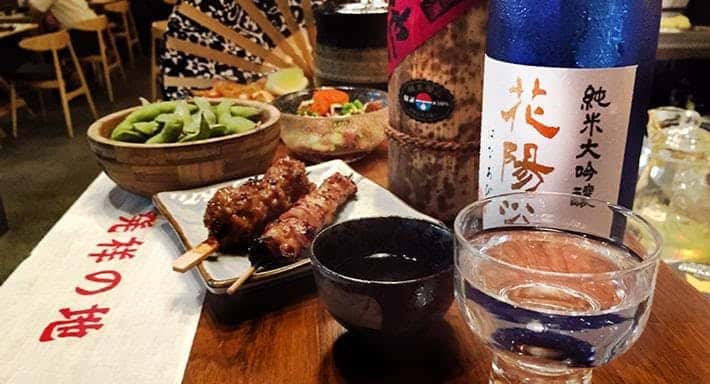 With the current pandemic, the dream of experiencing a modern gastropub in Japan (called Izakaya) seems like a distant dream. However, fret not! We can experience it right here in Singapore, thanks to the Shukuu Japanese Izakaya and Sake Bar. If you need a little respite from your work, you can come here to indulge in some sake along with nice grilled or fried cuisine to match that drink.
With beautiful Japanese murals and paintings, it helps relax the patrons while they wine and dine. With the importing sakes of various renowned breweries from Japan, expect to find a large variety of sakes in this establishment. With amazing sakes that pair with any scrumptious snacks and dishes, expect to forget about the worries pertaining to work while you are there.
5. Ishinomaki Grill & Sake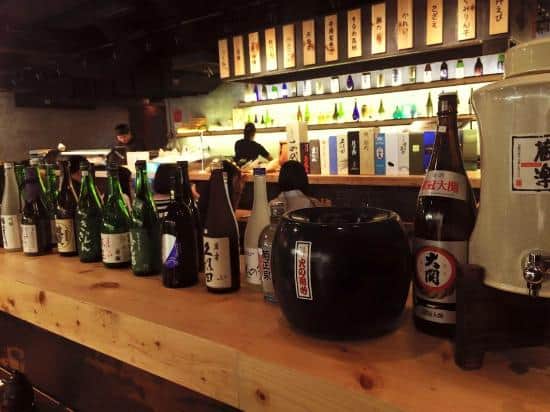 A grill & sake dining concept that provides authentic Izakaya dishes and Japanese cuisine served alongside premium sake and shochu, you can experience a bountiful feast made from plenty of prime seasonal ingredients. The food in the extensive menu is always at a high standard, so you will be delighted with every meal and come back for more. Their wonderful dishes are only matched by their wide range of alcoholic sake, which has a great quality as well.
To make sure that they have the best quality sake for their restaurant, they personally source the sake themselves by a team of Sake Sommeliers. If they could, they will even travel to different prefectures of Japan to various sake breweries to get a first-hand taste of the sake before bringing it back for their customers to enjoy. Visiting them will give you the taste of the traditional flavours of Japan, without anything artificial in them.
6. Bam! Restaurant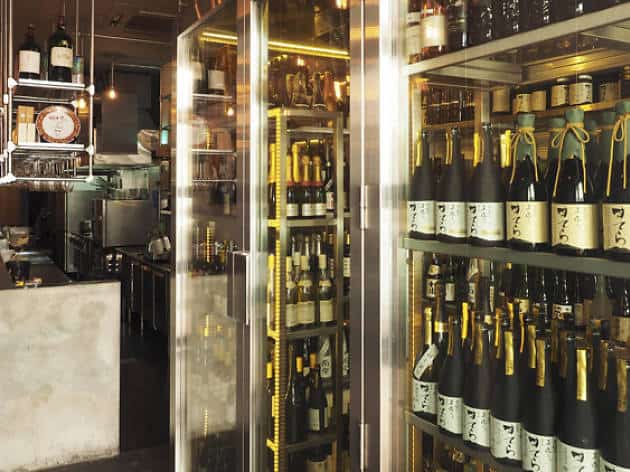 Tucked neatly somewhere in Tras Street and furnished with wooden beams, textured cement, metal, and rustic mirrors in a faux-industrial style, this tapas-sake bar has a touch of quaint charm to it. What is more, the bar mixes Spanish and Japanese styles together. Filled with countless dining choices, it features an omakase menu and small plates à la carte.
The menu usually starts with the cold and light dishes and gradually moving to the warm and substantial ones. In particular, a dish to try out would be the Gazpachuelo, a Málagan fisherman's broth that usually consists of ingredients such as garlic, egg yolk, fish stock, mayonnaise, and olive oil. All these dishes can be paired with any of the 80 labels of sake available. If you wish, you can request a counter seat to watch the chefs in action.
7. KAMOSHITA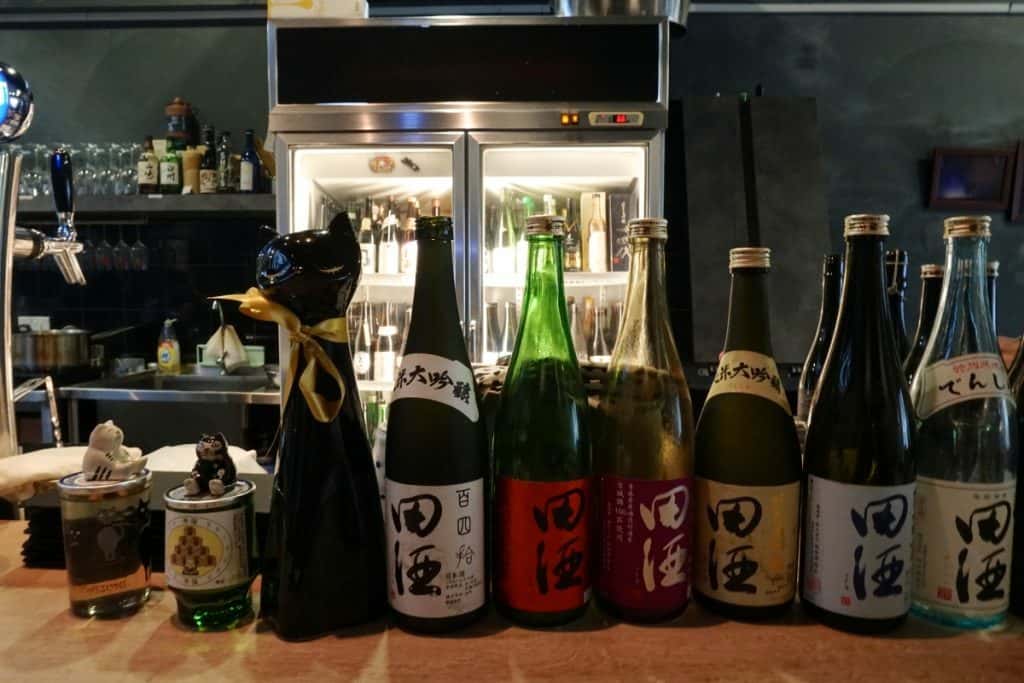 If you ever take an in-person trip to this restaurant, be prepared to have selection paralysis, because their menu is more extensive than what is shown on their website. However, with the friendly atmosphere, you can just sit back and relax as you order without worrying about anyone pressuring you. They have unique dishes such as trio Japanese cheese dish, which came in different flavours, such as smoked radish, miso-marinated and crab butter. Each flavour also has a different texture, giving it a wider variety.
The oden here is also not added with soy or miso in the broth; instead, they use a dashi stock of kombu, bonito, and mackerel. Their oden can also be cold and is usually served with mustard. This makes it beloved among the Japanese youngsters. If you are here to try something new, look no further!
8. Kabuke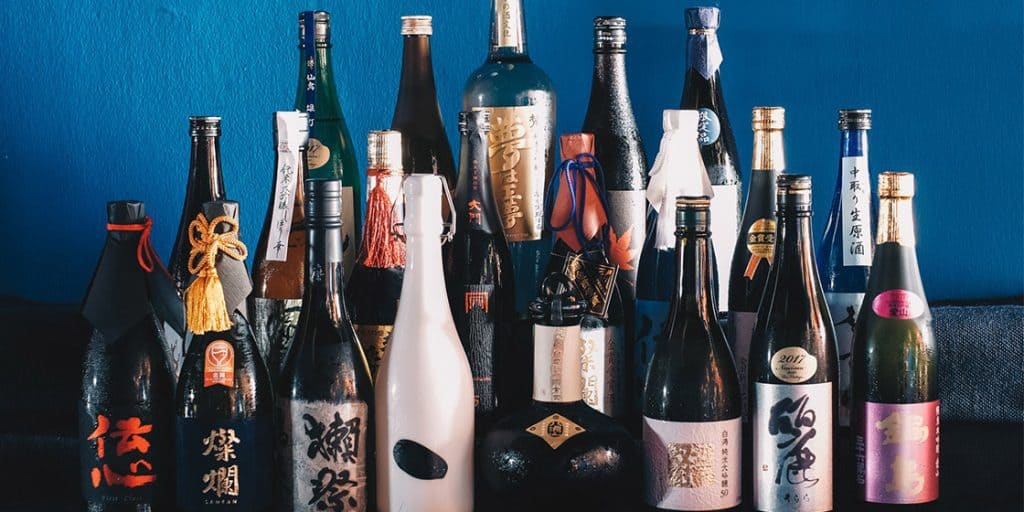 Nestled in the heart of Telok Ayer near Amoy Street Food Centre, you may be a little hard-pressed to find this precious establishment that is on a heritage shophouse. But the find will be worth it, for Kabuke combines the art of kabuki and the fascination of quality Japanese Sake. Kabuke has something for you, whether you are a newbie or aficionado at sake.
With their in-depth but easy-to-follow menu and tasting flights, it's a Great Izakaya to chill with friends over good dishes and enjoy a brisk education on the sake styles, grades and regions together. Some of their snacks to pair the sakes with include Char siu, chicken skin, and baby corn. Their wagyu (a kind of beef) bowl is also something, where they fill it with ingredients such as scallop, rice, foie gras, and omelette.
9. Hoppy Bar by Hachi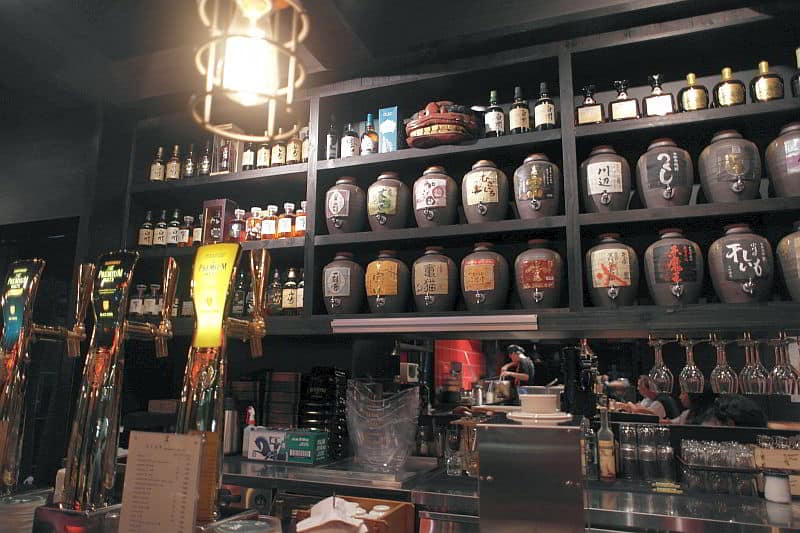 A nice old Japanese pub setup, it's only a 5-minute walk from the MRT station. Great place for after work drinks if you wish to get home quickly after spending time here. Their food, such as the pork skewer and their chicken hearts is definitely worth the price. Other dishes they serve include crab Mentaiko, Grilled Kampachi, Yakitori sticks and Wagyu beef are also worth a try.
Although there are seats both indoors and outdoors and you will feel warm in both areas, both present different vibes from each other. While you can enjoy the high chairs and the occasional breeze outdoors, you will feel right at home with the tatami setup indoors. There are even counter seats where you are required to remove shoes.
10. DOSUKOI X DONPACHI SAKE BAR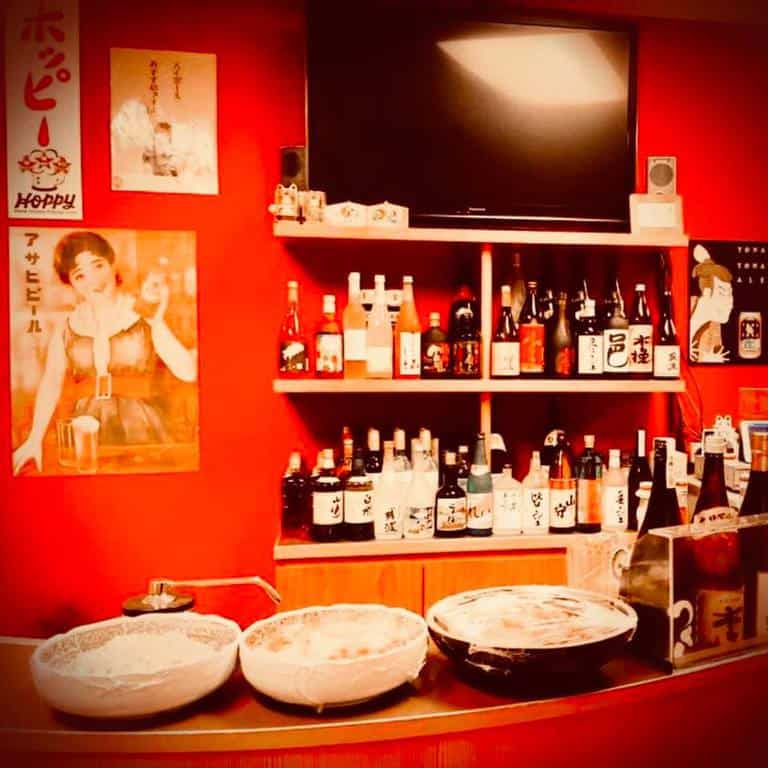 Want a place where you can taste over 100 kinds of Sake & shochu, along with some authentic Japanese cuisine? Then Dosukoi x Donpachi is the place for you! Whether you choose to have a seat at the counter, grab a table, or have a private room, you should start off with the kaki oil zuke, which is a marinated oyster with salmon roe. There are main courses as well such as grilled mackerel, teriyaki beef steak and Hamachi Kama (grilled yellowtail cheek). Of course, there are even popular rice dishes, such as sushi and sashimi.
As for the drinks, they have the "ultimate meal-time sake", Hakurakusei. Designed to be compatible with food, it is considered hard to find because of the high demand and the small-scale handmade production. Thanks to its mild flavour and the touch of umami, it will seem more delicious the more you consume it. In Dosukoi Donpachi, you can enjoy Hakurakusei's three different polishing ratios. Why not grab this opportunity to have a taste of the rare sake?
Conclusion
What do you think of our choices for the 10 Best Sake Bar in Singapore?
While it is true SBO is committed to supporting our local businesses, it does not mean you cannot share any feedback and anonymous sharing regarding your experience with the listed establishments. In fact, we welcome any comments pertaining to them!
We hope that this guide will be useful in helping you to help you find the best Sake Bars in Singapore.
If you are looking for something to pair that sake with or craving some Japanese food, why not take a look at the 10 Best Omakase in Singapore to fill your belly with delicious Japanese cuisine right here in Singapore?
Photo by CHUTTERSNAP on Unsplash
Explore More Content