9 Best Kombucha in Singapore That Sells Tea-licious Tea [2023]
Want to know where the best Kombucha in Singapore are? Then check out this list!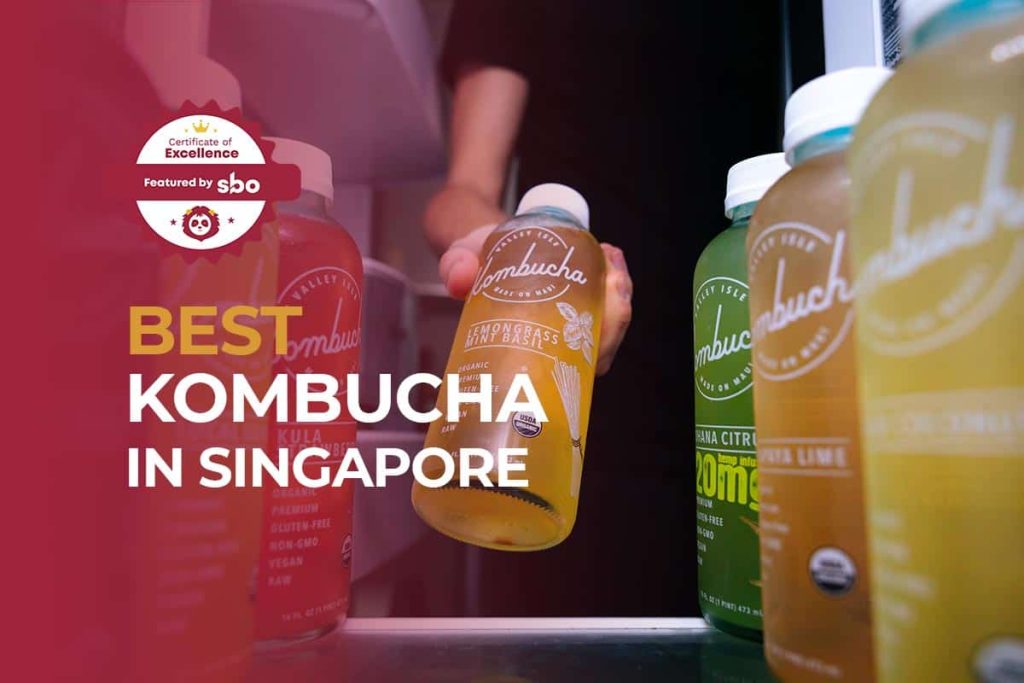 Kombucha is a type of fermented, bubbled and sweetened drink that is well known for its presumed health perks. Sometimes referred to as kombucha tea, they are usually added with juice, species, fruit or other flavourings for better taste reception.
Whether you are going for the taste or wanting to enjoy the health benefit yourself, this list of 10 Best Kombucha in Singapore is guaranteed to satisfy your thirst. Who knows, you may even go back for more!
1. Whatabooch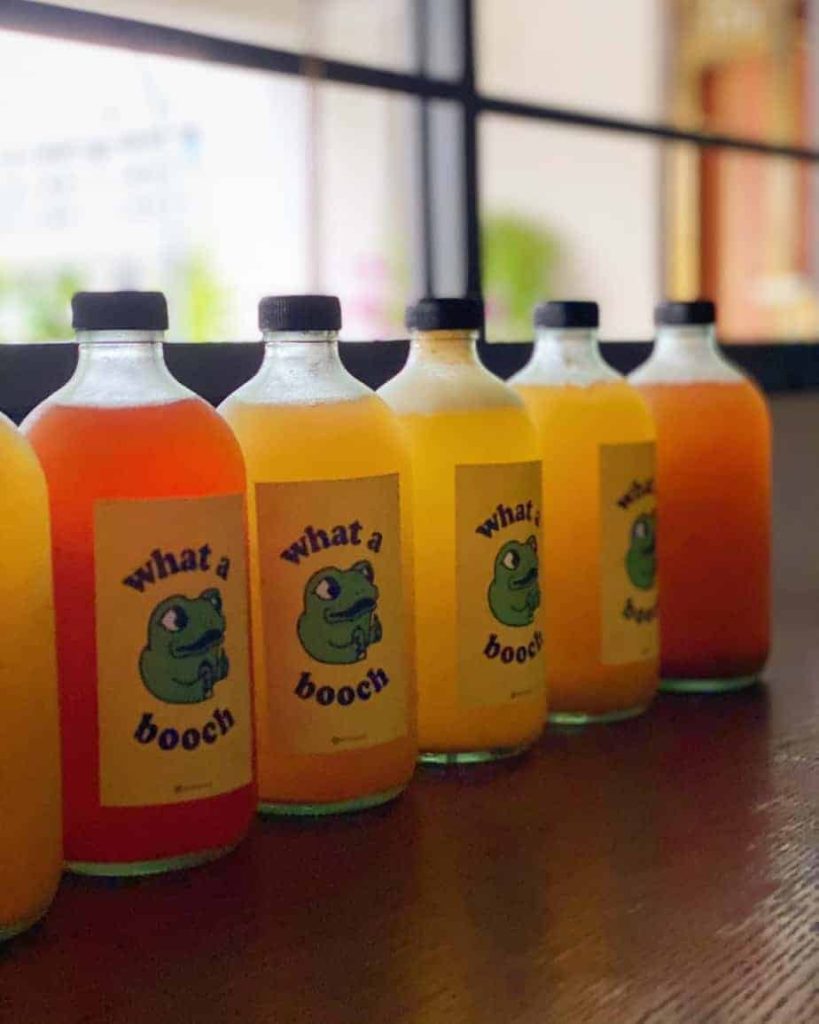 Founded by a woman named Tifanis, she has tried her hand with experimenting and marketing in 2020 after her usual job of a yoga teacher has been affected by the current situation. The business turns out to be successful, rising from tiny remains to a large blob that is around 2kg.
The kombucha is brewed and flavoured on a preorder basis, assuring the freshness of the drink when received. There are a variety of different flavours, such as I Lav You, Pima Colada and Lychee Rose. Tasks such as brewing, packing, advertising and communicating with customers are all managed by the founder herself.
SBO is proud to endorse Whatabooch as part of the business listing. Do feel free to check out what the brand has in store by checking out this page.
2. Fizzicle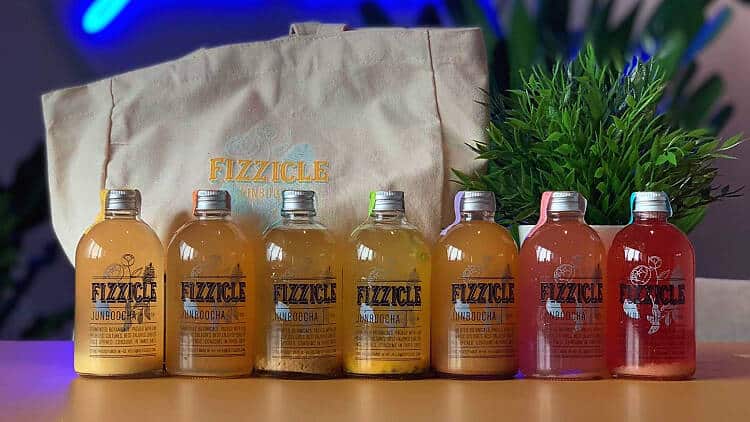 Fizzicle is famous for brewing a different kind of kombucha. The only difference is that instead of refined sugar being used for kombucha, this drink, dubbed as junboocha uses honey.
Fizzicle offers a range of flavours, passionfruit mint and pink guava being part of them. One of the best-selling drinks is the appropriately named Number 1, which is a black and green tea that is mixed with more than ten ingredients. This results in a fruity-tasting concoction.
Unlike most kombucha which has some caffeine based on the tea it is made from, Fizzicle is able to concoct a non-caffeinated version. This drink, Calmboocha is comprised of ingredients such as green rooibos, lavender, rose, cinnamon and blueberries. It is great for those who are preparing to go to bed. With its reviews being 5 out of 5 stars, is it a wonder why it made the list of 1o best Kombucha in Singapore?
3. Yocha Kombucha Singapore
Before this business was started, Amanda Tan had made her own kombucha to relieve her longstanding eczema and sinusitis issues. She has hoped that by improving her immune system, she can alleviate the chronic conditions that she has been struggling with. After seeing that consuming the homemade kombucha has paid off, she decided to establish Yocha.
Using black tea fermented by "symbiotic colony of bacteria and yeast", she has created the brand's refreshing range of flavours. Some of them include strawberry and mint, lemongrass and ginger, hibiscus and pineapple, and passionfruit. A testament to the effectiveness is that the founder's ezcema and sinusitis has cleared up from her own range of kombucha.
4. Miss Kefir – East Coast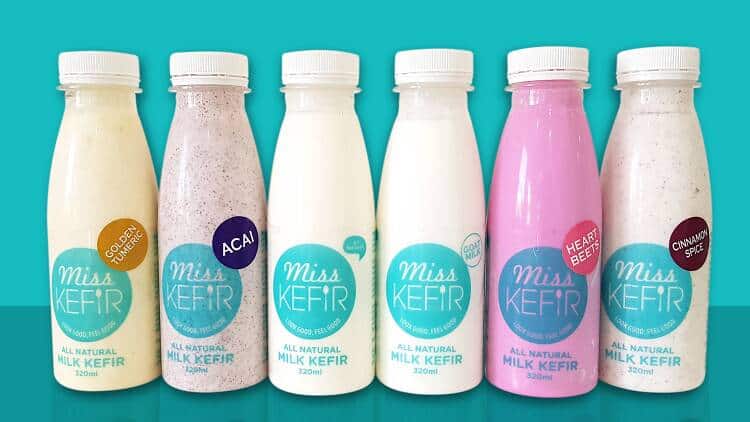 Although it is not their specialty, this store brews its own kombucha. Their kombucha is fermented for a fortnight to to cultivate the beneficial bacteria, yeasts and enzymes. This is to help balance gut health, improve the immune system and our overall physical and mental health.
As the name suggests, their main specialty lies in kefir, a kind of cultured milk drink that is comparable to yogurt. This allows them to make all sorts of other milk-based products, such as smoothie and parfait. With unique water kefir coffee and drinks available, it is a good place to meet up and have a chat with friends over drinks or pastries.
5. Wild Boocha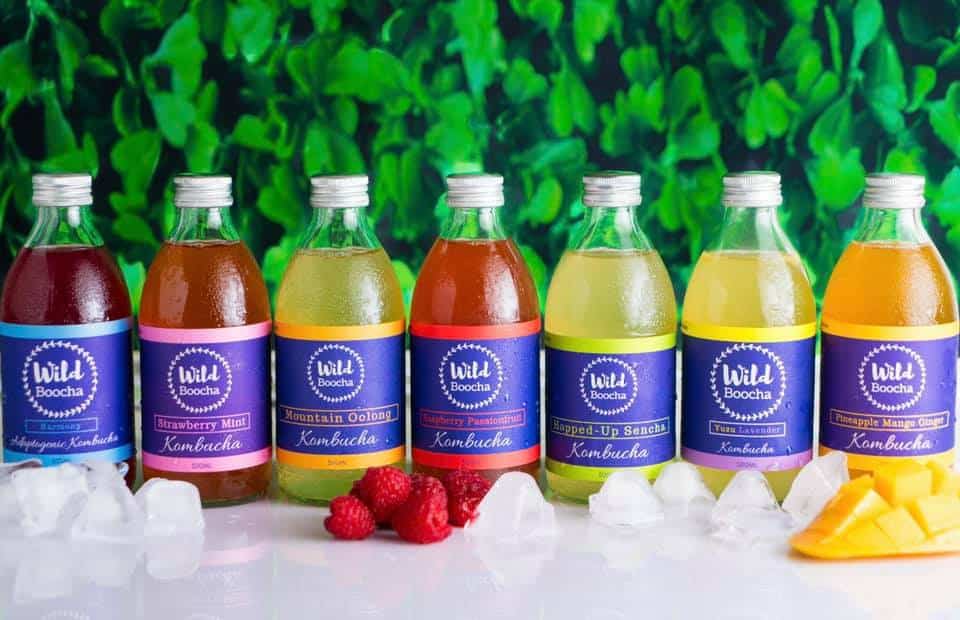 Maintain your health with kombucha from this boutique brewery. With usage of fresh fruits, herbs and organic tea in their fermented drinks, this is the ideal pick-me-up to energise you. Guaranteeing only the finest-quality ingredients in their mixtures, Wild Boocha takes great care in homemaking their artisanal kombucha in small batches.
Available in a variety of flavours, some of which include Yuzu Lavender and Raspberry Passionfruit, you can even pick up a Homebrew Kombucha Starter Kit if you want to try making one of your very own!
As a bonus, if you are looking to spend time with friends or a fun team bonding activity, you can even partake in their in-house kombucha brewing classes and participate in a tour of their facility.
6. Tea Pulse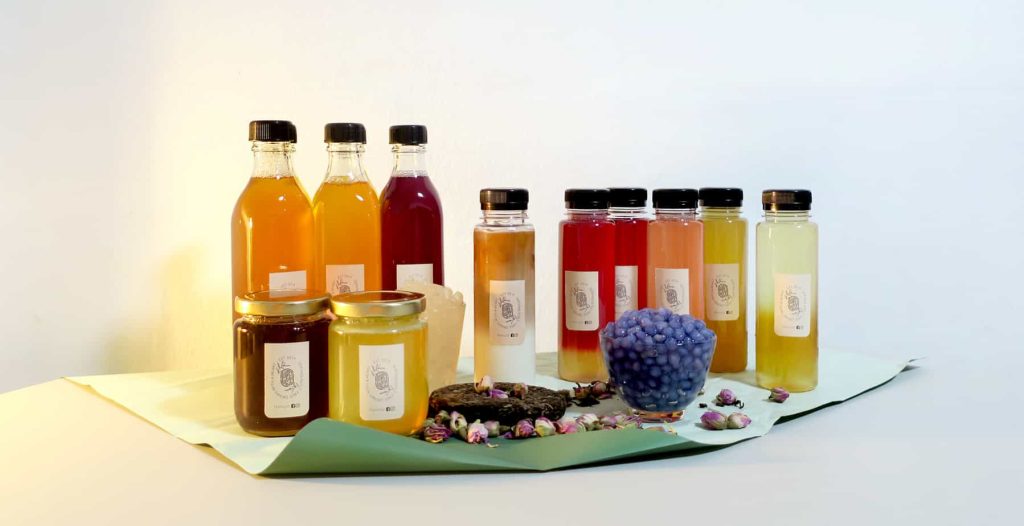 If you ever want a healthier alternative to your usual bubble or milk teas, look no further than Tea Pulse. Founded in 2019, this stall offers a variety of unique drinks that is made from organic ingredients. While they do sell conventional drinks such as milk tea or smoothies, what makes them stand out is the Kombucha and Fermented Lemonade drinks as part of the healthier choice.
The stall's passion to making authentic yet healthy and affordable drinks can be seen in the menu. They only use fresh milk in their milk teas, with healthier options such as skim milk and oat milk available as well. The pearls even come with healthier options, such as white pearls which consist of calorie-free konjaku.
7. Craft & Culture – Kombucha, Kefir & Probiotics Singapore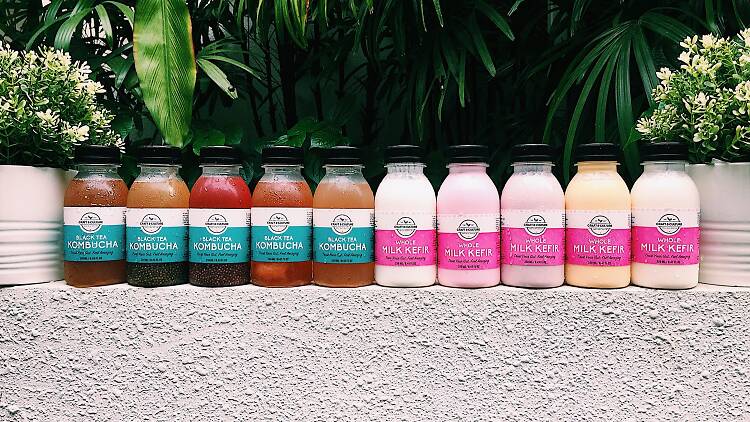 Craft & Culture is born from Zhiwei and Winnie's passion for fermentation while overseas. Craft & Culture offers natural, raw products as opposed to pasteurising them like other commercial brands. Being made from organic products, this brand stands out as a choice for those seeking for a healthier diet and getting relief from a variety of abnormal body symptoms.
By keeping the brews as consistent as possible through trial and error, Craft & Culture has even figured out a way to expand their market into probiotic skin care. With every product being cultured with live and hearty bacteria, there is always a slight change in terms of taste in their products.
What is more, they always have rotating seasonal flavours all the time, meaning you can look forward to new products every time. It also makes you anticipate what they will come up with next.
8. Kombynation Co.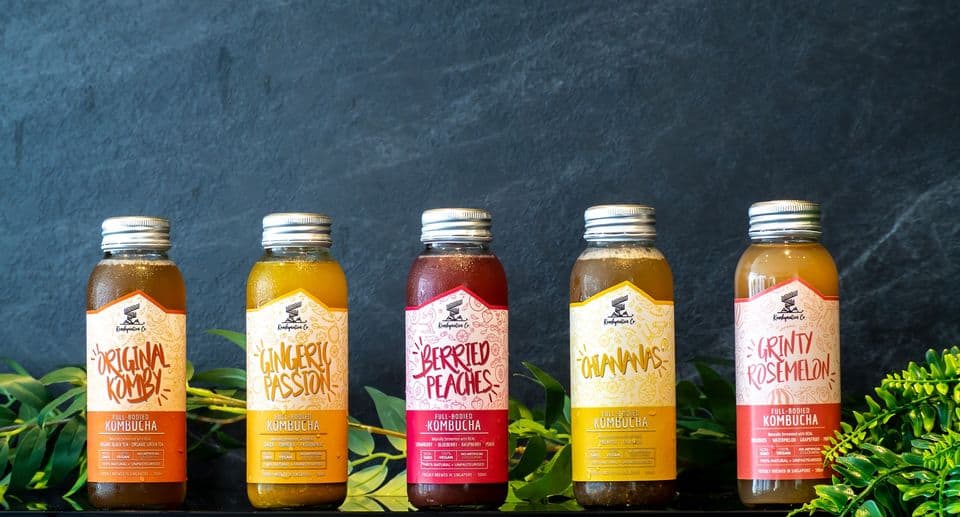 A sip of kombucha in Europe inspired the founders' curiosity to what made this drink unique. With this question in mind, they went on to start the microbrewery Kombynation. Through thorough research, the founders set out to create their personal kombucha mixtures.
By mixing the fermented tea with various blended superfruits, they managed to make drinks that are not just for immune boosting and energising purposes, but also gave perks outside of what the usual nutrients contained. After a lot of trial-and-error, they were ready to share their special creations with the rest of the world.
There are many flavours to choose from, such as Berried Peaches, Chiananas, Gingeric Passion, and Grinty Rosemelon.
9. Probiotics Kitchen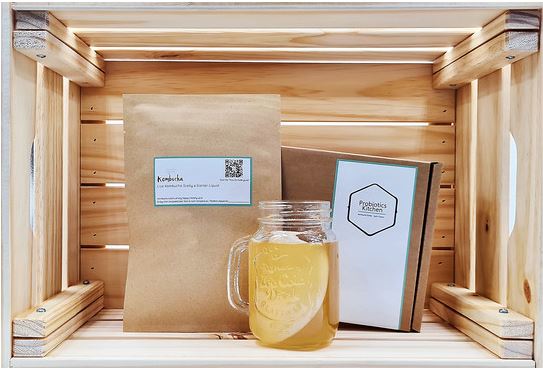 Unlike most kombucha places, this brand specialises in what they call the "cousin beverage" to kombucha: Jun Kombucha. Their Jun Kombucha is made from pure green tea and raw honey. By mixing it with SCOBY (symbiotic colony of bacteria and yeast), it's all but assured that you will feel lightly refreshed after drinking the bubbly drink. It also helps with body nurturing and improvement of natural probiotic intake.
The brand's owners are also dog lovers, so any sales they make, they will donate at least a dollar from each sale to causes that support dog shelters and rescue. You can even find recipes of how to make your own kombucha in their website.
Conclusion
What do you think of our choices for the 10 Best Kombucha in Singapore? Share with us your experiences with the listed kombucha places in Singapore through feedback or anonymous sharing.
We hope that this guide will be useful in helping you to help you find the best in Singapore as a healthier alternative to the usual bubble tea or milk tea.
Explore More Content