8 Best Tingkat Delivery in Singapore for the Busy One [2023]
Tingkats or tiffin carriers are cylindrical stacked containers used to contain different layers of food. Find out our top picks for Tingkat deliveries in Singapore!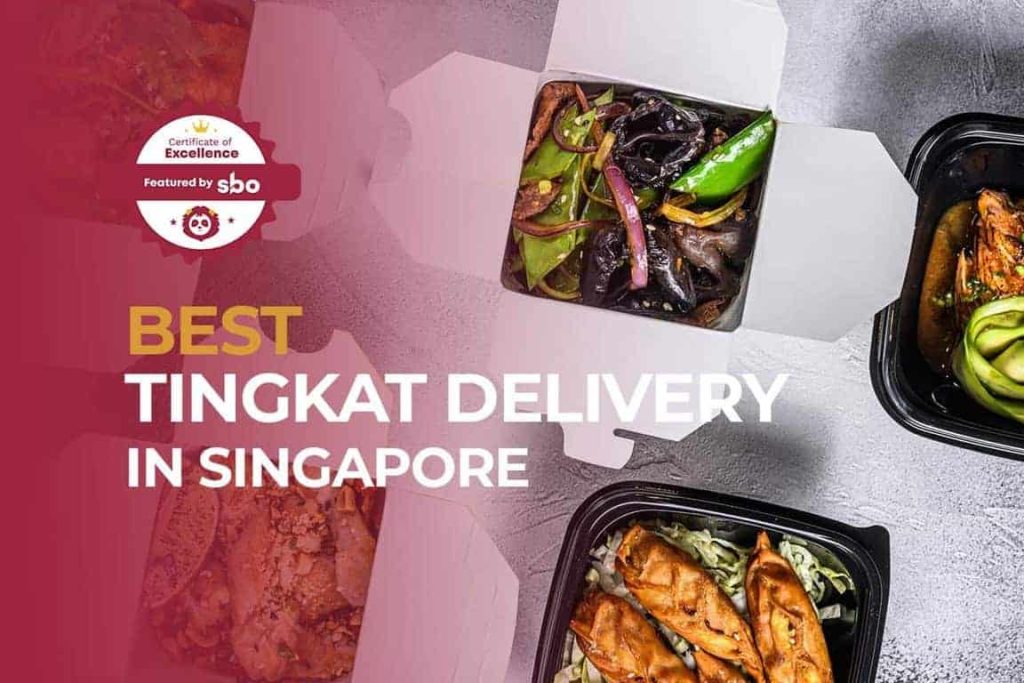 We know eating out is nice but I'm sure we all crave home-cooked food. As people get busier and seek out healthier choices, Tingkat delivery in Singapore is indeed a widely popular option.
Tingkats or tiffin carriers are cylindrical stacked containers used to contain different layers of food. Read on to find out our top 9 picks for tingkat deliveries for the busy yet health-conscious one in Singapore!
1. Tingkat Delivery by RichFood
Tingkat Delivery is a brand of the Richfood Group which uses only the freshest ingredients with no added MSG, nutritious and delicious goodness delivered right to your doorstep.
They offer a 5 day trial meal for first time customers from S$62.50 – 1 soup + 3 dishes if you're still undecided on Tingkat Delivery amidst the vast number of options available in the market.
2. Select Catering
Remember that taste from the 90s? Miss the taste of home? Select Catering has a specially curated menu that is uploaded every Friday for their customers. Furthermore, with over a 100 dishes in different cooking styles, rest assured you won't get bored. There are also perks for NTUC Plus! members where one can earn and redeem LinkPoints for all purchases.
3. Lexin Catering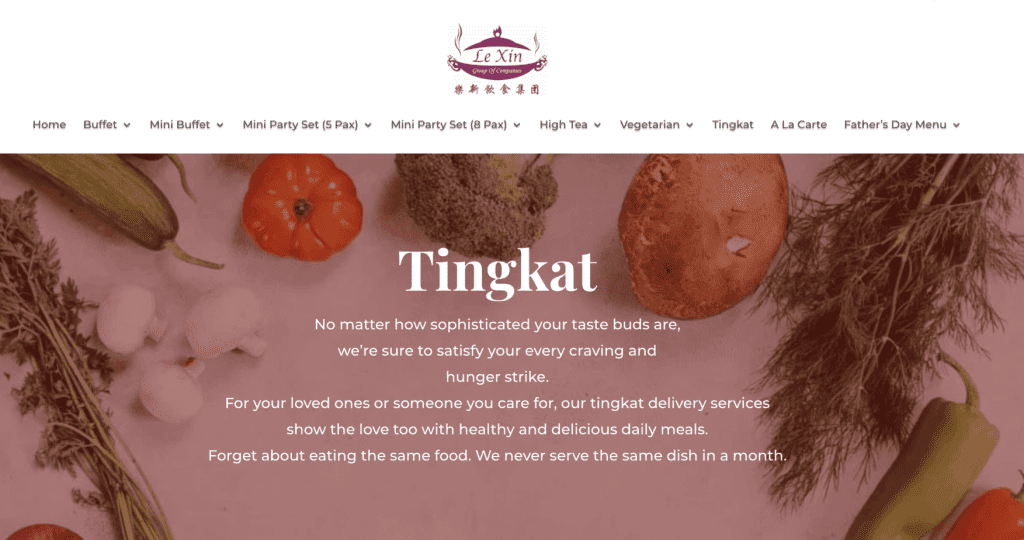 First look at the menu screams Tze-Char delights. The dishes served up are typical of that of seafood restaurants, just in a tingkat delivery setting. Hainanese Chicken Rice, Thai Style Pineapple Rice, Yang Chow Fried Rice, Sambal Fried Rice, Hong Kong Noodle, Mee Goreng, Stir-Fried Hor Fun and Sin Chow Bee Hoon are served on every Wednesday and Friday.
Ask for a healthier option today – They pride their food on being lower in cholesterol, lower in salt, using pure vegetable oil and no added MSG. If you are still undecided, they offer trial packages (5 days) starting from S$64.50.
However, do note that they do not delivery island-wide. Some postal codes are omitted and there is also no delivery within CBD, industrial and factory areas.
4. FattyDaddyFattyMummy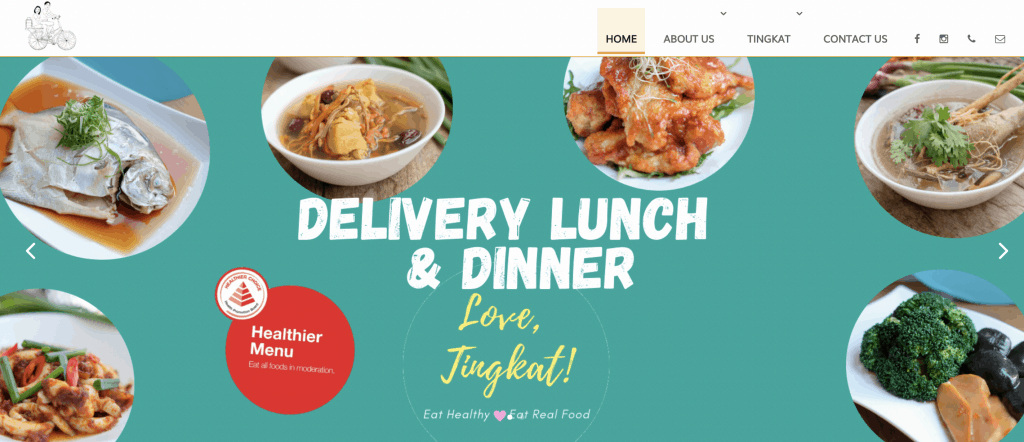 Fattydaddyfattymummy was founded on the premise of delivering home-cooked meals to busy parents who simply want healthier and home-cooked food.
The Love,Tingkat! range is designed to provide a healthier option for you and your family. On top of that, it is also the first to offer a Tingkat menu with zero canned food and zero processed food. Did you also know that Fattydaddyfattymummy is the proud sponsor of NDP 2019?
They do not offer island-wide delivery, however, do check if your area is available for delivery first.
5. Peramakan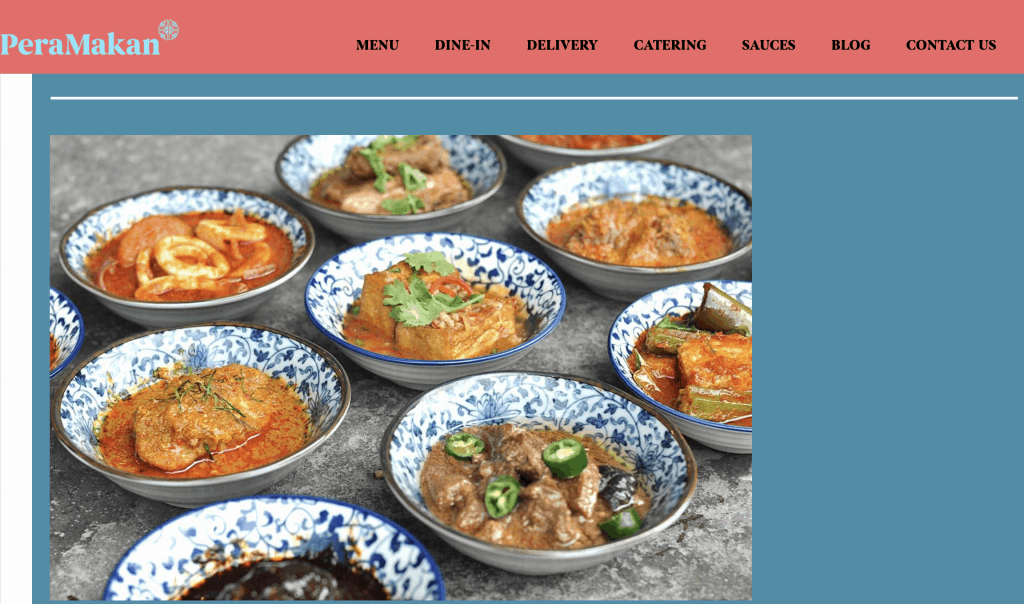 Kathryn Ho, the Executive Chef and founder of PeraMakan started PeraMakan in 2004. Peramakan aims to make Peranakan food more accessible to the masses who not only want to satisfy their Peranakan cravings but also savour the Peranakan flavours for a longer period of time.
Peramakan serves up a truly authentic experience with delicious, home-cooked Peranakan food – Nonya pork ribs, beef rendang, nonya chap chye. We like the fact that their food offerings are focused and unique, catering to those that simply enjoy authentic Peranakan food.
6. Kim's Paradise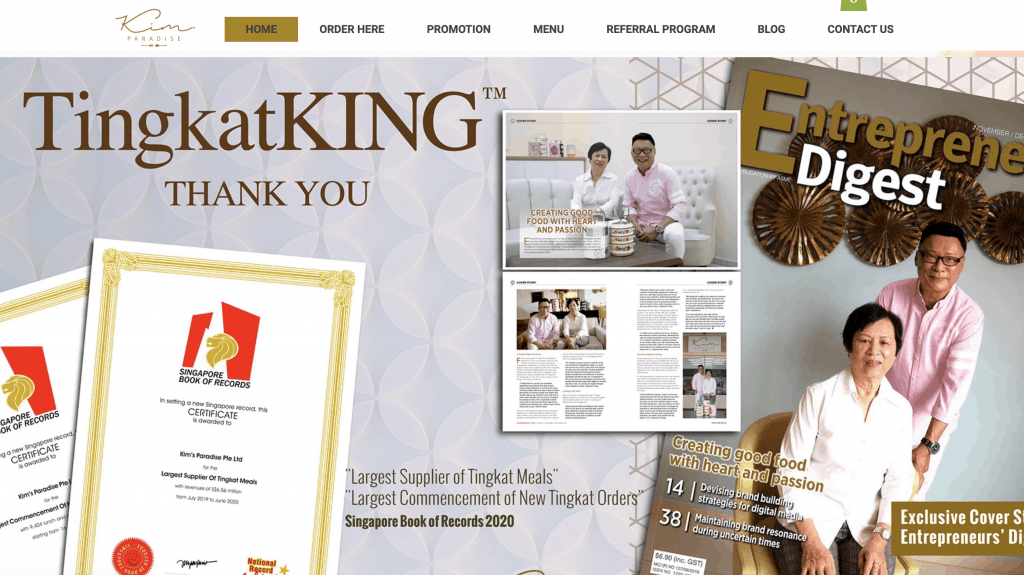 Kim Paradise is a tingkat delivery company with over a decade's worth of history and expertise. Its humble beginnings stem from co-founder Madam Tan Swee Kim who pioneered the "Kim's Kitchen", which steadily became Singapore's largest home meal delivery, serving up to 6000 pax daily.
Over the years, Kim Paradise has won multiple accreditions such as being Singapore's largest tingkat deliverer from its food of high-quality standards and delivering a delectable experience to each and every customer.
Kim Paradise prioritises quality control where they conduct stringent quality checks daily during the food preparation process to ensure firstly the hygiene and also the consistency in taste and quality of the food before serving them up to customers.
7. Yassin Kampung Seafood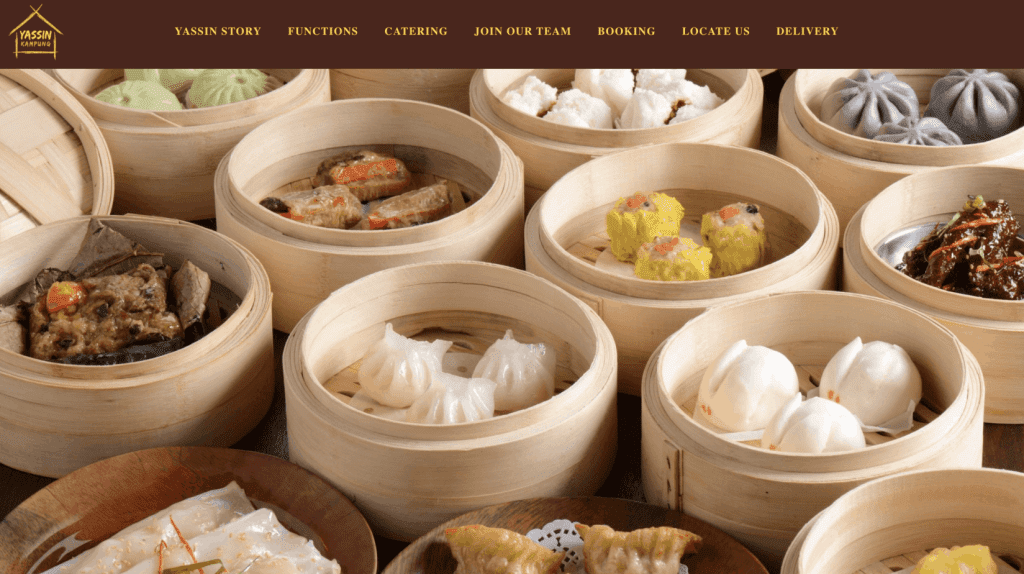 Stacked with love – Looking at their tingkat delivery menu already makes us hungry. With elements of the Asian flavour in their cooking, Yassin Kampung Seafood strives to capture the essence of the authentic Singaporean cuisine through their succulent delights.
8. Yeyeah Delights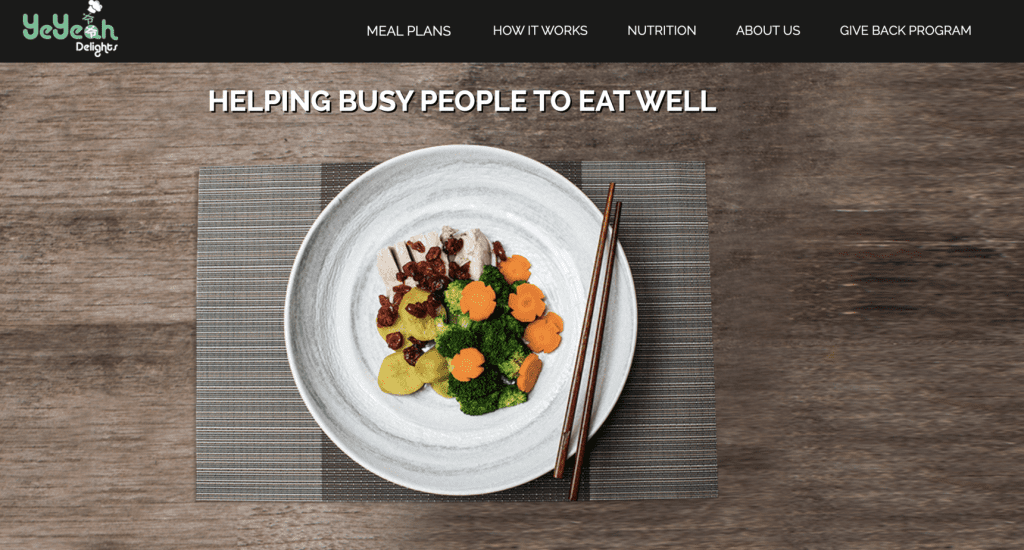 One thing that strikes us about Yeyeah Delights is its focus on nutrition. Their meals have 3 main nutritional components: Low GI carbs, lean protein and a good amount of fibre to help you reach your weight-loss goals yet nourish your soul. If you value convenience and health, this might just be the tingkat delivery option for you!
Conclusion
Do you have any reviews and comments to share regarding our choices for the best tingkat delivery options in Singapore?
While SBO is committed to supporting our local businesses, we welcome any feedback and anonymous sharing regarding your experience with the above-listed best tingkat delivery picks in Singapore.
We hope that this guide will be useful in helping you to make a better decision when it comes to finding the best tingkat deliveries in Singapore.
Explore More Content