8 Best Hotel Buffet in Singapore to Satisfy Your Tastebuds [year]
Find the best hotel buffets in Singapore to satisfy your tastebuds.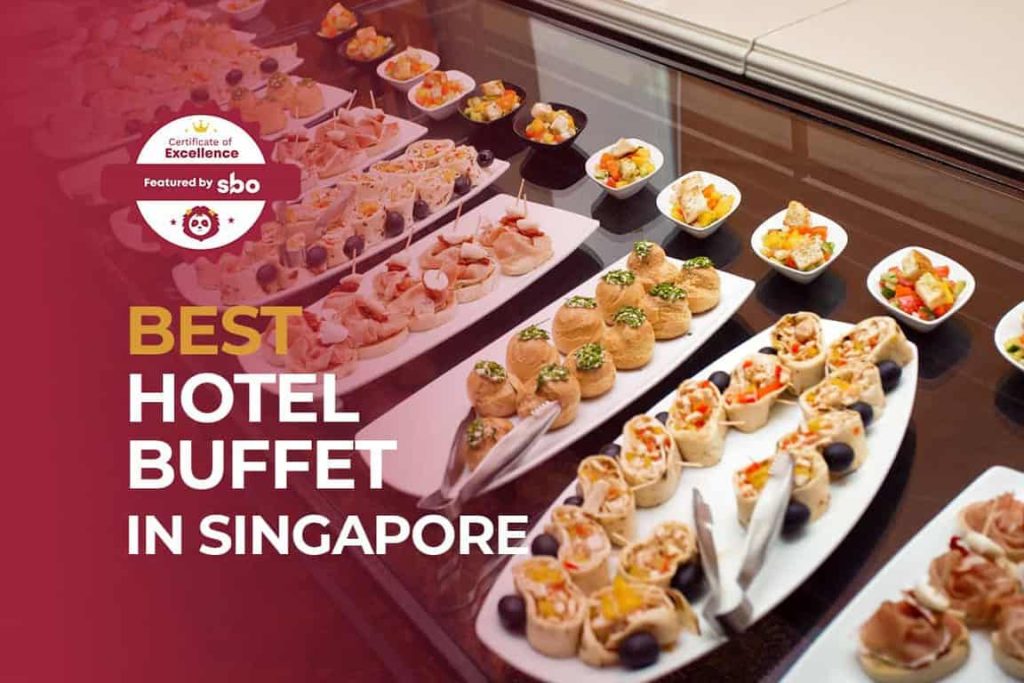 Tucking into a scrumptious meal at a hotel buffet in Singapore will likely never taste the same as before, all thanks to the ongoing COVID-19 pandemic.
Indeed, COVID-19 has seen hotel buffet restaurants adapting to the new normal: from a la carte buffets, where diners can order as much as they want from a menu for one price and the food is served to the table, to roving "chefs-on-show" who go around with trolleys filled with cheeses, desserts or hot dishes.
As such, you can rest assured knowing that you can have a peace of mind eating — while still enjoying the same hotel buffet experience.
In this post, we've gathered all the necessary details including unravelling reviews and testimonials to derive a list of the 10 best hotel buffet in Singapore to satisfy your hunger pangs.
1. The Landmark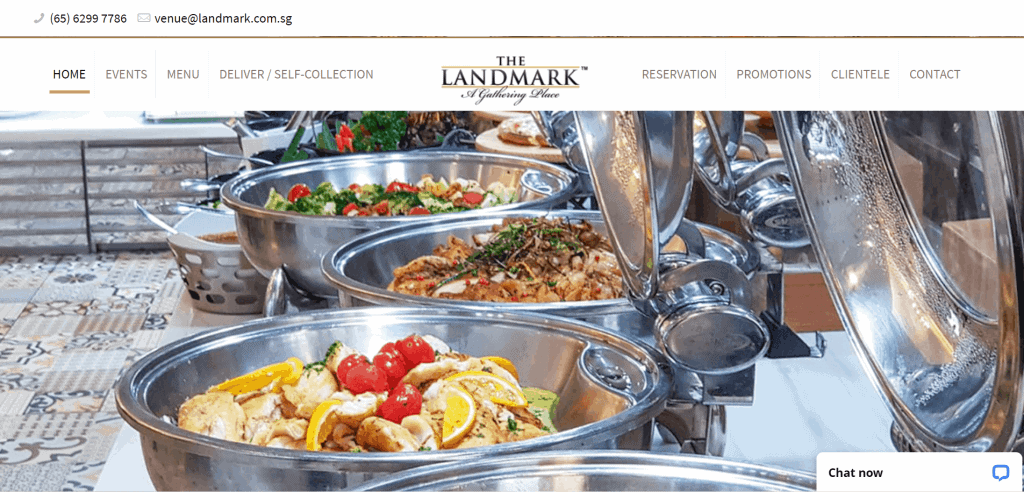 Boasting an international selection of delicacies and dishes that range from North Indian, Mediterranean, Western and Asian, The Landmark by Village Hotel Bugis is known for being one of Singapore's most diverse halal buffets restaurants.
Seafood specials for the Main Course include Chilli Crab, Sambal Prawn and Fish Head Curry.
Western specials include Sirloin Beef Steak, Grilled Fish in Honey Lemon Sauce and Roasted Chicken Breast.
For those looking to enjoy Nasi Padang specials for the Main Course, you can take your pick from Beef Rendang, Ayam Lemak Chilli Padi or Sambal Telor.
A weekday buffet dinner meal at the Landmark for an adult begins from $35 ($41.20 nett) while a weekend buffer dinner meal begins from $40 ($47.08 nett).
Reviews praise the hotel buffet in Singapore for their wide selection of food items and their reasonable prices.
2. The FernTree Cafe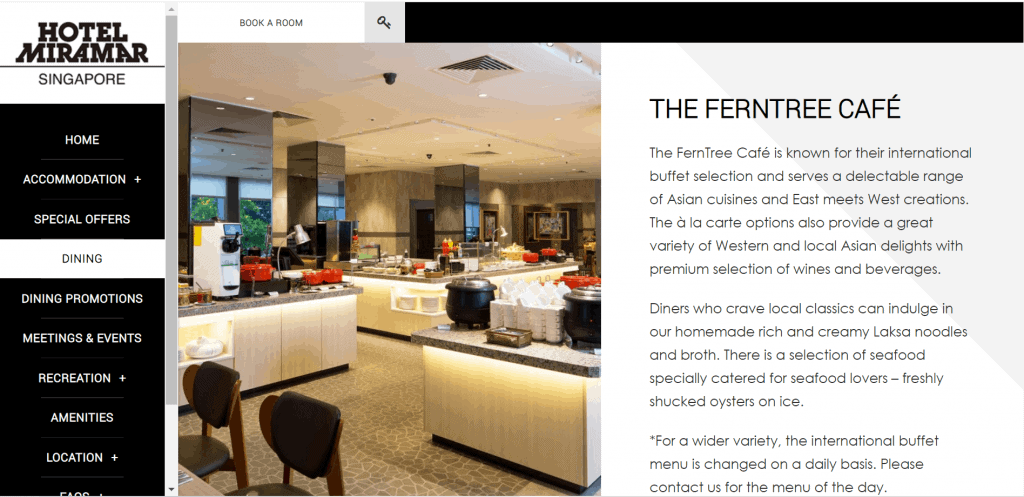 Located within Hotel Miramar, FernTree Café is known for its international buffet selection and serves a delectable range of Asian cuisines and East meets West creations.
The à la carte options at the hotel buffet in Singapore also provide a great variety of Western and local Asian delights with a premium selection of wines and beverages.
Diners who crave local classics can indulge in their homemade rich and creamy Laksa noodles and broth.
There is a selection of seafood specially catered for seafood lovers – freshly shucked oysters on ice.
For a wider variety, the international buffet menu is also changed on a daily basis.
Reviews praise the hotel buffet in Singapore for their spacious and quiet environment.
Their waiters are attentive and polite; they pay special attention to customers' dietary needs.
3. The Line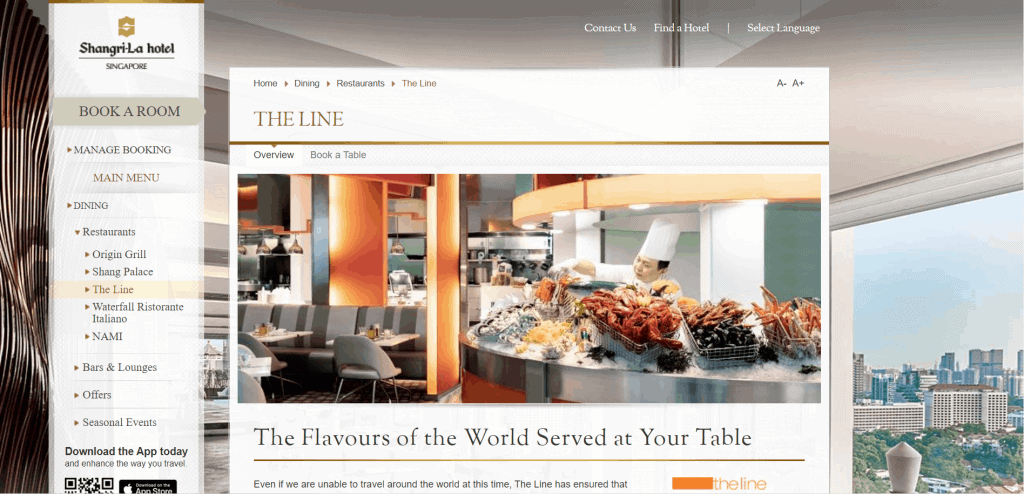 Choose from over 88 delectable choices at the Line — from fresh seafood on ice, sushi selections, authentic Thai salads, freshly-baked naans from the tandoor oven, homemade curries to dainty desserts, there's something for every palate.
Designed by internationally acclaimed interior designer, Adam D Tihany, and spanning 1,350 square metres, The Line features indoor and al fresco dining options.
The latter offers splendid views of Shangri La Hotel's lush gardens and free-form swimming pool.
The price of a buffet dinner meal begins from $78 per adult on Monday & Tuesday (Oiishi Japanese), $88 per adult on Wednesday (Butcher's Table), Friday and weekends, and $98 on Thursday (Marine Harvest Night).
Reviews praise the hotel buffet in Singapore for their efficient customer service.
Food was served quickly to customers at the hotel buffet in Singapore.
4. Melt Cafe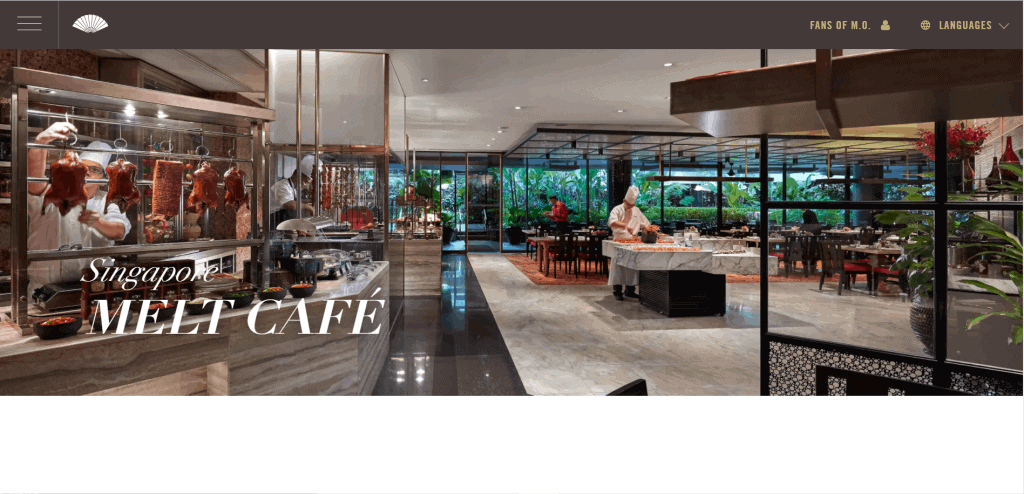 Melt Café by Mandarin Oriental, provides an all-day-dining experience, where cultures and cuisines intertwine at the hotel buffet in Singapore.
The restaurant presents guests with contemporary and stylish interiors, where a delightful patisserie counter takes centre stage.
Known for its extensive buffet presentations, the restaurant has a variety of stations to tempt diners.
The main dining space is filled with light, which comes from the floor to ceiling windows and provides a welcoming ambience.
Here, diners will find a roast and carving corner, as well as the ever-popular live gourmet stations, together with local and international delights.
Dishes on the cafe's gourmet lunch and dinner buffet menu include oysters and premium seafood, royal tandoori selection, signature lobster laksa, and baked waffles with assorted ice cream.
Reviews praise the hotel buffet in Singapore for their awesome ambience and their friendly staff.
5. Straits Cafe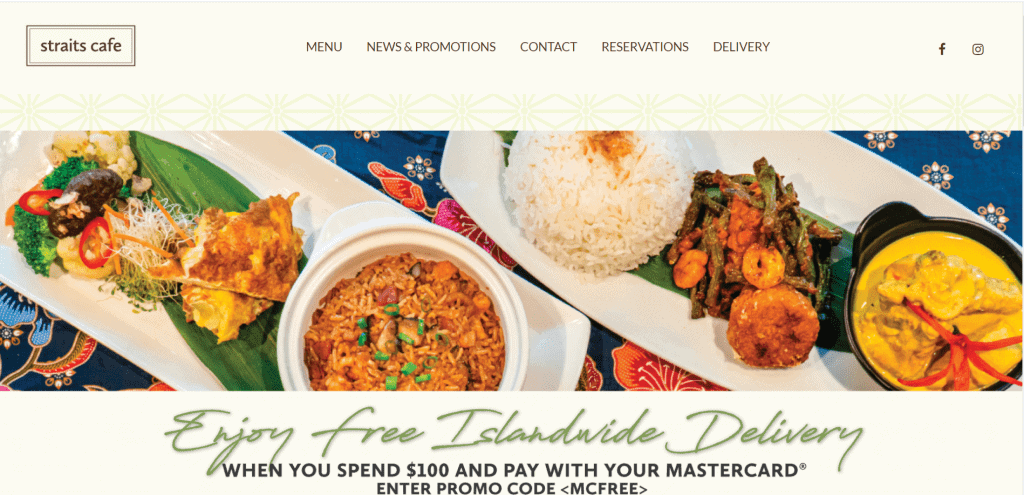 Located within the iconic Rendezvous Hotel Singapore, Straits Café presents a scrumptious buffet spread of regional fare featuring Halal favourites of the Straits.
Drawing flavours from Penang, Melaka, Ipoh, Kuala Lumpur, Singapore and more, Straits Café aims to be the destination for Straits delights.
Guests can expect to savour favourites of the Straits, including Kuala Lumpur Prawn Noodles, Klang Chic Kut Teh, and Ipoh Chicken Rice, made using quality ingredients.
Also not to be missed is the Seafood Sambal Live Station, available from Fridays to Sundays, where chefs whip up a wide selection of fresh seafood and greens.
Reviews praise the hotel buffet in Singapore for their freshly prepared food, which tasted delicious.
Their dishes were also value-for-money as compared to other restaurants, highlight reviewers.
6. Edge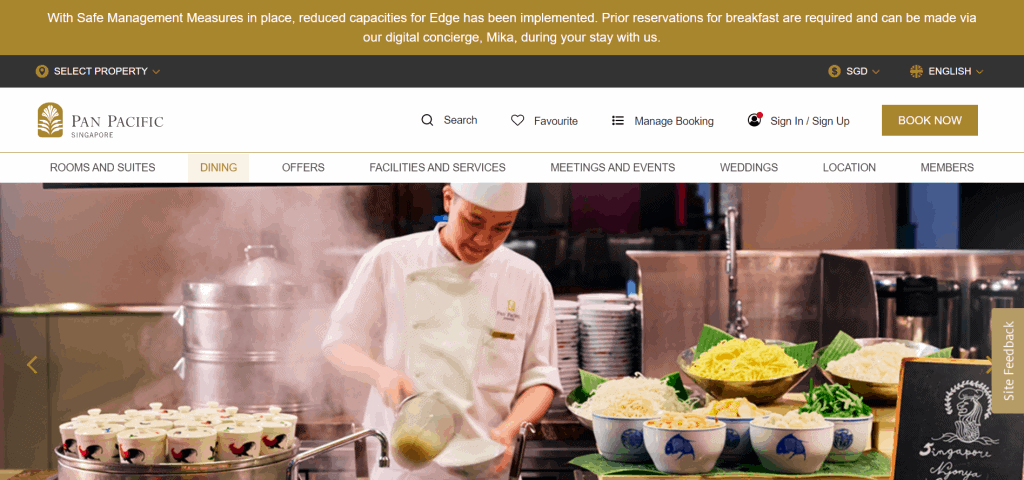 Be treated to a theatrical dining experience at Edge by Pan Pacific Hotel, featuring the authentic tastes of Singapore, the region and the Pacific Rim.
Seven open kitchens create a feast for the senses, as master chefs create a range of delicious cuisines including Singaporean, Chinese, Malay, Indian and Japanese cuisine.
Our advice: give the restaurant's Ocean Seafood Night Dinner buffet course a go.
Available from Monday to Sunday (6 pm to 10 pm), the buffet course begins from $88 per adult and $44 per child.
The full-meal course comes with a Seafood Platter, a Sashimi Platter, a Sushi Platter, a Grilled Platter, a Garden Bowl, Singapore Rojak and Western Delights.
Reviews praise the hotel buffet in Singapore for their extensive spread and scrumptious food.
Their seafood is fresh and their portions are generous, leaving customers' stomachs full.
7. Colony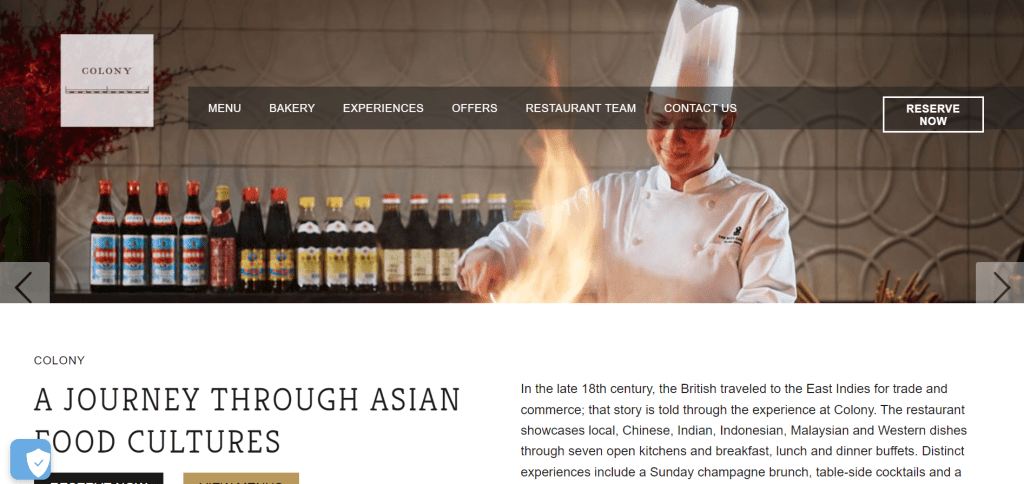 Colony, located within the Ritz-Carlton Millenia, showcases local, Chinese, Indian, Indonesian, Malaysian and Western dishes through seven open kitchens and breakfast, lunch and dinner buffets.
Distinct experiences include a Sunday champagne brunch, table-side cocktails and a bakery offering fresh items daily.
Our advice: give the restaurant's Vintage Champagne Brunch buffet course, which is available from 12 pm to 3 pm on Sundays, a go.
Beginning from $388 per adult, you can enjoy unlimited servings from Colony's conservatory kitchen, and unlimited pours of Bollinger La Grande Annee 2007, house pour red/white wines, or cocktails/mocktails.
Reviews praise the hotel buffet in Singapore for their well-made desserts that will appeal to those with a sweet tooth.
Their staff are attentive and friendly; they will attend to customers' requests immediately.
8. The Square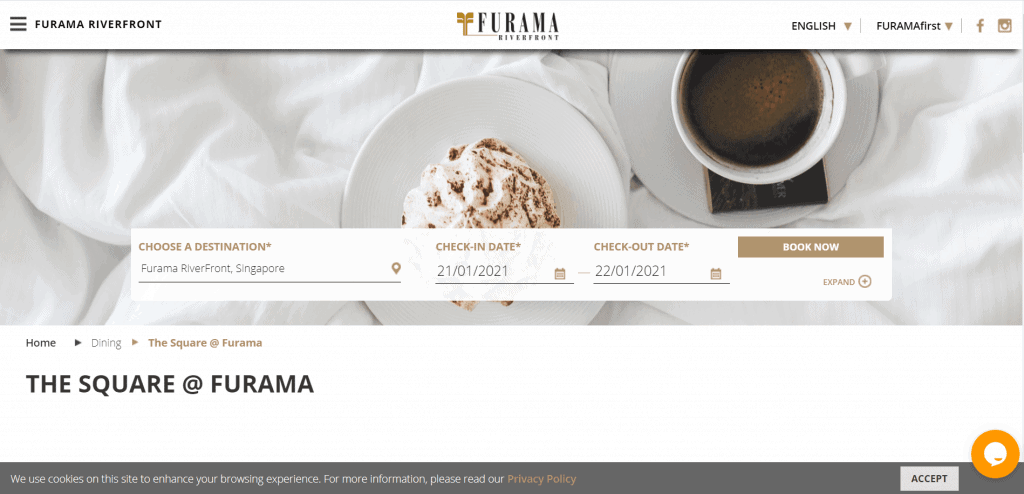 With love from The Square's kitchen, indulge in a spread of East-meets-West dishes including best sellers such as Singapore Laksa, Char Kway Teow, Fish and Chips and more at The Square @ Furama.
With a buffet experience starting from $27.90++ per adult (for lunch) and $29.90 per adult (for dinner), you can look forward to tucking into complimentary steamed pomfret (lunch) or chilli crab (dinner) for the main dish.
They have a craving station where you can enjoy slow-baked salmon fillet with dill cream or roasted beef ribeye.
They also have a desert platter with sweet treats like American cheese cake, ondeh-ondeh, and swiss roll.
Reviews praise the hotel buffet in Singapore for their freshly prepared sashimi and seafood dishes.
Their customer service is also impeccable, with staff attending to customers' requests quickly.
Conclusion
Do you have any reviews and comments to share regarding our choices for the best hotel buffet in Singapore?
While SBO is committed to supporting our local businesses, we welcome any feedback and anonymous sharing regarding your experience with the listed hotel buffet in Singapore.
We hope that this guide will be useful in helping you to make an informed decision when it comes to finding the best hotel buffet in Singapore.
Explore More Content