10 Best Crab in Singapore That You Must Try [2023]
Make your belly happy with the Best Crab in Singapore.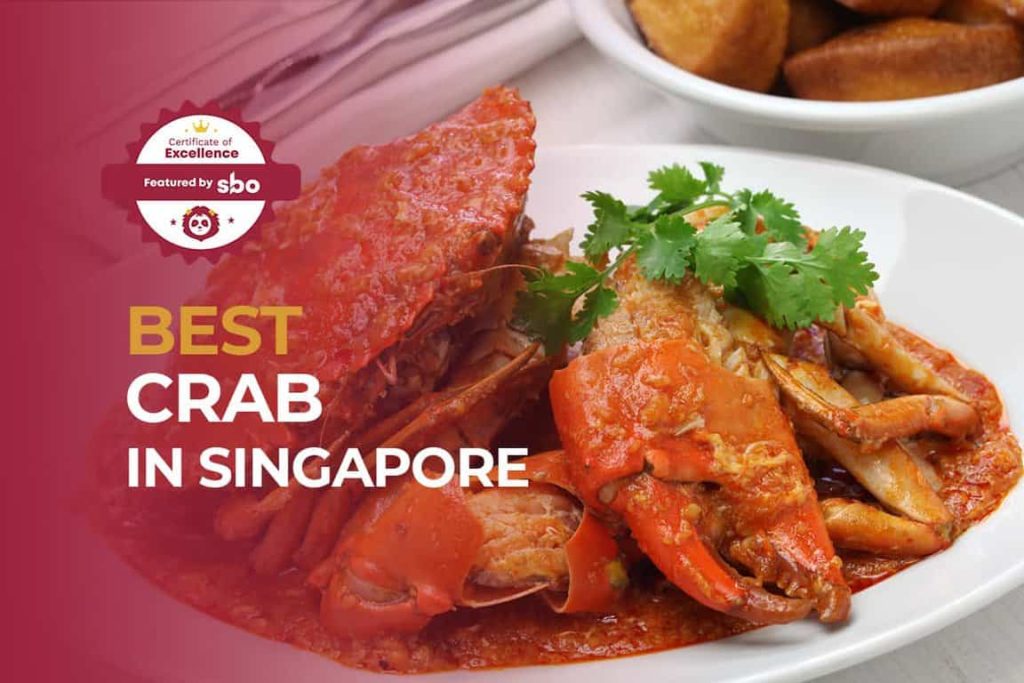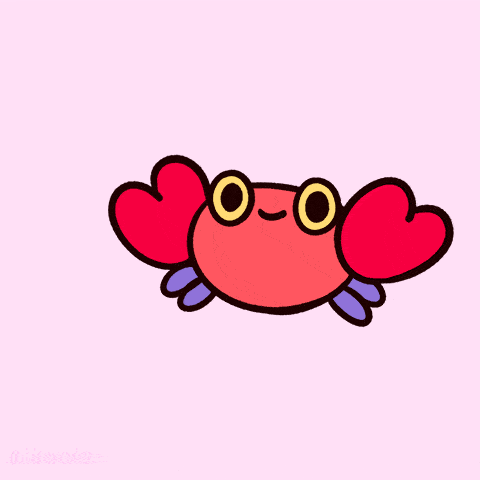 Crab Dishes in Singapore have long been one of the most popular dishes to have graced our food scene.
Not only does the Singapore Tourism Board promote Chilli Crab as our national dish, but it has also been ranked 17th in a league table of the world's 500 best food experiences.
Different from how other popular hawker foods like Char Kway Teow, crab dishes were solely created and made popular within Singapore.
What are Crab Dishes?
Crabs, with their shells still intact, are typically stir-fried in a tomato-chilli sauce. The sauce itself is semi-thick and is both sweet and savoury. We call this the most traditional version of the dish: Chilli Crab.
With so much sauce and the need for fine motor skills without utensils getting in the way, customers usually jump right in with just their hands. When the shell is too thick, a set of seafood pliers or mallets are usually provided to break the shell and get all the meat out.
Types of Crab Dishes
Most foreigners make the mistake of thinking that chilli crab can only be orange-red in colour. There are in fact many different renditions of this Singaporean dish that probably even us locals have not tried ourselves!
Chilli Crab
This dish is the most popular, widespread, and offered version. It is made up of a starchy red-orange sauce complete with strands of eggy goodness. The spice level is generally quite mild.
Black Pepper Crab
Instead of the usual wet sauce, these crabs are tossed in a dry black pepper paste. Typically spicier and stronger in flavour.
White Pepper Crab
The distant cousin of the Black Pepper Crab. Similarly, it really does pack a punch in term of its spice. However, it is milder than Black Pepper Crab. The white pepper also contributes to a whole new flavour profile.
Salted Egg Yolk Crab
Similar to Black Pepper Crab, this version is drier than Chilli Crab. Salted egg yolk sauce and crumbs give off an extra savoury flavour. Both spicy and non-spicy versions are offered at most places in Singapore known for their crabs.
Butter Crab
This is often confused with the Salted Egg Yolk Crab. In reality, the dish is much wetter in texture. A very smooth buttery and flavourful dish that butter lovers will enjoy.
Green Chilli Crab
The wetness and consistency of the sauce most closely resemble the Chilli Crab. However, a pale green curry paste with an emphasis on aromatics is used. Its spice level is slightly higher.
Crab Bee Hoon
Some chefs cook this up wetter and with more sauce, whereas others go for a drier stir-fried texture. Either way, you can be sure that the bee hoon soaked together with the crab juices will be absolutely delicious.
So put on clothes you might want to discard – it's time to get messy!
1. 8 Crabs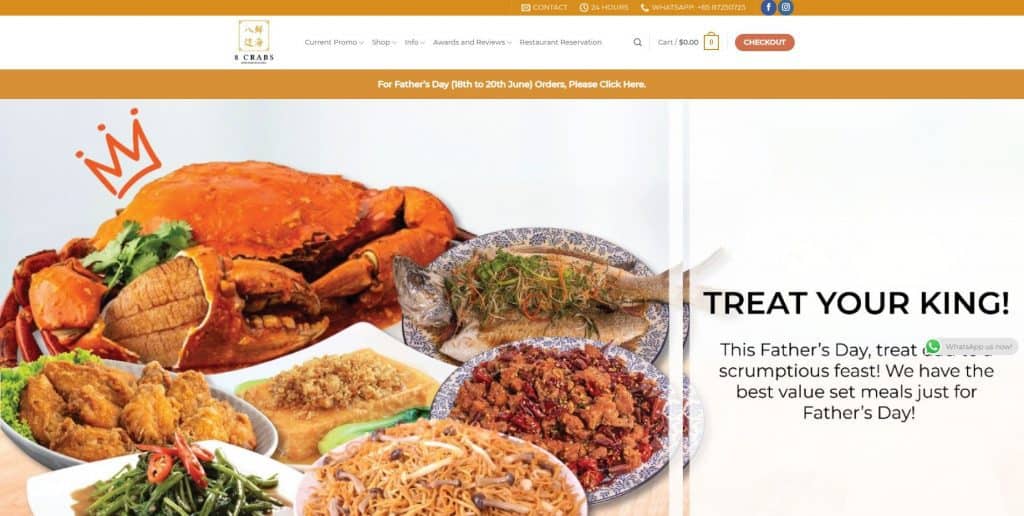 Currently a delivery-only service, 8 Crabs' Award-Winning Recipe crabs are a must-try! The Fresh Chilli Crab, for instance, is stir-fried to perfection with the gravy of a perfect blend between sweet, savoury, salty and spicy.
Enjoy the All-Time Singaporean favourite Black Pepper Crab that's cooked with the best crabs and filled with tantalising black pepper fragrance.
Doused in a generous portion of rich homemade salted egg yolk sauce that everyone loves, their highly raved Salted Egg Yolk Crab is another dish that you would not want to miss.
But it's not just crabs that 8 Crabs offer – they have seafood dishes as well! With several ongoing promotions running, feast on all three of their Award-Winning crabs with their pocket-friendly "3 Regular Crabs for $99" deal, or go for their "4-5 Pax NDP Chilli Crab Feast" with 1 large crab of your choice along with 7 other mouth-watering Tze char dishes at only $129!

2. The Boiler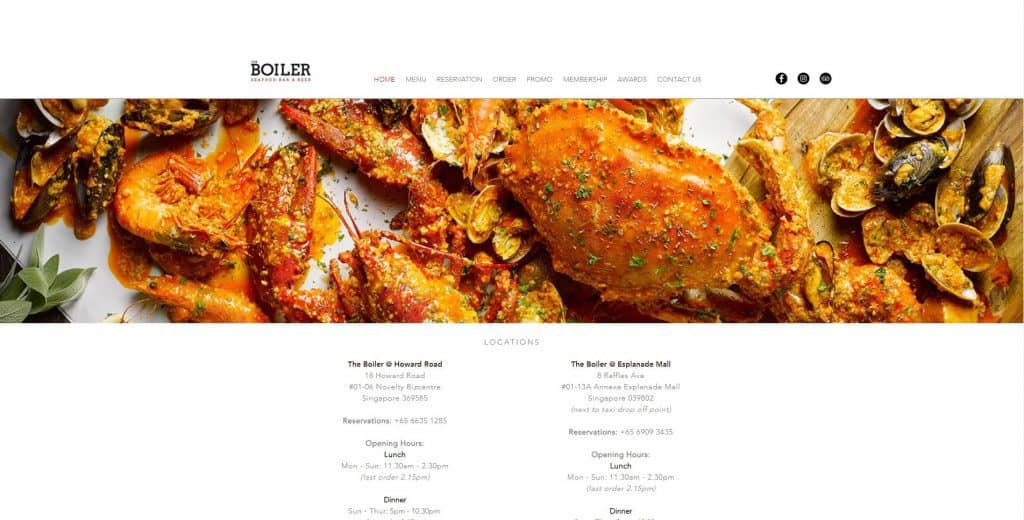 The Boiler is a seafood joint that serves up fresh seafood known as seafood boil together with strong bold sauces which are infused in local and western spices.
Their Chilli Crab is served with a sweet and savoury tomato and chilli-based sauce in large and extra-large size at a price of S$55 and S$92 per piece respectively.
The Boiler offers a cosy environment for gatherings and chilling sessions for family and friends.
3. HOLY CRAB (Green Chilli Crab)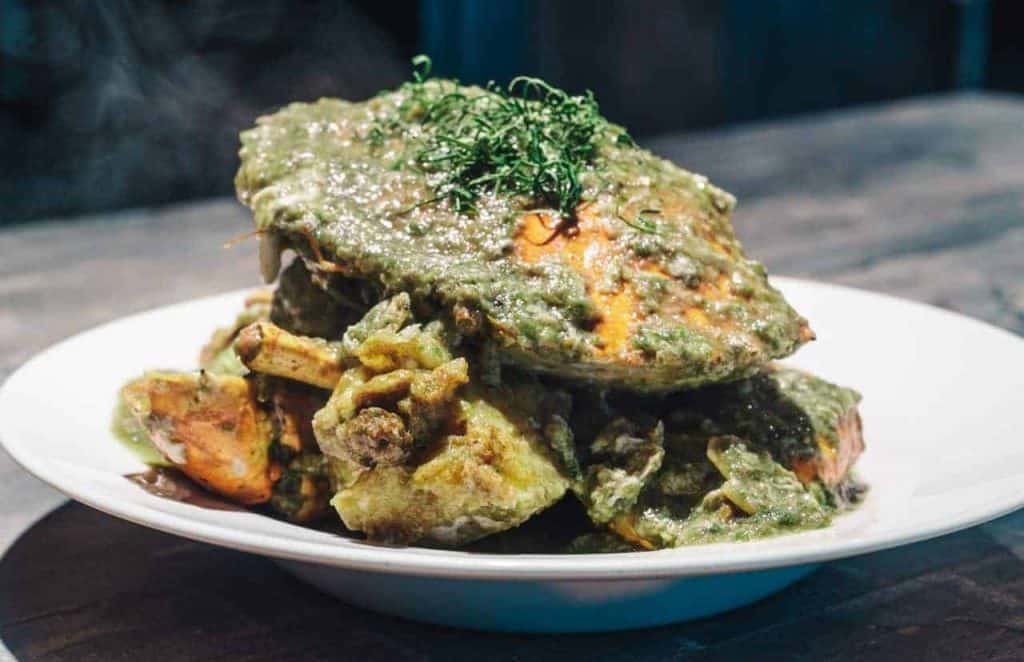 Spice – Spice blend uses common ingredients found in Thai cuisine, meaning that the spice level is higher.
Flavour and Texture – Sauce is similar to Chilli Crab where it is very sticky. Eggs are also added to the sauce.
Ingredients – Green chilli sauce is made up of kaffir lime leaves, lemongrass, ginger, candlenut, and onion – creating a very unorthodox flavour profile.
Portion and Price – Portions are slightly smaller than other restaurants, possibly due to the type of crabs that they use. Price point is good for being able to try out an exclusive flavour that is not common in Singapore.
Special Mentions – The first bite might taste a bit weird. But as you go along, you will find that it is truly an addictive taste that you won't be able to get enough of.
Hear what customers on Burpple had to say about the green chilli sauce that the restaurant is famous for.
4. JUMBO Seafood (Chilli Crab)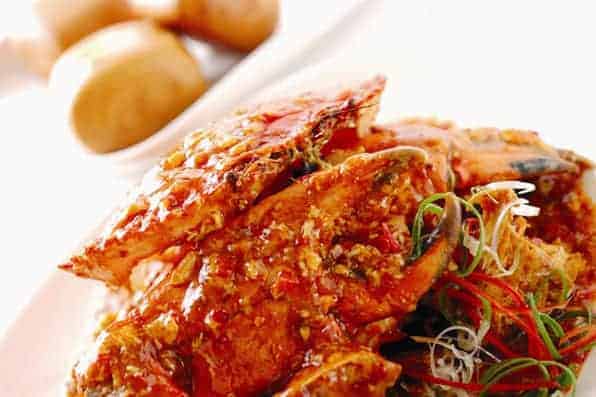 Spice – Generally quite mild. Spicy enough to feel a kick, but mostly manageable for the typical customer.
Texture and Flavour – Starchy and moist sauce finished with a lot of eggs. Savoury and sweet as well.
Ingredients – Choice of Mud Crab, Dungeness Crab, and Alaskan Crab.
Portion and Price – Some people find JUMBO a bit pricey. Understandably, they offer a more premium experience. Customers were generally satisfied with the portions as well.
Special Mentions – Do order a side of mantous to fully enjoy the chilli crab sauce. These crispy fried buns soak up all that sauce and are very enjoyable.
Notably, JUMBO provides free aprons to its customers so as to prevent any accidental spillage or mess.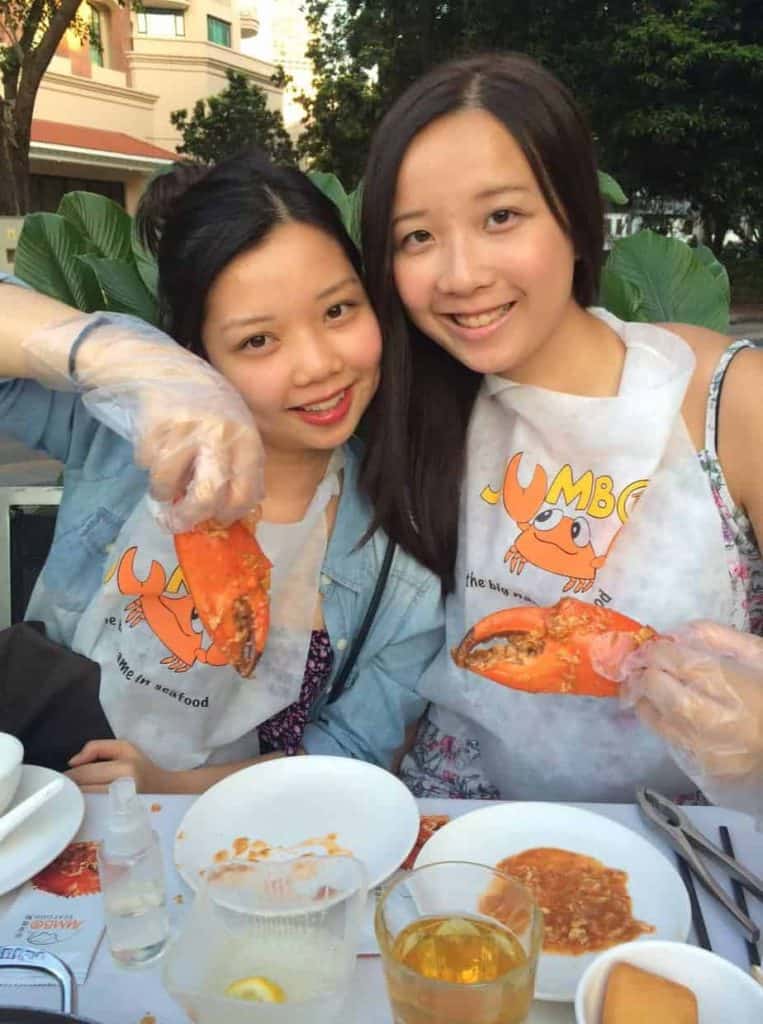 5. Long Beach Seafood (Black Pepper Crab)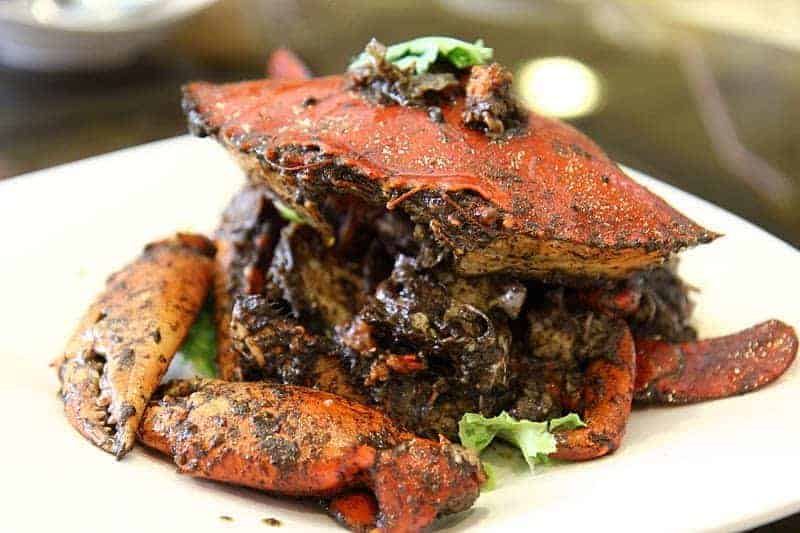 Spice – Crab dishes at Long Beach are generally spicier than most restaurants. Popular food reviewer DanielFoodDiary share this same conclusion.
Flavour and Texture – Black pepper sauce is evenly tossed with the crab to create a fiery and strong flavour profile. The sauce is grainy and has texture to it, thus making it very different from classic styles of chilli crab.
Ingredients – Crab varieties can be chosen on the spot with their live display. Black pepper sauce is also a unique blend that uses different spices.
Portion and Price – Similar to JUMBO, you are paying for a more exclusive dining experience. The portions are generally okay.
Special Mentions – It is said that Long Beach is the pioneer of Black Pepper Crab and that they were the first to bring it into the mainstream.
6. Mellben Seafood (Butter Crab)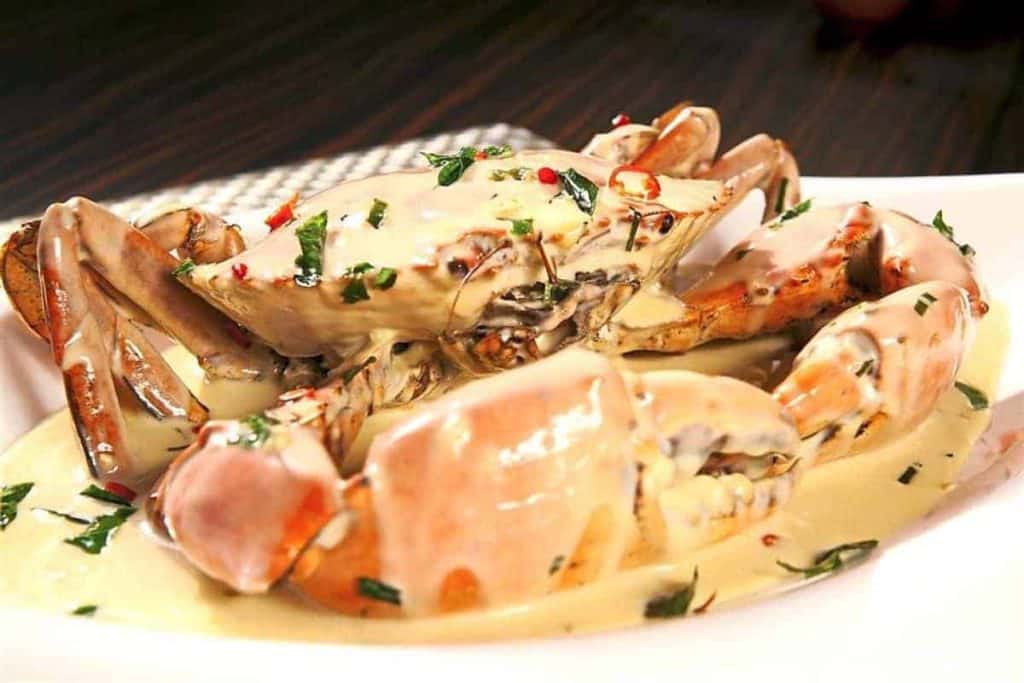 Spice – Just a small touch of spiciness. The buttery and creamy taste overpowers the spice considerably.
Texture and Flavour – Sauce is extremely smooth and concentrated.
Ingredients – Premium butter is used in the cooking process to achieve that flavour and aroma. Curry leaves and chilli Padi are also used in moderation to give it a bit of spice.
Portion and Price – Generally cheaper than bigger-name restaurants. Crab variants are typically lesser.
Special Mentions – The outlet at Ang Mo Kio is far from the bustling city, and offers an intimate dining experience for those who are into that.
Those with a weaker stomach should eat this in moderation. It is very rich in dairy and is not suitable for those of you who are lactose-intolerant.
7. Keng Eng Kee Seafood (Salted Egg Yolk Crab)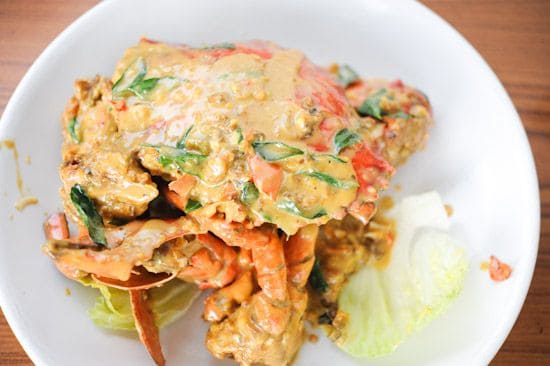 Spice – Extremely savoury and slight sweetness hides the spice element well. The spice is simply an element to stir your appetite.
Texture and Flavour – Salted egg yolk sauce is grainy in nature and feels like you are eating crumbs. Texture can actually be compared to that of a black pepper crab.
Ingredients – Spice elements are made up of curry lives and chillis, and salted egg yolk is used generously to achieve that savoury effect.
Portion and Price – Portion size is similar to other stores. Price is where the store comes out on top. Very economical price for good quality food.
Special Mention – Make sure that the dishes you get alongside it are milder. The taste of salted egg yolk is very overpowering.
The restaurant is also strongly recommended by EatBook.
8. No Signboard Seafood (White Pepper Crab)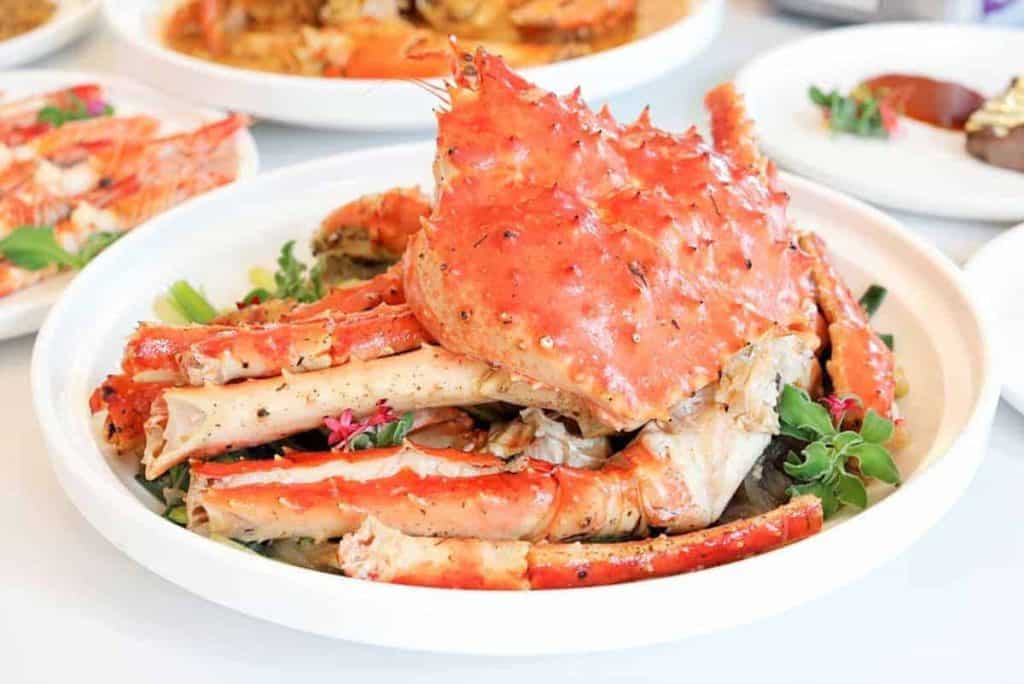 Spice – Not as spicy as the Black Pepper Crab. Sits somewhere between that and Chilli Crab.
Texture and Flavour – One of the purest crab dishes. At first glance, it may look like there is no sauce at all. The white pepper coating is seamlessly weaved into the crab, making it a very natural dish.
Ingredients – Uses the famous Alaska King Crab. The natural sweetness of the meat is brought out by the direct spice of the white pepper.
Portion and Size – As Alaska King Crabs are huge, portion size should not be an issue. Notably, the crab legs have more meat than normal mud crabs.
Special Mentions – Do remember to get a cooling drink. It would be bad if you were to choke on the white pepper. We wish you good luck!
DanielFoodDiary did an exclusive article talking about its White Pepper Crab concept. Do give it a read to see if you would enjoy it.
9. Crab at Bay Seafood Restaurant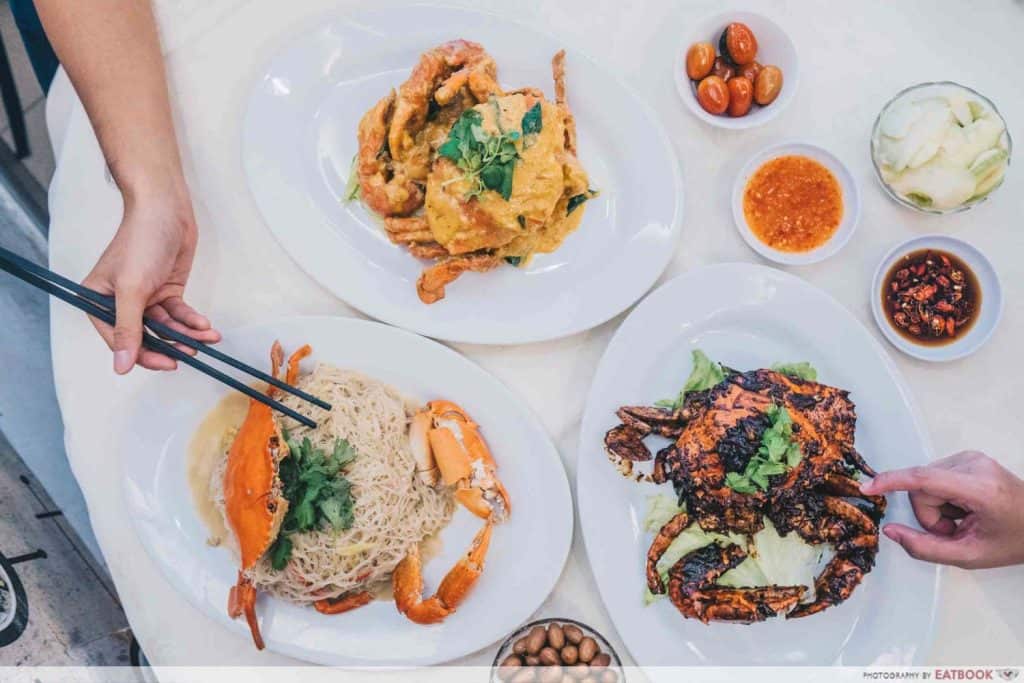 Spice – Crab Bee Hoon essentially is not spicy at all. No peppers or chillis at all. For those of you looking to spice things up, you can try asking the restaurant.
Texture and Flavour – As tasty as the meat is, it really goes hand-in-hand with the bee hoon. They match really well as the sweetness from the crab meat really compliments the refined taste of the sauce-soaked bee hoon.
Ingredients – Sri Lanka crabs may tend to be a bit smaller in size. However, the meat tends to have a stronger sweetness and will definitely not be a downgrade.
Portion and Size – This dish is extremely filling. Make sure you do not make the mistake of ordering too many side dishes. Not only is the serving size huge, but the bee hoon is also very filling.
Special Mentions – This dish is definitely a nice introduction to crab dishes as it is not extremely rich or spicy. It is also suitable for perhaps the elderly who prefer blander and less intense foods.
Did you know? Crab at Bay Seafood Restaurant has been featured in Eatbook's article on crab bee hoon as well.
10. 21 Seafood (Cheapest Chilli Crab)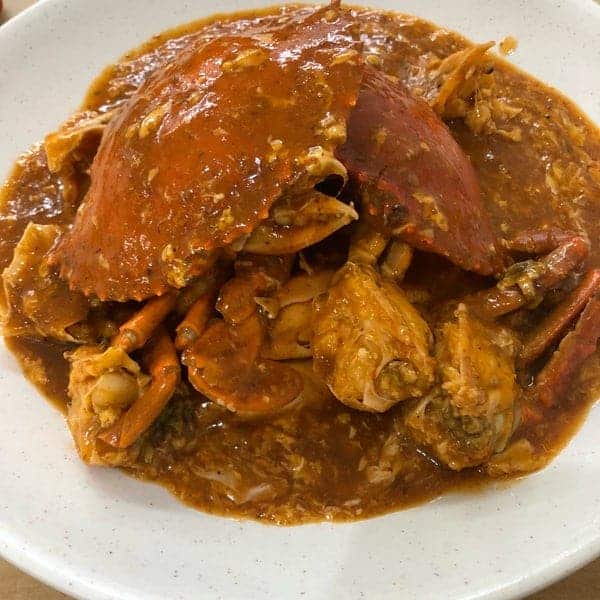 Spice – Generally mild. Can ask for more or less spice since the staff there are very open and receptive.
Texture and Flavour – Sauce is more starchy in nature. The colour may look a bit redder than your typical Chilli Crab. This is probably due to the type of chilli used.
Ingredients – Crabs used are less premium and thus smaller in size. But that does not mean that it is any less tasty!
Portion and Price – Extremely value for money. Pricing is lower as the store's concept is more informal. The portion is very generous for the price, and there is a range of sizes available.
Special Mentions – Offers a range of popular Crab Dishes. Also well-known for their Salted Egg Yolk Crab.
This dish was also featured in Eatbook's Top 10 Cheapest Chilli Crab in Singapore.
Conclusion
Crab dishes are just simply one of those dishes you have to tick off your food-bucket list – it's time to explore these restaurants offering that extends beyond what you frequently eat.
Whichever you are, the Best Crab in Singapore will definitely be able to knock you off your feet!
If you're looking not just for crabs but more varieties of seafood, check out our suggestions for seafood restaurants.
Explore More Content