5 Best Pizza in Singapore to Satisfy Your Taste Buds [2021]
Here are five pizzerias that we believe have perfected the trade and now serve up some of the best pizza in Singapore.
Food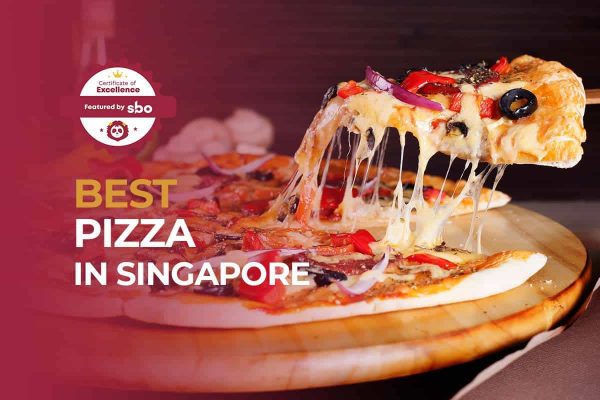 Our team at SBO.sg is committed to being a one-stop avenue to connect local businesses and consumers. We hope that our research efforts can help you save time and money by finding you the best deals without having to search around the vast world-wide-web.
For the real foodies out there, the traditional pizza moguls and international restaurant chains simply don't cut it anymore. This Italian signature dish has become a Friday-night staple, best enjoyed over hearty conversations with friends or even on casual date nights complete with rich red wine.
Many restaurants today have put their own contemporary spin on the age-old pie. Here are five pizzerias that we believe have perfected the trade and now serve up some of the best pizza in Singapore. They don't just serve classic flavours anymore. In fact, you'll find that there's pizza for every taste bud!
1. Blue Label Pizza & Wine
At the very top of your pizza list should be Blue Label Pizza & Wine, a relatively new addition to the growing pizza industry that is quickly making a name for itself. Its interior, aglow with neon lights, is reminiscent of an old-school American diner, with retro round booth seats and 70s rock playlists as the soundtrack of this gastronomic experience.
This neighbourhood hole-in-the-wall pizzeria is famous for its stone-fired pizza that is chewy fresh but still moist in the middle. Umami Bomb ($29) is one of its specialities; its generous combination of shiitakes, spinach, anchovy, topped off with goat's cheese on a cornmeal crust, is a testament to Blue Label's reputation as one of the best pizza joints in Singapore.
To elevate your pizza experience, the in-house sommelier can offer you some interesting wine pairings off of Blue Label's extensive wine list for a literal wine-and-dine.
Reviewers love the special, original twist Blue Label brings to this Italian recipe. If you would like a little more pizzazz in your regular comfort food, Blue Label is a must.
But don't forget to make a reservation at least a week in advance; this is a small price to pay, after all, for the intimacy of this little gem of Ann Siang Hill.
2. Al Forno East Coast Restaurant & Pizzeria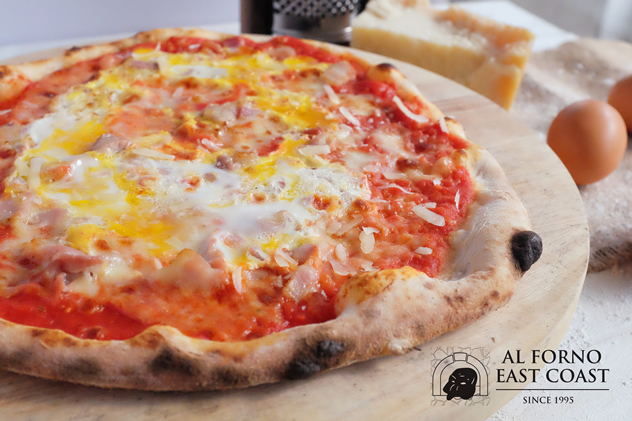 Al Forno goes above and beyond to bring you an authentic slice of Italy, a vibrant Napoli-style trattoria located in an East Coast shophouse. It is the first Italian restaurant here to import fresh ingredients directly from its motherland.
With more than 20 years of pizza-making experience in Singapore under its belt, it is no wonder Al Forno ranks top five in our books, and potentially yours too.
Unlike the bizarre flavours other pizza joints dream up, Al Forno channels all its focus on the simpler things in pizza and perfects the Italian classics. Its famed Pizza Con Carne ($28) and Pizza Saporita ($26) show how quality ingredients combine in a traditional wood fired oven to replicate the quintessential Italian experience.
For Easties, this place is an absolute win. Even if you aren't one, when it comes to Al Forno, it's definitely the destination that matters, not the journey.
3. Peperoni Pizzeria
What better way to spend a night out with friends than sharing a huge 21-inch pizza? Peperoni Pizzeria sure knows how to bring people together, whether family, friends or colleagues. Located in various nooks across the island, this pizza joint offers a convenient, casual and cosy atmosphere for hearty conversations over authentic Italian fare.
Its pizzas feature a thin and crispy crust, generously laden with melted cheese, and are notably Instagram-worthy too. This one's definitely for the cheese lovers.
Peperoni Pizzeria offers the pizza classics, along with some of its own unique recipes. The Prosciutto Di Parma ($22 for a nine-incher) is one crowd favourite, adorned with Italian Parma ham and rocket leaves. And if you fancy more flavour packed in a slice, you can choose to add extra toppings at an additional cost starting from $3.
4. Alt. Pizza
Alt. fulfils pizza dreams, at a more affordable price too. We are used to pizza being a social food, but here at Alt., individually portioned 11-inch pizzas are just right for a solo self-care night.
The DIY pizza is a specialty here, designed for the bold and the creative, where the possibilities are almost limitless. Alt. provides the delectable bread, and you get to make it your very own with your favourite toppings and sauces.
Or you can opt for their tried-and-tested signatures too, like the memorable Truffle Shuffle ($18) that combines the earthy flavour of truffle oil and mushrooms with the salty tang of mozarella cheese. Another flavour that can't go wrong is Old School, timeless as the name suggests, a fresh mix of basil, oregano and cheese on a bed of vine-ripened tomato sauce.
In the light of recent news, foodies will be delighted to know Alt. Pizza has you covered on pizza delivery, so you can stay safe without missing out on one of the best pizza in Singapore.
5. Extra Virgin Pizza
Thick, breaded pizza crusts aren't for everyone. That's where Extra Virgin Pizza comes in, boasting artisanal thin-crust Neapolitan pizzas — "Singapore's Best" — that make for a crisper, airier crunch in its well-charred edges.
This pizza place was the first to import Italian Caputo 00 flour, transformed into a perfect balance between crispy and chewy with over a decade's worth of skill and experience.
The Pistachio & Pumpkin pizza ($25) is a popular must-try here, a pesto base embellished with melt-in-your-mouth pumpkin chunks and baby arugula, finished with tangy lemon vinaigrette. This one's also for the vegetarians among us. Classics take on a creative Extra Virgin signature spin here, with its Margherita ($21) and Spicy Pepperoni ($29).
Enjoying its wide pizza selection from the comfort of your own home is one notable plus, especially in these volatile times. But whether you prefer your pizza experience in-house or at home, Extra Virgin has perfected its service so you always get your pizza fix, fresh, hot and delicious.
Conclusion
Pizza is an all-time favourite, a treat for all the ages. There is so much more to it than cheese and tomato on dough. It is definitely a skill to find a balance between the rich flavours that make this beloved Italian dish what it is today.
Do you have any reviews and comments to share regarding our choices for the best pizza in Singapore?
While SBO is committed to supporting our local businesses, we welcome any feedback and anonymous sharing regarding your experience with the listed pizza in Singapore.
We hope that this guide will be useful in helping you to make an informed decision when it comes to finding the best pizza in Singapore.
>