10 Best Bak Kwa in Singapore To Complete Your CNY [2023]
Read here to find out the compiled list of the 10 Best Bak Kwa in Singapore to celebrate CNY 2022!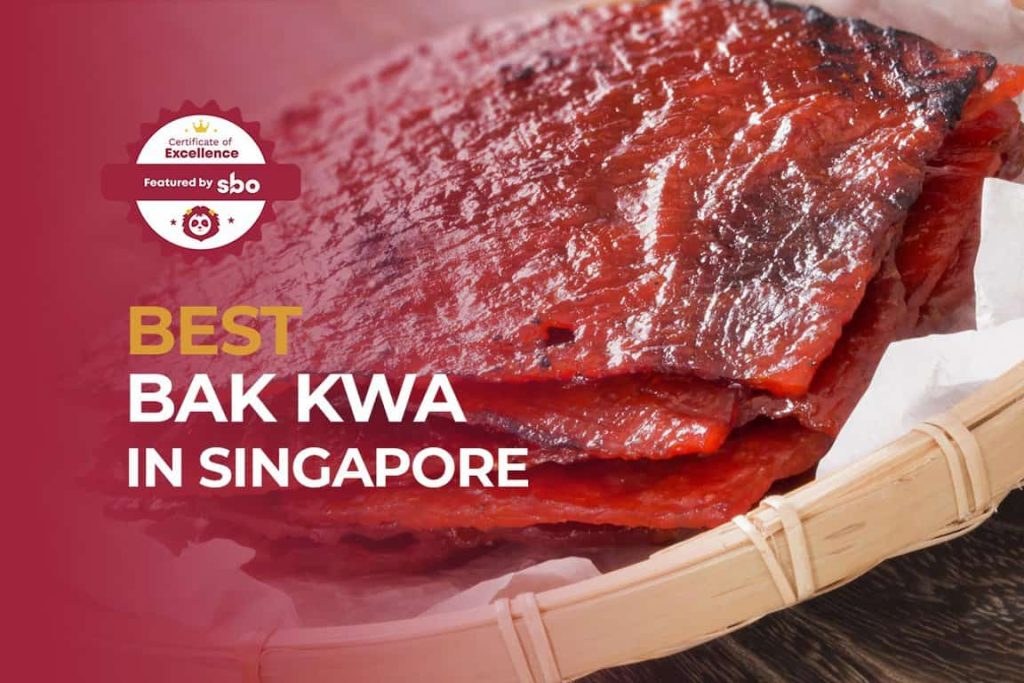 It is not really the Lunar Chinese New Year until we get our first bite of Bak Kwa, isn't it? (YES, at least for me) As the Lunar Chinese New Year approaches, many scramble to get their festive goodies ready, and one that we can never miss would be Bak Kwa!
The savoury, sweet and smoky pork jerky is a necessity in my family's CNY feast and would kick start the festive.
Read on to find out the compiled list of the 10 Best Bak Kwa in Singapore to celebrate CNY 2022!
1. Kim Peng Hiang Food Industry Pte Ltd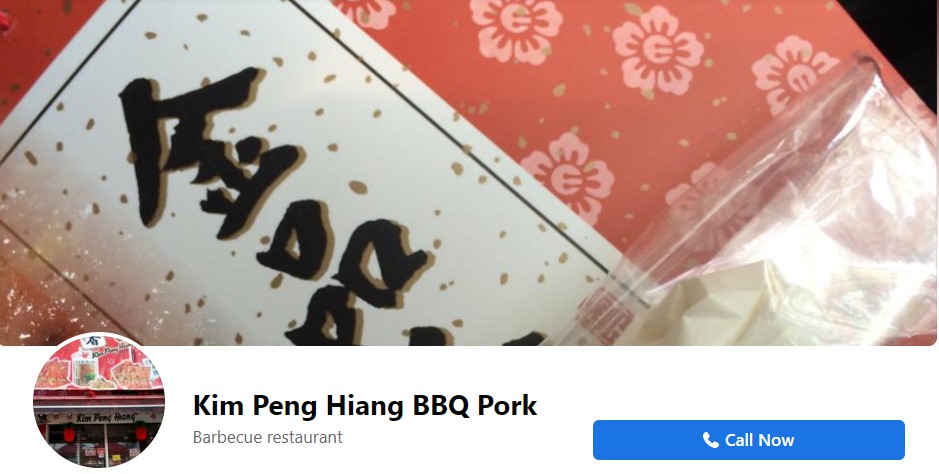 This family-run store has been a hidden gem for tasty bak kwa, with its pineapple bak kwa being the crowd favourite. A unique combination of savory and sweet, one would be back for the second bite! If you're keen to stick to the traditional taste, try out their sliced royal pork creation!
It is juicy and tender, in a bright red packaging suitable for gifting. With such a reputation, it is no surprise that long lines are normal so do beware of it as you will be waiting for a while.
Reviews complimented its bak kwa for its smoky taste and thick slices with just enough flavour. Despite many complaints of long queues and waiting time, most seemed to enjoy their bak kwa from Kim Peng Hiang Food Industry.
2. Kim Hua Guan Bak Kua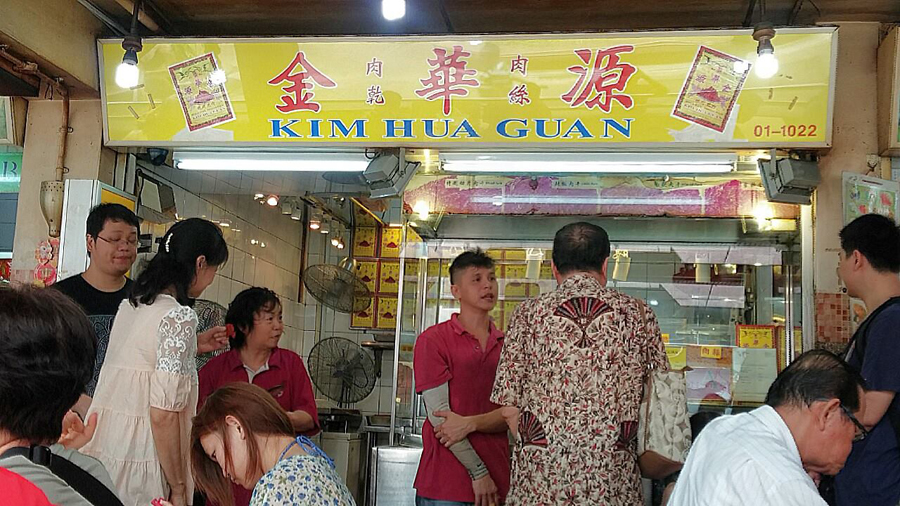 Since the 1960s, Kim Hua Guan has been selling bak kwa with their sliced meats traditionally grilled over charcoal to preserve its authenticity.
With its long history and preserved recipe, their bak kwa win the hearts of many, including those of the older generation.
Their traditional Minced Pork Bak Kwa is their bestseller, with its tender and succulent meat goodness that makes you come back for more!
With its recipe being highly praised, many reviewed it as the best bak kwa in Singapore, and its great customer service is also reflected in the reviews.
3. Fragrance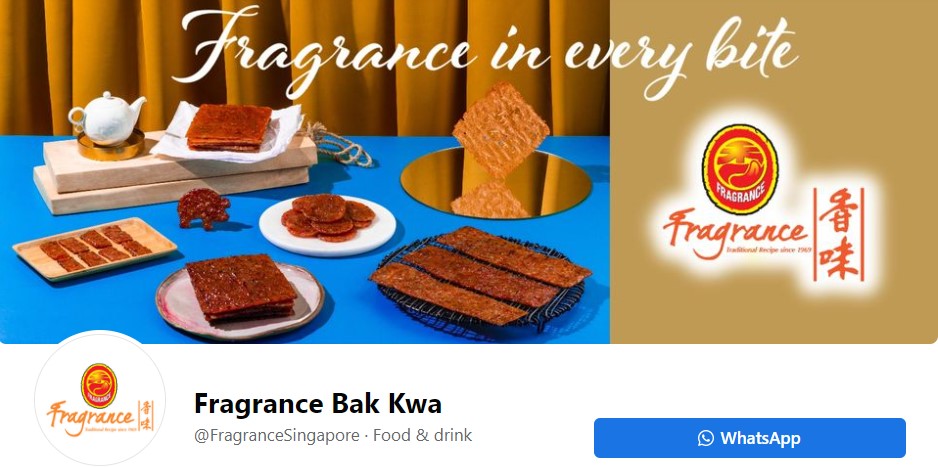 If you're a Singaporean or has been residing in Singapore for a while, you would have seen this brand before!
Fragrance is built on the foundations of quality, progress, trust, and customer satisfaction. This popular homegrown brand makes it easy for us to search for bak kwa daily (even without CNY!) and I don't think anyone is in shock seeing this brand on the list.
With its outlets nearly at every corner of Singapore, you know where to get your tasty fix of bak kwa!
4. Bee Cheng Hiang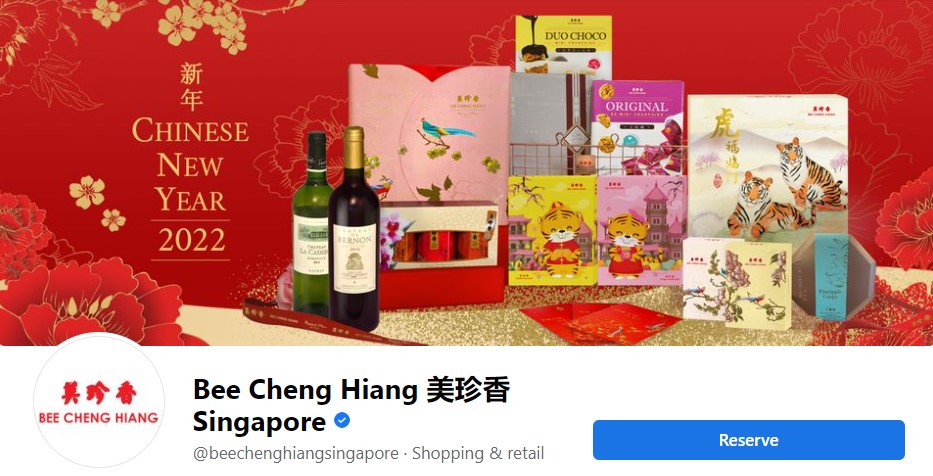 Another widely known brand that provides not just bak kwa but also a variety of CNY goodies, Bee Cheng Hiang might be one of the first brands when you think of the Lunar Chinese New Year. With their constant innovations and fusions, Bee Cheng Hiang has customers coming back for more!
Adapting to different taste buds, Bee Cheng Hiang has transformed the crowd's favourite bak kwa into many different variations. This includes the chili variant, applewood sliced bak kwa, etc. Head down to any of their outlets to try them yourself!
5. Kim Joo Guan Flagship Store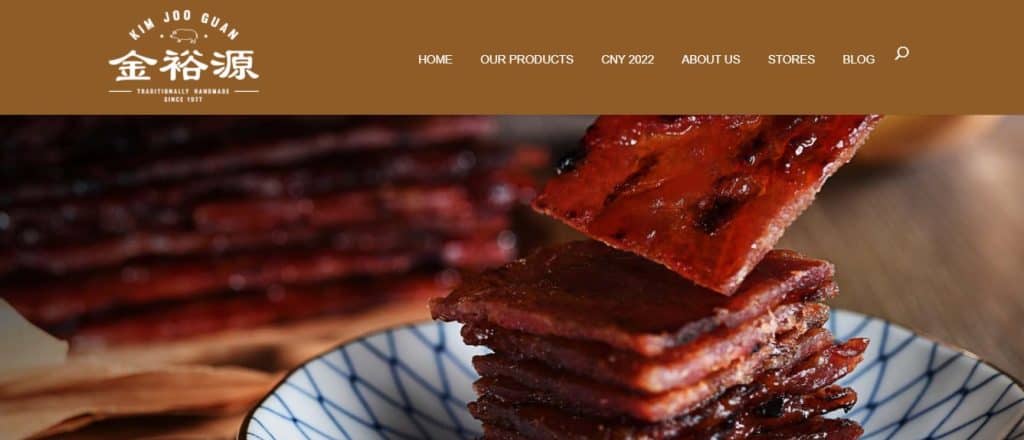 Whetting the appetites of three generations of Singaporeans with its traditionally prepared bak kwa, Kim Joo Guan Pte Ltd has supplied five of Singapore's most well-known bak kwa brands for more than 30 years.
Kim Joo Guan's traditional recipe retains its traditional taste and remains a heritage that continues to satisfy their valued customers from all over the world.
Insisting on only the best quality, they give their utmost attention to the standard of everything from raw ingredients to the preparation process. This sinful delight has been regarded as nothing but the best.
6. Lim Chee Guan New Bridge Road Store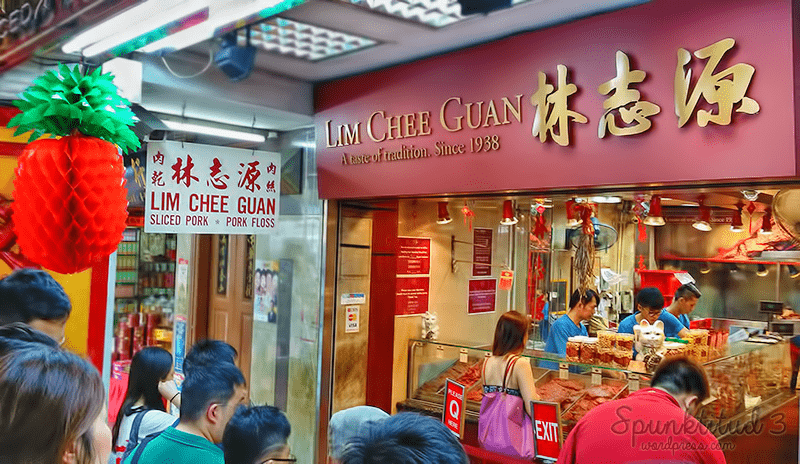 Since 1938, Lim Chee Guan has been a leader in bak kwa – traditionally barbecued meat slices that are uniquely Singapore. Using the finest ingredients and following the same exacting process, the founder, Mr Lim Kay Eng worked through many long and difficult years to achieve a reputation of excellence with bak kwa appreciators.
As long as you've eaten bak kwa and spent your CNY at Chinatown, the brand Lim Chee Guan would not be unfamiliar to you. With over 300 reviews, it is impressive that its ratings still manage to hit a high of 4.3 stars out of a maximum of 5.0 and this can be credited to consistent local flavour as an established Singapore brand.
Try its addictive bak kwa now!
7. Sang Hock Guan 雙福源肉乾肉絲行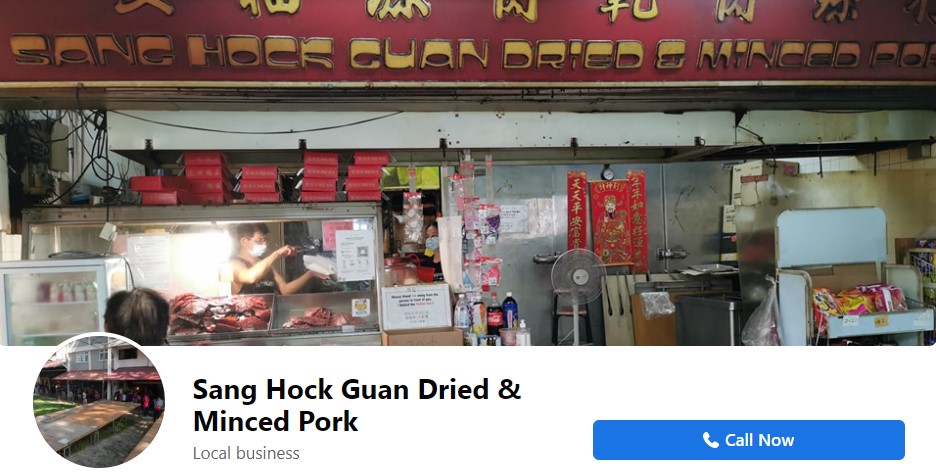 "Tucked in a sleepy corner of Ang Mo Kio, this legacy bak kwa business has remained true to its roots by insisting to barbecue their meats by hand, over hot charcoal. The end result is a smoky and tender bak kwa reminisce of the good old days."
– Mervyn Lim
This review truly explains the customers' love for this brand and despite it not being a well-known brand, Sang Hock Guan still gained many hearts through its perfectly grilled bak kwa, with its slightly charred sides (YUM!) Check out their reviews for yourself and just look at that beautifully grilled bak kwa!
8. New Peng Hiang 新品香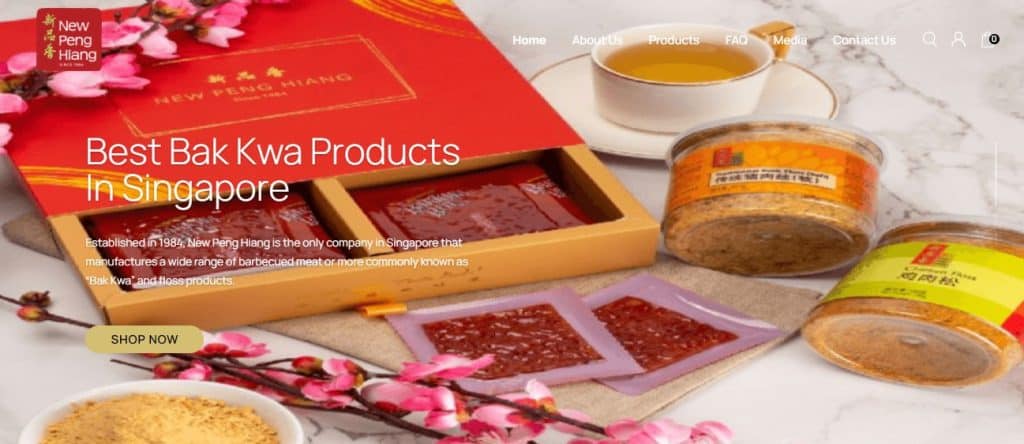 Established in 1984, New Peng Hiang is the only company in Singapore that manufactures a wide range of barbecued meat or more commonly known as "Bak Kwa" and floss products. With a promise to produce the best quality products, New Peng Hiang's bak kwa is made with premium ingredients, following their traditional recipes. There is no added preservative, MSG, and artificial flavouring, so you can eat it without any worry.
For more than 30 years, every slice of bak kwa is hand-crafted over bamboo sieves and is smoked for hours over charcoal to bring out the aromatic flavour. This process, along with the fact that their bak kwa is freshly barbequed daily, aid in delivering only the best taste to the customers, winning its current reputation.
9. Peng Guan Bak Kwa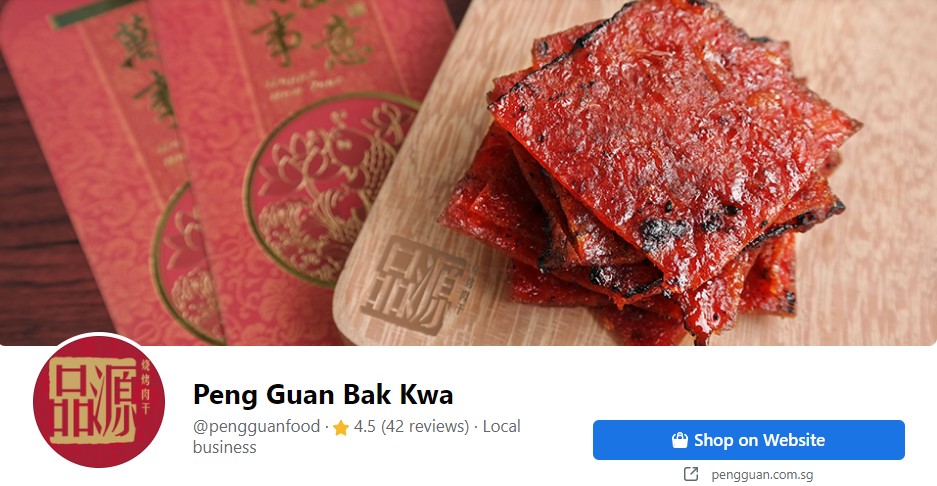 "A Taste of Tradition" is the tagline for Peng Guan Bak Kwa, and they pride themselves on their handmade bak kwa as it produces the most authentic and consistent texture, flavour, and meaning still – of family, tradition, and celebration.
Handcrafted since 2014, Peng Guan Bak Kwa might not have been the brand of the longest history but has quickly emerged as one of the best bak kwa in Singapore, being featured in many blogs and media websites.
Started as a hobby, Peng Guan has now ventured into the market with their secret recipe which produces tender and sweet bak kwa for all.
10. Xi Shi Bak Kwa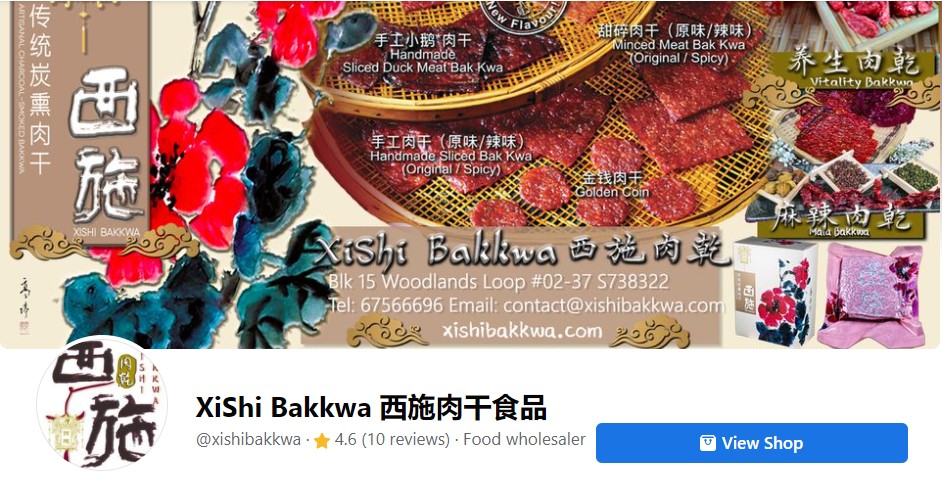 Calling all Northies as you guys are in for a treat! At affordable prices, claim your bak kwa at Xi Shi Bak Kwa now!
Viewing its webpage, Xi Shi Bak Kwa teleports us back to the olden days and its nostalgic aura can be tasted in their bak kwa as well!
Since 1985, Xi Shi Bak Kwa has been insisting on using a charcoal smokehouse in the production of Bak Kwa even though machines are more commonly used today. They thrive on producing better taste and quality food, without hurting your wallets, catering to all generations.
Conclusion
After reading and looking through all the tantalizing bak kwa, what is your favourite?
This guide has compiled the 10 Best Bak Kwa in Singapore and we hope you'll be able to find one that suits your taste buds the most!
I hope this guide gives you more options of bak kwa brands and just like bak kwa, traditional comfort food that always brings us back home, check out some of the best traditional desserts in Singapore for some nostalgic flavour!
Explore More Content