10 Best Japanese Food in Singapore That'll Make You Go "Oishi!" [2022]
Here's your chance to indulge in Japanese signature dishes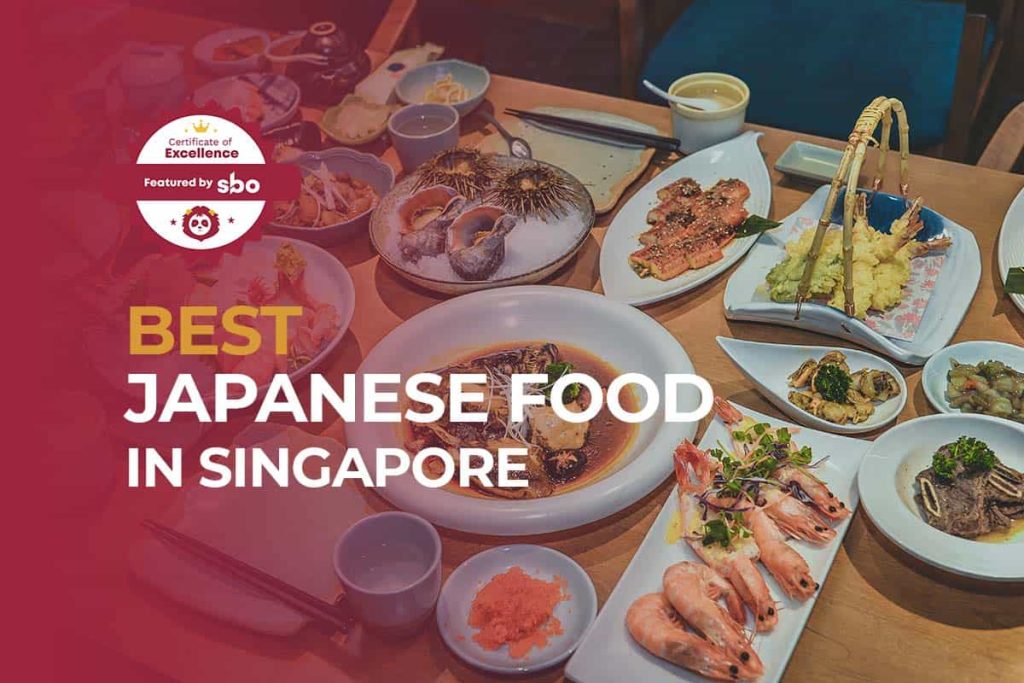 International Sushi Day is just round the corner. That's your perfect excuse to indulge in the Japanese signature dish.
Beyond sushi, there's so much more to Japanese food too. Think yakiniku, teppanyaki and chirashi dons. From sushi bars to omakase-style, from budget-friendly to high-end, we've got you covered.
For those who love Japanese cuisine, myself included, here are ten restaurants serving some of the best Japanese food in Singapore. 
1. Omoté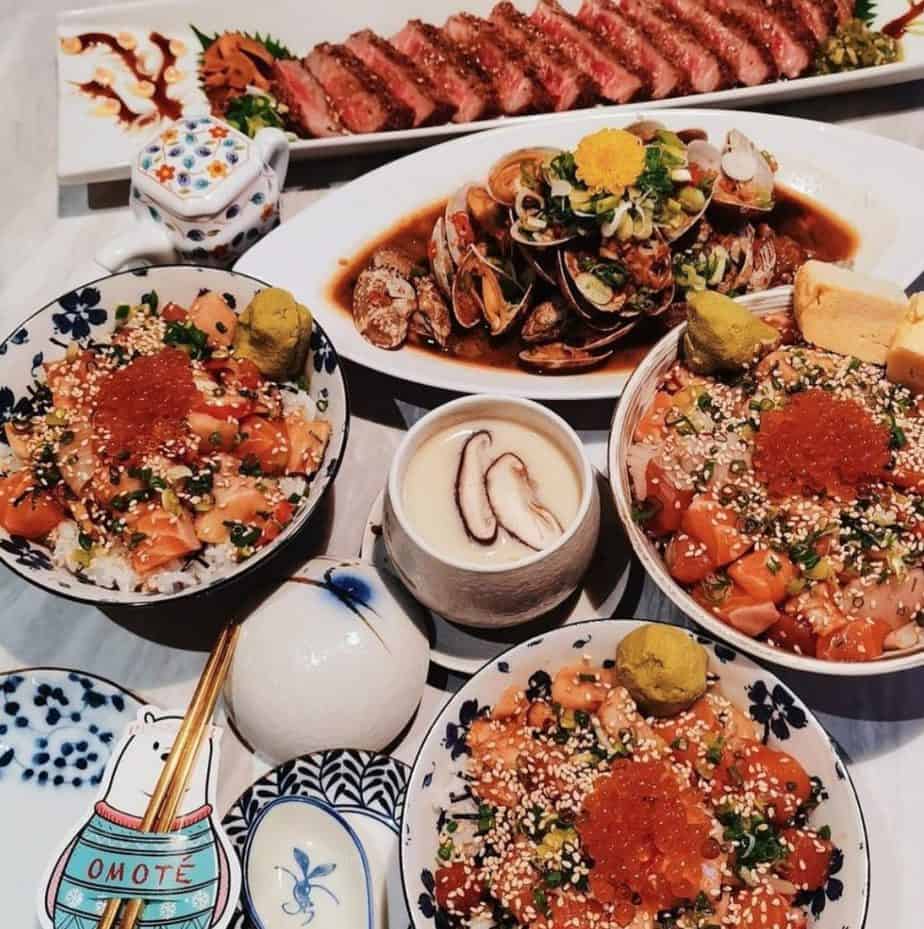 Type of Information
Details
Website
www.omote.com.sg
Highlights to Note
In-house bar counter
Famous for Chirashi Don
Address
301 Upper Thomson Road, #03-24A,
Singapore 574408
Contact Number
9450 1020 (Whatsapp only)
Email

[email protected]

Opening Hours
Wed to Mon:
11:45am to 2pm
5:45pm to 9pm

Closed on Tuesdays 
Online Reviews
871 Google Reviews (Average rating: 4.3/5.0 stars)
A standee of Omoté's adorable polar bear mascot welcomes you into the warmly lit, spacious restaurant, with one of the most charming interiors I've ever set foot in. Omoté is a refreshing blend of contemporary atas, with a snazzy bar counter, and affordable diner-style seating that one hardly expects of a Japanese restaurant.
Their decadent Chirashi-dons are an easy crowd favourite, especially the Tamago Mentai Chirashi ($19.80). Get ready for a generous heap of fresh, juicy diced sashimi atop Japanese pearl rice, drizzled with a tangy soy sauce and creamy mentaiko, guaranteed to bring your taste buds for one hell of a ride.
Once a small 12-seater kiosk, Omoté has become a hallowed spot for Japanese fusion cuisine, marked with their signature contemporary flavour. As the queue grows outside, made especially daunting by Omoté's elusive dining hours, you should make a reservation at least a few days in advance to secure your spot on a very competitive waiting list.
2. The Gyu Bar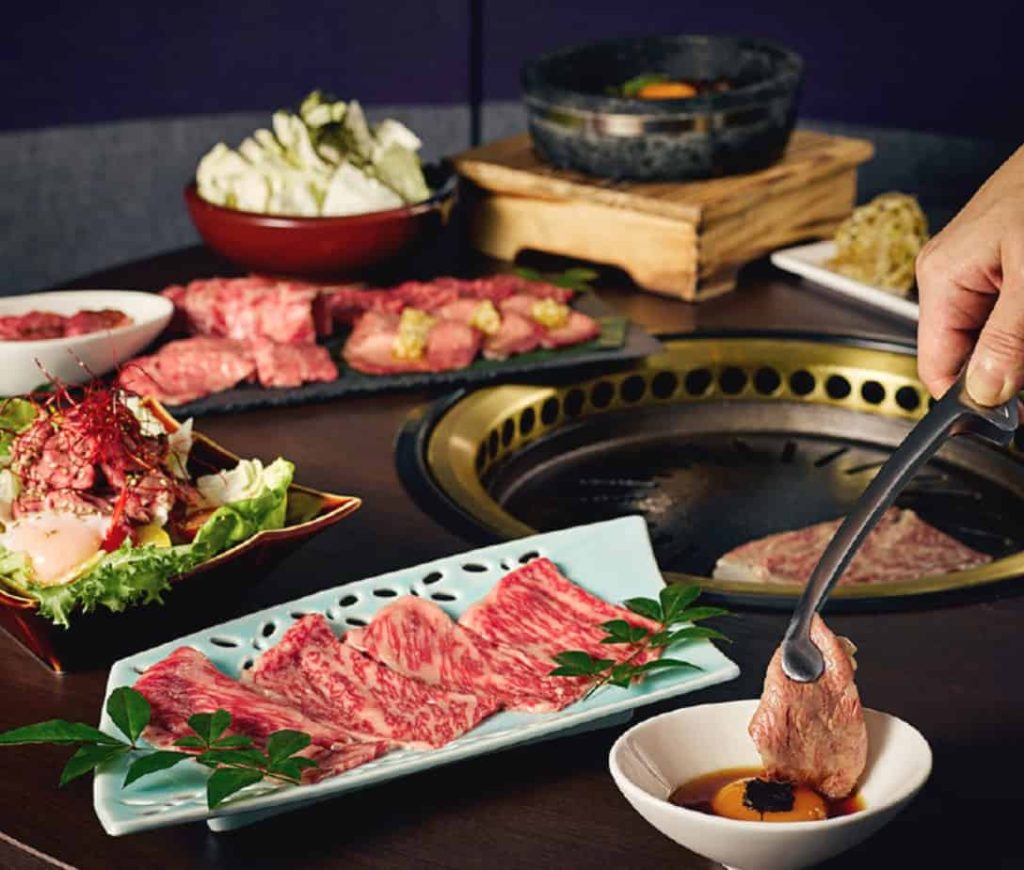 Type of Information
Details
Website
www.thegyubar.com.sg
Highlights to Note
Specialising in premium Wa-Oh Japanese beef from Kumamoto
Complimentary glass of sake
Address
30 Stevens Road, #01-08,
Singapore 257840
Contact Number
6732 0702
Email

[email protected]

Opening Hours
Mon to Sun:
12pm to 3pm
6pm to 10pm
Online Reviews
127 Google Reviews (Average rating: 4.4/5.0 stars)
There's more to Japanese food than just sushi and sashimi. Test this theory at The Gyu Bar, an exemplar of contemporary Yakiniku dining. Here, they serve up only the best premium Wa-Oh beef, known for its exquisite marbling and clean flavour profile, airflown from Kumamoto, Japan.
Each guest is welcomed graciously with a glass of sake on the house. You even get to choose your sake glass from the display of the owners' personal collection! There's a reason they say Japanese hospitality is something else entirely.
If you're here to try something new, spring for the rare cuts like the chateaubriand or misuji. For the full array, the Gyu Bar Platter ($98/150g) offers a taste of the eight main parts of the cow. If beef is your thing, book in advance for the chef's Omakase dinner ($138), a ten-course wonder.
Clearly, The Gyu Bar takes beef very seriously.
3. Shinzo 
Type of Information
Details
Website
www.shinzo.com.sg
Highlights to Note
Famous for sushi and Omakase spreads
Address
17 Carpenter St,
Singapore 059906
Contact Number
6438 2921
9815 7186
Email

[email protected]

Opening Hours
Mon to Sat:
12pm to 3pm
6pm to 10.30pm
Online Reviews
146 Google Reviews (Average rating: 4.4/5.0 stars)
Ask any Japanese fellow in Singapore their favourite spot here that feels and tastes like home, and Shinzo is the name that you'll hear the most. The intimate setting, with warm wooden tones, lowlights and tasteful Japanese wall art, certainly add to the homely experience.
As authentic as it is contemporary, Shinzo delivers beautifully executed dishes from the sushi bar counter, right before your eyes. They use only the freshest seasonal ingredients in its Omakase spreads, which means their menu is dynamic and ever-changing. We leave it all to the chef to delight our palates.
Customers love the perfectly constructed sushi, that takes the most skilled of hands and most nimble of fingers. After all, the word Shinzo means heart in Japanese. It's no wonder every piece of sushi is moulded and created so carefully, no doubt from the heart.
4. The Sushi Bar
Type of Information
Details
Website
www.thesushibar.com.sg
Highlights to Note
Famous for Chirashi Dons and Salmon Aburi Roll
Address
Several outlets across the island
Contact Number
Ngee Ann City:
8818 3535

Far East Plaza:
9653 6464

Tampines 1:
8877 3535
Opening Hours
Mon to Sun:
11:30am to 10pm
Online Reviews
820 Google Reviews (Average rating: 4.2/5.0 stars)
We love fresh, skilfully made sushi that won't break the bank. The Sushi Bar brings you just that, a delicious sushi fix in a casual, no-frills setting. Their Chirashi dons, especially are the most popular, featuring a generous helping of juicy sashimi and orange ikura atop a bed of tangy sushi rice.
Another crowd favourite is their Salmon Aburi Roll ($16.90), that's perfectly seared and perfectly moist within for a great balance. Its menu is extensive, from hand rolls and maki to soups and grilled meats. Cleanse your palate with the Sushi Bar's wide variety of Japanese liquors.
The Singaporean crowd simply loves budget-friendly, delicious Japanese cuisine. You'll have to expect a queue, so make sure to go down early or make a reservation so you don't miss out.
5. Shinji by Kanesaka
Type of Information
Details
Website
www.shinjibykanesaka.com
Highlights to Note
Helmed by Chef Shinji Kanesaka, who holds two Michelin stars
Address
1. Carlton Hotel, 76 Bras Basah Rd, Lobby Floor,
Singapore 189558

2. St. Regis Hotel, 29 Tanglin Road, Lobby Floor,
Singapore 247911
Contact Number
Carlton Hotel:
6338 6131

St. Regis Hotel:
6884 8239
Email

[email protected]

Opening Hours
Check online for varied opening hours across different outlets
Online Reviews
192 Google reviews (Average rating: 4.7/5.0 stars)
When it comes to Shinji by Kanesaka, the two well-earned Michelin stars that Chef Kanesaka holds, speak for themselves. Exuding elegance, the establishment serves up an extravagant array of Japanese fare with the freshest platters of tasty sashimi sets. The sushi counter here is a wonder carved out of the trunk of a 220-year-old hinoki tree.
One highlight is the way they do birthday celebrations here. The chefs will entertain the birthday girl or boy with some theatrics and party hats! Be sure to celebrate your loved ones' special occasion here, especially with their interesting Omakase spreads.
Shinji by Kanesaka sure brings the taste of Japan, as well as its warmth and hospitality, right to your table.
6. Koh Grill & Sushi Bar
Type of Information
Details
Website
https://m.facebook.com/profile.php?id=1723244151062370
Highlights to Note
Famous for the signature Shiok Maki
Address
435 Orchard Road, #04-21 Wisma Atria Shopping Centre,
Singapore 238877
Contact Number
9180 3805
Opening Hours
Mon to Sun:
11:30am to 10pm
Online Reviews
820 Google Reviews (Average rating: 4.2/5.0 stars)
Whoever says Japanese cuisine is always pricey, has clearly missed out on Koh Grill & Sushi Bar, the fast food-style sushi bar on the edge of the Food Republic in Wisma Atria. The place offers a pretty extensive menu, from sushi and sashimi for the seafood lovers, to grilled food, hotplate and noodles.
But you can't visit this place without ordering their signature Shiok Maki ($16.80). And 'shiok' is really the most appropriate way to describe it. Sushi rice rolls filled with tender grilled unagi and fresh avocado, topped with aburi salmon, tobiko and a rich creamy sauce that you can't get enough of — it's any wonder the queues for this sushi joint snake around the block. 
If unagi isn't your thing, they've fashioned a Gen 2 version ($16.80), stuffed with fried prawn instead but equally as gratifying for the tummy as its predecessor.
7. Koji Sushi Bar (Pickering Street)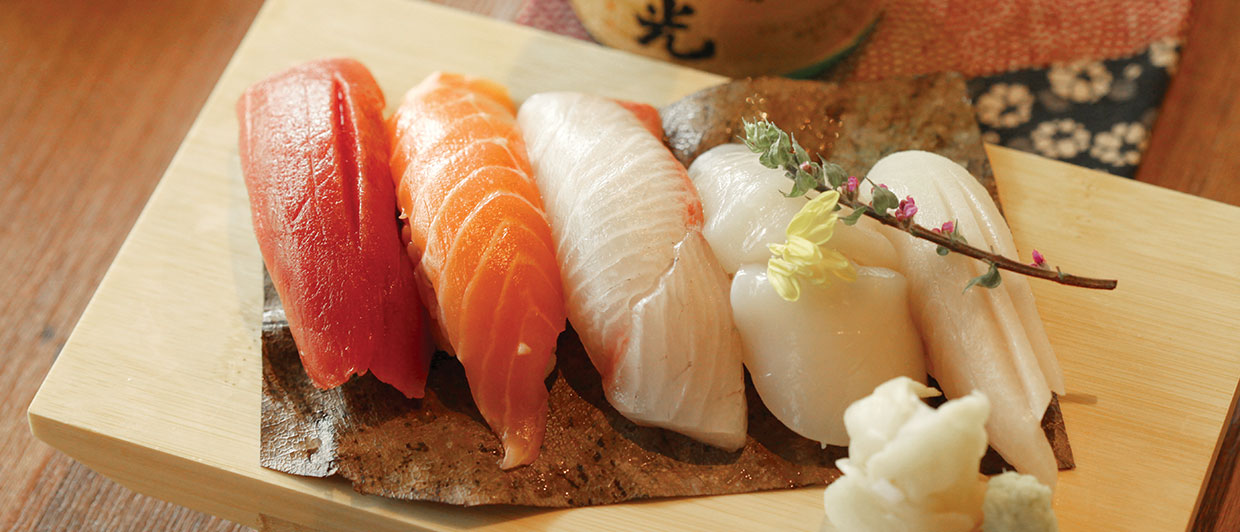 Type of Information
Details
Website
www.kojisushi.com.sg
Highlights to Note
Sushi Lunch Sets served with miso soup and salad
8 ($98++) or 10-course ($128++) Omakase dinners available
Address
Pickering Street, China Square Central, #01-42,
Singapore 048660
Contact Number
6225 6125
Email

[email protected]

Opening Hours
Mon to Sat:
11:30am to 3pm
6pm to 10pm 

Closed on Sundays
Online Reviews
380 Google Reviews (Average rating: 4.3/5.0 stars)
Nankin Row is a colourful row of conserved shophouses that now yields a little food alley, hidden in the Central Business District, and one of its inhabitants, Koji Sushi Bar, is surely not to be missed.
A quaint, modest shop front, usually packed with merry customers populating the high tables outdoors, this sushi joint skilfully balances affordability and quality. The office crowd loves their value-for-money Nigiri Sushi lunch sets, ranging from $9 to $23, that are especially generous on the fresh, juicy seafood.
By night, Koji transforms into something a little less Office Lunch Hour, and a little more Date Night. Omakase dinners (from $68) give you a taste of quintessential Japanese cuisine, from sashimi and teppan to dessert, then a careful selection of sake and shochu to soothe your palate and unwind with. After all, Koji is named after a crucial ingredient in the brewing of Japanese liquor.
8. Hashida Singapore
Type of Information
Details
Website
https://hashida.sg
Highlights to Note
Famous for unique Omakase experiences
Address
77 Amoy Street,
Singapore 069896
Contact Number
8129 5336
Email

[email protected]

Opening Hours
Tue:
7pm to 10:30pm 

Wed to Sun:
12pm to 3pm
7pm to 10:30pm

Closed on Mondays
Online Reviews
14 Google Reviews (Average rating: 4.9/5.0 stars)
Think Omakase and Hashida Singapore should definitely come to mind. Step into the Shinto Shrine entrance into an intimate, contemporary setting within.
Its three dining rooms have different personalities: one with walls of sakura wood, another with a traditional detached roof and the last with a hovering ceiling and countertops reminiscent of the hiba trees of Master Chef Kenjiro Hashida's hometown.
Chef Hashida is known in the culinary world for his inventive creations that put different textures, temperatures and flavours together in a refreshing, unique blend. Even the soy sauce is the chef's own creation, using a 120-year-old soy sauce brewer in Japan. To accompany a rich meal, choose your drink from the chef's personal sake and spirits selection.
Now, take a seat at the counter, watch the chef himself get to work on your dish and get ready to pamper your palate.
9. Mikuni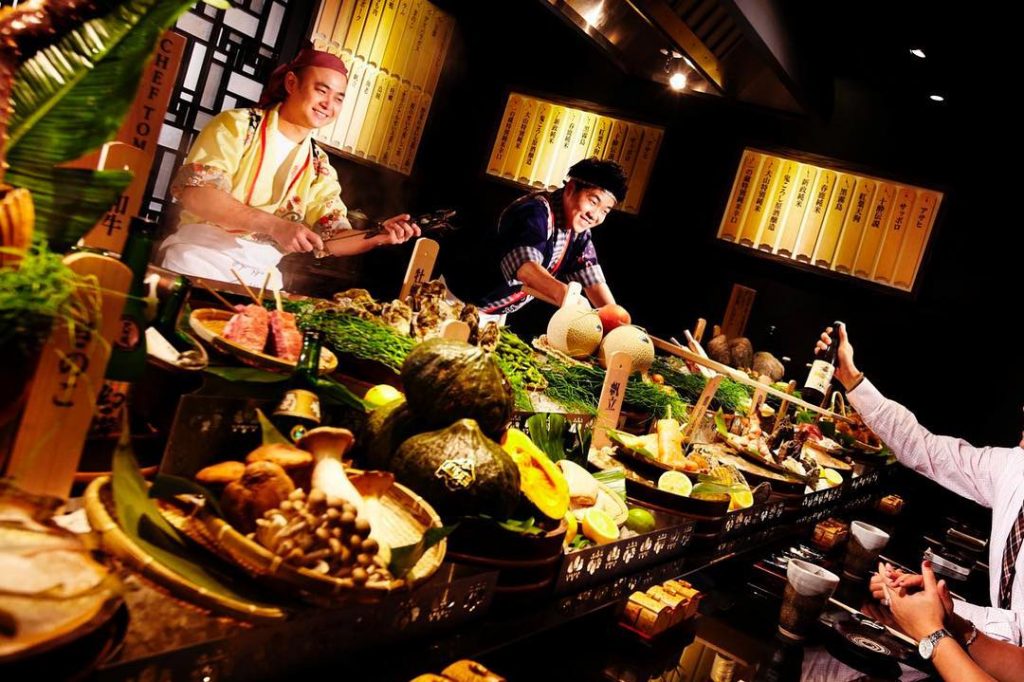 Type of Information
Details
Website
www.fairmont.com/singapore/dining/mikuni/
Highlights to Note
Premium fish flown straight from Japan's Tsukiji Fish Market
Teppanyaki, Robatayaki and Sushi live stations
Address
80 Bras Basah Rd, Level 3 Fairmont Singapore,
Singapore 189560
Contact Number
6431 6156
Email

[email protected]

Opening Hours
Mon to Sat:
12pm to 2:30pm
6pm to 10:30pm 

Closed on Sundays
Online Reviews
265 Google Reviews (Average rating: 4.1/5.0 stars)
Mikuni knows just what Japanese fine dining is all about. Wallet-friendly? Not so much, but the quality and freshness of its seafood and seasonal Japanese produce more than make up for it.
In its modern take on the Japanese kaiseki experience, Mikuni creates a multi-sensory dining experience with the theatrical showcase of traditional Japanese culinary techniques at the three live stations. Whether it's fresh seasonal sashimi, sizzling hot seafood from an iron griddle, or smoky, charcoal-grilled pork belly from each of the three stations, you're in for a gastronomic ride.
Its menu itself offers a vast selection of dishes that combine contemporary and traditional Japanese flavours. Be sure to try the decadent Mikuni Lobster Maki ($45) and the Kurobuta Pork Katsu ($$48). For an extra oomph, opt for the monthly Omakase dinners that serve up an array of seven delicious courses you'll love.
10. Nobu-ya
Type of Information
Details
Highlights to Note
Menu is different every day
Every customer is required to drink alcohol
Address
190 Middle Rd, Fortune Centre #01-05
Singapore 188979
Contact Number
6338 3450
Opening Hours
Tue to Sun:
6pm to 11pm

Closed on Mondays
Online Reviews
357 Google Reviews (Average rating: 3.9/5.0 stars)
Nobu-ya is as authentic as it gets, nestled in the unassuming Fortune Centre. Traditionally a Japanese watering hole, the izakaya atmosphere Nobu-ya successfully replicates is a chaotic, noisy and cramped one, exactly as they do in Japan. It's a lively place, filled with ruddy-faced Japanese businessmen, a sure sign that Nobu-ya is the real deal.
Upon arrival, the boss, a middle-aged Japanese man, will make sure to ask every member of your group the mandatory "are you drinking?" to which there is only one correct answer if you would like to get a table. This is no family place, unfortunately.
Nobu-ya whips up curious, tasty Japanese fare with seasonal produce from Japan, some of which you've probably never even heard of. The good news, or the bad if you've found a dish you can't get enough of, is their menu is ever-changing. The element of surprise, along with the delicious and affordable food and alcohol, will definitely have you coming back for more.
Conclusion
There is a wealth of Japanese cuisine, in all shapes and forms, if only you know where to look. And we're confident you do now! Can't jet off to Japan? Don't worry, these ten places bring Japan to you on a platter.
Do you have any reviews and comments to share regarding our choices for the best Japanese food in Singapore?
While SBO is committed to supporting our local businesses, we welcome any feedback and anonymous sharing regarding your experience with the listed Japanese restaurants in Singapore.
We hope that this guide will be useful in helping you to make an informed decision when it comes to finding the best Japanese food in Singapore.
Featured Image by Jia Ye on Unsplash
Explore More Content
Are you featured in this?
Display this exclusive SBO badge proudly on your website and get more sales!