8 Best Steamboat Buffet in Singapore for the Best Hotpot Deals [2023]
Get the best steamboat buffet deals that are worth trying!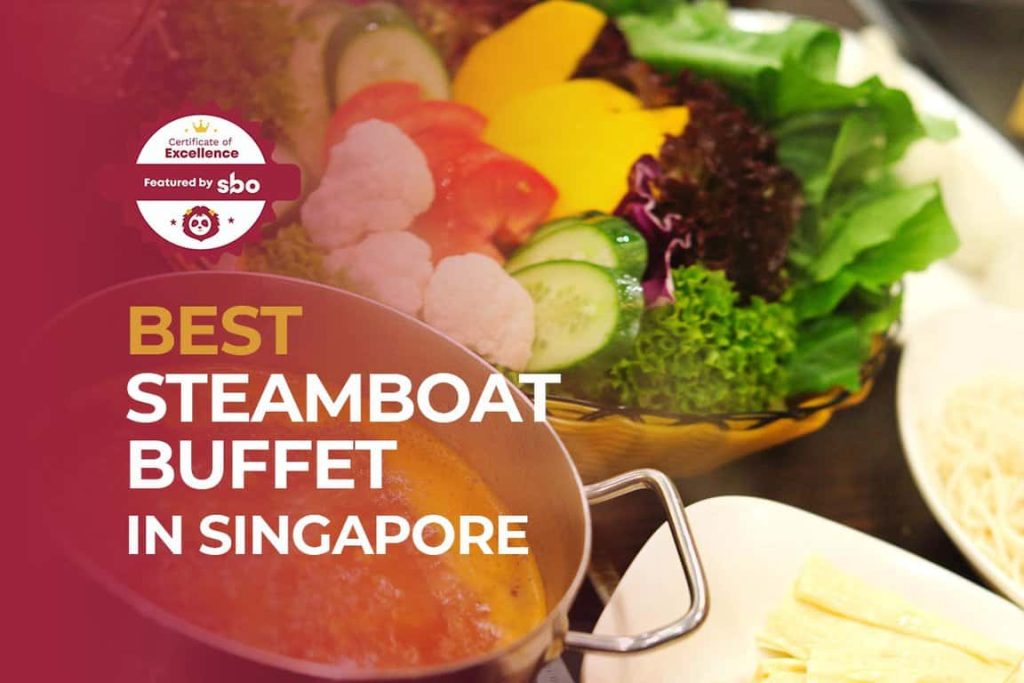 One of the greatest food trends that have been hitting our shores in recent years, steamboat buffets are becoming the go-to choices for many Singaporeans when it comes to dining out with their friends and families.
Also known as hotpot in Singapore, steamboat is eaten by dipping and cooking fresh raw ingredients in a bubbling hot pot of flavourful soup base.
Especially perfect on a reunion day with families or a catch-up with friends, the steamboat experience will give families and friends the opportunity to bond over good food.
Check out the best steamboat buffet in Singapore below for the best deals that will nourish your heart and soul!
1. GoroGoro Steamboat & Korean Buffet @ The Centrepoint
Catered to a wide range of tastes and preferences, GoroGoro Steamboat & Korean Buffet offers over 70 selections of ingredients and 7 choices of soup bases to choose from.
Thought to be a word from the Korean or Japanese vocabulary, the name "GoroGoro" is actually a suggestion of a rumbling tummy when one's hungry, and the hot bubbling sound of the steamboat soups when they are boiling.
A steamboat place with quality food and service, wide variety and cosy ambience, GoroGoro Steamboat & Korean Buffet is definitely value for money!
2. Guo Fu Hotpot Steamboat
The first to introduce small and individual hotpot concept in Singapore, Guo Fu Hotpot Steamboat offers you the most personal and authentic premium beef hotpot with free flow Xiao Long Bao.
With ten different types of soup base available, the buffet house also serves hundreds of fresh and high-quality foods and a wide range of in-house special dipping sauces for you to go with your piping hot soup.
3. COCA @ Leisure Park Kallang
Originated from Bangkok, COCA is a well-known and established Thai-Chinese hotpot restaurant in Singapore that first opened here in 1987.
Housing specialities such as Fish Glue, Shrimp Paste and Handmade Dumplings, along with fresh seasonal vegetables and meat offerings, COCA offers you an endless array of seafood hotpot ingredients to go with hot soup that blends authentic Thai cuisine with traditional elements of Cantonese home-style cooking.
4. Yue Long Men Hotpot
One of the cheapest steamboat buffets in Singapore, Yue Long Men Hotpot has over 60 free flow items at its buffet counter for you to choose from.
Indulge in more seafood options during the weekends along with your soup base from 9 different selections, as well as the free-flow dumplings and Xiao Long Bao at Yue Long Men Hotpot!
5. La Jiang Shan Hotpot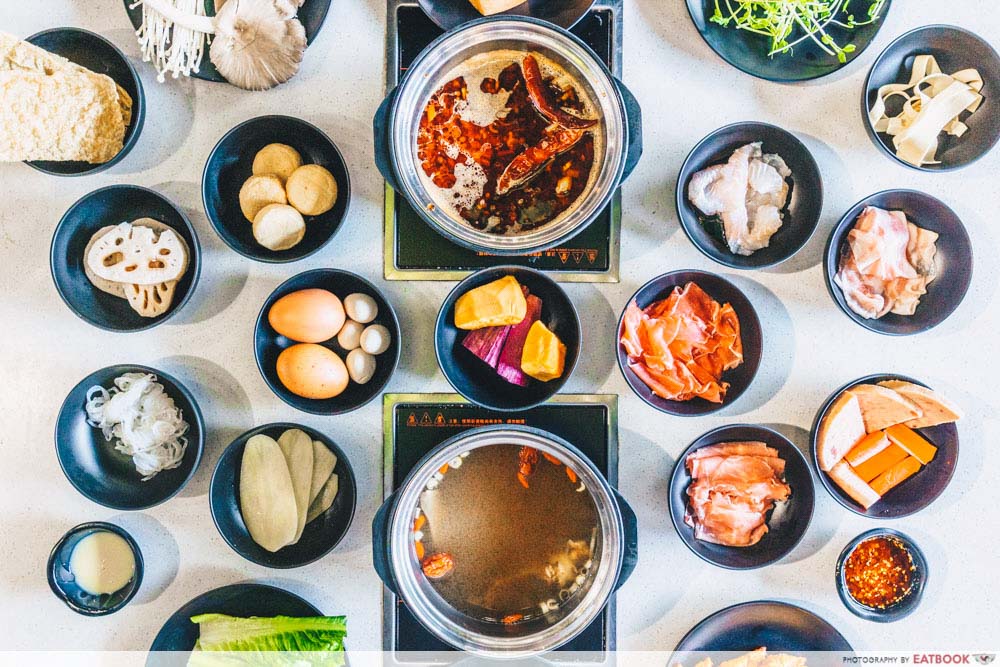 Highly recommended for their free flow Xiao Long Bao, La Jiang Shan Hotpot offers diners their own personal hot pot and bbq grill.
Besides having a variety of hot pot bases and dishes available, La Jiang Shan Hotpot's meat item also includes wagyu beef that will melt instantly in your mouth.
6. Zhong Hua Steamboat
If you're looking for a steamboat supper place with your friends and families, this is no doubt the place to go to.
Despite the popularity of the place especially during peak hours, the staff at Zhong Hua Steamboat continues to be vibrant, friendly and efficient to provide you with the best service possible.
Besides having a great assortment of meat and choice of many sauces, the steamboat place also has a variety of fresh seafood including crabs, bamboo clams, Lala, prawns etc, that you can choose from to grill or dip in the hot soup bases.
7. Ting Yuan Hotpot Buffet
A steamboat restaurant that has been around for more than 20 years, Ting Yuan Hotpot Buffet is recommended for its super fresh, juicy and fatty beef and pork shabu-shabu.
Also known for their free-flow fried mantou and spicy diced chicken that goes really well with the condiments which you can mix on your own, you'll be sure to feast extensively and come back for more!
8. Gangnam Story Korean Steamboat & BBQ Buffet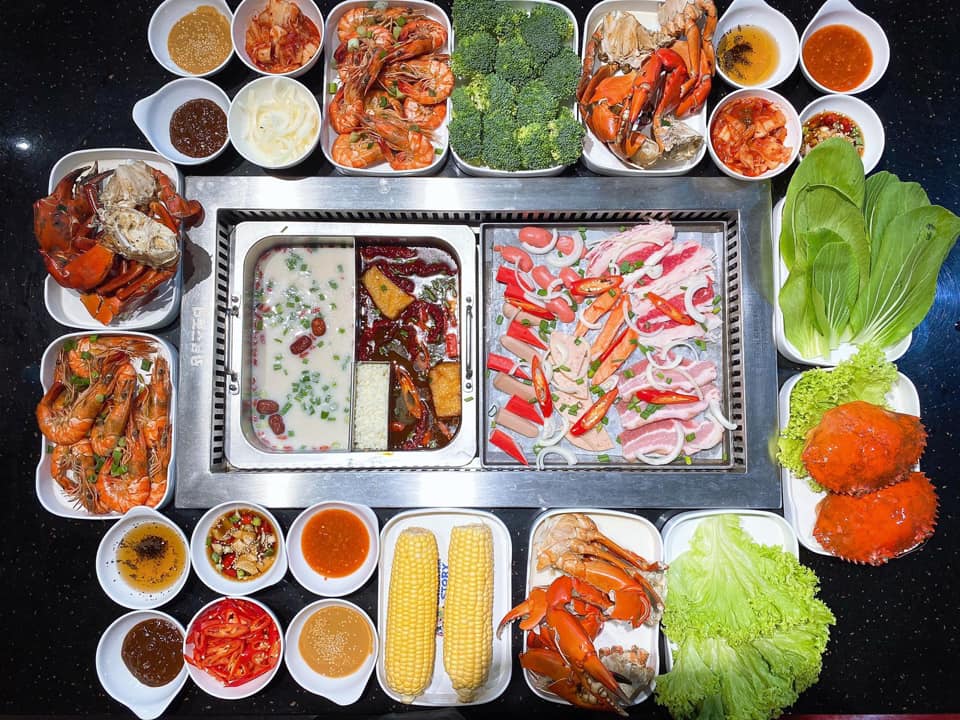 Besides being known for their flavourful meat options, Gangnam Story Korean Steamboat & BBQ Buffet is also popular for their fresh-from-the-sea seafood platter that includes Salmon, Mud Crabs, Tiger Prawns, Oysters, Gong Gong, Clams, Squids and Mussels etc.
If you're a fan of Korean hotpot, this steamboat and BBQ place will offer you the best combination of soup base and hotpot ingredients that is worth your money!
Conclusion
Do you have any reviews and comments to share regarding our choices for the best steamboat buffet in Singapore?
While SBO is committed to supporting our local businesses, we welcome any feedback and anonymous sharing regarding your experience with the listed 8 Best Steamboat Buffet in Singapore.
We hope that this guide will be useful in helping you to make an informed decision when it comes to finding the best steamboat buffet in singapore.
Explore More Content