The 12 Best Prawn Noodles in Singapore That is Shrimply Delicious [2023]
Here is 12 of the best prawn noodles in Singapore that is shrimply delicious!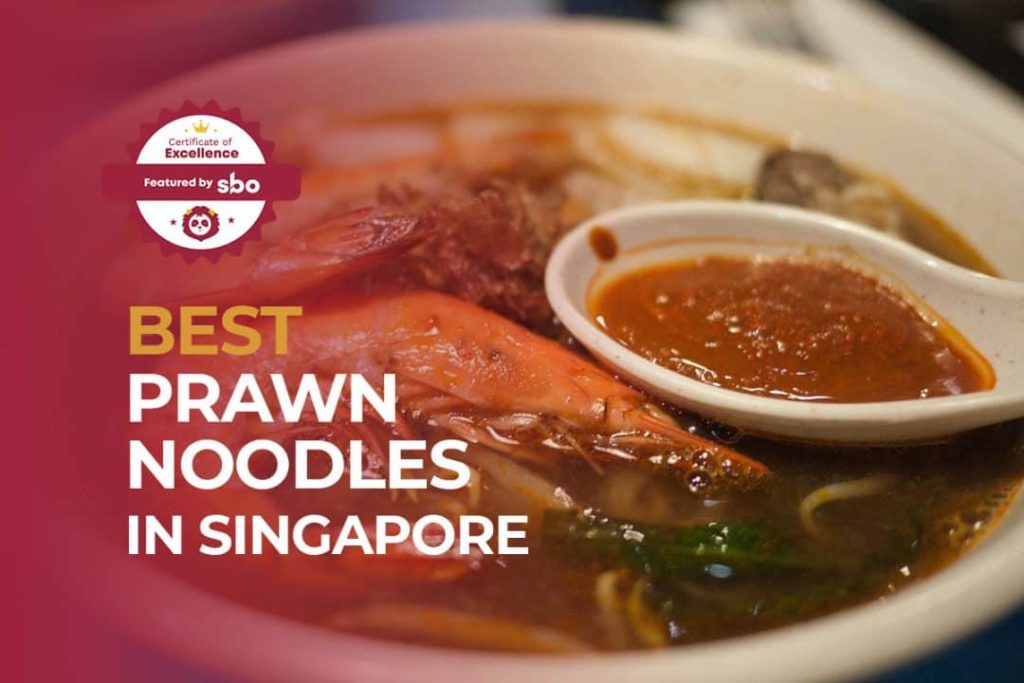 Prawn noodles in Singapore, otherwise known as Hae Mee in Hokkien, is well-loved because of their robust broth that is sweet, spicy and packed with seafood flavour.
There are the traditionally plated prawn noodles you'd see anywhere, and of course, a couple of innovative takes on this hawker favourite.
No matter if you prefer the former or the latter, we are on the hunt for only the best prawn noodles in Singapore, so here you go.
1. Da Dong Prawn Noodle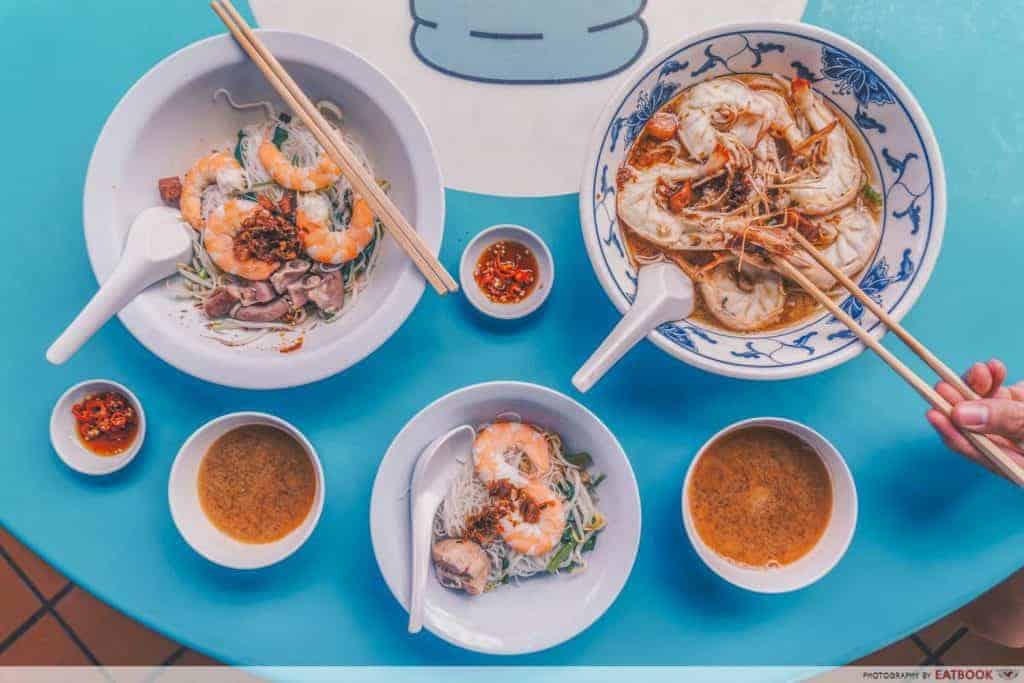 Source: Eatbook
Tasteful, flavour-packed soup with large prawns and manned by our new generation of hawkers. This prawn noodles in Singapore is one worth supporting!
Prices for their prawn noodles go from small ($5), regular ($8) to large ($10). Although priced a little steeper compared to other stalls, reviews have stated repeated visits from some customers and long waiting times over here.
2. 545 Whampoa Prawn Noodles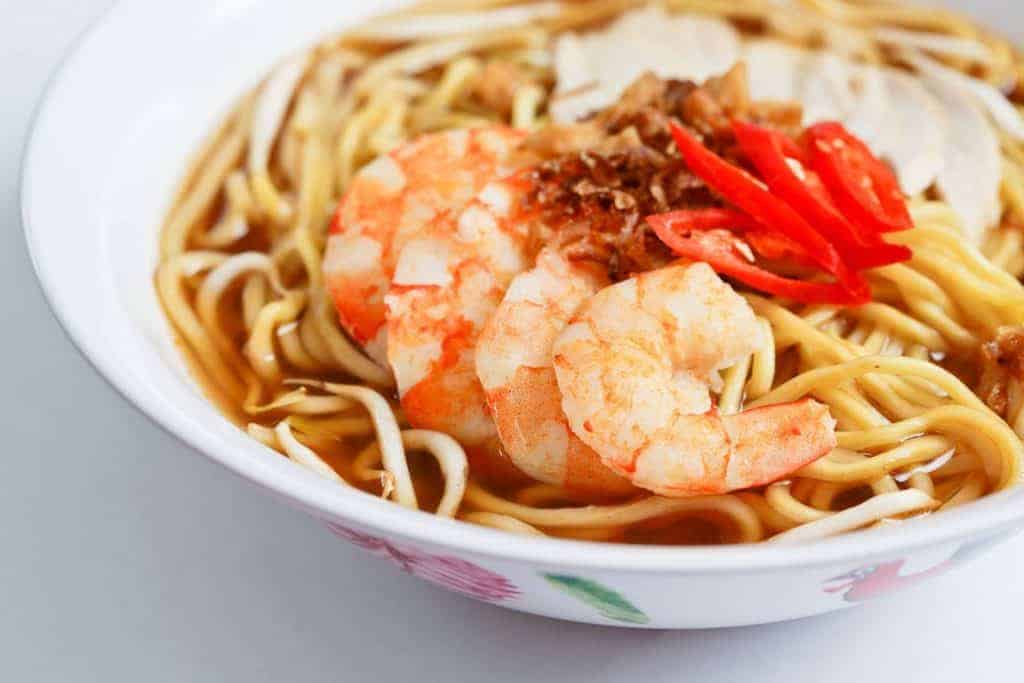 Source: Facebook
Taken over by third-generation hawkers, 545 Whampoa Prawn Noodles is one of the unbeatable hawker stalls serving prawn noodles in Singapore.
Their broth is towards the lighter side, but yet retains the delectable seafood essence and ensure every mouthful's deeply satisfying. The chilli's a real kicker too, with a tinge of sweetness to balance it out.
Prices here are reasonable as well, with a bowl of prawn noodles costing about $5.
3. Jalan Sultan Prawn Mee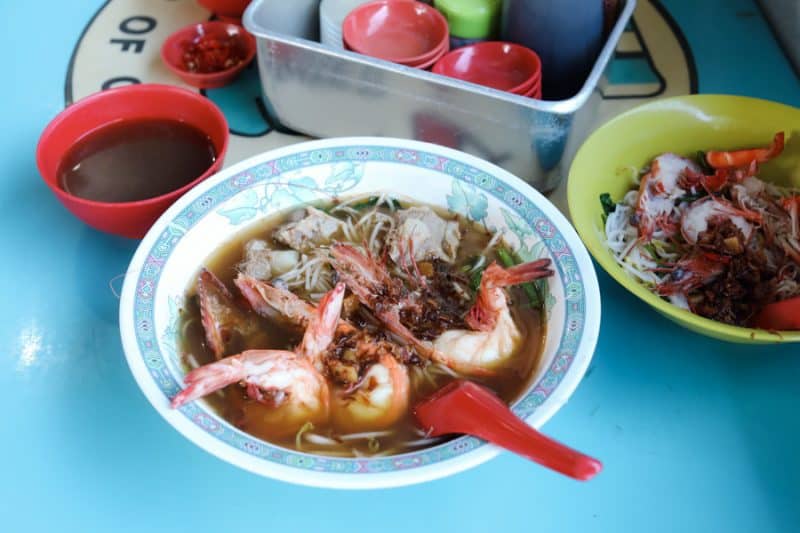 Source: Daniel Food Diary
A prawn noodle hawker that branched out from the infamous Beach Road Prawn Noodles (which will be delved into later), here we have the Jalan Sultan Prawn Noodles that was featured on Michelin Guide.
The broth is also similarly on the lighter side with notes of the prawn's sweetness coming through.
For those interested in ordering the dry version, the sauce does give it a good overall flavour but reviews did mention its lack of that extra savoury punch, which would have elevated the dish further.
4. Da Shi Jia Big Prawn Mee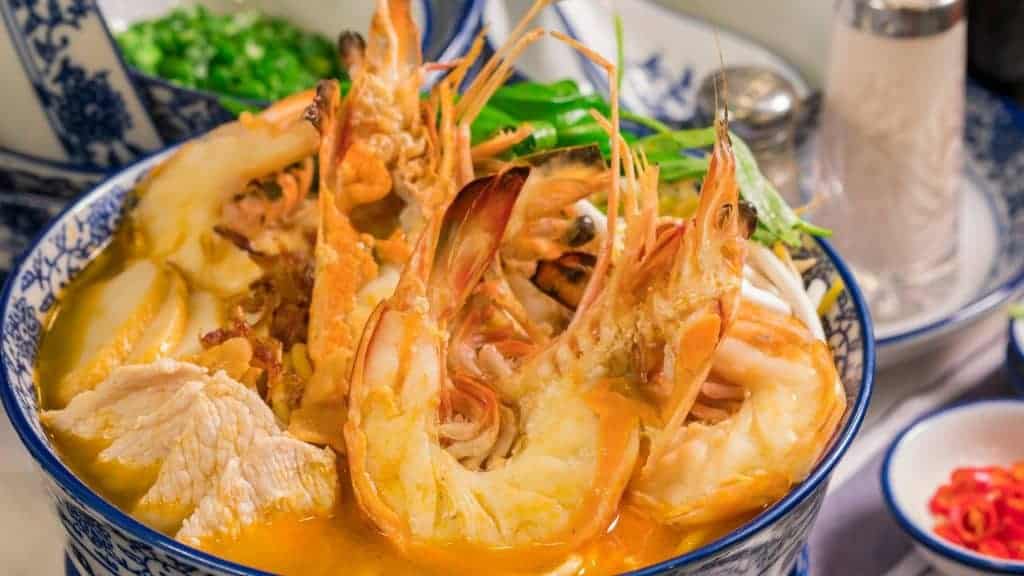 Source: Facebook
Da Shi Jia's prawn noodles are not only served the traditional way, but they also bring a refreshing twist to the table with their zi-char style prawn bee-hoon that screams wok hei.
For the usual prawn noodles, diners are given the choice to go from a regular serving of prawns to extra-large servings. Their broth here is easier on the palate, yet serves the right amount of umami flavour.
Diners with a larger group can feast ahead with their other zi-char dishes on the menu, which is something not typically eaten together with at your typical prawn noodles hawker stall.
5. Beach Road Prawn Mee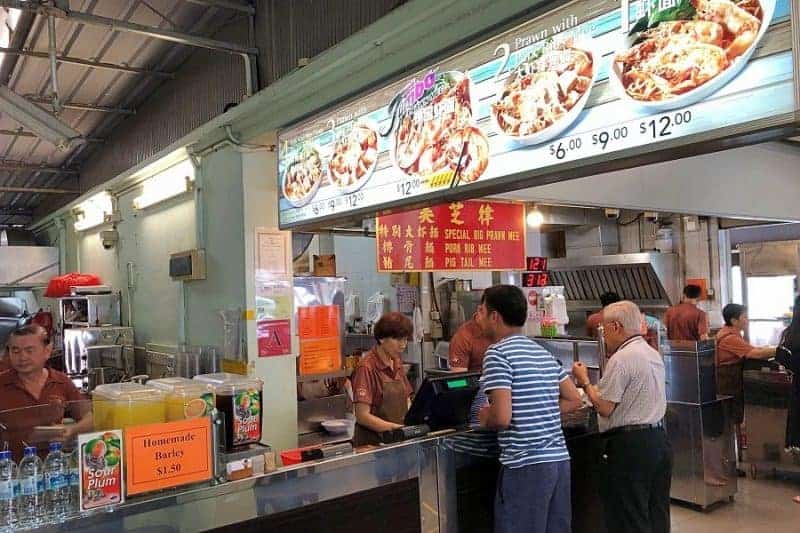 Source: Daniel Food Diary
Beach Road Prawn Mee's ironically located not at Beach Road, but still a prawn noodle haven for the East-siders of Singapore.
The swarming queues might seem overwhelming and slightly off-putting, but their efficient queuing system makes the wait much more bearable.
They serve not only the classic prawn noodles, but also Prawn Noodles with Pork Ribs, Prawn Noodles with Pig's Tail, Pork Ribs with Pigs Tail and their popular Jumbo Prawn Noodles that features large, succulent prawns.
6. Blanco Court Prawn Mee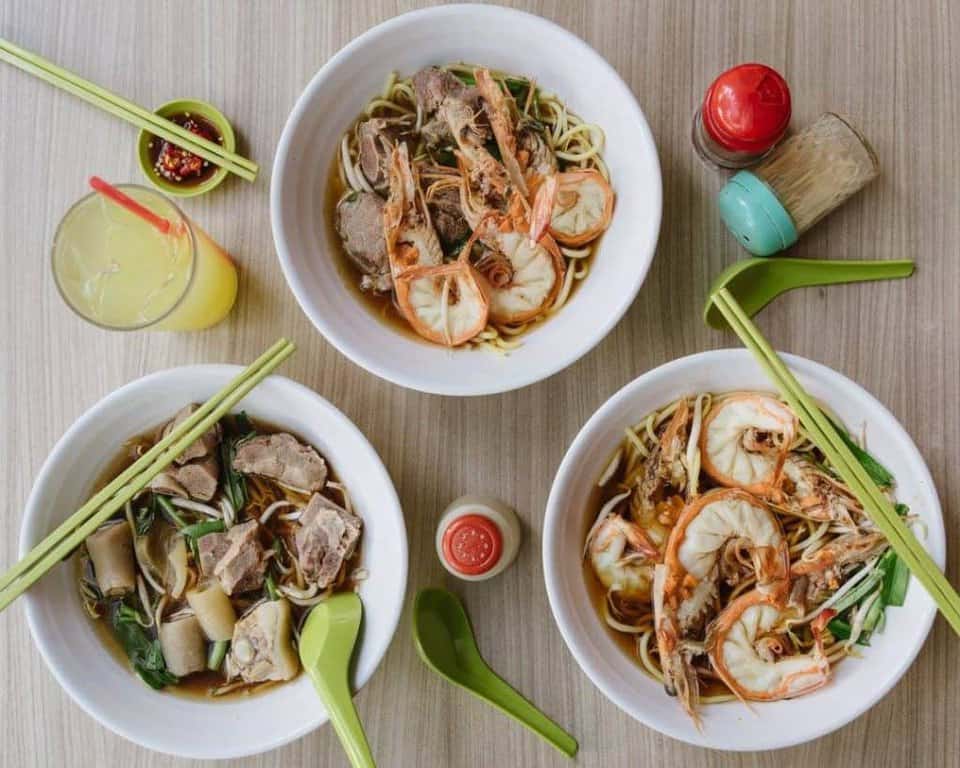 Source: Facebook
One of the most reputational prawn noodles in Singapore will definitely have to go to Blanco Court Prawn Mee, who's been in the hawker scene since 1928.
Despite being in business for close to a century, they've diligently served up authentic and hearty prawn noodles.
Prices here are considered affordable as well, which starts from $5.80 for a standard bowl and up to $10.90 for a 3-in-1 that consists of prawns, pork ribs and pig's tails.
7. One Prawn Noodle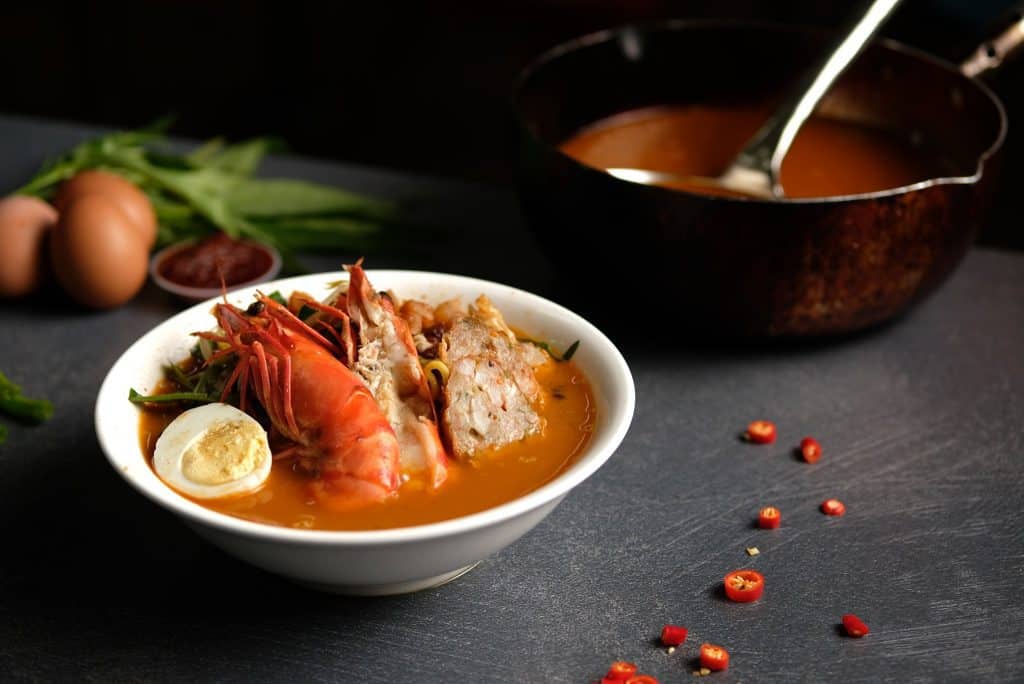 Source: Facebook
One Prawn Noodle is another young hawker-preneur's dream come true, serving traditional prawn noodles in Singapore but with influences of Japanese and Penang flavours.
The founder of One Prawn Noodles, Gwyneth Ang, has got some solid credentials under her belt. Not only is she a proud graduate of the Culinary Institute of America, she has also worked at Burnt Ends, a Michelin-starred restaurant, along with other notable restaurants in the industry.
With such an astounding chef behind the kitchen, the prawn noodles served here are exceptional. Their soup's akin to a cross between a tonkotsu-style broth and a prawn bisque; creamy, thick and bursting with umami flavour.
8. River South Prawn Mee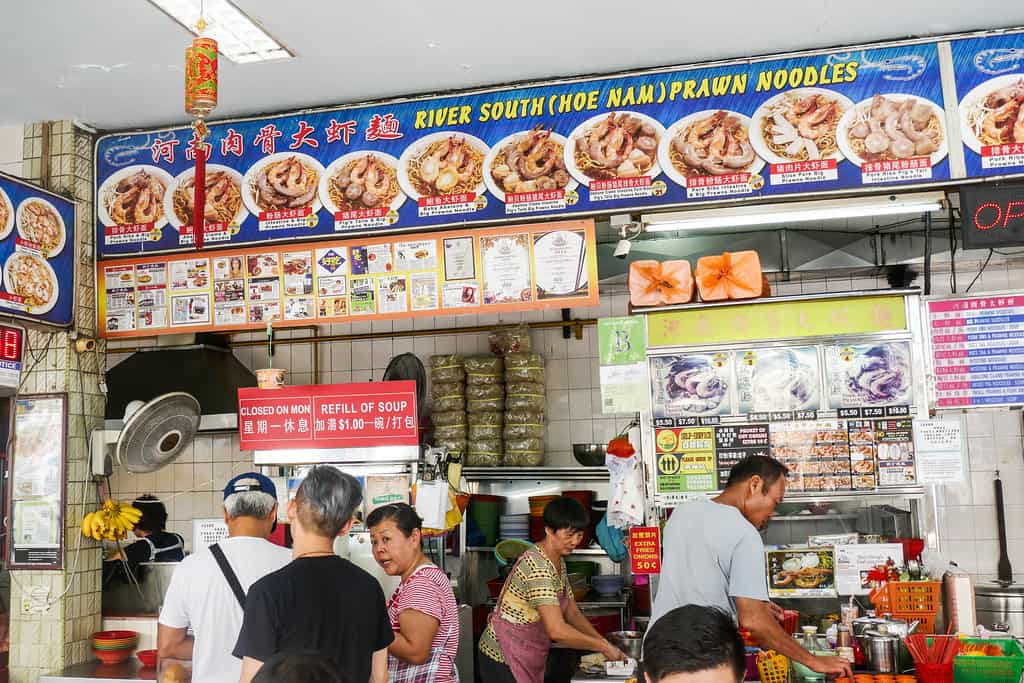 Source: Miss Tam Chiak
River South Prawn Mee is a long-standing hawker gem, serving one of the best prawn noodles in Singapore.
Being in Singapore's hawker scene for close to 50 years, they have been consistently serving up simple, yet authentic and hearty prawn noodles.
Over the years, they have expanded their menu to feature items like pig's tails and intestines, abalones and clams. At the same time, they have kept their prices relatively easy on the wallet as well, with their prawn noodles ranging between $5 to $11.
9. Geylang Prawn Noodle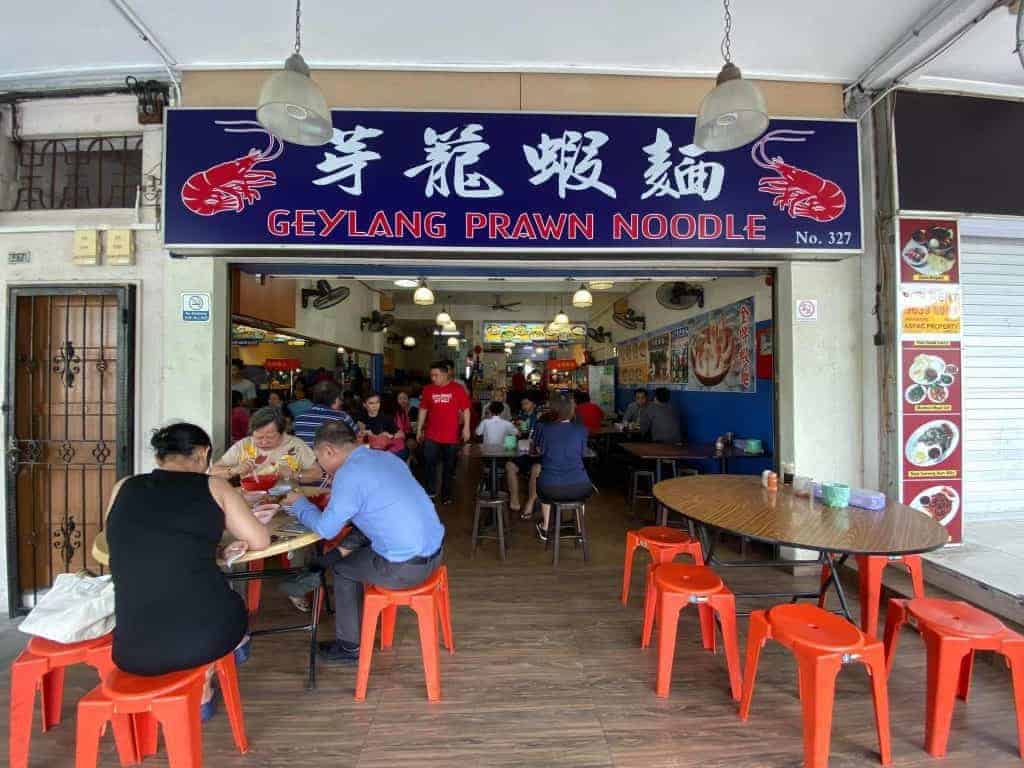 Adding on to the long list of hawkers selling prawn noodles in Singapore is Geylang Prawn Noodles, who have been in the industry for close to 20 years and is currently managed by the second generation of owners.
This is a dependable place to go for a good old bowl of prawn broth, packed with all the essences that are well-loved in a standard serving of prawn noodles.
Another reason to visit here will also be their handmade ngoh hiang that reminds you fondly of home!
10. Wen Wen Big Prawn Mee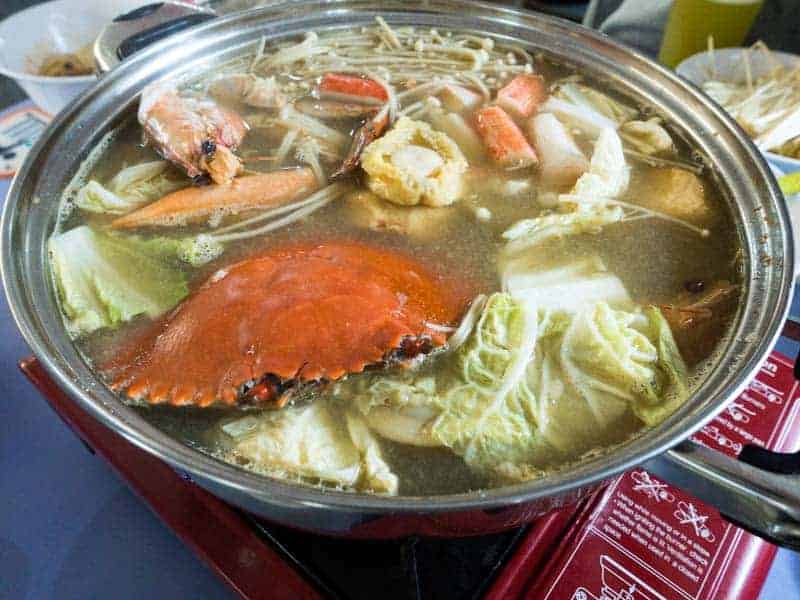 Source: SethLui
Wen Wen Big Prawn Mee takes your usual prawn noodles up a notch by serving it in a steamboat style for a buffet-like dining experience in a humble hawker centre.
Their Seafood Hotpot comes in a prawn-based broth with prawns, pork ribs, and crabs (there might be crab roe lurking inside, keep a lookout for this treasure!).
They've got your carbs covered as well, with free-flow noodles to pair with this steaming pot of seafood goodness.
If you're amazed by their generosity, here is the last wow factor: they even allowed diners to bring their own ingredients for their Seafood Hotpot! Unfortunately, due to Covid-19 restrictions, this rule has been banned for now. Lucky you, if you had enjoyed it before the pandemic struck us.
11. Don Don Prawn Noodles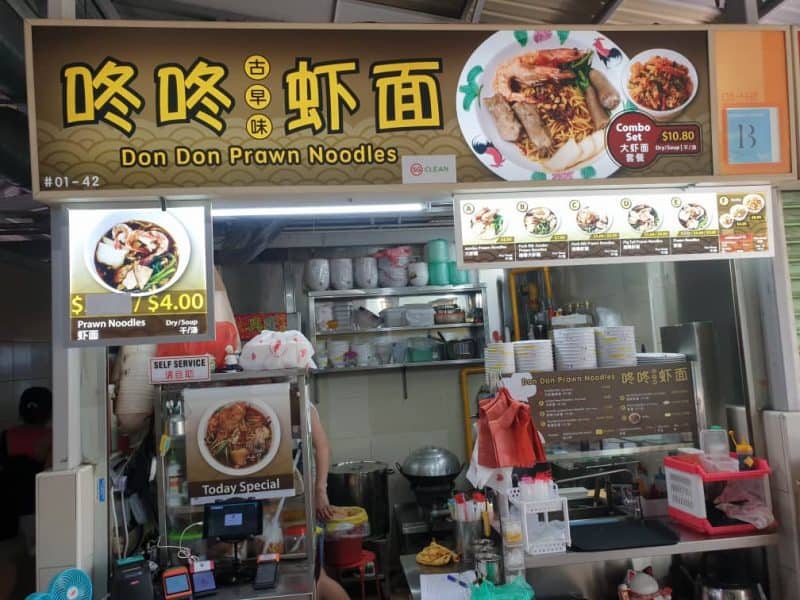 Don Don Prawn Noodles is one of many prawn noodle stalls in Singapore that you can consider trying. Its soup base is rich and flavourful. The delicious plate of prawn noodles is made from the freshest ingredients that you won't be able to resist.
Whether it's dry or soup noodles, you can get a bowl of prawn noodles at an affordable price.
12. Geylang Laksa Prawn Noodles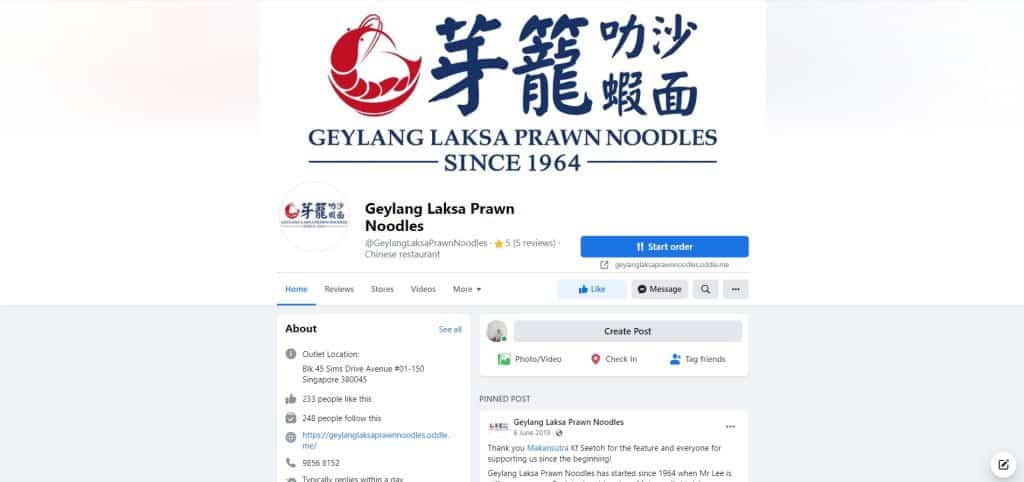 Established in 1964 by Mr Lee, Geylang Laksa Prawn Noodles has been able to preserve the Singapore Hawker Food Culture as it is part of Singaporean life for 3 generations.
The popular Laksa Prawn Noodles comes with ingredients such as fishcake, prawns and cockles. Laksa gravy is fragrant and rich in flavour. You would not want to miss a good bowl of prawn noodles here.
Conclusion
Every Singaporean should know this dish by heart, being one of the quintessential hawker delights that have been warming stomachs for generations.
Are you more for innovation and creativity in our hawker culture, or do you stick by the 'Old is Gold' saying? We would love to hear your thoughts!
If your favourite Singaporean hawker dish is something with more wok hei, we've also rounded up the best Char Kway Teow in Singapore here.
Featured Image by Melvin Chia from Pixabay
Explore More Content