10 Best Eggless Cakes in Singapore For Vegans [2023]
In today's article, we'll be catering to vegans by providing the 10 Best Eggless Cake in Singapore!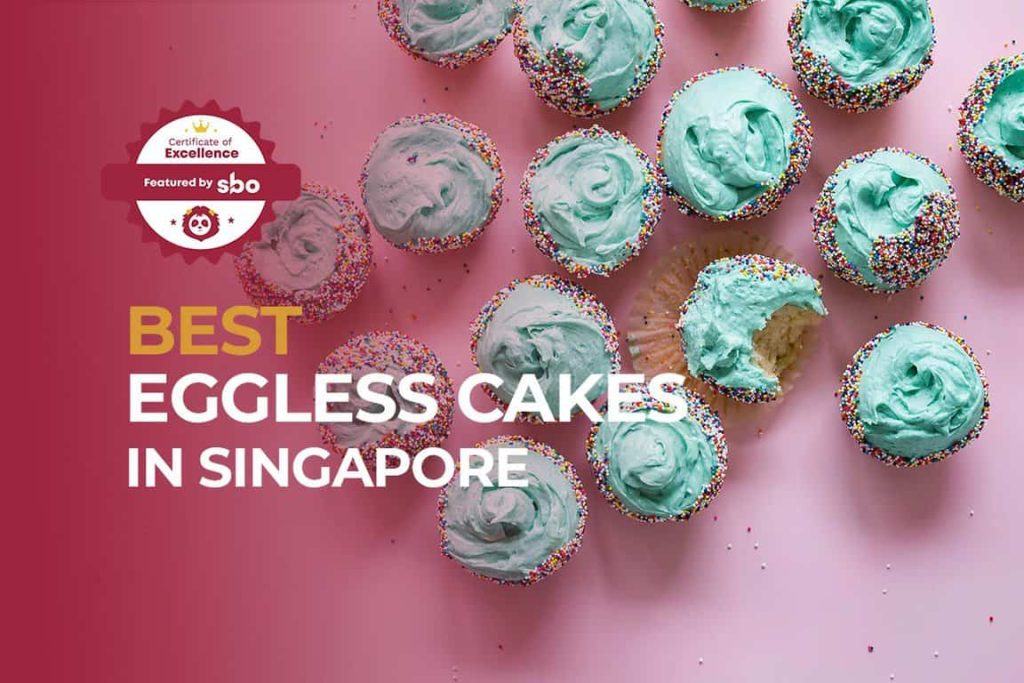 With the rise of different diet options, we are gradually observing diets such as vegan and flexitarian diets becoming a choice of lifestyle. They are getting more popular due to innovation in the plant-based industry as well as raising awareness of issues around animal agriculture.
Hence, in today's article, we'll be catering to vegans by providing the 10 Best Eggless Cakes in Singapore!
How are Eggless Cakes made?
As we all know, the egg is an essential ingredient of most cakes. Most cakes rely on eggs to create that fluffy, cloud-like texture but the good news is that you can replicate the same spongy texture without the use of eggs. Eggs can be replaced with mashed bananas, applesauce, vinegar with baking soda, yogurt, and silken tofu, depending on the recipe.
Generally, eggless pastries are lighter and gentler than your average eggy confection. The cakes don't rise quite as much, and they aren't nearly as filling. Sounds interesting? Read on to check out the 10 Best Eggless Cakes in Singapore!
1. Delcie's Desserts and Cakes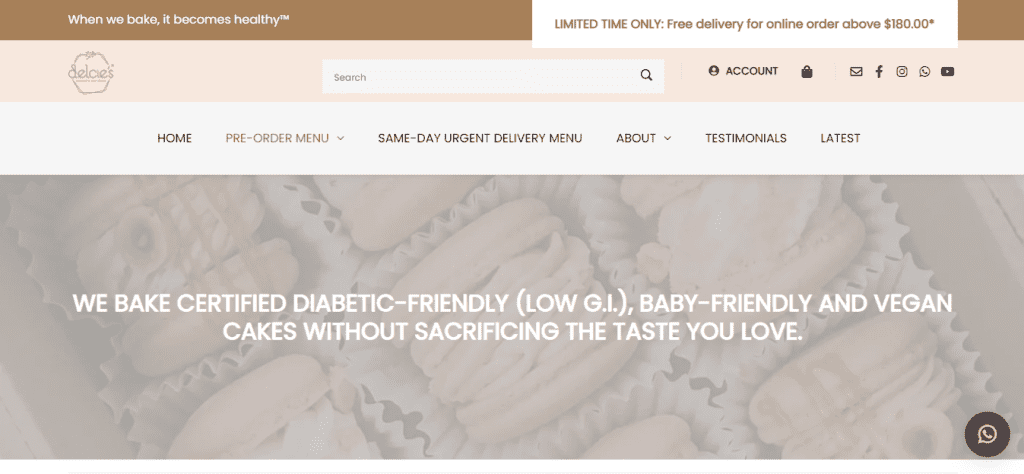 Established in 2009, Delcie's Desserts and Cakes is the first in Singapore to bake and market its healthier cakes. Using mostly organic low-GI plant-based ingredients, the innovative bakery stands out from conventional ones as a pioneer of delectable desserts and cakes for health-conscious consumers and those with diabetes or allergies. What makes the bakery anomalous, is its dedication to creating delicious and nutritious cakes that are egg-free, dairy-free, gluten-free, and cane-sugar-free. They are also naturally cholesterol-free and trans-fat-free.
Baking cakes for customers with sensitive stomachs was never easy but over the years, they have dedicated themselves to creating tasty treats for you accordingly to your dietary requirements. Delcie's wonderful pastry creations make it possible for anyone with a hearty appetite to enjoy cakes and desserts without having to feel guilty.
2. 25Grams Bakery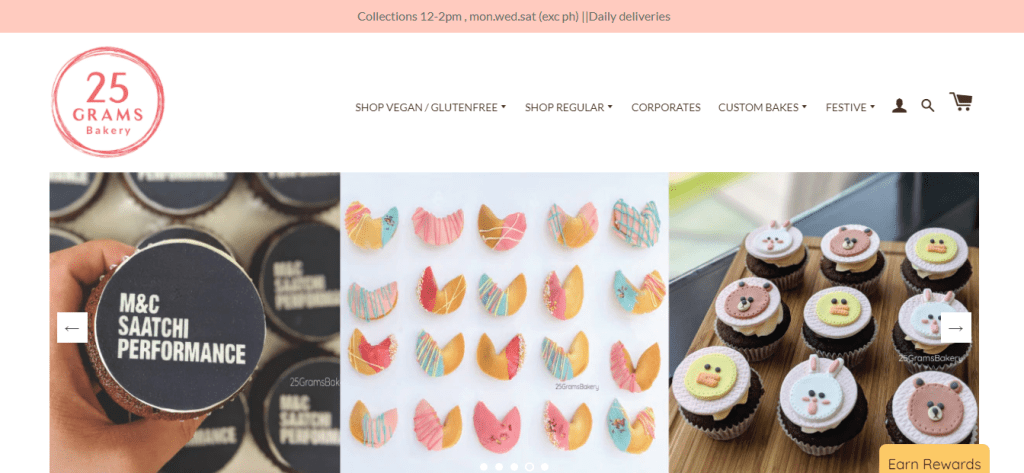 25Grams is an eclectic bakery that focuses on crafting soulful bespoke cakes and desserts.
Their founder, Nicole, graduated from Le Cordon Bleu in '08 and started off small with mini cupcakes for events, these weighed 25Grams before frosting (Hence their name!). These days they move towards being more inclusive with their vegan and gluten free collections, believing that everyone should be able to design and enjoy cakes!
I've tried their Simply Vanilla Vegan Cake during an event and it tasted incredible. The cake was dense and the whipped cream was fluffy. I couldn't even tell that it was an eggless option so I would recommend you guys to have a taste of that!
3. Whyzee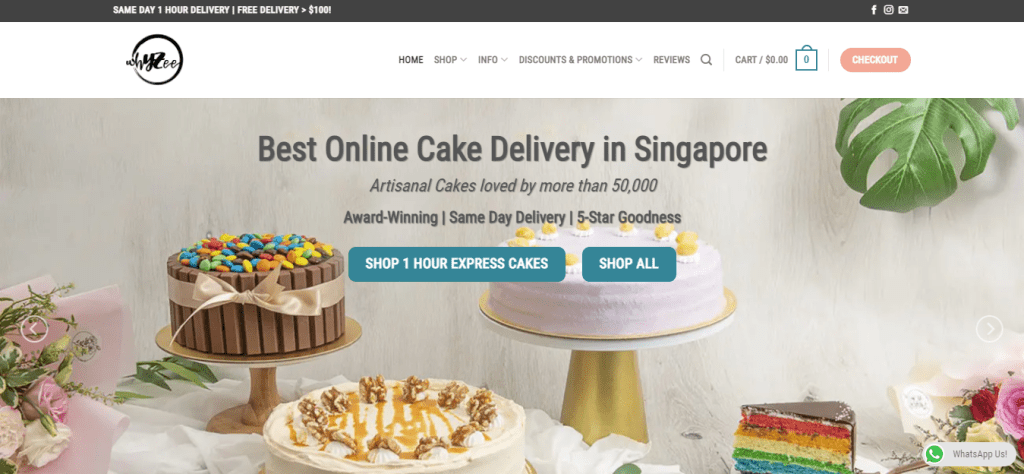 Whyzee creates the best whole cakes that are each whipped to meet the unique needs and tastes of all in Singapore. Whatever the celebration – birthday, wedding, or a simple party – make the occasion more special with a dessert match made in heaven. Whether it is a Classic New York Cheesecake or a customised Ombre Rosette Cake, the offerings of the bakery are beautiful and taste as good as it looks.
Their selection of delectable desserts goes beyond small and cute cakes. They offer Vegan Cakes catered to all the vegans out there, in addition to Eggless Cakes and other Healthy Bakes! Voted to be the best online cake shop in Singapore, not only will their plethora of cake flavours give an unforgettable bite, but so will their islandwide delivery services.
4. Almond Bakery (Vegetarian)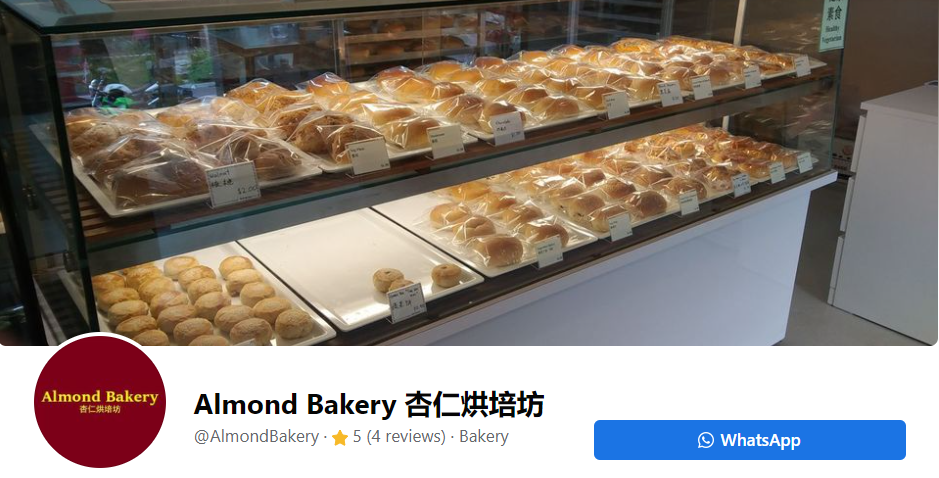 "This is an ordinary vegan/vegetarian bakery, with Natural as the theme. Long hours of fermented bread brings you healthy and unique taste."
Being one of the unique bakeries in Singapore, Almond Bakery sells vegan/vegetarian bakes, suitable for all to savour! Here's one of their reviews~
"… For the vegan buns they have flavours such as red bean, coconut, vegan xia mi, vegan otak otak, curry and multicolored loaves etc. They produce on a small scale so definitely visit early during the day or else some of their buns may be sold out. They also have handmade dou sha bing however I was told they're only ready in the afternoon (maybe past 1-2pm). The vegan bread is just like neighborhood bakery buns – airy, light and fluffy. Definitely worth the visit if you are having the cravings!"
Sounds yummy! Give them a shot if you're around Bukit Batok and let us know your experience with Almond Bakery.
5. Yes Natural Bakery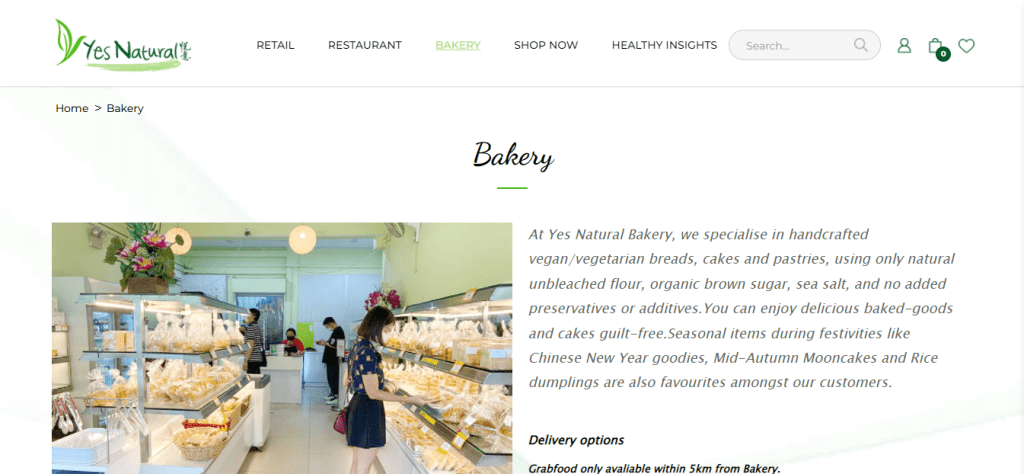 At Yes Natural Bakery, they are specialised in handcrafted vegan/vegetarian bread, cakes, and pastries, using only natural unbleached flour, organic brown sugar, sea salt, and no added preservatives or additives. You can enjoy delicious baked goods and cakes guilt-free. Other seasonal items during festivities like Chinese New Year goodies, Mid-Autumn Mooncakes, and Rice dumplings are also favourites amongst their customers!
Other than their bakes, Yes Natural also has both a retail shop and a restaurant, as they provide natural, healthy vegetarian & vegan food and products as well as natural and delicious plant-based Chinese cuisine using only the freshest natural ingredients respectively. Be spoilt for choices with a wide range of products from all over the globe!
6. Emicakes @ Plaza Singapura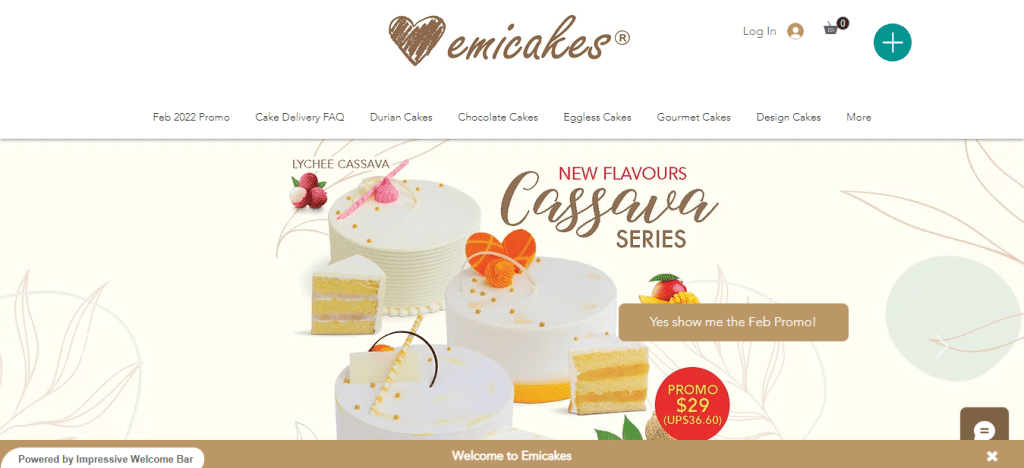 Established in 1992, Emicakes has been known as Singapore's No.1 Durian Cake Maker. From their humble beginnings at our very first outlet in Tampines, they have come a long way and are now readily accessible in 9 outlets island-wide. Check out all their outlets here!
Their reviews complimented the wide variety of eggless options they have. Read one of their reviews here to have a feel for yourself.
"If you want to have eggless cakes in Singapore Emicakes is the place to go. Whether it's pastries or cakes or customised cakes… This is a place to go, extremely good place. Very helpful staff and cakes at goods price points…"
7. Roa The Midnight Cake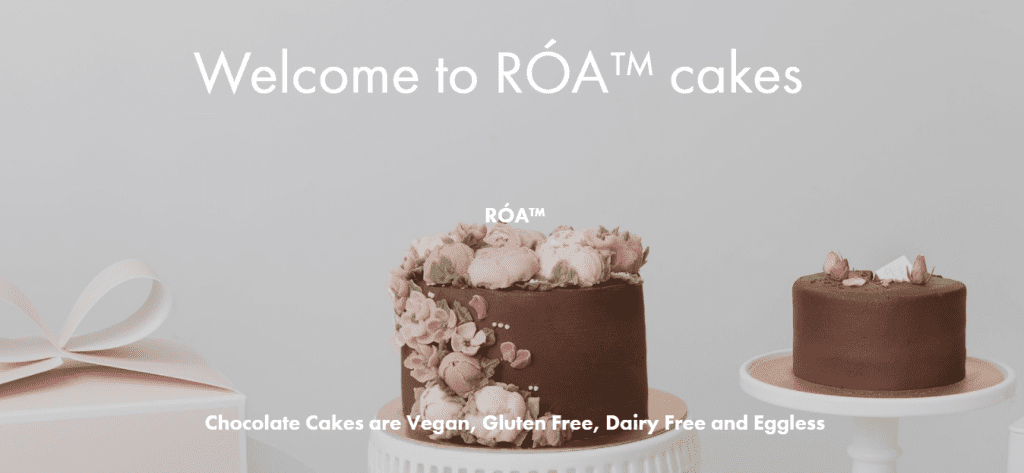 Indulge in Guilt-Free Desserts delivered to you.
RÓA™ is an artisanal Patisserie that has taken the simple, honest chocolate cake and completely revolutionized it. They are probably one of the first of their kind in Singapore and their cakes have successfully created a legitimately delicious decadent chocolate dessert.
RÓA Cakes and Cupcakes are Vegan, Gluten-Free, Dairy-Free, and Eggless. Using avocados and not butter, brown rice milk, and psyllium husk, RÓA cakes and cupcakes are amazingly light on calories as well, great for those watching their diet! Besides that, RÓA cakes have landed on the taste buds of many, including Hollywood celebrities David Foster and Pia Toscano so are you sure you won't want to try?
8. The Clean Addicts – Wholefoods Vegan Bakery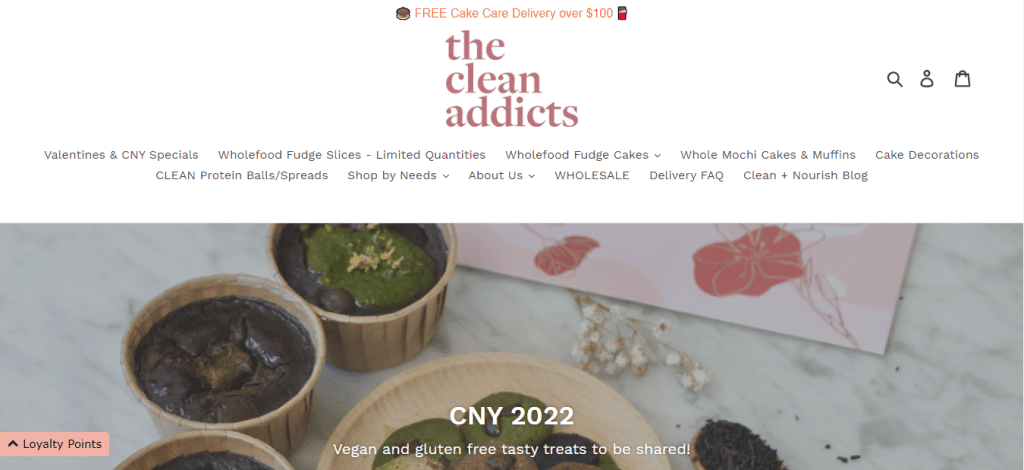 Behind The Clean Addicts is Raw Chef Andrea Lee, the ultimate Addict to clean treats! She is a certified Nutrition Coach (PN) and Raw Food Chef with certifications from leading vegan culinary schools — Matthew Kenney Culinary Academy and Sayuri Healing Foods.
She specialises in fermented foods and "cheesecakes" made with no cheese or added sugars and also loves experimenting with cake flavours as well as feeding her loved ones with healthy desserts that she whips up. Through learning, she focuses on how to help others be healthier starting from her treats and inspiring them to live better as a whole.
Through The Clean Addicts, she aims to build a happy, healthy world and environment and share her healthful treats with everyone. Head over to give it a try yourself!
9. The Cake Shop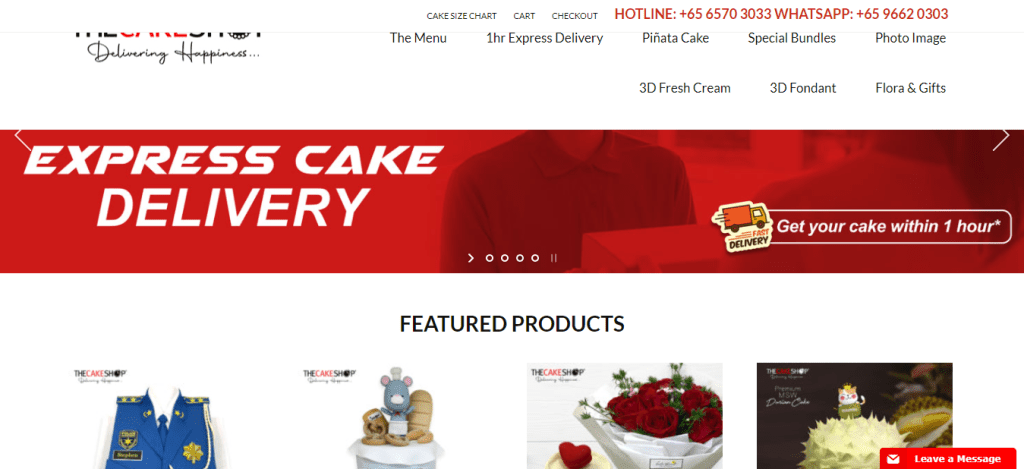 The Cake Shop was founded by a team of passionate and dedicated bakers who are committed to baking the most delicious cakes and pastries around. Using only the freshest ingredients available, you can be sure that you are served the best quality cake you can ever have.
The Cake Shop has evolved to become one of the premium distributors and wholesalers for cakes and pastries to some well-known restaurants, cafes, supermarts, hotels, and bakeries. Besides that, the online store is a leading online shop in Singapore providing cakes and gifts deliveries within Singapore, where they provide competitive prices, good after-sales services, and on-time delivery.
10. Temptations Cakes Shop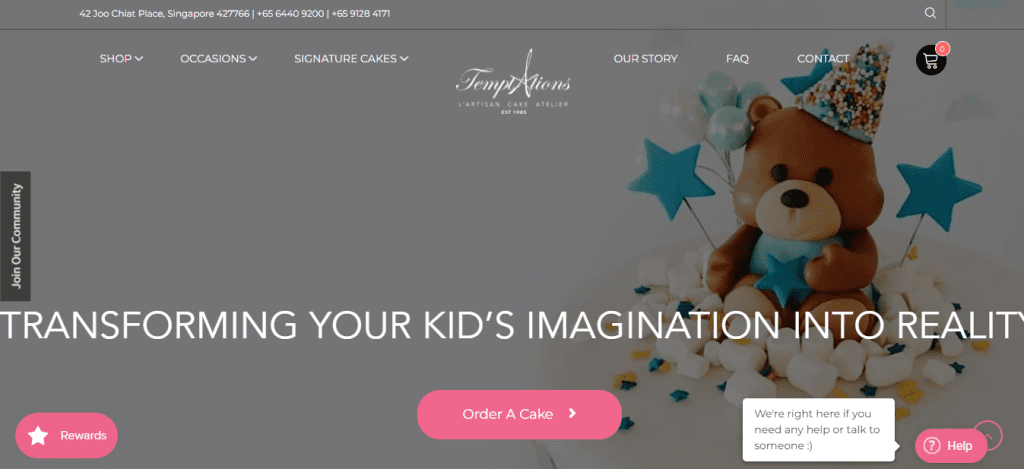 As a pioneering statement, Chef Galistan combined his signature Parisian flair with local subtleties, to bring Singaporean consumers high-quality confections at accessible prices. Temptations Cakes uniquely did this at a time that most similar products were only available at high-end hotels — out of the range of a majority of households.
Everything at Temptations is baked with love, combined with award-winning French culinary expertise. While remaining true to world-class French baking methods, their team constantly modernise and evolve their products to the latest lifestyle trends. They do not compromise on the freshness of their ingredients, and the quality of their products, so you can put your faith in their bakes.
Conclusion
We hope that our compiled list of 10 Best Eggless Cake in Singapore would benefit you and do feel free to contact us for any feedback on our articles!
Looking for more cakes to satisfy your cravings? Why not check out our compiled list of the 10 Best Durian Cake in Singapore for a unique flavour!
Featured Image by Brooke Lark on Unsplash
Explore More Content