9 Best Cooking Classes in Singapore for Beginners in Cooking [2023]
Just starting to learn how to cook? Here's 10 best cooking classes in Singapore for cooking newbies that you can try out!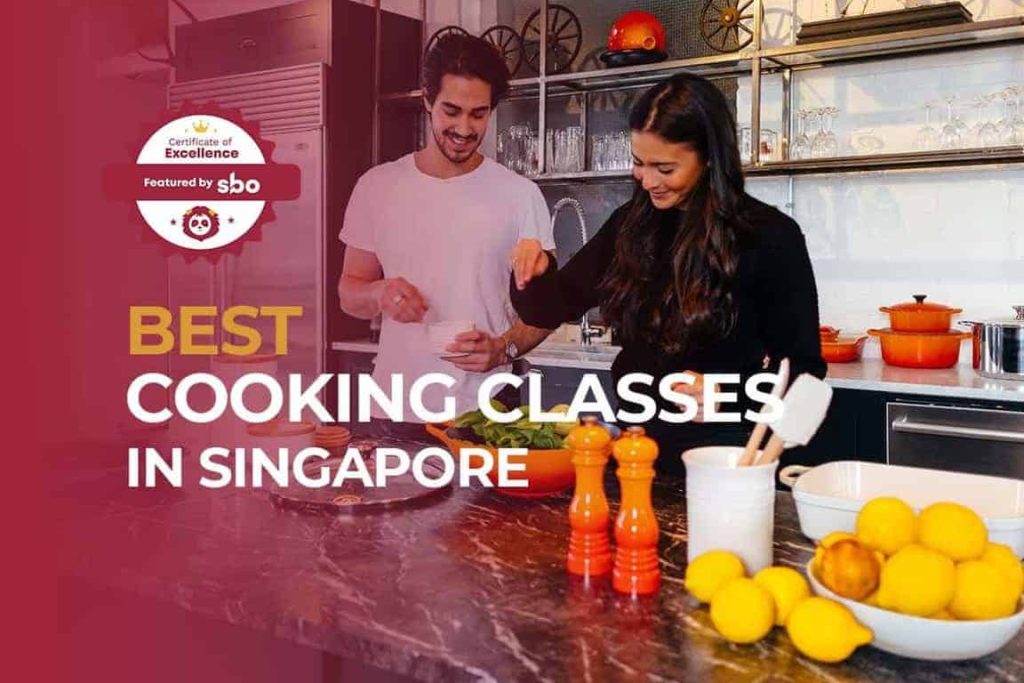 Working from home has forced many of us to either order food delivers or try to make home-cooked meals. However, we know cooking may not be everyone's forte and we end up eating the same old meals over and over again.
Missed eating that really nice Japanese cuisine? Or that fancy French cuisine? We have got you covered! From Asian, European, Middle-eastern, we have narrowed some of the 10 best cooking classes in Singapore that you can go for, even if you are a newbie at cooking!
1. Palate Sensations Culinary School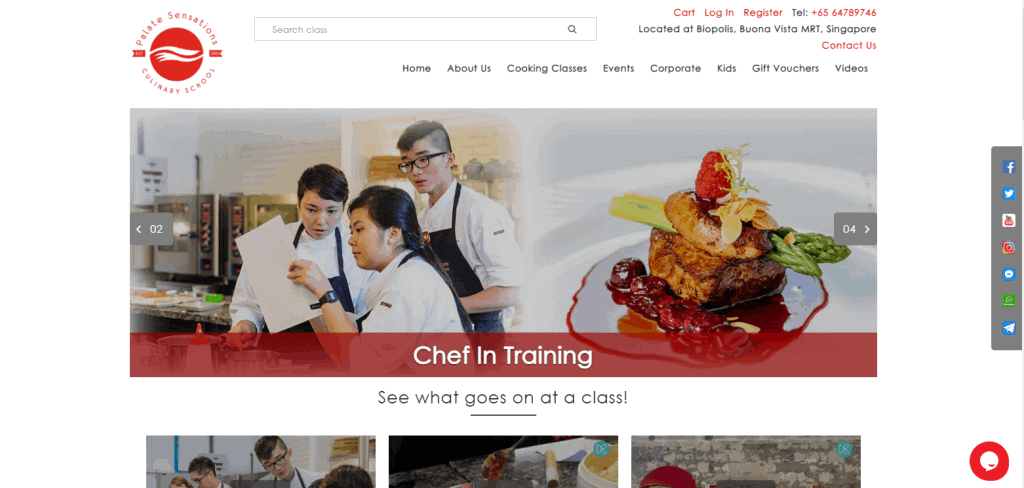 Established in 2005, Palate Sensations Culinary School has helped countless home gourmands realize their culinary dreams over the past decade. They have trained thousands of budding chefs and professional chefs, with the sole aim to bridge the gap between the home gourmand and the professional chef.
If you are looking for a fun and supportive environment to broaden your culinary horizons, Palate Sensations Culinary School will be a great place for you. All courses are taught by professional chefs. They have an open concept studio, which is outfitted with state of the art equipment, stoves and ovens by leading French brand Brandt.
2. ABC Cooking Studio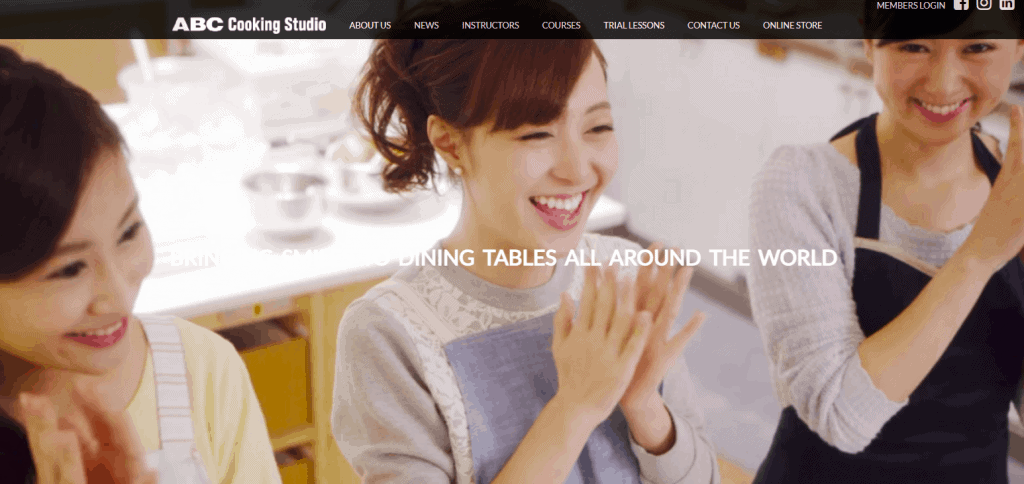 ABC Cooking Studio believes that happiness can be found using food as a medium. They aim to bring smiles to dining tables all around the world. One great thing about their classes is that the classes are done in a small group, ensuring that every single one of you gets maximum support from the instructors.
Lessons are held multiple times a day which include Bread, Cake, Cooking, Wagashi, and Kids). Trial classes start at S$35 per pax if you register online and each lesson will span over 2 hours.
3. ToTT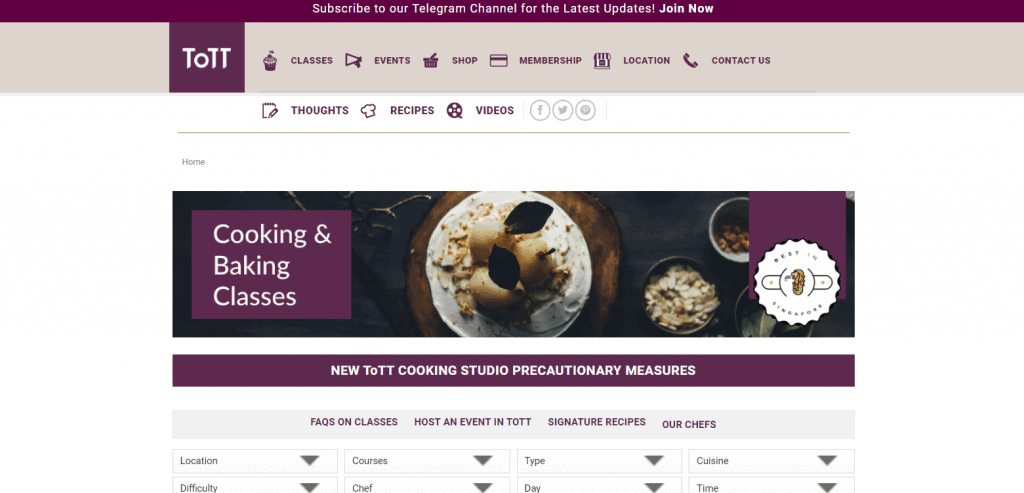 Other than selling quality and top-notch kitchenware, ToTT also has a lovely and wide range of cooking classes that you can attend. The classes are mainly split into 2 different formats – hands-on classes and demo classes.
On their website, you will be elated to see that you can filter the different classes according to different categories.
These categories can include location, difficulty level, type of cuisine and many more. Whichever class you choose to go to, you will definitely learn a ton from the expertise of the chef-in-charge of your cooking class.
4. Chantilly Culinary Studio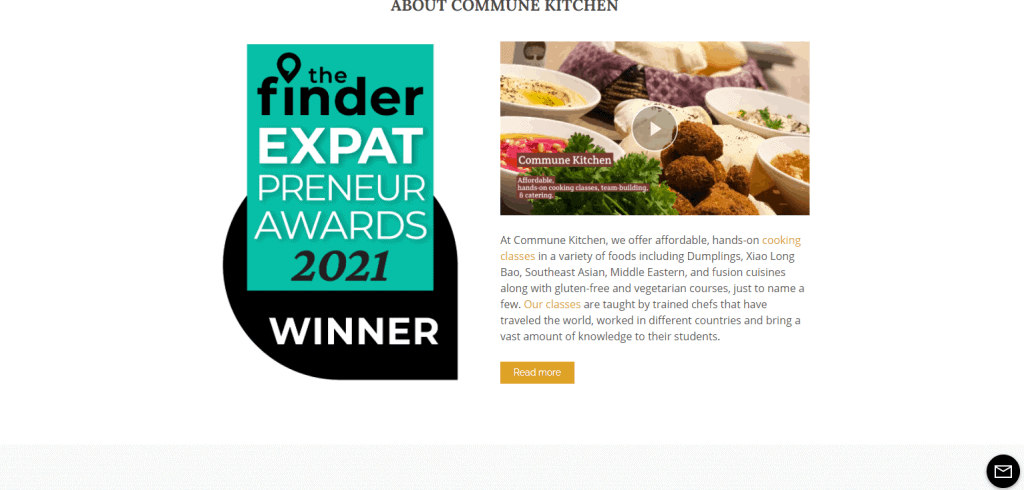 ​Next on the list of the 10 best cooking classes in Singapore is the Commune Kitchen. The Commune Kitchen prides itself on offering affordable and highly hands-on cooking classes, and are taught by trained chefs that have travelled the world, worked in different countries and bring a vast amount of knowledge to their students​.
Their cooking classes come in a variety of foods including Dumplings, Xiao Long Bao, Southeast Asian, Middle Eastern, and fusion cuisines along with gluten-free and vegetarian courses, and many more. They will also provide recommendations of where you can go to find the different ingredients all over Singapore.
5. Hungry Mummies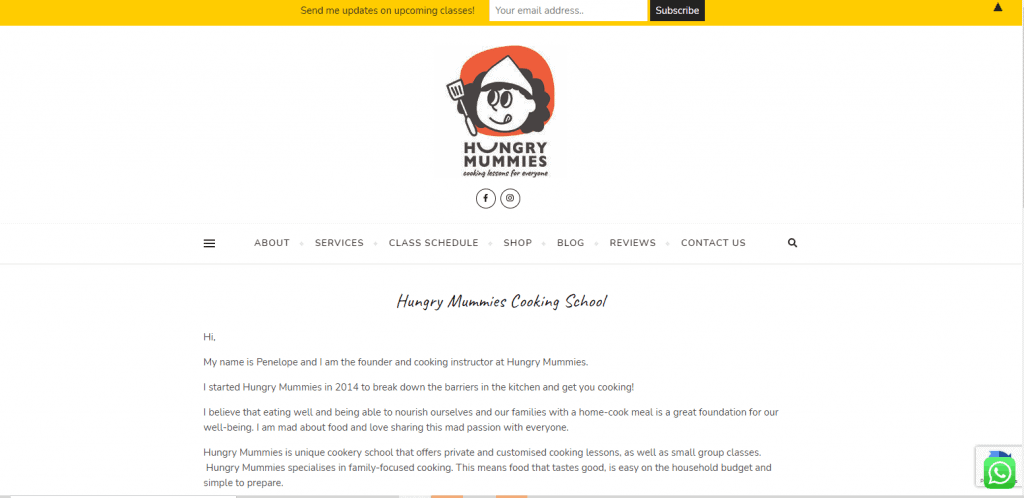 Founded in 2014 by Penelope, Hungry Mummies is started to break down the barriers in the kitchen and get mummies to start cooking. Penelope strongly believes that eating well with a home-cook meal is a great foundation for us and our loved ones' well-being. As such, Hungry Mummies focus on helping individuals to cook family-focused, budget-friendly cooking.
A unique selling point of Hungry Mummies is that it also offers private and customized cooking lessons for Helpers. This course aims to provide quality training for new helpers to adapt to the family's cooking style, learn their favourite recipes, and ensure quality and nutritious meals.
6. Brettschneider's Baking & Cooking School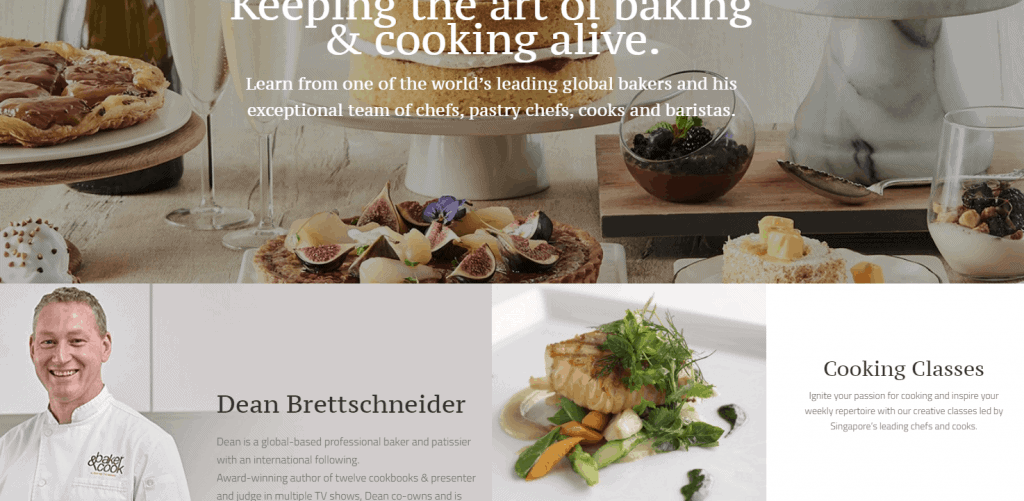 Founded and Co-owned by Dean Brettschneider, he is a global-based professional baker and patissier with an international following. Dean is also an award-winning author of twelve cookbooks & presenter and judge in multiple TV shows
You can get to learn from one of the world's leading global bakers and his exceptional team of chefs, pastry chefs, cooks and baristas. With their team of highly experienced and qualified teachers, you will be able to discover the simple science behind baking beautiful loaves of bread, pastries, cakes and tarts.
Get to choose from day classes, evening classes, weekend sessions and 2-day masterclasses.
7. Grá Baking Academy
With the mission to educate and inspire people to bake at home, Gra' Baking Academy creates fun, practical and easy-to-learn courses to make you a better baker.
The key focus of their baking lessons is to help you replicate what you make in each baking class in your kitchen at home. To help you better, Gra Academy offers both faces to face and online baking and decorating classes in Singapore, and has both group and private sessions. They also have a wide selection of video and workbook classes that you can purchase and refer to immediately.
8. Food Playground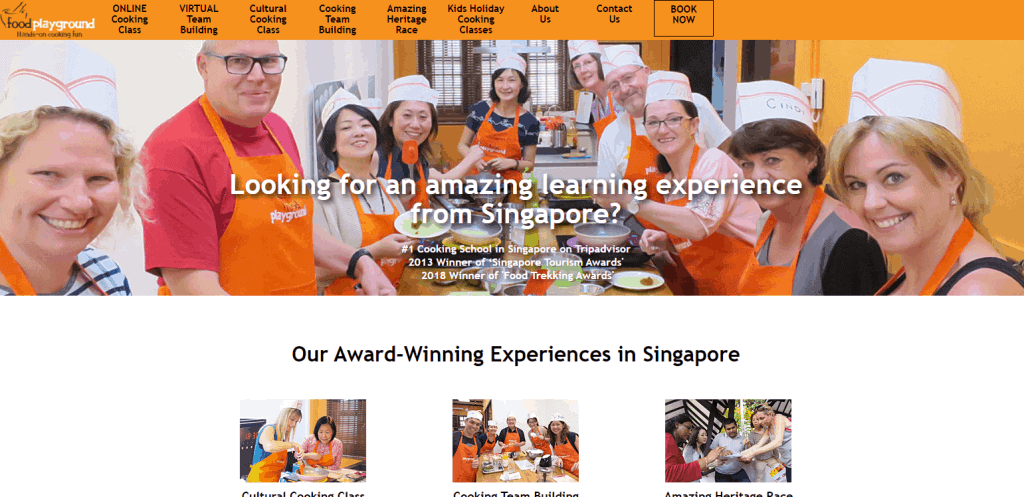 Consistently ranked among the top cooking classes/Workshops in Singapore on Tripadvisor, Food Playground provides fully hands-on cooking classes that are both online and in-person. Food Playground's unique selling point lies in its fun cultural cooking classes and corporate team building workshops.
Their signature Cultural Cooking Class offers a cultural immersion experience for travellers and expatriates to learn more about Singapore's food culture and heritage. Their customized team-building programs help organizations bond better and build team spirit.
9. JusBaking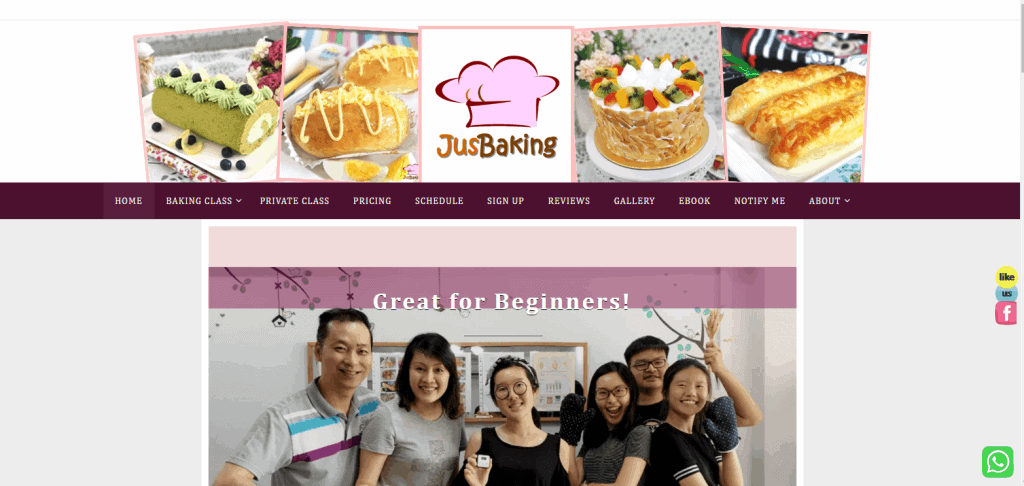 Founded by Justina Wang, JusBaking's cooking classes are perfect for baking newbies so you can start without any prior experience or bring your kids down to let them experience the joy of baking.
Two of Justina Wang's recipes were featured in The Straits Times article on February 9, 2014. So, if you are looking for news-worthy baking receipts, JusBaking is the right place for you!
Conclusion
Do you have any reviews and comments to share regarding our choices for the best cooking classes in Singapore for beginners in cooking?
While SBO is committed to supporting our local businesses, we welcome any feedback and anonymous sharing regarding your experience with the listed outdoor furniture in Singapore.
We hope that this guide will be useful in helping you to make an informed decision when it comes to finding the best cooking classes in Singapore.
Featured Image by Jason Briscoe on Unsplash
Explore More Content