10 Best French Lessons in Singapore to Learn French [2023]
Bonjour.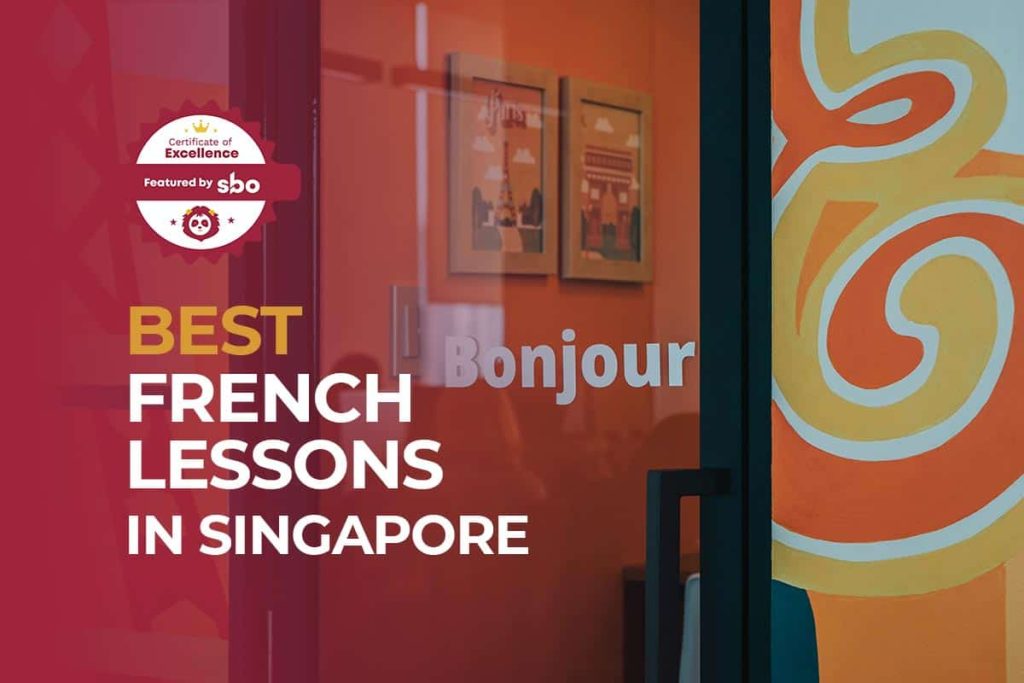 Café, silhouette and avant-garde. We bet you didn't know that many English words in our everyday vocabulary originate from French — 30% of words in fact.
Although English is a Germanic language, it shares a lot of vocabulary with French — a Romance language.
This is what makes French easy to pick up for English speakers.
Looking for French lessons in Singapore? In this post, we've gathered all the necessary details to compile a list of the 10 best French lessons in Singapore.
1. Alliance Française de Singapour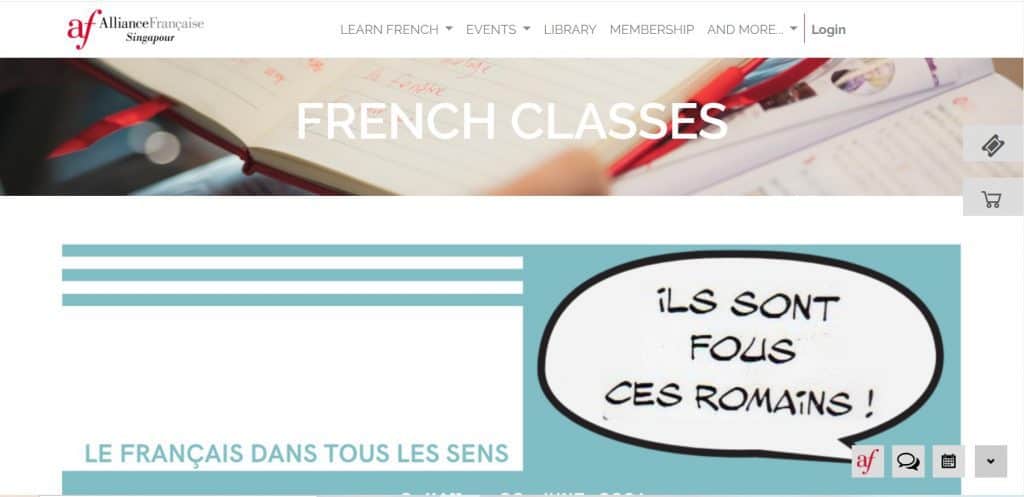 Alliance Française de Singapour has been offering French classes for more than 70 years and has developed professional expertise in teaching French in Singapore.
Their teachers are highly qualified native French speakers who hold French as a Foreign Language degree.
They also go through training to update their knowledge and teaching practices.
Their classrooms are equipped with interactive boards leveraging state-of-the-art technology to make learning both fun and efficient.
All group classes at the French lesson in Singapore consist of eight-weeks terms and are held every two months throughout the year. Classes cost S$390 for eight weeks.
2. French Toast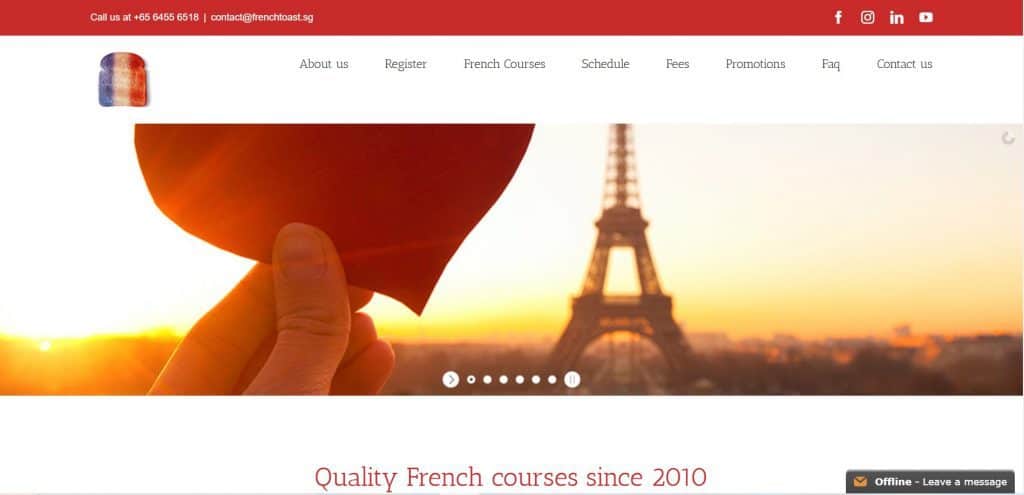 Officially launched on 1st June 2010, French Toast is fast proving to be a huge success.
Starting off with a handful of students seeking private (one-to-one) lessons, French Toast has seen its customer base expanding to over 300 students spread across 20 different classes by the fourth term with about 100 more private students as well as companies and international schools.
Currently, the French lesson in Singapore has about 50 different classes opened catering to over 600 students.
Their services include group classes for adults and children, private tuition for all ages, playgroups for your little ones, corporate group and private courses, French-in-lieu (registered with MOE) children courses, exam preparation classes.
Amongst the language school's prestigious clients include Singapore Airlines, Louis Vuitton, Ubisoft, Tanglin Trust, German School and Canadian School.
3. French Studio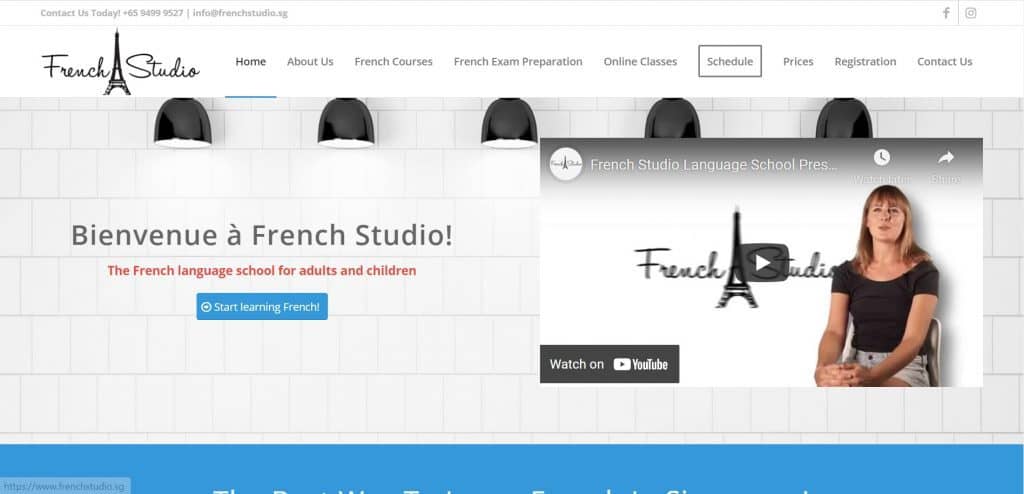 Since 2011, French Studio has provided interactive French language courses for adults and children.
By joining them you'll discover French-speaking cultures, meet international, like-minded students while having fun learning French.
Their high standards of teaching have been recognised by the Ministry of Education (MOE) and they are MOE registered.
The French lesson in Singapore is taught by native French teachers who have graduated from French universities and they are qualified to teach French as a foreign language and as a native language.
Their French Group Courses are designed for students who want to focus mainly on developing their French conversation skills, in an interactive setting, while their Private Tuition Courses are specifically tailored for each student.
They run programs from beginner level to advanced and are also able to assist with exam preparation, Francais Langue Maternelle and French in lieu of Mother Tongue.
4. French Language Academy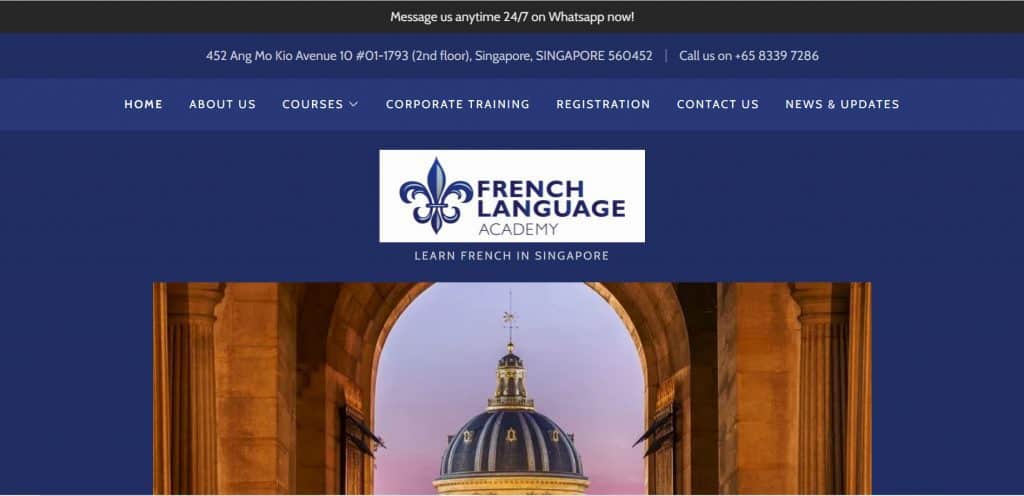 French Language Academy is a French language school for non native and native speakers.
With a team of expert French teachers, they provide various types of lessons: French private tuition and French group classes for children, adolescents and adults, from basic to advanced levels, for general and professional learning.
The French lesson in Singapore exclusively offers French private tuition and small-sized French group classes so that you learn French and benefit from both strong interaction and individualised attention from your French teacher.
Their French classes in Singapore are available 7 days a week, from 9:00am to 9:00pm.
You will benefit from the French language school's convenient location in Singapore: it's an 8-minute walk away from the nearest MRT station (Ang Mo Kio) and there's a bus stop with many bus lines next to the school!
5. Lingo Language School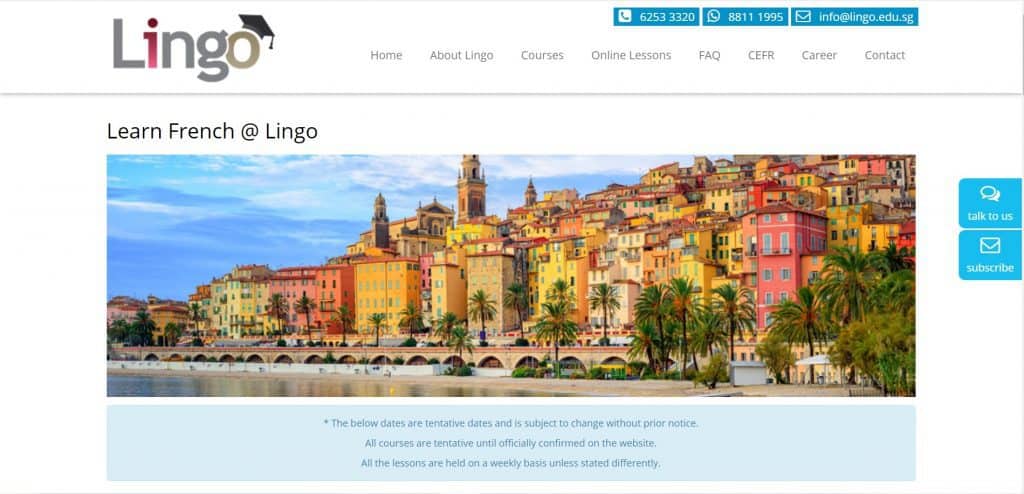 Lingo Language School, which specialises in foreign language instruction, is situated minutes away from Bugis MRT.
Their well-structured language program is designed for non-speakers or students with little knowledge of French.
Their teachers are native speakers of the French language and have been specially selected to provide the most memorable teaching experience for you.
6. French Faster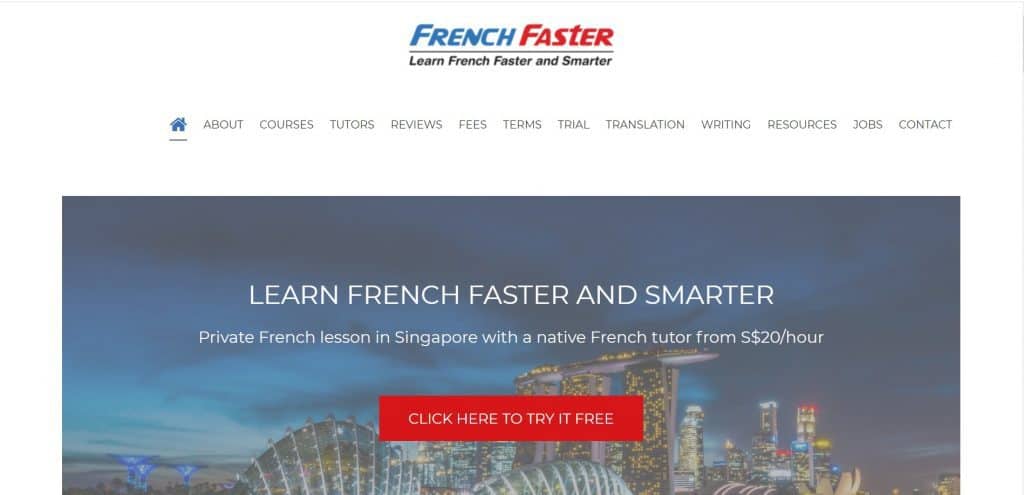 Want to take a French lesson in Singapore 24 hours a day, 7 days a week? There's no better French lesson in Singapore than French Faster. This is because their lessons are conducted via Skype.
They are the perfect choice if you have time constraints or simply want to enjoy the convenience of home tutoring.
You can take their French lessons in the morning, afternoon, evening or at night. They have an Accelerated Learning Method.
Their virtual lessons cost S$20/hour.
You can expect consistent and responsive communication from them.
They try to return calls immediately and they respond to all emails and enquiries quickly.
7. Berlitz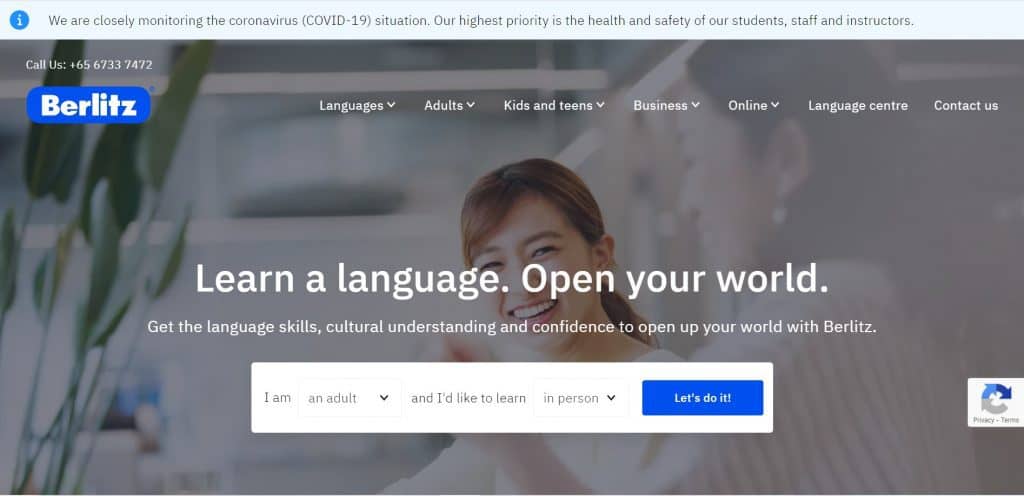 Learn French online, with a live instructor, anytime, anywhere, with Berlitz.
Online language classes incorporate live instruction from native speaking instructors.
The French lesson in Singapore also offer a self-paced learning alternative that you can access 24/7 with bite sized learning activities.
Combining language learning and cultural understanding, they provide the closest experience you can get to actually living and working in a new country.
8. Speak Francais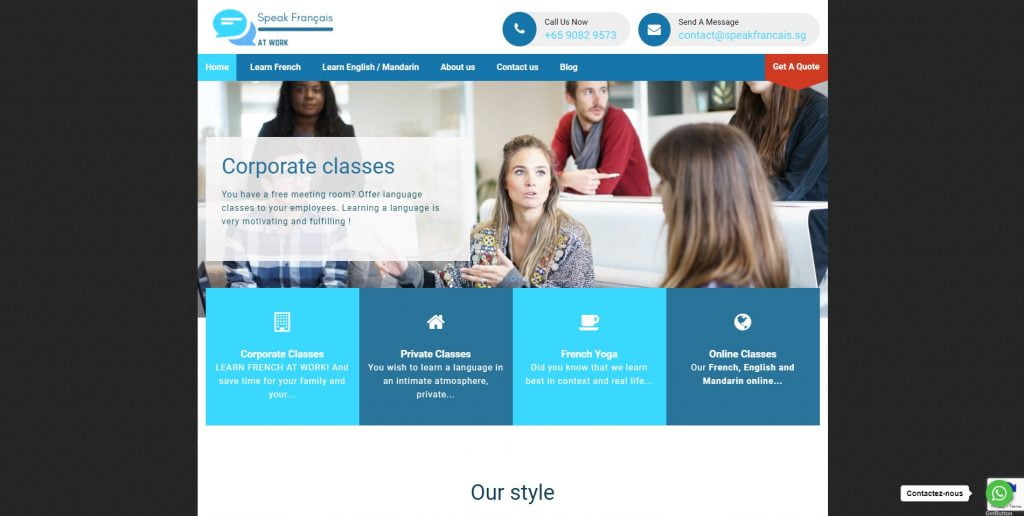 Founded in 2017, Speak Francais was initially intended for French training to individuals, corporate learners and expatriate families but has since expanded to teach English and Mandarin Chinese.
Their teachers have experience in a corporate and teaching environment.
The centre follows a proven academic language methodology but promises a friendly and supportive atmosphere.
Their lessons are customised to suit your needs, conducting them at your workplace, home or online.
They adapt their teaching pace and the curriculum to your learning objectives.
9. inlingua School of Languages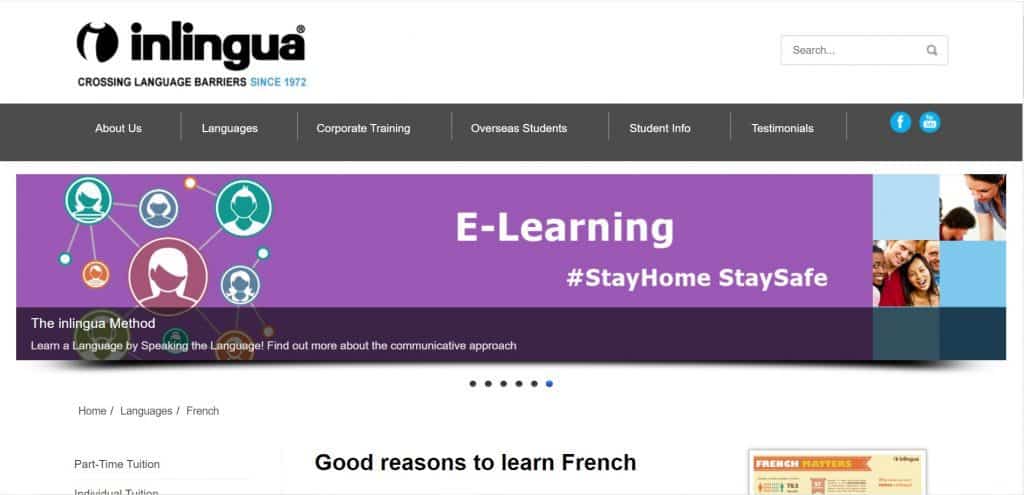 At inlingua, you can learn French at a French lesson in Singapore naturally, with realistic speaking activities and practical expressions you can use (almost) immediately. 
Their teachers are all trained native speakers, and they will use the best interactive techniques and technology to help you speak French from the very first lesson. 
Situated along Orchard Road in the heart of Singapore's shopping district, inlingua is convenient to visit.
The school is fitted with comfortable classrooms, a listening area, corporate training space, tennis court and a barbeque area.
10. LanguaTalk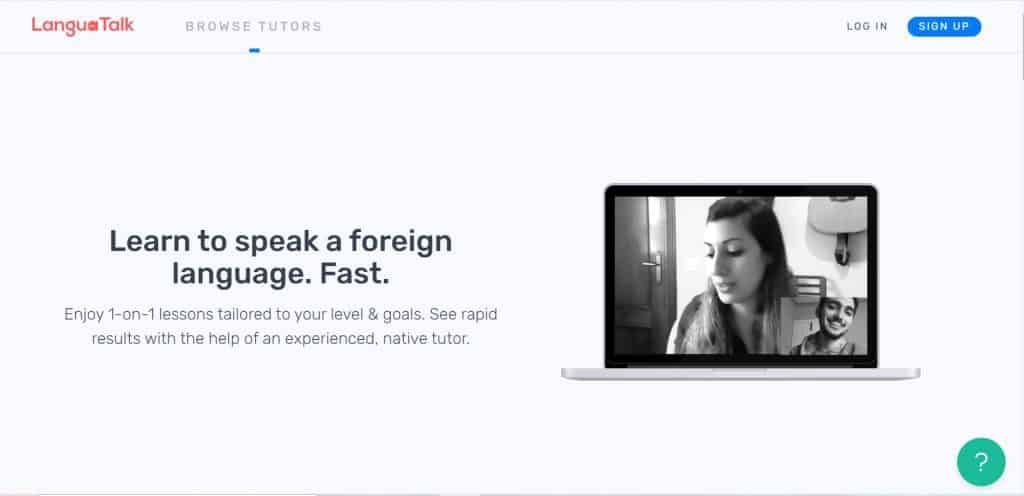 LanguaTalk was established to help people learn languages effectively online.
They do this by finding talented native tutors and connecting them with students.
Lessons are taught 1-on-1 to maximise the speed of learning and enable the tutor to adapt to your needs.
You can learn from anywhere that has an internet connection.
To ensure high standards of teaching, only around 10% of tutor applications are accepted.
Tutors set their own rates, so you can find one that fits your budget.
Conclusion
Do you have any reviews and comments to share regarding our choices for the best French lessons in Singapore?
While SBO is committed to supporting our local businesses, we welcome any feedback and anonymous sharing regarding your experience with the listed French lesson in Singapore.
We hope that this guide will be useful in helping you to make an informed decision when it comes to finding the best French lesson in Singapore.
Featured Image by Faisal Waheed on Unsplash
Explore More Content