10 Best Dance Class in Singapore To Get Your Groove On [2023]
Think you got two left feet? These 10 best dance class in Singapore will show you otherwise.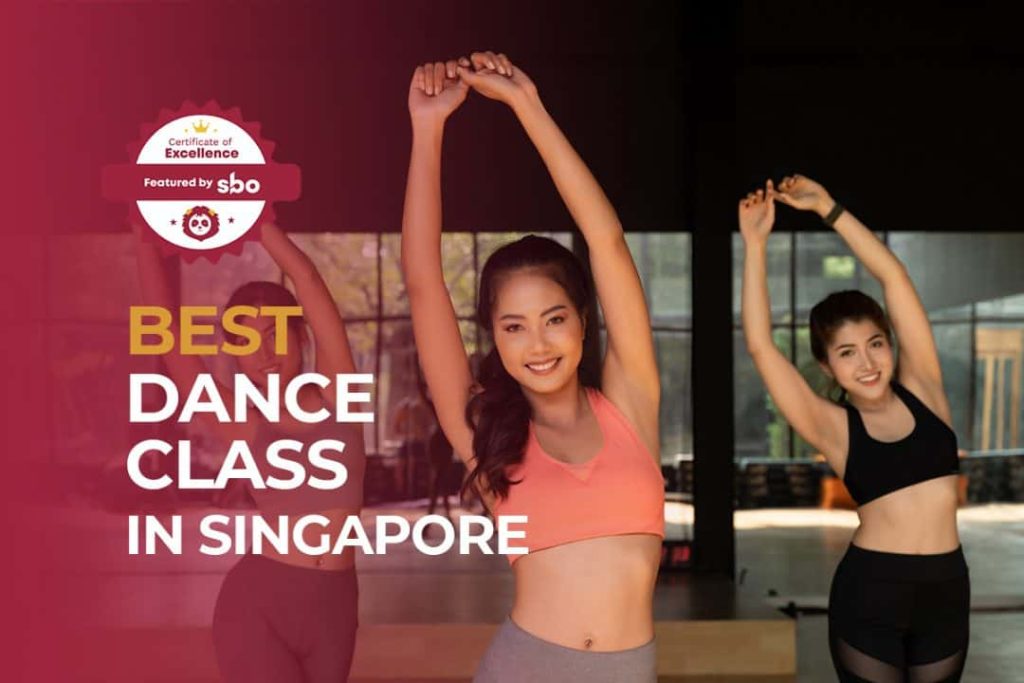 Dancing is a beautiful and natural art form that allows us to express ourselves when words fail to do the job.
There's just something so captivating about watching someone who can bust some serious moves, and if dancing is something that you've always wanted to check off your to-do list? Well, you've come to the right place!
These 10 best dance class in Singapore are suitable for all levels, and we've got everything from Salsa, Hip Hop, K-Pop Covers and Pole Dancing to have you master some sick moves for any dancefloor!
Reminder: before commencing any high intensity activities, you should assess your current physical condition and limits, ensured you have sufficiently adequate rest and hydration, as well as put on suitably appropriate footwear (some affordable recommendations here).
1. Legacy Dance Co.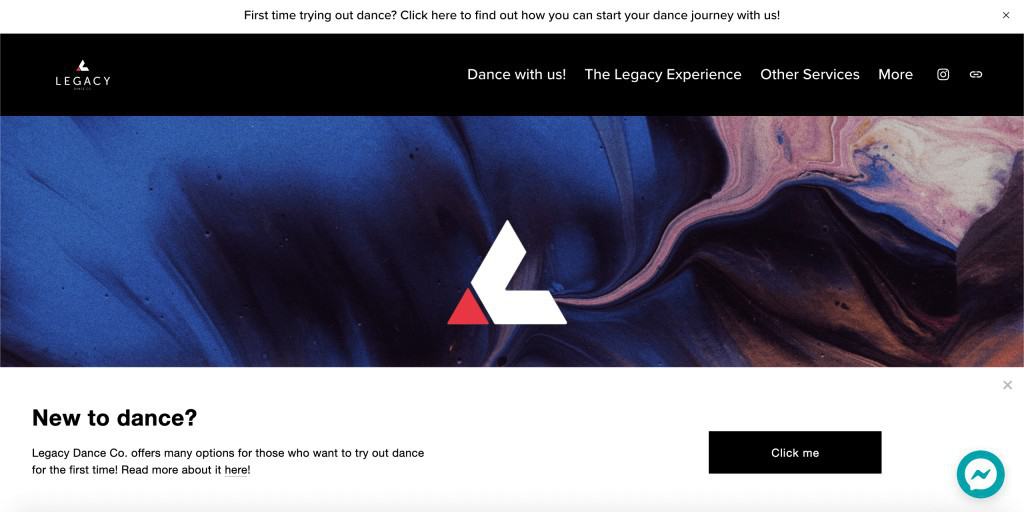 Legacy Dance Co. is Singapore's premier street dance education school that believe that anyone can learn to dance.
Youths who are looking to kickstart or restart their dance journey are recommended to join The Legacy Experience (TLE), a programme that runs for 3–6 months per term and comprises of weekly and project trainings.
If you aren't fully ready to commit, they also offer the TLE tasters that consist of the TLE tryouts and TLE trials where you can get a glimpse into how the programme will be like.
The school has had more than 1000 dancers enrolled in the programme and many have since gone on to join their dance crew or become instructors.
Alternatively, you can also join their open classes that include a variety of genres including Hip Hop, Street Jazz, Girls Style, Locking, Popping and Choreography.
Reviews talk about the approachable and accommodating instructors as well as the positive environment to grow and train in. The classes are also well-paced.
2. STEP Studio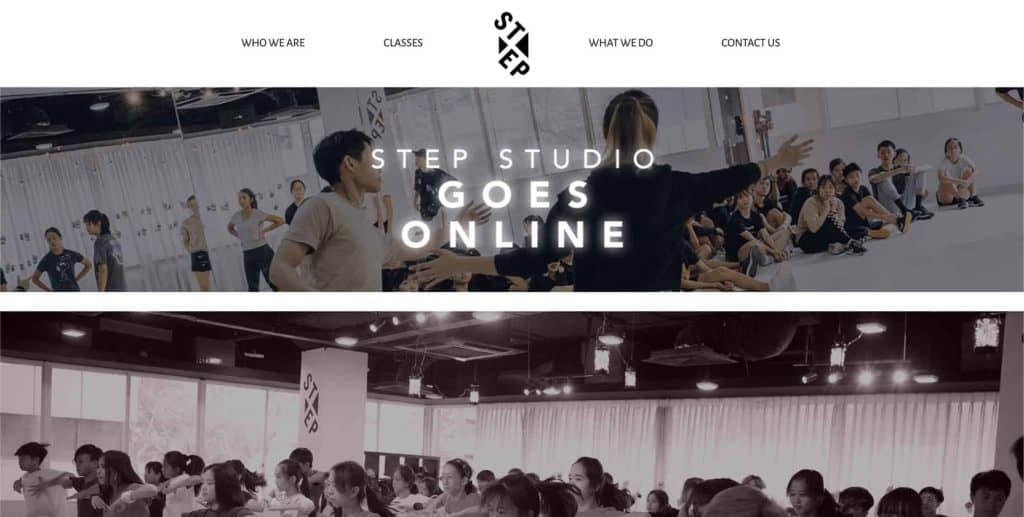 Founded in 2014, the founders of STEP Studio, Step and Deo aims to provide a safe space for dancers to develop their passion whilst expanding the art form in the community.
The studio has seen over 2,500 dancers over the years, many of whom have started their dance journey with STEP.
Offering classes from Hip Hop, K-Pop, Contemporary and Street Jazz across all levels, students can choose to either join their walk-in dance classes, dance courses or training programmes depending on their level of experience and goals.
Classes start from the Intro Level where you will be taught a simple and short choreography routine. You will then eventually progress to slightly longer and more complex routines to help you improve your techniques and stamina. Each course consists of 8 progressive lessons conducted over 8 weeks.
Reviews from past students talk about the great experience learning dance at STEP and friendly instructors that make this place ideal for even absolute beginners.
3. Breathe Dance Company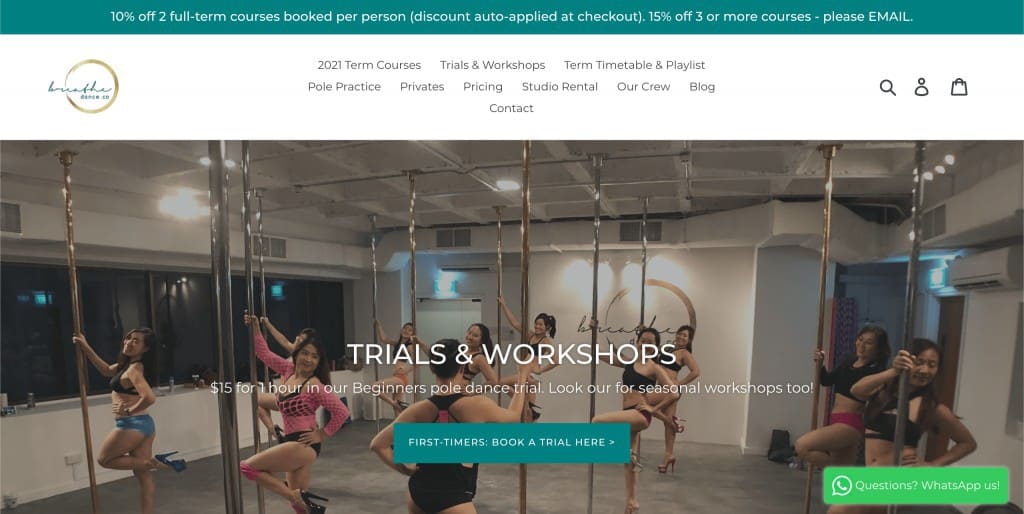 Breathe Dance Co. is a pole studio offering pole dance courses, ballet and flexibility courses for adults.
The classes start from level one and go all the way to intermediate and advanced levels where you will learn how to perform aerial tricks and leg hand combinations.
A full term runs for 8 weeks and you can choose from a variety of classes such as Lyrical, Pole Techniques, Contemporary and Spinning.
The Beginners Pole Dance Course ($200) are for those who are completely new to pole and teaches you how to complete some basic upright pole tricks and spin combinations.
Reviews talk about the warm and supportive instructors and their personable approach to teaching. Students also like how the studio comes up with new choreographies every term so that things are kept fun and fresh every time!
4. En Motion Dance School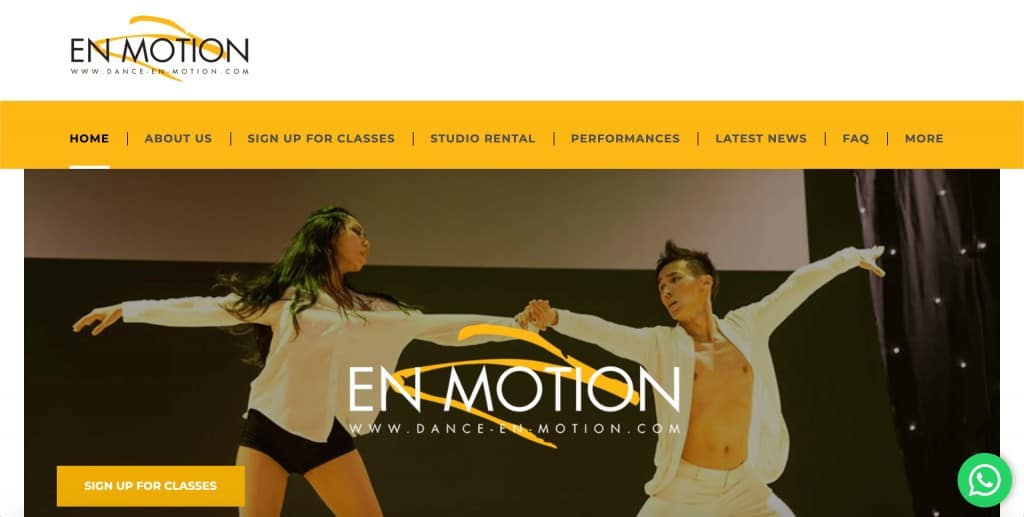 En Motion Dance School is Singapore's largest Street Latin dance school in Singapore that firmly believes in teaching and dancing for the passion of the art form.
The founder and director of En Motion Dance School, Gary Foo, is widely known as the pioneer instructor for Bachata in Asia and has largely contributed to Singapore's Street Latin Dance scene today.
Delve into the work of Salsa, Bachata, Mambo and Afro with the help of award-winning instructors that are professionally trained and well-versed in a variety of dance genres. Each class runs for about 1 and a half hours and focuses on strong fundamentals.
They also offer open classes for those who have attended their dance courses and wish to learn new techniques and skills and refine their moves while having fun. For $20, you can enjoy a trial of both Salsa and Bachata dance classes.
Reviews talk about the inclusive environment that is conducive to learn in regardless of your experience and the professional and friendly teachers. Some students have even been with En Motion for over 15 years!
5. Caliente Dance Studio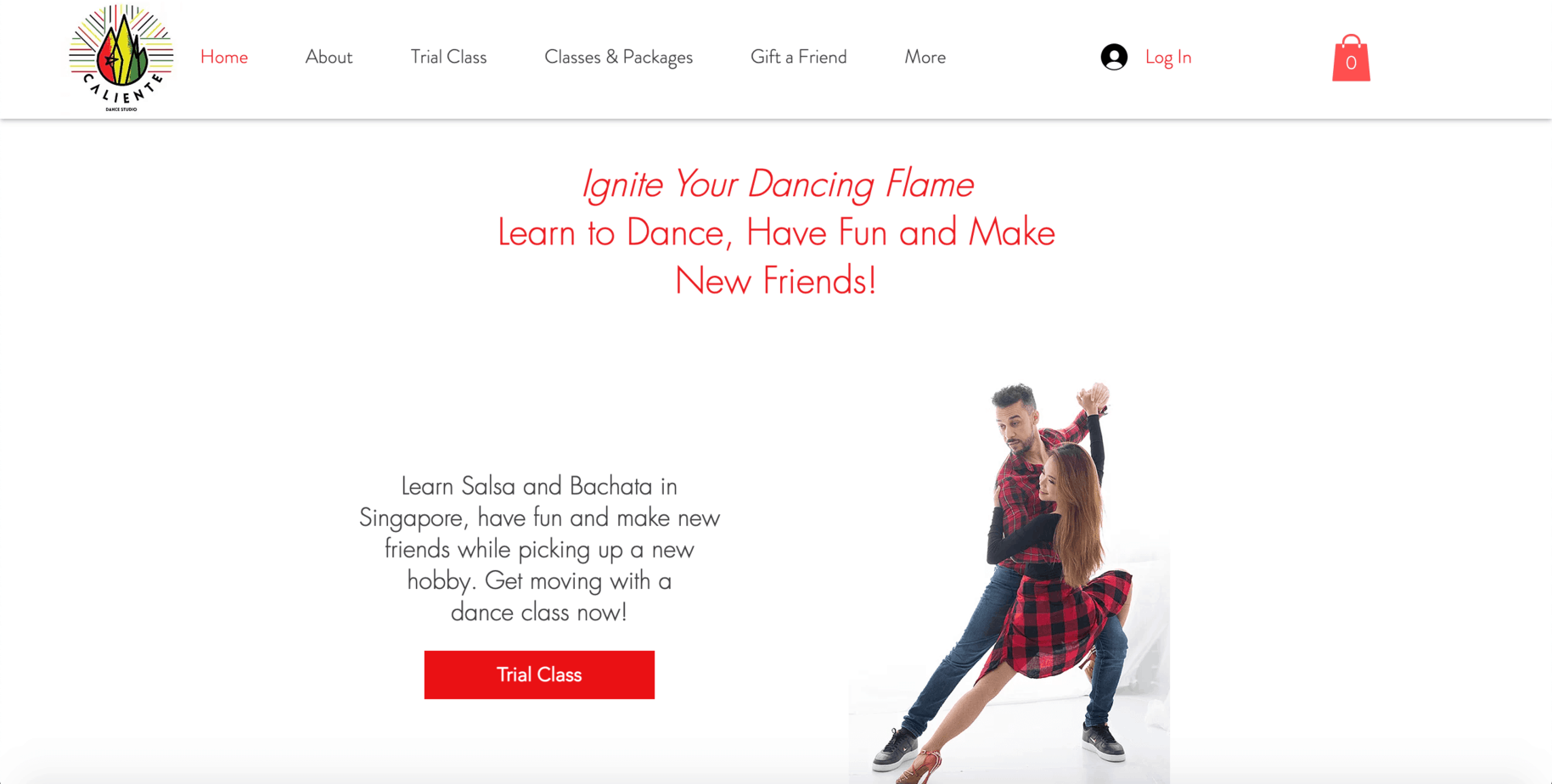 Caliente Dance Studio is a school that teaches Salsa and Bachata (both solo and partner) and Kizomba while encouraging you to have fun and make new friends!
The teachers follow a progressive dance syllabus and techniques to suit students of all levels and are designed to help improve your fitness levels, mind-body connection, self-confidence and help you become an outstanding social dancer and performer.
Reviews talk about the friendly and cheerful teachers that are well-established in the community, and fully attest that lessons are engaging and beginner-friendly!
6. JJ Dance Movement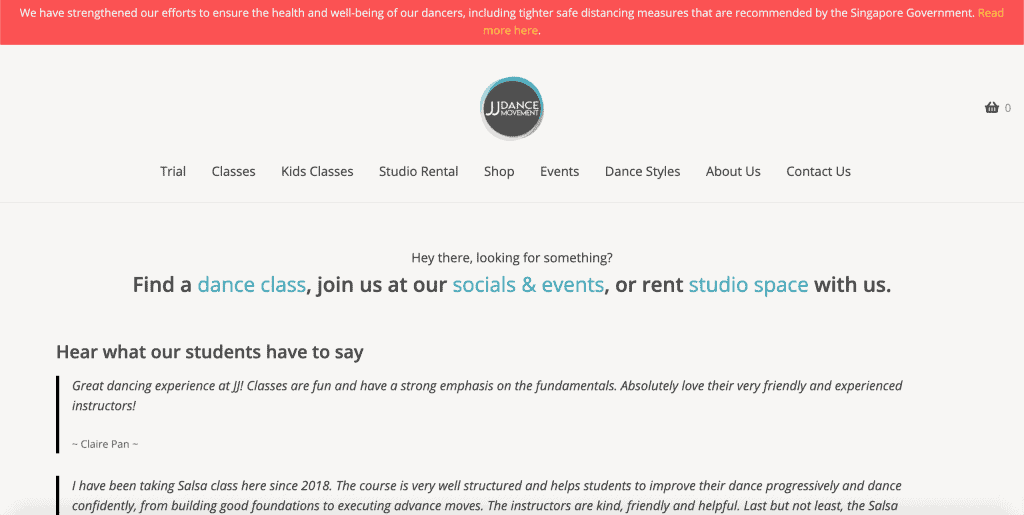 JJ Dance Movement is one of the most established dance schools in Singapore teaching Salsa and Bachata.
All their beginner classes are structured with a focus on strong fundamentals while their intermediate to advanced lessons are designed to help students acquire and develop various techniques. A trial class costs $10.
Reviews talk about the friendly atmopshere and passionate teachers that are inspring to watch and learn from. Students also like the structure of the lessons and centralized location.
7. Recognize! Studios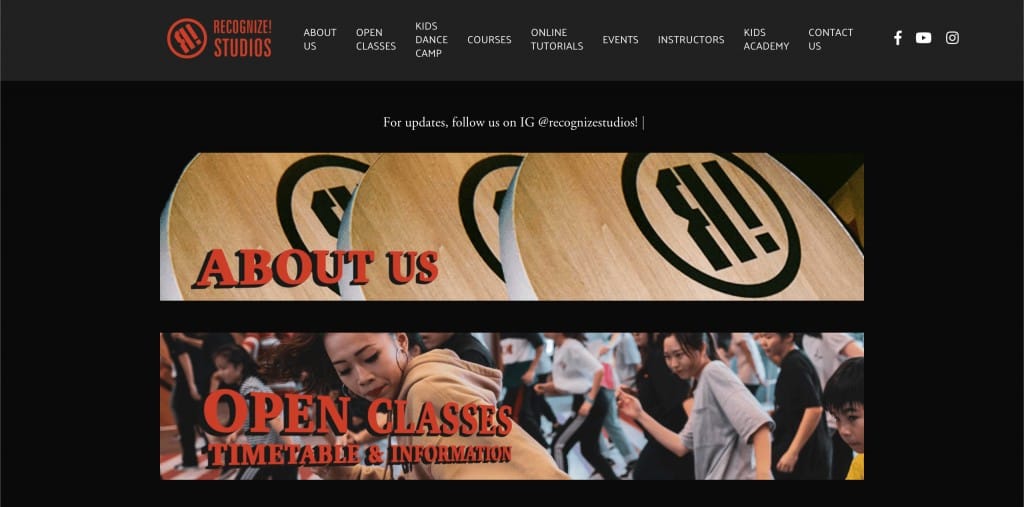 Recognize! Studios is not just a dance studio but a creative platform and urban art consultancy offering quality education for a plethora of dance styles.
The "!" exclamation mark symbolizes their aim to leave an impact in all that they do, and the team is made of a collective of local and international dance instructors that are reputable and well-respected for their expertise.
Their classes range from open classes, dance courses and kids holiday dance camps covering a variety of dance styles like Girls Style, Hip Hop, Popping, Waacking, Street Jazz and Choreography.
Classes can easily be booked via Mindbody. Getting a 1-year membership costs you $55 (+2 free classes) where you can then enjoy discounted rates for all their classes.
Reviews talk about the professionalism of the instructors and the amazing vibes of the studio, making it a great place to not only learn dance but also have tons of fun!
8. PXD Pole Studio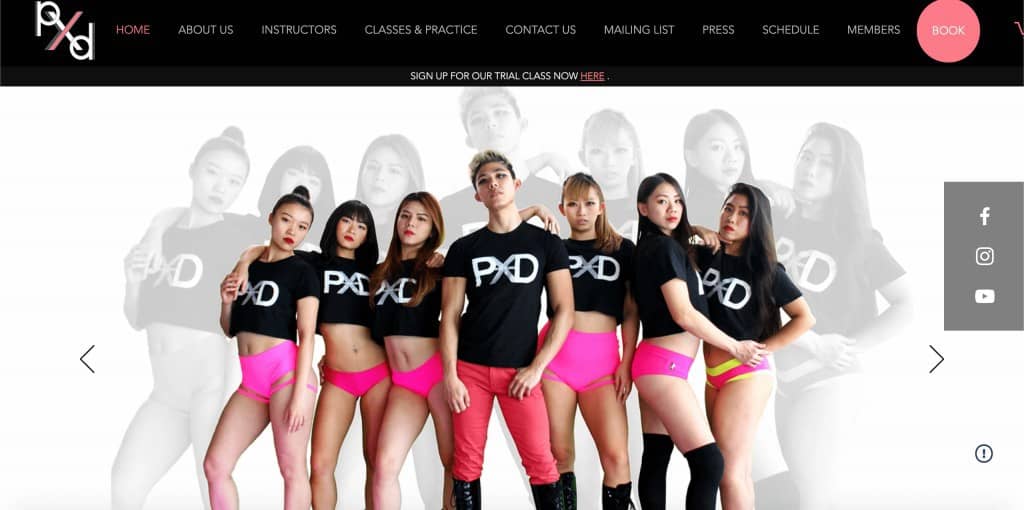 PXD Pole Studio is a dance school made up of a group of passionate pole dancers who believes in mixing fun with fitness.
Keeping things fun, passionate and versatile, let the studio challenge you both physically and creatively as you master the art of
The schools follow the Mythic Syllabus spanning across 8 different levels where you will be learning a series of tricks. They also offer enrichment classes that are designed to expand your pole vocabulary and support you in developing your own choreography.
The team is also expecting a new studio opening at Cecil Street so you can expect even more classes available in time to come!
Reviews talk about the welcoming environment and systematic and well-thought-out syllabus. Students like that the classes also emphasise on strength and conditioning so as to lower the risk of injuries.
9. Distinct Creative Arts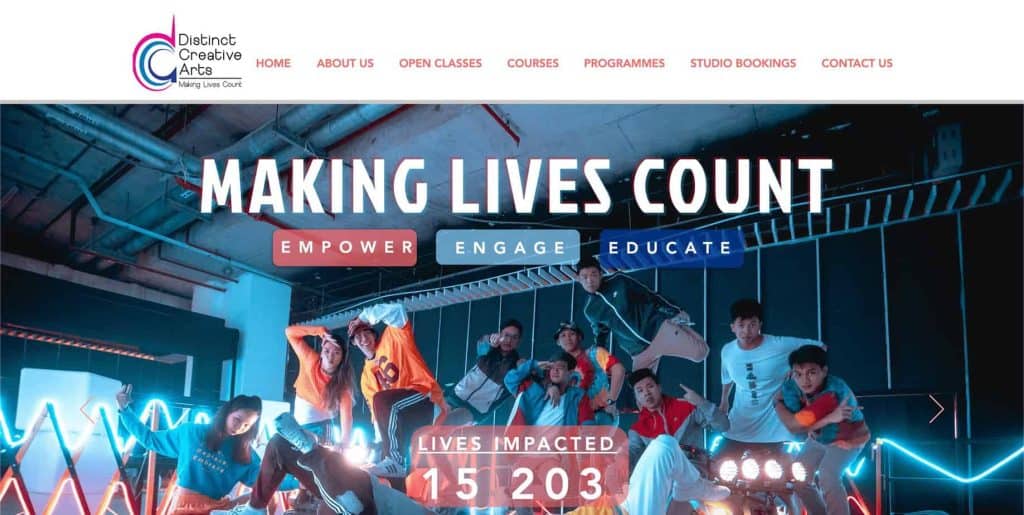 Distinct Creative Arts is a social enterprise that uses dance as a tool to educate, engage and empower youths, many of whom are marginalized or at-risk individuals.
Having impacted over 15,000 lives, they believing in prioritizing character development while also providing a safe space for students to learn dance.
While the majority of their classes are for youths, they also have beginner dance courses and open classes for adults.
Reviews talk about the lovely studio space and enjoyable lessons that feature great song choices and choreography.
10. Bellydance Extraordinaire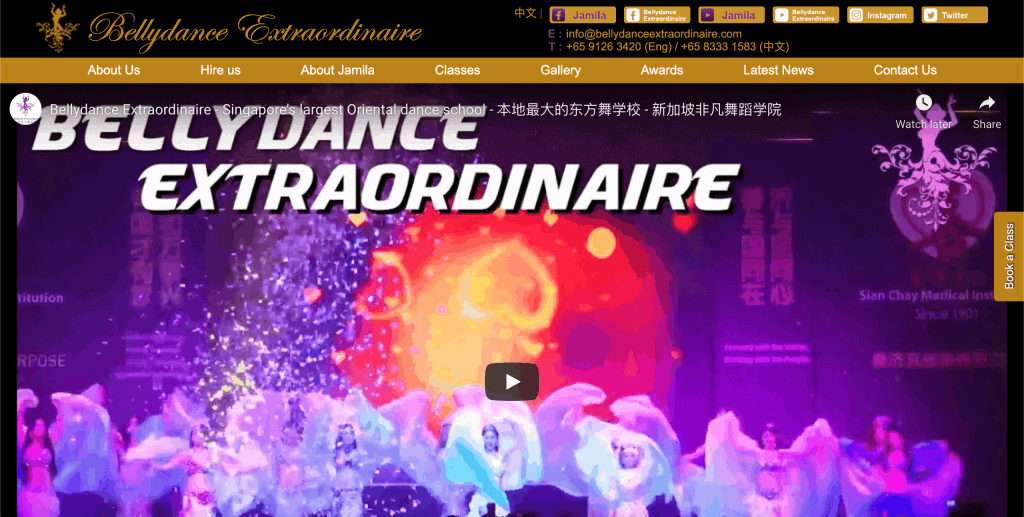 Bellydance Extraordinaire was founded by Jamila, a World Belly Dance Champion that has won numerous awards and performed at countless of festivals and events worldwide.
Currently the largest professional Oriental Dance school in Singapore, Bellydance Extraordinaire offers both adult and children dance classes ranging from authentic Bellydance, Burlesque, Chinese Dance and Hip Hop.
The school features the BellyTechnique Program that is easy-to-follow and covers the best of both techniques and choreography to help you learn the essence of bellydancing in no time.
Reviews talk about Jamila as a patient and caring teacher who is genuinely interested in supporting your dance journey. She is also a huge inspiration for many of her students.
Conclusion
Do you have any reviews and comments to share regarding our choices for the best dance class in Singapore?
While SBO is committed to supporting our local businesses, we welcome any feedback and anonymous sharing regarding your experience with the listed dance class in Singapore.
We hope that this guide will be useful in helping you to make an informed decision when it comes to finding the best dance class in Singapore.
Explore More Content