10 Best Violin Lessons in Singapore to Learn How to Play the Violin [2023]
These violin lessons in Singapore are not willing to play second fiddle.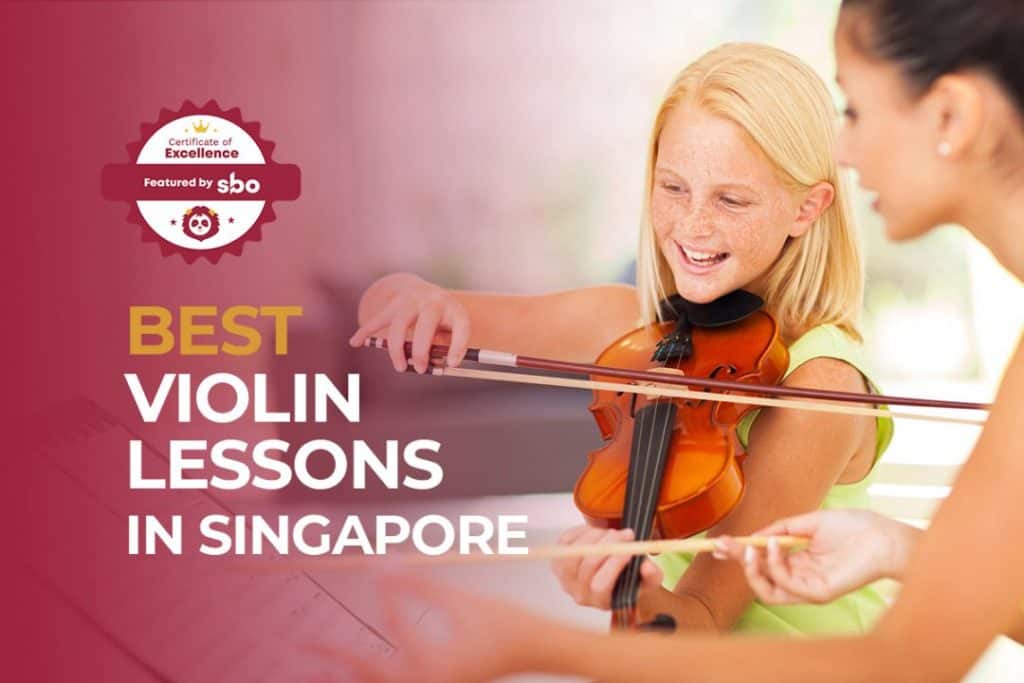 The violin has a long history.
Although the exact year the instrument was created is not known, the design of the modern violin goes back over 500 years.
Its popularity in the 1500s and 1600s led to the rise of the famous schools of violin-making in Cremona.
You might have heard of famous violin makers such as Stradivari and Guarneri.
But playing the violin is tough. Like, really tough.
In fact, learning how to play the violin is an acquired taste due to the inordinate amount of time and effort you have to put into practice.
Nevertheless, there are a slew of benefits to playing the violin. These include:
Improved memory and attention span
Sensory cognitive development
Excellent social skills and inclusion
Improved mental function and health
Looking for a violin lesson in Singapore? In this post, we've gathered all the necessary details to compile a list of the 10 best violin lessons in Singapore.
1. LVL Music Academy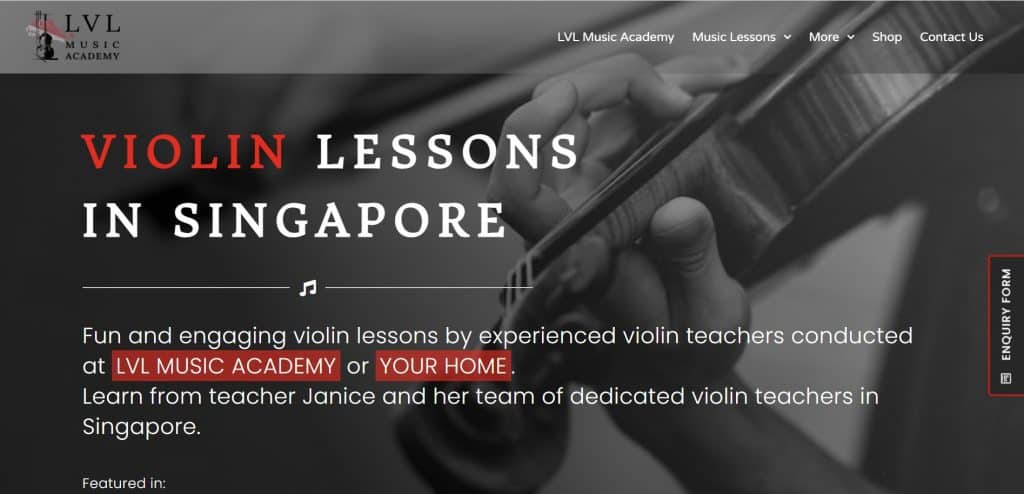 LVL Music Academy comprises a team of music teachers based in Singapore.
Janice, who is the co-founder of LVL Music Academy, is also a violin teacher.
She and her husband came up with the idea of gathering her best musician friends to work together.
With her lengthy experience in this industry, Janice will be the best person to assign a suitable violin teacher for you according to the student's needs.
All music teachers under LVL Music Academy have obtained ABRSM grade 8 & above.
The Singaporean music teachers are carefully screened by Janice herself to make sure that all teachers would give the best music education to each student.
Besides a violin lesson in Singapore, they also sell and provide rental options for high-quality musical instruments.
These include the violin, cello and digital piano.
2. Aureus Academy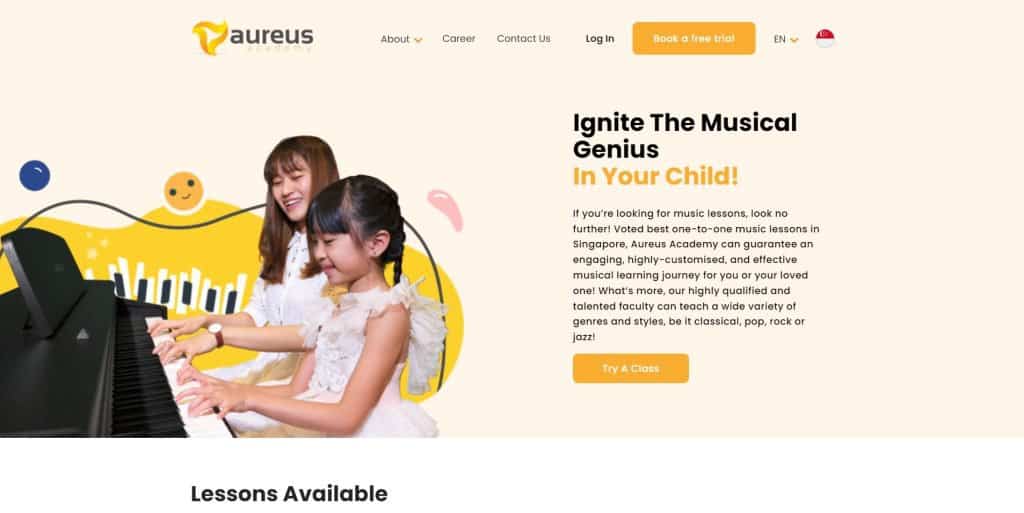 Voted best for one-to-one music lessons by Parents World, Aureus Academy works with students of all ages and ability.
Whether you are just starting out on the violin or playing a Vivaldi Violin Concerto, their teachers can help refine your bowing techniques, intonation, and phrasing.
Students can choose if they want to go for well-known methods or play for leisure during the violin lesson in Singapore.
Your child is not just attending violin lessons at Aureus Academy.
They are trained to think, express themselves, and cultivate their musical talents through engaging lessons.
There are performing opportunities for students to showcase their talents.
Testimonials on their website credit the violin lesson in Singapore for sparking their children's love for music, as well as the teachers' patience and deep knowledge.
3. The Happy Violinist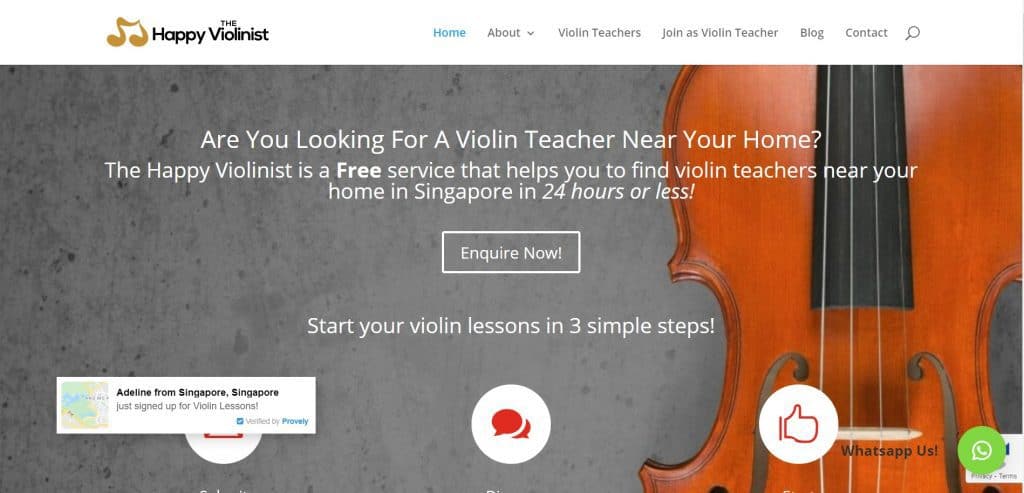 The Happy Violinist is a free service that helps you to find violin teachers near your home in Singapore in 24 hours or less!
They will understand your needs, and match you with a suitable violin teacher who best fits your learning style and needs.
Over at The Happy Violinist, they have worked with violin teachers who are not only qualified and experienced, but also have a passion to teach and inspire their students to play the violin better.
Their freelance violin teachers can provide one-to-one private violin lessons, graded or pop violin lessons for kids and adults.
4. Mandeville Conservatory of Music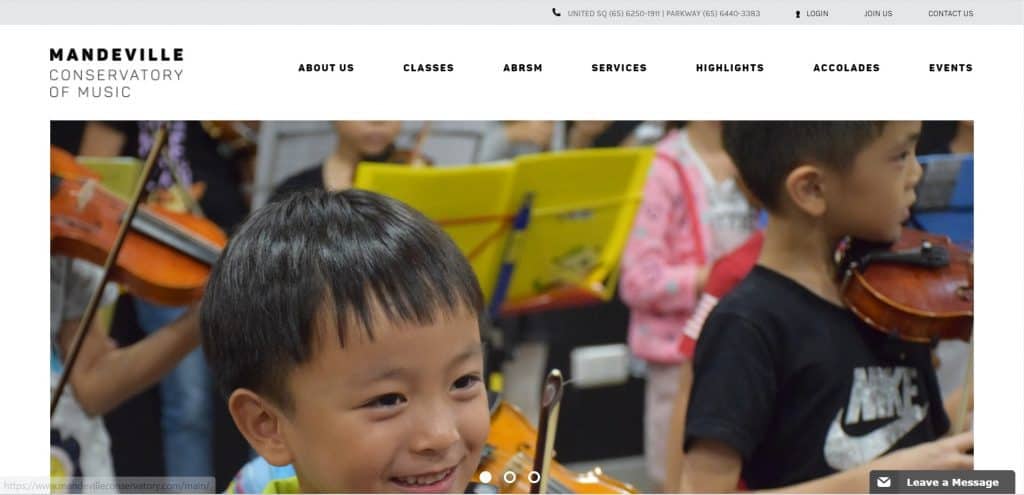 Mandeville Conservatory of Music was founded by two former Singapore Symphony Orchestra musicians.
For over 20 years, they offer a conducive environment that helps beginners to adult learners develop passion and confidence in their learning.
The centre takes pride in their teaching, ensuring that each violin lesson in Singapore is tailored to your needs.
As highly qualified educationalists, their team of teachers believe in nurturing their students and bringing the best out of each individual.
Hence, lessons are specially designed for each and every learner.
Once you have had a few sessions, they will create a practice schedule for you to follow.
This schedule will include the number of hours you should practise at home in order to reach the objectives that you have set for yourself.
Additionally, as you become more advanced, they can also include you in group performing sessions.
These group sessions will allow you to interact and learn from like-minded individuals.
5. Yamaha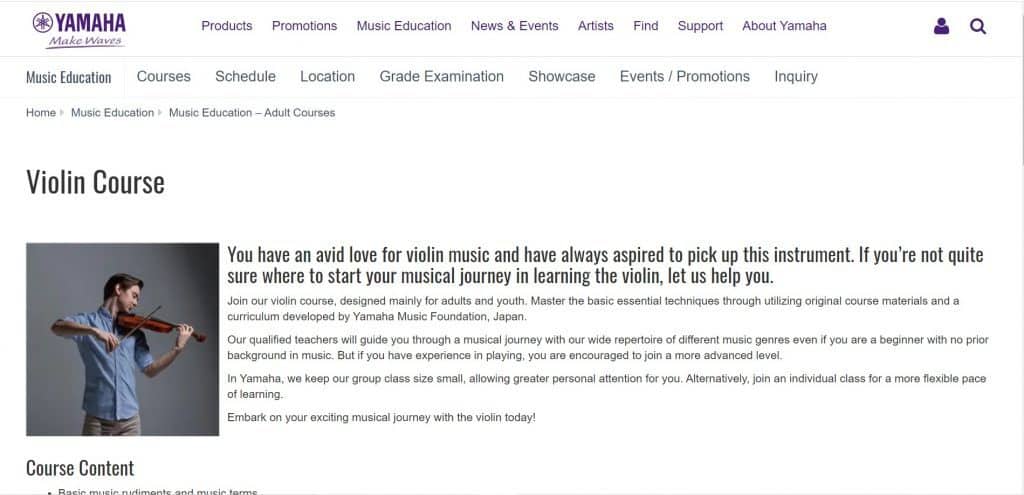 Yamaha's violin course is designed mainly for adults and youth.
Master the basic essential techniques through a curriculum developed by Yamaha Music Foundation.
The violin lesson in Singapore covers the following content:
Basic music rudiments and music terms
Proper techniques and posture
Instrument maintenance
Progressive exercises for technical development
Coverage of works from classical to modern periods
Group lessons are 1 hour long, while individual lessons are 45 minutes long.
6. CRISTOFORI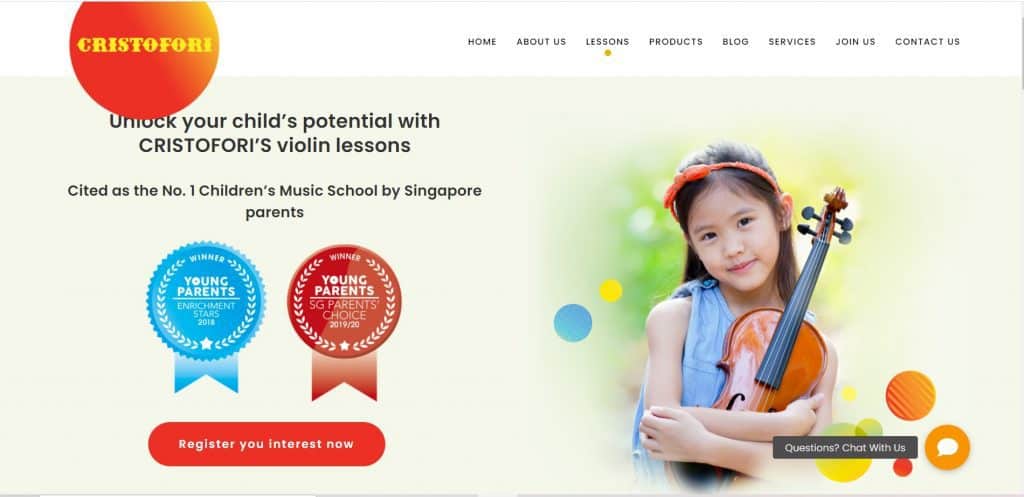 Cited as the No. 1 Children's Music Course by Singapore parents, CRISTOFORI is the go-to violin lesson in Singapore to unlock your child's musical potential.
After completing the fundamental violin course, their students have the opportunity to take part in ensemble lessons.
Here, they will get the chance to learn the art of playing in a string ensemble and how to interact with their musical peers.
The violin lesson in Singapore is known for its meticulously curated repertoire and curriculum.
They do this by incorporating the best and most exciting repertoire for their students, including lively original tunes, easy duets & classical pieces.
The best part of it all: with as many as 38 music schools across Singapore, students can learn at a CRISTOFORI Music School near their home.
7. Stradivari Strings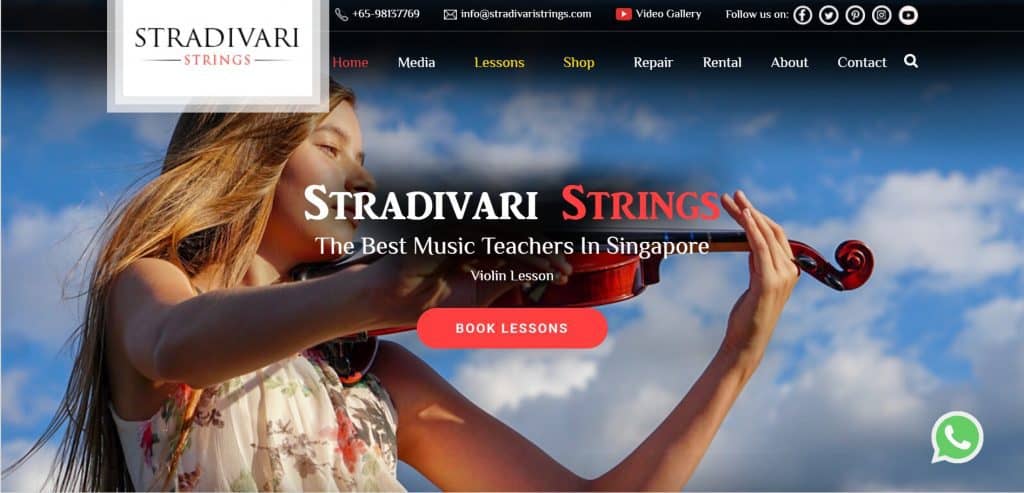 Stradivari Strings has a good reputation as a music school in Singapore which specializes in top quality music education.
Established in 2010, Stradivari Strings addresses the need for excellent music education and quality music instruments.
They follow a set of strict criteria in selecting and appointing teachers at their music school in Singapore.
All their teachers have qualifications from either ABRSM (Associated Board of the Royal Schools of Music), Trinity Guildhall, LCM (London College of Music).
Some of their best teachers even have professional music degrees acquired from prestigious music conservatories around the world.
During their violin lesson in Singapore, you can expect the teacher to work on mind-mapping the student different bowing patterns during the initial months of lessons.
Mind-mapping entails having the student repetitively practice certain bowing pattern and techniques until this becomes natural and easy for the student.
They will pace you through the ABRSM Grade one scales and arpeggio.
These comprise the D major one octave scale, G major one octave scale, E minor one octave scale, C major two octave scale over four different bowing patterns.
8. Wolfgang Violin Studio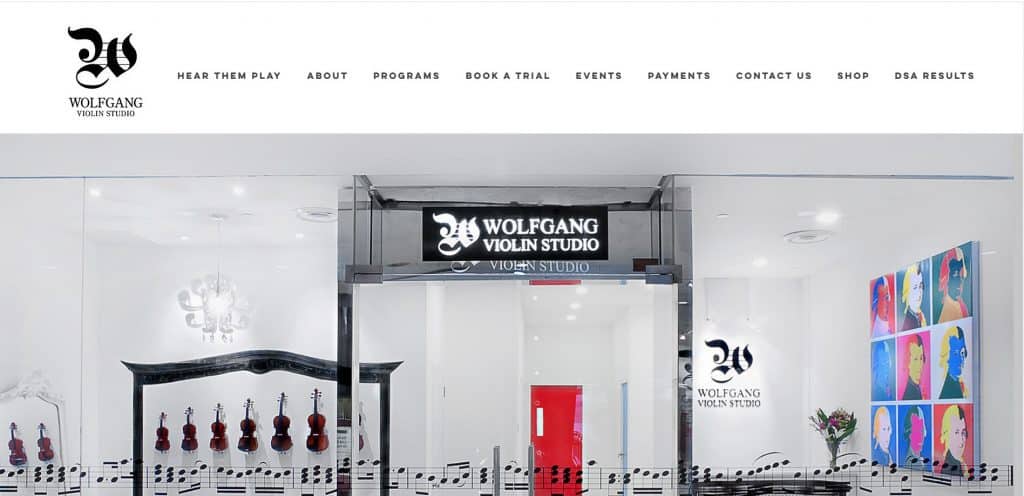 Wolfgang Violin Studio is Singapore's premier boutique music academy that offers violin lessons for everyone from the tender age of 3 and beyond.
Led by Program Director and internationally acclaimed violinist Min Lee, the classes at the studio tap on her lengthy experiences as a performer.
Lessons are also brought to life with the rich stories of celebrated mentors Erick Friedman and Ruggiero Ricci.
Focused on building technique and musicality, the lessons at Wolfgang Violin Studio are formulated to firm foundations from young, while keeping classes fun.
Since its conception, the academy has expanded to three schools in Singapore – The Centrepoint, UE Square and Tembeling Centre, each designed with a musical flair.
9. Ossia Music School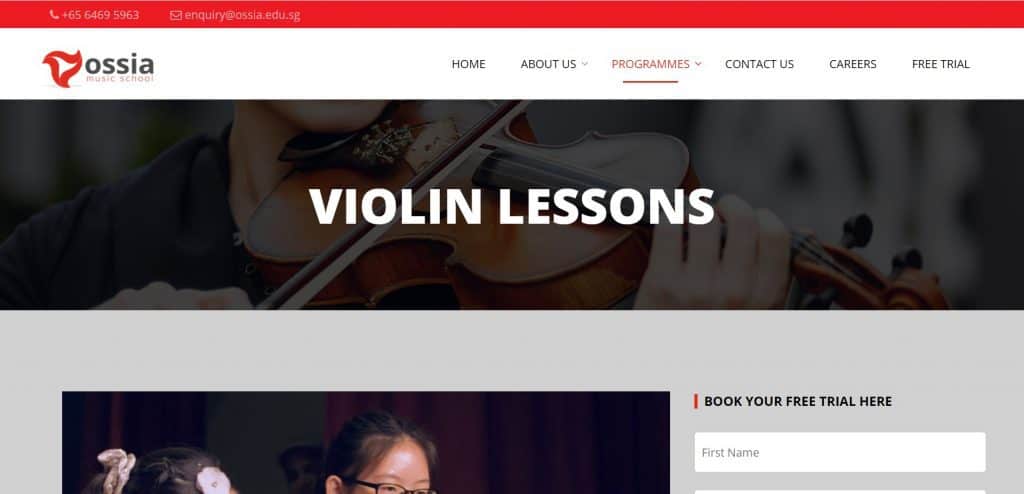 Established in 1983, Ossia Music School has a track record in helping students pass violin exams.
Just as importantly, they inculcate the love for music in their students.
All violin lessons are individual lessons, with 30 minutes, 45 minutes and 60 minutes lessons available.
You will be able to explore different genres including classical, pop, and jazz and there are ABRSM graded examinations available.
Their centres are also located in the heartlands, so that they are easily accessible and rental costs are cheaper, enabling them to pass on the savings to students.
10. Elaine Khong Violin Studio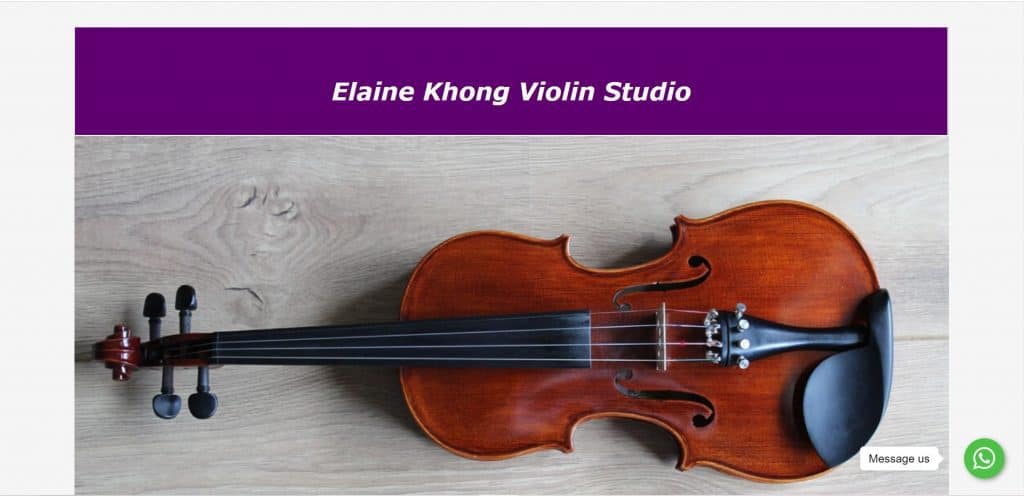 Ms Elaine Khong is a dedicated and nurturing private violin teacher based in Singapore.
Since 2008, she has been sharing her love of violin playing and extensive experience with students from all walks of life – and across all ages.
Ms Khong is also a Registered Ministry of Education Instructor under the Arts and Music (AMIS) Scheme.
Ms Khong's diverse teaching experiences with all ages and a wide range of both local and international students is her strength.
This diversity allows her to better understand and cater to the individual needs of each student.
She will customise teaching materials and pedagogies based on the strengths and areas for improvements of each student and help you reach your musical goals.
She is well-versed with both the ABRSM and Trinity syllabus as well as the examination board's marking.
She is also able to coach her students up to ABRSM Grade 5 Theory to fulfil the requirement for higher grade ABRSM practical exams.
Conclusion
Do you have any reviews and comments to share regarding our choices for the best violin lessons in Singapore?
While SBO is committed to supporting our local businesses, we welcome any feedback and anonymous sharing regarding your experience with the listed violin lessons in Singapore.
We hope that this guide will be useful in helping you to make an informed decision when it comes to finding the best violin lessons in Singapore.
Explore More Content