9 Best Guitar Lessons in Singapore to Learn How to Play the Guitar [2023]
Time to plug and play at a guitar lesson in Singapore.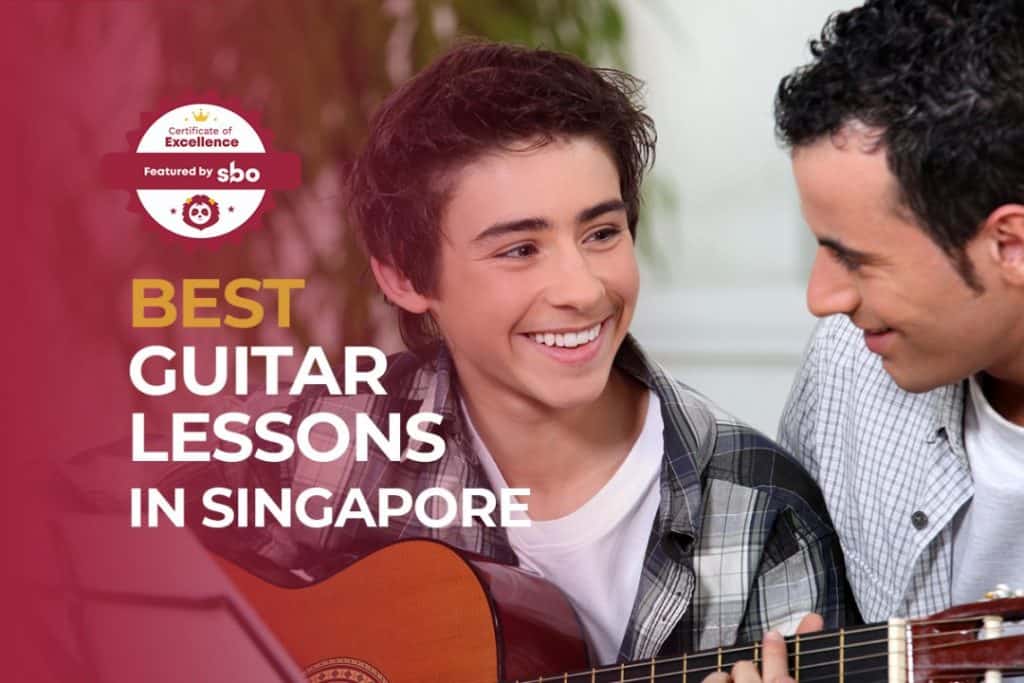 The guitar is perhaps one of the most versatile musical instruments around.
From a solo instrument, to accompanying singers or being part of a band, the guitar can be played by strumming chords or by plucking the strings to create soulful melodies.
Here's a fun fact about learning to play the guitar: studies show that playing the guitar increases the amount of grey matter in the brain, resulting in improved memory power.
Looking for a guitar lesson in Singapore? In this post, we've gathered all the necessary details to compile a list of the 10 best guitar lessons in Singapore.
1. Alternate Tone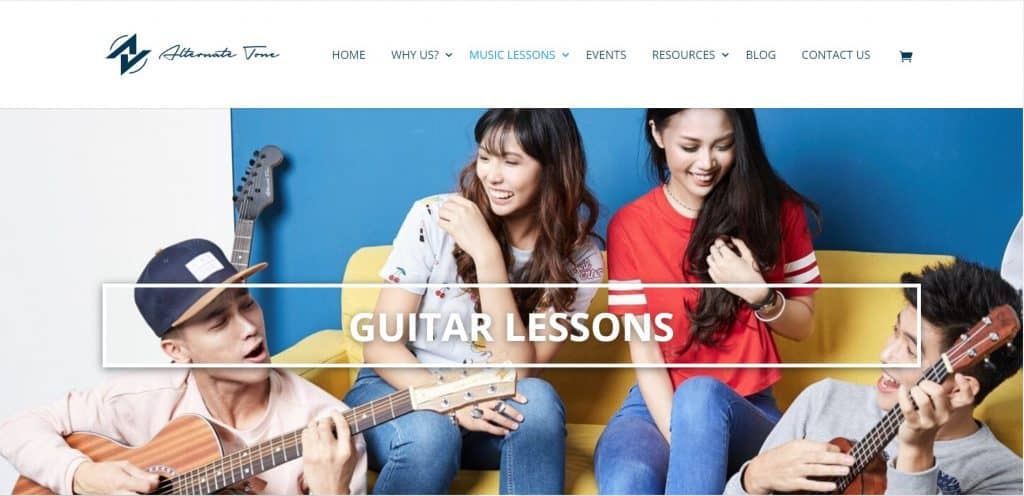 Alternate Tone adheres to the belief that there is no fixed way to learn.
Their instructors have meticulously designed the course in a structured manner that remains tailored and adapted to every student's needs and goals.
There are four types of guitar lesson in Singapore at Alternate Tone:
Acoustic guitar: Acoustic guitar is for those who aspire to play those catchy pop hits usually played on radio.
Electric guitar: Electric guitar students will learn how to produce different types of sounds and tones, as well as using amps and pedals.
Bass guitar: This course will allow you to explore a variety of chord melody repertoire, and be taught the rhythmic, harmonic and melodic bass line.
Ukelele: This is for anyone who wishes to learn a simple musical instrument. Their ukulele course will cover various playing techniques, fingering, right posture, tab reading and explore a variety of genres and tempos.
2. TravelClef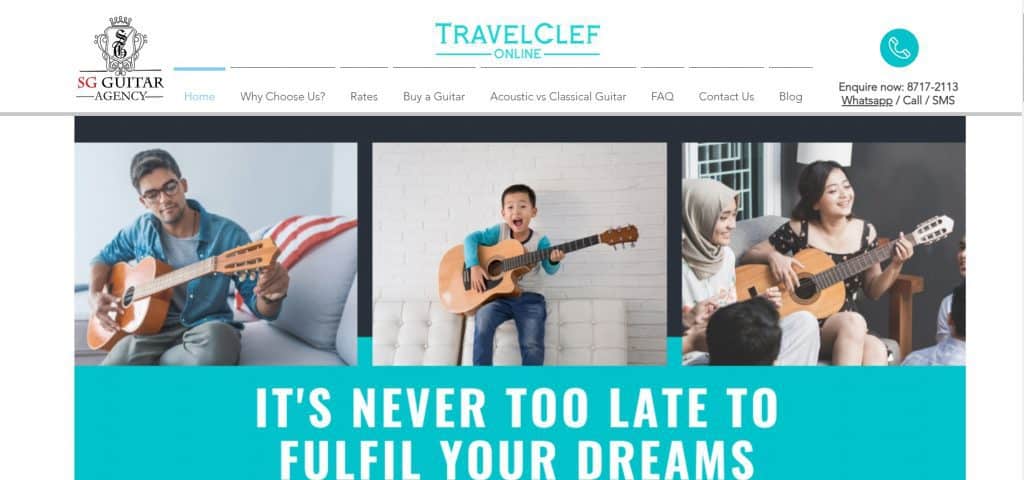 Established in 2010, SG Guitar Music Agency (under TravelClef) is the leading music agency in Singapore.
Driven by their passion for music, they formed this agency with a simple aim – to help people learn the guitar through fun lessons.
With more than 250 private guitar teachers located across Singapore, they are able to recommend you a teacher that suits you within 24 hours.
Their guitar teachers have a wealth of qualifications under their belt.
Some have been certified by the Associated Board of Royal School of Music ABRSM (Classical Guitar); others, by the Trinity College London TCL (Classical/Acoustic/Electric Guitar).
Others have Diplomas and Degrees certified by NAFA or LASALLE Singapore.
3. Studio72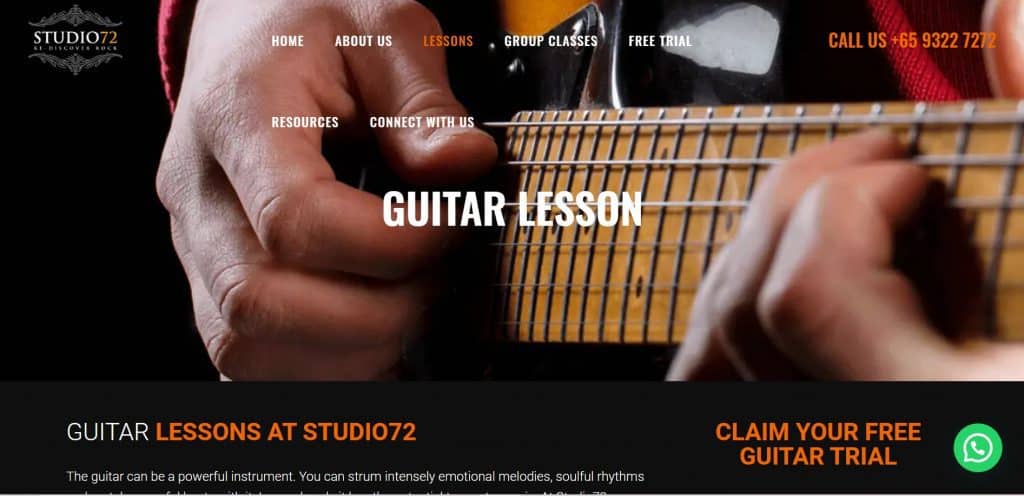 Studio72's guitar lessons are best known for their unrestrictive nature.
The guitar lesson in Singapore encourages students to exercise more creativity in expressing their own music style and emotions.
Classes become more fun that way too.
Their guitar lessons are open to kids and adults in Singapore and are tailored to suit different skill levels.
Beginners will be introduced to basics like guitar anatomy, correct body posture, choosing and holding a pick, basic chords and more.
Located conveniently at Boat Quay, their music school offers an upscale, glam rock atmosphere that will make you feel like a pro.
Aside from top notch equipment and instruments, their experienced teachers are musically trained and educated.
4. Guitarworks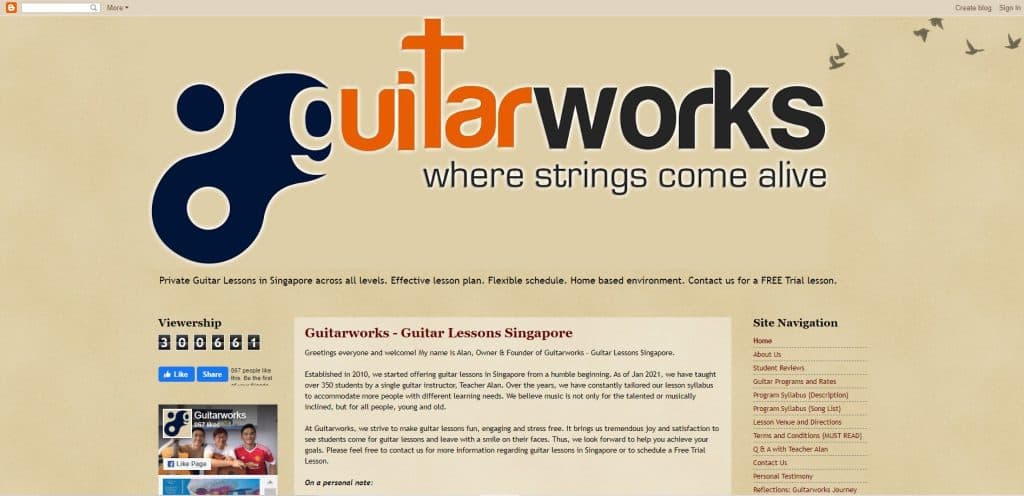 Established in 2010, Guitarworks started offering guitar lessons in Singapore from a humble beginning.
As of Jan 2021, they have taught over 350 students by a single guitar instructor, Teacher Alan.
Over the years, they have constantly tailored their lesson syllabus to accommodate more people with different learning needs.
At Guitarworks, they strive to make guitar lessons fun, engaging and stress free.
It brings Teacher Alan tremendous joy and satisfaction to see his students come for his guitar lessons and leave with a smile on their faces.
The best part of it all: you can also schedule a Free Trial Lesson with the guitar lesson in Singapore.
5. Hark Music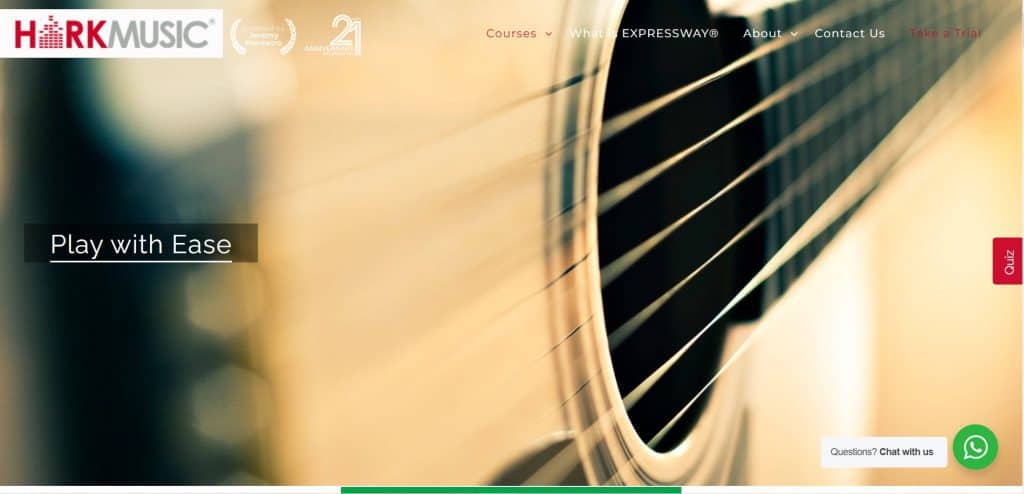 "Music is a piece of art that goes in the ears straight to the heart."
This adage embodies founders Mr. Amos Teo and Ms Yoong Xin Yun's lifelong passion for music.
In 1999, it was this same passion that spurred them to establish Hark Music.
At Hark Music, they don't believe you need to start with kiddy songs or traditional folk songs (if you are not into them), just because they are easy for a beginner.
You start to learn how to play the mainstream pop songs or any songs that you like!
Not sure of which rhythm patterns you should apply to a song?
No worries, Hark Music has also categorised tons of strumming or plucking patterns in a systematic progression for you.
Each pattern consists of several variations where you can improvise them dynamically.
They will also associate them with pop song examples.
6. Absolutely In-Tuned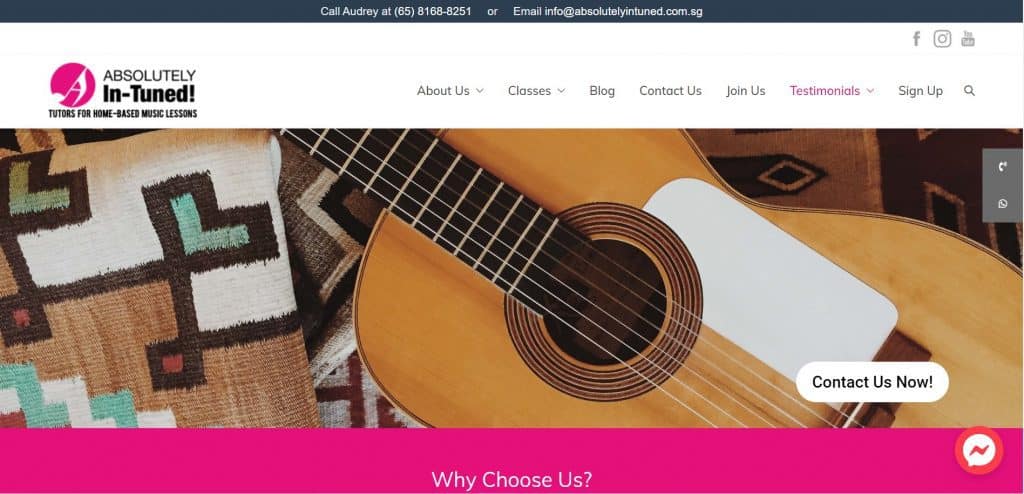 Absolutely In-Tuned is an established music agency providing home-based lessons for many households in Singapore.
Since 2007, they have been helping parents, children, teenagers and adult music enthusiasts fulfill their musical dreams.
The guitar lesson in Singapore is heavily focused on guitar techniques.
They hold four courses revolving around guitar techniques for guitar players:
Guitar Plucking
Guitar Tabs
Guitar Rifts
Guitar Strumming
Their music teachers possess music diplomas and degrees from world-renowned institutions across the globe.
If they are unable to find you a great music teacher who suits you within 30 days, you will get a full refund for any lessons paid.
7. Stradivari Strings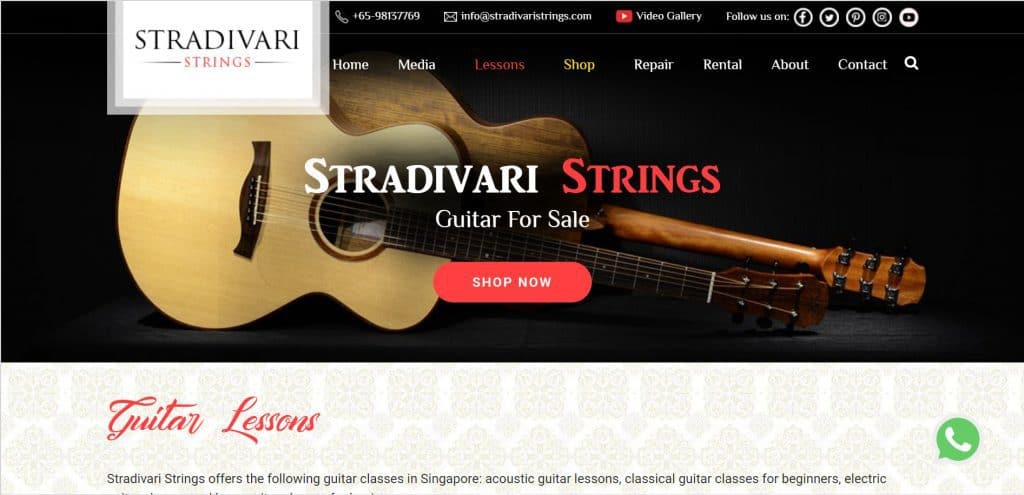 Stradivari Strings offers the following guitar lessons in Singapore:
Acoustic guitar lessons
Classical guitar classes for beginners
Electric guitar classes
Bass guitar classes for beginners
Their beginner guitar lessons are structured so that you are taught the correct playing techniques while giving you the choice to select the playing style which you wish to master.
The initial focus will be to learn the proper posture for guitar playing and basic tuning skills.
Next, basic chords are introduced and playing techniques including different styles of strumming and plucking patterns are taught.
These are taught in both kids guitar lessons and adult guitar lessons.
Guitar lessons for kids and adults can be conducted at their music studio at Sultan Plaza, at your home or at your teacher's place.
They can structure kids guitar lessons on a leisure route, or the ABRSM or Trinity Guildhall examination route.
8. Fingerstyle Academy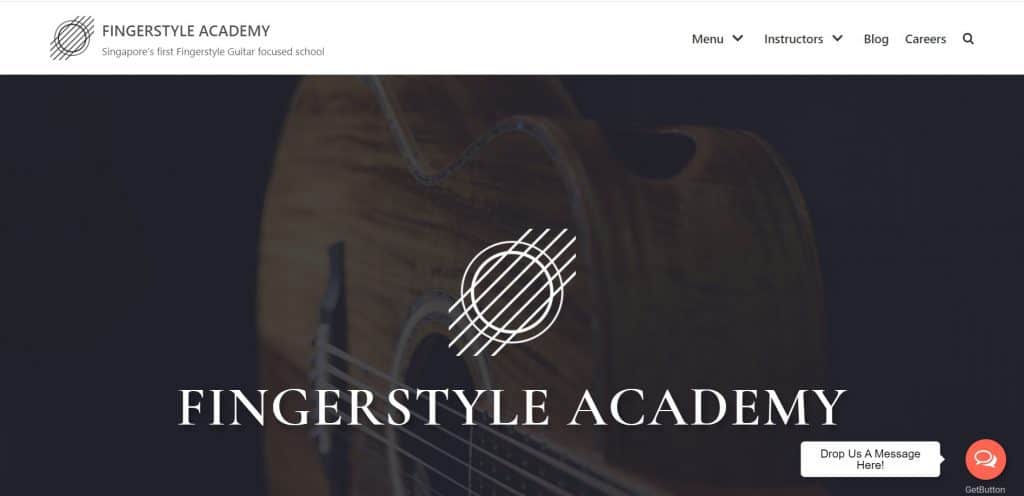 Fingerstyle Academy is Singapore's first fingerstyle guitar focused school.
Fingerstyle guitar does not just mean playing the guitar with your fingers.
It is about separating the elements in music such as the melody, bass, chords, accompaniment, percussion and combining them all into one playing technique.
Their lessons are not targeted at taking graded examinations, because they believe fingerstyle guitar is too diverse to stick to a structured grading system!
But if you are interested in taking graded examinations, their instructors are certified and well equipped to help you ace them.
They cover the following institutions: London College of Music, Trinity College London, Rockschool, and ABSRM Music Theory.
Our recommendation is to go for their Group Classes, which only cost S$40 per lesson.
This group setting brings together 2-3 students for a 1 hour lesson.
Guitar lesson students are grouped according to their skill level and song preferences.
9. Ossia Music School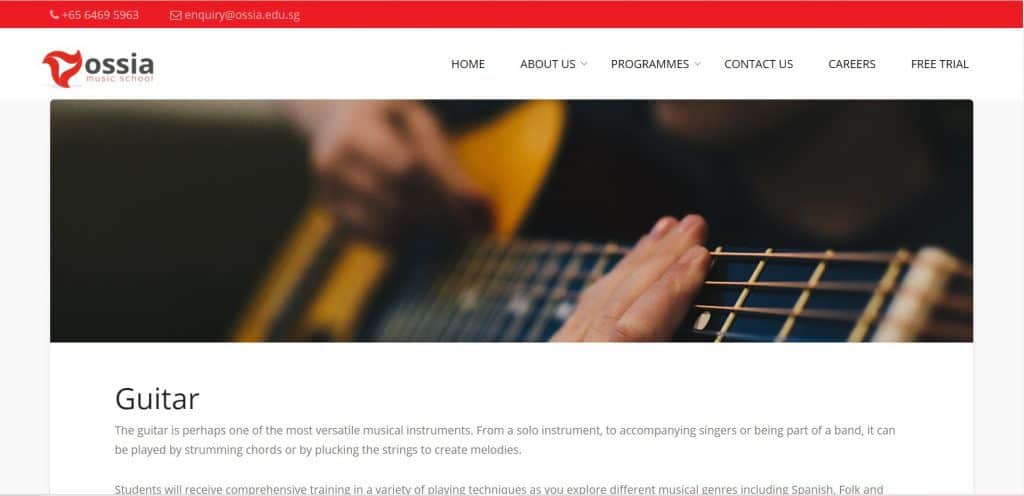 At Ossia Music School, students will receive comprehensive training in a variety of playing techniques as you explore different musical genres including Spanish, Folk and Jazz.
You will also get to grips with orchestral concertos and classical solos.
What's more, you will learn about the instrument's rich and varied history as you understand more about the wealth of classical guitar literature through some of the world's greatest composers of the likes of Villa-Lobos, Roussel and Paganini.
All guitar lessons are individual lessons, with 30 minutes, 45 minutes and 60 minutes lessons available.
You will be able to explore different genres including Spanish, Folk and Jazz.
There are also ABRSM graded examinations available.
Conclusion
Do you have any reviews and comments to share regarding our choices for the best guitar lessons in Singapore?
While SBO is committed to supporting our local businesses, we welcome any feedback and anonymous sharing regarding your experience with the listed guitar lessons in Singapore.
We hope that this guide will be useful in helping you to make an informed decision when it comes to finding the best guitar lessons in Singapore.
Explore More Content