10 Best Science Tuition in Singapore To Ace Your Child's PSLE and O'Levels [2022]
Give your child a competitive edge in school with the best science tuition in Singapore.
Last Updated on January 11th, 2022
Education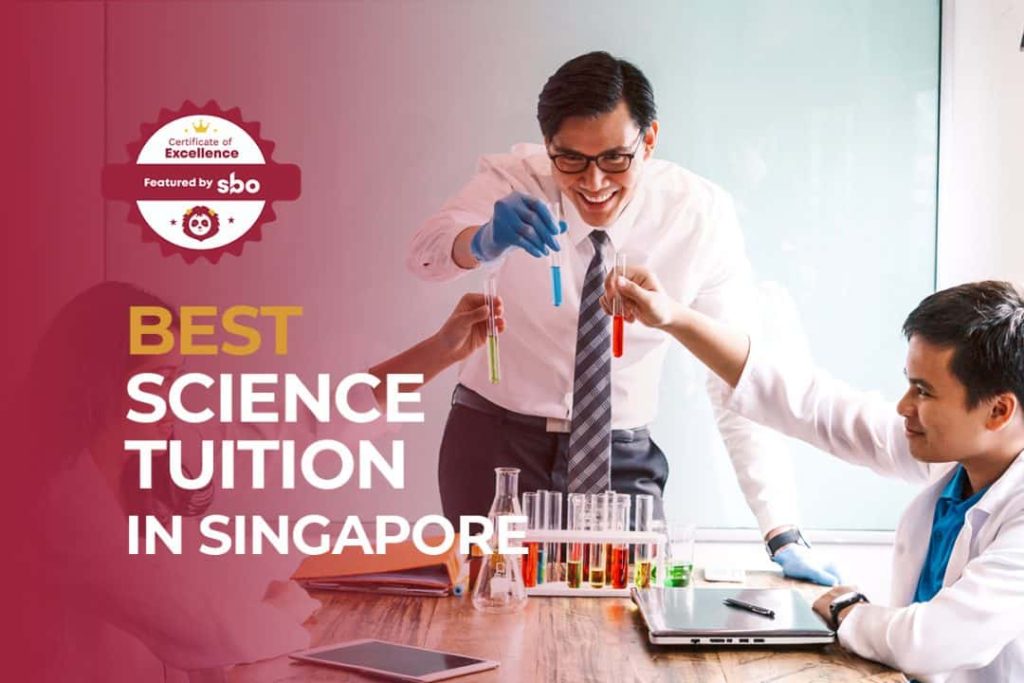 Our team at SBO.sg is committed to being a one-stop avenue to connect local businesses and consumers. We hope that our research efforts can help you save time and money by finding you the best deals without having to search around the vast world-wide-web.
It goes without a doubt that modern-day Singaporean parents take tuition seriously, as much so as finding the best schools in the country for their children.
With Singapore boasting one of the best educational infrastructures and curriculums, it becomes almost instinctive for parents to push their children to stay ahead of their peers.
And what's one of the toughest subjects to master during a child's preadolescent days? For a start, science would definitely be one of them.
For the kiasu parents who are on the hunt for the best science tuition in Singapore, you've come to the right page. Scroll down to discover our top finds!
1. Smart Lab Education Centre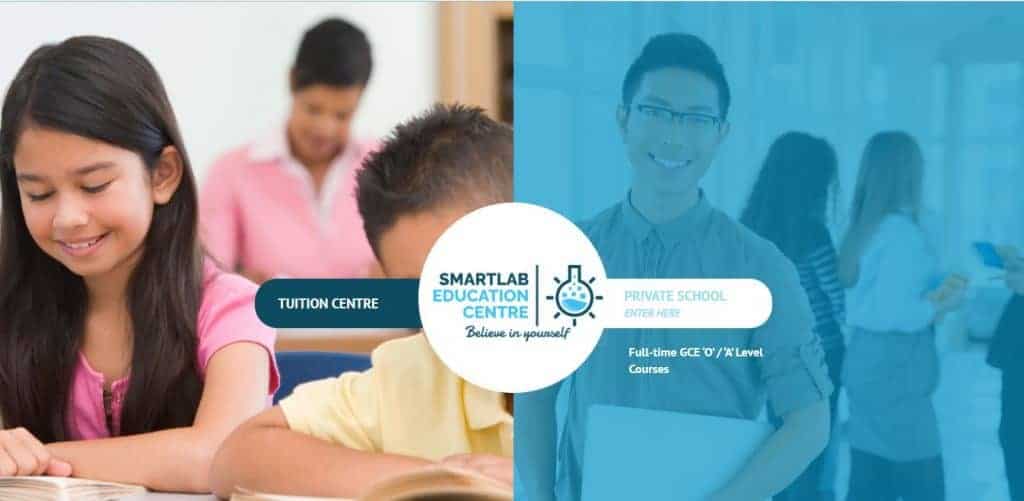 Being in the education industry for over 15 years with proven track records of their students' success here, Smart Lab is one of the go-to places for science tuition in Singapore.
They house their very own science laboratory at their Bishan outlet, holiday workshops to get students' study momentum going during their breaks and even a Whatsapp-based programme designed for tech-savvy students.
Termed as the SLAM programme (SmartLab Answers on Mobile), this allows students to send their questions via Whatsapp and receive responses instantaneously.
This is definitely a handy tool to sign up for, especially during the Covid-19 situation where minimizing physical contact is absolutely necessary!
2. EduFirst Learning Centre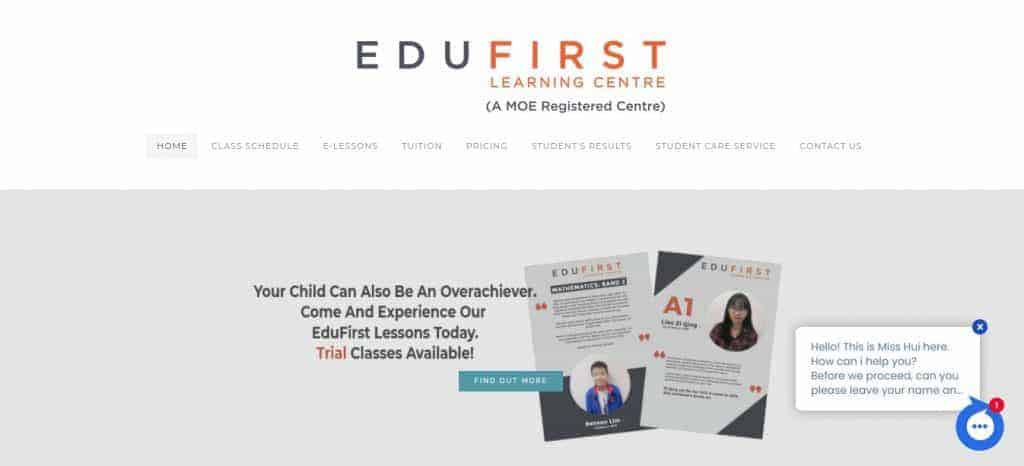 EduFirst is an MOE registered learning centre that has been established since 2014. With more than 10 branches islandwide, their brand is easily found in heartland areas, making it easily accessible to the public.
This centre is also well recognised, being featured by various notable papers such as AsiaOne, Parents World and even The Straits Times on a few occasions.
On top of that, they are having a free trial promotion for their online classes – learn more about it here!
3. The Pique Lab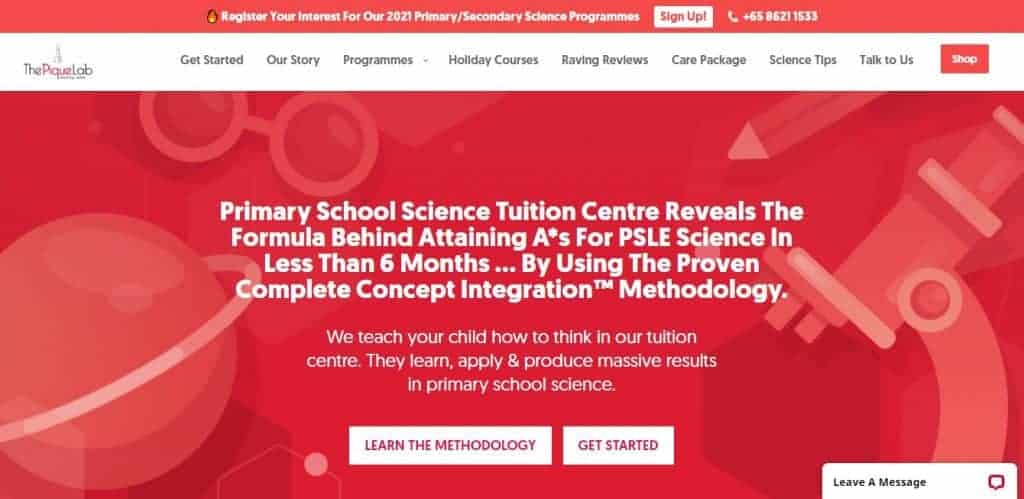 Through The Pique Lab's Complete Concept Integration (CCI) methodology that is specially formulated by their in-house team, it has shown remarkable results through their students' scores and raving reviews.
Their strategy is to equip children with the skills and thought processes of the examiners themselves, thereby better preparing them for tackling exam questions.
In addition, they have their own learning portal that is literally a treasure chest of science learning materials and exclusive deals.
Not only are they one of the best places to receive science tuition in Singapore, but they also have a parent support group to bring parents together and share tips on parenthood.
4. Miracle Learning Centre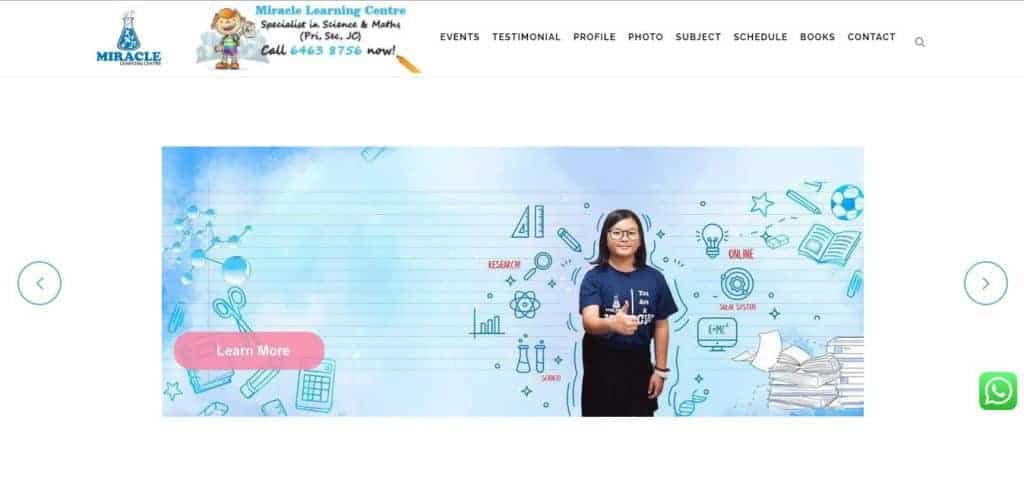 Miracle Learning Centre strives to bring miracles to its student's academics, through its team of seasoned ex-MOE teachers.
At here, one can receive mathematics or science tuition in Singapore, ranging from primary to JC level.
Class sizes are also kept to the minimum which ensures a healthy teacher to student ratio, thereby creating a more conducive and focused studying environment for your child.
5. Bright Culture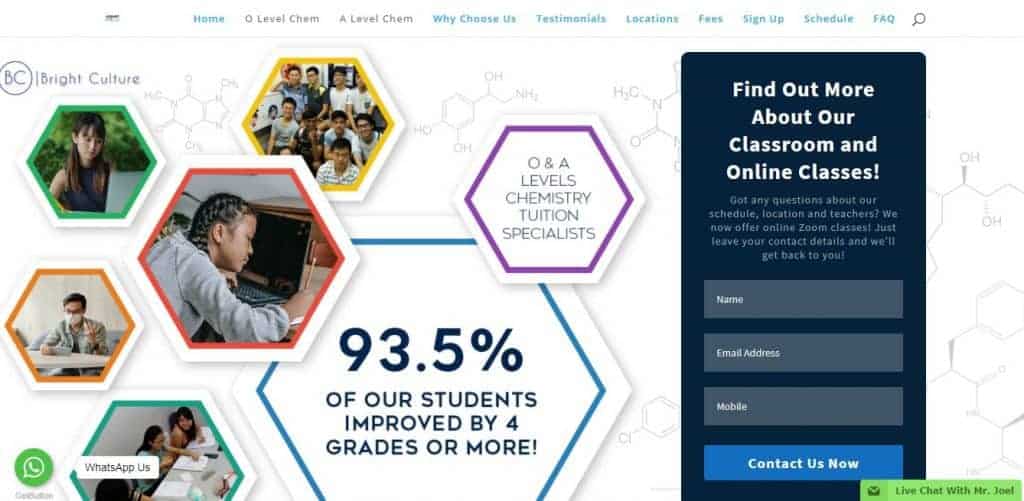 Bright Culture is one of the rare science tuition in Singapore that specialises in O'levels Chemistry specifically.
Their F.A.S.T. method that teaches children how to answer exam questions has supposedly helped 93.5% of their students improve their Chemistry by up to 4 grades!
As seen on notable media sites such as The Straits Times, The Smart Local and the testimonials from students, their impressive teaching abilities are certainly one to behold.
6. Miss Chen's Science Tuition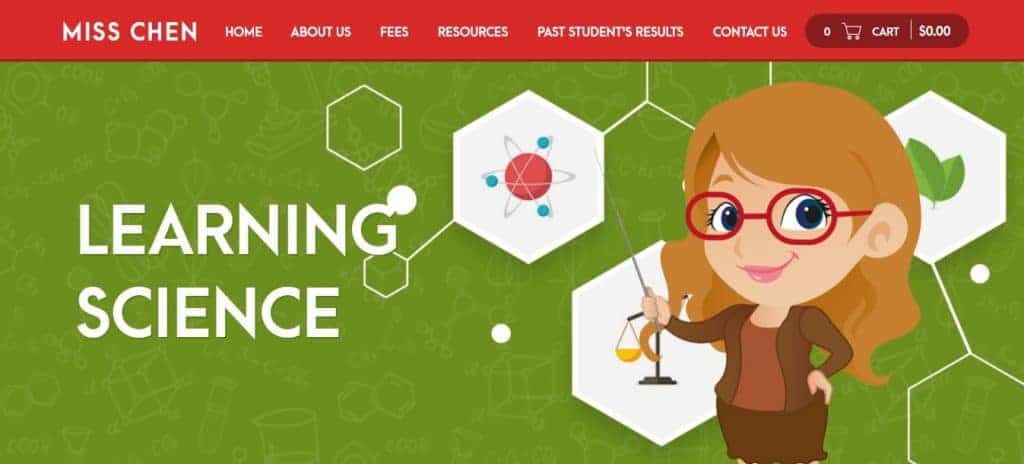 With over 20 years of combined experience in teaching O'levels and A'levels Science, both Miss Chen and Miss Leong are definitely well-versed with the MOE examination system and the common pitfalls to avoid in the papers.
For Miss Chen, her main expertise lies in chemistry and biology with 70% to 80% of her students obtaining distinctions during their exams.
On the other hand, Miss Leong is a full-time physics tutor with about 70% of her students getting distinctions in their O'levels and A'levels.
7. Future Academy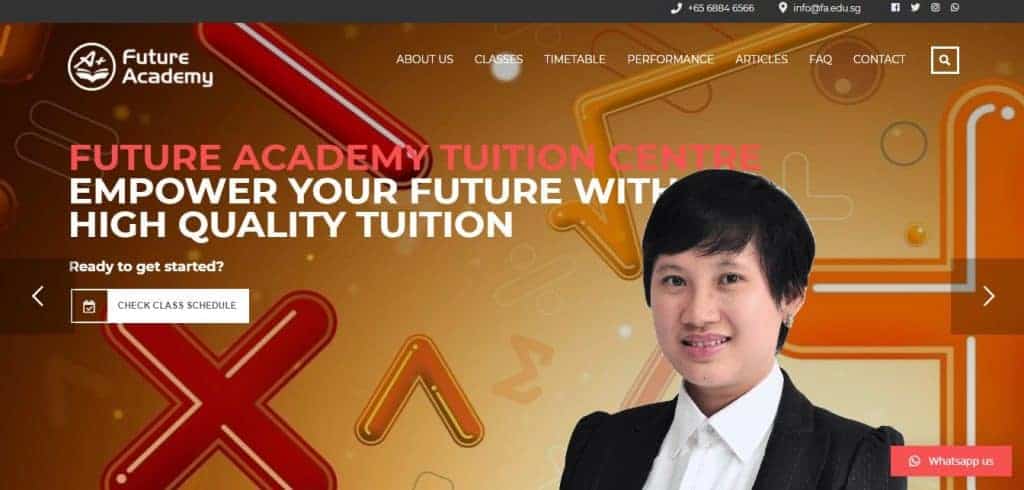 The teachers here at Future Academy possess strong credentials, with most of them having teaching experience from MOE/IP schools and some even being Olympiad gold medalist coaches.
With such qualified professionals, parents can be rest assured that their children are receiving the best possible science tuition in Singapore yet.
Jumping onto the online bandwagon even before Covid-19, they have started introducing online interactive tuition with engaging features that's more than just a typical Zoom video call.
8. Science Edventure Education Centre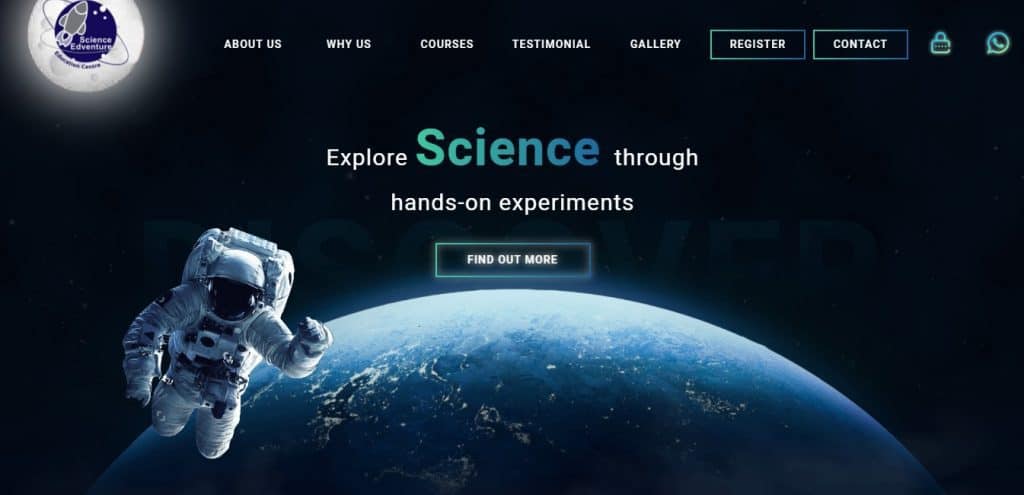 As the name suggests, Science Edventure Education Centre sure makes it sound like a fun place for science tuition in Singapore.
They do really live up to their name, with a heavy emphasis placed on activity-based learning by incorporating experiments and real-life scenarios into their lessons. With that, this approach gives a good balance of both learning and fun!
9. eduKate Yishun English Math and Science Tutor Tuition Centre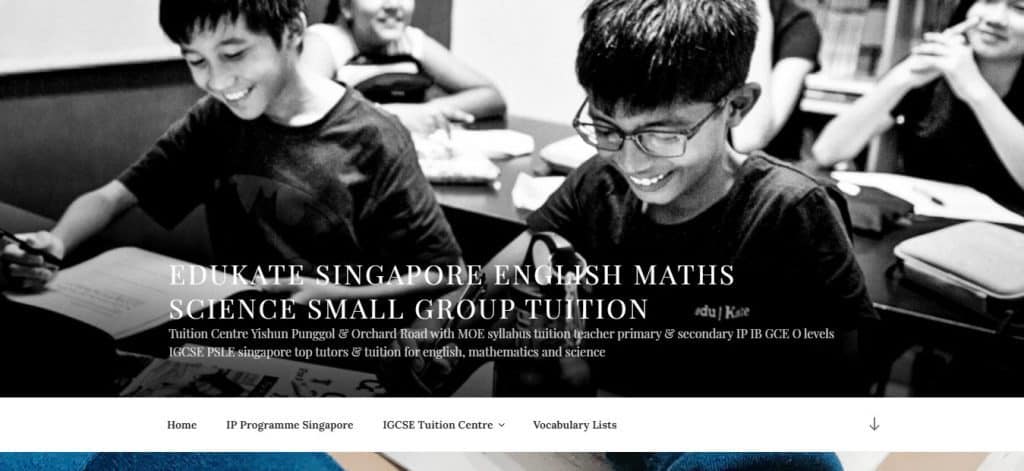 At eduKate Singapore, this centre pools together top-quality teaching professionals from local universities to teach mainly English, Maths and Science tuition in Singapore.
Their belief in nurturing a child's life skills is what sets them apart, as they take a holistic approach that ties in seamlessly with academic learning.
Located conveniently within heartland areas such as Yishun, Punggol and Orchard, this makes it easy for parents to bring their children to and fro.
10. Samuel Math and Science Tuition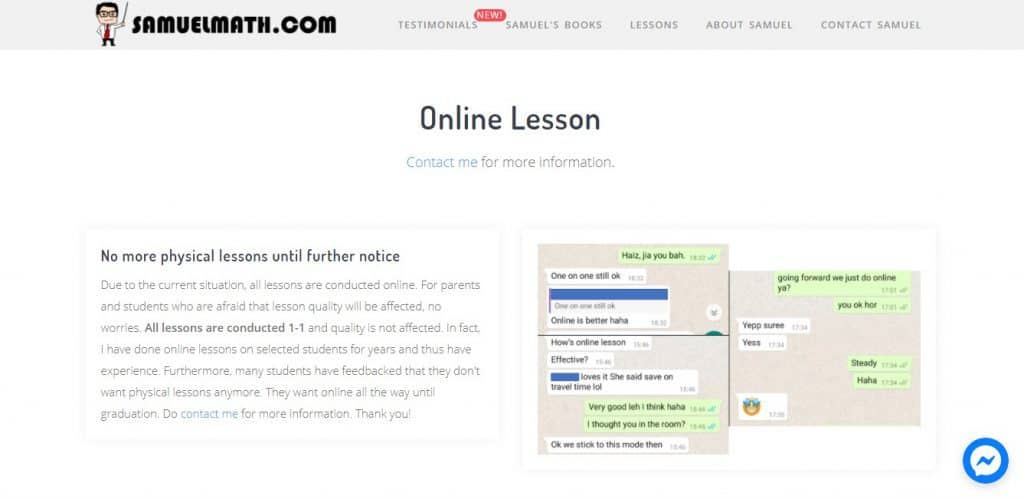 At the end of our list, we have Samuel Math and Science Tuition, a modest tuition centre nestled within the Yishun area.
Starting from humble beginnings as a neighbourhood school student has not hindered Samuel from pursuing a Degree in NUS, emerging at the top of his cohort as a valedictorian. He has also received the prestigious Lee Kuan Yew Gold Medal, alongside other awards here.
Samuel is an author and editor for several Math and Science books, on top of his tutoring duties. He also has his own blog where he shares his study guide with his viewers!
Conclusion
No matter what your children aspire to become, education is a useful stepping stone to discovering their potential and tuition becomes that extra leverage for them to pursue higher excellence in their studies.
While mastering their Science, another key subject that goes hand in hand with it is Mathematics. Take a look at our list of the best math tuition in Singapore in the meantime!
Are you featured in this?
Display this exclusive SBO badge proudly on your website!