10 Best Math Tuition in Singapore to Help You Ace Your Math Exams [2021]
Ace your Math tests and quizzes with greater confidence and ease with the 10 best Math Tuition in Singapore.
Education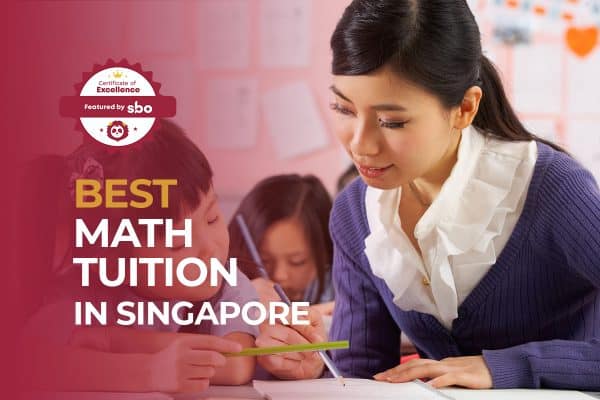 Our team at SBO.sg is committed to being a one-stop avenue to connect local businesses and consumers. We hope that our research efforts can help you save time and money by finding you the best deals without having to search around the vast world-wide-web.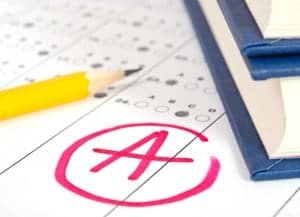 According to the 2019 edition of the Trends in International Mathematics and Science Study (Timss) that tests students at the Primary 4 and Secondary 2 levels, Singapore has once again topped the charts across all categories in the study for the 3rd time.
Even as many students in Singapore continue to do very well in mathematics and science by international standards, there will still be students out there who struggles with the subject. Hence, in this post, we have gathered the 10 Best Math Tuition in Singapore to help you ace your Math tests and quizzes with greater confidence and ease.
1. IB Math Tuition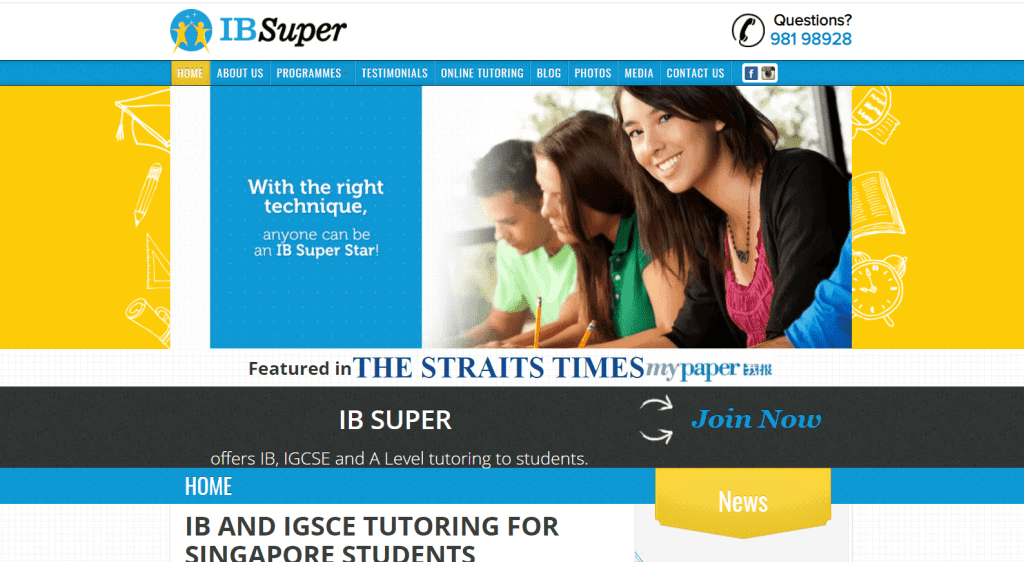 A niche tuition centre that specialises in teaching IB and IGCSE students, IB super offers small group and one-to-one style of teaching to cater to every unique individual's needs. If you are looking for friendly and personalised teaching styles, then IB super is one you should consider.
2. Ace Physics and Maths (APM) Tuition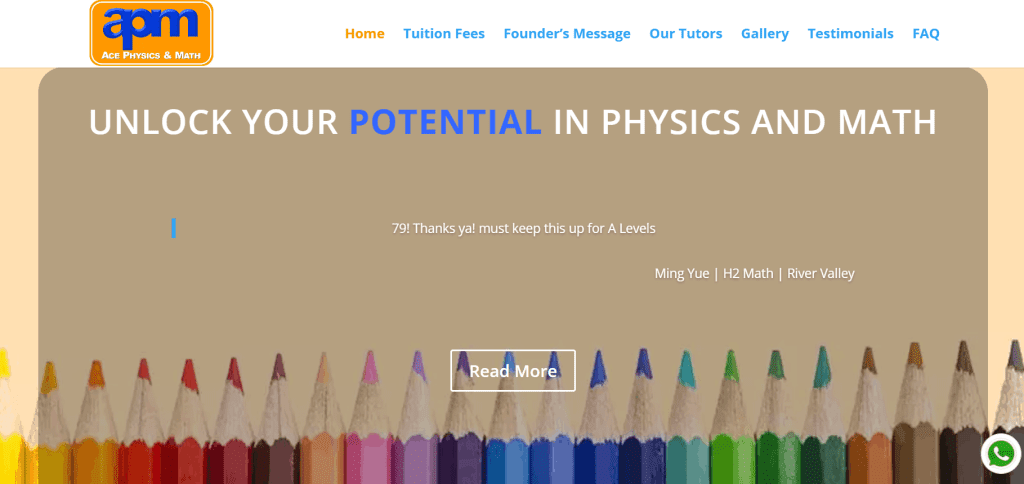 Founded by Mr Lewis Ng in 2017 with the intend of focusing on JC Math and Physics, APM Tuition started off with one-to-one tuition before growing into small tuition groups and eventually reaching out to Secondary and PSLE Math tuition.
Nominated as one of the best private tuition in Woodlands in 2018 and 2019, APM Tuition is definietely one of the 10 Best Math Tuition in Singapore to look out for, having achieved such an amazing feat within the span of 3 years for such a young tuition centre.
3. Miracle Learning Centre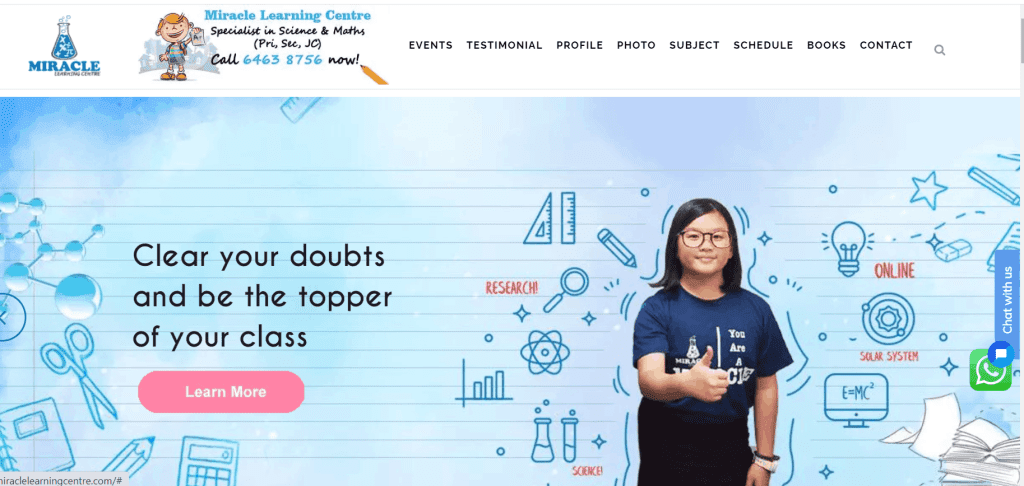 A team comprising of well-trained former school teachers, Miracle is set up to help students learn better and faster by providing an easy to understand explanation of concepts with good application techniques.
Not only are the founders themselves graduates of prestigious schools in Singapore, they have also taught and passed down their knowledge to their 2 sons well – one of them having achieved the Platinium award for SMOPS (Singapore Mathematical Olympiad for Primary Schools) and Gold award for SMO (Junior Section), while the other son is from the GEP (Gifted Education Program).
Hence, parents can be assured that their children will be taught and taken care well of under the wings of the 2 remarkable founders and experienced teachers in Miracle Learning Centre.
4. Edukate Tuition Centre English Mathematics and Science Tutor Singapore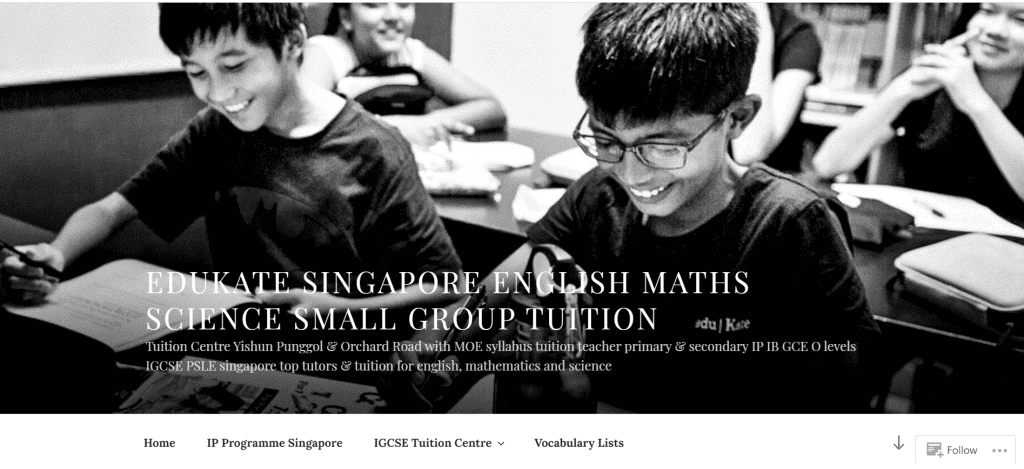 Edukate is a group of full-time tutors, who are NIE & university teachers and graduates.
Their tutors are highly motivated intelligent educated individuals from a diverse background and ethnicity, with years of experience in guiding and stimulating children's intellectual growth to achieve good examination results real-life problem solving skills.
Not only do the tutors teach based on the latest syllabus and curriculum laid out by MOE, Edukate also provides additional enrichments to the children for a more holistic learning.
In addition, Edukate also have student counsels to monitor students do their work and help them in improving their problem-solving methods, as well as advise students in the methods to studying efficiently for their exams.
If you are a parent whose child have a hard time settling down to study, Edukate is the perfect place among the 10 Best Math Tuition in Singapore for your child!
5. The Math Lab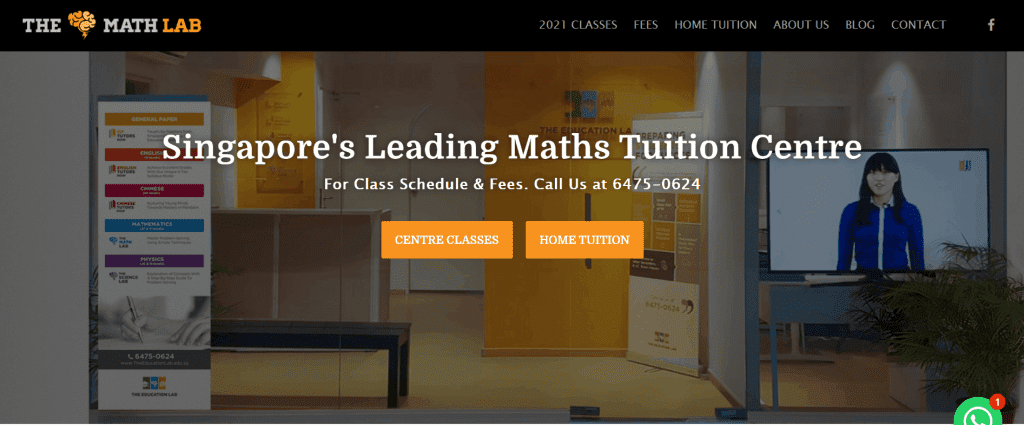 One of the few tuition centres in Singapore that focuses only on teaching Mathematics, The Math Lab started out as 2 mathematics teachers who came together to exchange notes and discuss teaching ideas.
Comprising of alumni from world-class universities, the team of educators at The Math Lab are both proficient at giving instruction & also highly adept academically, having gone through the centre's rigorous interviews & strict hiring practices.
If you are looking for a Math Tuition that focuses all resources on perfecting the Maths paper, then The Math Lab is one you should look out for in the 10 Best Math Tuition in Singapore!
6. Miss Loi's Temple (Jφss Sticks Tuition Centre)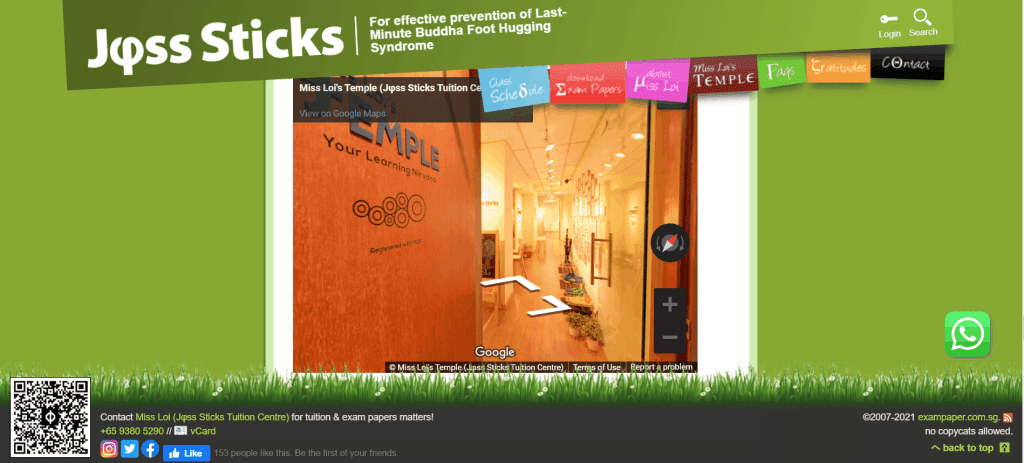 Founded by one of Singapore's Top 5 Super Tutors who was featured on the Sunday Times way back in 2008, Miss Loi's Temple (Jφss Sticks Tuition Centre) takes in and cares for those with the poorest of poor grades, so that they may be 'cleansed' of their low confidence & careless mistakes, and attain their 'Mathematical Salvation'.
If you are wondering what's a Super Tutor, it is a term referring to tuition teachers with an annual income of $1 million by The Straits Times.
Miss Loi who specializes in Singapore's Secondary School Mathematics/O Level Additional Mathematics (A Maths), is a full-time Maths Tutor in Singapore who has helped countless students for the past 30 years, regardless of whether the students are from the 'elite' schools, neighbourhood schools, GEP, IP or IB.
If you are looking for a super tutor who possesses the eerily prophetic ability to 'spot' the right questions that will appear in upcoming tests/exams, Miss Loi's Temple (Jφss Sticks Tuition Centre) is the one you are looking for! 😉
7. Good Maths Tutor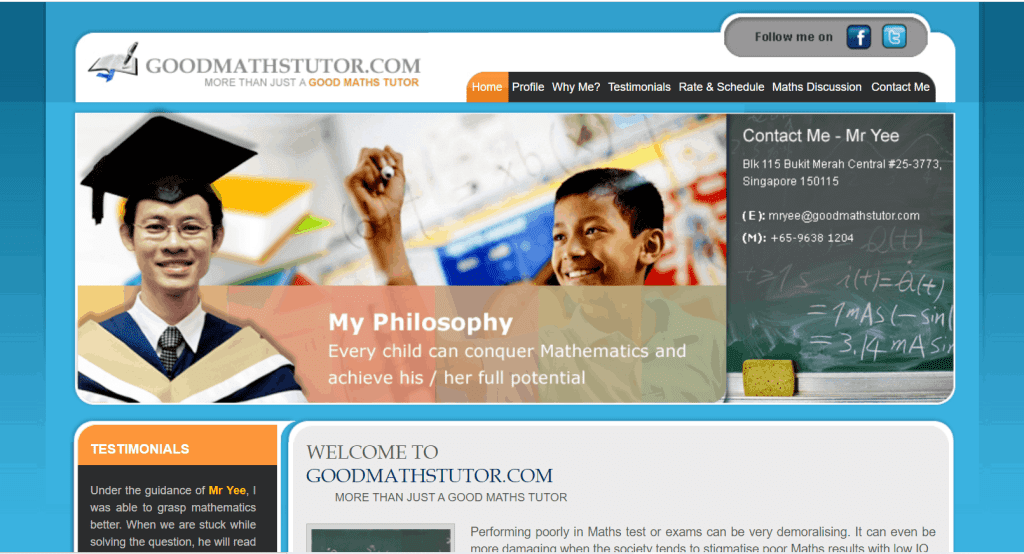 More than just a Good Maths Tutor, Mr Yee believes in developing the skills and self-confidence that are essential for every child to do well in Maths.
With an abundance of teaching experience and qualifications that are necessary to help your child achieve his/her goals, Mr Yee provides tuition that is cost effective for your child without compromising with the results by charging less than half the amount by an experienced school teacher.
Hence, if you are looking for an affordable yet cost-effective Math Tuition, Good Maths Tutor is your go-to educational centre!
8. Power Mathematics
Known as the Number 1 JC H2 Further Mathematics Tuition Centre from 2019-2020, Power Mathematics was set up by Mr Leon Wu who believes that there is always a simple way to explain even the most abstract concept, and there is always a simple solution to every difficult JC exam question.
Once a MOE Scholarship holder (1999-2002), Mr Wu holds a Master of Science from the National University of Singapore.
Having taught A Level H2 Math and Further Math to hundreds of students from each JC for 18 years, Mr Wu is now familiar with the exam question types of every school.
Hence, Mr Wu is the trusted tutor whom you can count on no matter which JC you come from, as he is able to conduct tuition lessons that are tailored to your learning style and pace.
9. Brain Matter Tuition @ Bishan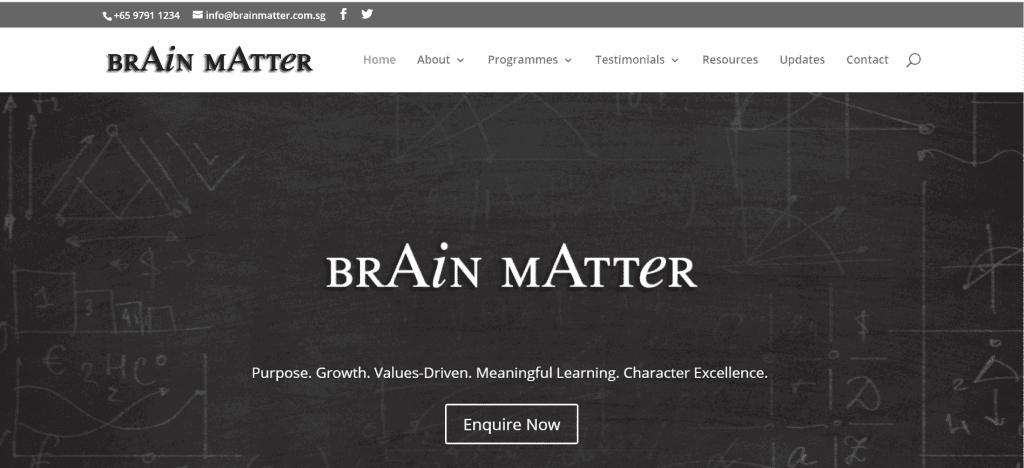 An educational centre that believes that students are defined by their Purpose and Growth, Brain Matter consists of a team of teachers who are Values-Driven and Professional.
Besides building a Positive and Fun culture that inspires Meaningful Learning and Character Excellence, Brain Matter also seeks to empower their students with life skills such as confidence and critical thinking skills , that are essential skills to excel in the uncertain future job landscapes, through their lessons.
10. Future Academy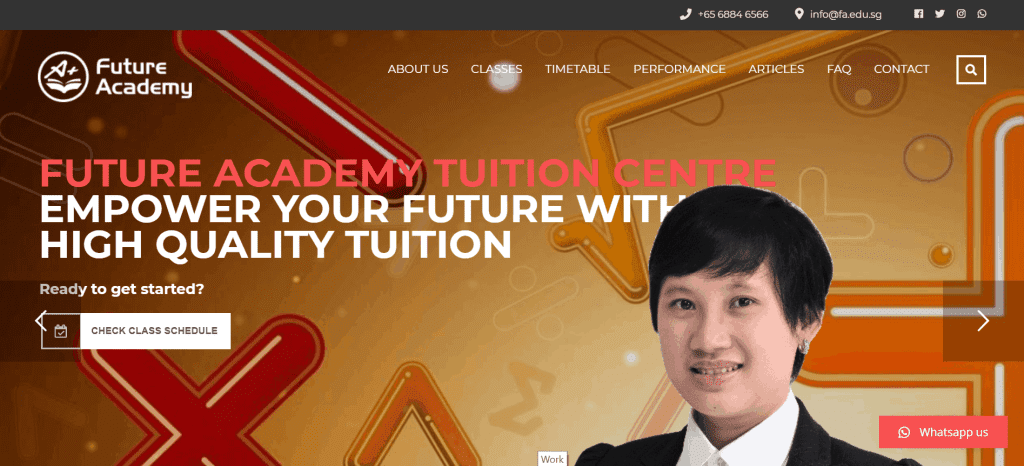 Last but not least, we introduce to you Future Academy from the 10 Best Math Tuition in Singapore!
A former MOE teacher from Raffles' Girls School specialising in the subject of Mathematics and Physics, Ms Chen decided to start the Future Academy tuition centre business in year 2014 after many past students kept approaching Ms Chen for private tuition as they found it to be the most effective way for them to learn productively.
Since then, the centre has found itself welcoming more and more students in Singapore through Future Academy's effective small group tuition approach, with many of their students going on to attain their desired examination results.
Conclusion
With the increasing influx of tuition centres and enrichment centres entering the private educational sector in Singapore, it can be pretty frustrating to look for a Math tutor that suits your learning approach.
We hope that this guide has been useful in helping you find the most suitable Math Tuition that is catered to your learning style and needs.
In addition, SBO also welcome any feedback and reviews regarding your experience with the listed tuition centres in Singapore.
On a side note, if you are seeking help for POA, do feel free to check this list of POA Tuition in Singapore you can look for.
>