10 Best POA Tuition in Singapore That Will Help You Do Well in Examinations [2021]
Look for the best POA tuition in Singapore to help you score the distinction you want.
Education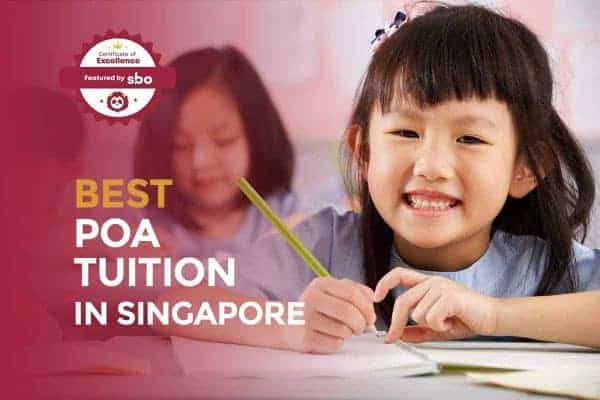 Our team at SBO.sg is committed to being a one-stop avenue to connect local businesses and consumers. We hope that our research efforts can help you save time and money by finding you the best deals without having to search around the vast world-wide-web.
Students seeking additional help for their academic subjects has seemingly become more of a norm these days.
These applies for POA Tuition as well. Students may not be able to grasp what their teachers in school is teaching. They want to excel and pursue their aspirations in life. Hence, this could be why they are seeking for tuition in order to catch up.
If you are one of those people looking for POA tuition, you have come to the right place.
In this post, we've gathered all the necessary details including unravelling reviews and testimonials to derive a list of the 10 best POA Tuition in Singapore that will help you to do well in your major examinations.
1. Best POA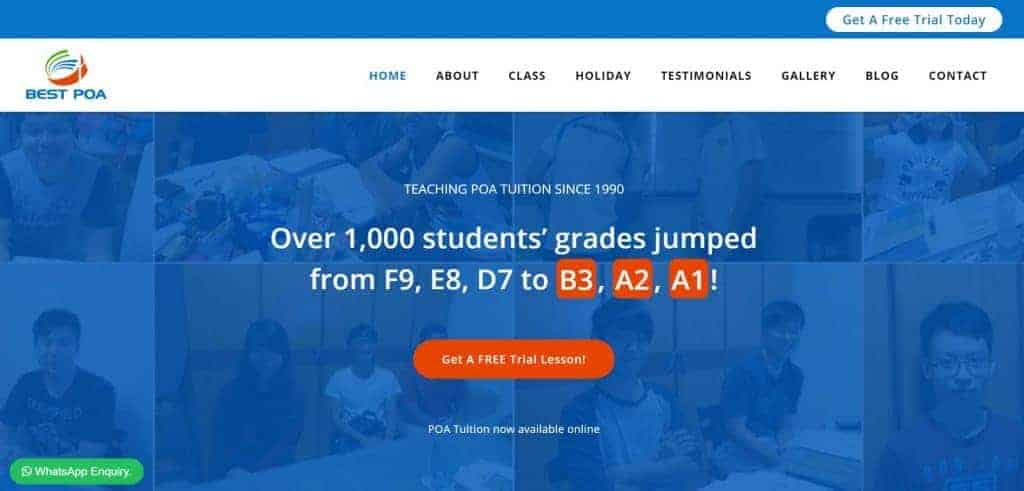 Lesson in Best POA are conducted by Edmund Ling. He is an accounting tutor with more than 30 years of experience teaching POA. With an illustrious professional career record as an accountant and auditor, he is able to relate his real world experience to his students learning the subject.
Edmund believes in using a structured teaching system consisting of basic foundation, essential internalisation, strategies for exams and techniques mastery. This has proven to be effective in helping most students to score well in both N-Level and O-Level examinations.
Through his years of teaching, more than 1000 of his students has jumped grades from F9, E8, D7 to B3, A2, A1. In the last GCE examination (2019), all of his N(A) level students and a majority (>90%) of his O Level students have scored distinction in POA.
Edmund teaches both N and O Level POA syllabus. He offers both 1-to-1 Tuition (S$60/Hour) and group tuition (S$45/Hour). He offers flexible schedules as well to accommodate to his student's needs. Online tuitions are now available.
For students still giving it a consideration, Best POA offers a free trial session which consists of one 2-hr tuition session, and is meant to give students and parents a non-obligatory experience of learning Principles of Accounts.
2. SG POA By Wynn Education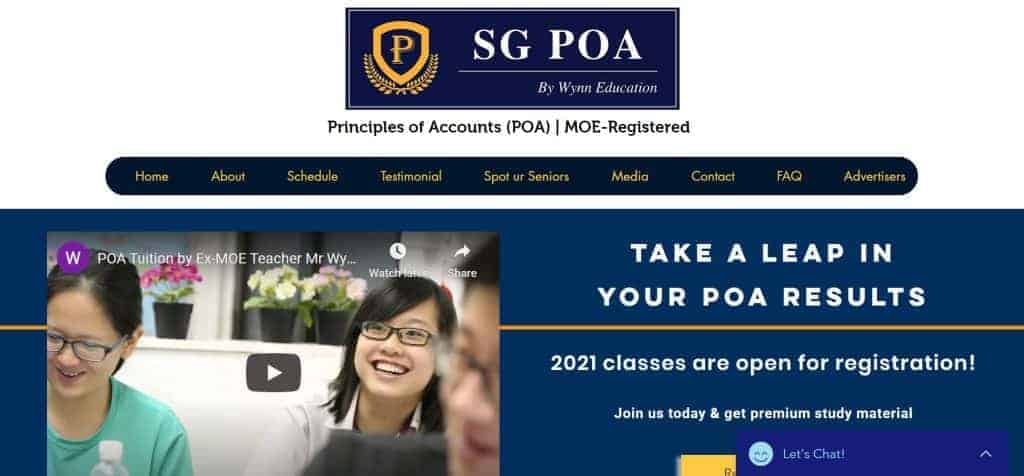 Founded by a former MOE teacher with more than 10 years of teaching POA, SG POA has a strong emphasis on their students understanding concepts that are taught to them. Their teachers are able to help students handle with difficult questions efficiently by simplifying complex concepts and ideas.
In order to enhance the learning experience of their students, SG POA produces a customised high-quality study materials that are closely aligned with the latest syllabus.
They build trust and relationships with their students through a less crowded and comfortable classroom environment. Their students can ask questions without fear of being ridiculed. Tutors engage in interactive teaching to induce enthusiasm among students and help them to learn better.
SG POA offers both online and offline lessons on a group basis. Tuition fees are charged every 4 lessons within the range of S$240 and S$320.
3. Tutor City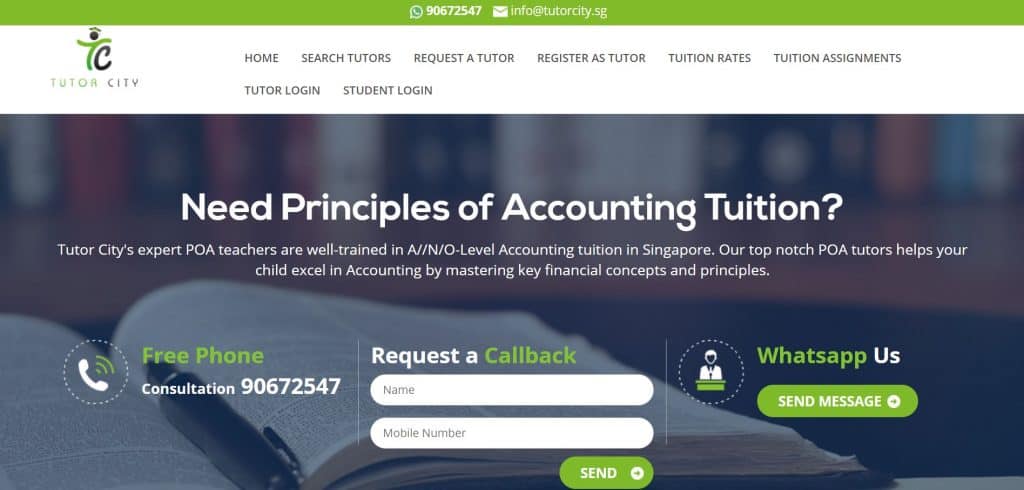 Tutor City is a reputable tuition agency in Singapore that has a wide database of POA tutors who are familiar with the latest accounting practices in Singapore that is in line with the POA syllabus and professional certifications such as CFA and CPA.
POA tuition in Tutor City is taught at N, O and A-Level standards. In order to help students achieve their distinctions, lessons are taught in a 1-to-1 setting so that students will be more willing to clarify their doubts. Tutor City offers a flexible schedule so as to meet their student's needs. Tutors also provide a customised study plan for students to tackle study pain-points and topics they are weak at.
POA lessons conducted at Tutor City ranges from S$30 to S$120 per hour depending on the tutor's credentials, experience and levels that they teach.
4. POA Tutor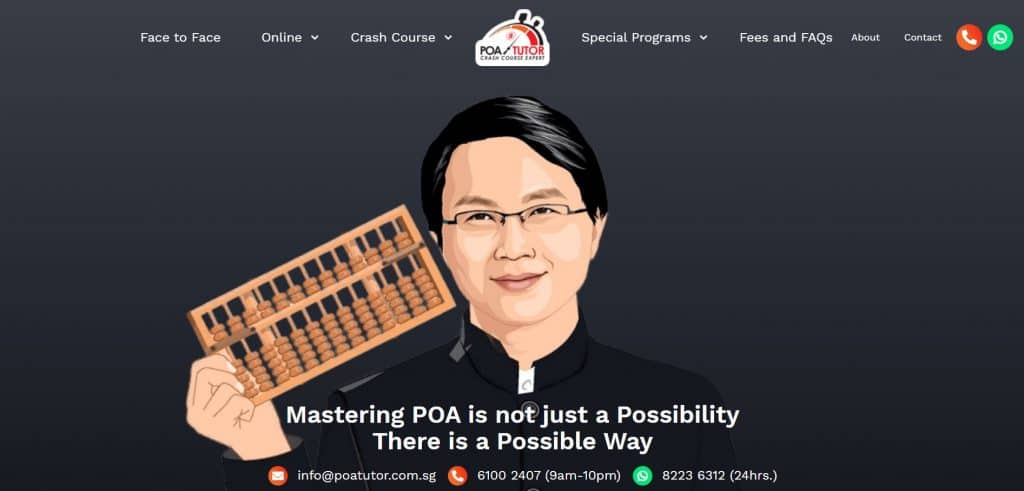 Founded by experienced POA tutor Mr Chong Kok Peng, POA Tutor base its teaching on 3 principles: Diagnosing and identifying problems from the beginning, knowing how things are connected and what we learnt when things happen.
Kok Peng teaches POA in various levels such as N Level, O Level, A Level, Diploma and Degree levels. They are conducted in a 1-to-1 setting, either face-to-face or online. Students will be charged at a price range of S$50 – S$80.
If students want to learn POA quickly, they can apply for a crash course that is taught at all levels. POA Tutor also conducts special programs for private candidates (N, O & A Level), Sec 3 Mid-Year Revision Program (8 Lessons) and Finance (Degree level).
5. Edufirst Learning Centre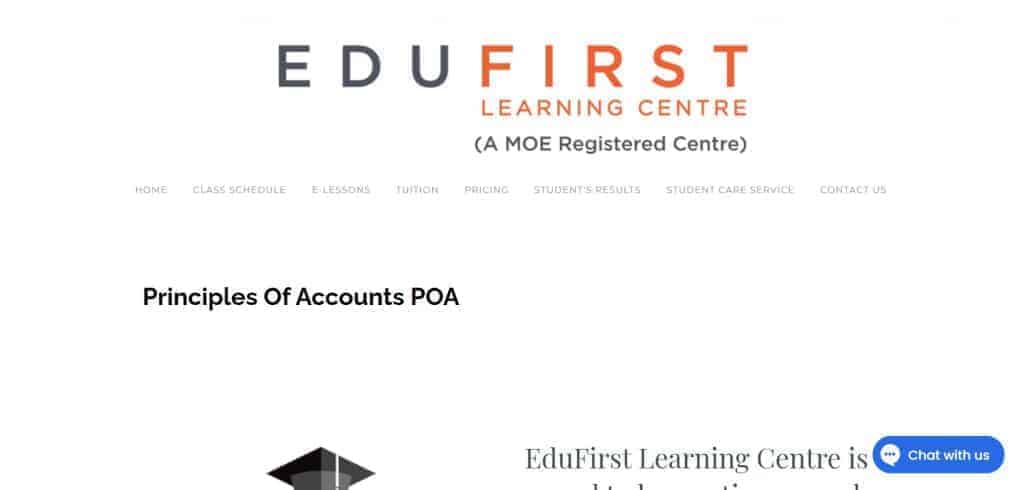 EduFirst Learning Centre is a MOE registered centre. POA tuitions taught at EduFirst are conducted by Bernard Tan who is a private tutor with 15 years of teaching experience. He is also a certified Chartered Accountant (CPA) that allows him to relate his real-world experience to students learning POA.
EduFirst Learning Centre's commitment to providing the best for their students has made them a 2-time award winner of "Best Enrichment & Learning Schools".
They provide tuition both online and offline at all 11 branches. They also offer a free online lesson for students to make a more informed decision. Revision videos are also provided for students to download and rewatch as many times as possible to master a specific concept.
6. Master Principles of Accounts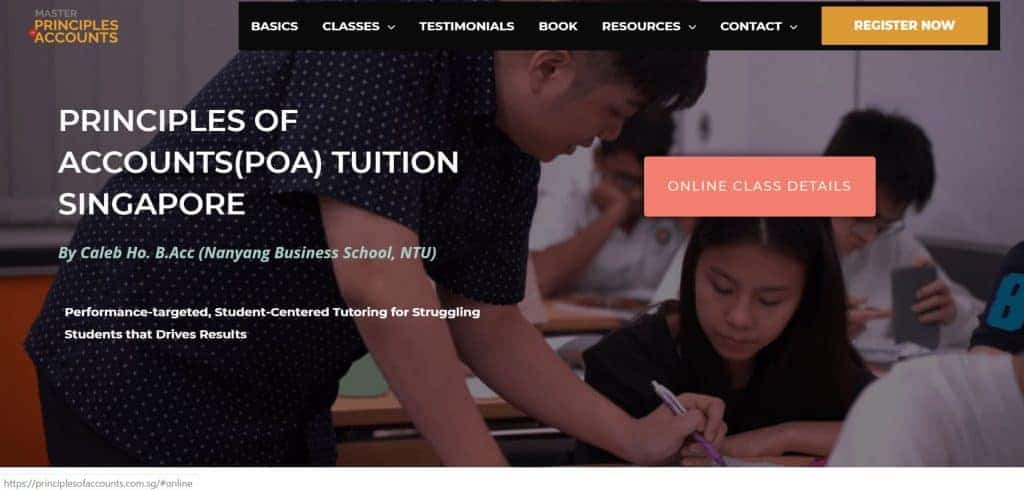 Founded by an experienced POA Tutor Caleb Ho, Master Principles of Accounts offer students, ranging from N Level all the way to working adults, a customised POA tuition session that is filtered to layman terms in which clients have mentioned that it brings clarity and incredible, measurable results.
Lessons conducted at Master Principles of Accounts are taught on a group basis. Students who are weak in the foundations of POA will be initially allocated to 2 foundation classes with other new students before joining the rest of the class.
Class sizes are between 6 and 8 students conducted in the classroom and online for an effective learning experience. Speaking of effective learning experience, Caleb provide various learning resources such as a guide book and customised worksheets.
Master Principles of Accounts allow students to register for a trial lesson at S$80 before they make the decision to sign up.
7. SmileTutor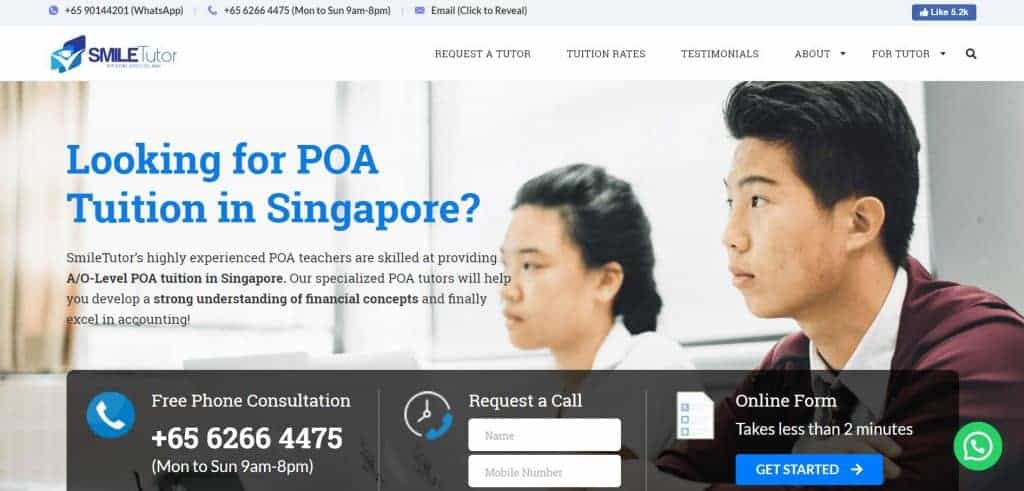 SmileTutor is a leading tuition agency that aims to deliver an unparalleled level of service. POA Tuition conducted at SmileTutor is taught by experienced tutors that will help students develop a strong understanding of financial concepts and excel in POA itself.
Experienced POA tutors use fresh ideas, tips and techniques to help their students tackle difficult questions. They are also dedicated in coming up a customised study plan for students to ace their examinations.
Students are taught on 1-to-1 basis which will help them to learn and grasp the important concepts faster. Tutor fees range from S$25 to S$120.
8. ChampionTutor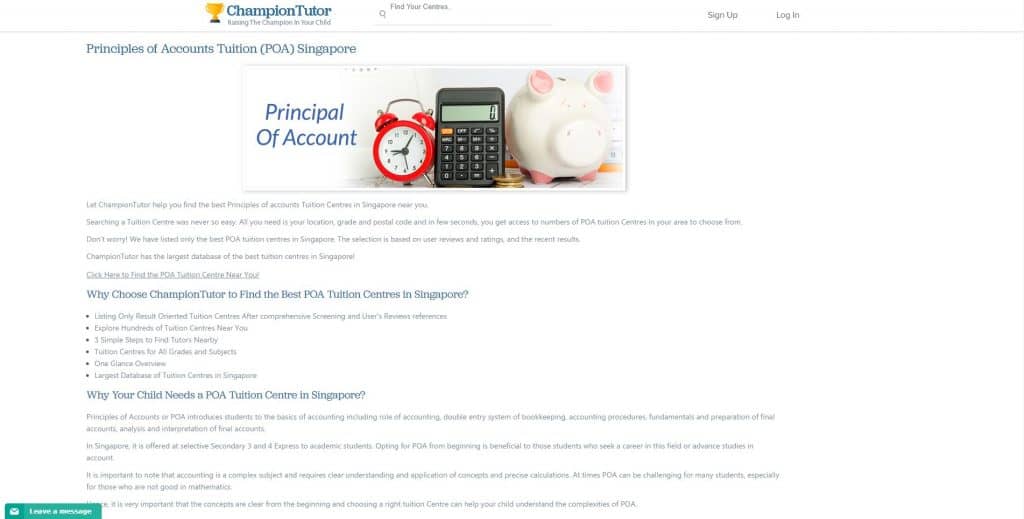 ChampionTutor believes in offering only trusted and qualified tutors that will suit your needs. If you are seeking POA tuition from a qualified tutor, you will be able to find them in a database that consists of the best tuition centres in Singapore.
Do rest assure that these tuition centres have gone through comprehensive screening and numerous user reviews to be in the database. However, if you would like convenience, you can decide on getting a home tutor instead. The process of the sign up takes only 3 minutes.
9. Mr Wong POA Tuition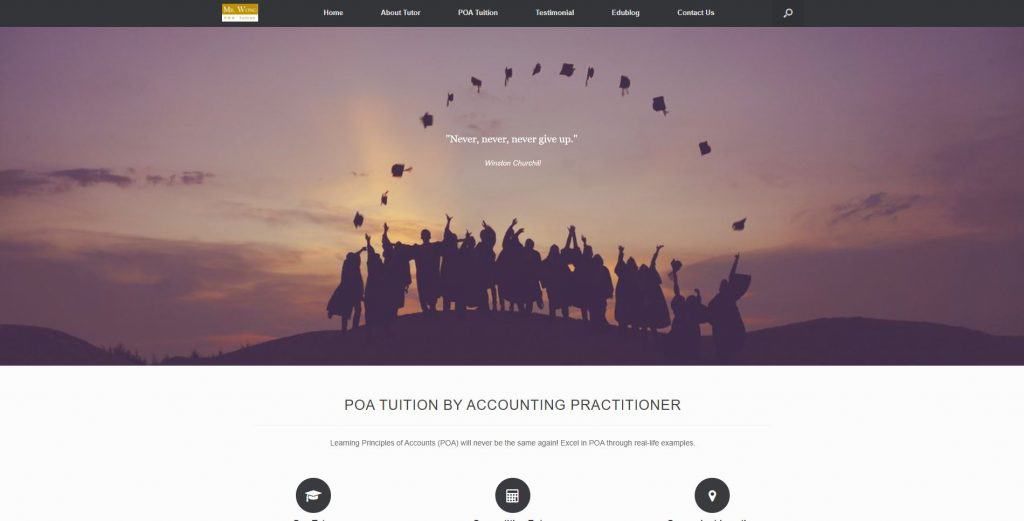 Headed by experienced POA tutor in Singapore Mr Wong, his POA Tuition centre dedicates in helping students achieving academic excellence.
To deliver a high quality learning experience for their students, they offer classes of small sizes with a maximum of 6 students in an online setting and 8 in a classroom. Tuition fees are charged from S$200 for online classes and S$220 for classroom-based lessons from Sec 3 to JC level.
10. Art of POA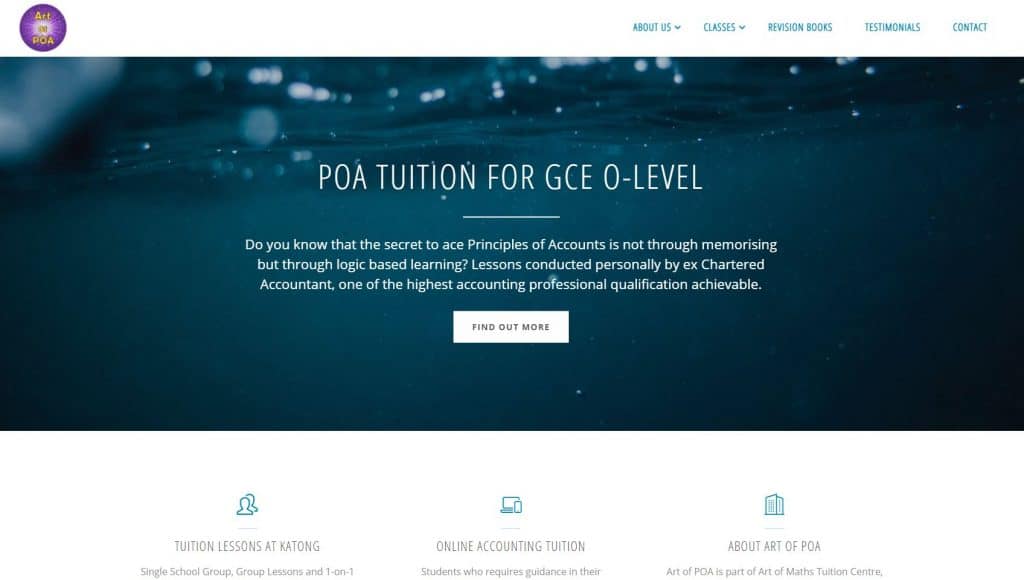 Art of POA is part of Art of Maths Tuition Centre owned by Husband and Wife, Mr Ignatius Tham and Ms Adelina Loo. Ms Adelina Loo herself is a former Chartered Accountant which gives her the real world experience and knowledge to expound the subject to students effectively.
Art of POA Tuition Centre offers small class sizes of 4-8 students, lasting 1.5 hours, to give them more attention and increase communication between the tutor and her students.
POA revision books are provided personally by Ms Loo to enhance her student's learning process. They help to address students' need for quick revision of key concepts.
Conclusion
Do you have any reviews and comments to share regarding our choices for the best POA Tuition in Singapore?
While SBO is committed to supporting our local businesses, we welcome any feedback and anonymous sharing regarding your experience with the listed POA Tuition in Singapore.
We hope that this guide will be useful in helping you to make an informed decision when it comes to looking for POA Tuition in Singapore.
>