10 Best Flute Lesson in Singapore to Blow You Away [2023]
These flute lessons in Singapore are so good that they don't have to blow their own trumpets.
The flute is a family of musical instruments in the woodwind group.
Unlike woodwind instruments with reeds, a flute is an aerophone or reedless wind instrument that produces its sound from the flow of air across an opening.
Looking for a flute lesson in Singapore?
In this post, we've gathered all the relevant details to compile a list of the 10 best flute lesson in Singapore to blow you away.
1. Flute and Music Academy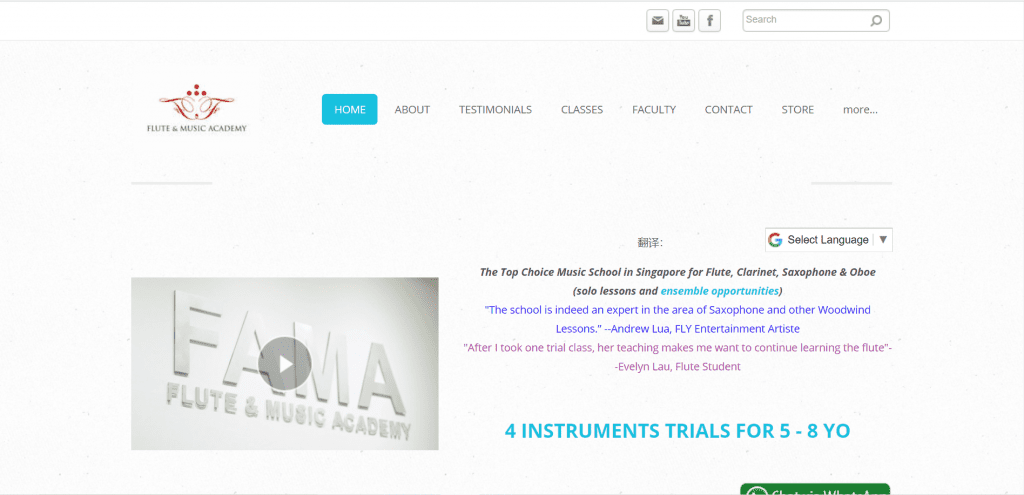 Being the first-of-its-kind music school in Singapore that specialises in woodwinds, Flute and Music Academy is committed to harnessing the best resources for woodwind lovers.
Apart from possessing exceptional woodwind teachers, they also provide the necessary retail space for woodwind instruments and guidance for repair and maintenance.
Their flute lesson has two-course components to cater to different requirements:
For Pop/Leisure: Their teachers will equip you with the necessary technical skills and theory to help you achieve the pieces that you want to play.
For Serious Learners Taking Exams: Their teachers will ensure that your development in the areas of sight-reading and aural are on par with exam standards. Grade 1 – 5 equivalent theory will be incorporated into lessons.
Reviews laud the flute lesson in Singapore for having professional teachers.
2. Stradivari Strings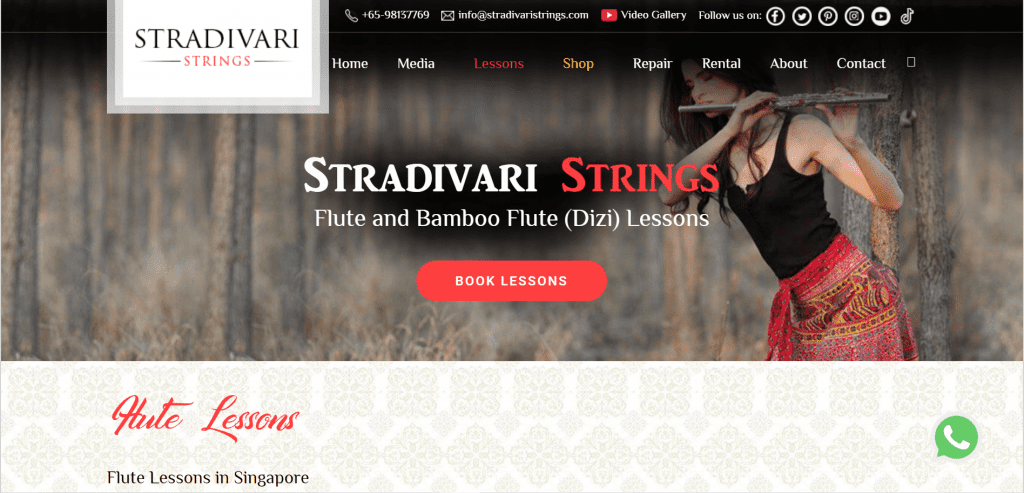 Stradivari Strings holds flute lessons for beginners, intermediate and advanced level students.
Their students can choose to progress via the leisure route or ABRSM exam route, after building up their foundation over a period of flute lessons.
The flute lesson in Singapore also holds bamboo flute as well as dizi lessons.
Their school has flute teachers who honed their skills at music conservatories like the Yong Siew Toh Conservatory of Music, Nanyang Academy of Fine Arts, and the Royal Academy of Music.
Others received their qualifications from the ABRSM examination board.
Reviews laud the flute lesson in Singapore for expeditiously arranging for a teacher in the shortest possible time and for accommodating students' busy schedules.
3. Absolutely In-Tuned!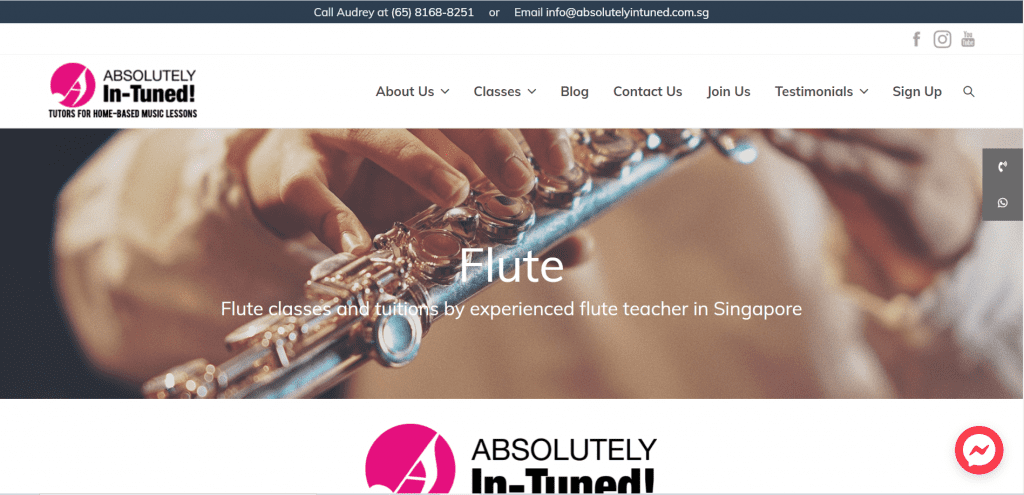 Established in 2007, Absolutely In-Tuned is a successful home-grown music agency in Singapore that has been helping parents, teenagers, adults and children save money, time, and effort by searching for reliable, talented and qualified music teachers to fulfil their musical dreams in the comfort of their own homes.
The flute lesson in Singapore offers three types of flute lessons for all levels:
Beginner: Their flute classes in Singapore will help you to pick up the basics of flute playing easily through their experienced and qualified teachers.
Intermediate: At this stage, their teachers will help you build on all of your former years of practice, while polishing your flute-playing techniques.
Advanced: Their accomplished teachers will help you prepare melodic flute etudes that will polish your technique in readiness for performance.
Reviews laud the flute lesson in Singapore for their responsive and transparency agency, as well as their professional teachers who were flexible in their timings.
4. Da Capo Music Academy

Looking for a beginner-friendly flute lesson in Singapore?
Go to Da Capo Music Academy.
Their teaching philosophy is grounded in their belief that all students have innate musical potential.
They provide a structured musical education curriculum as well as performance opportunities to enable their students to build a strong technical foundation and to develop their own unique musical identities.
Their curriculum lasts for one year and is targeted at all ages.
Their flute lesson is catered to individuals or groups of 2-4 with a duration of 30, 45 or 60 minutes.
Reviews laud the flute lesson in Singapore for their convenient location, which is a stone throw's away from Beauty World MRT.
Their teachers are also well-mannered.
5. Eason Music School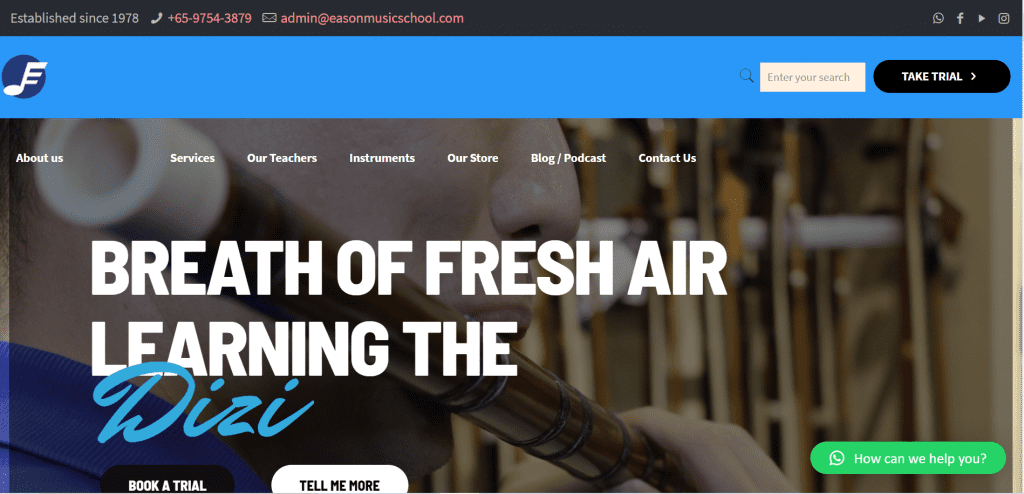 Founded in 1978, Eason Music has come a long way from its beginnings selling Chinese musical instruments.
They now serve customers all over the world with their online instrument store and online lessons.
They also run private and group music lessons for music lovers in Singapore, and offer a host of other services like repair and restore gong rentals and arranging performances for corporate events etc.
Eason Music is the go-to place for a Chinese flute lesson in Singapore.
You can pick from either leisure or examination-centric objectives for their curriculum.
When you learn for exams, you have a choice of either following the syllabus of Teng-CI-NTU Chinese instrumental examination or NAFA Chinese instrumental examination.
Their instructors will formulate lesson plans based on either syllabus.
Reviews laud the flute lesson in Singapore for having reasonably priced flutes (that are priced less than S$100) which you can purchase at their physical retail store.
6. Edvox Music School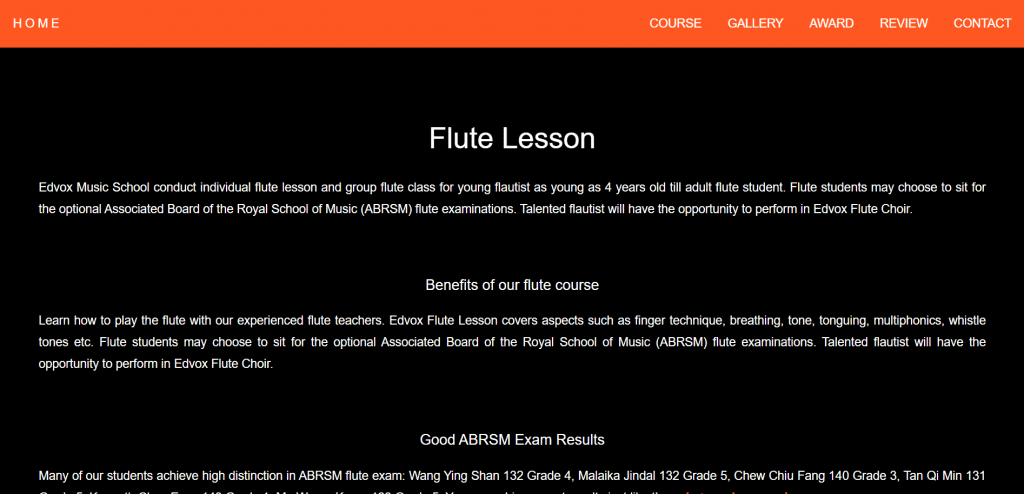 Looking for a flute lesson in Singapore that will help your child to ace his or her music examinations?
As one of Singapore's top music schools, Edvox Music School has a track record of producing high Distinction scorers in ABRSM music exams.
Edvox Music School conducts individual flute lessons and group flute lessons for young flutists as young as 4 years old till adults.
Flute students may choose to sit for the optional Associated Board of the Royal School of Music (ABRSM) flute examinations.
Talented flute students will get to perform in the Edvox Flute Choir.
Reviews laud the flute lesson in Singapore for their experienced and qualified teachers, who provide relevant information on the progress of students regularly.
7. Yamaha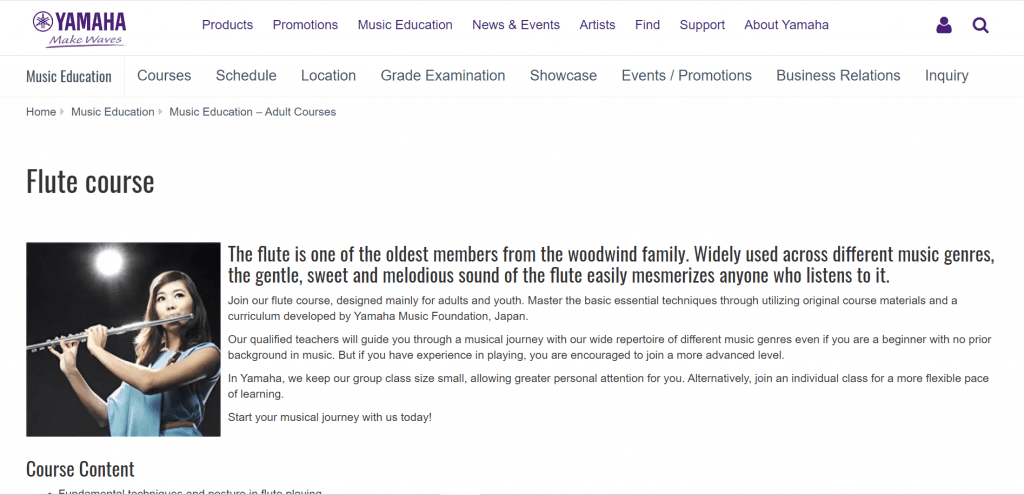 Yamaha's flute course is designed mainly for adults and youth (12 years or older).
You will be able to master the basic essential techniques through utilizing original course materials and a curriculum developed by Yamaha Music Foundation, Japan.
Their qualified teachers will guide you through a musical journey using their wide repertoire of music genres even if you are a beginner with no prior background in music.
Group flute lessons last 1 hour while individual lessons last 30 minutes.
Reviews laud the flute lesson in Singapore for having branches that are located across Singapore, allowing anyone to pick up musical instruments conveniently.
8. Nanyang Academy of Fine Arts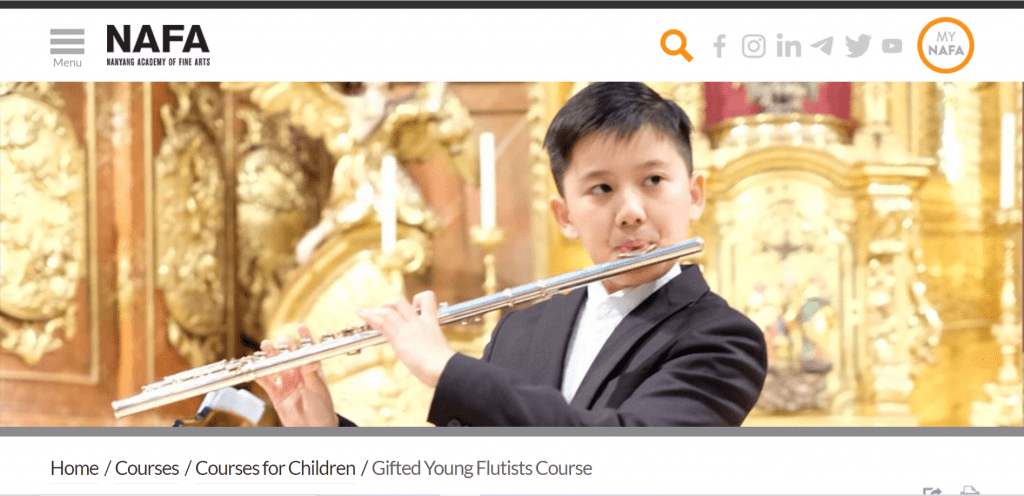 Looking for a flute lesson in Singapore that is specially designed for your young ones?
Our recommendation is to give the Nanyang Academy of Fine Art's Gifted Young Flutists Course a try.
The course has been split into four stages: Preparatory course, Grade 1 to 3 course, Grade 4 to 5 course, and the Grade 6 to 8 course.
Students are required to sit for internal examinations conducted half-yearly to monitor the student's progress and to take ABRSM examinations.
Each student is also required to perform on stage at least twice per semester at masterclasses.
Reviews laud the flute lesson in Singapore for the positive vibe of their campus and for being located in the heart of the city — a walk away from Bencoolen MRT.
9. Silversnow Music School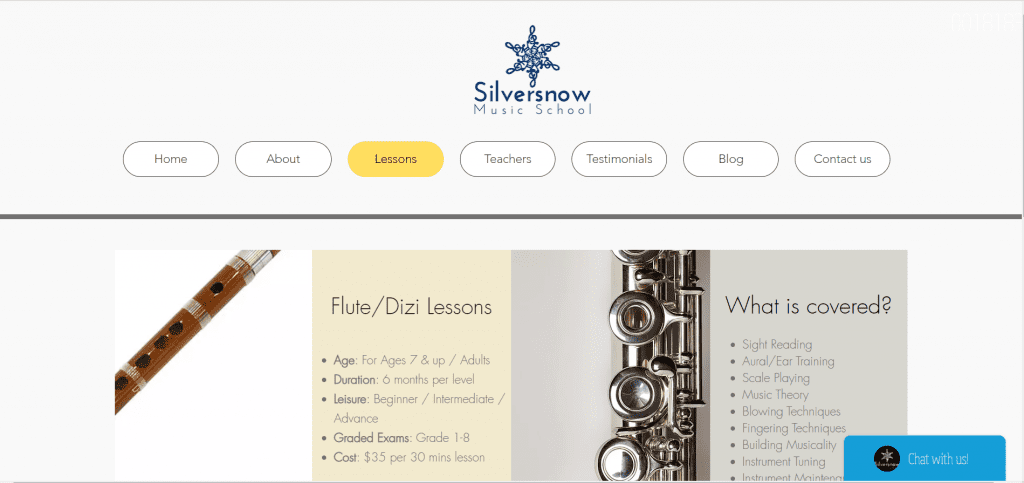 Silversnow Music School was founded in 2016 and is certified by the Ministry of Education, having met stringent requirements from the government board.
The music school in Singapore offers music lessons for Piano, Violin, Guitar, Ukulele, Flute, Vocal Training, Music Theory, and Music Appreciation for students of all ages.
Their flute lesson in Singapore is split into three levels: Beginner / Intermediate / Advanced, with graded exams from Grade 1-8. Skills covered range from sight-reading to music theory and fingering techniques.
Price-wise, each 30-minute lesson costs S$35.00.
Reviews laud the flute lesson in Singapore for their devoted flute teachers.
Their pedagogy is designed to bring out the best in students and their love for music.
10. Eight Tones Music School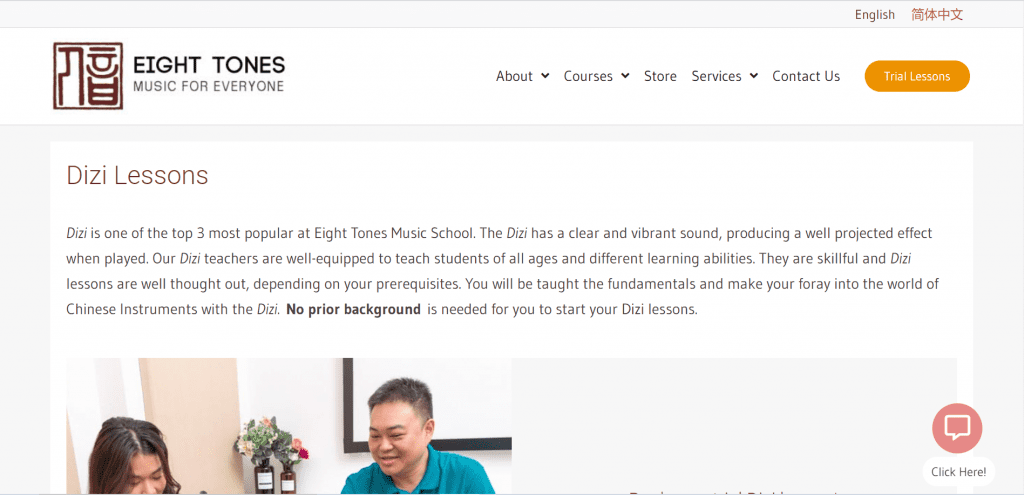 At Eight Tones, their teachers work with students of all ages and abilities.
They take pride in teaching and ensuring every student leaves each lesson with a sense of fulfillment.
Be it for leisure, learning the basics, or building a solid foundation or intensive examinations preparations, Eight Tones is the place to go to learn Dizi.
Their flute programme, priced at S$40.00 per lesson, has three curriculum types for you to choose from:
Leisure: Their flute teachers teach at a speed suited to your learning pace.
Foundation Building: If you have never played an instrument before, you can still play the Dizi. Their dedicated teachers will guide you.
Examination: They will teach you based how to ace your musical examinations based on the NAFA (CCOM) Instrumental Dizi Examination syllabus.
Don't have your own Dizi to get started on your musical journey?
You will be able to browse their artisan collection of Dizi at their Eight Tones Music Store, catering to all musical levels.
It is important to note that woodwind instruments (Dizi and Xiao) will not be provided during music lessons because of personal hygiene reasons.
Conclusion
Do you have any reviews and comments to share regarding our choices for the best flute lesson in Singapore?
While SBO is committed to supporting our local businesses, we welcome any feedback and anonymous sharing regarding your experience with the best flute lesson in Singapore.
We hope that this guide will be useful in helping you to make an informed decision when it comes to finding the best flute lesson in Singapore.
Explore More Content